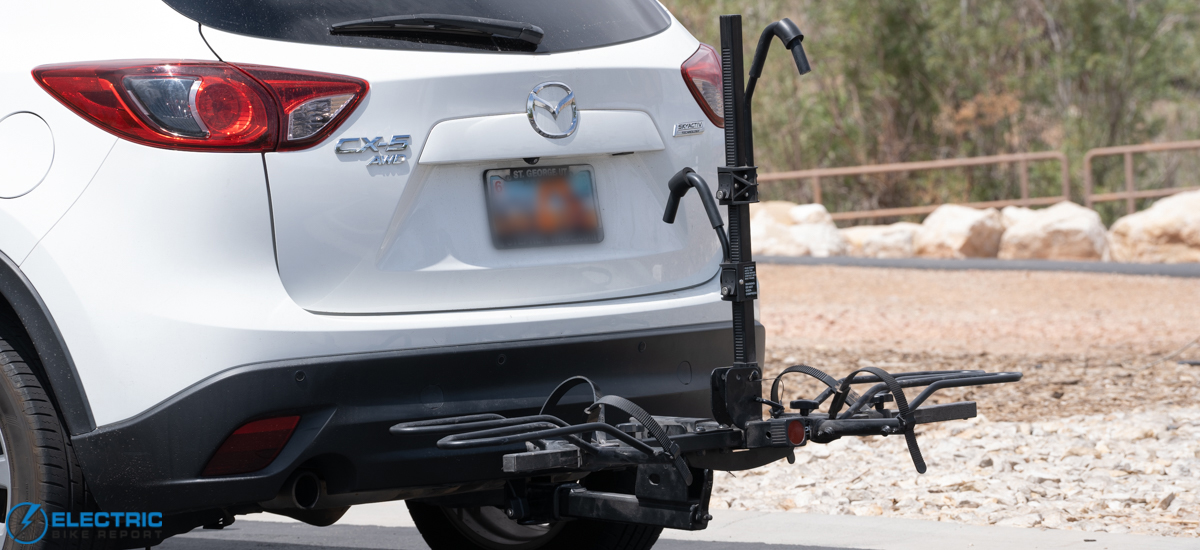 *Electric Bike Report aims to help consumers find the right electric bike car rack for their needs. When you buy a product we recommend, we may earn a commission.
So, you've found an electric bike that you love and you're ready to explore with it; now it's time to look at finding the best e-bike car rack for your situation.
The market for car bike racks is not lacking in options, but it is important to find one that can handle the extra weight and bulk that comes with e-bikes. Many bike racks were built with carrying traditional bikes in mind, which seldomly ever meant accommodating more than 50 lbs worth of bike. That can pose a problem for many e-bikes, which often tip the scales at 50 lbs or more. Heck, we have plenty at Electric Bike Report HQ that weigh over 70 lbs.
Beyond weight, there are many other important variables you'll want to consider depending on the style of e-bike you own. Did you buy an electric fat bike? Make sure your bike rack can secure those massive tires. Did you invest in a cargo e-bike that can tote you and the kids? Make sure you look at a rack that's long enough to fit that.
Always carefully consider your e-bike's unique features when shopping for an e-bike car rack, but perhaps the most important electric-specific feature is a rack's carrying capacity.
There likely will never be one car rack that does it all, but there are several car racks for electric bikes that will likely work best for your style of bike and where you plan on taking it. Listed below are our picks for the best car racks for carrying e-bikes.
Oh, and if you haven't settled on your e-bike yet, we've got you covered with the options for the best electric bikes too.
The Best Bike Racks For E-Bikes, 2023