Cargo Trailers for eBikes – The Complete Guide
Got an e-bike already but want to carry more with it? Bike trailers are a superb resource and a natural fit with the extra power offered by e-bikes. If you have ever tried cycling with a regular (ie non-electric) bike and a very heavy trailer load up a steep hill you will know this is a task for only the very fit, especially if it is something you want to do on a regular basis.
Some e-bikers might have safety concerns about towing a trailer or think it adds an extra layer of difficulty or unnecessary complication to using your e-bike but that really shouldn't be the case if you bear in mind a few basic tips. The main complication lies in making sure your particular e-bike will take the hitching system of the particular trailer you want. Once you're over this stage you should find a good trailer transforms just what you can carry on your e-bike.
Let's go ahead and dive into all there is to know about finding a good cargo trailer for e-bikes. But if you're trying to put the cart before the (electric) horse, you can also take a look at our picks for the best electric bike if you need to.
eCargo Bikes VS Trailers
eCargo bikes are undeniably great but may not be for everyone; you may simply not have the space or the means to manoeuvre and store what can be quite lengthy and heavy vehicles. And it remains pretty hard to find a budget e-cargo bike so a budget e-bike and budget trailer remains one of the most economical and greenest cargo carrying solutions out there.
Qualities Of Well-Desgined Bike Trailers
Construction Quality
The strength and weight of the materials used in construction are the biggest clues. The very cheapest designs such as the HBS pictured above use a plastic box as part of the construction. Whilst this keeps things light, simple and cheap, it may bring some compromises as in this design, where you are relying on the main plastic box itself to act as the mounting point for wheels and towbar.


By contrast, the welded all steel construction of the Surly Ted trailer is mighty strong.
The load rating of a trailer may also give some indication of its quality; most trailer ratings don't exceed around 90lbs / 40kg although note this is just a rough indication. The incredibly solidly built Surly Ted trailer actually has a rating of 300lbs / 136kg (!) but this really way in advance of what a serial production e-bike could manage, but it does give an indication of the massive strength of the trailer and the great quality construction.
Does it Have Alternative Hitch Fittings that Will Cope with Different Frame and Axle Designs?
Whether a trailer will fit your particular e-bike depends on both the trailer and e-bike. Better trailer manufacturers will have a range of hitch solutions to suit different bike frame and axle designs and these should be clearly explained and set out on their website.
Quick Release Skewers
Still probably the commonest axle fittings on e-bikes. Some trailer manufacturers provide a fitting that can be secured between the QR's lever cam as is the case with Burley's Steel Hitch and this example from Wike:
[youtube https://www.youtube.com/watch?v=Acv-LOqK7nY&w=956&h=715]
Others provide a replacement quick release skewer of their own design with a hitch attachment point built into it as in the example above from ExtraWheel which allows for attachment on the small cylindrical sections at both ends. In instances where the trailer comes with a complete replacement QR skewer it's important to make sure it is the same length as your existing one that it will replace. Most QR rear skewers are made to fit a standard rear dropout of 130mm (road) or 135mm (MTB) width.
To double check remove your rear wheel and measure the distance between the internal faces of the frame as shown above, this example being 125mm. Typical quick-release axles are 11 or 12 mm longer than the spacing of the hub locknuts which should give around 5-6 mm of axle protrusion on each side.
Classic 'Solid' Axles
If you have an e-bike with a rear hub motor or hub gears it will probably feature a solid threaded axle with nuts holding the wheel in place. Some hitch attachments like the Burley Steel Hitch will simply slide behind the nut before you attach it, as long as you have enough threaded axle protruding to firmly resecure the nut. If you are getting replacement nuts with the trailer it's best to confirm the diameter x thread pitch measurement of your bike axle – most modern solid rear axles are 10mm x 1mm but if you have an older bike it might be worth double checking by seeing if a 10 x 1 nut will fit as they are inexpensive to buy at a local bike store.
Other trailer designs will send you an entirely new nut or set of nuts with their own unique design with which to attach the trailer such as the Surly ones picture above.
Thru Axles
Thru axles have gained in popularity as they are marketed as being stronger and more rigid than the existing quick release skewer system. Usually 12mm in diameter, they come in a variety of lengths so you need to measure your rear thru axle and check with the trailer manufacturer if they have a replacement axle or and add on fitting that ill let you use the trailer in question.
The Robert Axle Project, who manufacture their products in Bend, Oregon,  have this handy table that allows you to attach a wide range of trailer designs to your e-bike. Even if you can't find exactly your trailer and e-bike combo on the table do enquire of them as they may well have something that fits. Do also check the trailer manufacturers' website as they may stock Robert Axle Project products as after-market fittings so you will be sure to get the right one.
A word of warning though – do be aware that you are screwing thru-axles directly into your bike frame so make sure to get exactly the right thread and not to overtighten the axle. It could be an expensive mistake.
Hooded Dropouts & The Burley Classic Hitch
Some bike and e-bike frames further complicate adding a trailer hitch by having a 'hooded' rear drop out which makes it trickier to fit the hitch snug up to the frame. Burley have clearly anticipated this with their as shown in the video below. The video also features the Burley Classic hitch that is unusual in fitting around the frame itself rather than than onto the axle – it can useful to swap a trailer between different bikes quickly through it is not compatible with disc brakes.
[youtube https://www.youtube.com/watch?v=chiaypyp_OE&w=942&h=530]
Does it Have Attachment Points for Lights and a Flag?
Some trailers have designated light mounting points and may also come with a safety flag, indicating they have been made with safety in mind.
Tips for Towing
Load Safely and Ride Carefully
Try and place your cargo centrally over the load-bearing wheels; on a two-wheeler of standard design that usually means between the trailer axles. Experiment with how far forwards or backwards you put the load on the trailer bed. Too far back and you may lose traction on the rear bike wheel as the load trys to lift it off the ground and too far forward and you will again find the handling of the bike badly affected. A little practice means you usually find the sweet spot on your trailer.
Also if loading several items place larger heavier items towards the bottom of the trailer and more centrally.
The heavier the load the more you should moderate your speed. Excessive speed is not advised (especially downhill) with heavy loads.
Make Sure of a Strong Hitch
The hitch is a point of high stress, especially if hauling heavy loads, as it has to articulate for turns but also be strong enough to take the constant push-pull forces between the bike and trailer as it is towed along.
The seat post hitch is convenient and fitted and many budget models but it's not suitable for very heavy loads as it may start to destabilize the bike and affect steering. Having said that the Burley Travoy, as featured below, mounts to a rear rack and is a classic and very practical design.
Single-sided hitches vary in strength and design but look for a solidly engineered one with large fittings. A good design allows movement in all planes with little or no flexing.
Some designs may use a spring or flexible tube or similar to reduce stress on the surrounding parts and act as a kind of shock absorber when under the most load – the movement should be pretty minimal though.  This is only really for lighter loads, say up to 25kg. The heavier the load with this kind of design the more unstable the ride may feel as the movement within the flexible parts will be greater. You may be unlucky enough to develop a 'snake' from side to side at higher speeds which you definitely want to avoid. Still, many of these designs are fine for lighter loads ridden with reasonable care.
Without doubt one of the strongest hitch designs, if not the strongest, is the one that attaches to both sides of the axle. The Surly system as above, used on their super hefty Bill and Ted models is a wonderful example of this type of design.
Get the Right eBike
The powerful crank drive motors found on many current e-bikes are a great choice for load carrying but larger hub motors geared for high torque can also do a good job. For very heavy load hauling go for the crank motors with the highest torque ratings; I've used Bosch's Performance Line CX to tow heavy loads a number of times and been impressed but Brose, Shimano and Yamaha also have powerful options.
Nicely graduated powerful brakes are a must (hydraulic disc brakes are pretty much the new standard on e-bikes nowadays and help massively to make them effective load carriers).
For heavy loads, a well-built e-bike is a must and bikes with wider rims and tires will also help keep things stable and handleable. Strong rims and wide tyres are found on numerous hybrid and mountain bike style e-bikes and also tend to have strong spokes. Naturally, lightweight, racing-style e-bikes are less likely to be good pullers of very heavy loads. If you ride an e-bike that feels stable and solid and handles easily without a load it is likely to do so with a load!
Guard Against Punctures
Whilst low tyre pressure or even a flat may not be noticeable on a lightly loaded trailer, with heavier loads you need to minimize the risk of punctures, preferably with strong tyres with some kind of puncture proofing like kevlar and / or slime.
It's also a good idea to have a plan B – is the trailer easy to chock up and remove a wheel? Do you carry tools and inner tube for the job? Getting stuck with a very heavy trailer and a flat wouldn't be much fun, but with a bit of preparation, it shouldn't be a big deal.
Carrying Children
All the above tips apply to carrying children in a child trailer. Bear in mind that you won't be able to directly see the trailer much of the time so a bike mirror could well be a good addition to your handlebars.
Other tips to further allay safety concerns pick a very brightly colored model with plenty of reflective striping – these tend to be usual features of child trailers anyway and also go for one with a large flag. You can also of course be careful with your route choices and avoid heavily trafficked ones.
There's now a large range of child trailers that will also double as strollers too. We only cover specific cargo trailers in the trailers section below as there will be a full forthcoming post on child carrying solutions.
The Trailers
Here we take a look at the major manufacturers of different designs of cargo trailers in each of the classes below. Note this section is based on the recognized manufacturers of good quality trailers in their field; there may be a number of 'copycat' designs out there that cost less but the models featured here all have a reputation for good quality and good customer backup.
Single Wheelers
Good for lighter loads where maneuverability is important. Single-wheelers follow directly in-line with your bike and are usually narrower than the bike, so they are useful for an off-road single track or very narrow bike paths with narrow access points and pinch points.  They do put more of the trailer load on your bike's rear-wheel so for heavier loads they are not as suitable as two-wheelers.
B.O.B Gear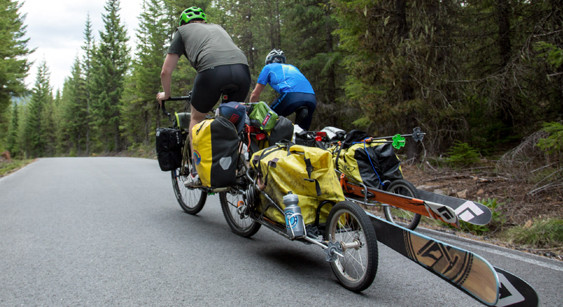 Veterans of trailer production, South Carolina's B.O.B produces two single wheelers that accommodate an optional bespoke, single large waterproof bag.
The Yak
Construction: 4130 CroMoly Steel
Trailer Size: 63.5 l x 16.5 w x 56 h inches
Weight: 19lbs / 8.6kg
Weight Rating:  32kg / 70lb
Price: From US$339
The Ibex.
Construction: 4130 CroMoly Steel with suspension unit
Trailer Size: 63.5 l x 16.75 w x 62 h inches
Weight:
Weight Rating: 32kg / 70lb
Price: From US$409
Burley's take on an adventure/utility themed single wheeler is packed full of features including a kickstand, flexible hitch system for hubs 126-197mm wide, single-handed release mech and a host of mounting points for other accessories.
Construction: Aluminum alloy frame with coil-sprung suspension.
Trailer Size: 66.5 l x 17 w x 21 h inches (1690 x 430 x 540 mm)
Weight / capacity: 19lbs / 9.74kg   70 litres
Weight Rating:  70lb / 32kg
Price: From US$449.99
A unique, lightweight Polish design that gets get almost universally good write ups from world touring types who value the large capacity and the relatively light weight. The spec below is for one of the larger capacity models, the BRAVE Drifter
Construction: Steel with 26, 28 or 29 inch wheel to match your rear wheel size
Trailer Size:  50 inches long including yoke (1280 mm)
Weight/ capacity: 5.7kg / 100 litres
Weight Rating: 35kg
Price: €570.00
A very neat, lightweight trailer that I've used for e-mtb touring and highly recommended though pricey.
Construction: 6061 aluminum with high-quality welding
Trailer Size: 63.5 l x 16.75 w inches (1613 x 426 mm)
Weight: 5.2kg
Weight Rating: 30kg / 66lb
Price: From UK£424.95
Designed for bikes with a 130 mm or 135 mm rear dropout and with 26", 27.5", 29" or 700c wheels.
Construction: Aluminum alloy frame
Trailer Size: 61.8 l x 17 w x 54 h inches (1570 x 420 x 447 mm)
Weight / capacity: 19lbs / 6.45kg with drybag   65 litres
Weight Rating:  70lb / 32kg
Price: From around £280 US$375
[youtube https://www.youtube.com/watch?v=y104GKJ8_qk&w=1109&h=624]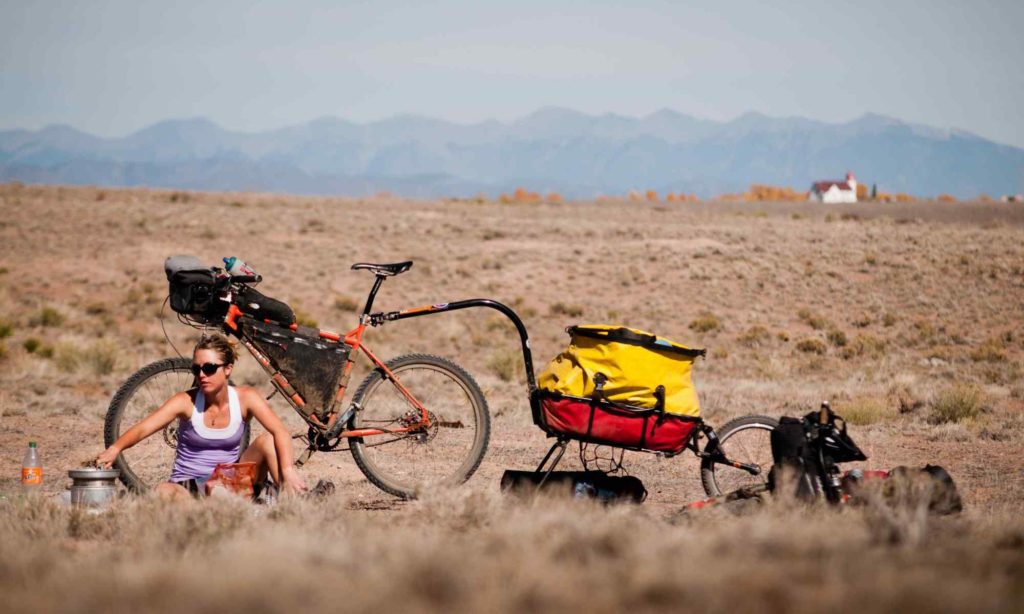 Tout Terrain's Mule features adjustable air suspension indicates a high-quality system and it also has an optional kickstand.
Construction: Cromoly Steel frame
Trailer Size: N/A
Weight: 6.7kg
Weight Rating: 38kg
Price: €525.00
Other single wheel designs include those from Adventure, Aevon and the interesting looking 'wheelbarrow'-style Maya. 
Last but not least is the Quietkat take on a forest activities style model:
[youtube https://www.youtube.com/watch?v=wK6zCQ6KU8E&w=510&h=287]
Two Wheelers – Everyday Use
Whilst heavier and more cumbersome than single wheelers, two wheel cargo trails are the go-to option for every day use where rough off-road riding and narrow access aren't big issues.
German based company offering good value for money over a range of three alloy and canvas foldable models, the Calle (92 litres capacity), Pakko and Tuure (both 135l capacity the latter having suspension). They also have a handy handcart feature that means they quickly convert into a shopping cart. Accessories include baby seats and dog beds.
Construction: Alloy frame and canvas sides
Trailer Size: 71 x 64 x 54 cm to 82 x 75 x 63 cm
Weight: 8kg-10.6
Weight Rating: 45kg
€360-507
A clever combination of cycle trailer and concourse luggage as the T1's small rear wheels are retracted and it becomes a wheeled suitcase. Its 8in wheels are fine for tarmac but not great for rougher surfaces as they may flip over. Unlike models with mid-frame axles, it puts more load weight on the bikes rear wheels which might affect handling with heavier loads. Handy for everyday tasks and light touring.
Construction: Alloy frame with retractable wheels
Trailer Size: 46.5 l x 19.8 w x 18.5 h inches (1180 x 502 x 470mm)
Weight: 6.4kg
Weight Rating: 20kg advised in reviews
Price: UK £294.75
[youtube https://www.youtube.com/watch?v=sAjWuKhy0IQ&w=640&h=360]
Radical Design Cyclone IV Trailers
Radical design's cyclone bike trailer comes in four varants and all have the same clever, quick-release towball attachment, which will fit most axles.  You can get the bare alloy frame and build your own bed or box to go on it or opt for a canvas style bed with lashings or bag options. The Chubby version is squarer in design and made to accommodate a Brompton.
Very cleverly, the bag versions are made to accommodate to quick release wheels and towbar so it becomes a large bag even having the option of a backpack harness.
Construction: Cromoly Steel frame
Trailer Size: 132 x 65 x 40 cm (36.8 x 26 x 16″) for the Skeleton version
Weight: 4.1 kg frame wheels and towbar only. Several variants exist eg flatbed (5.25kg) and Cyclone IV touring model (5.54kg)
Weight Rating: 40kg
Price: From US$440-US$625
With a factory n Guelph, Ontario, Canada WIKE make a variety of trailers that are worth checking out but we detail this DIY option as it looks extra good value if you fancy the DIY aspect. It also gives you great flexibility in how you configure the trailer. We couldn't find the full spec online but at 45kg payload it looks sizeable and rugged.
[youtube https://www.youtube.com/watch?v=WP8nxiO5bd0&w=1109&h=617]
Other two-wheeled cargo trailers to check out include the Burley Nomad which has an optional 'roof rack' for extra carrying, the remarkable folding Carry Freedom LEAF as demonstrated in the video below, Roland's Modular Carrie M.e. and Webers's Super Luxury Cargo Comfort with its own run on brake.
[youtube https://www.youtube.com/watch?v=KGToyFF_mJE&w=1200&h=675]
Shopper / Handcart Style
Shopper style trailers are a rare breed but easy to store when not in use and really handy for lightweight shopping and errands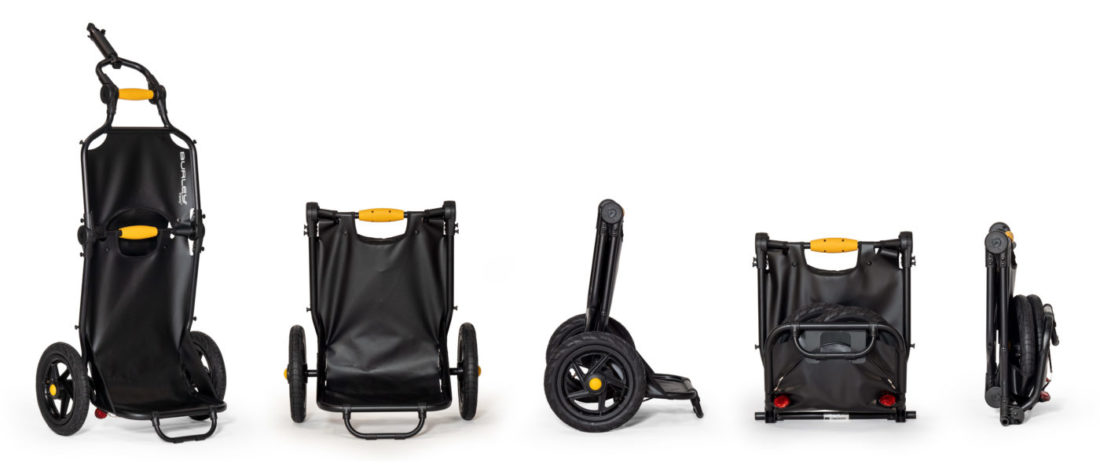 You will need to actually add your own bag to this model from Burley but it folds down super small for super easy storage suiting those with an absolute minimum of space.
Denmark's Andersen make a huge range of shooper style bags that can easily be converted to be towed with a seatpost hitch. They will even fit on the front of a shopping trolley.
Heavy Duty and Specialist Models
A small number of firms make extra large heavy-duty trailers – you'd be amazed what you can move by e-bike and trailer if you have the money and space for one of these amazing creations.
Iowa-based Bikes at Work make three standard lengths of alloy framed trailers, 32,64 and 96 inches long with standard and wide width options too. Four-wheeled versions are rated to carry up to 280kg!
Belgian-based Donkey use a modular system that can go up to 2.4m long and are modular and even give you the ability to add extra wheels!
[youtube https://www.youtube.com/watch?v=5NFF74TUbpg&w=1109&h=624]
These are superbly well built trailers that come as steel flatbeds for you to build your own solution onto. Pretty heavy and expensive but virtually indestructible…See our full review of the Ted. 
As well as their 'everyday' range of trailers WIKE also manufacture a range of lightweight canoe and kayak trailers.
Dog trailers are a further specialist design with Croozer having a nice range. Dog trailers tend to be enclosed designs to keep your dog out of harm's way but with specialist features like removable and washable inserts or DoggyRide's anti tip model to counteract the danger of tipping if your dog gets a little too excited!
Stay tuned for more e-bike news and reviews and thanks for reading!
-Rich
Reader Interactions