Accessory Roundup: ReTyre "Zipper" Tires, Vaude Panniers + Backpack & Handlebar Bag [VIDEOS]
Time for a look at some new bike accessories that can make your eBike ride safer, more comfortable, convenient, and fun!
In this roundup we have the:
ReTyre – Zip On Bike Tyres
Vaude Karakorum Panniers + Backpack
Vaude Road I Handlebar Bag & BeGuided Smartphone Pocket
ReTyre – Zip On Bike Tyres
I recently headed off to the UK's Peak District for some spectacular trail riding but also to act as a true testing ground for these newly launched zip-on tyres (well it's the first time I've come across the idea – if you know better let us know!).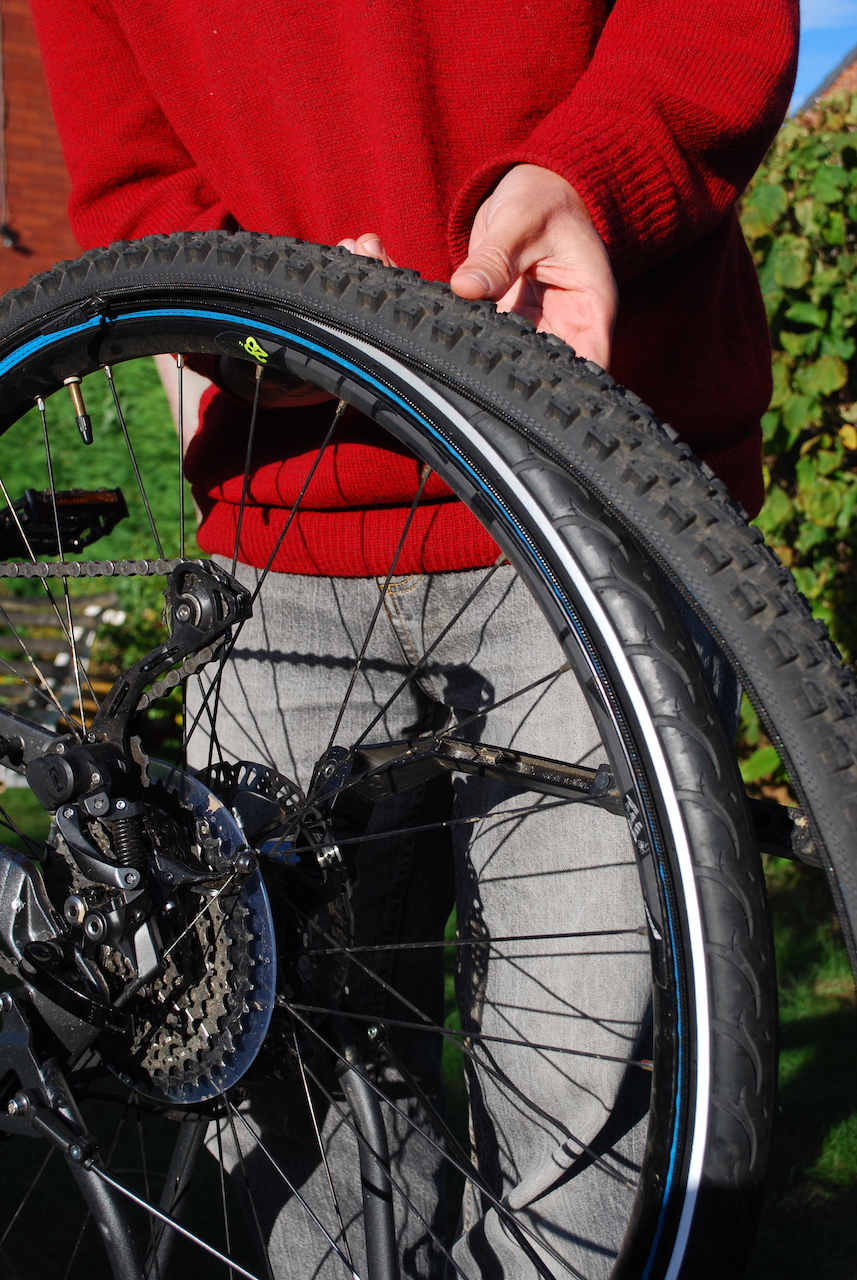 I took four 27" tyres in the ReTyre system – the two slick 'base' tyres for road riding and a pair of All Terrain trekking style tyres – and fitted them to a Haibike SDURO Trekking 4.0 model .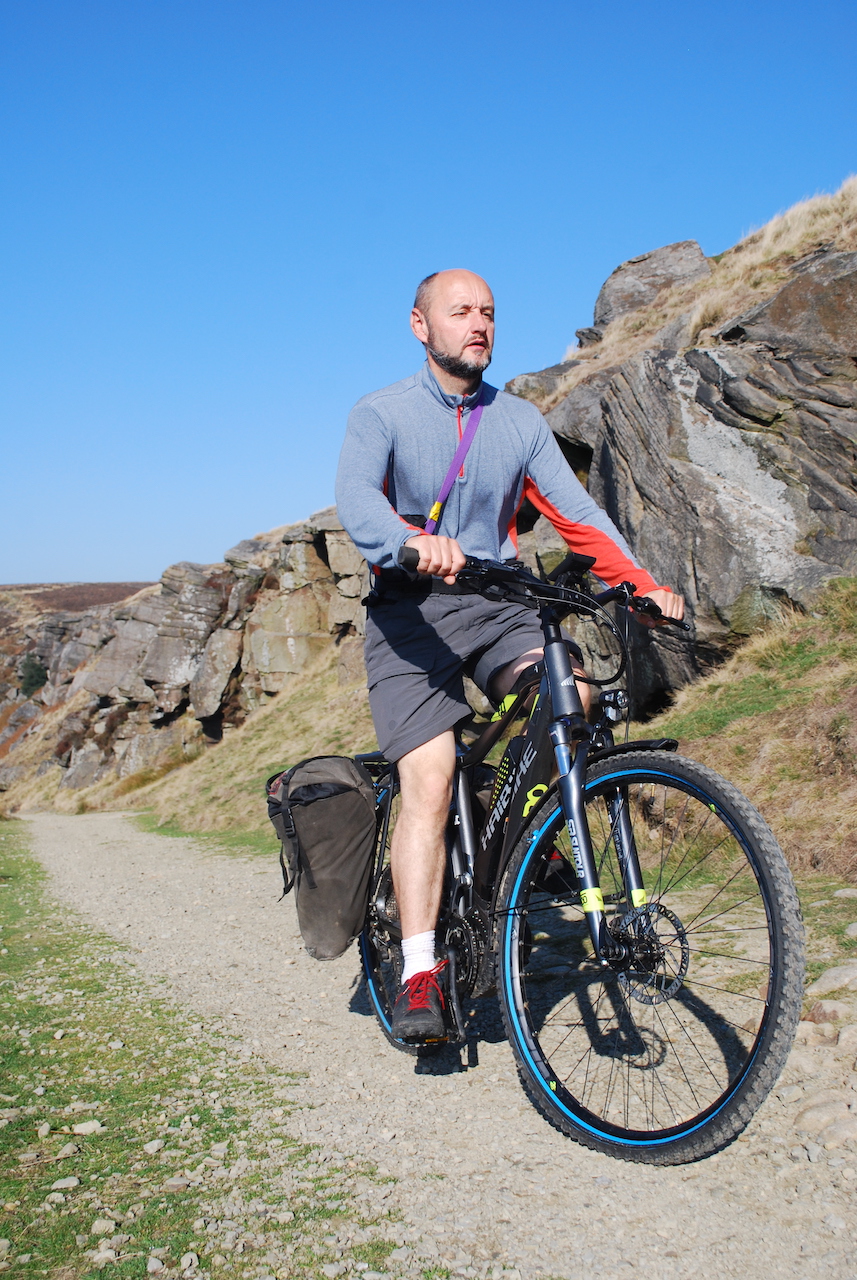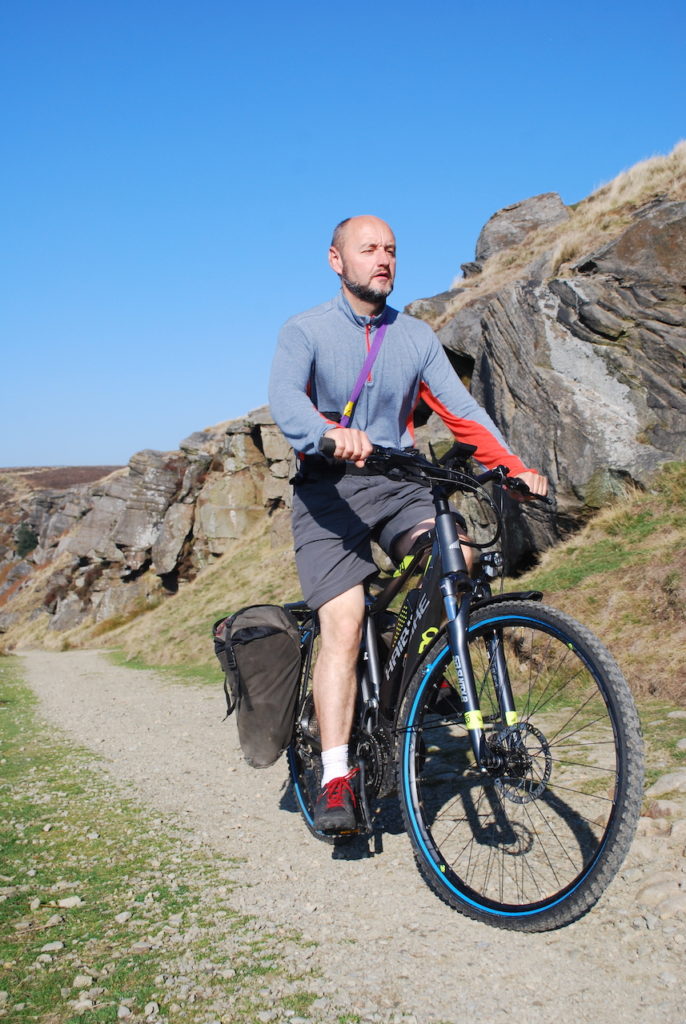 The idea is clear and obvious – you don't need two bikes for on and off-road riding, just zip on some off-road tyres and a road riding bike becomes off-road capable.
The base tyres are reasonably light at 580g and ride well and the fact on half of the zip is permanently attached appears to make little practical difference compared to a regular slick tyre – but how is the tyre-changing process and the off-road riding?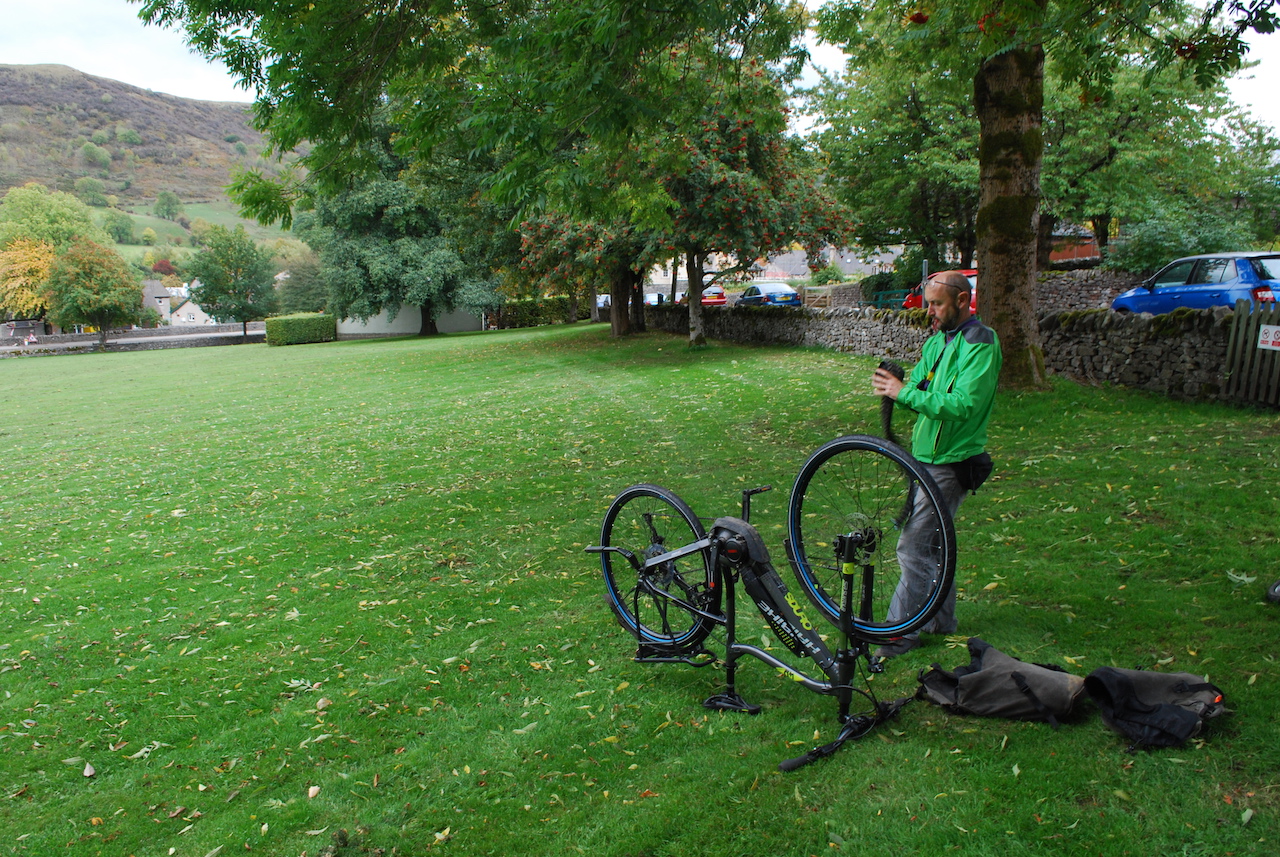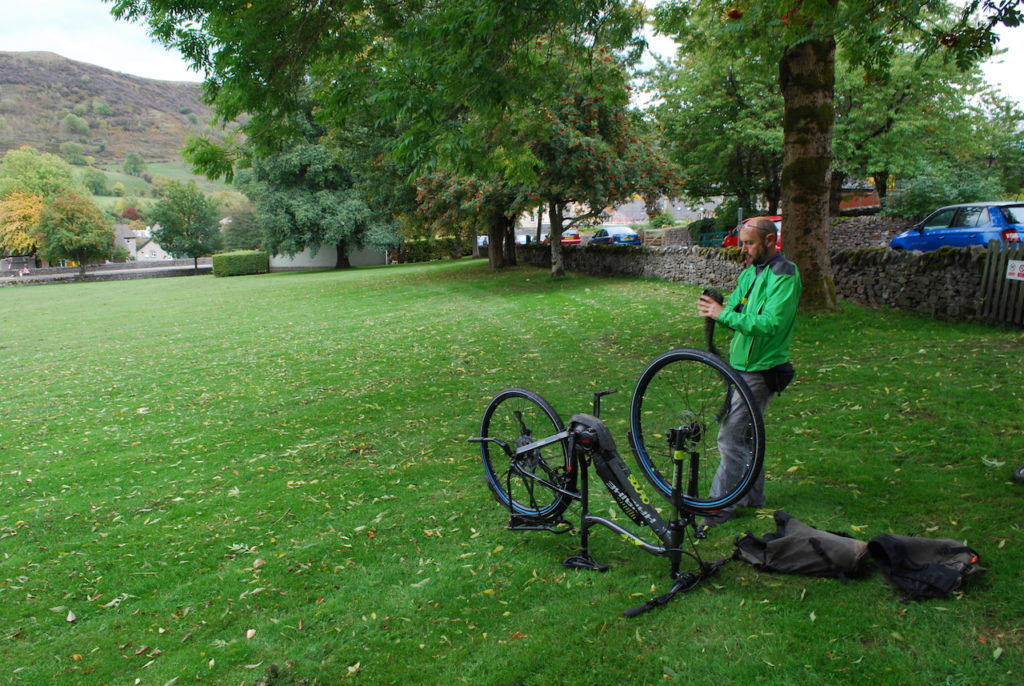 Fitting is simple enough after a bit of practice. Simply flip the bike upside down, line up the zips on the base and the skin and just zip them on.
Being heavy rubber it's not quite as easy as zipping up a jacket but with careful lining up and gentle but firm pressure the outer knobblies go on nicely.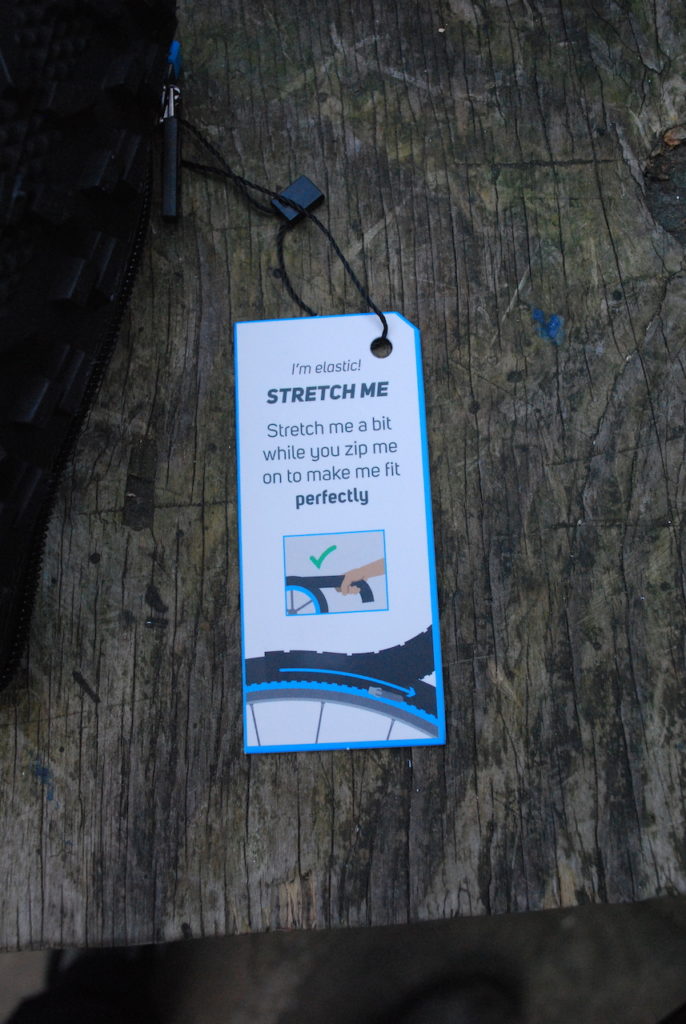 You need to stretch the tyres on as you go so that the ends meet up and you don't leave a gap.
On the broader bridleway tracks of Stanage Edge and along the Hope Valley (these names will trip off the tongue of those who know mountain biking in the Peak District) the All Terrain tyres perform well, with plenty of grip on dry but often stone, sand and gravel-laden surfaces.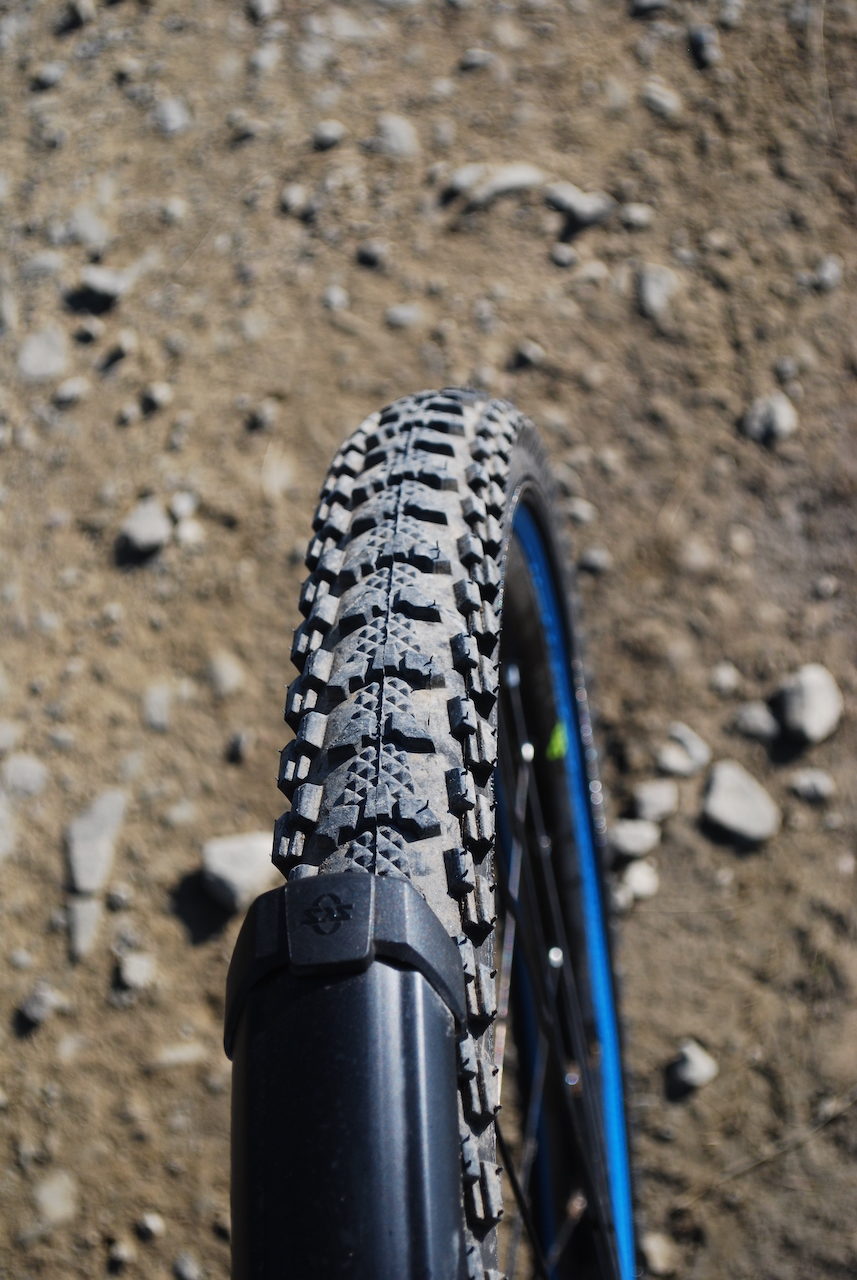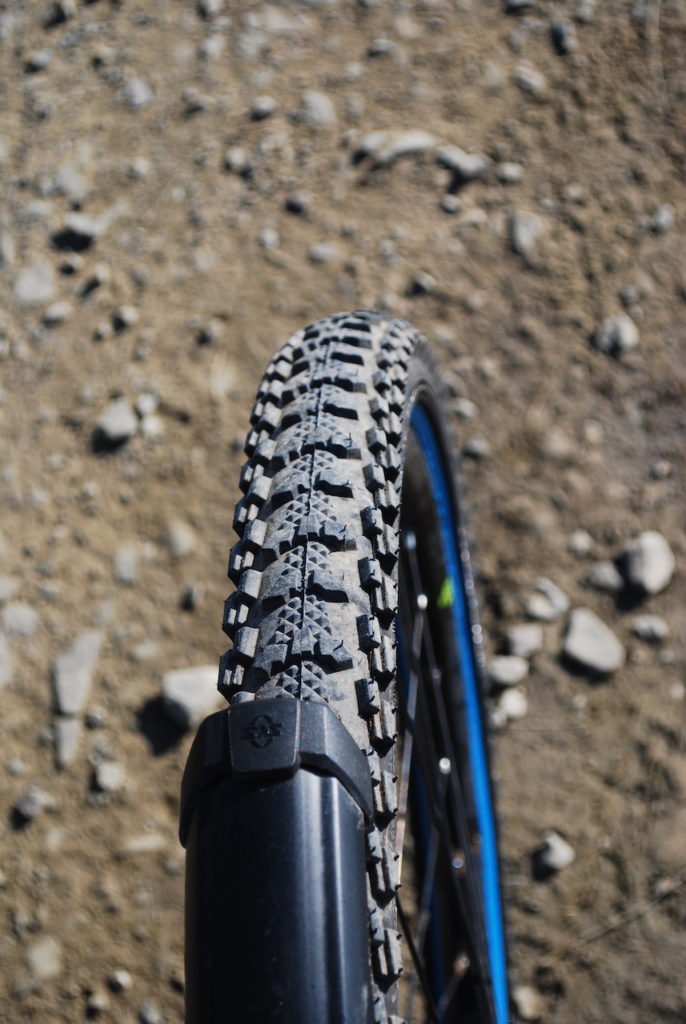 Whilst they undoubtedly add weight and significant rolling resistance compared to a normal tyre (the skins add another 605g) this is less of an issue on an electric bike (though note range will be significantly lessened).
They don't feel quite as assured underwheel as regular knobblies but for my steady paced, non-extreme style of riding they are perfectly adequate and after a while you forgot you are actually riding with skins on.
If you squeeze the skins you can feel a little bit of play between the base tyre and the skin but during actual riding this only occasionally makes itself felt in the bike's handling.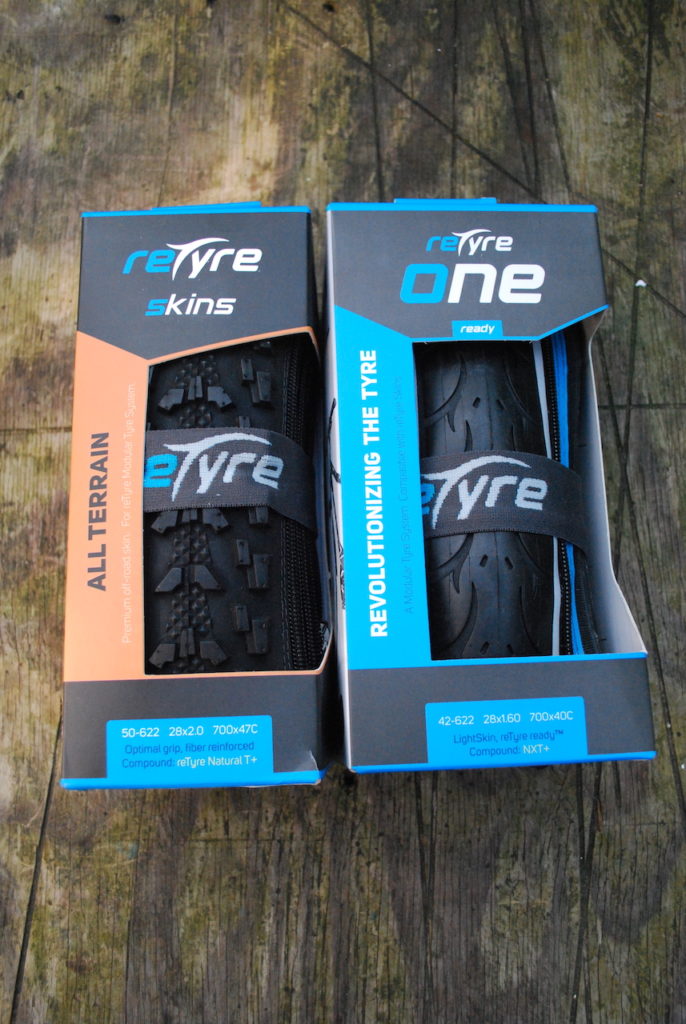 ReTyres also come in 26", 27.5" and 29" sizes and All Terrain or Trail X tread off-road tread patterns plus the Urban Winter snow tires with carbide studs for grip on ice and snow (I tried the prototype snow tyre version last winter and really liked them).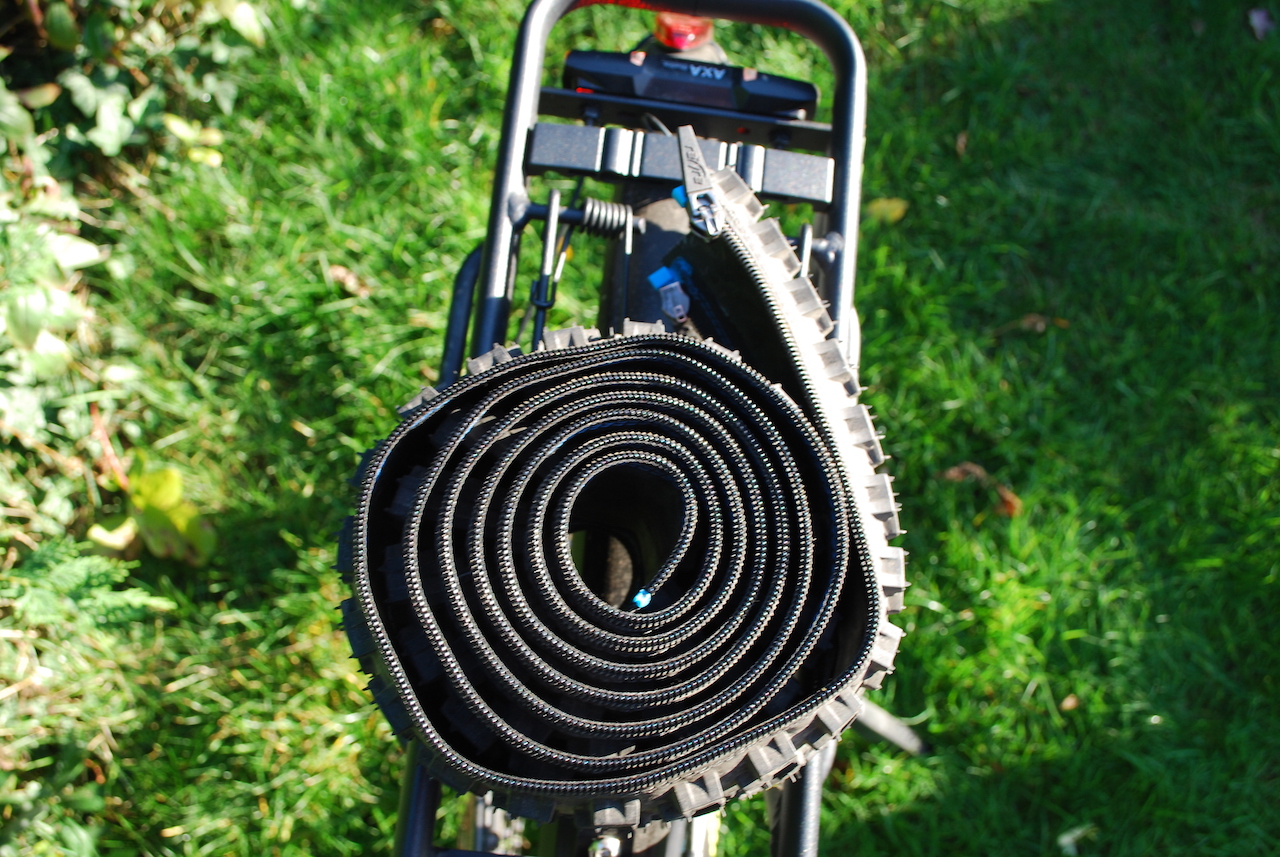 If you ride regularly on more demanding off-road mtb trails this system probably isn't for you but for those who, for example use an e-bike for regular road riding and go for occasional leisure trail rides they look well-suited and quite practical.
I didn't get the chance to try them out repeatedly in truly muddy conditions and it would be interesting to see how their claimed 'self-cleaning' properties help them stay crud-free enough to be continually zipped on and off.
It would also be interesting to see how the more mtb-styled tread of the Trail X skins performed over even rougher trails.
If you are considering purchasing some it's also important to check with ReTyre for how much fork / frame clearance you will need for your particular choice of size and tread pattern.
Prices for a full off-road set start at US$119. See more detail of all offers at Retyre's Kickstarter page here
Vaude Karakorum Panniers + Backpack
This novel three-pannier set stands out as it features a backpack that can be zipped onto the top of the two side panniers and quickly and easily removed if and when you need to take it somewhere on your back.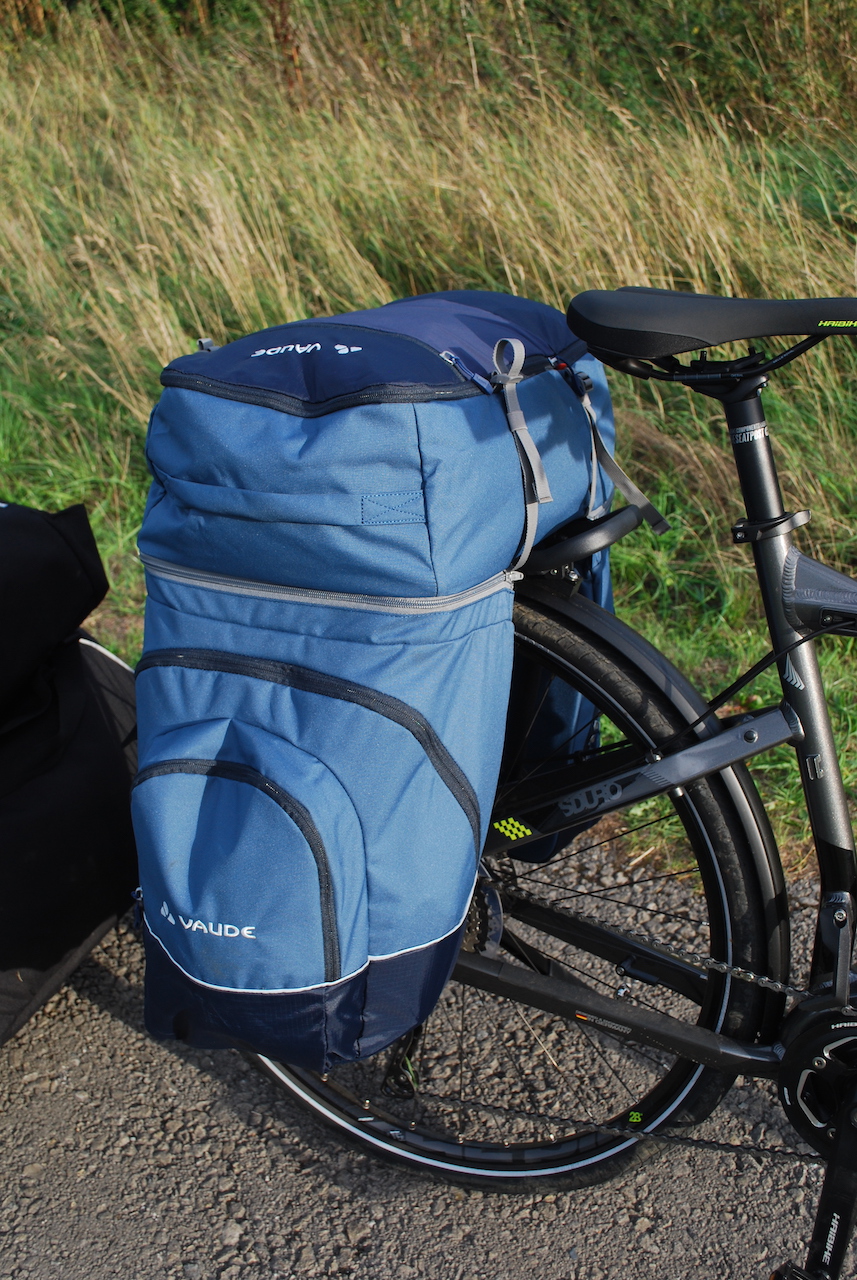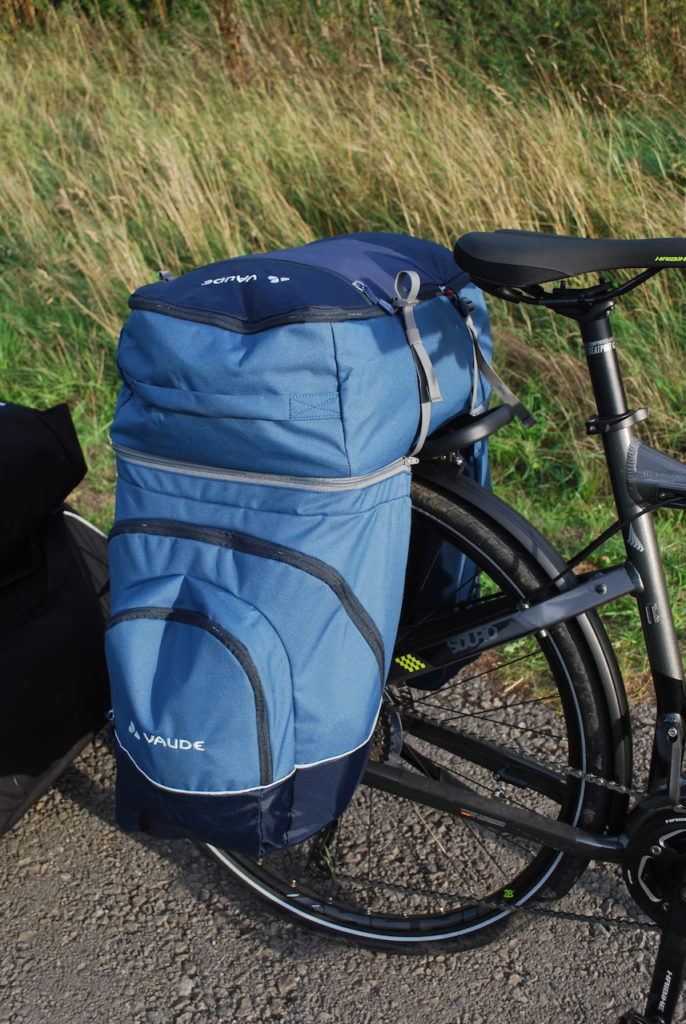 All three bags are made from soft polyester so the whole set only weighs a total of 2.15kg, including a separate rainproof cover, so they are ideal for the weight conscious.
Each of the panniers is subdivided into two zipped compartments and the backpack also has two zipped compartments plus a map style pocket on top to tuck away smaller, thinner items of paperwork etc.
Here is a video on how the panniers, backpack, and rain cover work:
You won't carry very large items in them due to the many pockets, but the combined size of all the pockets gives a very useful 68 litres of carrying capacity.
I used them for a few days' cycle camping to take all the smaller 'bitty' items of kit, including cooking gear, clothes and some solar-powered LED lighting. The 'compartmentalisation' of the panniers works great for this kind of gear.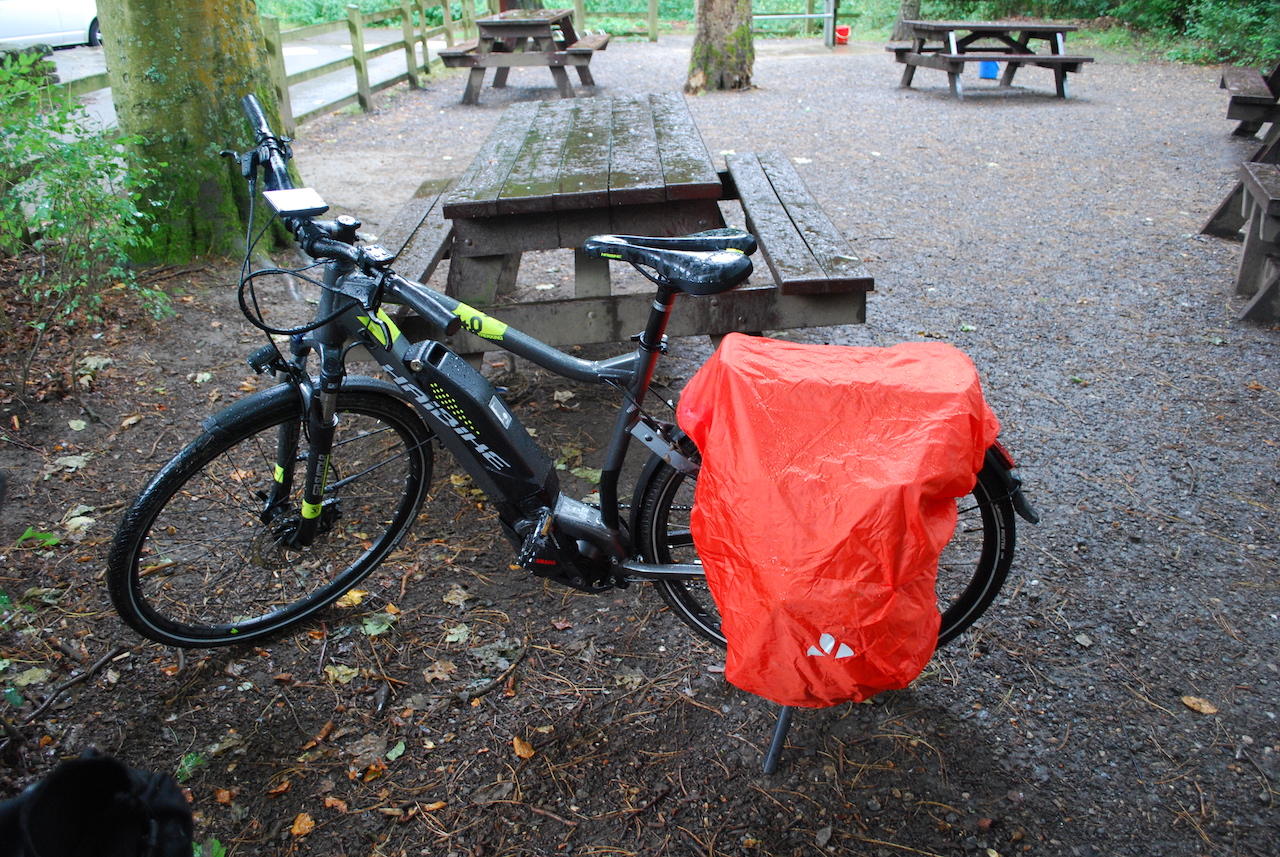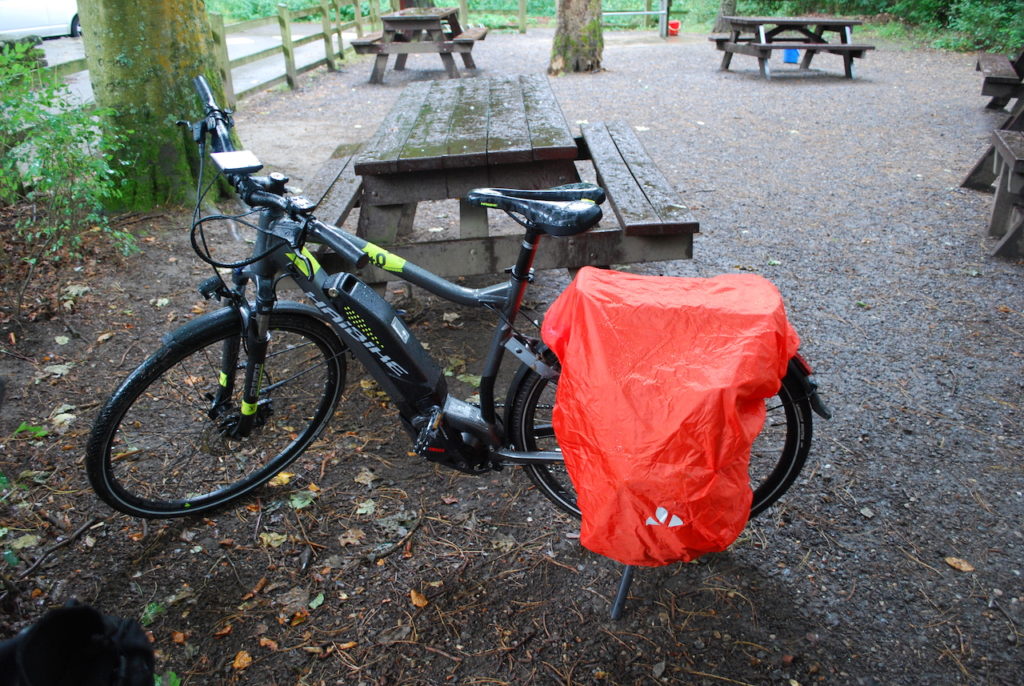 I also took a trailer for the sizeable four-man tent in case you are wondering where that went! They worked fine and the raincover was pressed into service too and kept everything totally dry.
I especially liked the clever mounting system using quick release hooks and alterable mounting positions using quick release dial fittings. Sounds technical but it's quick, easy and intuitive in practice.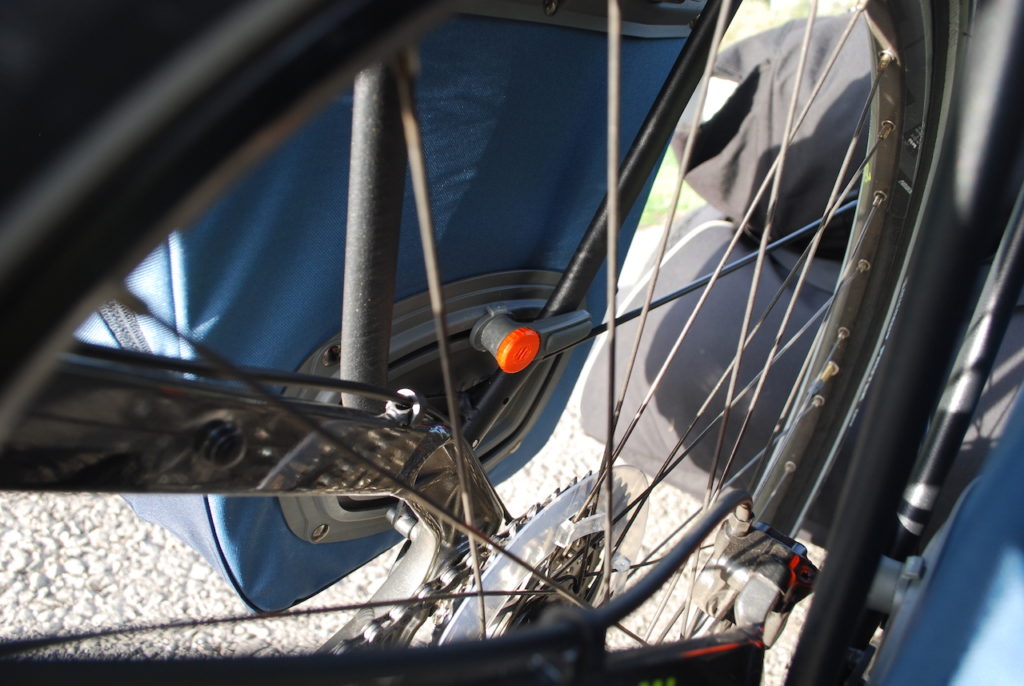 The only downside compared to the 'hook over' style panniers is that they won't fit the very largest of oversize pannier rack tubing found on some modern bikes (the panniers come with adapters so they will fit rails from 8.5mm to 16mm diameter). There is also a small hole at the top of each mounting hook that can be used to thread a miniature lock through for security.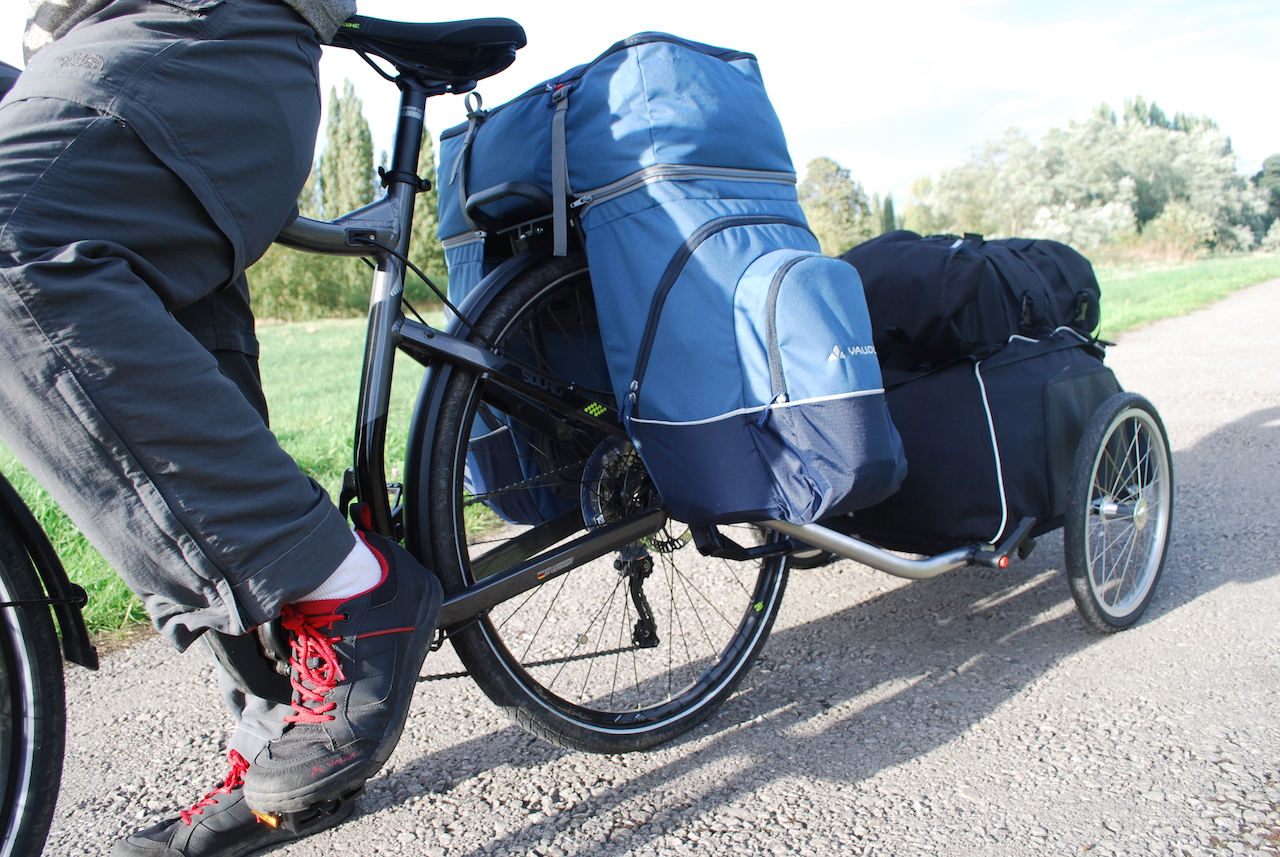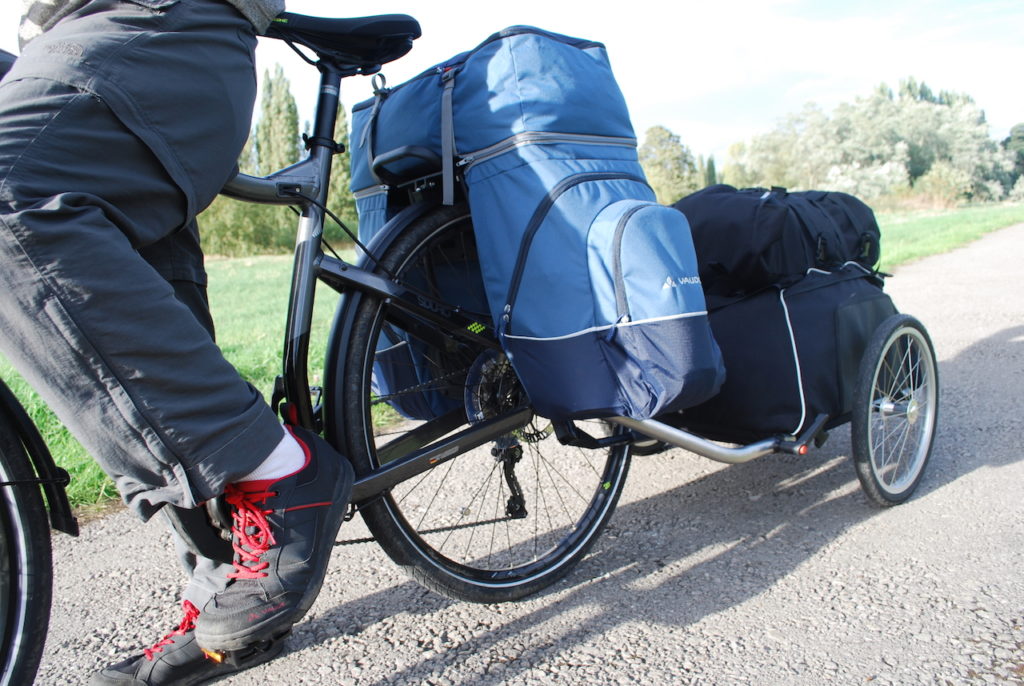 The polyester is not as tough as the tarpaulin-style panniers that are very common but it is not meant to be; the pannier set is really aimed at lightweight leisure cycle touring so contact with rougher off-road conditions such as brambles and barbed wire has the potential to rip the material (though, of course, it is sewable).
Although they are a significant investment, they would be a boon on a long continental tour where you want all your useful small items of gear to hand without having to root around in or empty single compartment panniers.
Price: Currently around $100 USD on Amazon or £140 on the Vaude website, available in black, salda (red), marine (blue)
Vaude Road I Handlebar Bag & BeGuided Smartphone Pocket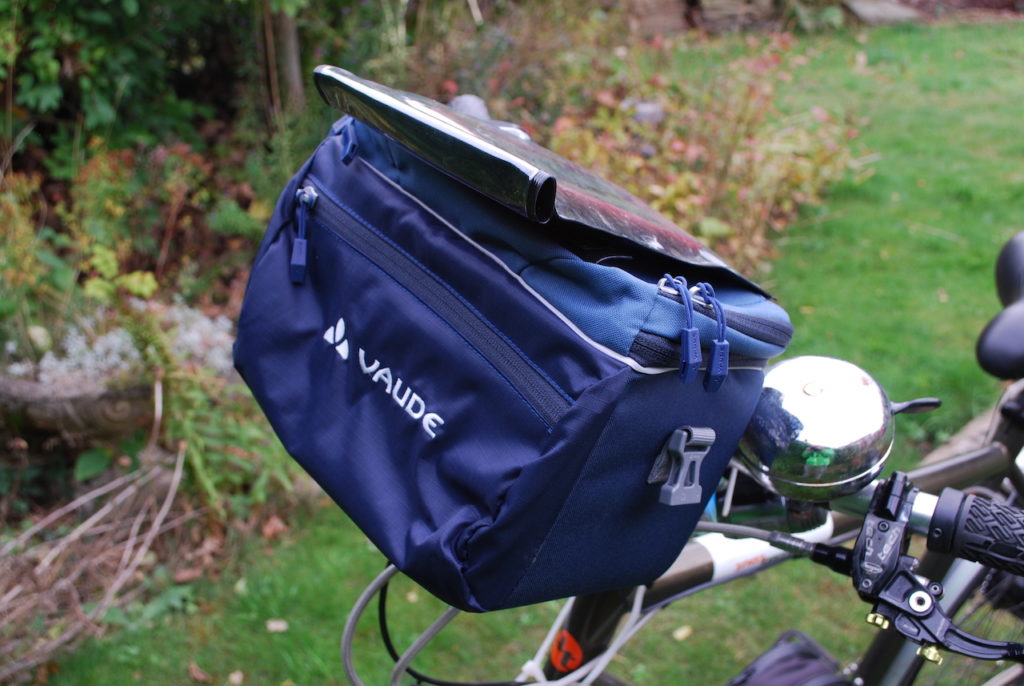 I was keen to road-test this combination of very light handlebar bag and waterproof phone pocket as it promised to solve the problem of having your smartphone on the handlebars and operable but in a waterproof cover – not a problem I have seen addressed very often by the many smartphone mounts out there.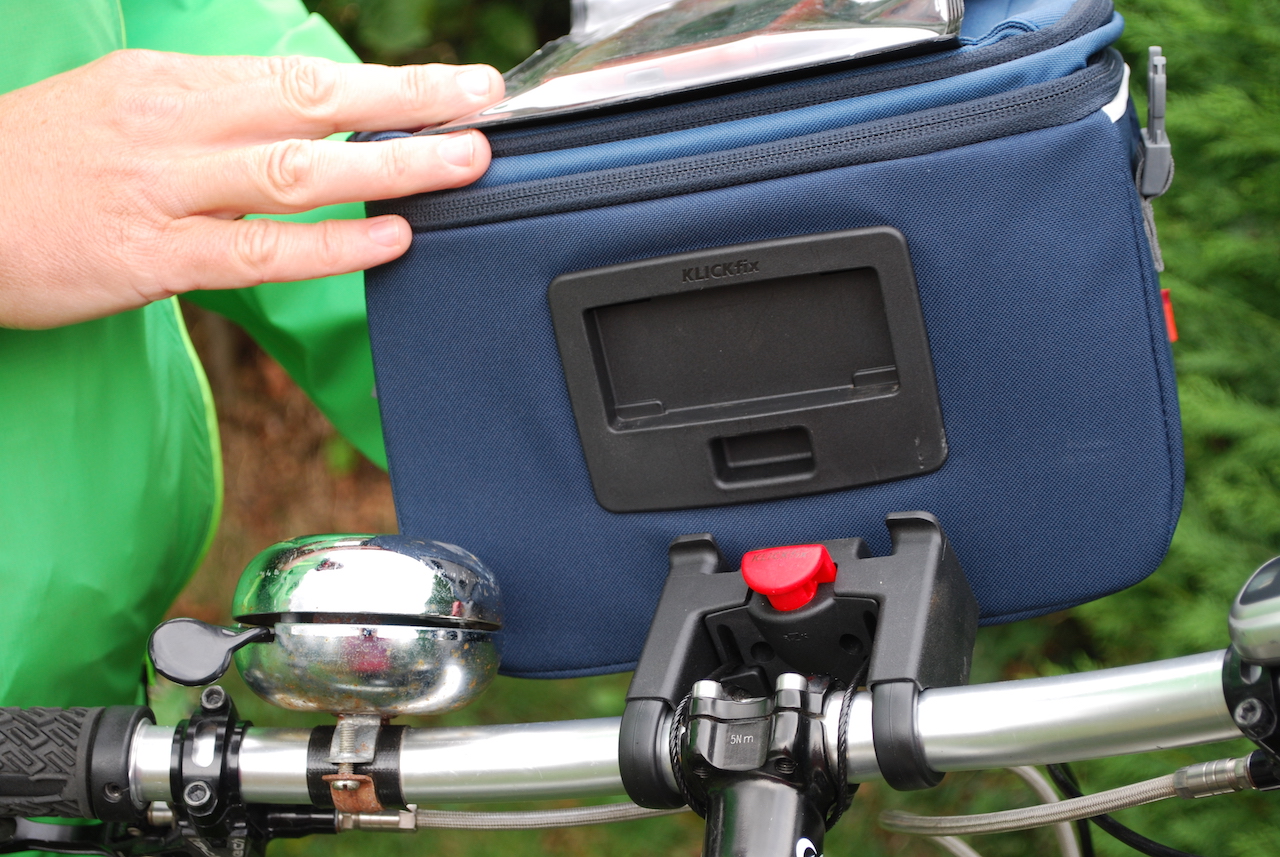 The bag itself mounts quickly, easily and securely using the longstanding and high quality Klickfix system that leaves a permanent mount clamped around the handlebar stem, allowing you to remove the bar bag at the press of a button.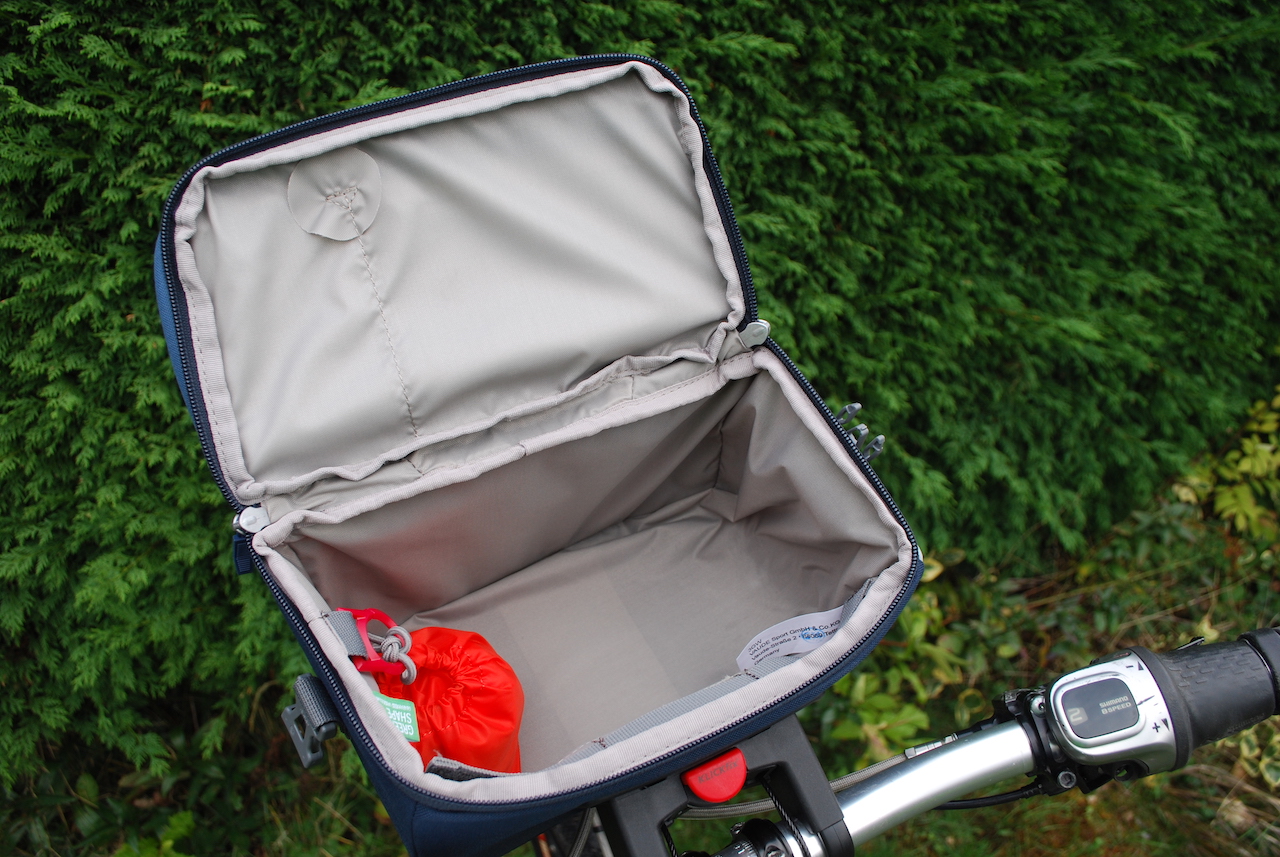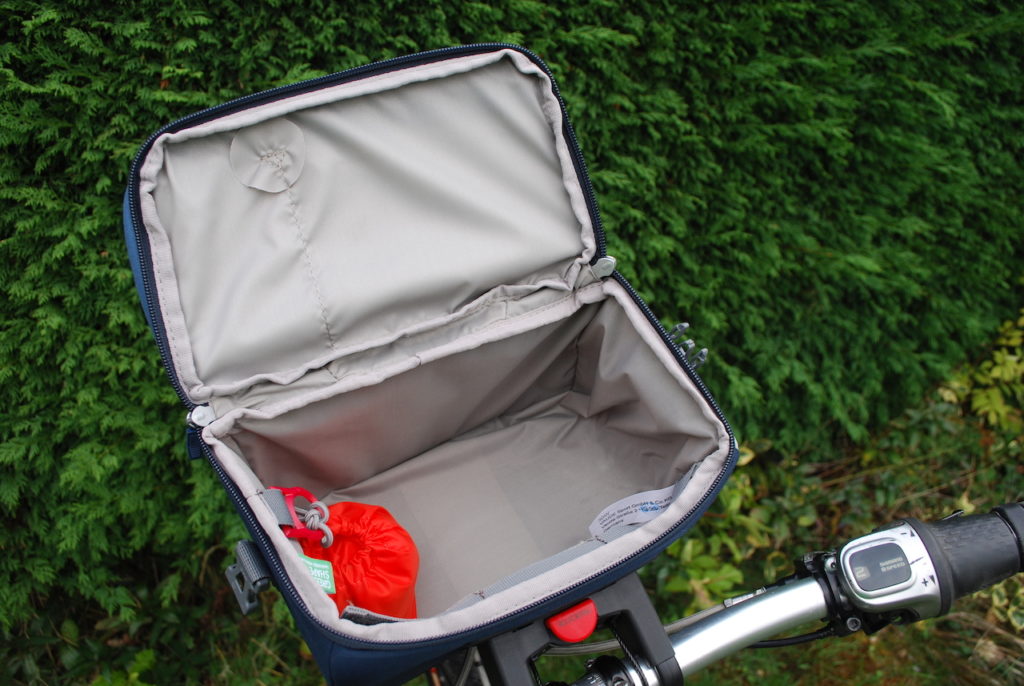 It's just the right size for small items such as food snacks, compact cameras and the like.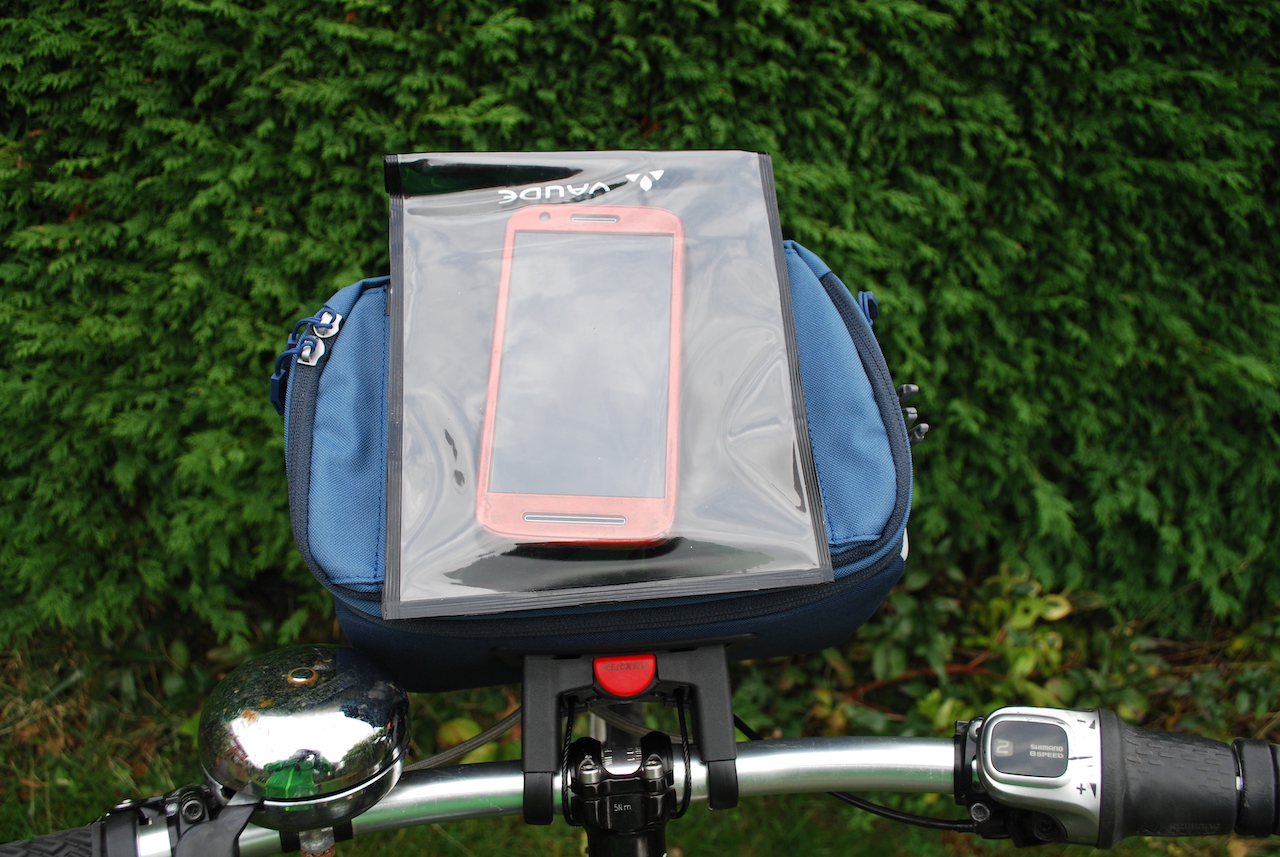 The BeGuided waterproof cover fits quickly and easily on top. It makes a handy pocket for a smartphone with its haptic-friendly transparent cover, meaning you can control the phone touchscreen through it.
Like the Karakorum pannier set, the materials are lightweight but the bag itself is extremely well made. There are also extra zip pockets in the front and top for very small items.
In use the BeGuided cover itself worked pretty well, allowing me to use the touchscreen through the plastic – I could even press in the side button on the phone to wake it up after the screen saver had kicked in, though this needed a bit of concentration and so isn't something you want to be doing in busy traffic.
My only niggle was that the transparent cover is quite shiny and produces a lot of reflection in full sunlight (and even some when it's overcast).
However, this didn't stop me seeing a map screen, for example, and being able to navigate from it with a bit of care and concentration.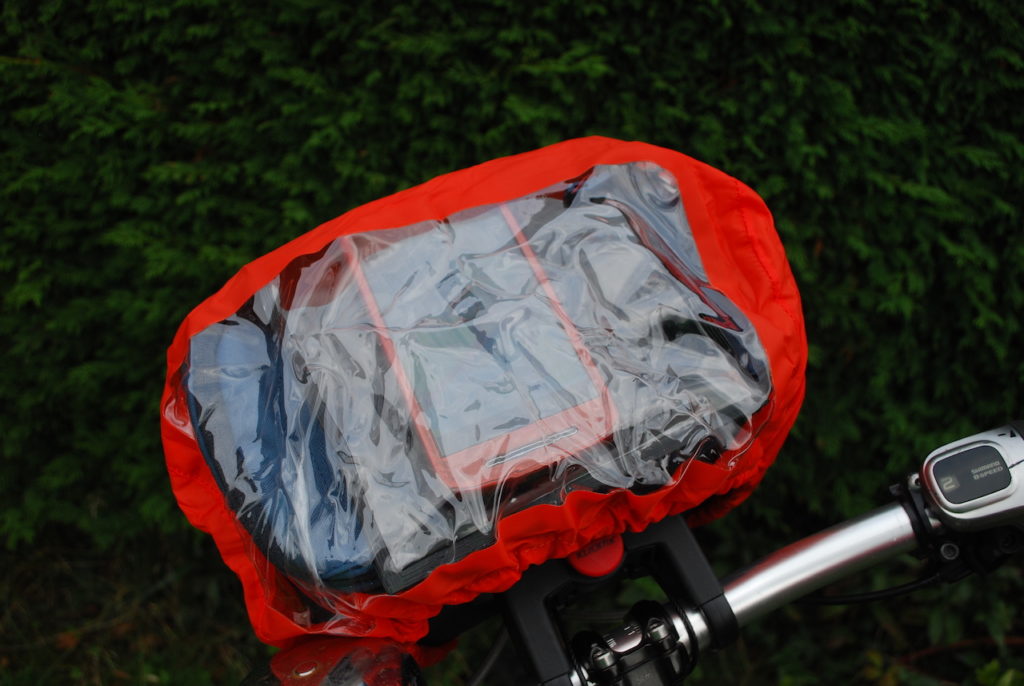 There's also a waterproof cover with its own transparent panel and it's possible though not particularly easy to control the phone through both covers.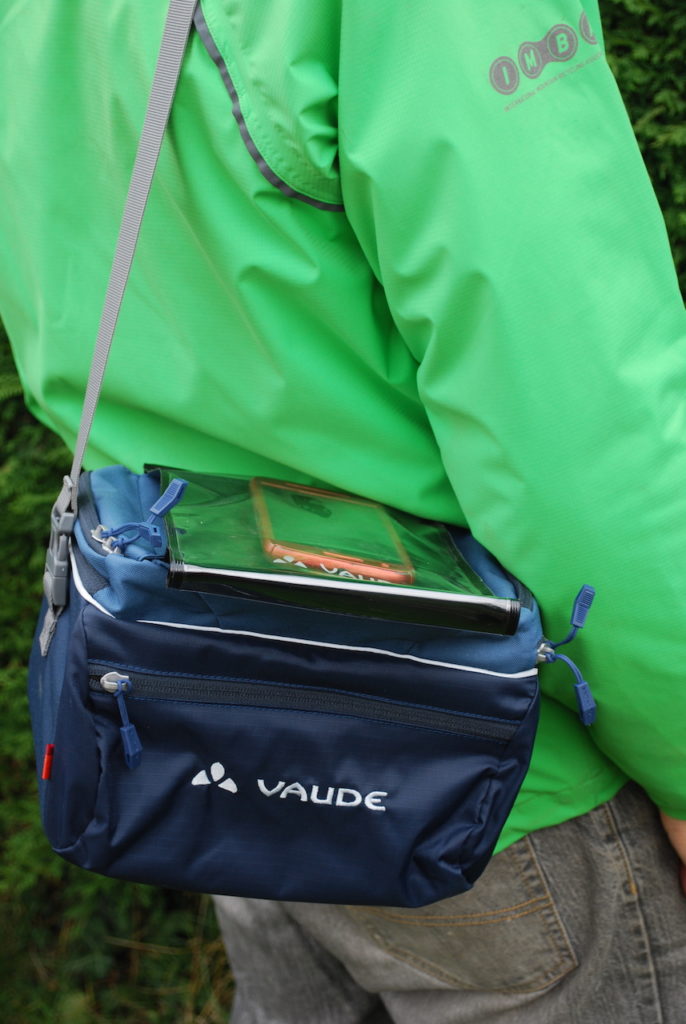 I've a feeling this is going to be on my 'must have' list for longer tours from now on, if only because it will allow me to navigate by phone in all weathers whilst providing a welcome bit of extra storage space in a handy location.
Details
Weight: 495 g
Volume: 6 litres
Dimensions: 18 x 24 x 15 cm
Max. recommended load weight: 7 kg
Vaude Road I Handlebar Bag with Klickfix Adapter, £65, available in black, salsa (red) and marine (blue)
Vaude BeGuided Smartphone Pocket, £12, available in black
Stay tuned for more e-bike news & reviews and thanks for reading!
-Richard
P.S. Don't forget to join the Electric Bike Report community for updates from the electric bike world, plus ebike riding and maintenance tips!
Reader Interactions