Thousand Chapter Helmet Review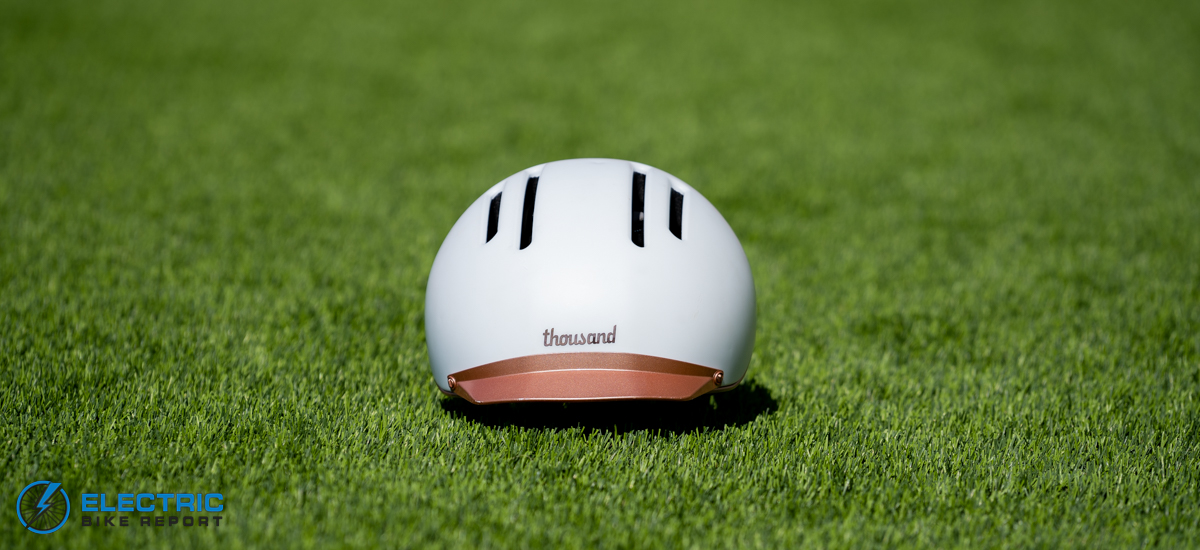 The Thousand Chapter helmet we're reviewing with MIPS offers all the protection found in expensive road bike and mountain bike helmets at an affordable price point. It also presents an understated look that can be accessorized with different colored visors (including rose gold, neon yellow and tortoise shell), while magnets at the rear of the helmet allow a rider to attach a blinking light, which is included.
In our Thousand Chapter helmet review we will look at what else makes it a great buy for e-bikers and traditional cyclists alike..

Pro's
Includes MIPS layer to mitigate rotational forces in a mishap
Removable light attaches at back by magnet
Includes port for locking helmet with bike
Free accident replacement
Meets CPSC safety standards

Con's
We would prefer to see some vents at the front of the helmet to aid ventilation on hot days
The visor is too short to help much in the morning or afternoon
We are pleased to note that the Thousand Chapter comes in three sizes (S, M, L) and their sizing guidelines include clear information for determining the correct size. A rear dial adjuster allows riders to tailor the fit for their comfort.
The MIPS liner adds to protection from rotational force in the event of a crash.
It's overall a pretty comfortable helmet. We wouldn't be mad at a little more ventilation, but it's not bad either.
We also like that Thousand offers a number of accessories, including alternate visors, bells, gloves, lights and stylish stickers.
A unique feature is the secret poplock where the branding is located. This makes it easy to lock up your helmet with your bike without fear some opportunist takes off with your helmet. It's a small feature, but a thoughtful one. Bike thieves are opportunists at heart – you wouldn't believe the amount of stolen bike seats – so you can bet they'd take a nice shiny helmet if it's just hanging out on the handlebars. But that's not so easy when you can thread your bike lock around your helmet too!
In a world full of helmets that look like the wearer just exited a rocket ship, we love that the Thousand Chapter looks like a cap, but comes with all the safety features of the most expensive helmets out there.
If you're interested in getting the Thousand Chapter helmet you can get it straight from Thousand's website at the button above.
Reader Interactions