Ride1UP 700 Series Review 2023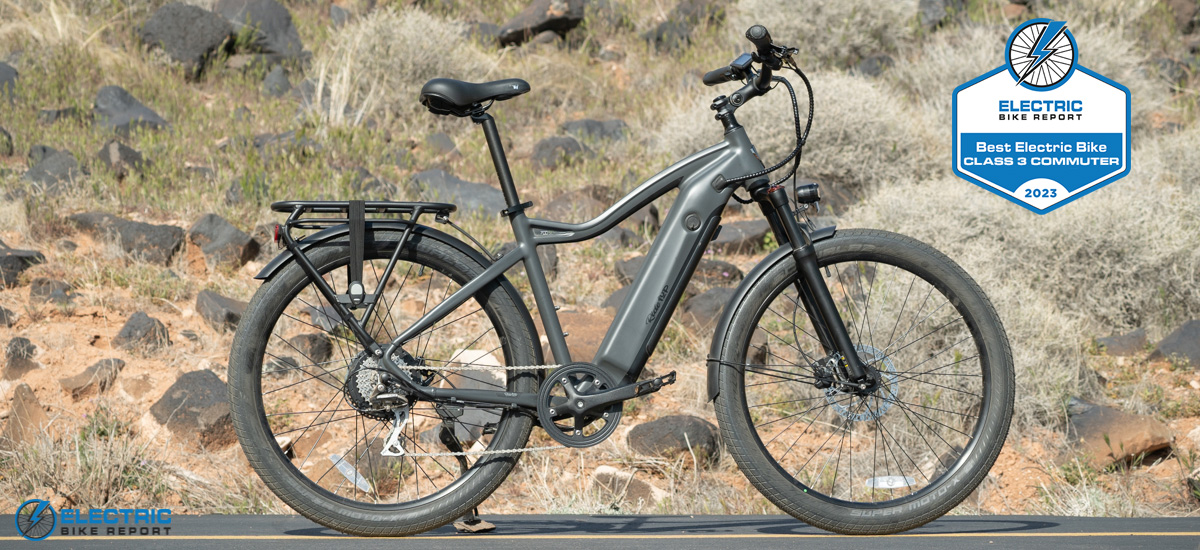 The rule "you get what you pay for" usually holds true, especially when it comes to electric bike buying. But, while more money usually equates to more quality in the e-bike world, there are some brands that prove to be the exception to this rule. Ride1UP is one such brand.
In this Ride1UP 700 Series review, we take a look at the value-priced brand's flagship commuter bike and unpack how, by using smart component choices, Ride1UP managed to squeeze a whole 'lotta performance out of a very inexpensive e-bike.
Built around a 750W rear hub motor and specced with a full Shimano groupset, Tektro hydraulic disk brakes and sporting all the commuter accessories you'd expect, we found the Ride1UP 700 Series to be a surprisingly high-performing value commuter. Through a gauntlet of testing, including a hill test, range test and brake test, we did our best to parse out how this e-bike performs in the real world.
*Right now you can get the Ride1UP 700 Series for $400 off during Black Friday savings! Click the button above, or head to our Black Friday E-Bike Deals page for more info.
*Editor's Note: Updated Nov. 20th, 2023 to include award badge, and links to latest info and pricing.

Bike Class:
Class 3: Throttle assist up to 20 mph, pedal assist to 28 mph
Ride1UP 700 Series Video Review

Pro's
It's pretty impressive that Ride1UP packed so many name-brand components into an e-bike that costs so little.
Speaking of name-brand components, the Shimano Acera 8-Speed drivetrain has one more gear than the 7-speed drivetrains we commonly see at this price point.
The 750W hub motor is very quick. It had little trouble cruising near its maximum pedal assisted speed of 28 mph.
We really like the bike's overall look. The gray paint job is subtle, but the overall frame shape has lots of curves and looks very nice.
The 672Wh battery has great range that's competitive with other similarly specced Class 3 electric commuters.
The Tektro disk brakes work very well and should be easily serviceable by your local bike shop, an often overlooked feature that's very important when an issue arises.

Con's
All direct-to-consumer e-bikes require a little assembly, but the 700 Series needed more than average. We'd highly suggest taking this e-bike to a bike shop to be built by a professional.
The cadence sensor isn't the quickest we've tested, with a short lag in response when stopping or starting pedaling.
Despite its 750W motor, the 700 Series didn't clear our test hill in the throttle-only hill test.
ELECTRICAL SPECS & FEATURES
Battery: 48V, 14Ah (672Wh) frame-integrated battery
Display: Color LCD display
Motor: 750W geared Shengyi rear hub motor
Headlight: Buchel 50 lux front lights
Taillights: Spanniga Luceo rear light
Peal Assist: Five PAS levels, cadence sensor
Range: 30-50 miles
Throttle: Thumb throttle
Weight & Dimensions
Claimed weight: 62 lbs
Maximum rider weight: 275 lbs (weight capacity)
Maximum load on rear rack: 50 lbs
Components & Accessories
Brakes: Tektro HD-E350 hydraulic disk brakes
Fenders: Alloy fenders
Fork: Mozo suspension fork
Frame: Alloy
Drivetrain: Shimano Acera 8-speed
Grips: Faux leather grips
Saddle: Selle Royal FreeWay
Handlebar: Alloy riser bars
Kickstand: Included
Pedals: Wellgo Alloy
Tires: Schwalbe Super Moto-X 27.5×2.4"
Ride1UP 700 Series Review: Bike Overview
Ride1UP is a bit of a sleeper brand in the affordable e-bike space. The California-based company isn't as well known as some of the big-name brands and the bikes they make have a muted look that, while subtle and a bit under the radar, is really quite nice.
But underneath that muted aesthetic is a Class 3 e-bike powered by a speedster of a 750W rear hub motor. Ride1UP has done a nice job of not just making a fast e-bike — something that in and of itself is universally loved — but they've made an e-bike that handles well, pedals efficiently and is remarkably cheap for its performance.
With a lineup of e-bikes that almost entirely cost less than $1,700 MSRP (there is one bike, the aptly named "Prodigy" that costs more than $2,000) Ride1UP has positioned itself as a value e-bike brand. But while their bikes may be inexpensive, they're certainly not made cheap. The 700 Series we're reviewing here is a great example of this. It's something we've come to expect from the other Ride1UP e-bikes we've reviewed.
Considering the 700 Series' sub-$1,700 MSRP, its really impressive how many name-brand components this bike comes with. The hydraulic disk brakes are from Tektro, the drivetrain is Shimano Acera 8-speed (which is one more gear than the standard Altus setups we see at this price) and the tires are Schwalbe SUPER MOTO-X 27.5" x 2.4", which are some of my favorite e-bike tires I've used.
All that componentry is wrapped around a Class 3 750W rear hub motor that's powered by a 48V, 14Ah (672Wh) battery that's fully integrated into the frame.
You also get a suspension fork, an adjustable stem and a whole host of other components that make this bike great for commuting, including a rear rack, integrated lights and fenders.
Value is the word of the day as we go through this review of the 700 Series. There's quite a lot of it in this bike, but let's see how it handles our tests.
Ride1UP 700 Series Review: Motor Performance, Speed and Acceleration
The Ride1UP 700 Series' sheer speed is one of its strongest suits.
The Shengyi-made 750W geared rear hub motor is remarkably fast on flat roads. It's a Class 3 e-bike, so it's capable of speeds up to 28 mph on pedal assist and 20 mph using the throttle, and it has almost no issue maintaining that clip.
The motor's power is divided up among five levels of pedal assistance, which allows you to adjust just how much assistance you're getting from the motor, and it's actuated by a descently sensitive cadence sensor.
To get an idea of how the five levels of pedal assist divvy up the motor's power, we put the 700 Series to the test around our Electric Bike Report circuit. We did a total of six timed laps around the one-mile loop, starting with a lap with the motor entirely off and gradually increasing the assistance each lap to PAS 5.
This test showed a number of things, including that the 700 Series is a decently fast-rolling bicycle with no help from the motor, and that Ride1UP did a really great job at evenly distributing the power among the five PAS levels. We also saw the bike do a really quick hot lap in PAS 5 with an average speed of over 24 mph.
Ride1UP 700 Series Review: Range Test & Battery Performance
Ride1UP claims the average rider can expect the 672Wh battery to yield a range of 30-50 miles, depending on the chosen assist level.
There are obviously innumerable factors that can affect an e-bikes range — including variables such as rider weight, weather, fitness, the moon phase, etc. — but we were largely able to verify the 700 Series' advertised range in our testing.
We put the bike through two range tests, one in PAS 1 and the other in PAS 5, where we pedaled the bike until it died. In the PAS 1 test, the bike lasted an impressive 45.05 miles before dying. And in the PAS 5 test our test rider made it 27.64 miles.
Both of those are just shy of Ride1UP's claimed range, which is a good sign for the bike's battery life. It's also a competitive result when compared to the range test data we've collected on other Class 3 commuter bikes.
Ride1UP 700 Series Review: Hill Test
While the 700 Series' strong suit may be its speed on flat ground, steep hill climbing ability is one department where this 750W e-bike left us wanting a little more.
For context, before I dive into why this isn't the best hill climbing e-bike we've tested, let me point out that the 700 Series did not struggle on 90 percent of the hills I encountered in testing. And that's saying something; Utah, where Electric Bike Report is based, is a very hilly place.
On rolling hills, especially when I was pedaling and not relying entirely on motor power alone, the bike fared fine uphill. Where it struggled was while throttling up prolonged steep hills.
Hills like our official test hill, Hell Hole.
Hell Hole is a one-third mile long section of bike path that pitches, on average, above 12 percent as it climbs from the bottom of a sandstone canyon to the top. We did two timed laps up Hell Hole on the 700 Series; the first using just the throttle and the second in PAS 5.
In PAS 5, the bike cleared the top in a respectable (but not record-breaking) time of 1:32.00 with an average speed of 11.8 mph. That time lags behind other Class 3 e-bikes we've tested by a handful of seconds, but it's still respectable.
In the throttle only test, though, the 700 Series did not make it to the top.
Hell Hole has gotten the best of many e-bikes we've reviewed, so it's not a terrible surprise when we have a bike peter out part way up the hill. But what's notable about this result is that most of our hill climb failures happen with 500W e-bikes, not their more powerful 750W siblings.
I chalk this up to the Shengyi motor's relatively low 60Nm torque rating compared to other 750W motor's we've reviewed. The Aventon Aventure's 750W motor, for example, makes 80Nm of torque, which is a really important factor when considering hill climbing ability.
Ride1UP 700 Series Review: Brakes and the Brake Test
It's impressive, considering the 700 Series' relatively low price, that the bike comes with a name-brand brakeset from Tektro. It's another example of where the team at Ride1UP has made smart decisions about component choices, foregoing the cheaper brakes for ones that are higher spec and will likely last longer.
The Tektro HD-E350 hydraulic disk brakes on the 700 Series are the brand's workhorse model that we see often on affordable e-bikes. They're reliable, easily serviceable by your average bike shop and stop very, very well.
In our brake testing of the Ride1UP, all of the above continued to prove true. We conducted five full-power stops from 20 mph on the Ride1Up, which yielded an average stopping distance of 13-feet-5-inches, which is several feet better than the all-time average stopping distance of all the bikes we've reviewed thus far.
Ride1UP 700 Series Review: Ride Comfort, Handling and Cockpit
To match the 700 Series' high average speeds, Ride1Up gave the bike very balanced and predictable handling.
Aside from the notably high-specced Schwalbe Super Moto-X tires, there's nothing unique or quirky about how the Ride1UP rides — which is honestly a very good thing. It feels very balanced and controlled at high speeds, and in corners the steering remains neutral and predictable. It's the type of e-bike that's very easy to ride — you don't have to be an expert to get a feel for it.
It's also comfortable, which is jointly thanks to the suspension fork out front, its cushioned Selle Royal FreeWay seat and those wide tires.
At the handlebars, there are a set of faux leather grips, a thumb throttle and a full-color LCD display that's functional and easy to read. Lastly, as any good commuter should, the Ride1UP is fitted with integrated lights front and rear, fenders and a rear rack rated for 50 lbs of cargo.
Ride1UP 700 Series Review: Summary / Where to Buy
There are lots of things I really like about the Ride1UP 700 Series, but arguably the most impressive is the fact that it's specced with name-brand parts for a notably low price.
And that's not even considering that many of those name brand parts, specifically the Tektro brakes and 8-speed Shimano drivetrain, are actually nicer than the parts you'd find on a competing e-bike that costs several hundred more.
But beyond its affordable price point, I'm really impressed with how nicely the 700 Series serves its purpose as an electric commuter bike. It's nicely appointed with racks, fenders and lights; it's fast enough to be considered a "super commuter;" and it looks the part, too, with a light gray paint job that's aesthetically appealing without screaming "steal me!" at would-be thieves.
It's hill climbing abilities on our super steep test hill may not rival that of some of its more expensive competitors, but I still think it will serve you well on most any hill you put it up against.
If you're looking for a competitively priced Class 3 electric commuter, the Ride1UP 700 Series is definitely worth a look.
Like the rest of the Ride1UP lineup, the 700 Series can be bought online and shipped directly to your door.
'Happy Riding, make sure to let us know if you have any questions down in our comments section or if you think we left anything out in this review of the Ride1UP 700 Series.
Reader Interactions