Himiway Cruiser Electric Bike Review – 2023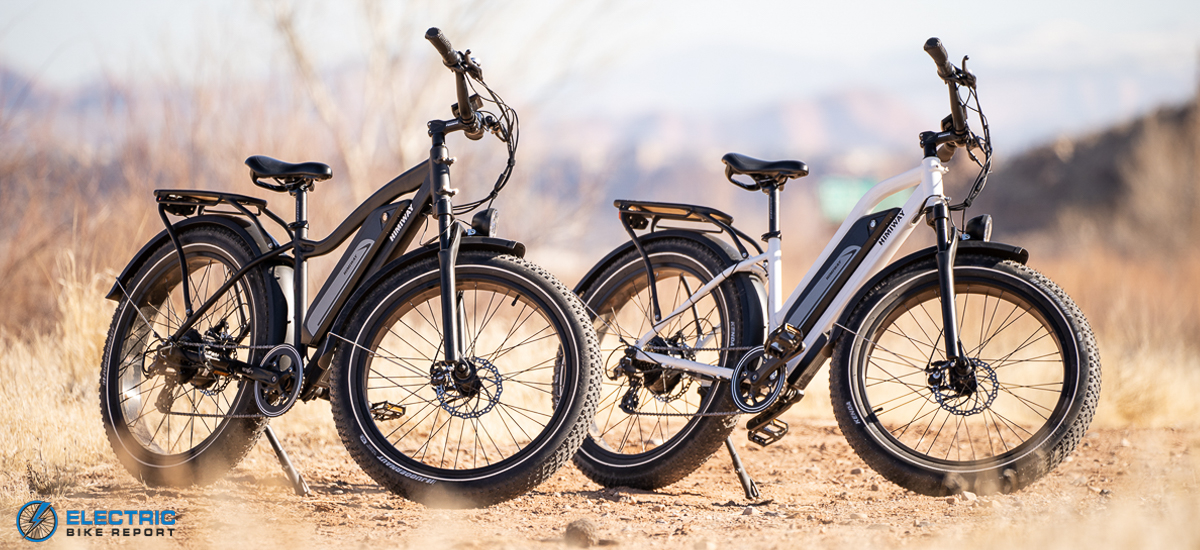 Summary Review: Himiway Cruiser Electric Bike
*See the latest price on the Himiway Cruiser here
The Himiway brand was created by Mike Magaruh in 2017. Mike traveled around Asia familiarizing himself with e-bike manufacturers, and the component brands behind them. He then put his knowledge to use to create the Himiway brand which combines reputable componentry with a rugged outdoor design. With this in mind, we've looked forward with great anticipation for our chance to review the Himiway Cruiser. For this review Electric Bike Report tested both the step-thru and regular Cruiser models.
The Himiway Cruiser is a powerful all-terrain fat bike that specializes in trudging through snow, sand, and most any other surface while also destroying hill climbs. Priced right around $1,500, we think the Himiway Cruiser and Step-thru offer a lot of value – just be prepared and know that you are getting a powerful e-bike that takes off quickly and is super fast, so hold on tight!
If you are looking for a good-priced, powerful e-bike that's able to ride on a wide range of terrain, then the Himiway Cruiser is a great option to look at. Especially thanks to the two different frame options to choose from.
*Himiway is sharing some savings with the EBR audience! When you click the button above and use the discount code ELECTRICBIKEREPORT you will save $50 at checkout!.
E-bike category: Hybrid Path Cruiser
(Fat Tire Bike for Multiple Paths)
E-bike class: Class 2 | Class 3
(20 MPH Throttle | 28 MPH Pedal Assist)

Pro's
Super powerful e-bike that you feel the moment you start pedaling. If you are someone who likes power, you are going to like this e-bike.
The fat tires smoothly roll over surfaces with ease.
The bike was very stable, even at high speeds and we had high levels of traction on nearly every surface.
The 48V 17.5Ah battery provides plenty of range. Even for a bigger, stronger bike, you can expect many miles on a single charge.

Con's
Slight delay in pedal assistance when you start pedaling. There is about a one second motor lag
The mph readout glitches and will go to 5 mph randomly for a couple seconds when you are going around 20 Mph, we noticed this mostly on corners. This happened on both models we tested.
PAS has a lot of power and gets you up to speed quickly, but we would have liked a little more variation in how much speed you get amongst the different assist levels.
ELECTRICAL SPECS & FEATURES
Battery: 48V 17.5Ah Samsung lithium battery
Display: LCD display with USB charging
Motor: 750W brushless gear motor
Headlight: 48V LED light
Taillights: Yes
Peal Assist: Levels 0-5
Range: 35-60 Miles
Throttle: Half Twist Throttle
WEIGHT & DIMENSIONS
Battery weight: 8.9lbs
Total bike weight: 72lbs
Maximum rider weight: 350lbs
Maximum load on rear rack: 45lbs
Unfolded Dimensions: 75" x 46.5 (Total Length and Handlebar Height)
COMPONENTS & ACCESSORIES
Brakes: Tektro aries 180mm brakes
Fenders: Plastic, Included
Fork: Alloy front suspension fork with lockout and adjustment
Frame: 6061 Aluminum frame
Freewheel: Shimano 7 speed gear shift system
Gearing: Shimano- 14-28T BROWN/BK
Grips: Leather/Rubber Lock On
Saddle: Velo soft saddle
Handlebar: Alumimi 650mm
Kickstand: Heavy duty aluminum
Pedals: Alloy pedal with reflectors
Tires: 26″ x 4.0″ Kenda Juggernaut fat tires
Performance Review: Himiway Cruiser Electric Bike
Acceleration / Speed
One of the most prevalent features of the Himiway Cruiser is the powerful acceleration that it is capable of. Whether you are using the throttle, or pedal assist the power of the 750W Hub Motor is apparent.
We found the acceleration to take us by surprise, as there is a temporary lag before the motor engages if you're pedaling. We definitely would have liked to see less lag in the motor engagement, but it didn't take long to get used to.
As far as when the Himiway Cruiser is up to speed, it's extremely fast for a fat tire bike. On straightaways, it doesn't take much effort to be pedaling upwards of 20mph, and because of the fat tires, we felt extremely stable on the Himiway Cruiser at those speeds. It's noticeably quicker than most of the other electric bikes we test.
Shifting / Gear Range
The Himiway Cruiser comes with a Shimano 7 speed gear shift system, and a Shimano Altus Derailleur. The gear range on the Cruiser was perfect for hill climbs, and speed in general. Lots of e-bikes have gearing that's too easy in comparison to the pedal assist levels which results in "spinning out" the gear you're in quickly. Thankfully that's not the case on the Himiway Cruiser, the gear range provided is a great median of being easy enough to climb with on the high end, and hard enough to maintain speed with on the low end.
Handling (Cornering, slow speeds, etc…)
The Himiway Cruiser handles relatively well, but it may be a bit tough to maneuver for some riders due to its weight. The Himiway Cruiser likes to stay on its path, and the wide tires, mixed with the large frame make for a tall, long bike overall which is great on straightaways but can be a little tough to maneuver in tight, windy situations. For how we picture most people riding the cruiser we don't think this will be much of an issue, but it's definitely something worth noting.
Comfortability
The best analogy we thought of when comparing the comfort of the Himiway Cruiser to other bikes is that it's like driving a lifted truck vs. a car. On the Cruiser, you feel higher off of the ground, and like you're prowling over everything with ease, the cracks in the sidewalk, and rougher pavement feel like a magic carpet when riding the Himiway. The soft Velo saddle, suspension fork, and voluminous 26 x 4.0 Kenda Juggernauts are prime examples of why the Himiway glides as smoothly as it does, and has the truck-like feeling when riding it.
Riders may prefer the step-thru option for added ease when first getting on the bike and coming to complete stops. The lower step over height makes the ride a little more accessible overall.
Stopping
The Himiway Cruiser comes with mechanical disk brakes, however, we still had the stopping power we were hoping for because of the bike weighing 72 pounds, having 4.0in wide tires, and a suspension fork. Sure, the bike has a lot of mass to slow down, but it also has lots of friction that can be used to your advantage when riding, and slowing down the bike. The suspension fork seems to absorb some of the forward energy when stopping too, which definitely helped us slow down quicker.
Range Test: Himiway Cruiser Electric Bike
There weren't any questions from us when it came to the Himiway Cruiser's power and speed. However, we were curious if these positive attributes would cause the 48v 17.5ah battery to die quickly. Thankfully that wasn't the case, in fact, it was the exact opposite – Our test rider rode 43.65 miles on maximum pedal assist with an average speed of 16.1mph on a single charge. Nearly 44 miles on a single charge is quite impressive considering how heavy the bike is, how wide the tires are, and how much power the bike can produce.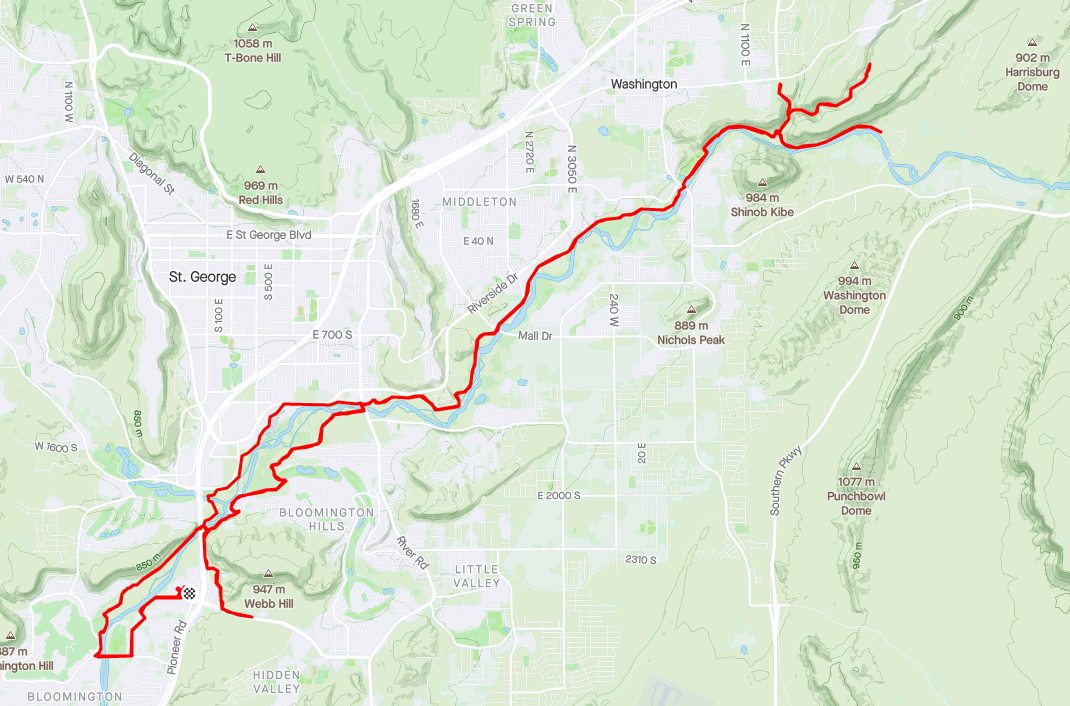 Spec Review: Himiway Cruiser Electric Bike
Motor
Powering the Himiway Cruiser is a 750W brushless rear hub motor that possesses very apparent power and speed capabilities. When testing the Cruiser we were able to hold high average speeds on hills and through the sand.
This is notable because these are two areas where some e-bikes struggle to hold their speed. It was great to experience the power, and torque the fat tire possesses and as mentioned it was a luxury to be able to trudge through deep sand, and fly up hills no matter how steep.
The motor engagement may take you by surprise at first, so make sure you start off in pedal assist level 1 and go up from there.
Battery
The long-lasting, stealthy 48V 17.5Ah Samsung Lithium-Ion Battery is a great addition to the Himiway Cruiser. We appreciated how many amp hours this battery has, as any less would probably result in short charge lives and noticeable battery depletion on steep, sustained climbs.
Thankfully that isn't the case for the Himiways battery as mentioned above in our range test section. We only have good things to say about this battery, it charges quickly, and lasts a long time even when riding the bike on higher assist levels.
Considering the fact we nearly reached 44 miles on maximum assistance, it's safe to assume the Himiway Cruiser will reach over 60 miles before finally dying If you conserve the battery as much as possible when riding.
Pedal Assist
The Himiway Cruiser comes with 5 total levels of pedal assistance, we noticed that there wasn't a very distinguishable feeling between these assist levels as they all accelerated us rapidly. While we enjoyed going fast, we would have liked to see, and feel bigger increments between the assist levels.
If you're one who prefers speed we could see this being a pro for the Himiway Cruiser. With that being said those who want to conserve the battery as much as possible would likely benefit from a less intense level 1.
Throttle
The Himiway Cruiser comes with a grip twist throttle that gives the bike a motorbike feeling once twisted. As we mentioned in the motor section, riders will want to get used to the throttle before engaging it on their rides. The throttle engages with enough power and speed that if you aren't prepared you could easily be taken on an unwanted drag race.
For how strong the Himiway Cruiser is, we would prefer having a lever throttle. Lever throttles provide more modulation and are less likely to be accidentally engaged. With grip twist throttles, the bike can be engaged by accident a lot easier, especially when getting on the bike.
Once you're used to the placement and feel of the Cruiser's throttle it's a lot of fun, and quite useful. Just make sure you know how it feels before you learn the hard way.
Display
Himiway uses an LCD display with USB charging on the Cruiser, this display is plenty large and bright to be visible at a glance. This display is going to tell you everything that you need to know when riding, however, there were few noticeable glitches we encountered when cruising around.
The first thing we noticed was the bike's mile per hour read out would jump from around 20mph, down to 5mph randomly when riding at higher speeds. For us, it made us wonder how accurate the initial reading of the higher speed truly was.
This issue happened to us on both the bikes we tested so it wasn't just a one-off issue. While this glitch is relatively minor, we hope it gets ironed out down the road
The second thing we noticed was the battery life indicator jumping around quite a bit, rather than indicating a consistent depletion the battery life was rather inconsistent when it came to viewing how much charge we had left on the battery. Sometimes the display would show we had half of the battery left after we had already gotten past the halfway point.
After discussing this issue, we agreed that a percentage-based readout would help the rider understand how much battery life they had left in greater detail.
We wonder if both of these issues come from the controller struggling to keep up with the data input it's receiving. With that being said, we would like to see these fixed in future Himiway models.
Lights
With a 48V LED light up front, and a brake engaged tail light in the rear, you'll be visible to others even in low light conditions. The headlight was bright enough to emit our path at night, but not as bright as we were expecting for the size of it.
If you plan on doing lots of nighttime riding an additional light mounted to your handlebar or helmet would be recommended.
The headlight is visually appealing and fits the theme of the bike quite well, and the tail light is tucked away nicely on the rear rack. You can also turn the headlight on, and off from the display controller located on your handlebar.
Components and Accessories
Brakes
The Cruiser comes with Tektro Aries mechanical disk brakes, and 180mm rotors. While these brakes have enough power to stop you, we would like to have even more power because of the sheer mass of the bike.
With the Cruiser weighing upwards of 72 pounds and being more than capable of speeds above 20mph, hydraulic disc brakes would be a great addition to the bike, even if it made it a tad pricer.
The way we see it, you can't put a price on safety, and hydraulic brakes such as the Tektro Dorados would significantly improve the overall safety of the Himiway Cruiser.
On a more positive note, the mechanical disc brakes are a lot easier to adjust and dial in than hydraulic brakes are. If you are needing service on your hydraulic brakes you'll likely have to take them into your local bike shop.
In summary, the mechanical brakes are just fine, but for the sheer size and power of the Himiway Cruiser, we would prefer hydraulic disc brakes. And as you'll see in our video review, the brakes performed rather well despite their mechanical nature.
Fenders
The Himiway Cruiser comes with front and rear plastic fenders, the front tire fender covers about 1/3rd of the wheel, and the rear fender covers about half of the wheel. Lots of dirt, sand, and gravel gets kicked up by the Himiway Cruiser due to its 4.0 inch wide tires prowling over everything in their path, thankfully these fenders do a good job of keeping you protected, and your bike frame clean. These fenders are also lightweight, flexible, and fit the look of the bike well.
Fork
The Himiway Cruiser comes with a 32mm spring suspension fork with 100mm of travel. This suspension fork comes with a lockout dial, so you can "dial" in the stiffness of your suspension on the go. This suspension fork adds to the truck-like feeling this fat-tired Cruiser possesses, as it eats up what's in its path and keeps the rider comfortable and in control.
Frame
The 6061 alloy frame comes in two different styles, the standard frame, and the step-thru frame. Both frames weigh the same, however, the step-thru frame has water bottle cage bolts while the standard frame does not.
Aside from that, and the lower standover height of the step-thru frame these bikes are virtually the same.
Both frames feel strong, and sturdy just as we would hope for on such a large, powerful bike. Overall Himiway seems to do a good job manufacturing their frames, the only nit-picky critique we would make is to work on making the welds between contact points less noticeable.
Drivetrain
The Himiway Cruiser has a 7 Speed Shimano Altus Derailleur, and a Shimano Index Thumb Shifter. The shifter and derailleur pair up nicely, and when you shift they provide a crisp feeling.
We found the 7 gear range to be more than enough for the Cruiser, with how fast this bike can go it was rare we were in gears 1-3. It was still nice to have the lower gears for when we got tired, or things got steep but overall lots of our time was spent in the harder gears.
After lots of testing, we determined The Shimano 7 Speed setup Himiway has provided on the Cruiser is the right groupset for the job. Another perk of this drivetrain is the fact it's made by Shimano – because of this your LBS (local bike shop) will know how to tune the drivetrain if needed, and will likely have replacement parts in stock.
Grips and saddle
The saddle and grips are two of the biggest contact points on bikes, so it's important that they're comfortable and perform up to par.
After lots of miles on, and off-road we think it's safe to say that the Velo Cruiser saddle and lock-on grips check all the boxes when it comes to comfort and positioning.
The Velo Saddle felt great below us, even on super long rides. It also came with a handle on the underside that was a lot of help when lifting the bike, and moving it around in general.
While the grips were comfortable we would have liked a little bit more of a tacky feeling on the grips. The leather-feeling rubber can be rather slick in off road situations, but when cruising around they're just fine.
Overall, we think most riders will be just fine with the saddle and grips that are on the Himiway Cruiser, and if that isn't the case both of these components are easily interchangeable.
Handlebar
The 27.8mm/650mm alloy handlebar with a 70mm rise felt a bit thin in width, and thickness. For such a large bike, a 27.8mm bar just didn't feel as strong as the rest of the bike did, it also was a bit thin for our liking. We would have liked at least a 700mm bar for the Cruiser, as a wider bar would help with balance, and control especially in off-road situations. On a positive note, the 70mm rise was a nice touch that kept us riding a little bit more upright, resulting in less fatigue over time. If you are planning on doing casual cruising on the Cruiser this bar will likely be just fine for you, but if you're planning on taking the Cruiser offroad, we think a wider bar would definitely improve the experience.
Pedals
The other main contact point when riding the Cruiser is the pedals. Pedals can range quite a bit in grippiness, durability, and feel, and after riding on the Wellgo Aluminum Pedals we agreed that these pedals are just fine for the Cruiser's intended use.
The pedal platform has pins that improve grip and control but aren't so large that you can't get your foot off when you need to. These pedals also come with reflectors to improve your visibility to others. Because these pedals are alloy, they are going to feel supportive below you, and hold up to pedal strikes just fine.
Similar to the grips, and saddle we think most riders will be just fine with these pedals. If that isn't the case pedals are easy to switch out.
Tires
The 26 x 4.0 Kenda Juggernaut tires feel, and perform like, well… a juggernaut! From our testing, these tires eat up everything in their path and can grab traction on the ground where there is none. Thanks to the width, volume, and tread pattern of these tires we were able to float over sand and absorb lots of off-road chatter such as on washboardy roads.
These tires proved to be decently puncture-resistant too, as we never had a flat even when running extremely low tire pressures. Having a quality set of tires is crucial for the performance of your bike, and we feel the Himiway Cruiser has the right set of tires for its all-terrain purpose.
Another perk of the Kenda Juggernauts is the sheer amount of air they hold, because of how voluminous these tires are you are able to run a wide variety of tire pressures that provide drastically different feeling, and performance.
Cargo options
The Himiway Cruiser comes with a rear rack that's great for paneer bags, the rear rack can hold up to 45 pounds comfortably. Himiway also offers a front basket addition for $89.99 USD if you want the additional storage space.
Summary Review / Where to Buy
The Himiway Cruiser gave us a new perspective on fat tire ebikes, with how powerful, quick, and plush the Cruiser is we couldn't help but relate it to a Truck. The only way the Fat Tire Cruiser wasn't like a truck is that it actually got good gas mileage, or battery mileage in this instance.
The combination of the 26 x 4.0 Kenda Juggernaut Tires and Suspension Fork made us feel like we were riding on a magic carpet, even when offroad. These two components work together nicely and we appreciated the thoughtfulness that went into the Cruiser.
No bike is perfect, and we believe that hydraulic disc brakes are a must on future Fat Tire Cruiser Models, the mechanical disc brakes work well, but for the sheer mass and power of the Fat Tire Cruiser brakes to match the power are crucial. The benefits of mechanical disc brakes are that they are easier to adjust and maintain, but we don't feel that outweighs the stopping power and performance of hydraulic disc brakes.
Interested in the Himiway Cruiser? You can check out their fleet of bikes at the button below. Himiway provides a 2 year warranty, and a 15 day return for those who decide they don't want the bike.
We believe the Himiway Cruiser is going to be a great bike for those who value comfort, and don't want to be held to one surface/type of terrain when riding. With a long charge life, a powerful motor, suspension, and massive tires the Fat Tire Cruiser will be ready for whatever you decide to ride
P.S. Don't forget to join the Electric Bike Report community for updates from the electric bike world, plus e-bike riding and maintenance tips!
Reader Interactions