Accessory Roundup: Rinsten Spring Seat Suspension, Velogical Rim Dynamo, Shimano Jackets & Gloves [VIDEO]
Time for a look at some new bike accessories that can make your eBike ride safer, more comfortable, convenient, and fun!
In this roundup we have the:
Rinsten Spring Seat Suspension
Velogical Rim Dynamo
Shimano Jackets & Gloves
Rinsten Spring Seat Suspension
This is one of those ideas that's so seemingly simple you wonder why it hasn't been more widely adopted, though there have been odd examples of leaf sprung saddles scattered through the annals of bike design history.
The Rinsten Spring is more or less what it says – a steel spring inserted inbetween the underneath of the bicycle seat and the top of the seatpost.
We have reviewed systems that involve hinged movement before, like the Cane Creek Thudbuster, but on paper the Rinsten Spring looks a lot lighter, simpler solution that should easily fit the majority of bikes that come with the standard seat rail mounting system.
Installation is pretty simple as the video demonstrates.
The main note of caution to sound is that you need enough 'spare' seatpost length in the first place to allow for it to be lowered into the bike frame by the height of the spring you are adding.
My initial ride experience was that it felt like it was rocking way too much as you pedaled.
I soon realised it's a matter of experimenting with both the fore and aft positioning of the upper and lower rails on the spring whose positions can be set independently of each other.
Once you find this fairly precise 'sweet spot' where, in your normal riding position, your weight compresses the spring evenly along its length (rather than mainly at the front or rear), it certainly does feel to add an extra layer of comfort to the ride.
There is still a little 'fore and aft' tilting of the saddle, especially if you shift your weight front to back a lot, but I found I soon got used to the sensation.
Clearly it's not a suspension solution on the same level as regular front or rear suspension integrated into off-the-shelf bikes – of course there is much less travel available on the Rinsten and there is no damping effect, so on bigger bumps there is a small 'bounce back' effect.
However, this is a very cost-effective and retrofittable solution that does help even out moderate humps and bumps.
At US$69 it won't break the bank (Amazon currently has it for $49.99)
It would be nice to see if a mark II version could be developed that incorporates some damping and even an 'anti-roll' mechanism without adding too much weight.
Now there's a technical challenge.
More information at Rinsten.
Velogical Rim Dynamo
Whilst many e-bikes come with LED lights fitted and powered from the battery, many don't.
If you are looking for a retrofit option that gets around the problem of LED lights with their own batteries that, of course, can run out on you in mid-ride, then you are looking at a dynamo style solution.
Once upon a time you could choose between a rim dynamo that presses against the bike rim (prone to slippage and wear) or a hub dynamo (more reliable but adding up to half a kg to the bike weight and in any case not a solution if you already have a front hub motor e-bike).
Enter Velogical's rim dynamo. This incredibly precisely engineered dynamo from the eponymous German designer and manufacturer weighs just 78g (a typical rim dynamo weighs around 200g).
The Velogical makes great claims for its efficiency which helps with the light weight of course but the development of relatively low power LED bike lights mean the Velogical's 1.5W rating is now a practical proposition (3W is still a common rating on bottle and hub dynamos).
Whilst Velogical say the dynamo is especially for 'sports oriented cyclists' I think it also has a particularly good application on lightweight e-bikes, especially e-folders that don't have lights and where you want to retrofit them whilst keeping weight to a minimum.
The Velogical comes in three versions with increasing rolling resistance meaning power output at proportionately lower speeds. I chose the 'middle' version where power output kicks in over 5mph.
The Velogical can be mounted on a V-brake boss or directly onto the front fork using the correct mounting bracket supplied by Velogical.
Initially I tried it out on a V-braked bike but am now swapping it over to a Nano-Brompton (that I purchased without the lighting option) – so the correct sized Velogical fork mounting bracket is on order.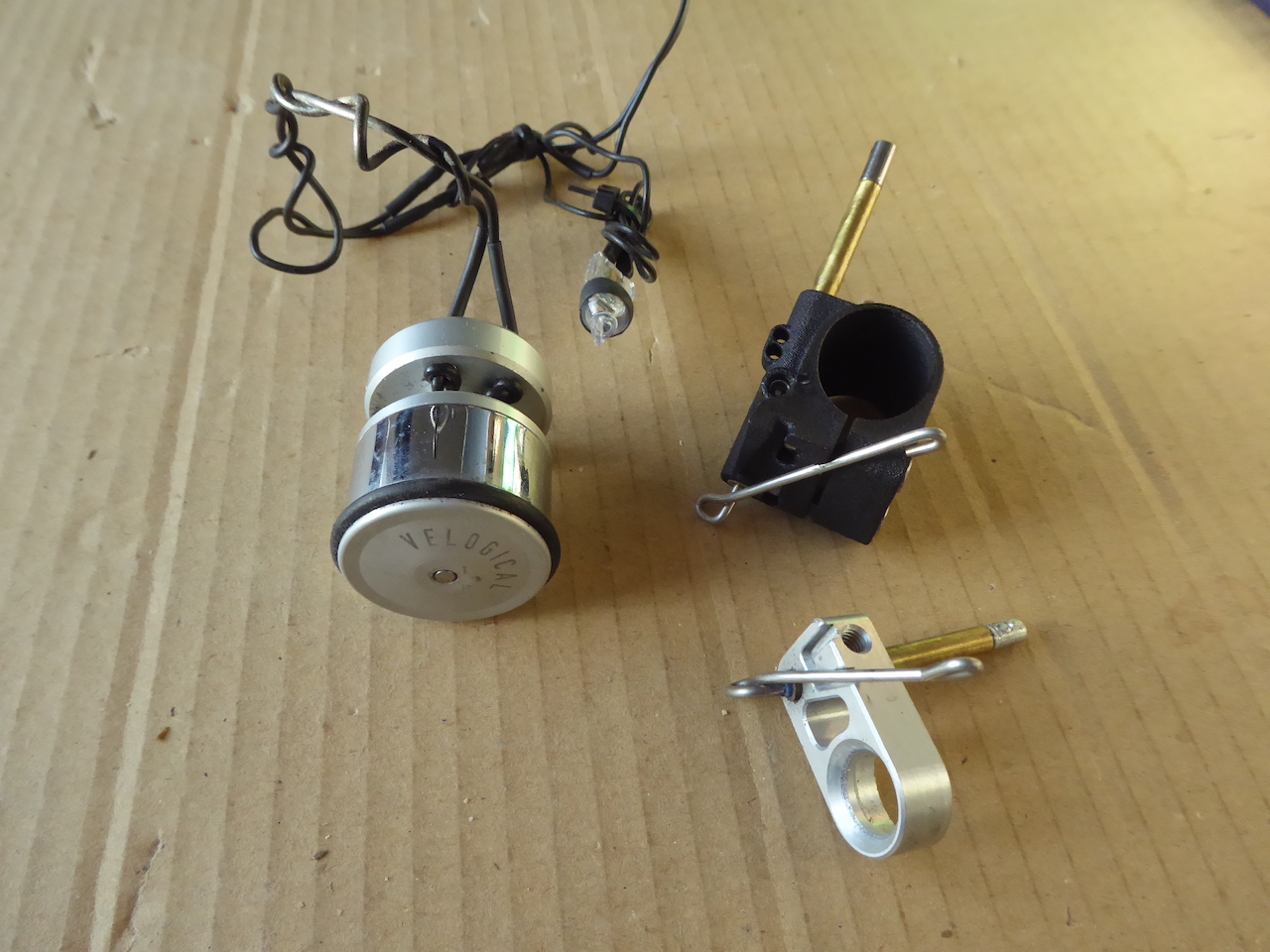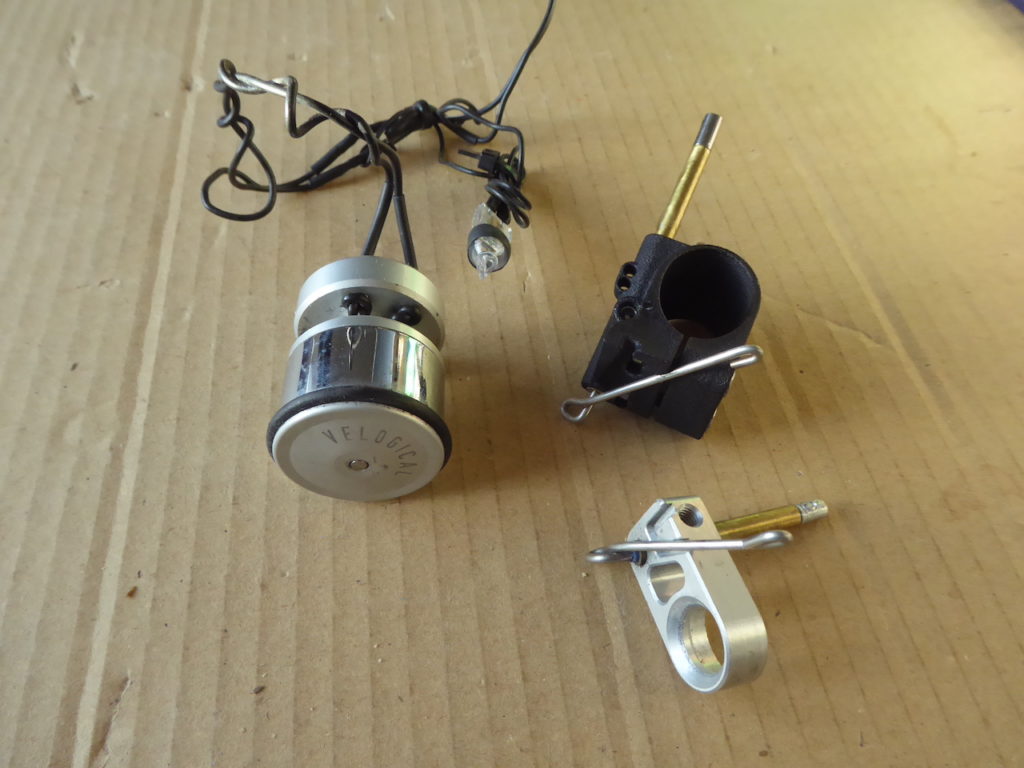 Either way installation is relatively straightforward for those with modest bike DIY skills, though note care is definitely needed in the first place to buy exactly the right bracket for the intended mounting position (all the detail is on the Velogical website) and secondly to get it mounted at the correct angle and to ensure the pressure on the rim is fairly light – as the contact patch is so small that there will in fact be plenty of pressure on it, even though it may not appear to be pushing hard onto the rim.
You may need to connect a thermistor (in the form of a lighting filament) to integrate into the circuit which is there as an overload protection for some designs of LED lighting (check with Velogical if you need to do this).
If you do it's a fairly easy matter to twist the wires together and heat shrink the joint.
Initial ride tests suggest in fact there is usable light from 3mph and up, but in any case with modern LED lights a capacitor is often built in, meaning your lights will stay on a while after you stop moving (as long as you have ridden around for just a short while).
I couldn't detect any meaningful extra resistance from the dynamo, even riding without electric power.
There is a spring tensioner device that allows you to retract the dynamo from the rim manually if you do feel any extra drag and the lights aren't needed, for example during daytime running.
The only part that wears is the rubber contact O-ring which will need replacing every several thousand miles.
The light output through my Busch & Muller Lumotec IQ was fantastic – certainly as good as or better than more powerfully rated hub dynamos.
Noise was negligible in use – a faint high pitched hum, drowned out by other noise most of the time.
This is a very expensive retrofit lighting solution no doubt, but if you want a last-a-lifetime, lightweight system I think its the best solution out there.
And whatever you opt for I think dynamo lighting makes so much sense as a retrofit – after all, can you imagine driving a car with strapped-on or half-charged lights?
RRP:
In the EU: € 150,00 including sales taxes, plus shipping
Outside EU: €126.05 plus local taxes and shipping
More Velogical's rim dynamo.
Shimano Jackets & Gloves
Shimano is probably best known as a multinational company that dominates the bike component industry; you're almost bound to have heard of Shimano gearing for example, not mention their highly acclaimed range of mid-drive motors for e-bikes.
However they also do an attractive line in cyclist clothing and I've been lucky enough to try out a hardshell jacket, a wind jersey and windproof gloves from them.
Hardshell Jacket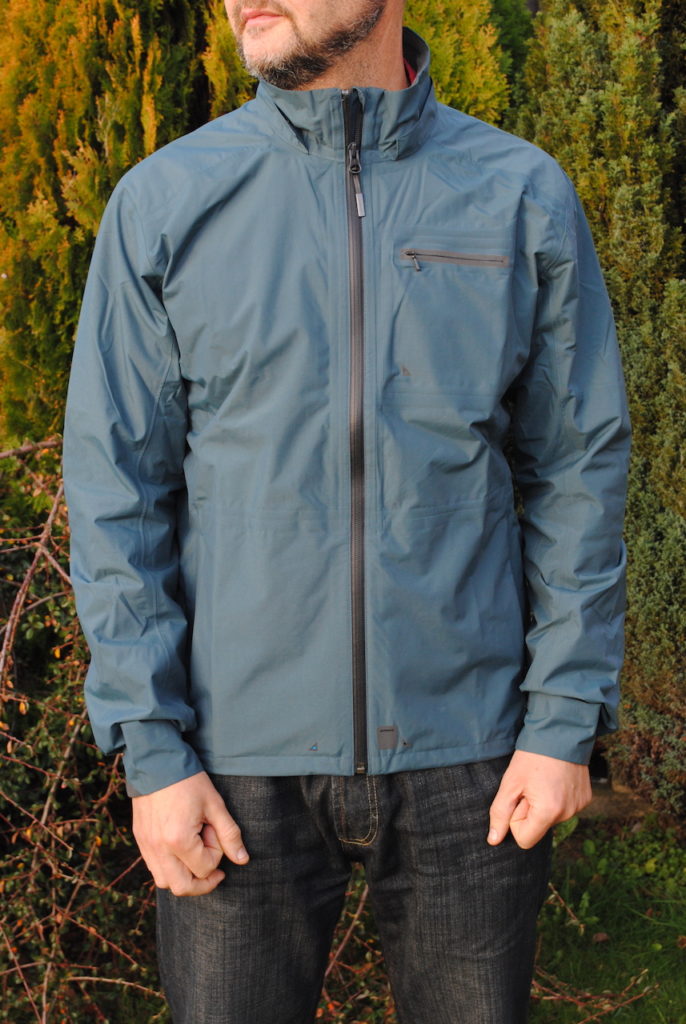 The first thing you notice about Shimano's Transit Hardshell waterproof cycling jacket is the combination of sleek cut and the waterproof zips.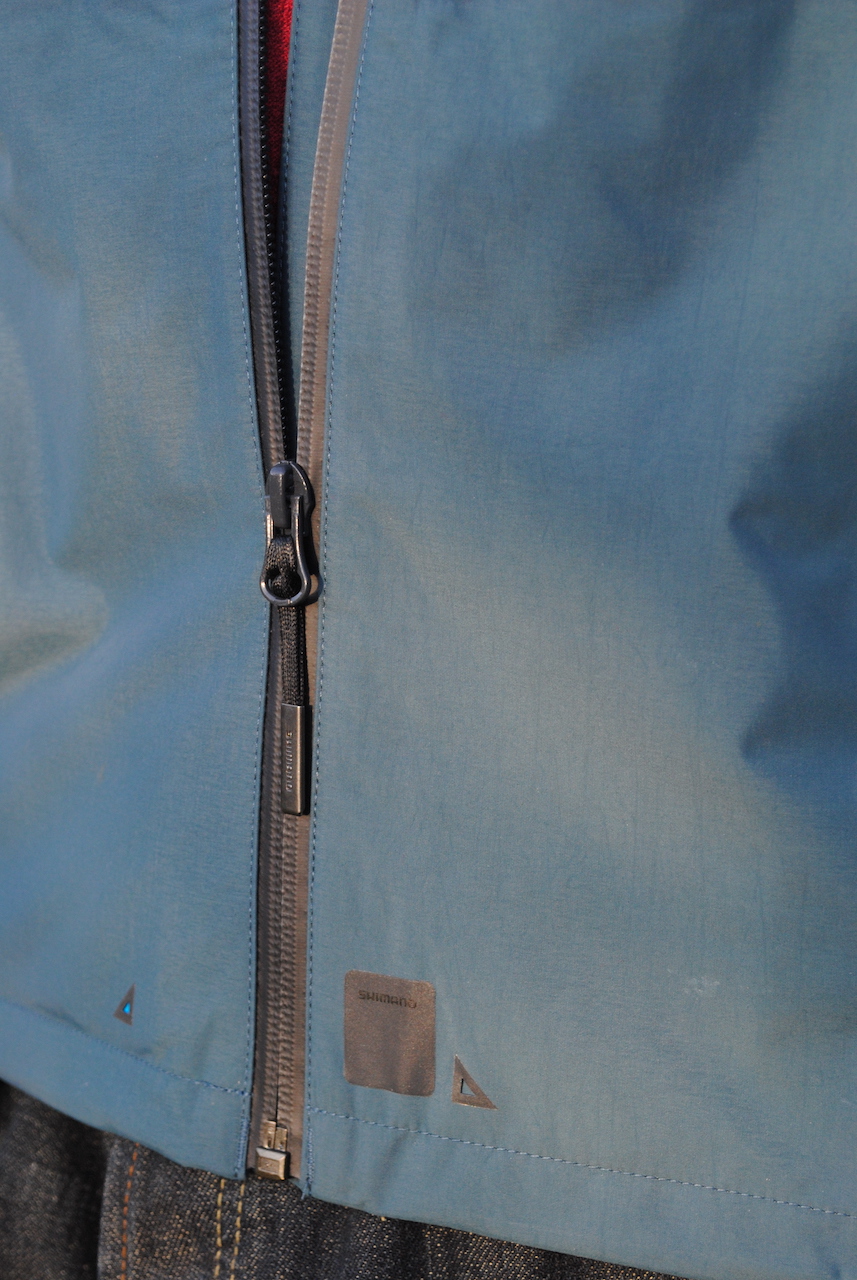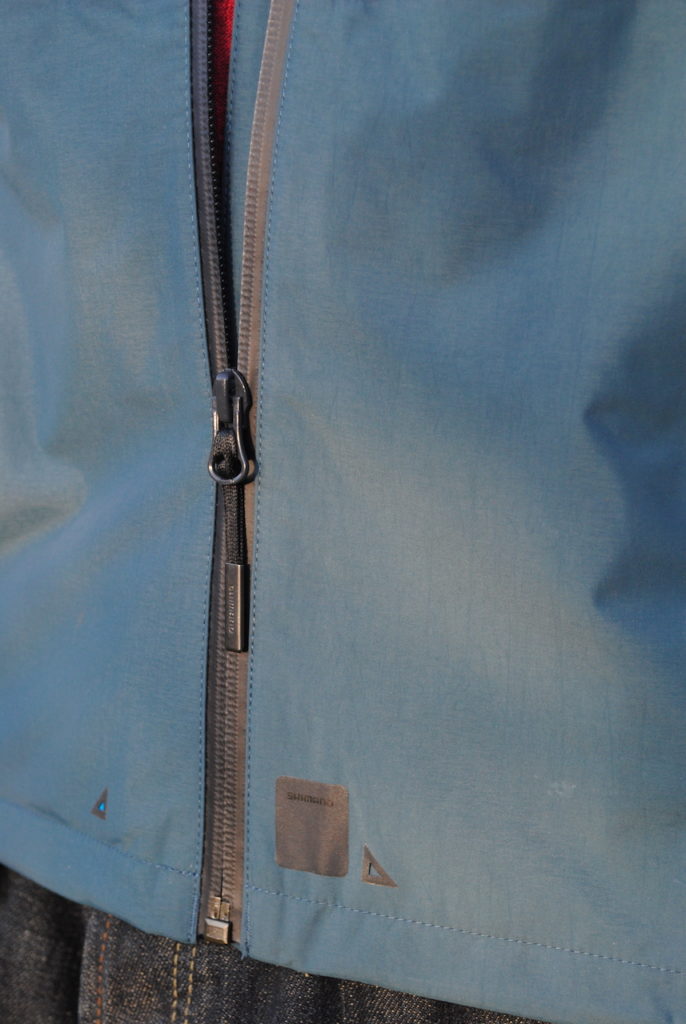 Further inspection reveals the taped seams and handy zippered side and breast pockets.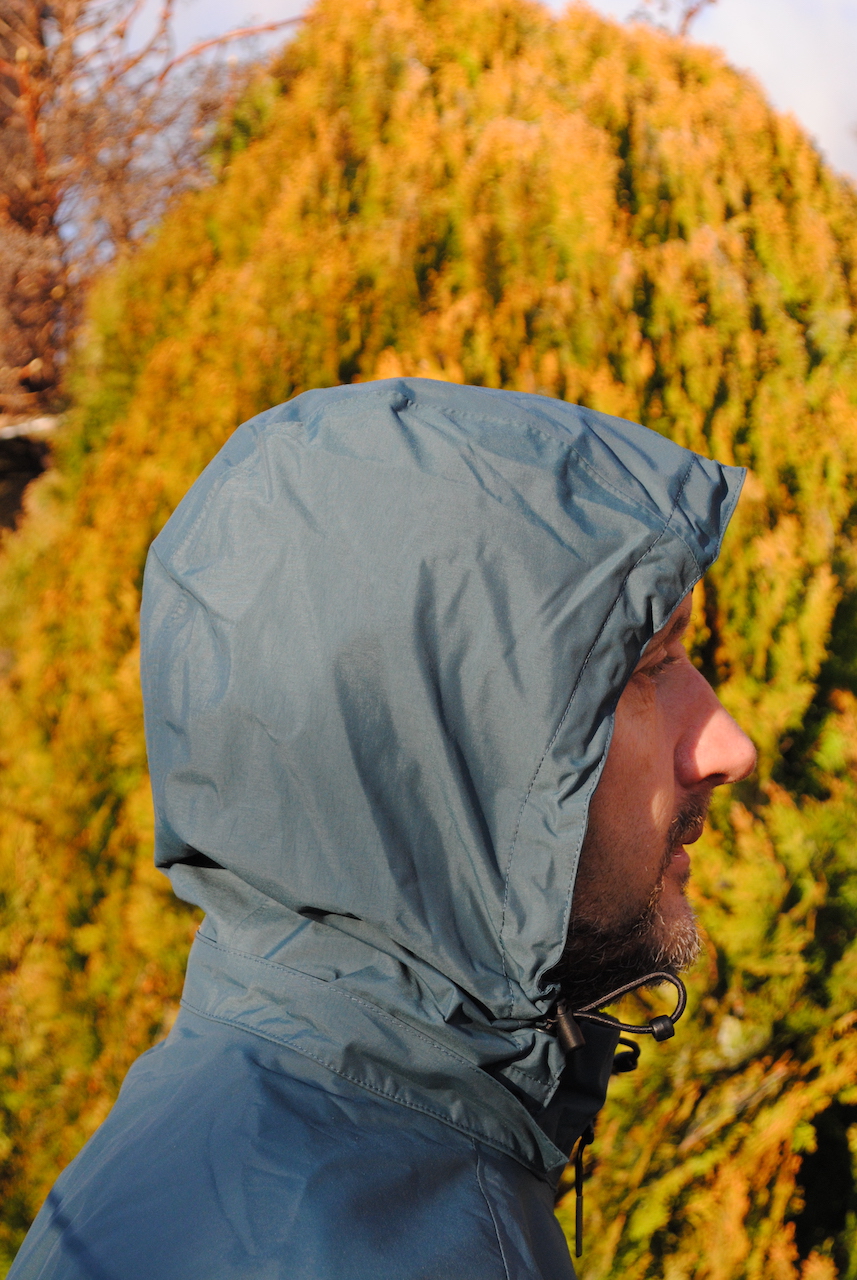 It's great to wear too. The detachable hood means you don't need to have this flapping about behind you if it's not needed and the rubberized cuffs help keep the sleek look but are practical too (velcro fastening style cuffs feel a bit awkward by comparison and can have a habit of loosing their fasten-ability over time).
I wore it in light winter showers and it proved warm and dry.
If you chose to get a real workout on your e-bike you may find yourself getting a little sweaty, as, despite the breathability claims for the nylon based DRYSHIELD fabric, I did find myself getting just that after a good workout, but no more so than whilst using many other waterproof and breathable tops.
I find there is always at least a little breathability compromise when seeking high waterproofness.
Still, this wasn't a major drawback on an e-bike and the jacket performed superbly overall.
Despite the smart, aerodynamic cut it was stretchy and comfortable enough to be worn as a day to day commuting jacket as well as on sportier rides (indeed the Transit range is meant to look like everyday wear off the bike).
It has two external side pockets and an external breast pocket though a larger inside pocket would have been handy for my glasses.
Again though, these are nice practical day to day features both on and off the bike and they look well waterproofed too along the zips.
$159.99
£119.99
More information at Shimano.
Wind Jersey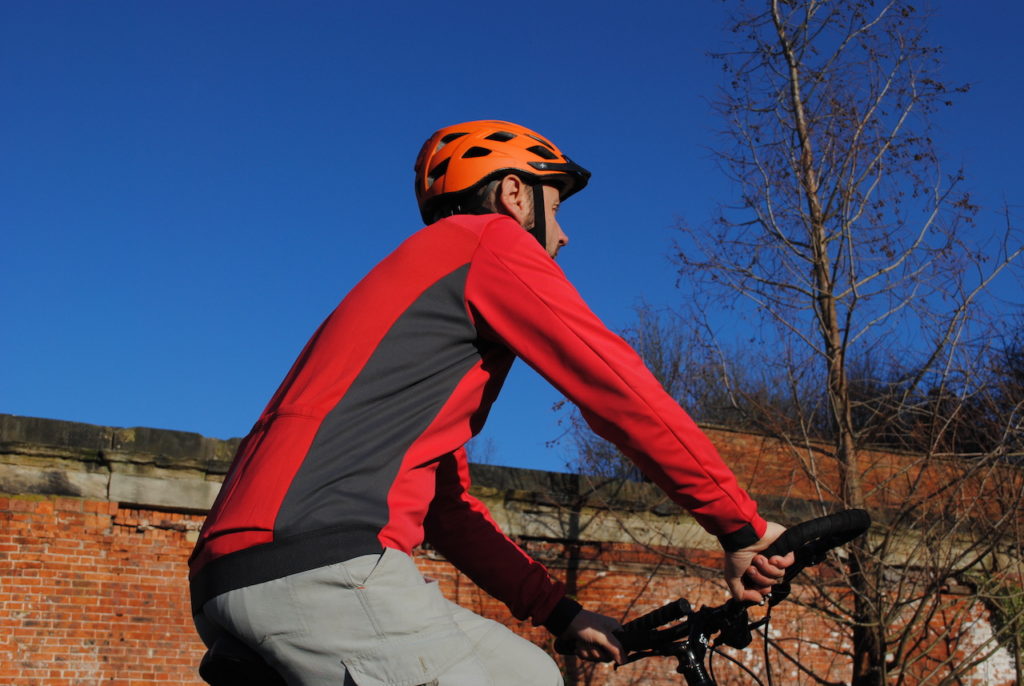 This Wind Jersey is totally different to the Transit as it majors in keeping the wind out and you warm inside.
It isn't, and doesn't claim to be waterproof. I wore a very thin thermal layer underneath this and the Transit on top in rain in around 4-5 degree C conditions and remained toasty warm.
Again the cut is sleek but it's not uncomfortably tight – as it is rated in Shimano's Performance line of clothing it is a little more body hugging than the Transit jacket as it is more overtly a sports cycling jacket.
This worked very much to its advantage when it was worn under the Transit, as above.
It doesn't come with the luxury of any front pockets but it does have the road racing style large rear pockets that you could slip a water bottle or a banana or two in.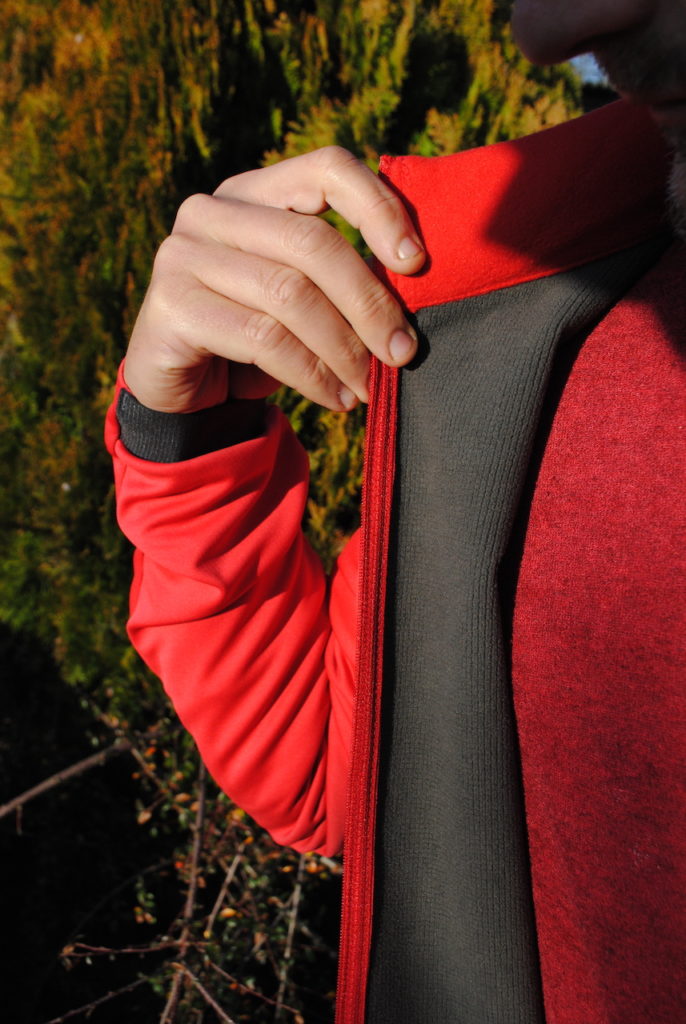 Its multi-layered polyester and it really does the job of keeping you warm and is very breathable when worn as an outer layer too, though that's only really advisable in light showers.
The lining is of the fleecy type and is super comfortable whilst the outer is a very aerodynamic, smooth, fine weave.
There is also some kind of silver, heat reflective material in the lower back area that apparently acts as a kidney warmer!
E-bikers who want to stay warm yet remain smart and sporty should certainly put this top on their shortlist.
RRP US$129.99
£94.99
More information at Shimano.
Wind Control Gloves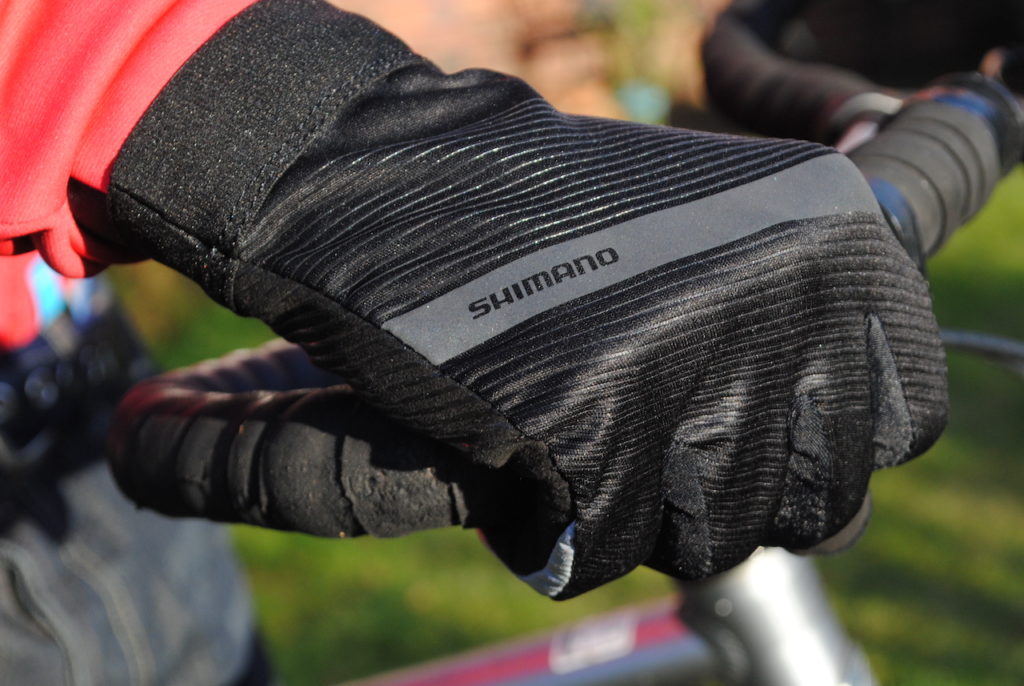 These Wind Control gloves are noticeably thin yet very windproof gloves.
I found this gave me the ideal combination of keeping my hands warm at high speeds down to about 5 degrees C and at moderate speeds down to freezing (even though the label on the glove indicated they were for a 5-10 degree C temp range).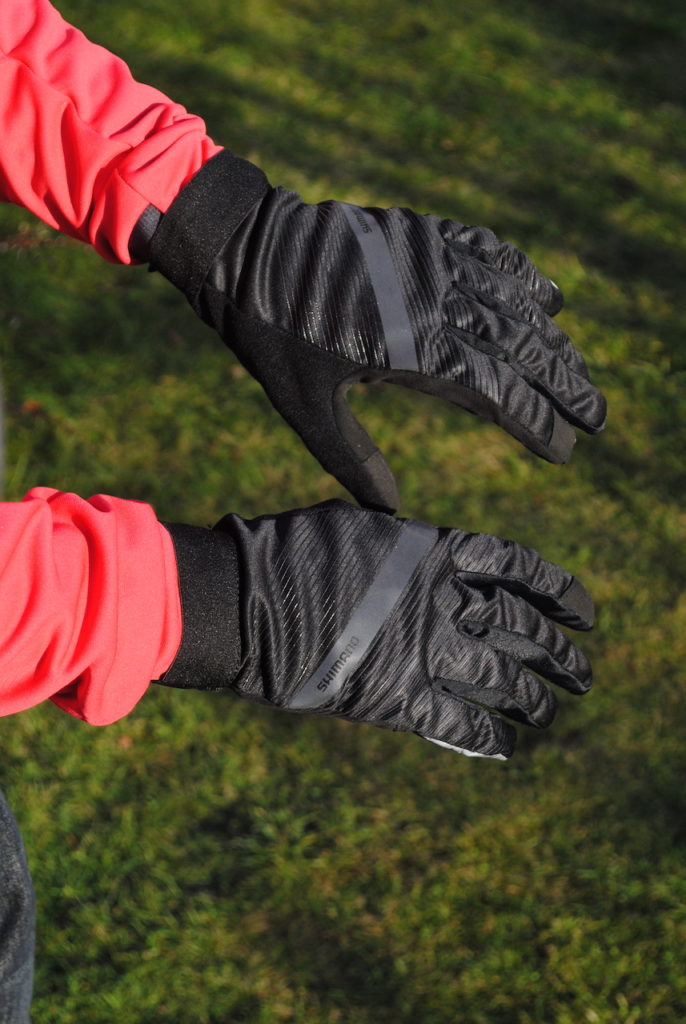 The big advantage is that it's much easier with thin gloves like this to keep close control of an e-bike's power buttons and also do other tasks like locking it up without the hassle of putting gloves on and off all the time.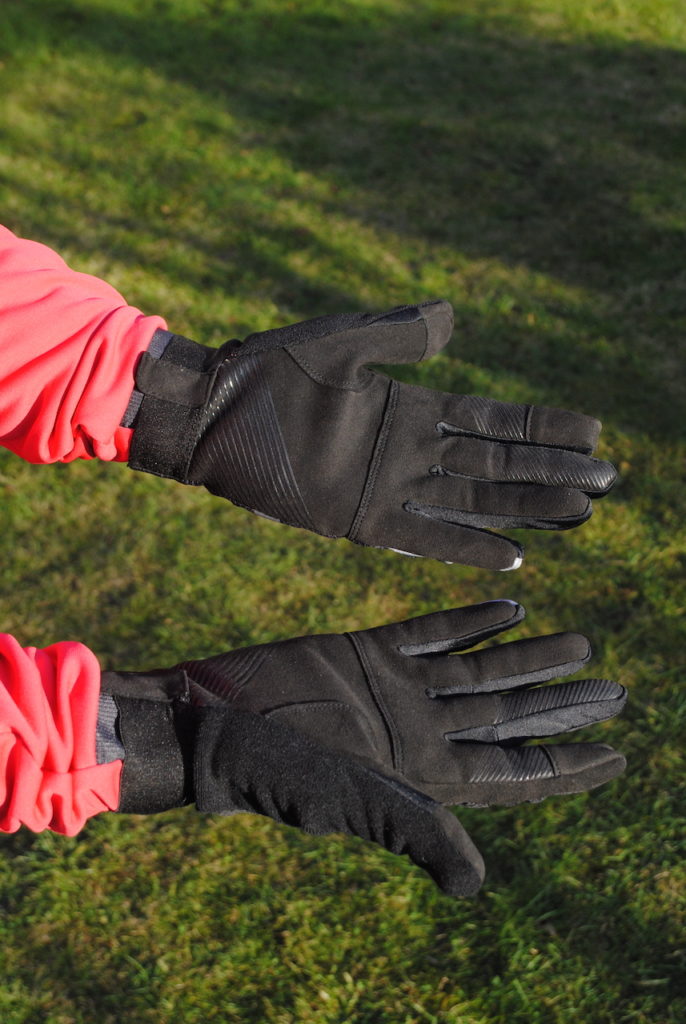 They are even touchscreen-friendly, so opening navigation apps or texting once stopped is still possible wearing the gloves.
Other attractive features include a grippy silicone inner surface and reflective detailing on the outside edge of the little fingers.
Once again, highly recommended.
RRP US$39.99
UK £29.99
More information at Shimano.
A note on sizes: I used the useful sizing guides provided for each item on Shimano's website. I am a small but pretty stocky build and if at the upper limit of a size guide band opted for the next size up, which meant the test samples actually fit just right.
Stay tuned for more e-bike news and reviews and thanks for reading!
-Richard
Review Note: All of these products were given to electricbikereport.com with no requirement for return.
P.S. Don't forget to join the Electric Bike Report communityfor updates from the electric bike world, plus ebike riding and maintenance tips!
Reader Interactions