Lumos Smart Helmet Review: Lights, Turning Signals, Brake Lights, & More! [VIDEO]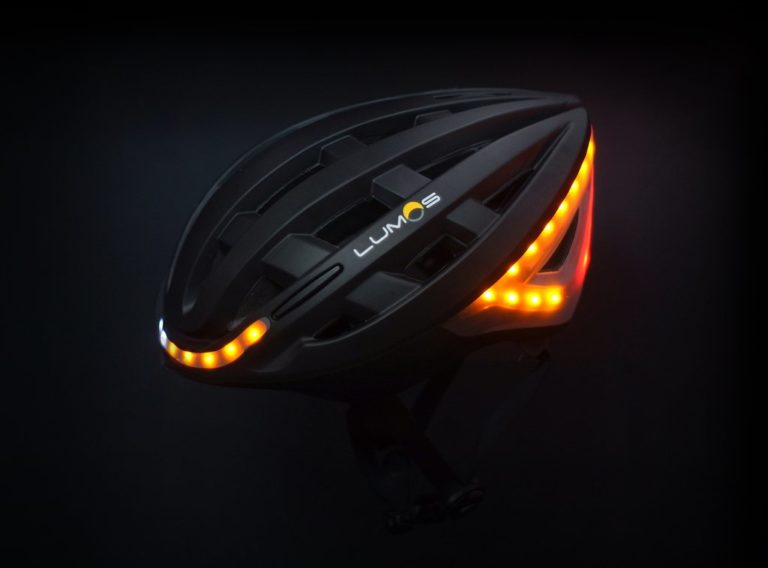 For the most part bike helmets haven't been all that exciting…….until now.
Introducing the next generation of helmets, the Lumos Smart Helmet!
The Lumos helmet is a high tech helmet that is designed to increase the safety of the everyday bike helmet by providing a bunch of highly visible light features.
Being seen on your bike today is so important in this highly distracted world and lighting on a helmet is an effective way to grab someone's attention because they are higher than traditional bike lights.
With 50 built-in LEDs, the Lumos provides solid or flashing front and rear lights, turning signals, brake lights and a smartphone app that can fine tune the helmets functions.
To give you an idea of what the Lumos smart helmet is all about, here is a video from the company:
Using the Lumos Smart Helmet
First of all, Lumos did a good job of making this helmet fit the shape and style of conventional bike helmets and it comes in 3 color options: Pearl White, Charcoal Black, and Cobalt Blue. There is plenty of venting to keep you cool on warm days.
The Lumos helmet currently comes in one size fits most and it does seem to fit a wide range of head sizes. The helmet fits a head measurement of 54cm – 62cm / 21.3 – 24.4in. Here is a quick guide to how you can measure your head to make sure the helmet will fit well.
In traditional helmet sizing I wear a L/XL helmet size and my wife wears a S/M type. The Lumos helmet fit us both and the rear strap with adjustment dial helped to fit the helmet well for both of us. Lumos may be adding additional sizes in the future, including the possibility of a kids helmet.
Compared to my traditional Bell helmet, the Lumos helmet weighs about 0.3 pounds (135 grams) more. You can definitely feel this additional weight on your head but it is not too heavy.
The front and rear lights have 3 modes (solid, flashing, and fast flashing) that are cycled through by pushing the power button above the charging port on the back of the helmet.
Currently the front and rear lights do not have independent light modes, they both share the same mode.
When I was riding with my wife side by side, she said that looking at the flashing front light was a bit distracting, so it would be nice to have the ability to have a solid front light with a flashing rear light. Lumos said they may add this capability in the future.
In solid lighting mode, the front LED light array provides enough light to see some objects directly in front of you. This helps when unlocking your bike.
The front light does not provide enough light to see much while you are riding, so it is good to have a bike light dedicated for that. You may be able to eliminate a rear bike light with the Lumos helmet but personally I think it is always good to have more lights.
Lighting is generally thought of for riding at night but there are an increasing amount of day time bike lights for being seen. The Lumos helmet provides some attention getting lights during the day but these LED lights are not as bright as those designed for day time use.
A control pad mounted on the handlebars controls the turn signals that are activated using a Bluetooth wireless connection. They are turned on with the push of the Left or Right button and another push of the button turns them off.
The control pad is mounted to the handlebars with a band and Lumos supplies multiple band types to fit different sized handlebars.
Like the helmet, the control pad needs to be charged every once and a while and it uses the same charging cord as the helmet. The control pad is removed by twisting it 90 degrees and lifting it off the handlebar mount.
Turn signals are nice to have and I think they help, but it is still a good idea to use hand signals in addition to the turn signals. And Lumos recommends this as well.
The brake lights are another attention getting feature. It uses a motion sensor to sense a sudden slowing and it lights up the back lights of the helmet. Currently this feature is still in Beta and needs to be activated by the Smartphone app or by pushing the back power button in the correct order. Lumos plans on having the braking feature out of the Beta phase and fully active by Spring of 2017.
Speaking of the Smartphone app, it is available for the iPhone (Android version in the works) and it has the following features and settings:
A lithium battery is built into the Lumos helmet to power the lights and all of the Smart Helmet features. The battery lasts approximately 3 hours when the lights are on solid mode or 6 hours on blinking mode. With an average commute lasting 30-45 minutes, you can expect to get a work week's worth of riding from one charge.
Charging the helmet takes about 2 hours. Lumos includes their charge cable that is a standard USB cable on one end and a magnet connection to the helmet on the other end.
They don't include a standard wall outlet plug so I used an iPhone plug to connect to the USB side. According to Hannu Stewart from Lumos "We didn't include a electrical outlet plug, since the USB can be connected to any USB outlet which today are plentiful (any mobile charger, laptop, etc.). We didn't want to create more plugs that would often end up stored in people's table drawers. "
Lithium batteries have had their fair share of safety concerns recently and I asked Hannu from Lumos about the safety of this in the Lumos helmet and this is his response; "Our batteries are fully safety certified, and are enclosed in multiple layers of protection to ensure that there are no issues in the event of a crash. We have also tested this, and have conducted crash testing on hundreds of Lumos Helmets to verify in real world settings that the helmet is safe." Lumos meets the following bicycle helmet safety standards:
CPSC in the United States (CPSC 16 CFR Part 1203)
EN1078 in Europe Lumos also meets all other requisite standards required of consumer electronic devices set by the FCC and CE.
Lumos claims that the helmet is water resistant for rainy rides but they don't recommend jumping into a pool with it!
Now let's cover the price. The Lumos is $159 with free shipping. That price includes: a helmet + front light + rear light.
And here is a comparison if you were to buy those individual components of similar quality:
Helmet = $50 to $75
Rechargable front LED light: $30
Rechargable rear LED light: $30
The total for these would be $110 to $135. That is less than the Lumos helmet but that combo does not give you turning signals or the brake light feature and you would need to charge each of those lights separately.
$159 is a pretty decent price for the high-tech Lumos "smart helmet".
And this just in, Lumos has been named one of the "Best Entrepreneurial Companies in America" by Entrepreneur magazine's Entrepreneur 360™ List, the most comprehensive analysis of private companies in America.
Based on this study forged by Entrepreneur, Lumos is recognized as a well-rounded company that has mastered a balance of impact, innovation, growth and leadership. "My team and I are psyched by this recognition. My cofounder and I started Lumos because we wanted to do our bit to improve the world and do something for bicycle safety. We hope we can grow even faster and expand our work with the broader community to make our roads safer for cyclists and motorists alike." — Eu-wen Ding, CEO & Co-Founder of Lumus.
Pros
Great way to be seen at night or during the day.
Turning signals and brake lights…….on a bike!
Nice to have the helmet and lights all-in-one for convenience.
Cons
Only one size fits most right now. More sizes may be available in the future.
A bit heavy. Almost 1/3 pound heavier when compared to a traditional bike helmet.
Can't vary the light modes between front and rear. That feature might be available in the future.
Overall, the Lumos smart helmet improves your safety by protecting your head and it helps you be more visible. It's very important to be seen in this increasingly distracted world.
What do you think of this new helmet technology? Do you own a Lumos helmet? Please share your thoughts and experiences in the comment section below.
Enjoy the rides!
-Pete
P.S. Don't forget to join the Electric Bike Report community for updates from the electric bike world, plus ebike riding and maintenance tips!
Reader Interactions