Accessory Roundup: LIVALL Smart Helmet, ABUS Alarm Lock, & Bike-Eye's Frame Mirror [VIDEOS]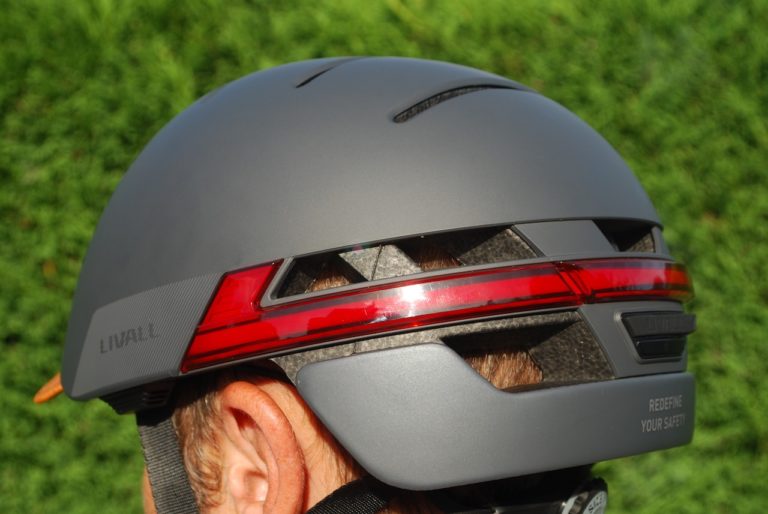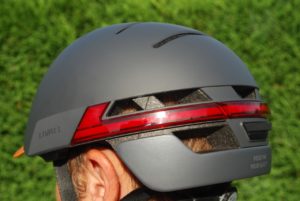 Time for a look at some new bike accessories that can make your eBike ride safer, more comfortable, convenient, and fun!
In this roundup we have the:
LIVALL Smart Helmet: Lights, Mic, Speakers, & More
ABUS Foldable Lock with Audible Alarm
Bike-Eye Frame Mounted Rear View Mirror
LIVALL BH51M Smart Helmet
If you want to know just what a smart helmet is, the LIVALL BH51M has functions that sum it all up pretty well; in addition to being an attractive looking commuter helmet it features rear indicator lights plus microphone and speakers that allow you to listen to music, conduct phone conversations or even talk directly to other riders wearing similar helmets via the helmet's own built-in short range comms tech.
If that wasn't enough the BH51M also contains a 3D gyroscopic gizmo that can alert a remote device when you have had a crash.
So given all that it's not surprising awards have flowed thick and fast including "Product of the Year", "Tech for a Better World" and "Sports Device" accolades.
First let's look at the helmet itself. It's what I would term a moped style helmet, with protection extending down around the rear and bottom part of your head and small leather covered peak at the front providing a small amount of protection from the sun.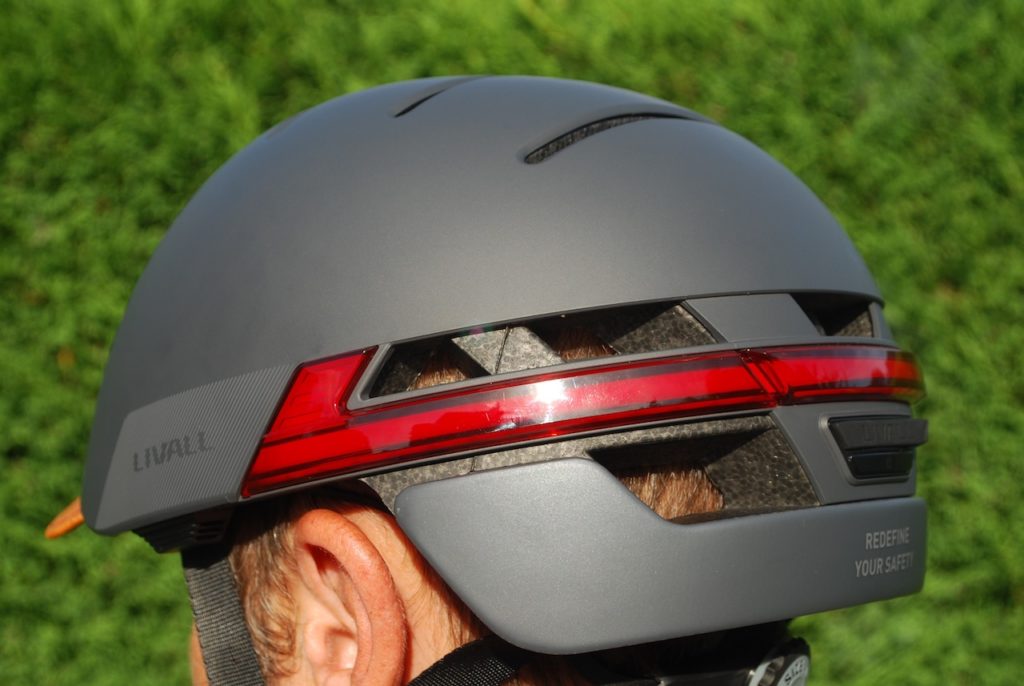 Whilst there isn't as much air venting as on a typical racing helmet, there is a mesh-covered wind vent at the front and several other vents on the top and rear of the helmet that will certainly help cool the rider, though certainly not to the same extent as multi-vented racing style helmets.
However, as a commuting helmet for e-bike riders there is plenty of venting for all but the hottest of climates.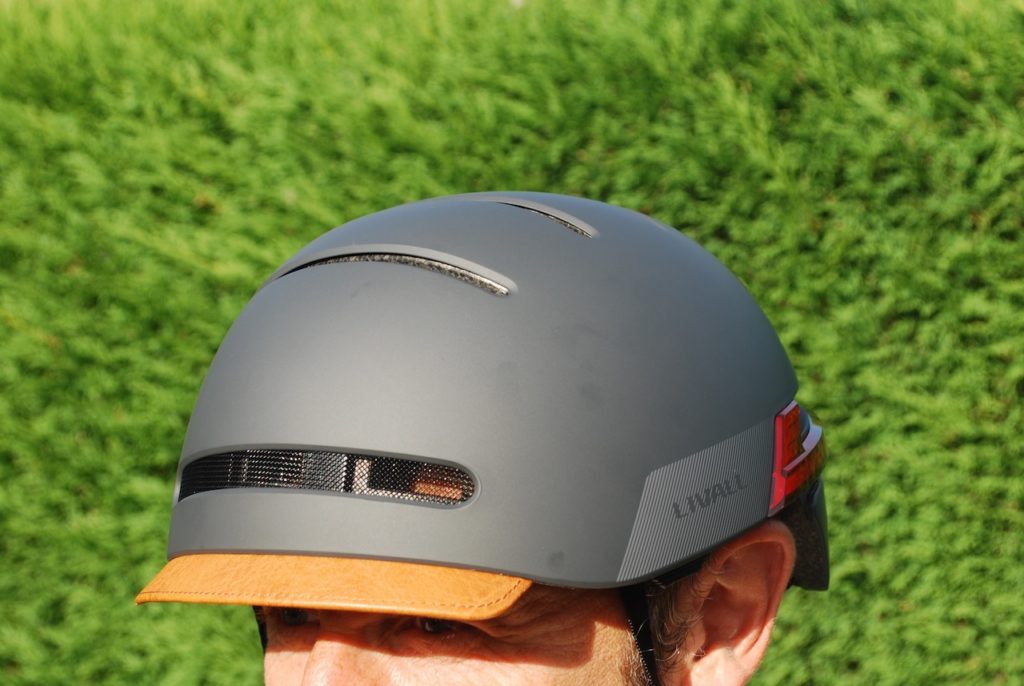 It's also relatively heavy at 470g (~ 1 pound) but not mega heavy, especially given the extra functionality and extra moped type protection of the helmet itself.
The lights and smart electronics also add a little to actual size of the helmet but not to the extent that most people will be able to distinguish it from a regular helmet.
I found it quick and easy to adjust, to fit and comfortable to wear. A dial at the rear of the helmet on the padded cradle that sits within the polystyrene outer allows you to dial the actual size of the cradle in and out for optimum fitting and a highly adjustable chinstrap assures that it will be as snugly pressed onto your skull as you want it to be.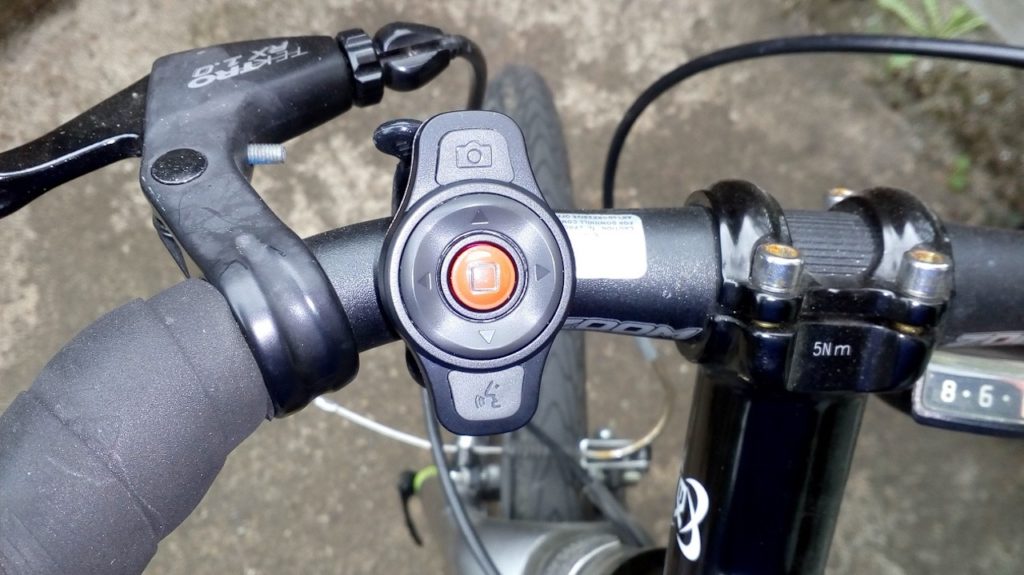 Lights are controlled by the 'Bling' handlebar mounted unit which consists of seven buttons. Once the helmet was paired via bluetooth with my phone it was easy to get connection established again simply by turning the helmet on and then activating bluetooth on the smartphone.
I then found it an intuitive matter to control the indicators by using the left and right hand arrow buttons. Top and bottom arrow buttons are used to control the volume of speaker sound, whether they are being used to play music or to listen to a telephone conversation.
The central red button allows you to answer an incoming call or make an outgoing call to the last number dialled. As long as the smartphone remains connected to the helmet via bluetooth you can hear phone calls and music automatically.
Personally I found the indicator lights to be the most useful of the 'smart' elements. They are pretty bright, clear and have a 270 degree visibility range.
They also mimic the signaling patterns of modern LED indicator lights found on many cars and so other drivers to the rear or the side of you should be familiar with your intentions in that respect. The whole bank of lights also light up when they detect lighting conditions are dark.
I had a few quibbles with the lights however. The helmet didn't have extra lights on the front to signal your intentions to oncoming drivers.
Also the orange signaling lights themselves could be brighter as they aren't that easy to pick out on a very bright sunny day, though they are outstanding in dimmer conditions and at night.
The indicators flash for around 10 seconds which can be too short or too long a time depending on road circumstances. It would surely be an easy and very useful change to functionality to make them stay on longer but be cancellable at an extra touch of the red button.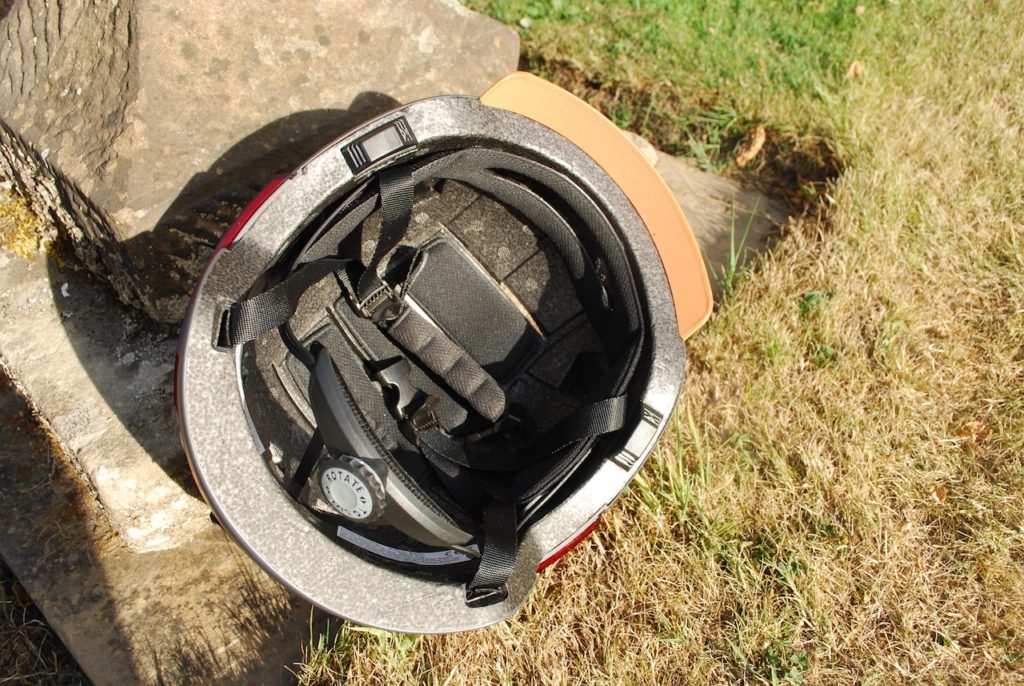 The two speakers located just above each ear on the rim of the helmet worked extremely well, even at speed, and both incoming calls and music could be heard clearly.
Unfortunately, for the recipient of a call who is not wearing the helmet, when the helmet wearer is riding fast the wind noise across the mics can become so loud that it obscures the helmet wearer's voice completely, so slow paced calls are the only real practical option (though that's not a bad safety feature!).
As with signaling lights, this is relatively new tech for bikes and needs care and common sense in how you use it and the conditions you use it in.
Turning and maneuvering in busy motor traffic is one of the trickiest and potentially most dangerous of cycling activities, so any effective signaling aid must be a good thing.
Of course, this is still infant technology and the multiplicity of signaling devices out there – from smart bags to smart clothes to handlebar units – means that when taken in the round it could all add up to a recipe for confusion for drivers behind signaling cyclists. What part of the rider or bike should they be paying attention to?
With that in mind the indicators shouldn't be regarded as a replacement for a hand signal but a useful supplement. Smart lighting technology is still in its infancy and indeed it was only last year that the hotbed of e-bike innovation that is Europe allowed signaling devices to be fitted to e-bikes.
Other functions I didn't test were the intercom feature for speaking to other riders with similar helmets (I only had a single helmet on test) and the emergency call feature which calls a pre assigned number when the helmet detects a very sudden impact.
The LIVALL app also works in tandem with the helmet to add some functionality, for example showing battery capacity and letting you alter the flashing pattern of the lights. It also works as a general riding app that can be used with the LIVALL cadence sensor or third party heart rate sensors.
In summary I felt this is first and foremost a stylish and comfortable helmet with potentially useful smart add-ons depending on your riding circumstances and personal preferences.
Typical internet price: $199 or £134.99 (model BH51T with light functions only retails from around £79.99)
ABUS Bordo 6000A Alarm
Security is always a worry for e-bikes; they tend to be more expensive than regular bikes so it's not surprising they could easily be a target for thieves.
Enter the Abus Bordo 6000A alarm. It's clearly designed to deter thieves before they even get to the stage of trying to remove your lock.
Once armed the 100 decibel alarm will go off if tampered with as it is motion activated.
It's designed with safeguards to prevent accidental activation, for example if it is knocked by a passerby.
However, continued tampering results in a piercing alarm sounding for 15 second intervals until the movement stops, which should be enough to deter just about any thief from continuing in their attempt to get the lock off.
The lock is usable either 'armed' or 'unarmed'. To arm it with the alarm on simply turn the key in the lock and push the removable end of the folding lock into the lock housing.
You hear two beeps to tell you it is armed once it is locked and the key removed. If you hear five beeps this is a 'first warning' meaning the lock has been armed then disturbed (for example if you knock the lock after removing the key).
If the lock continues to be moved after the five beeps it will trigger a loud, shrill alarm.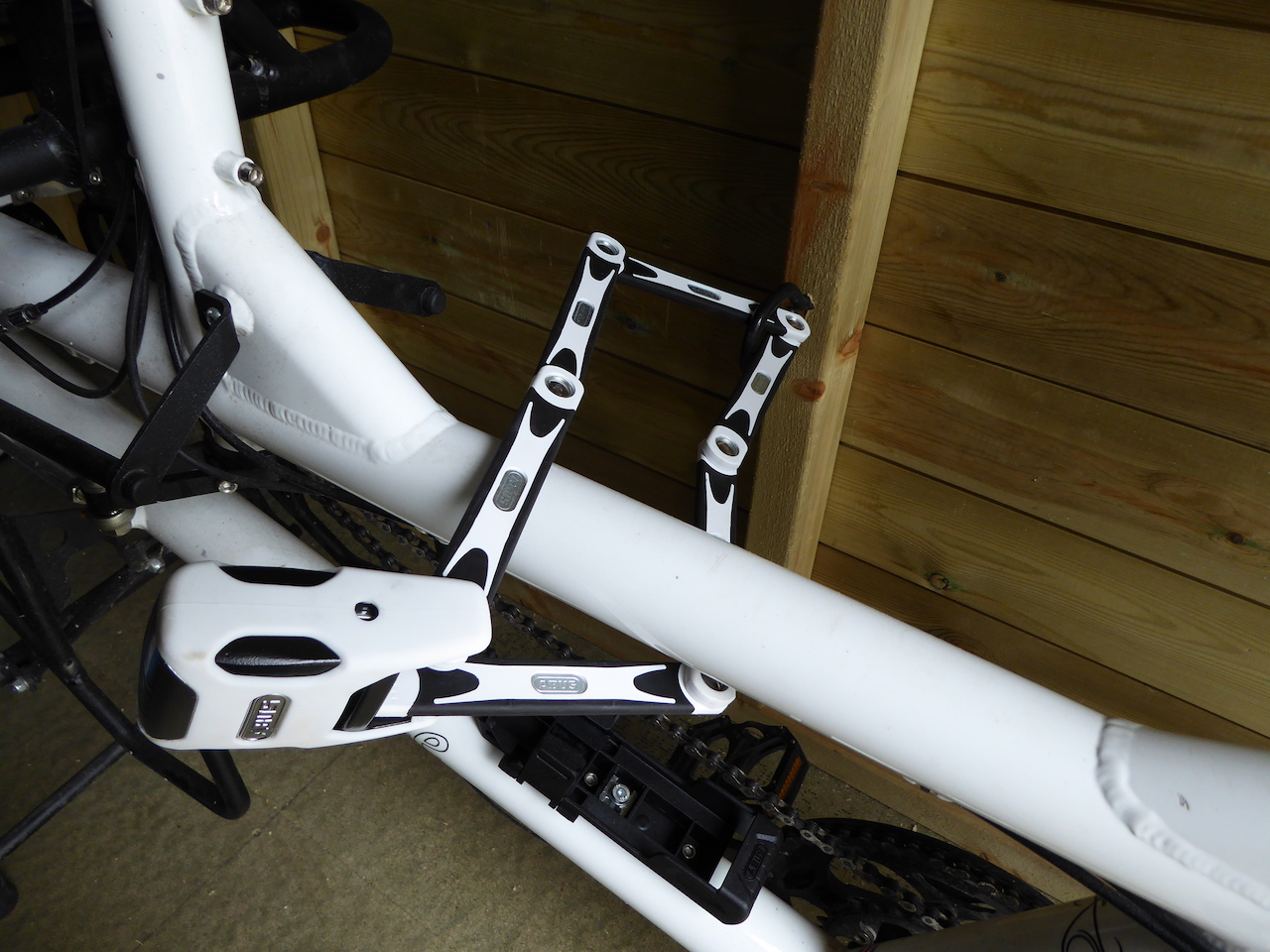 My test showed the alarm worked perfectly – any attempt at more vigorous movement set the alarm off but small knocks and vibration as could occur when the lock was left armed on a busy street only set off the '5 beep warning' and not the alarm itself.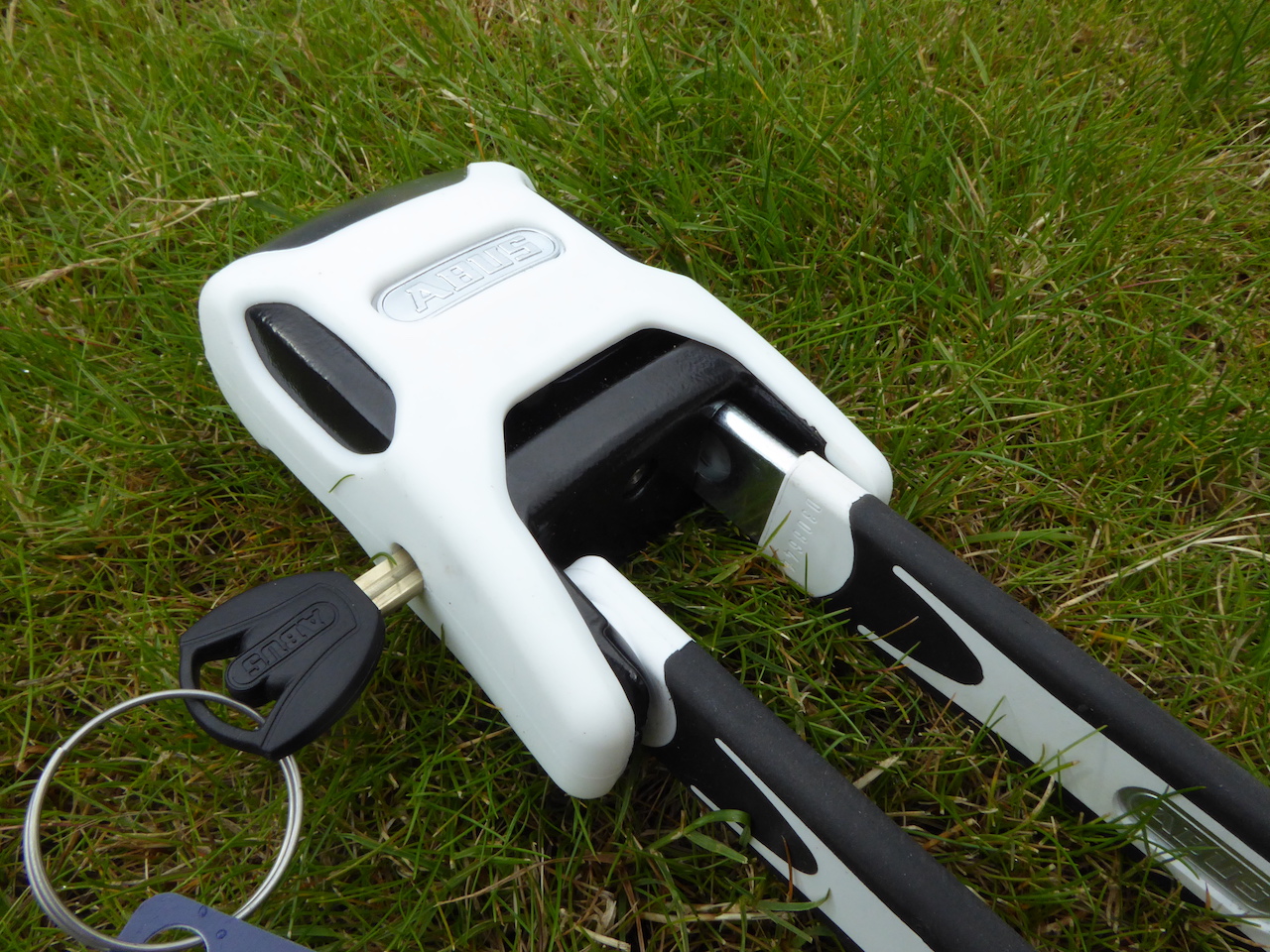 Locking, unlocking and folding is easy and intuitive and I also liked the fact you can insert the lock end part way into the housing for 'unarmed' locking – particularly useful if need to lock up your e-bike in a position where if might suffer repeated vigorous movements.
The alarm is powered by a CR2 size battery that ABUS say is good to last a year at least. When the battery starts to get low there is an audible warning sound from the lock and the battery is easily replaceable by the user.
Another user-friendly feature is the ABUS One Key for All Your Locks service which the Bordo 6000A can be used in conjunction with.
The lock itself is up to the high standards you would associate with ABUS – with its 5mm thick steel bars joined together with extra strong rivets.
It comes with mounting bracket that will fit onto bike frame water bottle cage bosses or will cable tie to your bike. The lock pops in and out of the bracket quickly and easily.
This is just one of ABUS's range of folding locks made for all purposes and types of rider.
Of course alarms have their limitations; if you park the bike in a quiet area alarm activation may not get noticed at all and even in a busy area people may simply assume the noise is false alarm if it does get activated.
However the alarm is another valuable tool in the fight to keep thieves at bay as the alarm and strong lock combination should deter the vast majority of miscreants. I think it would be a great second level of defence for bikes too, once they are locked securely in garages overnight for example.
From: ABUS.com
Price: Prices online vary but are typically around US$169
Bike Eye
Rear view bike mirrors are not really popular, which I've always found odd. Having to turn to look behind always feels inherently risky.
In busy traffic where you want to travel both at speed to keep with the traffic flow and to check what's coming behind to move across traffic lanes, it can be quite daunting.
Small mistakes at speed can lead to an accident in the blink of an eye. This isn't just my opinion; Heinz Stucke has ridden 648,000km through 196 countries and is quoted as saying 'a helmet won't save your life, a rear view mirror will'.
There are numerous mirrors out there and all have their own pros and cons.
A uniquely designed example is my test mirror, the frame-mounted Bike Eye, that lets you look straight back down the bike frame to get a good view of the road behind just by glancing down.
I trialled it on the Raleigh Motus Grand Tour test bike and was impressed. It was a quick and easy matter to glance down and with minimal movement of your head position you could see a lot of the road behind.
There are a few caveats – you need the right technique to get a clear view which involves timing the glance to when the crank on the same side of the mirror is at the top of its turn, meaning you have a clear sight line under your thigh.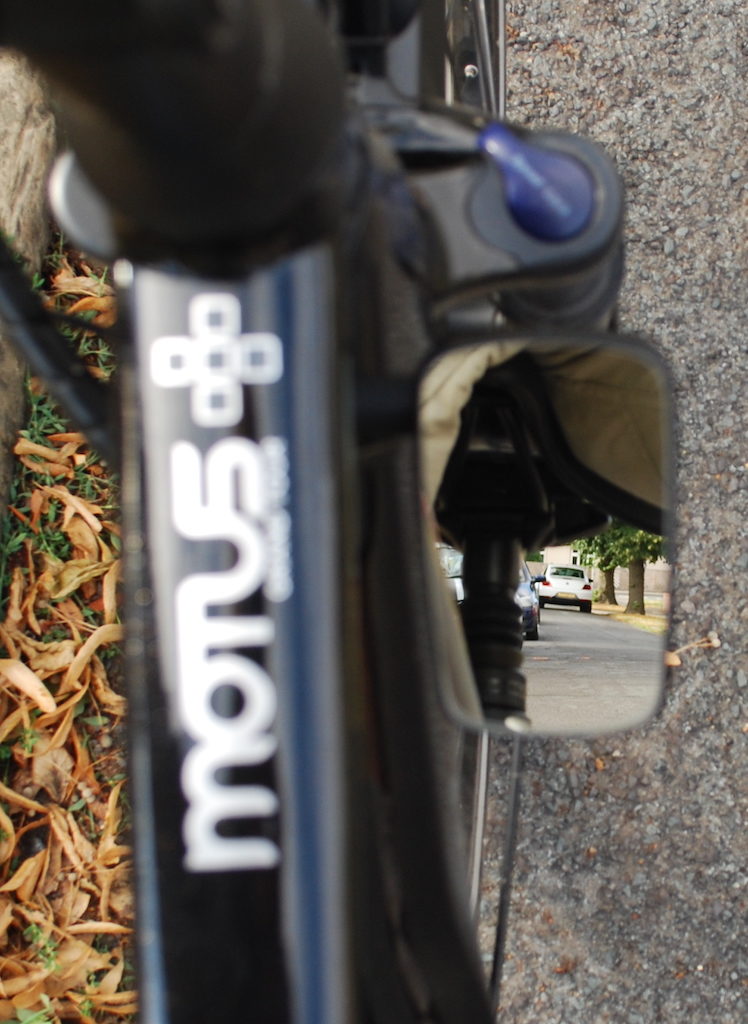 Also there musn't be objects in the way such as very loose clothing, the tops of panniers or saddlebags. And with today's huge variety of frame designs you should check just where the mirror might fit on your bike.
However, the nifty cable-tie mounting system means as long as you can get a sightline fitting onto the majority of frames should not be a problem.
Why not just use one of the ubiquitous wing mirrors out there?
Bike Eye claims several advantages over bar end mirrors – as it is fixed firmly to the frame there is less vibration than occurs in handlebars, it doesn't increase the width of your bike like handlebar mirrors and is less likely to get knocked.
I also found it gave me more of a view of the whole width of the road behind me compared to most wing mirrors. If you wanted a comparable view with a wing mirror it would need an inconveniently long stem and so add more weight and ungainliness compared to the Bike Eye solution.
So, as long as it will suit your particular bike set up and clothing and carrying arrangements, I think its a great aid to safely viewing what is behind.
Of course you could use it as a supplement to a wing mirror (or even two), meaning you would be replicating the mirror set up in most motor vehicles on the road and have a truly luxurious rear view set up.
I wouldn't feel safe relying solely on a single mirror before pulling out into the carriageway – I would still want a quick 'lifesaver' glance behind.
But Bike Eye means you can be 99% sure there is nothing behind so it won't be a wasted glance and it will be quick and easy.
From: Bike Eye
Price: $21 USD
Stay tuned for more e-bike news and reviews and keep on riding.
-Richard
P.S. Don't forget to join the Electric Bike Report community for updates from the electric bike world, plus ebike riding and maintenance tips!
Reader Interactions