Wahoo KICKR Smart Trainer Review 2023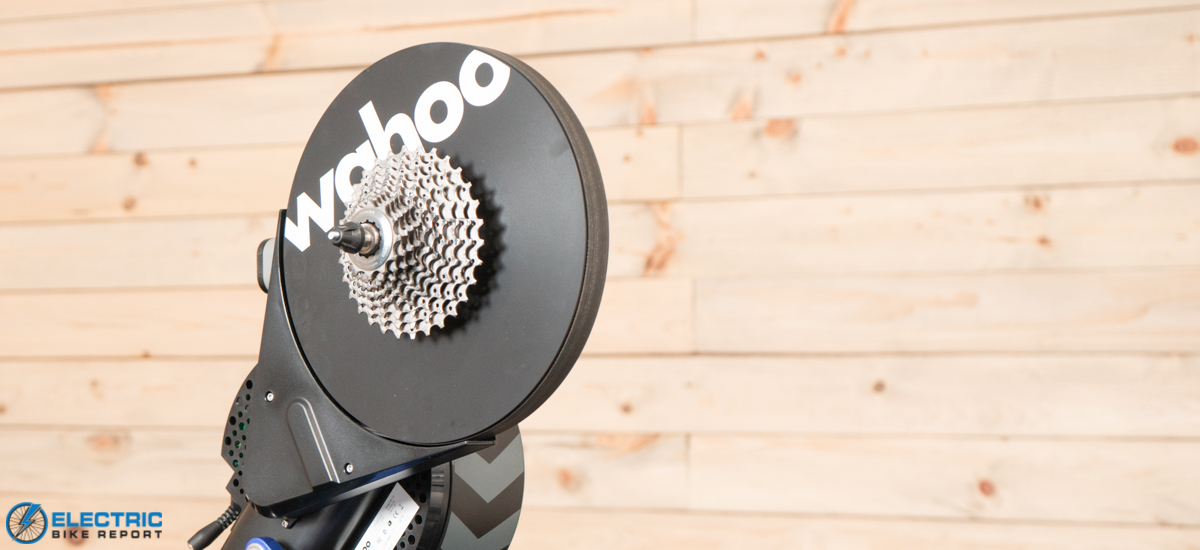 Like the U.S. Postal Service, neither rain, snow, sleet or a demanding 9-to-5 work schedule can stand between you and your training with the Wahoo KICKR smart trainer.
In this Wahoo KICKR smart trainer review, we dive into the specs and features of this top-of-the-line home trainer and talk a little about my real world experience integrating this training tool into my regimine ahead of the 2022 mountain bike season.
Wahoo's KICKR has long dominated the direct drive home trainer market and has been heralded as the gold standard tool for those who wish to make their outside bike an inside bike. Controlled by a smart device via bluetooth, the Wahoo KICKR pairs with the virtual cycling app of your choice — among the most popular are Wahoo's SYSTM app, Zwift, TrainerRoad and many others — and automatically adjusts resistance based on whether your going uphill, downhill or are partaking in a structured workout. This makes for an incredibly realistic indoor riding experience that's engaging, fun and incredibly effective for those looking to gain fitness in a short amount of time.
I used the KICKR to fit structured interval training around my 9-5 duties at Electric Bike Report and saw considerable results. It's now my favorite training tool, and one I'd recommend to anyone who wants to ride well but doesn't have a ton of time.
Wahoo KICKR Smart Trainer Video Review

Pro's
Wahoo has invested a considerable amount of engineering into their trainers and it shows. It's the most realistic feeling smart trainer I've used.
For Zwifters, Wahoo has actually partnered with Zwift to make sure their trainers match as closely as possible to the physics of riding uphill and downhill.
Anecdotally, this is the best tool I've used for interval workouts. Unlike training outside, the KICKR gives you an uninterrupted almost lab-like environment to focus on the effort.
It pairs with your chosen device almost instantaneously and I've never had an issue with dropped signal.
You do not need to use an external speed or cadence sensor, the trainer handles that for you (plus power).
The AXIS feet give 5 degrees of lateral movement, allowing the bike to sway slightly as if you were pedaling outside. Another fine touch that adds to the realistic ride experience.

Con's
The first time you set up the trainer it's likely you'll have to invest some time in installation unless you're using an SRAM or Shimano 11-speed road bike. After the first time, though, things get easier.
Wahoo KICKR Smart Trainer Specs
Weight: 47 lbs
Dimensions: 20x28x17 in (folded) 51x71x44 in (unfolded)
Resistance type: Electromagnetic
Connection type: ANT+ or Bluetooth
Max user weight: 250 lbs
Max simulated grade: 20 percent (climbing) 10 percent (descending)
Max power output: 2,200W
Compatible wheel sizes: 24″ Road / 24″ MTB / 650c Road / 26″ MTB / 700c Road / 650b MTB / 29″ MTB
Included cassette: 11-speed, 11-28t (SRAM or Shimano freehub body)
Compatible hub types: 130/135mm QR, 12×142, and 12×148 Thru Axle
Wahoo KICKR Smart Trainer Overview
The Wahoo KICKR is the perfect trainer to buy if you're a cyclist who already owns a bicycle and wants to ride that bicycle indoors.
It's a smart trainer, which means it uses bluetooth to connect to a device like a laptop, cell phone or tablet and can be controlled by software that automatically adjusts the resistance. In other words, if you're wanting to jump on the Zwift train or are looking to use a more dedicated training app like Wahoo's SYSTM or TrainerRoad, this is the type of trainer you're going to be looking for.
The Wahoo KICKR is a direct drive smart trainer, so it works by taking the place of your rear wheel. Your chain directly drives the trainer, which gives you a far more realistic ride feel than say a more affordable wheel-on or roller-style trainer that uses friction on the rear tire.
Included in the box are the trainer itself, a power cable, a pre-installed 11-speed cassette with an 11t-28t ratio, some different sizes of AXIS feet and a number of adapters and spacers that make it compatible with different styles of bikes.
It's a relatively lightweight and portable unit, weighing in at 47 lbs. The legs fold up for storage, there's a sturdy carrying handle and it's capable of simulating grades up to 20 percent (which is stupid steep).
Most people use a trainer like this with a road or, in my case, an old cyclocross bike, but it does have thru-axle adapters that make it compatible with many modern mountain bikes. Though I'm using a cyclocross bike on the trainer, I'm actually using the KICKR to train specifically for cross country and marathon distance mountain bike racing, but more on that later.
There are many cyclist-specific indoor training options available, and, as a long-time cyclist, this one is my personal preference because I can just use my own road bike that I'm already familiar with. I also like that the direct drive design also saves my rear tire, as opposed to a wheel-on trainer which relies on friction between a small drum and the rear tire to function in the same way. Wheel-on trainers are often more affordable, but I've found they don't feel as smooth as direct drive models, are louder and often require the use of special trainer-specific tires in order to work best. Ultimately, for people like me who spend lots of time on the trainer, it's the ride feel that's usually the deciding factor and in that department the Wahoo KICKR is king.
If you don't want to reappropriate your outside bike as an inside bike, Wahoo also makes the KICKR BIKE, which our sister site Treadmill Review Guru reviewed and you should be sure to check out. The bike has booko customizability including fit, gear programming and will even tilt fore and aft to replicate hills. It's a great option, but I frankly prefer the simplicity of the KICKR smart trainer and that it allows me to use my existing bike. Aside from a few things, it's very plug and play.
Wahoo KICKR Smart Trainer Review: How to Set Up
One of my favorite things about the KICKR is just how easy it is to set up. Unless you're a special case (like I was), everything you need to get started is in the box.
The KICKR smart trainer is compatible with most traditional bicycles with a few exceptions. You can check on the Wahoo KICKR product page for your bike's compatibility, but it seems like most will work (though you may have to buy a special adapter for some thru-axle frames).
For installation, there's a few things you're going to need:
1) Your bike
2) Knowledge of how many gears your bike uses
3) A bluetooth capable device
4) Your chosen indoor cycling app
Wahoo KICKR cassette & drivetrain compatibility (and what to do if your bike is different)
Let's start with making sure your bike is compatible with the 11-speed cassette included with the KICKR, and what you can do if it's not. The included cassette is an 11-speed with an 11-28 ratio, which is a fairly standard setup for a modern road bike and is compatible with many cyclocross and gravel bikes. While 11-speed may be the current industry standard for road and gravel bikes (until 12-speed becomes the new norm and throws a wrench in everything again), many people are using bikes with different gearing or a different ratio, including the bike I've been using on the KICKR.
If you fall into the non 11-speed camp, fret not — there's a number of solutions. The easiest of which is to just swap the cassette.
If your bike uses a 9,10 or 11-speed SRAM or Shimano drivetrain, you can simply remove the cassette off the KICKR and replace it with the cassette off your rear wheel. This is a quick job that does require some special tools (a chain whip and cassette lockring removal tool) but it's absolutely in the wheelhouse of your average DIY-er. This is the solution I used to make my circa 2014-ish Trek Boone cyclocross bike compatible with the KICKR. But if your drivetrain is not exactly a SRAM or Shimano 9,10 or 11-speed setup, things get a little trickier.
Those using many 12-speed drivetrains (many modern mountain and gravel bikes) or a Colnago grouppo are going to have a more involved installation process. There are many online resources on how to do this, but the gist is you're going to have to swap out the KICKR's stock freehub body for the one that's compatible with your cassette. I'm not going to dive into the myriad types of drivers/freehub bodies or how to install them here, but keep the faith 12 speeders and Colnago-ites, you too can use the KICKR with a little extra installation effort.
Wahoo KICKR bike installation
But enough about gears: Getting the bike on the trainer is easy — simply remove the rear wheel and replace it with the KICKR. Tighten the quick release or thru-axle (make sure you've got the appropriate adapters) and viola! Your outdoor bike is now an indoor bike.
My review model of the KICKR came ready to accommodate a 700c (road) wheel, but you can easily adjust for different wheel sizes by changing the position of a small arm that supports the trainer. Download the Wahoo Fitness app and pair it with your KICKR to make sure it's up to date.
Then plug the trainer in using the AC adapter and pair it to the bluetooth capable device of your choosing. A smartphone is the easiest way to do it, as it's the bluetooth device almost anyone is going to have, but you can use a tablet, laptop or even some smart TV's.
I personally use my laptop, and found the KICKR exceedingly easy to connect. I'm not going to dive into particulars because there are so many different types of devices, but my PC identified and connected to the KICKR immediately, and never drops the signal. That's a contrast to some of the cheaper smart trainers I've used, which can be finicky to connect and will sometimes disconnect while in use.
Lastly, in order to use the KICKR to its full potential, you need to download and sign up for the indoor cycling app of your choice. The game-like Zwift is arguably the most popular, but there are more training focused apps like TrainerRoad and even Wahoo's recently released SYSTM app.
Wahoo KICKR Smart Trainer Review: How it rides
This is not the first smart trainer I've used, or even the second or third. But it is the best.
Aside from its ease of setup and how nicely it paired with my devices, it's remarkably quiet and well built. I've done full standing sprints on my KICKR and the thing has stayed stable but doesn't feel rigidly attached to the floor. Little about riding outdoors is rigid, and most cyclists have a little or, in my case, a lot of lateral movement when pedaling. The KICKR uses its specially-designed AXIS feet to allow for 5 degrees of lateral movement, which really adds to the realistic ride feel.
It's also silent, which I appreciate as much of the time I've spent on this thing is in the early morning hours on weekdays when everyone else in my house is sleeping. Compared to a more traditional wheel-on trainer or even some competing direct drive trainers, this thing is whisper quiet.
It has an integrated power meter that's accurate and doesn't require calibration, which is also a must have for any sort of serious training, and it does not require use of an external cadence sensor or speed sensor. It automatically picks those things up.
The actual feel of riding it is super smooth and it responds to changes in power exceedingly quick. If you're using something like Zwift, this translates to a very realistic feel on climbs and descents, even if you're on a route with quick undulating hills or something super steep like the Alpe Du Zwift. For interval training, it makes for an almost lab like environment where your power is perfectly held at the appropriate levels no matter your gear, cadence or wheel speed.
Wahoo KICKR Smart Trainer Review: My Experience Using the Trainer
Back around last fall, when Wahoo sent us the KICKR for review, I'd started to feel the itch to race my bike again. And I'm not talking about a race here or there, I wanted to commit to a full calendar of bike racing and do it in a way that I was proud of (aka, I wanted to go fast and be competitive).
So instead of doing some clinical review of the KICKR, I threw myself into a training plan centered around the trainer and integrated it into my life like a normal consumer would. I wanted to do mountain bike racing, so I chose a training plan that fit those goals and planned to use the KICKR to fit in workouts before and after work on weekdays and I'd ride outside or race on the weekends.
Risking the curse of a New Year's resolution, I started on January 1, 2022 and have been at it since. It's now mid-March, so a little over two months in, and I have to say, the results have been pretty staggering.
Here's some highlights, which have all been driven by my use of the trainer:
I've lost 23 lbs and some change, from a starting weight of 193 lbs to my current weight of 170 lbs.
My FTP, the yardstick most commonly used to measure a cyclist's fitness, has increased significantly and in just two months is approaching numbers that I feel are competitive for my weight and experience level.
I'm several races in to my calendar and I have been satisfyingly competitive
And, anecdotally but most importantly, I just feel fit and fast.
All of these results I attribute directly to the KICKR for several reasons.
1. The KICKR is a tool extremely well suited for interval training, which in my experience is far more difficult to successfully do outdoors than indoors. While outdoors you have to contend with variables like traffic, stop signs, pedestrians and undulating roads, you don't have to worry about any of those things on a trainer. Better yet, the trainer controls the effort for you — hence the "smart" part.
2. Consistency. It's just easier than going outside.
3. Lastly, it solved the work problem. It didn't matter if it was dark or light out, or how late or early I got on the bike, I could still do the workout I needed to do.
Wahoo KICKR Smart Trainer Review: Summary / Where to Buy
For me, even outside of this review, the Wahoo KICKR has become the centerpiece of my training plan. On weekends I like to spend as much time riding outside as I can, but on weekdays, when I'm juggling a busy work and at-home schedule, the ease, accessibility and effectiveness of the KICKR is bar none.
It's a training tool that I'd argue spans the spectrum of cycling experience from beginner to expert and beyond. For those new to the sport, a segment that's been drawn to virtual game-like cycling apps like Zwift in droves, it's arguably the best tool for exploring Wattopia and maybe dipping your toes into a first foray of structured training. Or, for the seasoned cyclist looking to squeeze more fitness out of a packed schedule, the KICKR provides a training platform that's controlled, adaptable and utterly perfect for sustained efforts that may normally be interrupted by traffic and stop lights.
I'd recommend the Wahoo KICKR to anyone eyeing an indoor smart trainer. Options like the KICKR Bike are great if you don't have a dedicated trainer bike or don't want to deal with taking a wheel on and off, but if you're like me and you prefer the feel of an actual bike, the KICKR smart trainer is likely the choice for you.
The Wahoo KICKR smart trainer is sold online through Wahoo's website or through a number of big-name outdoor retailers. It's shipped directly to your door and is easy to set up at home.
When you toss in the effective brakes, good looks and an affordable price, you can find plenty here worth smiling about.
'Happy Riding, make sure to let us know if you have any questions down in our comments section or if you think we left anything out in this review of the Wahoo Kickr smart trainer.
Reader Interactions