Best Mid Drive Electric Bike 2023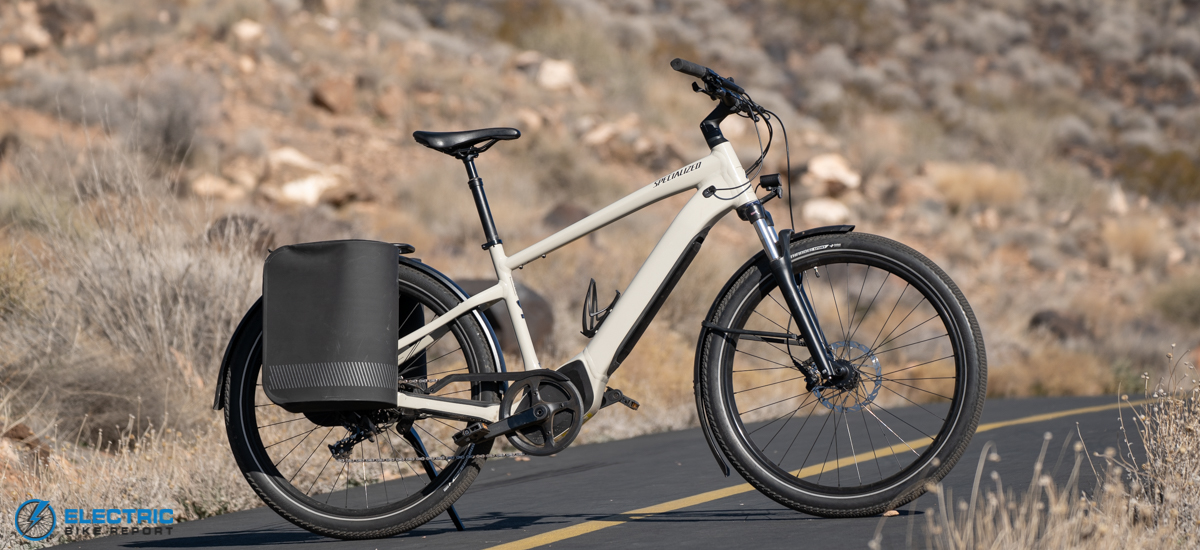 *Electric Bike Report aims to help consumers find the right electric bike for their needs. When you buy a product we recommend, we may earn a commission.
Mid-drives can give unrivaled climbing ability and efficiency on an e-bike, so for high-performance e-bike fans we've selected EBR's best mid-drive electric bikes of 2023.
The ranks of e-mtbs are almost exclusively populated with mid-drives and some of the most high-performance ones at that. However, our selection covers just about all genres of e-bike, from compact cargo models to commuters, as well as offering options for throttle lovers and class 3 speed fans.
So it's likely that whatever kind of e-bike you are after, there will be a mid-drive option out there for you.
Our Picks For The Best Mid-Drive Electric Bikes of 2023
How we picked the best Mid-Drive electric bikes
Our team of experts here at EBR have ridden a lot of e-bikes so these e-bike choices are the product of many collective thousands of hours of riding and comparing performance in detail.
With some e-bikes their reputation as one of, if not the best in class precedes it. After all, you would expect to find names like Riese and Muller, Specialized and Tern on many people's list of their best e-bikes, even if that's based only on a prestigious online image.
This article isn't just about high-end mid-drives though; EBR has done the real world testing not only on premium-priced mid-drives but on the whole gamut of e-bikes, so, whatever the price point, our picks stand out from the competition.
But in all cases, we evaluated the bikes based on a few key criteria, mainly:
Value: How much e-bike are you getting for your dollar? The e-bike market has grown flush with overpriced and under-spec'd electric bikes that don't offer much value. Every bike on this list we'd call fairly priced.
Components and extras: What else comes with the e-bike? Does it come with racks, bags, lights and fenders, and do those accessories make sense? Is there anything else that should be included but isn't?
Does it offer something unique?: In a market chock-full of options, what's unique about this bike that sets it apart from the competition? There are many categories of e-bike — particularly at the more affordable end of the spectrum — that are flush with copycat brands and e-bikes that just aren't that special. We're looking for the ones that are.
What does the manufacturer say it was built for?: What was this bike designed to do, and how well does it execute that purpose? Of course you can choose to use your bike however you'd like, but we want to make sure the e-bikes on this list function as advertised.
How does it actually ride?: Last but not least, the most important question: Does the e-bike ride well? Many of these e-bikes we know intimately through rigorous testing.
Ride1UP Prodigy
Best Affordable Mid-Drive Electric Bike
Ride1Up Prodigy: | Full Review Coming Soon
Starting off our list of the best mid-drive electric bikes is a great value option. Mid-drives at this price are pretty rare – especially ones with a premium, German-manufactured mid-drive like Brose, whose moniker proudly adorns the motor casing on Ride1Up's Prodigy. In short, mid-drive models with this quality of mid-drive are typically a thousand bucks more, clearly making this an e-bike of absolutely outstanding value.
It's not just the quality of the motor that makes it standout value; there is a reasonably-sized 504Wh frame-integrated battery, dual piston hydraulic brakes, 9-speed Shimano Alivio gearing, front and rear LED lights, sleek Brose full-color display, full length mudguards and kickstand. Now that's value!
The mid-drive itself is a Brose TF, actually one of their higher-specced mid-drives, with an amazing 90Nm of torque and featuring Brose's trademark virtually silent belt drive technology. Smooth power responds intuitively to your pedal pressure, and being a speed pedelec, class 3 model you can keep up the assisted pedaling all the way up to 28mph. There is no throttle, but of course that makes it a good machine for both exercise and for extending the range on rides (typical stated range is 30-50 miles).
The ST and XR variants feature step-thru and lowered top tube style frames respectively. Both make ideal commuting and leisure bikes for smoother surfaces as both lack any kind of suspension. They also look like capable load carriers, with an impressive 300lb rider-plus-cargo capacity.
However, there is a 'cross country' XC variant that for an extra 100 bucks adds in a 120mm travel air suspension front fork. Air suspension forks are certainly a big step up from steel sprung budget forks in terms of quality and ride performance. The XC variant also has 2.4" wide knobby tires to make it a truly capable off-road e-bike. Note there are no mudguards, rack and kickstand included as standard with the XC variant.
We're actually mid-way through testing the XC version as of this publication, but we're already so taken with the value and performance of this bike we had to include it on the list of best mid-drive electric bikes.

Pro's
High quality, powerful mid-drive
Full accessory package on ST and XR variants
Front air suspension on XC off road variant

Con's
No throttle which is fine on the XC, but we see some wishing it came on the other variants
Lectric XPremium
Best Versatile Mid-drive Electric Bike
Lectric XPremium: | Full Review Coming Soon
We are huge fans of Lectric here at EBR as they are one of the most popular manufacturers of reasonably priced e-bikes in the US and for good reason – that reasonable price tag doesn't come at the expense of functionality and features. Indeed, features and functions are where the XPremium excels, hence it gets awarded the Best Versatile Mid-Drive Electric Bike accolade.
It combines class 3, 28 mph performance (including throttle control) with a huge 1000Wh battery capacity and folding and fat tire capability. It's clearly an e-bike Lectric wants to be able to go anywhere and do anything, bringing powerful mid-drive performance along with it.
The mid-drive is from Truckrun, a China-based firm that produces a number of both mid-drive and hub drive e-bike motor systems. The unit on the Lectric XPremium is rated at 500W but looks to have considerably higher peak power. In other words, you should have no shortage of power on tap.
What makes it so versatile? The frame is nice and low for easy mounting, the folding feature means it will stow more easily on a vehicle or at home whilst the 4" wide fat tires(pre-slimed for puncture resistance), front suspension fork and suspension seat post make it a very capable machine on rougher surfaces too.
The accessories that come as standard mean the versatility doesn't stop there. There are hardwired lights and a brake light plus front 'premium' headlight, rear rack, mudguards and kickstand. There are optional extra front and rear metal cargo 'baskets' that ensure a hugely capable load-carrying ability. Seven speed derailleur gearing and hydraulic disk brakes round off an amazing looking package.

Pro's
Class 3, 28mph power
Fat-tire, front suspension comfort
Huge battery capacity
One of the more "do-it-all," feature-rich offerings on this list

Con's
Very heavy at 75lbs
Mid-drive not a 'premium' name
Specialized Turbo Vado 4.0
Best Mid-drive Electric bike for Commuters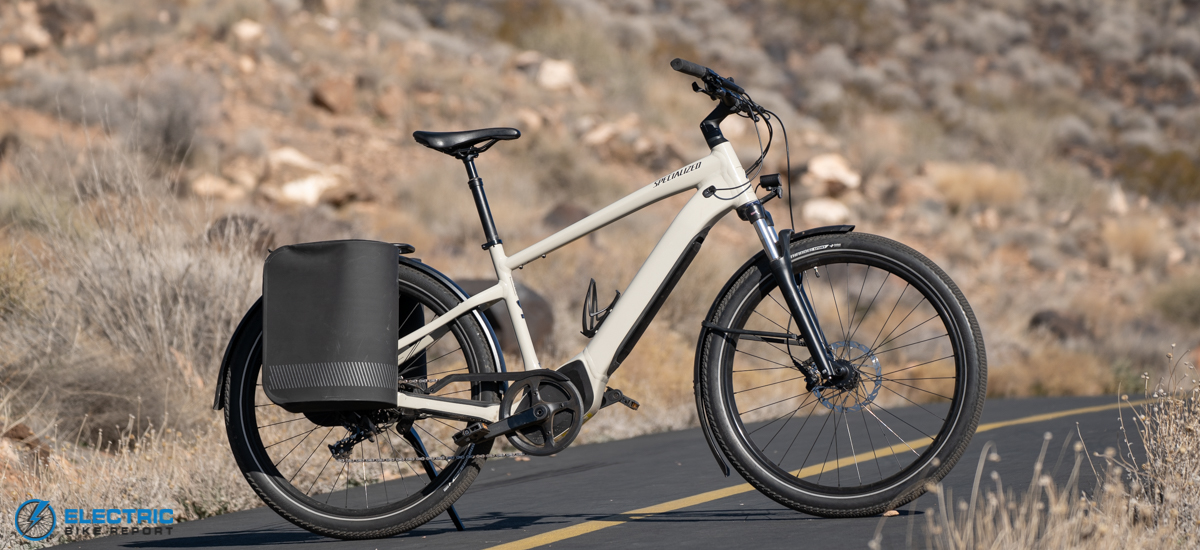 Specialized Turbo Vado 4.0: | Read Full Review | Watch Our Video Review
The Specialized Turbo Vado features a 'Brose-based' mid-drive but as refined by Specialized, who also developed their own software. This powerful, class 3 mid-drive electric bike looks to take e-bike commuting to the next level of both performance and sophistication in the form of Specialized's other proprietary tech like the Mastermind display and MissionControl app.
At the end of 2021 Specialized released a whale load of updated and new models of e-bike and the new Turbo Vado 4.0 was one of them; indeed the new Vado was virtually a new e-bike compared to its predecessor, with a sleek new frame and speed performance tuned motor; in our tester's words 'this bike is an absolute ripper that has zero issue cruising between 25 mph and 28 mph.' Perhaps not surprising; this motor is Specialized's 'full power' option – they also make SL models which are less powerful but lighter. There's a big capacity, 710Wh battery that will help keep you going at speed for between 23 and 60 miles according to our test rider.
The 'bike' aspects of the Turbo Vado are what you expect, this 4.0 iteration of the bike featuring high quality 11-speed derailleur gears and hydraulic disk brakes with large 180mm rotors. What really sets the bike apart from many other mid-drive commuters – on top of the high build quality and outstanding performance – are the digital extras. Note higher iterations feature higher 90Nm mid-drive and even a Garmin Radar-enabled display.
The MasterMind display has a mind-boggling array of info and we were impressed with the power meter feature and also with the MissionControl app, which allows you to tune, track and even lock your bike from your phone and to receive over the air updates to your bike.
Most riders need only a few minutes on the bike to understand why it's one of the best mid-drive electric bikes on the market today.

Pro's
Superb high speed performance from the motor
Sophisticated feedback and programmability from the MasterMind display and MissionControl app
Satisfies the wants and needs of any commuter

Con's
Superior quality comes at a price
Tern HSD
Best Mid-drive Compact Cargo E-bike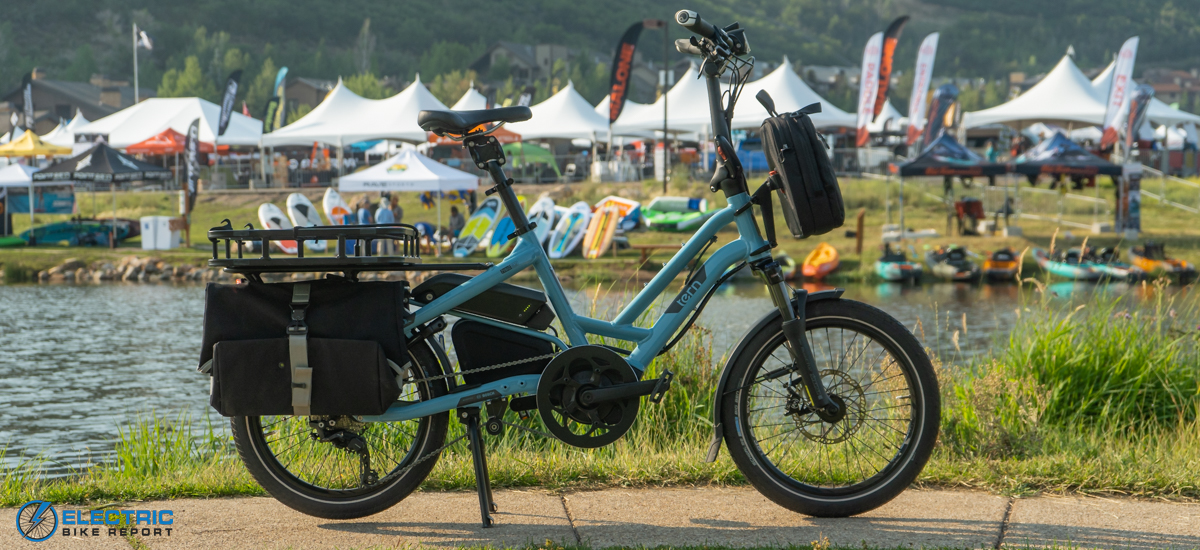 Tern HSD S11: | Read Full Review | Watch Our Video Review
Our review described the Tern HSD as 'a cross between a small(ish) cargo bike and a high-speed commuter.' Even though we are used to riding a myriad of designs at EBR, we were amazed at the amount of cargo such a small e-bike could carry and at its overall functionality.
Let's put some figures to that incredible cargo carrying ability; the HSD frame and fork combo has been tested to 374lbs load by one of Europe's leading bicycle test laboratories and the rear rack alone is rated to carry up to 132 lbs.
We tried the S11 variant (there are slower 20mph versions too), but the S11's Bosch Performance Line Sport mid-drive has a pedal-assisted speed of 28 mph, placing it in the Class 3 super commuter category. That makes it an unusual and very usable combination of compact, cargo and speed pedelec e-bikes. We also liked it as an e-bike in itself, saying the HSD S11 has 'extremely well balanced handling that makes this compact bike handle like a much larger machine.' There's also tons of stopping power for heavy loads from hydraulic disc brakes and 11-speed wide-ratio derailleur gears.
It's hard to summarize the many features that make it so versatile in a short summary but we'll try; adjustable bars and seatpost mean it suits most size of rider and will carry children, large rear loads and moderate front loads. Its range of carrying accessories mean it can be fitted out specifically for younger or older kids (with weatherproofing available for them) or it can double as a huge load carrier with a pair of enormous bespoke carriers and there are even dog-specific carrying options. As we noted, Tern see their bikes as tools, not toys. We see it as one of the best mid-drive electric bike options on the market today.

Pro's
Small and compact but very strong
Huge range of carrying accessories
Speed pedelec – 28mph assist

Con's
No throttle which some people hope for dead start help from cargo carriers
Riese & Müller Superdelite
Best High Performance Mid-Drive Electric Bike
Riese & Müller Superdelite: | Full Review Coming Soon
Riese and Müller make some of the highest quality e-bikes out there, but also concentrate on making their designs uniquely useful and suited to a purpose. They are also big fans of speed pedelecs, meaning most of their models are available as 28mph assisted, class 3 models in addition to being available in EU and US 'standard' spec too (with 15.5mph and 20mph assist respectively).
The Superdelite has a full-suspension frame styled in R&M's own inimitable way. It's meant for all day rides in ultimate comfort. Our choice of the Superdelite as a leader in high performance mid-drives comes not only from the super powerful Bosch Performance Line CX motor however.
First off, you can choose between derailleur, Rohloff hub (with electronic changing) and Enviolo stepless gearing systems. Then there's the GX option which gives off-road ability in the shape of knobblies and the possibility of a Fox suspension upgrade too (with 140mm travel and great fine tuning ability). Not to mention a choice between Bosch's Intuiva, Kiox, Nyon and Smartphone Hub display systems.
The daytime running lights with high front beam and the fully-suspended rear rack mean this a high performance touring / long day ride e-bike par excellence. If you were heading off on a long tour to the back of beyond, the 1125Wh double battery system as standard, overall high quality and dependability, not to mention the huge configurability of the Superdelite means it has to be the bike you would rely on to take you there – and back. We've ridden the Superdelite in personal capacities though we didn't have the opportunity to do a full EBR review, but that experience, along with the sheer package of the Superdelite, make it one of the best mid-drive electric bikes assembled, period.

Pro's
Bosch mid-drive reliability and performance
Huge battery and range
Great suspension for comfort and performance
Great configurability with gearing, display and on/off road spec options

Con's
Relatively heavy
Quality like this comes with a big price ticket
QuietKat Jeep
Best All Terrain Mid-Drive Electric Bike
QuietKat Jeep:| Read Full Review | Watch Our Video Review
If you want one of the most powerful mid-drives out there then the off-road (not street legal) version of the QuietKat Jeep will deliver in the form of this fully-suspended fat-tire e-bike. That combination means that when we say this is an all-terrain e-bike we really mean all-terrain (as you might expect from an e-bike inspired by Jeep's SUVs).
The 'off-road' version gets a 1000W rated Bafang mid-drive (as opposed to the 750W-class2/20mph street legal version) which is rated at 150Nm of torque. It will probably go as fast you are comfortable with….and then some. As an off-road version you will be restricted to off-pavement OHV areas or private land.
The throttle control and awesome power also means there are many electric dirt bike aspects to the off-road QuietKat Jeep, but it remains much lighter (at around 70lbs) and nimbler than most electric dirt bikes and of course can pedal it just like a regular e-bike.
The spec alone tells you this should be able to go just about anywhere. The 4.8 inch wide fat tires are big even by fat tire standards. There are 4 piston hydraulic disc brakes with 203mm rotors – e-bike brakes don't get much more powerful than that. There is four bar linkage suspension for ultimate comfort and traction, with plenty of cushioning for the rider plus load rating of 300lbs.
Optional extras include Tannus Armour tire liners, various rack and bag options and even a solar charging kit.
The bike was inspired by backcountry sportsmen and hunters needs – but clearly anyone who loves e-bikes and needs a top mid-drive e-bike option can enjoy the Quietkat.

Pro's
Huge power
Great suspension
Unrivaled off-road ability

Con's
Battery size modest compared to motor power means range can be limited
Orbea Rise
Best Mid-Drive Electric Bike for Trail Riding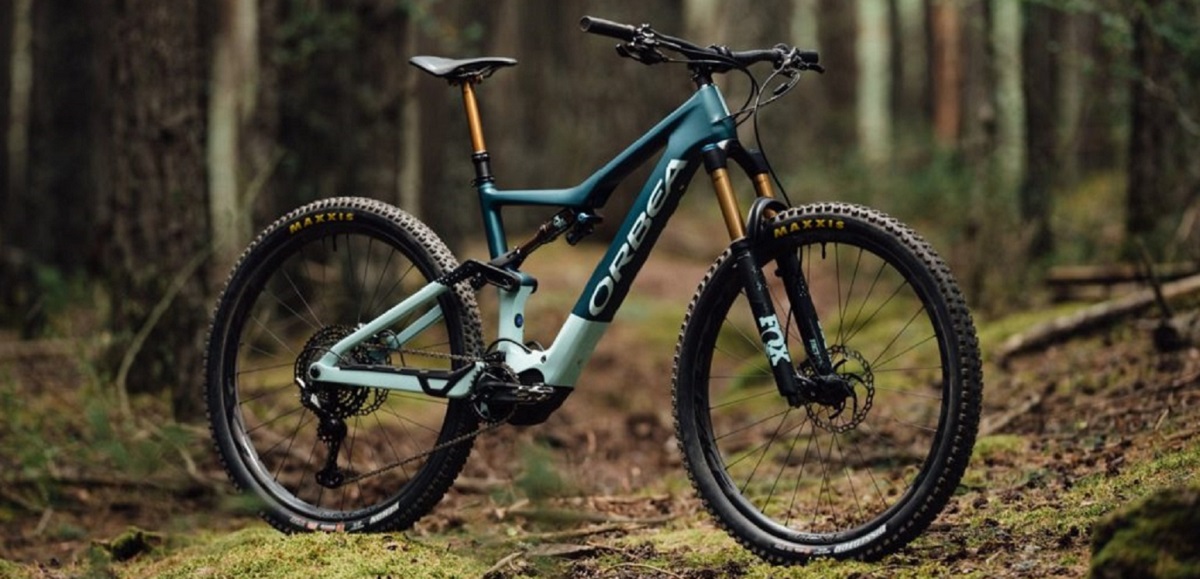 Orbea Rise: | Full Review Coming Soon
There aren't many e-mtbs that made the splash that the Orbea Rise did when it was announced at the back end to 2020 and it has gone on to become a classic. Whilst the R&M and Quietkat off-road mid-drive models featured here are about outstanding range and power respectively, the Orbea Rise is about its amazing power to weight ratio.
It features the highly regarded Shimano EP8 motor – with Orbea's own performance tweaking to tone down and make the power delivery more subtle (hence the RS suffix – it stands for Ride Synergy amd means peak motor torque has been toned down to around 60Nm as against the max output of 85Nm of the EP8 found on other e-mtbs). Yes, you get less peak power, but the point about the Rise is that this is a very lightweight e-mtb that demands less power due to its lightweight credentials. And less peak power means more range too.
Weights start at around 35lbs, depending on model choice and what size of battery you select – from 360Wh all the way up to 756Wh. The original M series Orbea Rise boasted a carbon frame but the later H series is in a more affordable alloy – Orbea say that carbon framed Rise's weigh around 4.4lbs less than their alloy equivalents.
If you are the kind of rider that enjoys throwing an e-mtb into corners and testing your jump ability then the Orbea Rise preserves all that is most adrenaline inducing in the discipline of mountain biking and combines it with subtle but very effective mid-drive support from the EP8 mid-drive. It also makes a great cross-country bike for longer day rides – that toned down motor power and efficient power delivery mean you can ride all day if you take up the option of the range extender – but for short rides you can leave the bike as light as possible by leaving the range extender off of the bike.

Pro's
Light weight
Super natural ride feel
Range extender option

Con's
It's a class 1, 20mph pedelec – no higher speeds or throttle
Bottom line: The Best Mid-Drive Electric Bikes of 2023
The advent of the e-bike mid-drive more than a decade ago- along with more power dense lithium batteries – helped catapult e-bikes from being a curiosity (even for those most interested in assisted riding), to being a mainstream phenomena. Mid-drive's are at the pinnacle of e-bike achievement in most e-bike genres and some, like e-mtbs feature little else.
While we're sure there's going to be lots of opinions and questions about why this or that bike didn't land on our list, these are the mid-drive electric bikes we're most excited about right now. This is not a comprehensive list, nor were we able to consider each and every mid-drive e-bike use case, but we do think all the bikes on this list are a good representation of what's out there right now.
Have a bike that you think would be a good contender for our best electric mid-drive bikes of 2023 page? Let us know in the comment section below. At the very least, we always want to know what our readers are riding!
Reader Interactions