The Complete Guide to E-Bike Mid-Drive Motors
Mid-drives are electric-assist motors on e-bikes that drive through the pedal cranks (usually on turning the cranks – so-called pedelec power). They have become hugely popular in recent years as the technology has become more powerful, lighter, and more efficient, with every year bringing announcements of new mid-drive developments.
They are frequently used by some of the best electric bikes.
Market leader Bosch, for example, has seven different motors grouped into five families and Shimano has six different motor setups.
To help you make your way through this increasingly crowded field of products this article looks at the most popular mid-drives currently on or about to hit the market, manufacturer by manufacturer, and details their key features. This article has tried to rank the motors in the order that you most likely to encounter them on a visit to your local e-bike store.
Good quality mid-drives have been around for about a decade and Bosch was one of the pioneers of the genre when it launched its mid-drive system at Eurobike back in 2010. Today they are market leaders and have a wide range of mid-drives covering everything from city e-bikes to e-cargo bikes.
Bosch Active Line and Active Line Plus
First introduced in 2013, the Active Line is Bosch's entry-level model. It's found on the most reasonably priced pedelecs that don't require the higher assist levels of other motors. The Active Line was redesigned in 2017 to minimize three key mid-drive characteristics; weight. motor noise and resistance when pedaling without power (for example, above the legal electric-assist limit when the power cuts out or if you turn the power off).
Unit weight: 2.9kg
Support level: 40% (Eco) to 250% (Turbo)
Max torque rating: 40Nm (Newton Meters)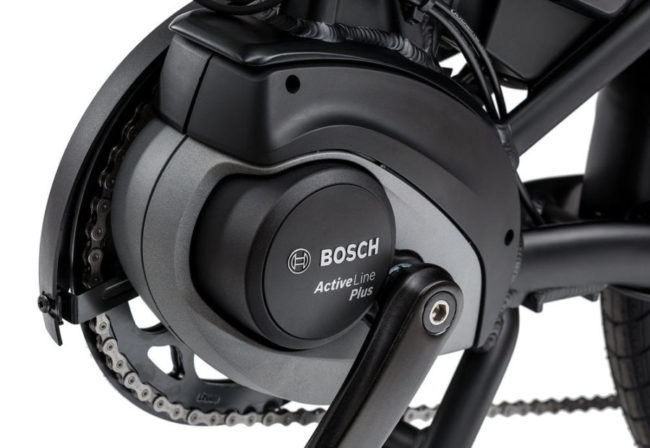 The Active Line Plus is a slightly peppier version of the Active Line and was introduced alongside the revamped Active Line in 2017 and shares its aims of being a quiet motor that is easy to pedal. The extra power means you are more likely to find the Active Line Plus on bikes that bit of extra power such as urban bikes with carrying capacity or entry-level trekking bikes that venture off-road on moderate terrain like Haibike's SDURO Trekking 1.0. 
Unit weight: 3.2kg
Support level: 40% (Eco) to 270% on derailleur geared e-bikes (Turbo) or 250% (Turbo) on hub gear e-bikes.
Max torque rating: 50Nm (Newton Meters)
Bosch Performance Line
A step up in performance above the Active Line Plus, and just one level down from Bosch's top of the line mid-drive, the Performance Line packs plenty of power. Whilst the Performance Line name was introduced by Bosch in 2014 it was totally upgraded in 2020 to be quieter, smoother, and easier to pedal when there is no motor assist.
It has more complex software than the Active Line range too. This allows for more sophisticated power delivery in the form of EMTB mode. This sits just below Turbo mode when you toggle through the power level selection. Whilst it can deliver the same 340% assistance as Turbo, EMTB mode won't always do so; it automatically varies power to match the conditions, responding to various sensors within the motor that feedback info such as gradient, wheel speed, and pedal speed.
It's found on many high performance, mid to high priced trekking style bikes such as the Kalkhoff Entice 3b Move.
You might also see Bosch's Performance Line mid-drive described as Gen 3 / 65Nm to distinguish it from the Gen 4 Performance Line CX which we take a look at next – but note Gen 3 has also been applied to Active Line / 40Nm motors so check the detail carefully to be sure of exactly what motor you are getting.
Unit weight: 3.2kg
Support level: 55% (Eco) to 300% (Turbo)
Max torque rating: 65Nm (Newton Meters)
Bosch Performance Line CX
Bosch's top-performing motor is, without a doubt, a beast of a motor and ideal if you a want high-performing e-mtb or to haul heavy loads, where its newly increased torque will come in handy. Originally launched in 2015, it was completely overhauled in 2019 (to appear on 2020 models), leaping two 'generations', from Gen 2 to Gen 4. The main aspects of this impressive overhaul meant a Gen 4 Performance Line CX motor:
Almost half the size – The new motors are almost half the size of their predecessors, and the Performance CX and Cargo motor is a complete redesign.
About 25% lighter in weight – Smaller motors = less material = less weight
With the same torque but higher assistance – While the torque levels remain the same the newer motors provide more power assistance. For example, Turbo mode in the Performance CX is increased from 300% to 340% and the support level of Tour mode has been increased from 120% to 140%.
With enhanced anti-tuning software – In response to European requirements Gen 4 Bosch motors have new software that detects motor tuning and manipulation via sensors while you are riding which then automatically switches the motor into limp home mode.
There has just been an incremental upgrade to the Performance Line CX motor for the model year 2021, with the torque increasing to 85Nm. There were also software upgrades that introduced 'extended boost' performance whilst the bike was in EMTB mode. This extended boost function means that, even at low speed, a fairly light amount of pressure on the pedals produces plenty of motor power, allowing you to accelerate over small rock steps and roots without having to quickly alter gears or power levels (something that is often just not possible in real life trail conditions). Bosch say the 2021 upgrades also include improved start-up torque and motor support over a broader cadence range, all aimed at making the bike easier to ride, whatever the skill level of the rider.
Note the 2021 software features are backward compatible with the 2020 Bosch Gen 4 CX Motor; if you have one of the 2020 motors and want to upgrade enquire at the dealer where you bought your bike.
Lastly, as with the very latest Shimano high-performance motor, the EP8, there have been some comments that some e-bikes with the Performance Line CX motors have a rattling sound when coasting over rough ground (possibly from the freewheel components which have been made lighter to save weight). With both motors, a thorough test ride is recommended to make sure you are happy with the performance. The noise itself doesn't seem to affect performance and, as with the EP8, is apparently cosmetic.
Unit weight: 2.9kg
Support level: 60% (Eco) to 340% (Turbo)
Max torque rating: 85Nm (Newton Meters)
Bosch Cargo Line
The Bosch Cargo Line is specifically for heavy loads of up to 250kg and is based on the same platform as the Gen 4 Performance Line CX motor, however, the software has been mapped to provide up to 400% support. Even at low cadences, it delivers full power, something especially noticeable when starting off at traffic lights or on steep climbs when you need all that power to get a heavy load moving smoothly and without any wobbles. Note the software can be re-mapped to the 'lesser' Performance Line CX setting if required.
Unit weight: 2.9kg
Support level: 60% (Eco) to 400% (Turbo)
Max torque rating: 85Nm (Newton Meters)
Bosch Performance Line Speed, Sport and Cargo Line Speed
These are the 'class three' versions (so-called speed pedelecs) that provide motor assistance up to 28mph before they cut out (unlike regular pedelecs with assist limits of 15.5mph in the EU/UK and 20mph in the US). The Performance Line Speed and Cargo Line Speed are based on the Performance Line CX motor hardware but with different software. The
Bosch Performance Line Speed
Unit weight: 2.9kg
Support level: 60% (Eco) to 340% (Turbo)
Max torque rating: 85Nm (Newton Meters)
Bosch Performance Line Sport
Unit weight: TBC
Support level: Up to a max of 340% (Turbo)
Max torque rating: 65Nm (Newton Meters)
Bosch Cargo Line Speed
Unit weight: 2.9kg
Support level: 60% (Eco) to 400% (Turbo)
Max torque rating: 85Nm (Newton Meters)
But Which Bosch Motor is Best for Me?
The Active Line is a good choice if you are on a budget and want a solid performer on a town or leisure bike whilst the Active Line Plus is noticeably more zippy and fun to ride but will come with a price premium over its more lowly cousin.
If you are after a high-performance e-mtb motor both the current Performance Line (gen 3) and Performance Line CX (gen 4 2020 and 2021 versions) are definitely contenders. The gen 3 is a little bulkier and a little less powerful than the gen 4 but in my various climb tests in reasonably tough off-road conditions, actual climbing times were very close, so differences are fairly subtle. If you do want a gen 4 motor it's definitely worth trying to get the 2021 upgraded version as the software tweaks may well make it marginally better performing in emtb mode, as much for improved technical handling as for any increase in raw power.
The Speed Line and Cargo Line motor systems are welcome options if you want a class 3 speed pedelec or a cargo-specific mid drive as not every mid-drive manufacturer offers such a choice. Indeed the Cargo Line motor is the only e-cargobike specific mid-drive that EBR knows of, though Bafang's M620, detailed later in the article, looks even more powerful and capable of shifting heavy loads, though it won't be legal in every jurisdiction.
Shimano Steps
Shimano Steps E6000
First introduced in 2013, the E6000 is akin to Bosch's Active Line motor – a budget option for city bikes and a perfectly respectable and reliable option for day-in, day-day-out city style e-biking but now superseded in terms of technology and performance by the E6100. Note that unlike Bosch's Active Line, Shimano's E6000 hasn't undergone a total reworking.
Unit weight: 3.2kg
Support levels: 3 Eco / Normal / High
Max torque rating: 50Nm (Newton Meters)
Shimano Steps E6100
Bought in as an upgrade to the E6000 in 2018, the E6100 has since received very positive reviews. It's lighter, more powerful, and more efficient (i.e. giving more range from the same sized battery). You can wirelessly connect to the system by smartphone to alter power profile levels with Shimano's E-TUBE app, which you cannot do with the E6000. Shimano says you can also use a smartphone or compatible third party units like Garmin and Sigma instead of the standard display that comes with the system – but do check with your dealer for compatibility if this is an important feature for you.
Unit weight: 2.88kg
Support levels: 3 Eco / Normal / High
Max torque rating: 60Nm (Newton Meters)
Shimano Steps E5000
Launched in late 2018, the E5000 is the lightest and quietest of the Steps mid-drives and is aimed at urban e-bikers who don't need the extra power of the E6000 / E61000. Also the best Shimano option for those who want a good quality mid-drive e-bike but are on a budget. and just need to get around without conquering extremely steep terrain.
Unit weight: 2.5kg
Support levels: 3 Eco / Normal / High  200% max assist (double the rider's own effort).
Max torque rating: 40Nm
Introduced in late 2018, the E7000 was Shimano's version of a more affordable and slightly less powerful e-mtb capable mid-drive than the very successful, top-performing E8000. It's garnered impressive reviews.
Unit weight: 2.8kg
Support levels: 3 Eco / Trail / Boost
Max torque rating: 60Nm
Shimano Steps E8000
A staple of e-mtbs in recent years, with generally glowing reviews from the e-bike press. Although the motor dates back to 2016, thanks to regular software updates, improved connectivity, new batteries, display, and remote options the E8000 system itself has been kept up to date. Shimano was also one of the first manufacturers to develop a speed sensor that can be seamlessly integrated in the dropouts with a magnet forming part of the rear disc rotor, again keeping many of their older mid-drive systems at the head of the pack.
For real e-mtb aficionados, the E8000 was also credited with producing better handling designs as it kept the geometry of e-mtbs more within the regular dimensions of a non-powered e-mtb, with things like shorter chainstays, higher bottom brackets and a narrower crankset width than were previously possible on an e-mtb.
However, it is starting to show its age a little, not least because of the 300% max assistance is starting to be trumped by other manufacturers – despite the fact that 300% is a mighty amount of assistance. The E8000 seems likely to be phased out in favor of the brand new EP8, detailed next.
Unit weight: 2.8kg
Support levels: 3 Eco / Trail / Boost
Max torque rating: 70Nm (Newton Meters)
Shimano Steps EP8
Newly launched for high performance 2021 e-bikes, the EP8 is Shimano's attempt to go toe to toe with Bosch's Performance Line CX motor. It matches it for torque and beats it on weight due to a new magnesium casing. The only slight question mark hanging over the system before it starts appearing on 2021 bikes is the mention of some noise from the motor when coasting along, mentioned by a number of early reviewers.
Other positives include the ability to customize the assistance delivered in each power mode to a much greater degree and also, like Bosch's Performance Line CX latest motors the EP8 is said to be easier to ride for all skill levels (for example it's not as critical to get just the right gear to get a good amount of power out of the motor). It has less resistance than its predecessor the E8000 when riding without motor power.
Unit weight: 2.6kg
Support levels:  3  Eco, / Trail / Boost
Max torque rating: 85Nm
Although they have a lower profile than Bosch, Shimano and Yamaha, Brose have been quietly innovating away in the background and their mid-drives have pioneered the use of quiet, belt-driven motors and of lightweight magnesium casings. Brose produces four mid-drives, fitted across a range of city and off-road bikes by a wide range of e-bike manufacturers.
The top-performing motors claim to produce an incredible 90Nm of torque and go up to 380% assist. Brose's automotive motors (controlling things like electric windows) are found in millions of motor vehicles around the world so they have very considerable experience and resources in producing electric motors.
As Brose are perhaps unfairly a little less known than their main competitors here's a bit more background about the company and their motors:
Brose Drive C
Introduced in 2019, the Drive C was Brose's first city model and also marked their entry into offering full systems from Brose themselves as previously they had left it up to e-bike manufacturers to supply their own batteries and controllers from third party suppliers. Whilst that gave great flexibility in design it meant a more complex manufacturing process and more complicated after sales service.
The Drive C is ideal for easy urban riding with less power but greater efficiency than other models.
Unit weight: 2.9kg magnesium case 3.4kg aluminium case
Support level: Max 280% assist
Max torque rating: 50Nm
Brose Drive T
The trekking option, for riding conditions that include off-road and touring.
Unit weight: 3.9kg
Support level: Max 320% assist
Max torque rating: 70Nm
Brose Drive TF
As the T model model but F stands for fast so this mid-drive is featured on class three speed pedelec models capable of assisting the ride up to 28mph.
Unit weight: 3.9kg
Support level: Max 380% assist
Max torque rating: 90Nm
Brose Drive S
A hugely popular mid-drive for e-mtbs but Specialized and Pedego are two well-known manufacturers who have used the Brose Drive S on trekking and urban models over the past few years. In 2018 Brose introduced a lightweight magnesium casing on this model which has since been used as an option on the T and C models. The higher-performing magnesium version has taken emtb mid-drive performance up a notch.
You might also see Brose motors described as Specialized Turbo 1.2 / 1.3 / 2.1 – more detail on the history of this in the following video:
Unit weight: 2.9kg magnesium version  3.4kg alu version 
Support level: Max 380% assist for alu version 410% for magnesium version
Max torque rating: 90Nm
Yamaha claims to have invented the first pedelec back in 1989. Although they often kept a low profile in the intervening period they are now back at the top of their game with a full offering of five mid-drives for everything from easy city riding to full on e-mtbing, including a class 3 speed pedelec option. Giant, said to be the biggest bike manufacturer in the world, use Yamaha motors branded as Syncdrive along with their own software on their range of e-bikes. Yamaha make much of the fact that the walk assist is new and more powerful than previous versions and their latest motor features an automatic power selection mode.
PWseries CE
You've probably guessed by now that the CE is the lightest and quietest of the Yamaha series of motors and it's also the newest, as it was announced just a few days before this article was written. Like other lightweight mid-drives from Bosch and Shimano, the CE is aimed at relatively gentle city and leisure riding. Unlike those competing drives, however, it features an automatic support mode that will detect when more or less assistance is needed – up and down hills for example – and it will alter the power level accordingly. Alternatively, you can select one of the four preset power levels.
Unit weight: 2.9kg
Support level: + Eco, Eco, Standard, High or automatic
Max torque rating: 50Nm
PWseries TE
An older, heavier though slightly more powerful version of the new CE, though like the CE it does feature automatic support mode.
Unit weight: 3.4kg
Support level: + Eco, Eco, Standard, High or automatic
Max torque rating: 60Nm
PWseries ST (SE)
Another step up power and Yamaha describe this motor as being 'multi-activity' and that includes full-suspension e-mtbs. Note the ST replaces the SE. This video gives a flavour of the kind of riding it is aimed:
Unit weight: 3.4kg
Support level: +Eco, Eco, Standard, High
Max torque rating: 70Nm
PWseries X2
Yamaha's 'flagship' and most powerful motor, revamped in 2019 to give its powerful support over a wider range of pedal cadences (cadence being the speed your pedals turn at, measured in rpm). The graph below shows the stated increase in power of the new version of the motor as your pedals start to spin quickly.
There' also a speed pedelec, class three 45kmh assist version of the PW X2.
Unit weight: 3.1kg
Support level: +Eco, Eco, Standard, High, Expw
Max torque rating: 80Nm
Fazua launched its remarkably light and removable mid-drive in  2013 but in the last three years or so it seems to have really taken off, being used by more and more e-bike manufacturers. Apart from its lightweight and almost invisible appearance on the bike, the main advantage is Fazua's quick removability; both battery and motor remove at the press of a button leaving the rider with an even lighter 'regular' bike. The only part of the system that remains is the bottom bracket gearing unit with a weight of 1.3 kg.
The Fazua helped pioneer the e-road genre of e-bike, at first viewed cautiously by the industry and e-bike buyers alike (though later proving a great success) but now it's migrated to all kinds of lightweight e-bikes, including gravel and e-mtbs. Fazua-powered e-bikes are typically in the 13-18kg weight range (lighter of course with battery and motor removed) whilst larger mid-drive powered machines from the likes of Bosch and Shimano et al usually come in significantly over 20kg.
Regular software updates have seen Fazua fine-tune the system to produce more power and also the introduction of a desktop app that lets the rider alter the amount of power delivered in different settings.
Unit weight: 1.9kg (motor only)
Support level: Three power levels christened Breeze, River and Rocket.
Max torque rating: 55Nm
Specialized SL 1.1
Announced in 2019, this is Specialized's lightweight mid-drive used for sportier e-bikes where riders might prioritise a lighter bike and more human input over a heavier e-bike with a more powerful motor. It's used across both the Turbo Creo SL range, the Turbo Vado SL range and the emtb Turbo Levo SL range where SL stands for super light. There is also a speed pedelec / class three 28mph version of the motor.
Unit weight: 1.95kg
Support level: Max 180% assist
Max torque rating: 35Nm
On paper it looks a lot less powerful than mega-powerful motors like the Bosch Performance Line CX – but check out this instructive video from EMTB videos which compares the two. In short, there is plenty of power there but it needs to be ridden in the right way – the Bosch sounds to deliver power over a wider range of riding styles. Where the SL wins big is in combining the efficiencies of a mid-drive with a very lightweight e-bike and these are always nicer to ride without power and easier to manhandle off the bike, for carrying up steps etc. To give one example the Turbo Vado SL 4.0 EQ is equipped with LED lights, rack, and fenders and comes in at around 17kg, pretty light for a fully-equipped e-bike.
This is simply the most powerful mid-drive out there, the only real downside being a weight penalty, not surprising given the immense power it generates. It uses a totally different pin-based power transfer system compared to more traditionally-geared mid-drives that rely on cogged teeth to transfer power from the motor to cranks.
Haibike are currently the main e-bike manufacturers using the Flyon system with which they offer a range of e-mtbs and trekking models. There is also a speed pedelec version. Check out this video to see how a Haibike Flyon model performs not only uphill but downhill and in all positions in between!
Unit weight: 3.9kg
Support level: N/A
Max torque rating: 120Nm
Bafang produces a range of seven mid-drives but, in the US and Europe (especially), these are not commonly seen – unlike their ubiquitous hub motors which are produced on a huge scale and are also well-regarded. So rather than detail every Bafang mid-drive, we'll focus in on a couple of systems that are at opposite ends of Bafang's range. You will also see many Bafang mid-drive retrofit kits available for sale but note these are different motors to the OEM versions detailed below that are designed to come ready fitted to manufacturers' e-bikes and not to be retrofitted by end-users.
Bafang M620
The M620 'Ultra' puts out a massive 1500W of peak power and is used by Canadian fat bike specialist Biktrix on their Juggernaut Ultra 1000. It's a physically large and heavy motor but most certainly one of the most powerful mid-drives out there, if not the most powerful. Bafang says it's especially suitable for heavy-duty e-cargo bike use and is 'in use with logistics companies across the globe'. It also features an auxiliary throttle control that can be used independently of pedal-assist power which makes it a pretty unusual design for a mid-drive.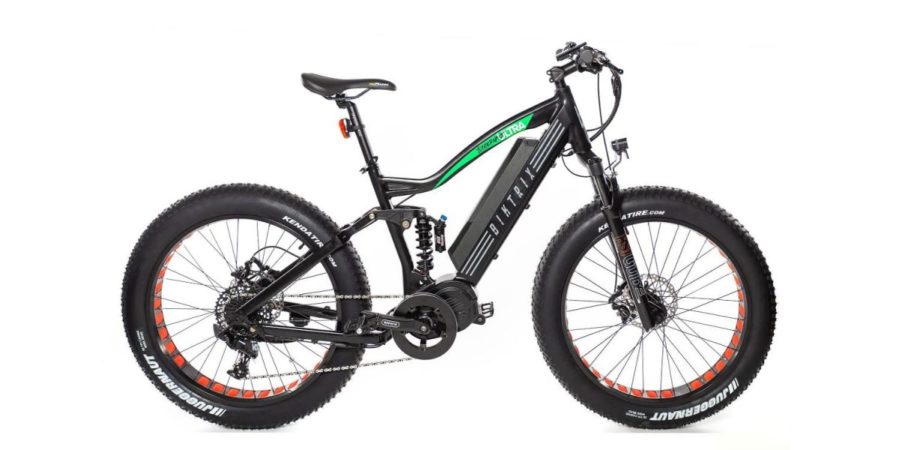 Unit weight: 3.9kg
Support level: N/A
Max torque rating: 120Nm
Bafang M800
One of the smallest and lightest mid-motor systems on the market and aimed at eRoad, eGravel, and eCyclocross bikes. Unfortunately, despite a positive launch at Eurobike 2018 as detailed below it's still hard to track down any e-bikes that use this lightweight system.
Unit weight: 2.3kg
Support level: N/A
Max torque rating: 55Nm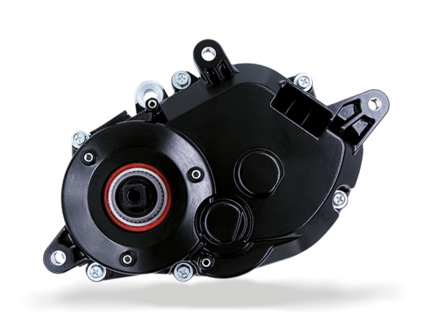 In the 1990s Panasonic was one of the pioneers of mid-drive systems on e-bikes like the Giant Lafree but afterward, they fell by the wayside, certainly outside of their home country of Japan. Their re-entry into the market in recent years has seen them struggle to attract many brands who perhaps felt they already had all the choice they needed with broadly similar offerings from Bosch, Shimano and Yamaha. There was a much-publicized launch of their motors into the US in 2019 with Van Dessel but the heralded e-bikes don't yet seem to have materialized in dealers. The main European brand that most definitely does use their motors is one of the longest established e-bike brands, Swiss Flyer who have a great reputation.
Panasonic currently have a range of three motors, the GX Ultimate (2.95kg and 90 Nm), the GX Power Plus (3.2kg and 75 Nm) and the GX Power (3.2kg, 60Nm).
Canadian e-bike brand Rocky Mountain has four models of e-mtb each using the powerful-looking though not particularly light (at 3.7kg) Propulsion Powercycle Inc Dyname 3.0 mid-drive with a stated 108Nm of torque. Here's an overview of the system:
E-bike share specialists Bewegen also use this motor.
Stay tuned for more e-bike news and reviews and thanks for reading!
-Rich
Reader Interactions