Specialized Mode Electric Bike Helmet Review – 2022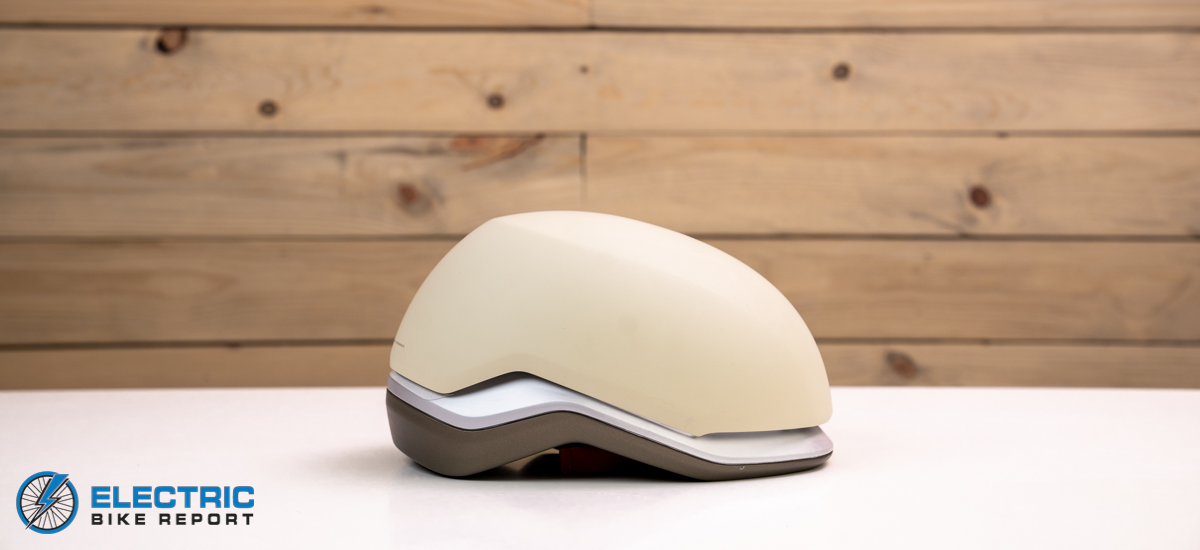 As soon as we got the Specialized Mode helmet in for review it was remarkable at how, well, normal looking it is. Frankly, there are a great many bike helmets that look like they were worn in a sci-fi comedy. They can look bad enough we've considered riding without one—but not wearing a helmet is dumber than the way some of them look. So when one comes along that looks like a hat on steroids, well we get excited.
The Specialized Mode is a helmet aimed at all of us who would prefer not to be noticed for our headgear. It features a MIPS liner to protect against rotational forces in an accident and performed well enough when tested by Virginia Tech that they awarded it a full five-star rating in their testing.
Going even a further step above the norm, it is rated up to the Dutch NTA8776 standard making it a great option for e-bikers with the confidence that it can hold up when traveling at faster e-bike speeds.

Pro's
Meets the Dutch NTA8776 safety rating for e-bikes
Features MIPS liner for additional protection against rotational forces
Has reflective decals for excellent visibility
Vents are recessed to give an understated look
5-Star Rating from Virginia Tech
Works with Specialized's ANGi crash sensor

Con's
No room to pull a ponytail or braid between the bottom of the helmet and the occipital device
Can't attach a light to the back of the helmet
Who It's Best For: Anyone who wants being safe to be unremarkable visually.
Specialized Mode Helmet Review: Specs and Features
Sizing: 51-62cm (20- 24 ½") comes in three sizes and two different fits
MIPS: Yes
Number of vents: multiple, hidden
Standard pad thickness: N/A
Specialized Mode Helmet Review: Fit and Design
The first thing most people notice about the Specialized Mode is its absence of holes – a Style choice we're seeing more from Specialized as they did on their
Tone bike helmet we reveiwed as well
. A channel of sorts encircles the helmet and this serves as the air-intake for the vents that are hidden from view. It's as understated a look as a bike helmet has ever enjoyed, making it especially attractive to commuters who would rather not look like extras from Guardians of the Galaxy.
An especially attractive feature of the Specialized Mode is that not only does it come in three sizes (many only come in two sizes), but it also comes in two different styles of fit—classic and round. The classic fit tends to be well-suited to people of European descent, while the round fit tends to favor people of Asian descent. With six different sizes in total, it's a helmet likely to have a size that fits nearly any adult.
Compared with many helmets, the Mode covers more of the head, especially at the back of the head, and that additional coverage increases protection.
Fit is further refined with the occipital retention device at the back of the helmet to keep it from tipping back on the head or falling forward over the rider's eyes.
For those who want a lifeline in case they need it, Specialized now offers a crash sensor called ANGi that can contact someone in the event of an accident.
Specialized Mode Helmet Review: Comfort
Helmet comfort begins with fit. If the helmet doesn't fit, the downstream results aren't any fun. It can move around on the rider's head, which can be distracting, or, worse obscure their view. A helmet that's too tight can cut off circulation in the scalp and cause a headache—no lie. So fit is the place to start for comfort, which is why we like this helmet so much—it's available in six sizes. Whether someone has a very round head or a slightly oval shape to their noggin, Specialized has made helmets for both head shapes and makes those shapes in three sizes each.
The occipital device at the back of the helmet is designed to make the fit snug enough not to move, but not so tight as to hurt. And like many higher-end helmets, the webbing used in the straps is thinner, making for a more comfortable fit around the ears and under the chin.
Early MIPS-equipped helmets sometimes had an issue with snagging hair, but manufacturers have largely eliminated that problem. Almost all of the MIPS anchors are placed below the single helmet pad that wraps the front, sides and top of the helmet, reducing the chance of picking up the helmet and noticing a missing pad.
While we love how the Mode covers the head and offers excellent back-of-the-head protection, it does come in for one knock: there isn't room for a rider with long hair to pull a ponytail or braid between the bottom of the helmet and the occipital device.
Specialized Mode Helmet Review: Final Thoughts
When we are commuting, running errands or otherwise using our bike for transportation, we like wearing a helmet that doesn't call attention to itself. If it can have an understated look and not sacrifice any of the protection afforded by other helmets, that will get our attention.
Most helmet accessories come in the form of lights, camera mounts or rain covers. Specialized offers an unusual accessory—an extra degree of protection thanks to its ANGi crash sensor. Should a rider who has attached an ANGi module to their helmet fall, ANGi can notify pre-selected contacts.
Venting on a bicycle helmet can be deceiving. Some helmets that look well-vented don't direct the wind over the rider's head to keep them cool. And some helmets that look minimally vented have tuned the helmet's aerodynamics to force air over the rider's head to keep them cool. The design of the Mode is unusual, but this is from a company that places such an emphasis on aerodynamics that they built their own wind tunnel for product testing.
While it lacks some of the features we see in other helmets, like integrated lights, we love its understated look, hidden vents and that it is safe enough to meet the Dutch NTA8776 standard. For the rider who wants a casual look that understates its protection, the Specialized Mode is a terrific option.