Accessory Roundup: SQlab Saddle, Innerbarends & SKS Anywhere Bottle, Flap Guard [VIDEOS]
Time for a look at more bike accessories that can make your eBike ride more comfortable, convenient, and fun!
In this roundup we have the:
SQlab 611 Ergowave Active Saddle
SQlab Innerbarends 411
SKS Anywhere Water Bottle Mount
SKS Flap Guard Fender
These accessories have been tested on the Xtracycle 10e Edgerunner electric cargo bike test rig and other bikes.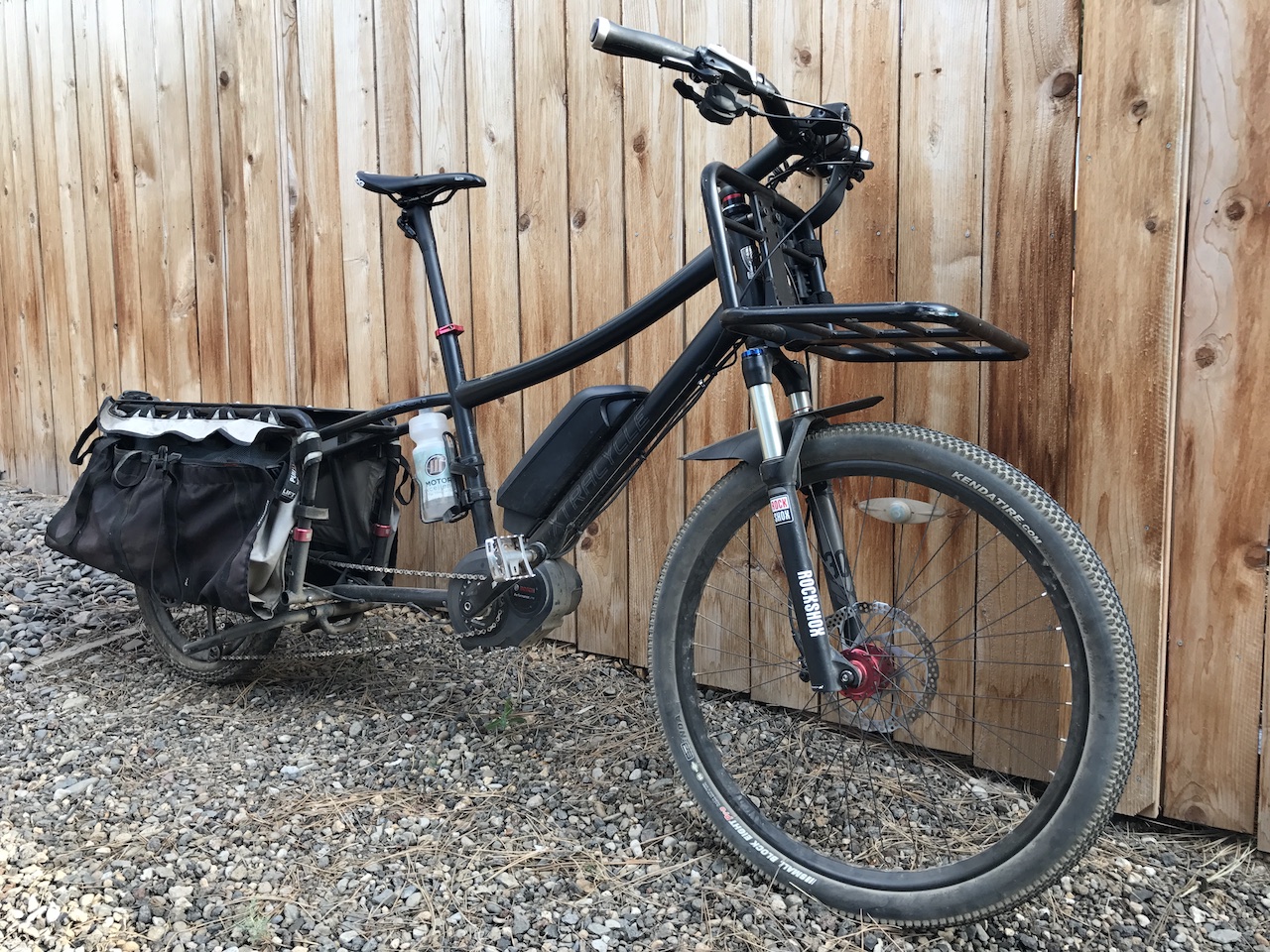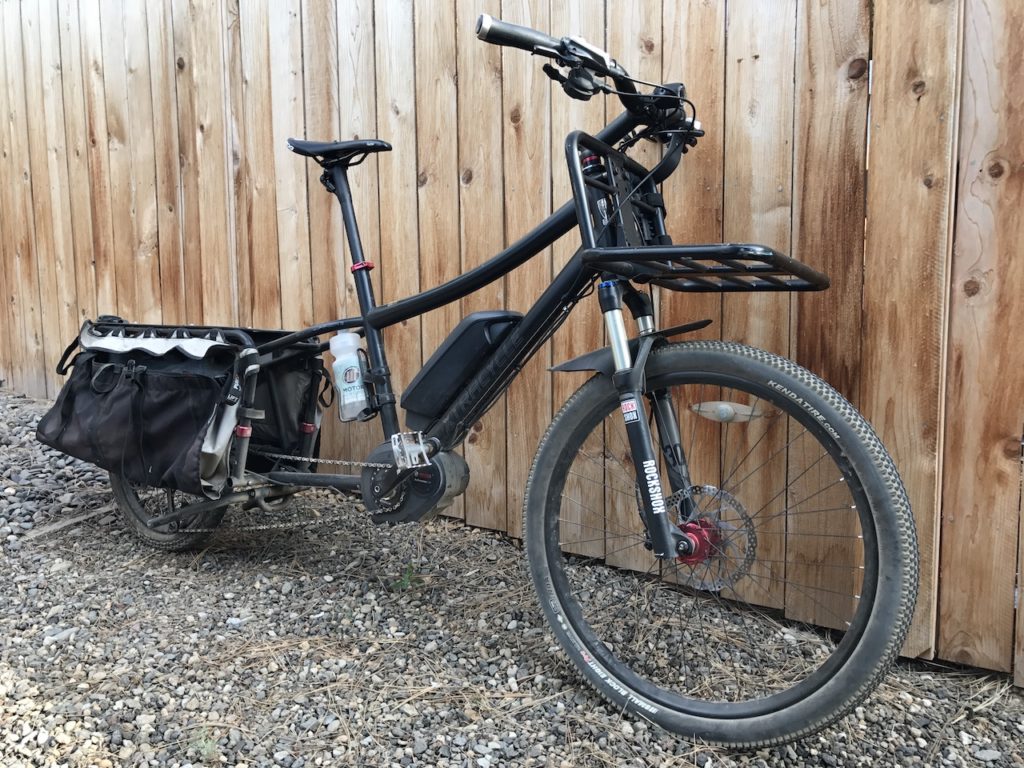 SQlab
SQlab makes a wide variety of ergonomic bike components to make your ride more comfortable. They focus on providing seats that fit your sit bones and riding style, along with an assortment of grips, handlebars, bar ends, stems, and more.
Here is a video with a look at how they determine your proper saddle size based on your sit bones, along with a look at their variety of ergonomic bike products.
Here is a link to the SQlab website with a look at their different products.
SQlab 611 Ergowave Active Saddle
SQlab takes a very scientific approach to making sure their saddle fits your sit bones and riding style. They can send out a fit kit so that you can measure your sit bones similar to what was shown in the video above.
I have been riding their 611 Ergowave Active saddle in size 15 for the past few months and I am surprised by how much of a difference it makes when riding a saddle that has been sized for me. This is more of their performance style saddle and they do make a wide variety of different style saddles from comfort to performance.
This saddle has been on my Xtracycle eCargo bike and my Santa Cruz Tallboy LTC mountain bike and in both cases it has made these bikes feel significantly different. For me the wider platform of the saddle has made each bike feel much more stable.
SQlab states that "The lowered nose in combination with the dip provides optimal pressure relief for the perineal area." And I agree that this does make quiet a difference by reducing pressure and it makes longer rides much more comfortable.
Here is a video about why and how their active system works:
https://youtu.be/TWOevovZhO4
SQlab offers 3 different elastomer dampers to fit your ride style. I have been using the medium hardness and it works very well for the type of riding I am doing.
Overall I am impressed with how much of a difference having a saddle that has been fit to me has made in the overall feel of the bike, both in comfort and the feeling of stability.
Here is more information on the SQ Lab 611 Ergowave Saddle.
Price: Starting at $152.99 on Amazon.
SQlab Innerbarends 411
Bar ends have typically been, well, on the ends of the handlebars to create a different hand position as well as to create additional leverage when climbing. SQlab has developed the Innerbarends 411 and the name describes them very well as as bar ends that are located within the handlebar area near the brake levers and shifters.
The Innerbarends create a comfortable position for stretching out a little more on rides that have long open road sections.
The Innerbarends are mounted just inside the grips and they have an ergonomic shape that provides a solid hand hold.
Your thumb wraps around the Innerbarend as your palm rests on the main grip area. From the Innerbarends I was able to tap the brakes and quickly move my hands back to the grips if needed.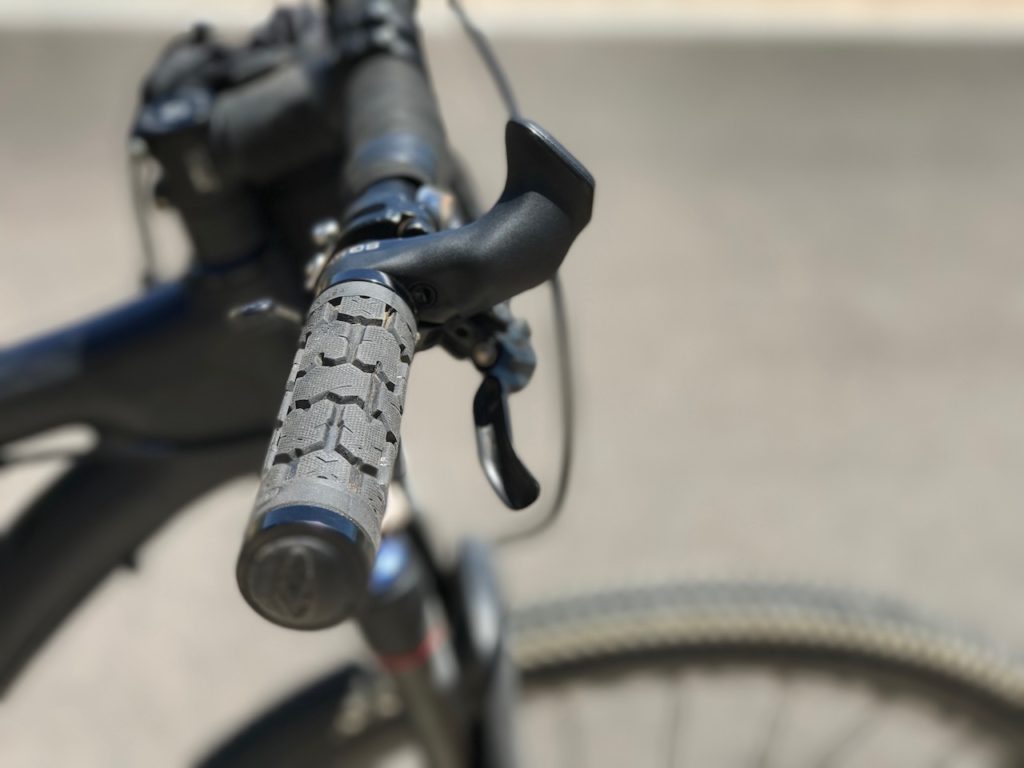 The Innerbarends ramp up at the ends to prevent your hands from slipping forward.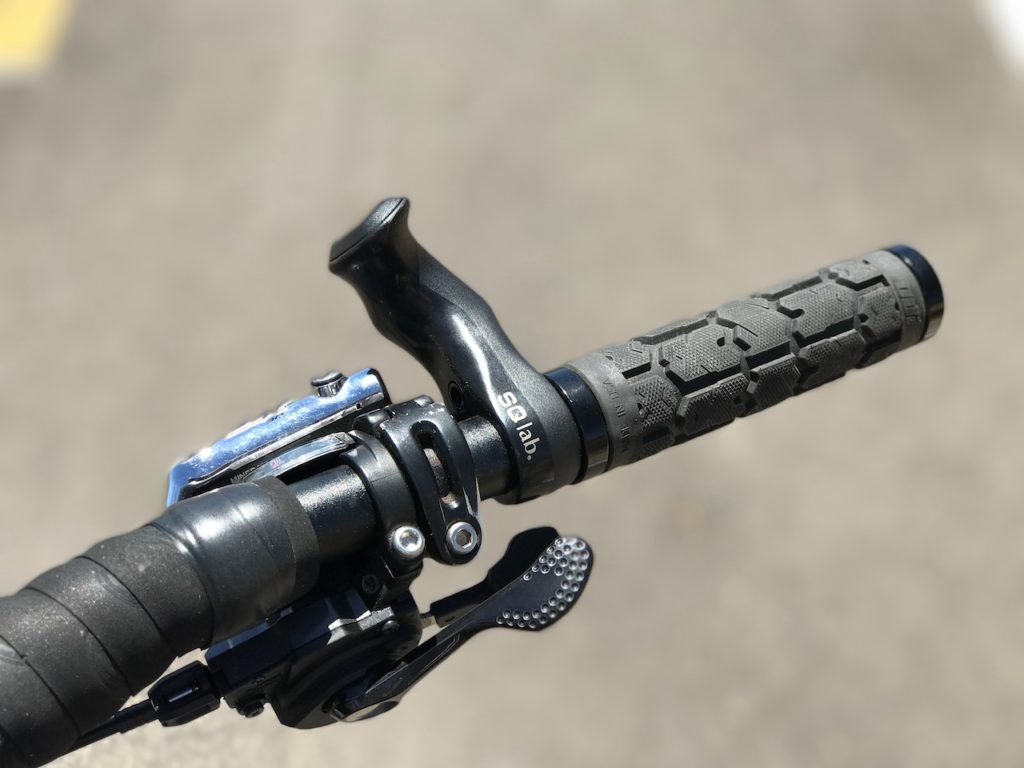 By titling the rear derailleur shifter up a little I was able to shift the lower lever with my palm.
I found that the Innerbarends are good for longer commutes and weekend rides. They probably would also be good for longer eBike touring and adventure riding.
Having multiple hand locations makes long rides more comfortable and reduces stress on your hands and wrists.
Here is more information on the SQlab Innerbarends 411.
Price: They are available for $40.49 on Amazon.
SKS Accessories
SKS is a Germany company that specializes in fenders, mud guards, pumps, CO2 cartridge inflators, tools, bags bottles, cages, and more.
Here is a look at just some of their many products.
And here is a link to the SKS website where you can see all of their products. The following are a couple of the SKS accessories that I have been using recently and they can be handy for electric bikes.
SKS Anywhere Water Bottle Mount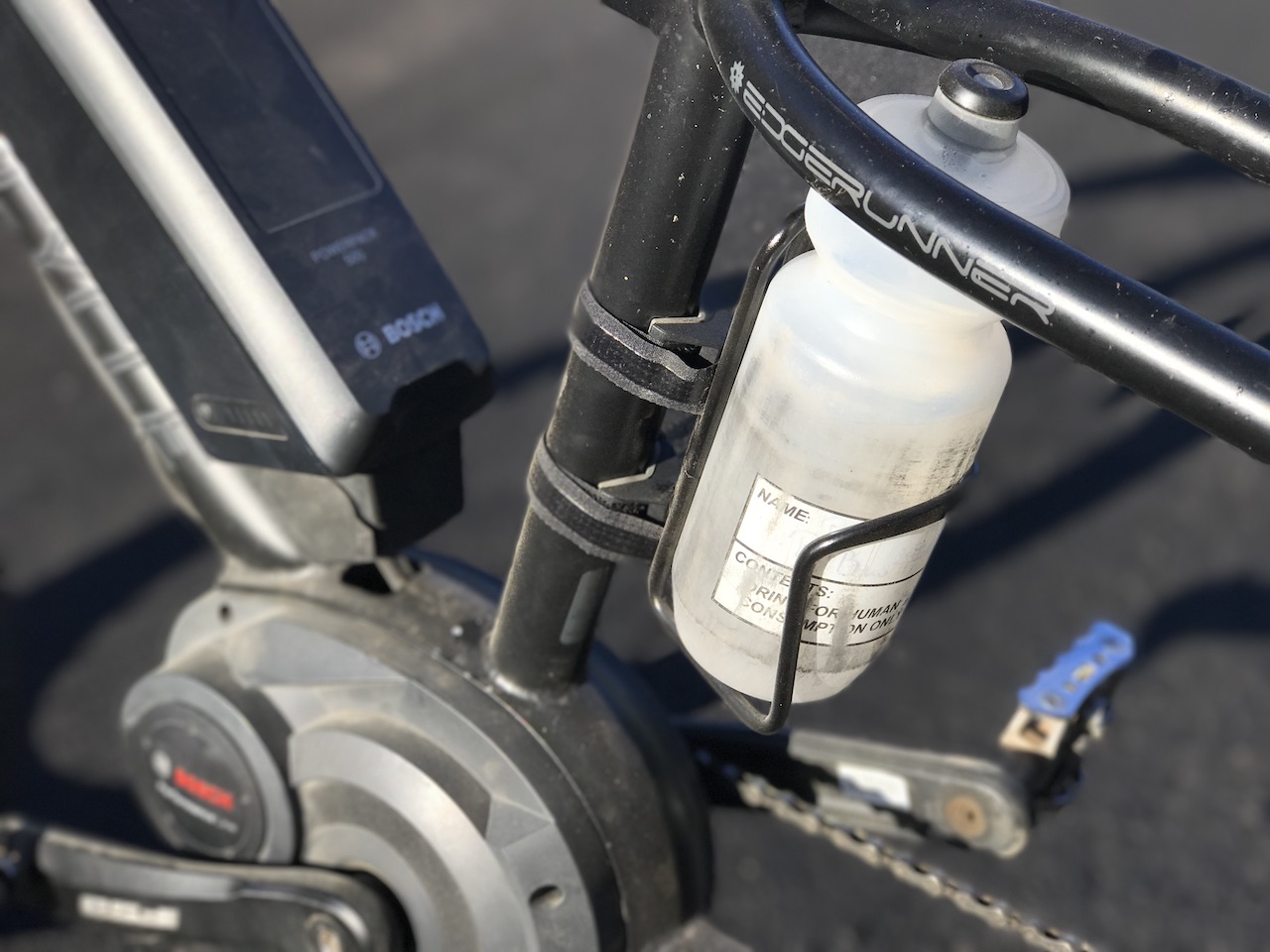 This might not seem like much at first glance but the SKS Anywhere Water Bottle Mount is very handy for ebikes that don't have any (or many) water bottle mount options.
In the case of the Xtracycle 10e Edgerunner you can see the battery is mounted on the downtube of the frame where a water bottle cage mount is typical located.
Because this is an eCargo bike with a lot of space behind the seat tube it made sense to locate a water bottle there. With the SKS Anywhere Water Bottle Mount there are many different locations to locate your water bottle cage.
In addition, many frame mounted bike pumps/tools connect under the water bottle cage, so these can allow you to mount a pump/tool in a place on the frame that is convenient for you.
The kit includes the water bottle cage mounts that have a grippy rubber surface (angled section) that rest on the frame tube. Velcro straps with their own grippy surface then tighten around the frame tube to create a solid connection point for the water bottle cage. The straps can fit many different tube sizes up to 250mm in circumference.
I found that the Anywhere Water Bottle Mount works well. The water bottle cage stays put when you remove and reinstall the water bottle. With the velcro straps properly tightened, it takes quite a bit of force to move these mounts.
These are a handy way to add a water bottle cage and or pump/tool mount to your eBike.
Here is more info on the SKS Anywhere Water Bottle Cage Mounts.
Price: Currently $13.92 on Amazon.
SKS Flap Guard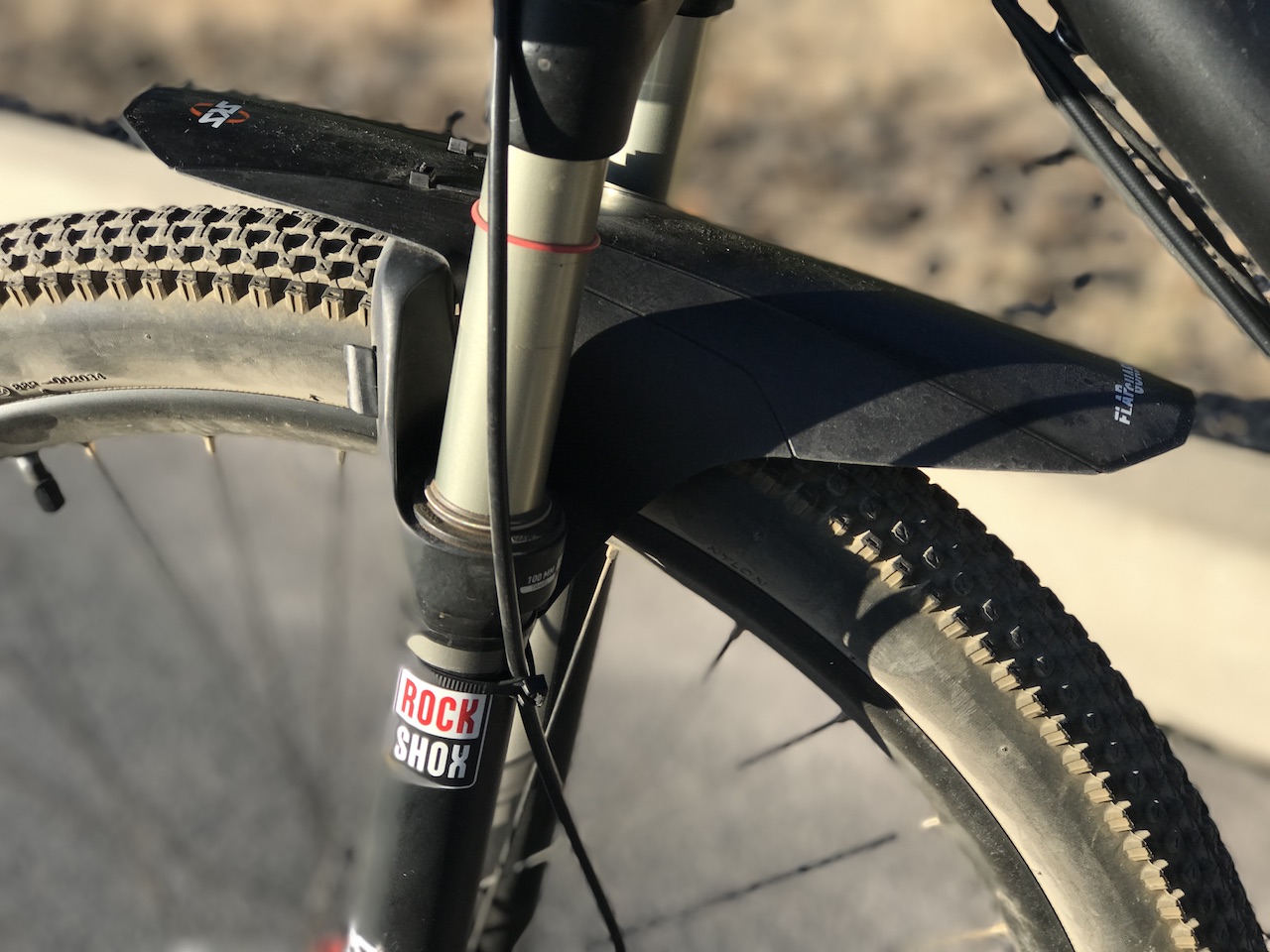 The Flap Guard is an inexpensive and lightweight way to add a small fender to keep water and mud from splashing up and it also protects the suspension fork from mud and dirt.
The Flap Guard attaches to the side of the fork legs and to the fork brace. If you aren't using a suspension fork it could be attached to the top of the fork.
The Flap Guard is shown on the fork of the this bike but it can also be used for the rear wheel and to protect rear suspension components.
Overall, the Flap Guard does a good job of keeping water, mud, and other debris from flying up and it keeps the suspension fork clean. It does have a solid connection with the zip ties to the fork.
Here is a link for more information on the SKS Flap Guard,
Price: It is currently $14.99 on Amazon.
Stay tuned for more e-bike news & reviews and thanks for reading!
-Pete
Review Note: All of these products were given to electricbikereport.com with no requirement for return.
P.S. Don't forget to join the Electric Bike Report community for updates from the electric bike world, plus ebike riding and maintenance tips.
Reader Interactions