Best Electric Hunting Bikes – 2023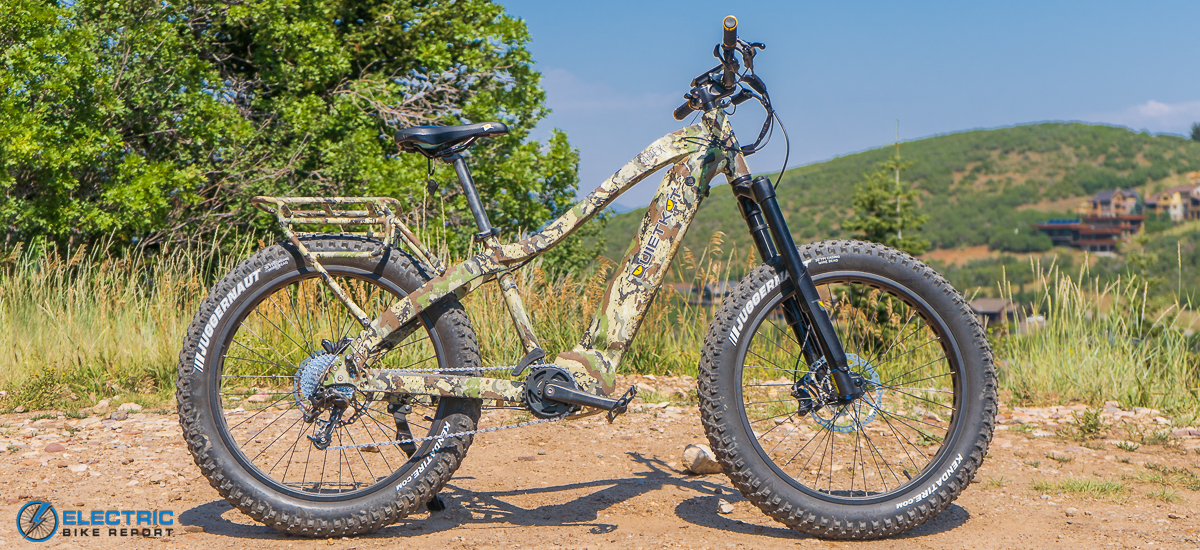 *Electric Bike Report aims to help consumers find the right electric bike for their needs. When you buy a product we recommend, we may earn a commission.
The ultimate goal of technology is to make difficult tasks easier, and one of the best practical applications for e-bikes might be the all-American pastime of hunting. The list of benefits is long, but hunters using e-bikes can conserve energy, access more remote locations, and haul heavy loads of gear or game more easily than on foot. Many e-bikes even come purpose-made for hunting with cargo racks and camouflage color schemes!
Amongst our list of the best elctric hunting bikes are some e-bike brands that deal semi-exclusively in e-bikes for hunters, fishers, and overlanders. They have a wide assortment of accessories and add-ons to maximize your efforts during the season. You can also find some quality-built e-bike options made with more general off-roading purposes in mind that can make a significant impact on your hunting experience, without impacting your wallet too much.
So what differentiates a top hunting e-bike from the pack? Many factors are involved, but these electric bikes tend to have powerful motors for tackling tough terrain as well as high-capacity batteries to support the increased power required for off-road riding with large amounts of weight. They usually have large tires with aggressive tread and at least some sort of suspension to make off-road riding more comfortable. Many also include cargo racks for carrying game or gear between the truck and the tree stand.
Before we discuss the benefits of hunting e-bikes further – and reveal Electric Bike Report's picks for the best electric bikes for hunting – there are a few important things to consider when buying an e-bike for hunting.
First, while hunters are free to use e-bikes as they wish on their own private land, agencies like the US Forest Service (USFS) and Bureau of Land Management (BLM) have restrictions that limit the areas where these vehicles can be operated. It's important to properly and thoroughly research the laws and regulations governing e-bikes in the areas you plan to hunt.
The second caveat is in regards to our thorough e-bike reviews; we perform range tests on every e-bike we evaluate to determine the distance most riders should expect to travel on a single charge. There are a host of factors that affect range, but hunters hauling a lot of gear, towing a trailer with their prize, or riding over extremely difficult terrain should expect significantly less range than we achieved in our testing – it's best to make conservative estimates, or spring for upgraded or additional batteries.
Those two points of consideration aside, electric bikes have many additional benefits to help you blaze a faster trail to your next 12-point buck. With sound and scent being some of the most important factors when hunting, e-bikes make minimal noise and emit no odor, giving them distinct advantages over gas-powered ATVs or UTVs. Whether using e-bikes to scout potential hunting areas or travel to an established location faster, for for the relief they can provide to aging hunters with physical limitations. E-bikes can also help hunters to avoid overheating and sweating, which can quickly lead to shivering in the colder months.
Without further ado, here are the nine e-bikes we consider to be the best electric bikes for hunting!
*Editor's Note: Updated Nov. 20th, 2023 to include links to latest info and pricing.
Our Picks for the Best Electric Bikes for Hunting of 2023
The Best Electric Bikes for Hunting with Mid-Drive Motors
The Best Electric Bikes for Hunting with Rear-Hub Motors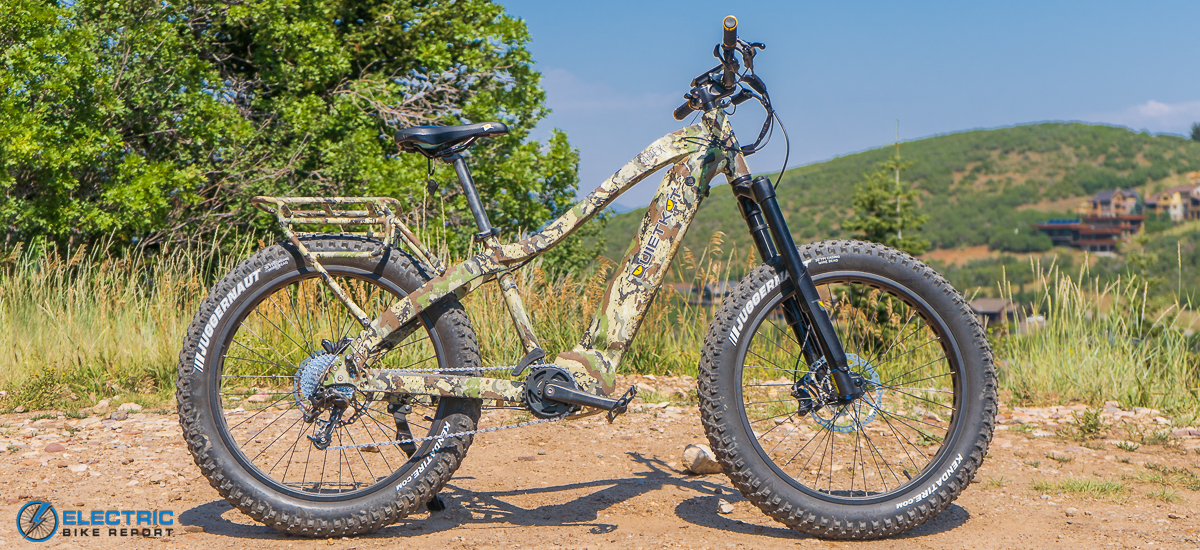 The Quietkat Apex is an e-bike that many hunters consider to be – well, the apex – of hunting-appropriate e-bikes. This burly beast can muscle its way over hills and through challenging terrain with its mighty 1,000W mid-drive motor and massive 48V, 828 Wh battery. Riders can also adjust the motor's output to match their environment; the Apex can ride as a Class 1, 2, or 3 e-bike.
The Apex includes an inverted suspension fork with enough compression to soften rough forest roads but the stiffness to provide responsive handling and good control on tight corners. With the absence of a rear suspension, we feel it's best-suited for wider 4×4 roads or similar paths, but the bike's setup allows for the welded-on cargo rack with an impressive 100-lb carrying capacity.
Quietkat also offers a broad array of useful accessories for the Apex, including game/cargo trailers, bike racks, increased comfort options, and various cargo equipment like bags, baskets, and even rifle/shotgun mounts for the handlebars. For extended trips over many days or miles, they also offer a charging kit including solar panels.
We were also impressed with Quietkat's outfitting of the Apex; from the Tektro 4-piston hydraulic disc brakes to the 9-speed SRAM drivetrain and the Bafang motor, the bike is built for lasting performance. The Angle Earth Camo paint option was the icing on the cake for this rugged ride.
Check Best Price | Read Full Review | Watch Our Video Review

Pro's
A powerful but natural ride feel provided by the 1,000W mid-drive motor, which can be limited for street use or opened up for off-road rides.
Can pull or carry a lot of weight with the 100-lb capacity rack and total payload capacity of 325 lbs.
Equipped for difficult terrain with knobby tires, front suspension, and torquey motor.
Tons of practical accessories for carrying game, gear, and charging on the go.

Con's
The Apex lacks a full suspension, but it can haul lots of weight. Those looking for more comfort can check out the Quietkat Jeep (see below).
With a price point of around $4,000, the Himiway Cobra Pro is one of the most affordable all-terrain e-bikes on this list of the best electric bikes for hunting – but its lower price doesn't require huge sacrifices in terms of quality or performance. In our experience, hunters would be hard-pressed to find a similarly-specced e-bike from a reputable brand for less.
The Cobra Pro includes a full suspension for a comfortable ride regardless of the environment's roughness. It's powered by a gigantic 48V, 960Wh battery and a highly capable Bafang 1,000W mid-drive motor for extended rides in demanding environments. It also includes Tektro hydraulic disc brakes and a 10-speed Shimano drivetrain.
We measured excellent range and hill-climbing ability in our testing; the bike was powerful enough to offer a practical amount of pedal assistance even when drawing a conservative amount of battery power, and the motor's max of 160 Nm of torque made short work of steep hills. We were also highly impressed by the Cobra Pro's huge maximum payload capacity of 400 lbs!
Himiway offers the Cobra Pro in a camo color scheme called "Forest Cobra," and optional accessories like a bike rack or cargo trailer can be purchased with the bike through their website.
Check Best Price | Read Full Review | Watch Our Video Review

Pro's
With its full suspension, powerful motor, and knobby tires, the Cobra Pro can carry hunters just about anywhere.
Great hill-climbing ability and enough battery capacity for long trips or hauling lots of weight.
It offers great value and performance for the price.
The bike can accommodate tall riders and a huge amount of cargo with a max capacity of 400 lbs.

Con's
High-powered mid-drives require good shifting etiquette, and may still wear down the drivetrain, requiring more frequent maintenance.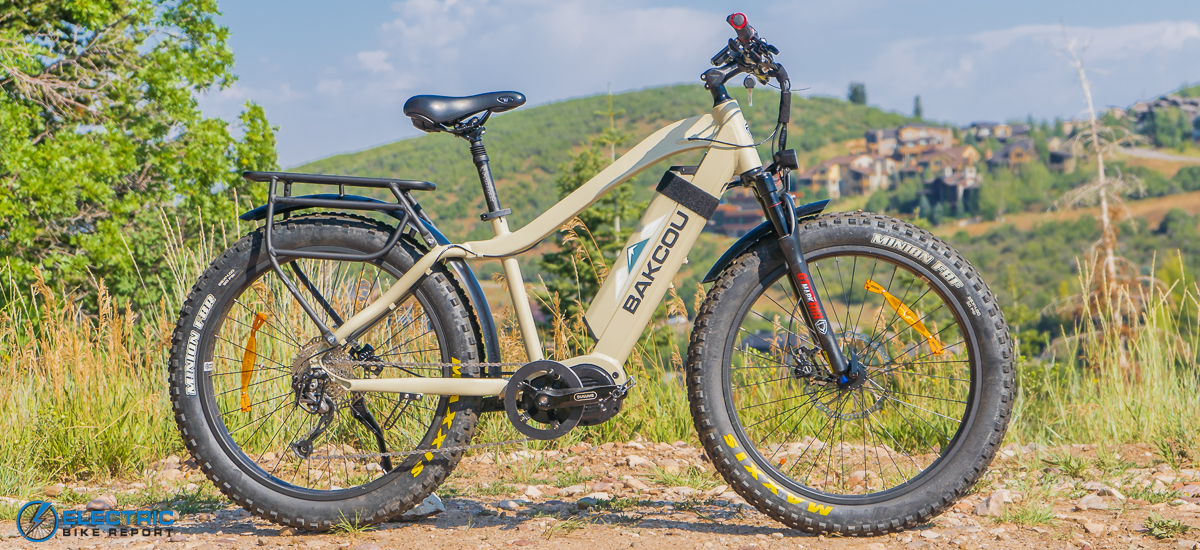 Considering that the founders of Bakcou are hunters themselves, it should be no surprise that their e-bikes made their way onto our list. Riders can reduce the Mule's motor output to the street-legal (in most places) 750W limit if needed, but it has the power to handle rough terrain with ease. Like many of the other models listed here, the Mule includes the power-hungry Bafang M620 motor with 1,000 watts of nominal power for hard climbs and heavy loads.
Another huge draw for the Mule is its battery; the bike comes with multiple options with differences in both capacity and price. The substantial 840 Wh option is standard, but buyers can choose up to a mind-blowing 1,200 Wh at checkout. We
With no rear shock, the Mule is efficient at uphill climbs. We liked the bike's handling which was enhanced by its wide 740mm handlebars, as well as the fact that it came equipped with Maxxis knobby fat tires and a front suspension. The bike has a total payload capacity of 300 lbs, includes a bolt-on cargo rack, and can be outfitted with a variety of trailers.
Bakcou offers a host of compatible accessories for the Mule (and all of their e-bikes), including bike racks, cargo bags, saddles and suspension seatposts, and more. Additionally, the Mule is available in a surprising number of color options, including four different camouflage patterns.
Check Best Price | Read Full Review | Watch Our Video Review

Pro's
A super-powerful mid-drive motor with variability between 750W and 1,000W.
Options for battery capacity ranging from 840 to 1,200 Wh for range and budget customization.
A max payload capacity of up to 300 lbs. The bike also Includes a pannier rack and is compatible with cargo or game trailers.
Great handling with 740mm-wide handlebars and 26"x4" Maxxis fat tires.
Tons of customization options with accessories and paint jobs.

Con's
The Shimano Alivio is a fine drivetrain, but give the price we wish they'd have gone a step up to the Deore instead.
Featuring the same Bafang 1,000W mid-drive motor as many of the other best e-bikes for hunting on this list, the Quietkat Jeep also boasts a sporty design and the familiar branding of a capable off-road vehicle manufacturer. Though this is simply a result of marketing through a partnership with Quietkat, we found that the Jeep e-bike lived up to the expectations set by its name.
The biggest things that stood out to us about the Jeep – aside from its remarkable power – were its handling and, at least in most places, the inclusion of high quality components. In terms of handling, we were pleasantly surprised; the bike responded precisely despite its size in large part to its inverted suspension fork. Many of its components, including its 9-speed SRAM X5 groupset and RockShox Monarch SL rear shock, are things you'd see on a true mountain bike or eMTB.
Using its Variable Output Technology, the bike's motor can be switched between 750 and its full 1,000 watts of nominal power. This allows the Jeep to be ridden on the street in its limited mode, or fully unleashed for max output in off-road conditions.
The bike has a payload capacity of up to 300 lbs, and like the Apex, is compatible with many of Quietkat's optional accessories. The Jeep can haul trailers, be outfitted for cold-weather riding, or connect to solar panels for battery charging in the wilderness.
Check Best Price | Read Full Review | Watch Our Video Review

Pro's
A super comfortable ride with the full suspension – including high-quality RockShox rear shock.
Nimble handling despite its size; it's not quite an eMTB but it's the closest of the all-terrain e-bikes we've tested.
Has the power and flexibility needed for riding on or off-road due to the adjustable output of its Bafang M620 motor.
Lasting performance from its variety of eMTB-quality components.

Con's
Its 696 Wh battery was a bit small for long-range rides; we suggest adding a second battery or solar panels.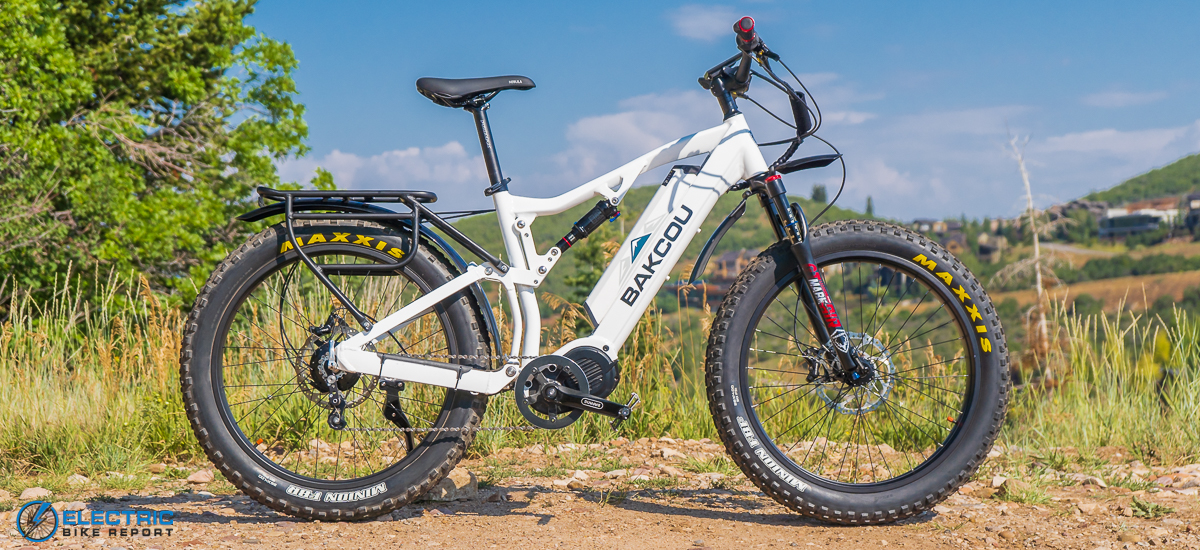 The Bakcou Storm is the hunting e-bike brand's flagship model. It features a full suspension for a cushy ride, and the seemingly-ubiquitous Bafang M620 mid-drive motor with a staggering 1,000W of nominal output. With a max of 160 Nm of torque, this motor can accelerate impressively fast and conquer hills that would stop other fat tire e-bikes in their tracks. Its output can also be reduced to 750W for street riding.
The Storm that we tested was a higher-end "Jäger" model (German for "hunter"), and featured a Rohloff Speed Hub instead of a traditional cassette/derailleur setup. Internal gear hubs like this are sealed and protected from dirt and damage, making them ideal for roaming the wilderness without worry. A standard version of the Storm with a 9-speed SRAM drivetrain is also available at a lower price point.
The bike includes fenders and a rear cargo rack, and boasts a total payload capacity of 300 lbs. Like the Mule, it can be outfitted with helpful accessories like pannier bags, cargo/game trailers, gun/bow racks, and a myriad of other options. Bakcou also offers solar panels to keep any of its battery options charged.
While the Jäger Storm comes with the maximum-capacity 1,200 Wh battery, buyers of the standard model can choose from four battery options between 840 and 1,200 Wh. The bike flaunts a flashy design, and is offered in five color options including one camo pattern called "Kryptek Altitude."

Pro's
Plenty of uphill and hauling power with the Bafang M620 mid-drive motor, which can be limited for street riding
Offers a comfortable ride in any environment with a full suspension.
Multiple spec options with different battery sizes and the Jäger model with an internal gear hub
Great stopping power with 4-piston hydraulic disc brakes & 203 mm rotors
Tons of accessories to outfit or help transport the bike

Con's
The IGH on the Jäger model takes some getting used to – it doesn't shift when the pedals are moving. The benefits outweigh the adjustment period though!
Specialized Turbo Tero X 5.0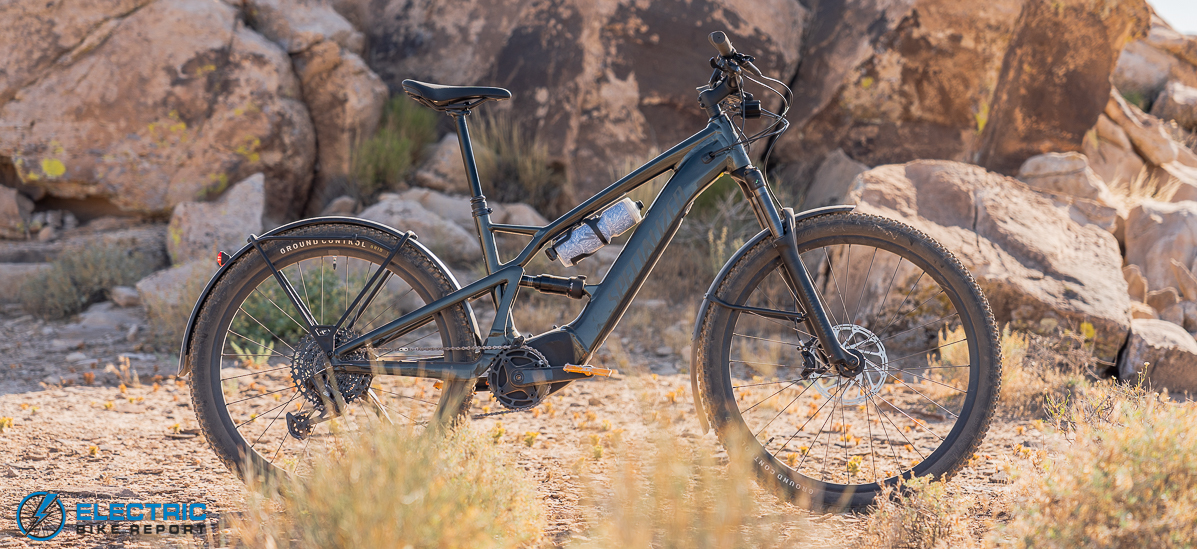 The Specialized Turbo Tero X 5.0 is rather unique when compared to many of the other bikes included on this list. As a hybrid eMTB/commuter, it's an incredibly versatile e-bike with potential and practicality in literally any environment. With its included lights, fenders, and pannier rack, it comes outfitted for street use as a daily ride to work, but it can just as easily handle the rigorous demands of singletrack trails with its full RockShox suspension, SRAM NX Eagle drivetrain, and SRAM Code R hydraulic disc brakes.
With a maximum payload capacity of 300 lbs, we found that the Turbo Tero could easily be adapted for use with trailers like the Burley Coho XC. Specialized doesn't offer hunting-specific accessories like rifle/bow racks for use with the bike, but most are still compatible with it – and the brand does offer a range of cargo bags and even an external range extender battery for backup power and peace of mind.
We were impressed with the bike's performance in our range test; we measured over 70 miles with a practical amount of pedal assist power in the bike's lowest setting. The Tero's 250W mid-drive may seem underpowered when compared to the 1,000W monsters included elsewhere on this list, but we found the motor to be incredibly dialed-in and functional. With its comparatively lean 61-lb frame, the bike doesn't need such outlandish power.
For varying needs and budgets, Specialized offers the Turbo Tero X in three spec levels. We tested the mid-range 5.0 with a 710 Wh battery and a motor with 70 Nm of torque. Hunters traveling shorter distances could step down to the 4.0 with a 530 Wh battery and 50 Nm motor, while those looking for maximum power might consider the top-tier 6.0 with the higher capacity battery and 90 Nm of torque.
Check Best Price | Read Full Review | Watch Our Video Review

Pro's
Functional for hunting or adventuring on singletrack but also well-equipped for commuting.
Feels natural and responsive thanks to the Specialized 2.0 motor
Rides comfortably and comes outfitted with fenders and cargo rack. Also compatible with lots of cargo bags and accessories.
We measured excellent range with the 710 Wh battery (over 70 miles!)
Comes in three spec levels/tiers with different power levels and prices.

Con's
We wished for a way to easily remove the fenders; they could rattle a bit on XC trails.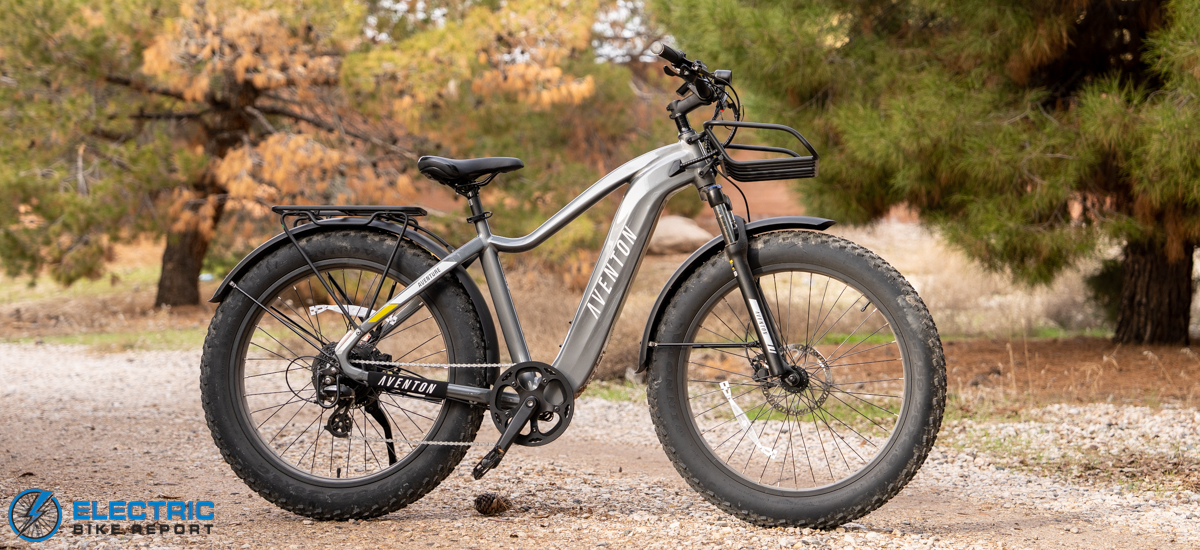 Aventon's Aventure.2 is essentially a do-it-all e-bike, which is why it appears regularly on our Best Electric Bikes pages. The bike includes a 750W rear-hub motor with enough power to handle limited off-road riding on fire roads and doubletrack, and a front suspension fork for comfort. We fell in love with the original model, and Aventon raised the bar with the Aventure.2 by including a torque sensor that gives it more natural and responsive pedal assistance.
The bike features a whopping 400-lb payload capacity, and is compatible with hitch-mounted trailers like the Burley Flatbed Cargo Trailer or Nomad Cargo Trailer (both of which are available through the Aventon website. The Aventure.2 includes a rear cargo rack and can also be outfitted with a front rack for carrying extra gear – both of which are compatible with many of the baskets and bags that Aventon offers.
In the context of hunting, the Aventure.2 will certainly get the job done, but it doesn't need to be used only for that application! We found that it was effective for daily use as a leisure or commuter bike, but we also put it through its paces in dirt and gravel and did not find it lacking. Compared to many of the all-terrain e-bikes on this list, it may be slightly more limited in its environment – but it walks the line better than most, and its design makes it extremely versatile.
We think the Aventure.2 might be best for those outdoorsmen who prefer a slightly more reserved approach with their e-bike. It has the power to handle tough terrain and steep climbs, but it's not overpowered. In our opinion, it's just a really fun and awesome bike that you're likely going to want to spend more time on, regardless of how you use it!
Check Best Price | Read Full Review | Watch Our Video Review

Pro's
The motor adapts to the rider's level of effort, meeting you where you want to ride – all thanks to the bike's torque sensor.
It's powerful and practical, but not TOO punchy with a 750W rear-hub motor.
We appreciated how stable the bike felt, even when traveling at top speed.
It's impressively versatile – great range and accessories for commuting but powerful and comfy enough for off-roading.
Great brakes, gearing, and a number of safety features including turn signals when riding on the street.

Con's
The Shimano Altus drivetrain is a step down from the Acera on the original Aventure, but we had no problems with it.
With its massive selection of optional accessories and high weight capacity, the Blix Ultra is the cargo-carrying king of Fat Tire e-bikes! Thanks to the bike's 750W rear-hub motor with Class 2 and 3 adjustability, the Ultra is highly capable on its own, but with the addition of the optional extended rear cargo rack and front rack, it becomes a real workhorse. The bike can accommodate riders up to 250 lbs, and up to an additional 150 lbs of equipment, meat, etc. – or even an additional passenger!
Another outstanding feature of the Blix Ultra is its option for carrying dual batteries. We measured a respectable range from the bike's 672 Wh battery, but the option to carry a second allows hunters to double the distance they can cover.
With its more upright riding position and ergonomic fit, we found the Ultra to be extremely comfortable to ride. Its extended wheelbase came with some limitations to maneuverability, but overall, the bike handled well – and we actually liked the feel better once it had some weight on the rack. The bike felt powerful even at its lowest PAS setting, with good acceleration and a high top speed.
The Ultra performed well on steep hills and when riding off-road; its 750W motor packs an effective but reasonable amount of power (up to 90 Nm of torque), and its tires and front suspension fork kept the ride comfortable in rougher settings. Our test bike was Bright White, but hunters shouldn't fear – Blix offers the Ultra in Slate Grey and Matte Green for better camouflage in the wilderness.
Check Best Price | Read Full Review | Watch Our Video Review

Pro's
Carry up to 150 lbs of cargo with optional front and rear racks. The bike can also accommodate an extra passenger!
A dual-battery option gives the ability to travel twice the distance without needing to recharge.
Plenty of off-road capability with tires, a suspension fork, and a 750W motor with no worries about street use.
Offers an impressively comfortable ride.

Con's
The long wheelbase felt super stable but resulted in a wider turning radius.
With a gigantic 941 Wh battery and 750W rear-hub motor, the Mokwheel Basalt is capable of long-distance trips to remote locations. Add in optional accessories like solar panels, and the Basalt can keep moving for as long as you have supplies – and the sun. It's a perfect fit for those who thrive in the outdoors; the optional power inverter can use the bike's battery to power a huge variety of devices in areas where there's not a power line in sight.
In our testing, we found the bike's 750W motor to be appropriate for wide dirt trails and fire roads. The bike's torque sensor allowed the motor to give us more power when pedaling harder or encountering resistance from going uphill – and with 90 Nm of torque, it handled tough climbs like a champ! We appreciated the good handling helped by its wide 720 mm handlebars; most similar fat tire e-bikes out there
The Basalt has a total payload capacity of 400 lbs, so it can accommodate large riders and a lot of gear. The bike includes a rear cargo rack but can be outfitted with a front rack, baskets, and even a suspension seatpost for a more comfortable ride with fewer bumps.
While the Steel Blue color of our test bike was relatively flashy, Mokwheel plans to offer the Basalt in Jungle Camo starting in October of 2023. We think the bike offers everything that a flexible-use e-bike should include; a comfortable ride, a respectable amount of power, impressive range, and some unique accessories to keep your adventures running!
Check Best Price | Read Full Review | Watch Our Video Review

Pro's
Powerful motor assistance for rough terrain and steep hills from the 750W rear-hub with up to 90 Nm of torque.
Responsive pedal assistance that gives you more power when you need it thanks to an adaptive torque sensor.
Unique and useful accessories like the power inverter and solar panels to keep you charged on the go.
Impressive range even without accessories from the 941 Wh battery.
Hauls huge amounts of weight with a total payload capacity of 400 lbs.

Con's
It should be less of a problem when riding off-road, but we'd like to see gearing improvements to reduce ghost pedaling.
How We Picked the Best Electric Bikes for Hunting
The needs of hunters, anglers, and outdoorsmen are unique in the broader world of e-bikes, so we curated this list based on that perspective. In some ways, assembling this list was easy; some of the brands we included build their e-bikes specifically for hunters because they are owned by hunters.
Additionally, we've seen the rise of a new category of all-terrain e-bikes that seem purpose-built for those who spend a great deal of time in the wilderness. These e-bikes offer hybrid functionality somewhere between that of mountain bikes and ATVs, blended with the visual style of fat tire bikes.
The elements we focused on for this list are as follows:
Off-Road Capability: In addition to knobby off-road tires for tearing through loose ground, the best e-bikes for hunting feature powerful motors with the ability to muscle over rocks or tree limbs and climb imposing hills. This aspect of an e-bike's potential also requires
Weight Capacity: Outdoorsmen often need to haul lots of weight – especially when the hunting trip is successful. We included e-bikes with the ability to carry or tow significant amounts of cargo; at least 300 lbs of total payload capacity.
Range: As mentioned previously, added weight will greatly reduce an e-bike's range, but we selected models with a substantial amount of battery capacity and long-distance potential. Some offer the options for dual batteries or single, extremely high-capacity batteries. All are compatible with the solar panels offered by Mokwheel and Quietkat.
Accessories: Most of the e-bikes on this list include cargo racks, and all are compatible with optional accessories including additional racks, baskets, bags, and more. Extras like gun/bow racks, cold weather gear, game trailers, etc. that are hunting-specific are a bonus!
Bottom Line: E-Bikes Can Make Your Hunting Trip More Enjoyable
Whether checking trail cameras, getting to your tree stand faster, transporting your harvest in fewer trips, or just getting away from civilization for a few hours, e-bikes offer huge benefits to hunters, fishermen, and other outdoor explorers. When compared to gas-powered ATVs or UTVs, they weigh less, they are more portable, they're often less expensive, and they don't create noise or scent that might scare off your quarry.
If you are considering an e-bike as another arrow in your quiver of hunting tools and equipment, it's important to consider how – and where – you plan to use it. Some of the best electric bikes for hunting are best when used primarily for that purpose, while others provide much more versatility for practical daily-use commuting or leisure riding.
If you find yourself considering different types of e-bikes for separate uses, we invite you to read our e-bike reviews which can be sorted by category. If you're new to all the lingo and jargon that comes along with e-bikes, our buyer's guide can help to bring you up to speed.
Best of luck, and happy hunting!
Have a bike that you think would be a good contender for our best page? Let us know in the comment section below. At the very least, we always want to know what our readers are riding.
Reader Interactions