Best Beach Cruiser Electric Bikes 2023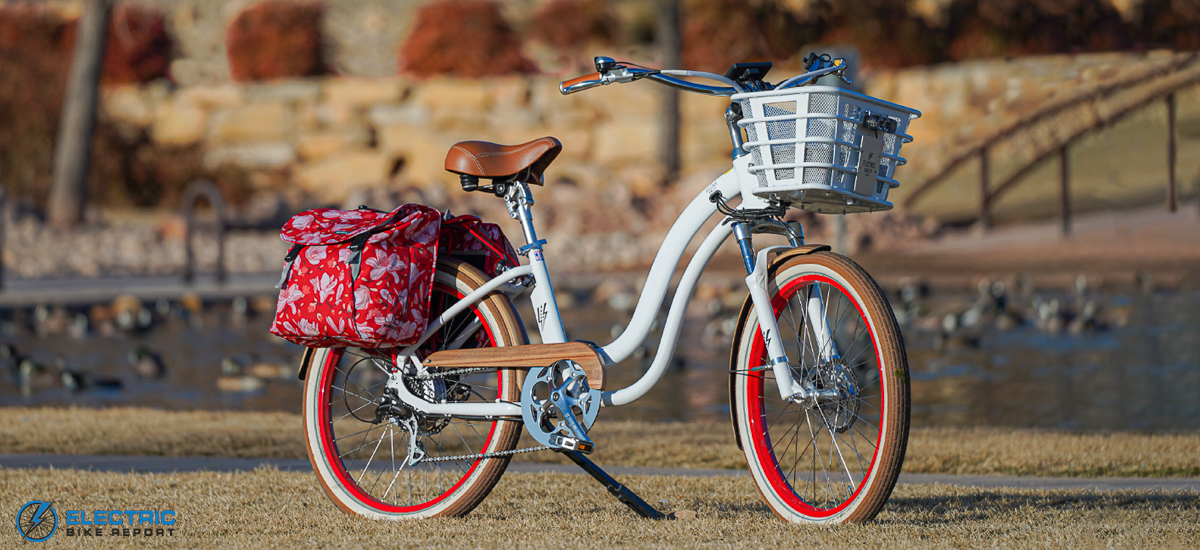 *Electric Bike Report aims to help consumers find the right electric bike for their needs. When you buy a product we recommend, we may earn a commission.
If there was a Dictionary Americana full of descriptions and definitions of U.S. cultural icons, there would be a picture of a beach cruiser next to the entry for "bicycle."
Like apple pie, baseball and the moon landings, the swept-back handlebars and retro, low-slung styling of the classic beach cruiser bicycle is synonymous with American culture. The style's roots can be traced at least back to the mid-1950s, but it really burst into mainstream popularity thanks to the California surf scene in the 1970s. The popularity of beach cruisers has waxed and waned through the decades, but thanks to the rise of electric bikes the low-slung and easy-rolling bicycles are surging in popularity.
Loved for their looks and comfort, beach cruiser electric bikes are now one of the most popular categories of e-bike. Nearly every e-bike brand has its electrified take on the classic design, so it can be tough to figure out which electric cruiser is right for you. That's why Electric Bike Report's team of expert testers put together this list.
Also, the term 'cruiser' can mean a lot these days. It still evokes the classic beach cruiser look, but a relaxed Dutch-styled geometry and a few other characteristics lend itself quickly and easily to being a 'city cruiser.' We'll paint with broad strokes, but just know that if a relaxed look and vibe is your goal, these are sure to be the best picks for electric cruiser bikes.
*Editor's Note: Last updated November 17th, 2023 with updated choices for the best electric cruiser bikes.
The Best Cruiser Electric Bikes – 2023
Electric Bike Company Model S
A classic american beach cruiser with nearly limitless customization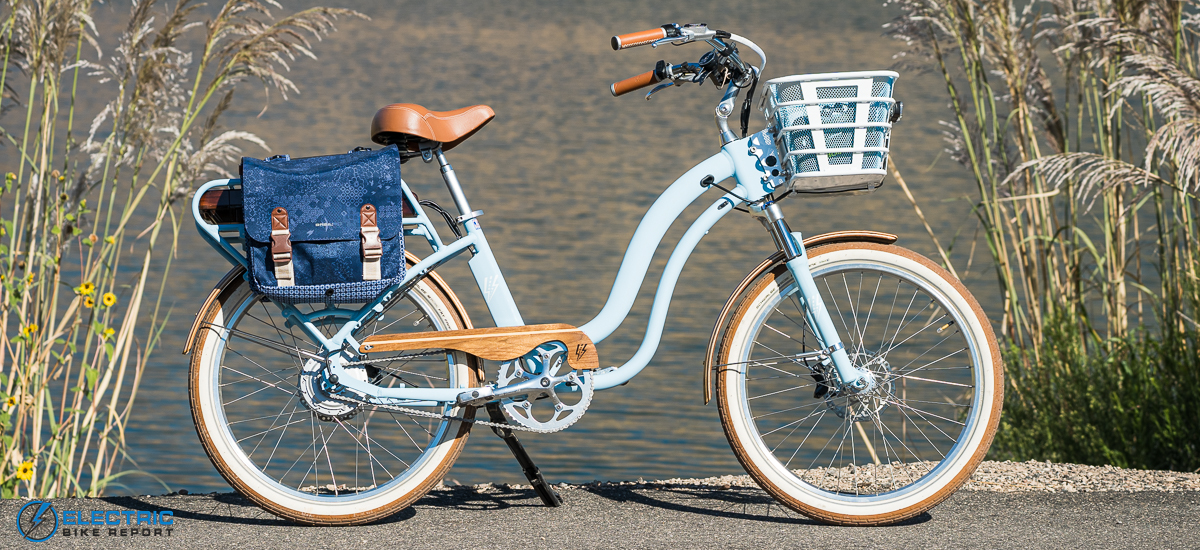 Electric Bike Company is known for their cruisers. Virtually all of the e-bikes the company makes are, in fact, cruisers. With an eye on style and customization, they provide what is arguably the most individualized e-bikes on the market, which is why the Electric Bike Co. Model S leads out roundup of the best cruiser e-bikes.
When looking at the Electric Bike Co. website, it is easy to focus on the many color choices the buyer faces, but to do so misses the rear substance of customizing an e-bike with EBC. Few companies come close to offering the range of choices in battery, suspension, drivetrain and more. Among the many upgrades a user can choose are an anti-theft alarm, a torque sensor for more responsive pedaling and an extended warranty.
While EBC e-bikes come in a single size, smaller riders need to be aware that with most of their models they offer a choice between 26-in. and 24 in. wheels. A more petite rider can select the smaller wheels and reduce the standover height and give the e-bike a more maneuverable feel. It's but one of many great options among today's best cruiser e-bikes.
Check Best Price | Read Full Review | Watch Our Video Review

Pro's
Riders who want an e-bike that reflects their personal style will love the amount of customization EBC offers
Like most cruisers, the Model S gives riders a very comfortable and upright seated position
The 500W motor performs like a more powerful motor, but without the added weight and reduced range that comes with a bigger motor

Con's
The Model S fell short of EBC's projected range of 100 mi., but still achieved 66 mi., a respectable result
Blix Sol Eclipse
A classic cruiser that's soft on the eyes (and the wallet)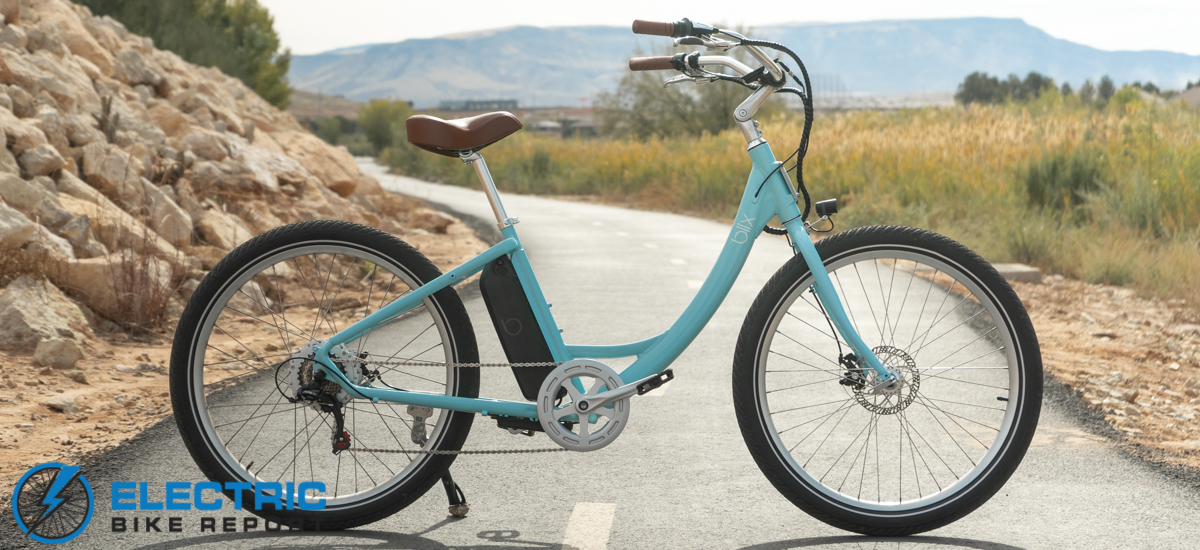 Hot from the drafting table, the Blix Sol Eclipse is a brand-spanking-new iteration of the Santa Cruz, California-based company's electric beach cruiser that bore a similar name.
The new version of the Sol sports a larger 750W rear hub motor, wider tires and a new LED front headlight for nighttime rides. Aside from those changes, the Sol has retained its classic shape and comfortable ride qualities the previous version of the e-bike was well known for. The Sol is equipped with a Shimano 7-speed drivetrain and Tektro mechanical disk brakes front and rear.
The Sol is also compatible with Blix's proprietary modular rack system that easily allows you to add or subtract carrying capacity on the front and rear of the bike (you can even set it up to accommodate a child seat). Capping off the Sol's build is a pair of very swept back handlebars and a wide cushioned seat that supports your back.
The Sol is a solid option for anyone looking for an beach cruiser electric bike that's well spec'd, thoughtfully built and affordable.
Check Best Price | Read Full Review | Watch Our Video Review

Pro's
The Sol looks great and the low-step frame design makes it easy to get on and off
The modular rack system is really cool and super functional, making the bike more versatile than just a pure beach cruiser
The 614Wh battery is plenty big for most trips, with a little left over so you don't need to worry about battery life

Con's
One size fits all. We typically like to see different frame sizes so riders of different body shapes can get a good fit
Ride1UP Cafe Cruiser
The looks of a commuter and the comfort of an electric cruiser
The Ride1UP Cafe Cruiser trades some of the typical cruiser's laid-back personality for a bit of motorcycle styling as well as a dollop of its speed with this Class 3 e-bike. It features a 750W motor good for a maximum pedal-assist speed of 28 mph, an 8-speed Shimano drivetrain, hydraulic disc brakes and an integrated rear rack with a higher-than-usual payload capacity.
Cruisers have a reputation for a comfortable ride, in part, due to what used to be called balloon tires. Today's tires are even wider (these are 3-in. wide), and they are far more durable. Adding to the comfortable ride of the Ride1UP Cafe Cruiser is a suspension fork with 80mm of travel—enough to take the sting out of bad pavement. And with its back-swept bar and springy saddle, even long rides will keep the rider grinning.
Riders who want a cruiser with the functionality of a versatile commuter will like the Ride1UP Cafe Cruiser for its complement of front and rear lights, kickstand, fenders and stout rear rack. All it needs is a saddle bag.
Check Best Price | Read Full Review | Watch Our Video Review

Pro's
Stylish Class 3 cruiser with a max pedal-assist speed of 28 mph
We love the 8-speed Shimano Acera drivetrain, and the superior ergonomics of the under-bar trigger shifter
The integrated rear rack offers greater carrying capacity than we typically see
Has a terrific ride with spirited acceleration, confident cornering and calm handling

Con's
The 750W hub motor was short on torque and struggled on larger hills
Electric Bike Company Model Y
A stylish cruiser for smaller riders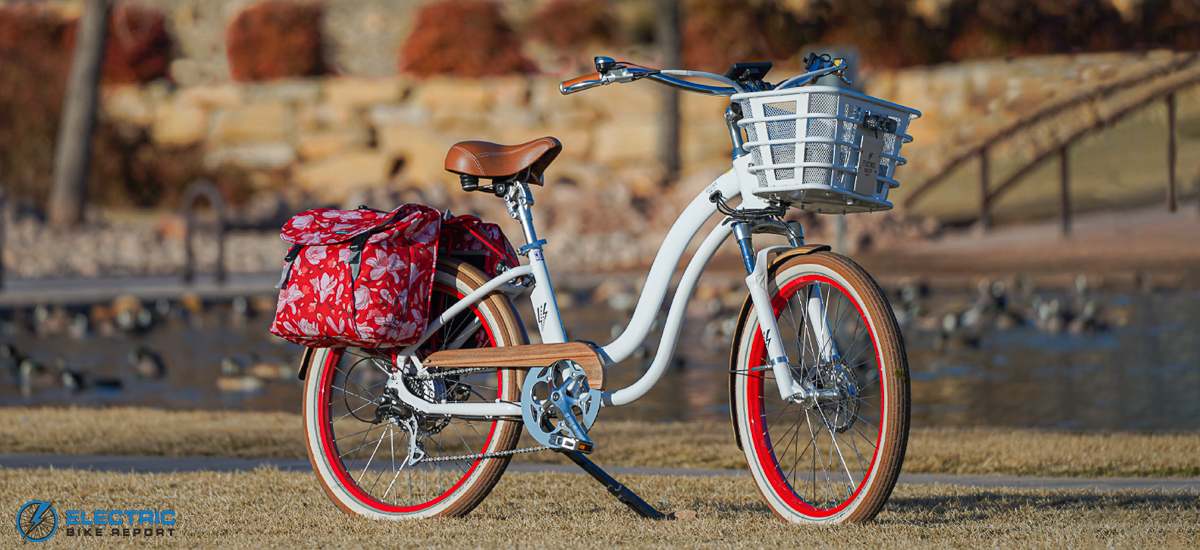 Designed and built in Newport Beach, Calif., there's few e-bikes that capture the beach cruiser ethos like the Electric Bike Company Model Y. There's a reason they have multiple models found on this list of the best cruiser electric bikes.
The Model Y is a low-step frame design that's easy to get on and off of and the bike comes stock with a powerful 500W rear hub motor, battery options that range from large to extra large and a very classic beach cruiser styling. Electric Bike Company boasts one of the most complete customization setups in the e-bike industry, allowing customers to pick frame and fork colors, battery size, drivetrain type fork type and even the color of the spokes laced into the wheels — it's an impressive amount of options.
But despite their beach cruiser looks, this e-bike is extremely capable. The version of the Model Y we tested in early 2022 boasts extremely good battery life, climbs well and has enough power to easily cruise at Class 3 speeds. It also sports a torque sensor, making the motor extremely sensitive and responsive to rider input. If the low-step frame design isn't your thing Electric Bike Company also makes the Model E, which is an extremely similar sibling of the Model Y with a high-step frame design and some other small differences.
The Electric Bike Company Model Y is a stellar beach cruiser electric bike that not only looks the part, but has the added benefit of a powerful motor and big batteries — more than enough to get you to the beach or the boardwalk and back with ease.
Check Best Price | Read Full Review | Watch Our Video Review

Pro's
Classic cruiser styling with limitless customization options
Dual battery system allows for extended range
Bikes are assembled and painted in Newport Beach, CA (not shipped directly from China)
Class 2 or Class 3 compatible
Affordable starting price with many optional upgrades
60Nm of torque
Front basket comes standard

Con's
Wide turn radius – a tradeoff that comes with any beach cruiser e-bike
Battery is difficult to remove so best charged on the bike
Denago Cruiser 1 ST
An ultra-affordable, modern (and electrified) take on an American icon
Denago made a relatively recent entry into the e-bike market but is led by industry veterans who have a great feel for what people want in an e-bike. The Denago Cruiser 1 ST (step-thru) is one of the more affordable selections in our roundup, which is why we included it in our collection of the best cruiser e-bikes.
The spec and electric features here keep things simple, but they don't sacrifice quality. They right-sized the motor at 350W and the battery at 396Wh. The Cruiser 1 won't accelerate with as much verve as some e-bikes, but it has the power to reach 20 mph on throttle alone and the electronics will provide solid performance for years to come.
To make the Cruiser 1 affordable Denago left off a rear rack and lights, but they did include fenders and solid mounting points for a rear rack. Disc brakes, a 7-speed drivetrain and comfortable, lock-on grips round out a very high-value e-bike. It's everything you need to get started on an e-bike, and will serve as a fun throwback to those beach cruisers of past eras, or it'll fit the beach and boardwalk crowds to a "T."
Every list needs a quality option that won't break the bank. The Denago Cruiser 1 ST checks both of those, making it worth a look if you want the best beach cruiser without dropping a lot of cash.
Check Best Price | Read Full Review | Watch Our Video Review

Pro's
Class 2 e-bike comes with a twist throttle, which some riders prefer to a thumb button
The full chain guard is a nice premium touch; they are uncommon at any price and handy now that bell bottoms are back in style
Cruisers can be rather heavy and this one is unusually light, at 56 lbs.

Con's
We'd prefer a brighter display mounted at the stem, which would make it easier to read
Velotric Discover 1
A unique fat-tire electric beach cruiser with lots of options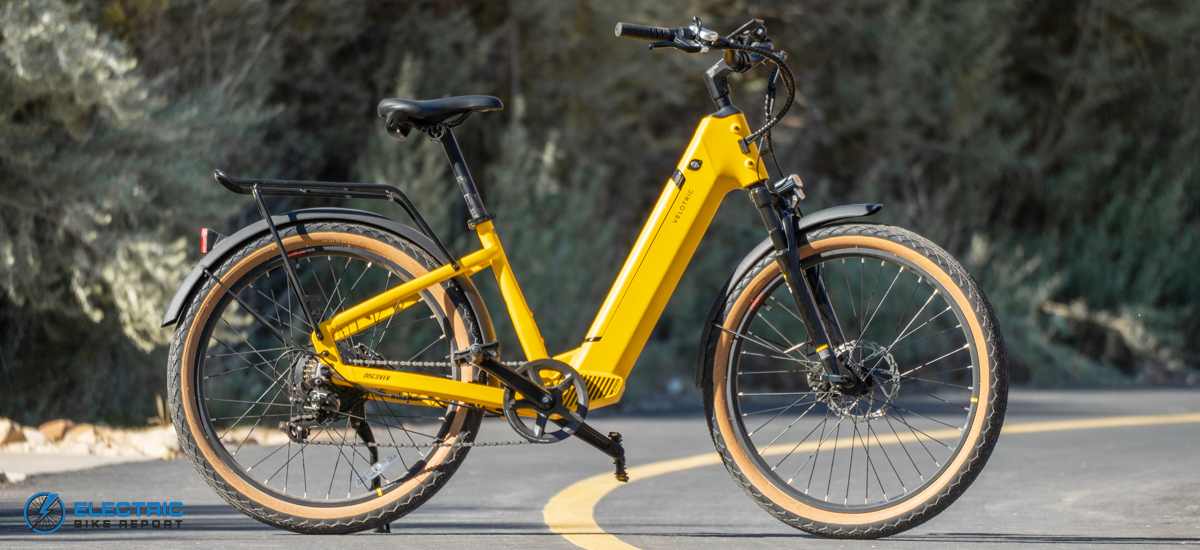 Do all cruiser e-bikes need to look like cruisers? Not necessarily, is our answer. Sure, cruiser e-bikes tend to have swoopy tubes and look like throwbacks to another era, but what really sets a cruiser apart from other e-bikes are their upright seated position and calm handling. The Velotric Discover 1 may not look the part, but its step-thru frame design (it also comes in a traditional frame design) will make it more user-friendly for riders who want an e-bike that is easy to mount and dismount.
The 2.5-in.-wide tires offer a fairly comfortable ride on their own, and the addition of an 80mm air spring suspension fork adds a level of comfort lesser forks can't match. A 7-speed Shimano drivetrain, hydraulic disc brakes, fenders, lights and a rear rack rounds out this very complete design.
Riders who want a speedy e-bike to commute to work on will appreciate how the Velotric Discover 1 can be unlocked for Class 3 performance, with a maximum assist speed of 25 mph
Check Best Price | Read Our Full Review | Watch Our Video Review

Pro's
This is a very complete package thanks to the inclusion of a rear rack, fenders and lights
Riders looking for an e-bike with an easy, step-thru design will like the Discover 1
Ships as a Class 2 e-bike with a throttle, but can be unlocked for Class 3 speeds

Con's
Their stated range is far higher than what we saw in our testing
Electric Bike Company Model R
A lot of professional team sports have an all-star game where the league's best players square off for the fans. At the end, an MVP is chosen amongst the elite which makes him/her the best of the best. The Model R is maybe the most comfortable bike in Electric Bike Company's lineup, and that's a brand that deals exclusively in ultra-comfortable rides.
That comfort can be found from the standard suspension fork, the step-thru frame, and the fact that you can pick the handlebar that best suits you. You can choose from: a flat MTB type of bar, BMX riser bar, classic mustache, or even a chopper-style look to bring the grips alllllll the way back to you. If you opt for the suspension seat post and backrest, it essentially becomes a Lay-Z-Boy on wheels.
That is a serious emphasis on comfort, yet the 'R' stand for rugged. The 750W motor and 3″ wide tires are capable for taking you on rougher surfaces and provides you the power you need to go over the less-than-smooth trails of the world. It also comes with MTB-level Tektro Dorado 4-piston hydraulic brakes for superior stopping power.
Throw in the ability to pick your look by choosing the different colors of the frame, fork and more, and you have an ultra-comfortable and capable e-bike that you can make totally your own.
Check Best Price | Read Full Review | Watch Our Video Review

Pro's
Extremely comfortable setup. Standard ST frame, plus saddle, and a suspension fork makes for a highly comfortable ride.
Unique ability to order the handlebar you like. Select one of the four options for your prefered style of handling.
Great all-around performance, and the ability to massively extand your range is a bonus.
Industry leading 10-year motor and frame warranty, with 5-year on the battery.

Con's
It's a large and heavy bike. You don't feel it on the roads, but you might when maneuvering it around the garage..
Evelo Galaxy Lux
A compact but powerful cruiser perfect for smaller riders wanting bells and whistles
Built around a 500W motor and 24-inch wheels, the Evelo Galaxy Lux is a compact cruiser electric bike that packs a considerable punch. And those wanting all sorts of fun features on their electric cruiser bike need look no further.
The Galaxy Lux is built with smaller riders in mind, with a maximum recommended height of 5-foot-10-inches and a minimum height of 4-foot-10-inches. But despite its small stature, the bike's 500W mid-drive motor is powerful, especially when you consider that most mid-drives on the market today only clock about 250W of power. It also boasts the very cool Enviolo AutomatIQ shifting system, which changes gears automatically — you never have to worry about what gear you're in.
The Galaxy Lux comes in a low-step frame design, and to ensure the frame was as low-slung as possible Evelo opted to mount the battery on a rack over the rear wheel instead of inside the front triangle of the frame. It also has a Gates Carbon belt drive, which is cleaner, a little quieter and requires less maintenance than a traditional chain.
We've tested three different variations of the Galaxy over the years. It's a model that seems to improve and refine all that it does.
Check Best Price | Read Full Review | Watch Our Video Review

Pro's
Enviolo Automatic transmission system takes the guess-work out of shifting. The bike will shift for you as you ride.
The low-step frame is easy to get on and off.
The small frame size makes this a cinch to ride around town. It is very navigable and easy to maneuver around corners or alleyways.
Upright frame and swept back handlebars allow riders to sit up rather than hunch over.
Easy to manage the power; this is a great bike for older or smaller riders

Con's
While it's a pretty smooth ride overall, we did wish a suspension fork was an option.
Specialized Turbo Como
A cruiser e-bik with a super advanced and super light motor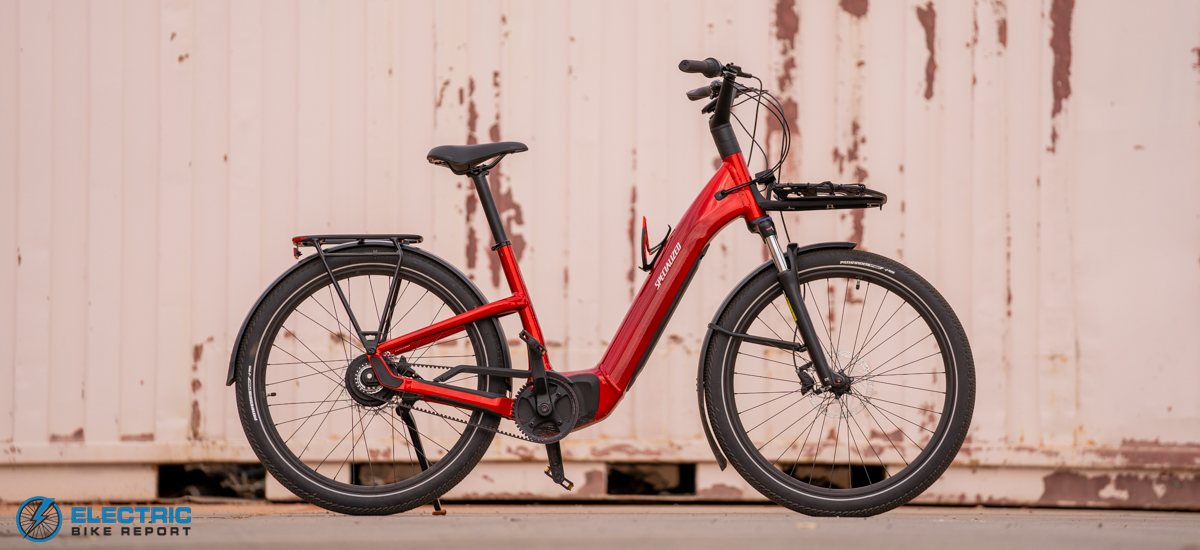 One of the sharpest looking cruiser electric bikes on our best list, the Specialized Turbo Como is built around a proprietary motor and battery that make it lightweight, stealthy and very nice to pedal. It comes in a few different options with various features, so we'll attempt to speak to them all here.
The Turbo Como is the second non-performance e-bike in the Specialized lineup to get the company's "Super Light System" motor and battery. Not only is this a lighter powerplant than you'd traditionally find on an e-bike, but it's been carefully tuned to replicate a rider's natural pedaling. While the motor on many e-bikes can outright overpower a rider, this one is designed to give a much gentler assist.
Aside from the SL system, the new Turbo Como is thoughtfully designed with an integrated front rack, lights and fenders front and rear. The overall design of the bike is downright cool, and the low-step build makes it easier to get on and off the bike. At 47 lbs (give or take, depending on the specific model), it's also lighter than average for a cruiser-style e-bike. The premium parts and construction make it a worthy entrant on our best electric cruiser bike list.
If you're looking for a cruiser with a gentler oomph or if you're sold on e-bikes built by one of the global leaders in bicycling, the Specialized Turbo Como is worth a look.
Check Best Price | Read Full Review | Watch Our Video Review

Pro's
The Specialized Super Light System is one of the best designed e-bike drive systems on the market
The Nexus internally geared rear hub requires far less maintenance than a traditional bike drivetrain
47 lbs is extremely lightweight for a cruiser bike
This is a cruiser that could easily double as a commuter or city bike. It's built to be very versatile

Con's
The SL drive system's power delivery is much lighter than some of the other motors on this list. For experienced cyclists this works well, but it may not work best for those looking for more oomph
How we picked these electric cruiser bikes
You can technically cruise on any e-bike, but only some fit squarely into the "cruiser" category. Those are the bikes this best cruiser e-bike list focuses on (barring a few exceptions). This list is not exhaustive, but it does include the best electric cruiser bikes reviewed by the EBR staff this year plus a few bikes we've included because our readers love them or because their reputation precedes them.
We evaluated the best cruiser e-bikes based on a few key criteria, mainly:
Comfort and style: An electric beach cruiser bike that isn't comfortable just doesn't make sense. Comfort is central to what a cruiser is, so the geometry needs to be upright, the seat cushy and the riding position laid-back. Beach cruiser electric bikes also have a very particular style, so does the bike fit that mold?
Ease of use: Cruiser bikes need to be approachable by anyone, which is why you'll see many bikes on this list in a step-thru frame design. They also need to be easy to stop and start, so we look for bikes with a geometry that allows riders to touch their feet to the ground when seated.
Components and extras: Does the bike have baskets and bags? Racks and fenders? What about optional customizations you can order with the bike?
What does the manufacturer say it was built for?: E-bikes of all types can be used for just about anything, but we take into account what the manufacturers say their bikes were built for. We do sometimes deviate from their definition, but more often than not, they built the bike and know it best.
Bottom line: Gone are the days of slow beach cruisers
While loved for their looks, comfort and their embodiment of California beach culture, traditional beach cruisers have long had one thing working against them: They're a little slow and inefficient.
Their upright body position and low-slung geometry is a double-edged sword; it's forgiving and comfortable, but can make them tough to pedal for long distances or uphill. E-bike motors have helped solve this problem, giving them the extra boost needed to make them capable as well as comfortable.
But how do you choose the best electric cruiser bike for you? This is a very tough and very subjective question to answer. The bike salesman in me wants to point you toward your local bike shop and tell you to test ride as many as possible until you've got a good feel for what you want. But nowadays, with more brands going to a direct-to-consumer business model, test riding a bike in person is not always an option. That's where the team of experts at Electric Bike Report comes in.
We spend days testing the bikes we review, putting them through a gauntlet designed to demonstrate their braking ability, hill climbing prowess and how far they'll go on a single charge, among a few other things. Our goal is to demonstrate how the bikes perform in the real world so that if you have to make a buying decision without seeing the bike in person, you can at least have a good idea of what to expect when it finally shows up at your door.
If you're on the hunt for the best cruiser electric bike, you've come to the right place.
Have a bike that you think would be a good contender for our best page? Let us know in the comment section below. At the very least, we always want to know what our readers are riding.
Reader Interactions