Accessory Roundup: Punctureless Tires, Versatile Monkii Clip, Bike Transport Trailer, & More! [VIDEO]
Time for a look at more bike accessories that can make your eBike ride more comfortable, convenient, and fun!
Gecko Cellular Punctureless Tires
Versatile Monkii Clip B
Radical Cyclone Chubby Trailer
Nano-Brompton Oregon Battery
Gecko Cellular Tyres
EBR has explored the world of cellular punctureless tyres before, but now Gecko have launched a new compound version of their 26″ x 1.75″ tire (for ETRTO 559 x 19 rims with 36 spokes).
It is billed as a 'comfort' tire which is both wider and in a rubber compound giving a more comfortable ride, they say, than competitors such as Tannus. Gecko say a 700C tire is under development and will be released soon.
We rode the new test tyres on a Freego Eagle with 576Wh battery a regular commuting route where problems with punctures have been a real problem.
The tyres performed really well and certainly felt a lot less harsh than the previous Gecko compound we tried.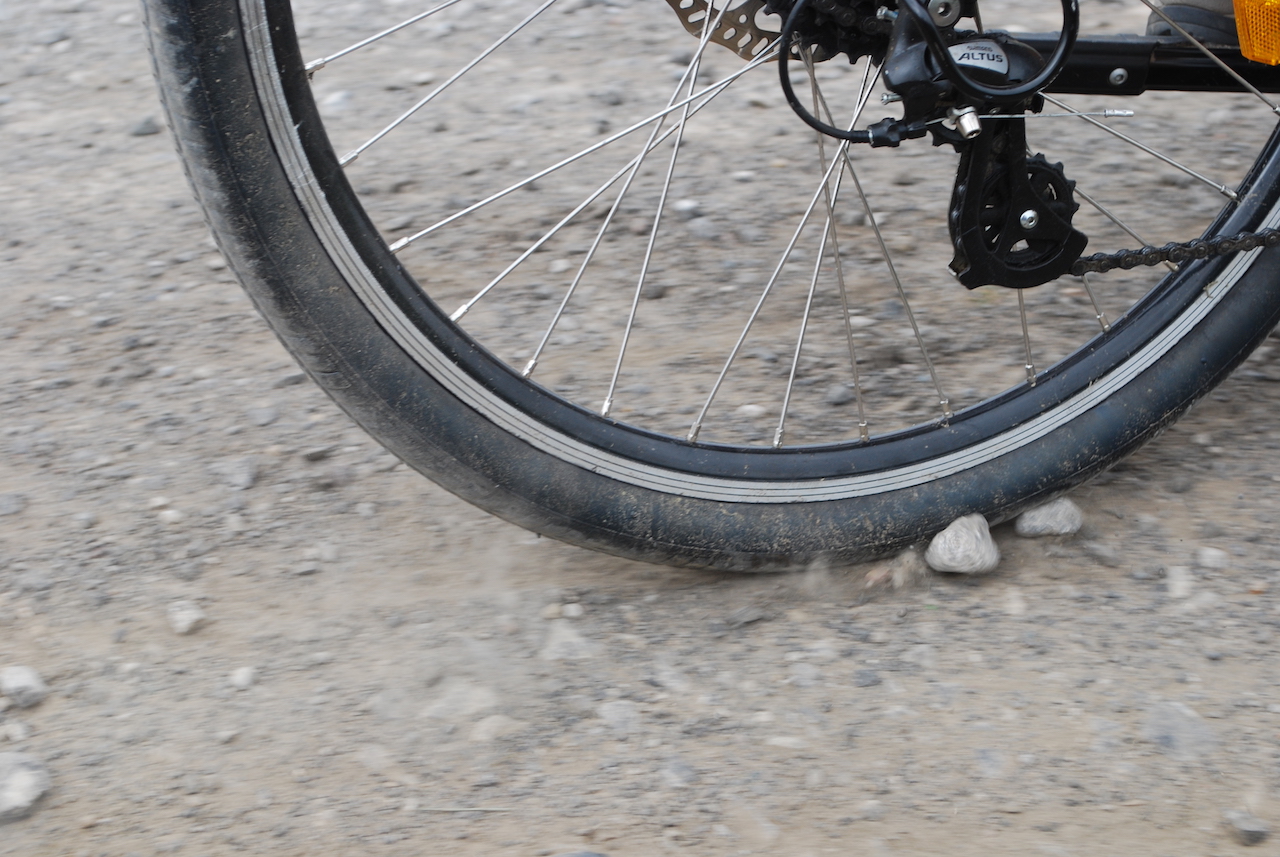 Road holding and bike handling didn't feel an awful lot different to pneumatics (only when you hit a really big pothole or kerb drop off did we notice any real difference) and with the e-bike power set to full the bike still performed well, climbing hills with ease.
In lower levels and down moderate hills there was some noticeable extra rolling resistance but the big capacity battery of the Freego meant it was quite feasible to do a 20 mile round trip over challenging terrain with some battery capacity to spare.
We reckoned that power consumption was around 20-30 Wh per mile depending on rider and terrain, though the Freego hub motor-powered test bike was maybe not the most efficient model and these figures could well improve on a crank drive.
Gecko say they have calculated that the extra battery usage should be no more than around 15%, depending on the route.
Indeed, Gecko say that they have also fitted their new 700 x 40 prototypes onto a Bosch Performance Line motor powered Riese & Muller Nevo Nuvinci e-bike with very encouraging results. A good quality smooth ride and again maybe around 15% extra battery usage, at the most.
Gecko have also made improvements to the 'clip' rim mounting system for these latest versions, adding nylon bolts whose heads lock into the spoke hole recesses of the inside surface of a double-wall rim, preventing any slippage of the tyre on the rim (the tyre doesn't have a metal bead that hooks over the lip of the rim in the same way pneumatics do).
With the latest changes to the Gecko cellular tyre we feel this new breed of tyres are really starting to come of age and they really suit powerful e-bikes with big batteries where any extra rolling resistance is negated by the electric assistance on offer.
If you are interested in purchasing, July will see the Gecko website list selected UK dealers where customers will be able to purchase both the 26 x 1.75" and the 700 x 40 tyres. These will be fitted by the dealers for a £46 + VAT fitted cost (£55 inclusive of VAT).
Scale-up and a more wide spread availability beyond the UK is also being planned, so please see the Gecko web site for regular updates.
Monkii Clip B
The Monkii accessory mounting system – for fixing water bottles, flasks, tool rolls and small carry bags to your frame – has been around for a while, and has proved a great boon for those bikes without boss mounts or simply where you want to mount extra drinks or 'bits and bobs' on your frame.
They have now introduced a special version that mounts very neatly and quickly onto the Brompton handlebar stem. We mounted it in a couple of minutes; you have the choice of mounting up near the top of the bars using a rubber shim to pack out the top allen key clamp or fixing further down the stem.
The universal mounting stem means you can use it for the monkii bottle mount,
or Mono handy bag – or choose from all three.
A very, very handy system that can now easily be used on one of the very best folding bikes out there, of course including on the electric Nano-Brompton (see below).
From: cyclemiles.co.uk or Amazon
£17.95 or $15
Radical Cyclone Chubby Trailer
Radical's Cyclone Chubby trailer is specially made for the Brompton folder and actually doubles as a carrying case for the folded bike itself – very handy if you need a bag to put the bike on a train or plane but then want to ride off with plenty of extra luggage capacity!
We tested it with the Oregon Nano-Brompton above and found assembly and packing of the Nano-Brompton into the case pretty straightforward with plenty of room to fit in smaller items and clothes around the bike if needed.
If you carried bulky items in something like a lightweight compression drybag it would be a doddle to take the Brompton out of the trailer and to put the drybag(s) in, reassemble the trailer (see below) and cycle off.
With the hitchbar and wheels quickly and easily removed, you are left with a squarish looking bag measuring around 78 x 63 x 39 cm and the 100 litres capacity looks very generous.
The Brompton bags are a great system but not particularly good for carrying large amounts or heavy weights – for example when cycle camping or using a retrofit e-assist system with several spare batteries for long distance riding…in such circumstances the Cyclone Chubby would really come into its own.
When not being used as a bike trailer the very quick release wheels can be swapped into position at the rear of the trailer and using the hitch bar as a handle you have wheelable luggage.
Accessories include a strap on case for the wheels (though we managed to get them in the main compartment with the Brompton but careful packing with other soft items is required to avoid damage to wheels or Brompton), and a carrying system that allows the disassembled trailer in 'luggage' mode to be used as a backpack!
All in all this looks a really sturdy and reliable trailer for daily Brompton chores and for more rigorous long distance tours.
The Brompton size wheels (tyres and tubes interchangeable with the Brompton bike itself), the low centre of gravity and the wide-ish wheelbase all make for good towing stability up kerbs and on off-road surfaces, and the extra storage pockets on top and inside the trailer bag equal ruggedness allied with practicality. Highly recommended!
Specs:
Width when towing: 80cm (outside of wheel to wheel)
Weight including raincover: 6.00 kg
Rated to carry 40kg contents with 100 litres capacity.
From: www.radicaldesign.com
€599.95 or $639 at BikeShopHub
Nano-Brompton Oregon Battery
We recently reviewed the very neat Nano retrofit system from the UK as fitted to a classic UK design, the Moulton. Nano have been in touch and sent a Brompton equipped with their new Oregon battery system that fits in the rear compartment of a number of bags, making it an even neater system.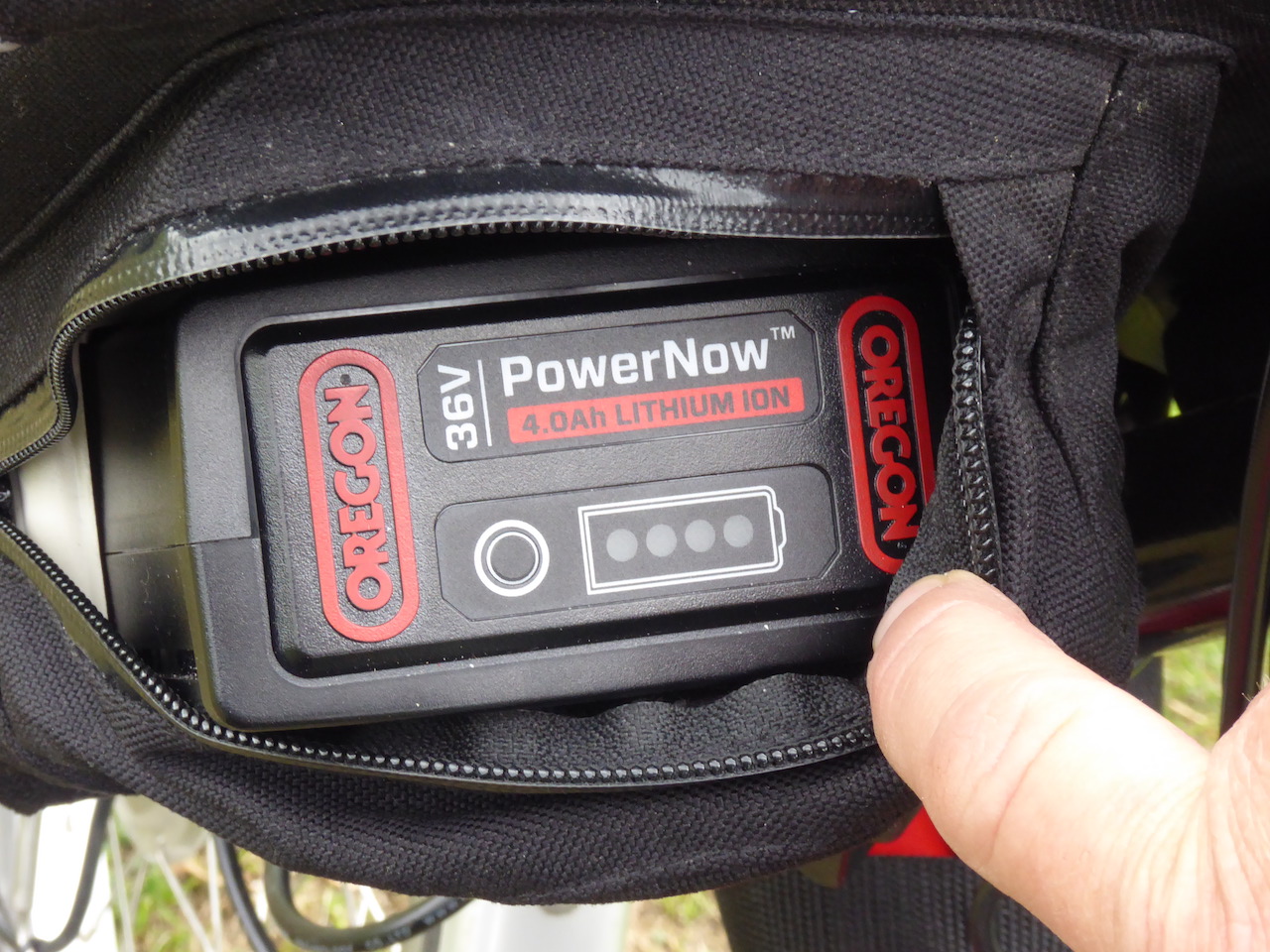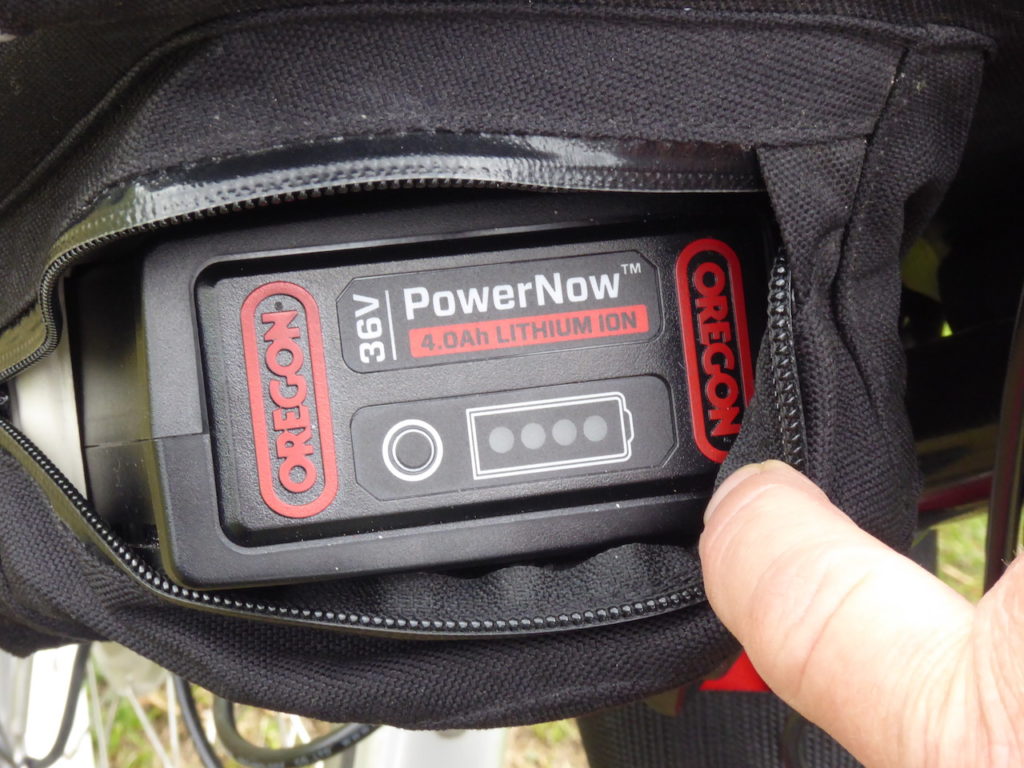 Our test bike came with a 'C' bag and the 36V 4Ah battery fitted snugly into the 'valuables' pocket on the rear of the bag, leaving the main compartment free for plenty of luggage. An on-off switch has also been added to the top of the bag, meaning it's an easy matter to turn the power of completely securely rather than relying on the handlebar switch.
Fuller details of the Nano system can be found in the above review but it remains one of the most lightweight and practical systems for the Brompton folder and the Oregon battery system now brings an extra touch of practicality to the Nano.
From: Nano Electric Bikes
Oregon powered Nano system starts at £759 plus fitting and carriage as required. £120 each for extra Oregon batteries.
Stay tuned for more e-bike news & reviews and thanks for reading!
-Richard
P.S. Don't forget to join the Electric Bike Report community for updates from the electric bike world, plus ebike riding and maintenance tips.
Reader Interactions