Reflective Bike Backpack: Riderbag Reflektor35 Review
Being easily seen is important for bicyclists, as a lack of visibility is often cited as one of the leading factors in many of the 45,000 biking accidents and collisions that happen per year. While there are a number of great accessories that increase visibility, they often come in the form of bulky, hard to wear backpacks or vests, or tend to only work at night or certain parts of the day. Many visibility options are also quite uncomfortable to wear, or don't offer other benefits outside of just increasing the biker's profile.

Riderbag is hoping to be one of the best visibility solutions with their Riderbag Reflektor 35 liter backpack. Fully reflective at night and offering high visibility in the day thanks to its reflective and vibrant design, the reflective backpack also offers plenty of storage space as well. A dedicated laptop compartment will fit computers up to 16'', with four other compartments for keeping the rest of your cargo organized, including a detachable helmet net. The padded backpack feels great to wear, and with a durable and water-resistant build you can use it in any weather conditions. If you are looking for an easy to wear backpack as you commute around the city that will substantially increase your rider profile, consider the Riderbag Reflektor35.
Pros:

Great storage in the bag. A spacious 35 liter build with five total compartments for keeping cargo neat and organized. Laptop compartment fits most laptops, limit of up to 16''.
Highly Visible. It sports a bright green design, with reflective silver polyester lining. High-visibility in the day, and fully reflective at night. Water-resistant as well, so you can wear it anytime.
Extra back padding for comfort, and free removable helmet net that attaches to the front of the bag. Extra large zippers are easy to grasp, even with gloves.
Multiple exterior pouches, straps, and loops for additional accessory security and transportation. Slot in a flashlight, water bottle, or other small objects right on the bag.
Cons:
We hope to see sizing options in the future. Unisex, one size fits all has limited adjustability options. Shoulder straps and belt buckle are on the shorter side.
Lime green shading is highly visible, but is the only color option currently available.
Lightweight and durable backpack, but thin protection makes it better suited for city commuting than extreme mountain biking.
Durability:
The Reflektor35 is built with waterproof polyester, and is great for city riding. The multiple compartments ensures that you can keep your cargo organized and protected, with small zipper pouches that ensure that your keys, wallet, and phone aren't bouncing around. The laptop compartment is the biggest pouch, and while Riderbag notes that it will fit laptops up to 16'' we've found that even 17'' laptops will fit comfortably as well. Overall, this lightweight backpack is great for those biking to work, and should satisfy most casual mountain bikers as well. For the most serious mountain bikers though, we are a bit hesitant recommending the Reflektor35, and would suggest going with something a bit thicker instead.
Comfort:
The Riderbag Reflektor35's overall comfort is going to vary depending on your overall height and shoulder size. Currently, the Reflektor35 is only available in one size, and if it fits it is very comfortable to wear thanks to the extra padded backside. With a 15'' shoulder drop, the backpack straps will fit most typical adult heights, but extra tall or wide bikers may struggle wearing the backpack due to its limited shoulder strap adjustability. Further, the belt buckle is rather short as well with limited extra length for adjustability, further limiting the overall comfort and customization for larger bikers.
If it does fit, the Reflketor does offer a few other pouches and straps that further improve the overall comfort of the backpack. Four small loops on the face of the bag work great with the included helmet net, which is easy to remove and stores well in the backpack when not in use. The two silver pouches on the side of the bag fit bottles well, while the two extra adjustable loops on the face of the bag are great for tying off flashlights and other small objects. You can transport a lot of gear with the Riderbag Reflektor35!

The Reflektor35 weighs 1.7 lbs. The full dimensions are as follows:
Riderbag Reflektor35 Backpack Dimensions:
Height: 19''
Width: 3.5''
Depth: 2''
Visibility/Style:
The central purpose of this backpack is to increase a bicyclist's visibility, and in that regard the Relektor35 35 accomplishes its goal and then some! The Fluor Green is highly visible during the day, while the reflective silver polyester material makes this backpack fully reflective at night. With orange buckles, and an included emergency whistle, you will be very hard to miss while wearing the Riderbag Relfektor35, though be aware that it is currently only available in the Fluor Green color.
Conclusion: Safety Without Restriction!
Many vests and backpacks that improve rider visibility tend to do so while restricting overall movement, often being very bulky and expensive. The Riderbag Reflketor35 aims to significantly improve a rider's overall profile and visibility, but without weighing down the rider like many other bicyclist options. The Fluor Green design makes bikers significantly more visible during the day, while the reflective silver polyester lining offers full reflective visibility at night.
The backpack is water-resistant, making it great to use even on rainy days, with multiple storage compartments for keeping your gear safe, including a 16'' laptop compartment among other straps and pouches. The Reflektor35 is comfortable and easy to wear, but it is limited by its one color scheme, and its single size can be too small for very tall or larger cyclists. However, if you are interested in a great backpack that will make you much easier to spot as you commute to work or ride through the city, we suggest taking a look at the Riderbag Reflektor35!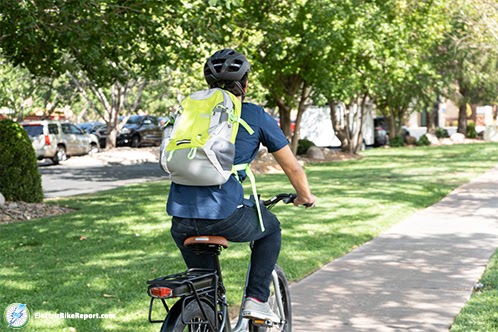 P.S. Don't forget to join the Electric Bike Report community for updates from the electric bike world, plus ebike riding and maintenance tips!
Reader Interactions