Best Folding Electric Bikes 2023
*Electric Bike Report aims to help consumers find the right electric bike for their needs. When you buy a product we recommend, we may earn a commission.
From fat folders to slimmed-down city dwellers, the staff at Electric Bike Report has reviewed some of the best folding electric bikes on the market in 2023, and we've compiled a list of our favorites.
From premium folding e-bikes lauded for their design and functionality to fat tire adventure folders made to pack down for storage, folding e-bikes are a dime-a-dozen nowadays. They span nearly every category of e-bike and every price point, so it can be difficult to choose what electric folder fits your needs best. That's why EBR's team of e-bike experts put together this list.
The storage and portability of bicycles has long been a problem the world has been trying to solve. Patents for early versions of folding bikes (more accurately characterized as "break away" bikes during this time period) go back as far as the late 1800's, but there's evidence they may have existed even before then. The design really picked up steam in the dense cities of Europe as a smart transportation solution for commuters who needed a lightweight, compact bike that would fit easily on public transportation or into tight offices. The bikes are still popular for that use today, but the advent of e-bikes has adapted the folding design into a very broad range of uses. There's now versions built with fat tires and light suspension, built for adventuring on light off-road paths; there's cargo versions that can pack down for storage; and even some that are the size of a full-size e-bike. Motors have made this bike more appealing and more useful to the masses.
Because the category of folding e-bikes has grown so diverse, we've done our best to mimic that by making this list as broad as possible. On it, you'll find folding e-bikes that can be used as commuters, city bikes, adventure bikes and everything in between. The one thing they all have in common, is they all fold up.
And if you are curious for our thought on all the different styles of e-bikes, you can always check out our picks for the overall best electric bikes.
Our Best Folding Electric Bikes 2023
How we picked these bikes
Pick almost any of the e-bike specific bike manufacturers nowadays, and it's likely they'll have at least one folding bike in their product lineup. Folders are one of the most sought after types of e-bike on the market right now, but with so many options, how do you suss out which one is right for you? We're here to help with that.
Many of the bikes on this list we've tested and know intimately well, but there are others we've included based on their reputation and because so many of our readers tell us they love them. The bikes we've tested are put through a number of gauntlets including a brake test, hill test, range test and several other assessments. Our team of experts then puts their heads together to decide which bikes belong on this list.
We evaluated folding e-bikes based on a few key criteria, mainly:
Value: Value is often high on the mind of anyone shopping for a folding e-bike. Most of the bikes on this list cost less than $2,000, a price point we consider entry-level or budget-priced. So, what are you getting for your money? Does the bike feel solid and well put together, or is it a little cheap? Does it come with extras and quality components?
Range and speed: How far you can ride your e-bike and how fast is usually the first question anyone has about an e-bike, so naturally it weighs heavy on any of our best lists. But there's more to a good e-bike than raw range and power. We want to make sure the motor is safe and the speed matches the bike's design and primary user group.
How well does it fold?: Making a metal (or carbon fiber) bicycle fold is actually a pretty tough task. For all intents and purposes, you're taking a bike frame — something that needs to be tough and rigid — and breaking it in half. So the folding mechanism needs to be burly and secure. On top of that, it also needs to be functional and easy to use.
Components and extras: As we mentioned above, bikes in this category are typically on the less expensive end of the spectrum (barring a few exceptions). But inexpensive doesn't have to mean you sacrifice quality. Does the bike still come with good componentry and extras like racks, lights and fenders?
Does the bike make sense?: On some bikes, it seems like a manufacturer made it fold more for novelty than function. It's hard to blame companies for doing this, especially since folding e-bikes are so in vogue right now, but those bikes don't belong on our best list. If a bike folds, we want to make sure it folds for a purpose.
We're not going to pretend this is an exhaustive list of the best folding e-bikes, especially considering there are so many different types of folders and so many creative uses for them. But these are our recommendations based on testing, expert opinion and a little crowdsourced insight from consumers like you. Know of a bike you think should be on this list? Let us know, we've always got an eye out for the next hot e-bike.
Rad Power Bikes RadExpand 5
Best Class II Folding Electric Bike, 2023
Check Best Price | Read Full Review | Watch Our Video Review
One of the top folding electric bikes of the year, the Rad Power Bikes RadExpand 5 is the epitome of a great e-bike made better.
For years the RadExpand's predecessor, the RadMini, was a mainstay on our list of the best electric folding bikes. The name change wasn't all that was new as Rad made some notable refinements to its peppy folding e-bike – keeping what made the RadMini great, but adding welcome new features in the process.
One of those noteworthy changes is the handlebars. Since nearly all folding e-bikes don't merely fold at the frame but include the ability to fold down the handlebar as well, most manufacturers choose a funky handlepost design that's compact and flat. Rad welcomed the engineering challenge and instead fitted the RadExpand with a short stem and BMX-style handlebars that still fold down fairly simply. The handlebars make for better handling, and in our opinion, it does wonders for the aesthetic too.
Rad also swapped out the old semi-slick tires for new, beefier 4" tires that add more comfort. The bike is fully rigid, meaning there isn't a suspension fork, but the tires really help offset that when set to a lower PSI as they can soak up road vibrations, and we like that the lack of fork means the bike both weighs and costs less.
The motor and battery are reliable performers as we've come to expect from the other Rad Power Bikes' models; the 750W motor accelerates well to 20 MPH while the battery delivers a very solid 25 – 45 miles per charge.
If you're in the market for one of the best class II electric folding bikes, you'll be hard pressed to find better value than the RadExpand 5

Pro's
Simply put: the RadExpand 5's overall ride is one of the best amongst folding e-bikes for the money.
The BMX-style handlebars make the RadExpand handle better and increase the overall comfort.
The 4" tires increase comfort on the road, and offer some terrain versatility for light off-road exploring.
Not all folding e-bikes include a rear rack as standard and 59 lbs is a great rating.

Con's
It accommodates riders 4'10" – 5'10" so it feels intended for shorter riders. Our 6' reviewers felt okay on it, but we understood the 5'10" cutoff.
Lectric XP 2.0
Best Cheap Electric Folding Bike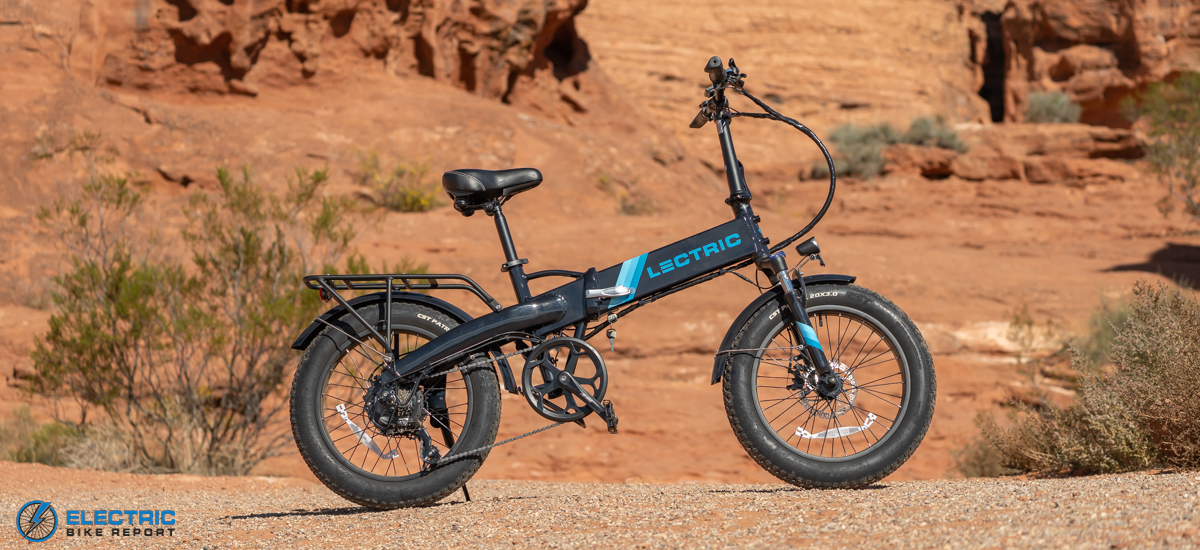 Check Best Price | Read Full Review | Watch Our Video Review
The Electric Bike Report team spends a lot of time hanging out in the public lands of southern Utah. And no matter where we go — from St. George to Moab and everywhere in between — we're bound to see a Lectric XP parked outside a nearby RV or campsite.
I'm not kidding, we see them everywhere. It's easily the most common e-bike we've tested that we spot out in the wild. The Lectric XP is this popular for a few very good reasons: It's cheap, it works and it's just a ton of fun to romp around. Designed in Arizona, the Lectric XP is a super affordable fat folding e-bike powered by a 500W motor and a 48V, 9.6 Ah (460.8Wh) battery.
At under $1,000, the XP is not a luxury e-bike, but golly is it fun. The motor packs a satisfyingly powerful punch and the 2.0's suspension and 3-inch tires provide plenty of cushion to take the edge off dirt roads and beaten paths. At 64lbs, it's no featherweight, but the XP packs down small enough to easily fit in the back of a car or stow inside an RV (These seem really popular with the RV crowd).
For one of the most affordable e-bikes on the market, the Lectric XP punches above its weight class. It's a fun and reliable choice for anyone looking to get into e-biking.

Pro's
At under $1,000, this is one of the most affordable e-bikes on the market.
The 500W motor packs a nice punch and accelerates quickly.
The bike collapses down to a very packable size. Perfect for anyone short on space.
The large LCD display is easy to read and includes useful metrics.
The Shimano 7-speed drivetrain and Tektro disc brakes are a great value for the money.

Con's
At 62lbs, it can be a bit hefty to lift.
The key hole is tucked underneath the frame, making it a bit tough to find the first time.
Aventon Sinch Step-Through
Best Fat Tire Electric Folding Bike
Check Best Price | Read Full Review | Watch Our Video Review
Aventon updated their uber popular Sinch model earlier in 2022 and it had a host of new features that made it a no-brainer option as one of the year's best folding e-bikes.
It all started with the new frame. The Sinch used to come in only a high-step version, but Aventon made a new step-through design that made it more accessible for riders to hop on. That wasn't all that was new with the frame though, the tubes are more boxy and modern, and this time around you have better color options than the run-of-the-mill black and white. The moss green version we reviewed turned heads while we were on theroad, and was backed up by equally eye-pleasing tan wall tires.
But of course looks aren't everything and there is a lot about how the Sinch rides that people love. First, the frame is rock solid – we often forgot that the bike could fold in half. No additional flex or rattling could be found at the hinge which can occur in cheaply made folding bikes.
Also, the ride quality is superb once the Sinch gets going. Usually 4" tires come with a chunky tread pattern to encourage some exploring in dirt or sand, but the Sinch is outfitted with a semi-slick tread instead which holds speed well while still offering good cornering.
The new frame and wheels are still fueled by tried and true componentry; the 500 W motor provides impressive, measured assist on flats and hills, while the 672Wh battery will provide around 28-39 miles per charge. The Tektro brakes and Shimano 7-speed drivetrain both perform well, and should be easy to find replacements for when maintenance time comes.

Pro's
The climbing ability is extremely impressive, especially for a bike with a 500W rear hub motor.
The Tektro mechanical disk brakes work impressively well, earning a top-5 spot in our brake test (at the time of the review).
The redesigned folding mechanism works great, is confidence inspiring and silent — the folding bike trifecta.
The battery range is solid; right in line with what we'd expect.
It uses Aventon's new(ish) full-color LCD display, which is one of the most functional and aesthetically pleasing displays in the affordable e-bike category.

Con's
As with many folding e-bikes, larger riders may feel a little cramped.
The throttle felt a little soft when starting from a dead stop. I sometimes felt the need to give a small "scooter" kick to get going quicker.
Blix Vika+ Flex
Best Modular Electric Folding Bike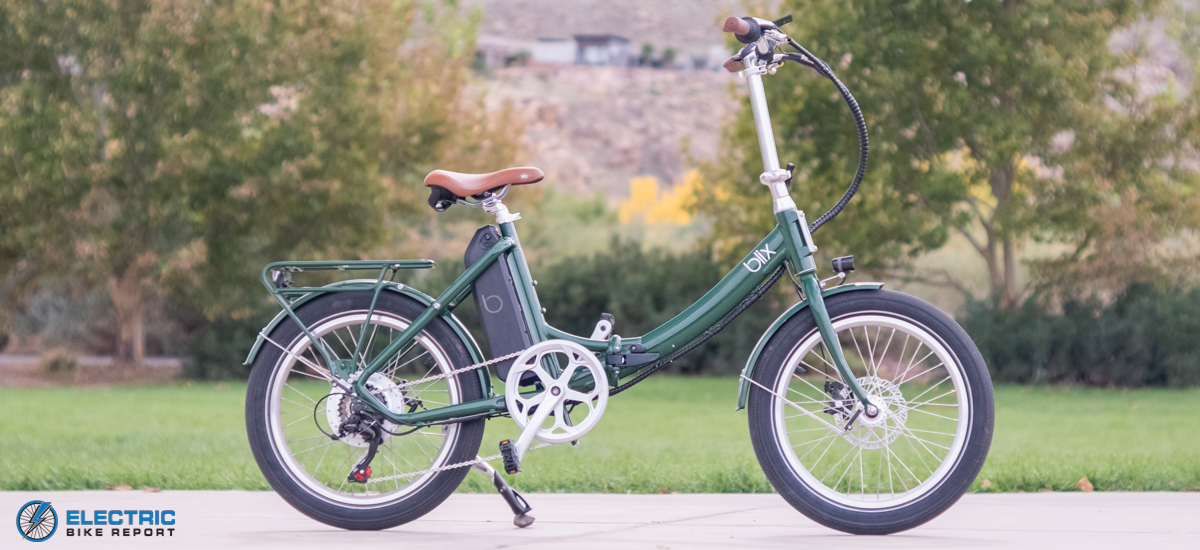 Check Best Price | Read Full Review | Watch Our Video Review
A popular e-bike from Santa Cruz-based firm Blix, the Vika+ Flex has a distinctly European styling. Based around a 500W motor and 48V, 12.8Ah (614Wh) battery, the Vika+ Flex has enough oomph to flatten hills and keep you rolling all day – it reminds us of a peppy little go kart.
Blix says the Vika+ Flex was designed with versatility in mind. It's a compact folding bike that, with the right racks, can double as a light-duty utility bike. It comes with a rear pannier-style rack, lights and can be fitted with Blix's modular racking system to increase its storage capacity. Many folding e-bikes seem built with a hyper focus on the folding aspect and less on ways to outfit it to your needs, so the customization here is a very welcome addition to this roundup of the best folding e-bikes.
We also really like the battery placement on the bike; low and behind the seat tube. This helps keep the center of gravity low and the ride stable. Overall the Blix Vika+ Flex is one of the better handling folding e-bikes featured here: it's lighter than most, nimble, and just a lot of fin to take around town.
The Vika+ Flex has a throttle and pedal assist up to 20 mph, so that makes this a Class 2 e-bike. The styling is smart, and looks different from many of the other folding e-bikes on the market. And on the topic of folding, Blix says (and our experience can attest) that the Vika+ Flex will pack down in less than 20 seconds. A gripe we often have with the more affordable folding e-bikes is there is no way built in to help keep the bike folded, but Blix included magnets on both axles that help keep the folded bike together while maneuvering it around.
For those in the market for a classic design and a folding e-bike that won't empty your wallet, the Blix Vika+ Flex is a choice that won't let you down.

Pro's
The classic design looks really nice. We particularly like it in the racing green colorway.
The battery placement behind the seat tube keeps the heaviest part of the bike low and centered, keeping things stable and under control.
At about $1,700, the Vika+ Flex is a lot of bike for the money. A great value buy given its capabilities.
Blix's modular rack system is really cool, giving you lots of opportunities to take things with you
The handling is very fun. The Vika+ feels like a cross between an e-bike and a go kart.
At 55 lbs, it's reasonably light; light enough you could carry it up a short flight of stairs or roll it onto public transport

Con's
The folding mechanism is a little stiff, so you do have to put some oomph into the hinge.
The cockpit is a little cramped for taller riders.
MOD City +
Another Great Class III Electric Folding Bike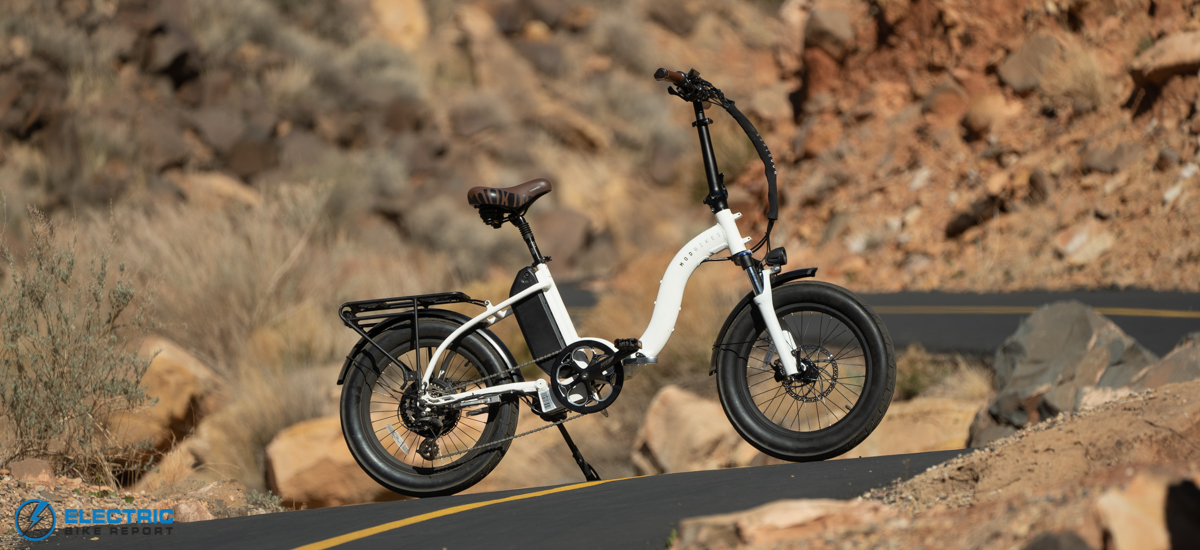 Check Best Price
|
Read Full Review
|
Watch Our Video Review
Folks, take it from those who do nothing but pay attention to e-bikes for a living: there are A LOT of e-bike companies our there. MOD Bikes represents a brand that was new to us until recently, and when we first tested out the City + we weren't too sure what to expect. What we got was a bike we enjoyed so much it made the cut as one of the year's best folding electric bikes, making it a good sleeper pick for those wanting something a little different.
So what it it that we enjoyed so much? It's just a solid all-around performer that scored good to great across most of the criteria we value when reviewing electric bikes.
Unfolded, it's got a wheelbase, weight and overall size that's comparable to a non-folding e-bike. This gives it pretty great handling. The real highlight of this bike, though, is its speed. The Class 3 500W rear hub motor is surprisingly powerful, putting up average speeds in our circuit testing above 24 mph. All that speed requires good brakes, which the MOD City + has in spades. The City + was a surprise upset as one of the best braking e-bikes we ever tested, not folding e-bikes, but all e-bikes we've ever tested.
So while the go and stop portions of the ride do well, the range is sure to impress also. Our ranges tests yielded 22-49 miles of riding per charge, and you'll go the distance while rolling on comfortable 20X3" semi-slick tires that are a joy to ride on.
If you're like us and hadn't heard of the MOD City + before, it's worth a closer look for a great performing folding e-bike.

Pro's
The MOD City+ is the quickest stopping e-bike we've tested thus far. It's Tektro Auriga disc brakes work wonderfully well.
It's available in a high step and low step frame design. The bike we reviewed is a low step MOD City+
The 500W rear hub motor is surprisingly powerful. It easily cruises at 24 mph or quicker and had very little trouble with our test hill.
The 576Wh battery gave the 500W motor a respectable range that should get you anywhere you need to go.

Con's
MOD claims the City+ can be folded in 15 seconds. Maybe with practice, but we found the City+ to be a bit slower. Like other affordable folders, it's a little cumbersome.
There's no strap or clamp to secure the two halves of the bike while folded, making it tough to lift while keeping the bike from opening up.
GoCycle G4
Best Premium Electric Folding Bike
Check Best Price | Read Full Review | Watch Our Video Review
No list of best folding e-bikes would be complete without a GoCycle.
The brainchild of a former McLaren engineer, the GoCycle fast-folding and ultralight design has become a design icon in the e-bike world. For several years they've been setting the bar high for what an urban folding e-commuter should be, and their new G4 model continues that trend. Almost identical to former models at first glance, the new G4 is flush with carbon fiber frame pieces that bring down the weight and give the bike better vertical compliance. The new bike also comes with a redesigned front hub motor system, new tires and an updated folding system that keeps the bike perfectly aligned.
We recently tested out the Gocycle G4 and found that it lives up to the expectations of a premium electric folder. Our testers described it as a "blast to ride" that "literally folds up in seconds." The G4 model appears to have only made improvements on things we loved about its predecessor, the GX; it's a great riding and folding bike.
The GoCycle G4 is a perfect fast-folder for the serious commuter who's low on space. It's compact, rides well and folds like a dream. It is one of the pricier bikes featured on our best electric folding bikes list, but if it's within your budget and you need something for navigating the urban jungles, or just want to impress friends and family with an engineering delight, the GoCycle G4 is one to look at.

Pro's
It's really impressive how much engineering and design goes into these bikes. They really broke the mold.
This thing folds up really, really fast.
Folds up compact and can be carried (or rolled) up stairs and onto public transit with ease.
Pedals just like a normal bike with no motor assist. The handling is also very stable and confidence inspiring.
An Allen key is conveniently stored underneath the saddle, making adjustments easy.

Con's
Unless you get the G4i, lights and fenders are not included. They're sold as an accessory.
The GoCycle's quirky shape isn't for everyone, but it has grown on even the naysayers on our staff
Tern Vektron
Best Electric Folding Bike For Cargo
Check Best Price | Read Full Review | Watch Our Video Review
We always talk about "car-killer" e-bikes here at EBR; the bikes that work so well they could inspire someone to ditch gas-guzzler. In the world of folding e-bikes, that car-killer would be the Tern Vektron.
The S10 is the flagship model of Tern's Vektron range. It's not the lightest nor the least expensive, but it is really good at what it was designed to do. The S10 is equipped with a Bosch Performance motor and 400Wh battery, giving it lots of grunt to carry you across town. It also folds nicely into a 41 × 86 × 68 cm cube and stands upright on its rear rack when folded, making it easily stowable in tight spaces.
But while the S10 is small, it can carry big loads. A hallmark of Tern is their sizable and strong rear racks that can hold nearly 60lbs and is compatible with a number of aftermarket carrying systems. Tern also mounted the Bosch Powerpack battery low over the rear wheel, helping to bring the center of gravity down and keep the bike stable and planted.
The Tern Vektron S10 is no bargain bike, but it's not built to be. It's an urban weapon for the commuter who needs a bike that can handle the transportation and storage gymnastics of modern city life, plus carry a few things along the way.

Pro's
The Bosch Performance line motor is a premium powerplant that won't leave you sweating on hills or while carrying cargo. Plus, we don't see many mid-drive folders.
A 60lbs carrying capacity isn't just big for a folding e-bike, it's pretty impressive for really any e-bike with a stock rack.
The ability to stand the bike on its rear rack when folded is a cool feature that helps save on space when cubic footage is at a premium.
Tern is a thoughtful company that's done a really nice job outfitting the S10. From the adjustable stem to the choice in disc brakes, we're impressed.

Con's
The nearly $3,700 price point might scare some buyers away, but if it sounds like this bike fits your needs, it's worth the cost.
Brompton Electric M6L
"The Original" Best Electric Folding Bike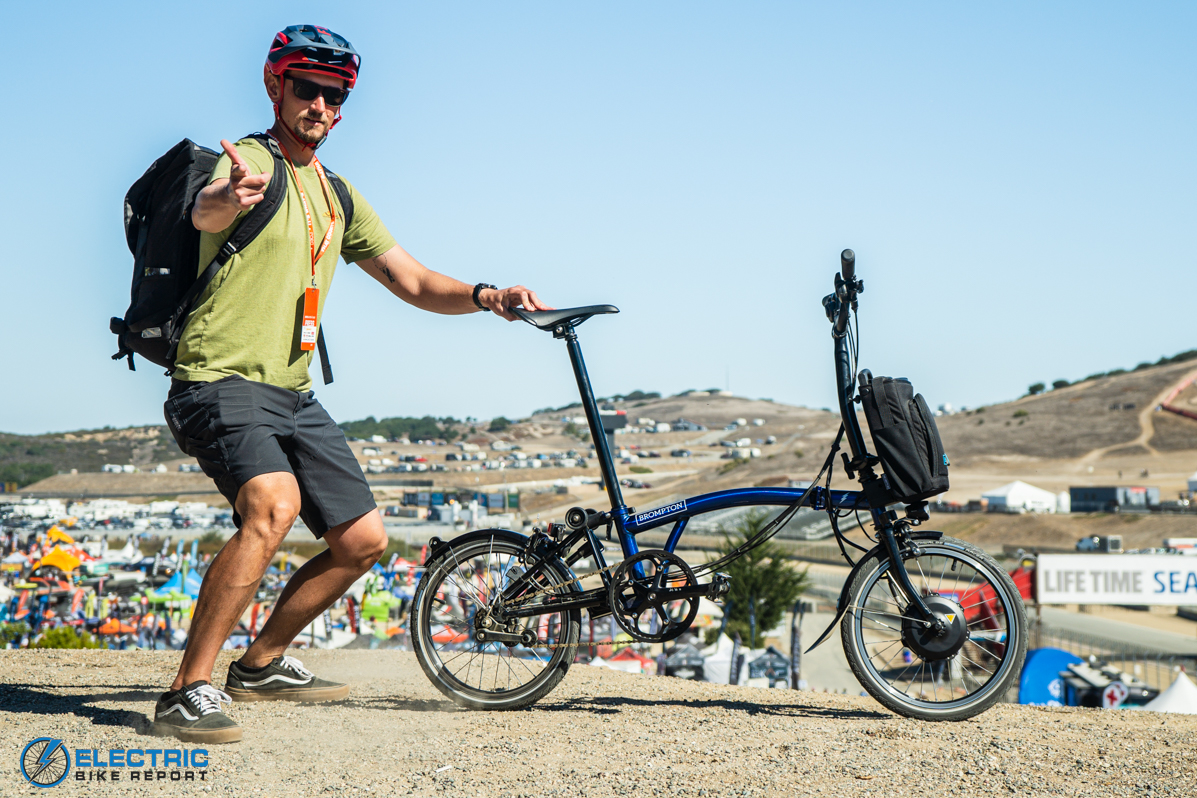 Check Best Price | Full Review Coming Soon
The Brompton name has become synonymous with folding bikes. They've taken their tried-and-true M6L model and, with the help of a specially-built front hub motor designed by Formula E engineers, turned it into an e-bike.
Despite its small stature, the Electric M6L is a premium folding electric commuter that fetches a cool $4,200 (if you can get one). Aside from the small hub motor laced into the front wheel, the Electric M6L looks only slightly different from its non-motorized counterpart. The 300Wh battery is housed inside a small bag mounted to the front of the bike, which makes it look like a piece of luggage instead of e-bike paraphernalia.
The folding capabilities of the electric M6L are exactly the same as the non electric version, though the electrical bits make it slightly heavier. But it's not obnoxiously heavy. At about 40 lbs, the Brompton is one of the lightest e-bikes on this list, so it's still small enough to take up stairs or on to public transport.
An iconic piece of cycling history, the Brompton brand is ideal for commuters in dense urban environments who want the best folding bike they can find. Their Electric M6L just adds a dose of power to the already acclaimed folder.

Pro's
The Brompton folds up really, really small. Pair that with its lightweight, and you can carry and store this thing just about anywhere.
Brompton's come with the ultra-cool Sturmey-Archer internally geared hubs, which are a rare sight over here in the U.S.
It comes stock with front and rear lights and mud guards.
The hub motor was developed by the Williams Advanced Engineering Team – the same ones that make F1 cars.

Con's
More of a tip than a con: The Brompton is a true folder, which means it's really only happy on short, urban commutes. If that's not your intended use, it might not be the right pick.
Bottom line: Your folding e-bike should make sense and match your needs
It's not always obvious why someone is attracted to the idea of a bike that folds. Some people want them because they save space; others want them because they make great commuters; and some people just like them because of the novelty and unique look.
Whatever your reason for buying a folding bike, make sure you think long and hard about what you want to do with it, because not all folders are created equal. Just like other realms of the cycling world, there are subsets of bikes inside the folding e-bike category that are designed for different uses. A lightweight commuter folding e-bike won't perform well off-road, and a heavy all-terrain folder would be tough to carry up a set of stairs. So make sure you're getting the right bike for you. Also, think hard about whether a folding bike is the right choice for your needs. Folding bikes often ride much differently than their full-sized counterparts, so keep in mind you might be trading ride quality for compactness. But, after all that thinking, if you're still looking for an e-bike that packs down small but is still capable, you've come to the right place.
If you want to explore other categories of e-bikes, we've got some great reviews that look in-depth at virtually any type of e-bike you can think of. Or, if you're new to the world of e-bikes, we've got a handy guide that'll help you get started.
Reader Interactions