Accessories Roundup: Magnetic Visibility, More Ride Positions, New Light Lens Tech, Luggage Bike Trailer [VIDEOS]
Here's a look at a couple of innovative bike accessories that can make your eBike ride more comfortable, convenient, and fun!
The magnetic Portland Afterglow reflector
SPIRIGRIPS add comfortable hand positions
New lens tech in Herrmans H-Black Pro-E headlight
Freeparable T1 Trailer converts to rolling luggage
Afterglow Reflector
Sometimes the simplest ideas are the best and the Afterglow reflector from Portland Reflector fits into that category.
It's quite simply a pair of magnetised hi-viz triangles that can easily be attached to and detached from all manner of clothing and bags. Here is a look at the Afterglow video:
You simply place one in the inside layer of the fabric or structure you want to attach it to and line the other up on the outside.
Those riding behind the Afterglow said the yellow triangle I tried out was extremely visible against darker material in the day and mega-visible at night (there are various colour combinations and I tried out the white / yellow combo).
They are a very cost effective alternative to full hi-viz jackets and can also be used on pannier bags, backpacks and really anywhere about your person or on the bike where you can manage get them to fix.
In the UK (where the Afterglow was tested) it appears that a lot of motor traffic gives a good wide berth when passing anyone wearing the Afterglow.
Exactly why this might be we can't say; perhaps any vehicle with a slightly different appearance invites caution but there is also the fact that the triangle (both as a UK road sign and when used as a safety aid when a motor vehicle is broken down) is associated with warning drivers of a hazard or a danger ahead.
Whatever the psychology, if the Afterglow means vehicles give you more space when passing it has to be welcome.
We also liked the strap reflector from the same company, designed to be threaded through a bag strap, though it has less mounting possibilities compared to the Afterglow.
Afterglow US $19
Strap reflector US $9
From: portlandreflector.com
SPIRGRIPS
Another simple idea, this one for flat bar hybrid type bikes allowing you an extra hand position whilst still being able to use gear and brake controls.
SPIRGRIPS aim is simply to eliminate joint and muscle pain and discomfort that Swiss physiotherapist Pascal Badollet noticed was caused by holding the hands horizontal for long periods of time whilst riding.
We tested SPIRGRIPS on many rides and they really do work, your hands readily and easily fit their ergonomic shape and relieve stiffness on the hands associated with using only traditional handlebar riding grips. SPIRGRIPS are easy to fit, look good and feel great with their nicely engineered hinge-clamp fitting.
Note that they are only suitable for 22mm diameter bars (standard size) and with all type of gear shifters (..yes, many cyclists use them also with rotary shifters such as Rohloff and GripShift). Note when your hands are on the SPIRGRIPS there may be limited access to your e-bike control panel.
Gripping paste is also enclosed to enable mounting on carbon handle bars.
SPIRGRIPS are UCI approved for use in MTB professional racing and are patented in the EU, USA and China
Cost: 49 Swiss Francs / Around US $50
From: SPIRGRIPS spirgrips.com
Herrmans H-Black Pro-E
Herrmans is a Finnish company which designs and manufactures grips, lights, chain guards, reflectors and rim tapes for the bicycle industry with some products also used in rehab and industrial applications.
We tried out their H-Black Pro-E light which, says Herrmans, utilises lens technology borrowed from the automotive industry and refined for use on e-bikes.
The model we tried is designed to be used on e-bikes that are ready wired to power lights from the main eBike battery.
Swapping out the existing light on out Heinzmann Ceres e-bike was a pretty easy matter; the 'fishplate' connectors pulled out on the existing light and mounting using the Herrmans multi-joint bracket was straightforward (some method of making a good contact is need though eg soldering and heatshrinking and you must get the polarity of the wires right).
Adjusting the right height and angle is easy with the high-quality bracket.
At twilight it becomes clear the special lens technology works extremely well.
The light is channelled down and onto the road surface created a bright white pool of light in front of the rider, making it much easier to spot potholes and hazards ahead (not surprising as it is rated at 100 Lux or 230 Lumens).
It's also visible to oncoming traffic from several hundred metres away, yet the channeling of the light means it is never blinding to oncoming traffic (also helped by the fact it is mounted in the ideal place for a light, above the front forks).
All in all one of the very best lights we have ever tested.
More detail here.
Cost: £ 74 / Around US$ 95
For availability in your area contact Herrmans.
Freeparable T1 Trailer
Unless you have an e-cargo bike there is generally a limit to the amount you can carry on your e-bikes there is a limit to what you can reasonably carry on your e-bike. If if you think an e-cargo bike is overkill for your situation a trailer could really be the way to go.
Enter Freeparable's T1 trailer, a bike trailer that is actually two products in one, converting to rolling concourse style luggage as the wheels tuck up to change from bike trailer mode to luggage mode.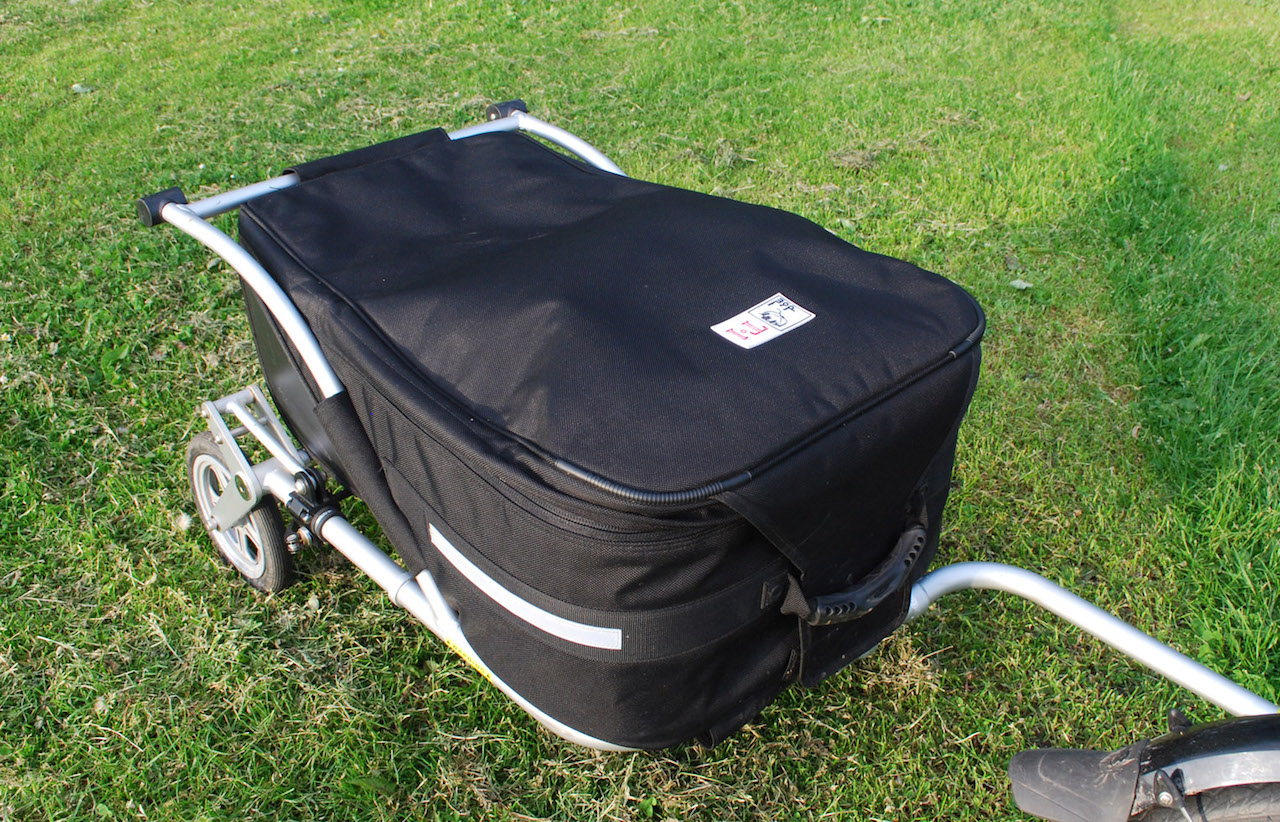 It only has small 8″ wheels but for light commuting and touring these work surprisingly well; just avoid big curbs and real off-road rough stuff (which can cause it to flip over) and it will handle up to around 20kg comfortably (it's rated for 30kg / 60 litres but see my comments on the hitch later on).
It works especially well with smaller wheeled bikes; we tried on a 16″ wheeled Dahon electric conversion.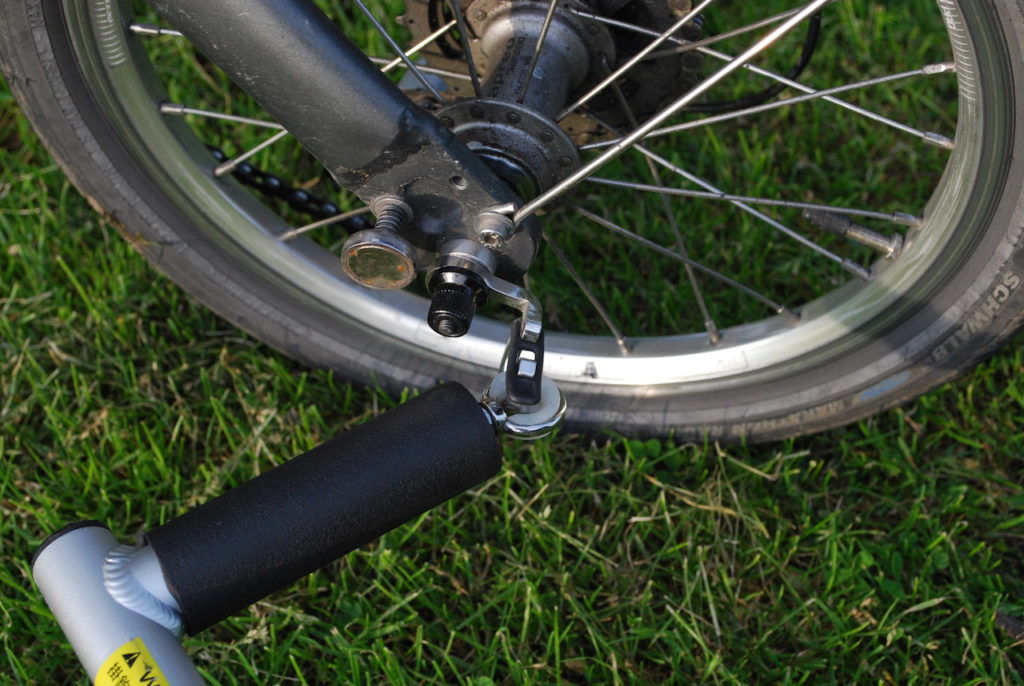 At 6.4 kg it's reasonably lightweight for a luggage type trailer and overall it looks well-made, especially the rigid bag itself which is constructed of waterproof PU and nylon.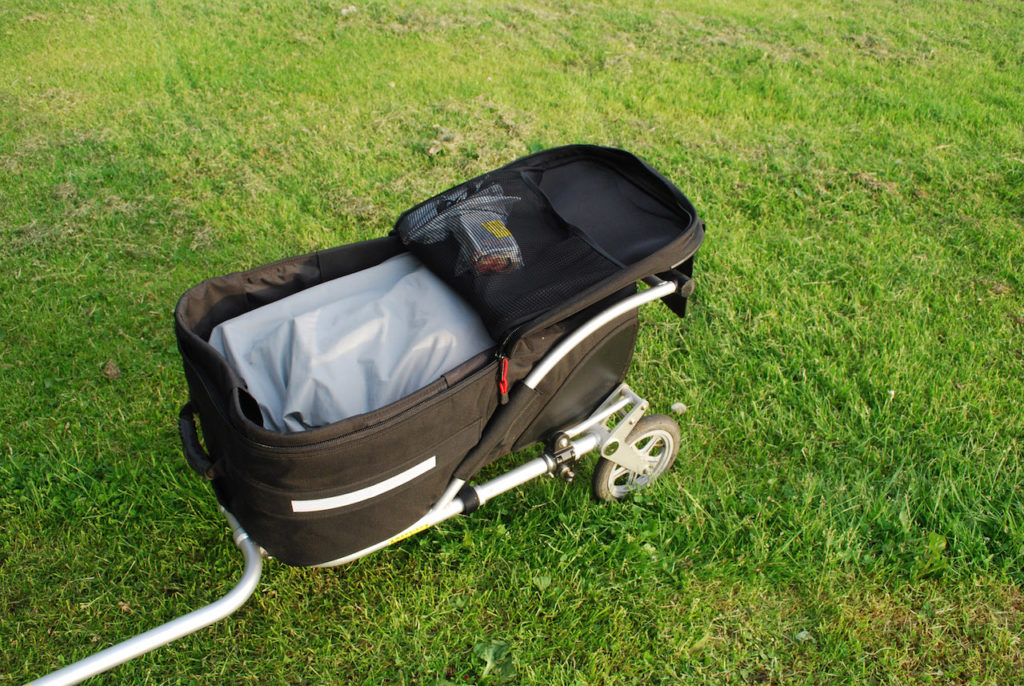 The supporting alloy frame is ingenious as it allows the wheels to quick release and fold in alongside the frame and the extension can be used as a handle when off the bike or folded down into the frame to make a regular piece of luggage ideal for trains and planes.
I found care was needed with the quick release lockouts on the wheel fold mechanisms which aren't always strong enough to hold the wheels in place.
This can be worked around with a bit of DIY mechanic-ing but for what is an expensive bit of kit this shouldn't really be necessary.
A few modifications to produce a mark two of this great design could produce a really great trailer.
The idea of trailer and luggage in one certainly makes a huge amount of sense and in its current form it would be fine for regular commuting on smoother surfaces but probably not for long distance touring, and especially any riding involving rougher surfaces.
Cost: £294.75 / Around US $395
Available from: Cycle Miles or Amazon
Stay tuned for more e-bike news & reviews and thanks for reading!
-Richard
P.S. Don't forget to join the Electric Bike Report community for updates from the electric bike world, plus ebike riding and maintenance tips.
Reader Interactions