Lectric XP Lite E-Bike Review 2023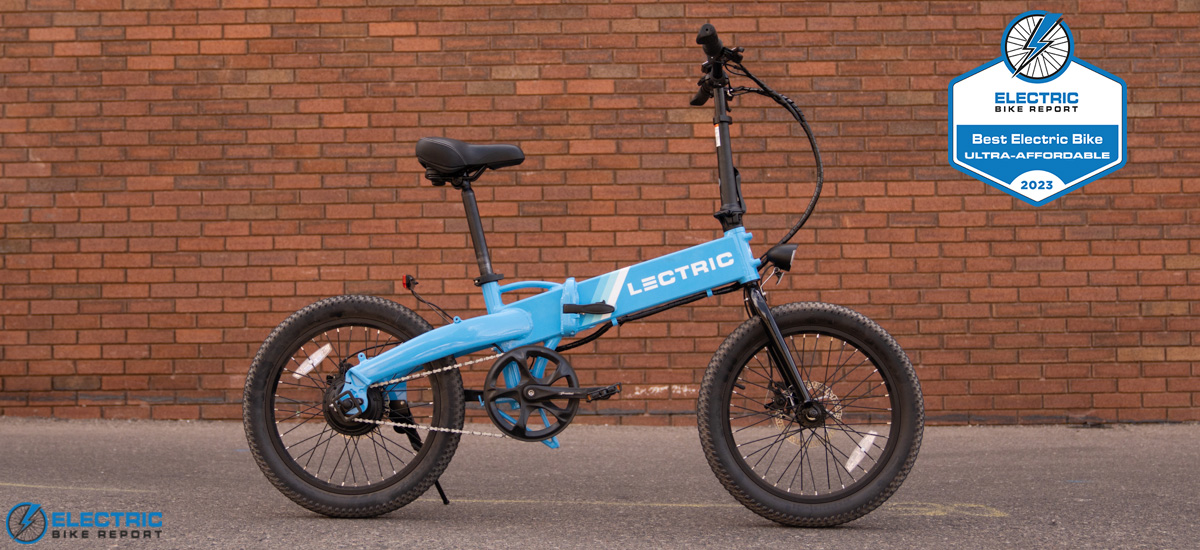 While it's rare that we test a bike model that alters our perception of e-bikes, it does happen. The main takeaway from our Lectric XP Lite review was that it shifted our view of how affordable an e-bike can be while still being worth recommending.
Buying a first e-bike isn't as hard as buying a car, but people have understandable questions before making such a purchase. The big one for most folks is: How much do I need to spend in order to get a quality e-bike? For some years, we've considered $1000 as the entry point for quality, but with the release of the new XP Lite from Lectric eBikes, we've encountered an e-bike that manages to come in hundreds below that mark while delivering a combination of function, quality, rider experience and value that we can enthusiastically recommend.
The XP Lite is a simplified version of Lectric's popular XP 3.0 we reviewed, which was their first bike that catered to folks wanting fun on a budget. The XP Lite is a Class 2 bike with a maximum assist speed of 20 mph, plus a half-twist throttle that lets tired legs recover. Like other models from Lectric, the XP Lite is a folding bike that unfolds in seconds and tucks away in closets, trunks or under desks.
Compared to the XP 2.0, the XP Lite simplifies the drivetrain, making it both quiet and maintenance-free. It also comes with narrower tires than the XP 2.0, which not only gives this e-bike zippier handling and quicker acceleration but it makes it more battery efficient than its bigger brother too. To further keep the price down, Lectric chose a smaller, yet very efficient pairing of the motor and battery, allowing the bike to go farther on each watt burned (more on that in the range test section).
The price is definitely right for a 'lite' version of a model, but did those changes drastically alter the fun and performance factors that the XP 2.0 was able to deliver? Read on through the full XP Lite review to find out.
Right now you can get an extra $50 off the XP Lite plus free accessories during Black Friday savings! Click the button above, or head to our Black Friday E-Bike Deals page for more info.
*Editor's Note: Updated Nov. 20th, 2023 to include award badge, and links to latest info and pricing.
Bike Class:
Class 2: PAS/Throttle assist, up to 20 mph
Lectric XP Lite Video Review

Pro's
At less than $1000, this is one of the most affordable e-bikes we can recommend
This bike weighs just 46 lbs which makes the handling feel remarkable
Removing the battery takes off another 7 lbs which makes folding it up and putting it away much easier
The tubes come with Slime installed to help reduce flats
The knobby tires give it some ability on modest dirt roads
275-lb. payload capacity is unusual for a sub-50-lb. e-bike
There really isn't much you could do differently with this bike without increasing cost. It fits the bill for being a fun, practical folder for riders on a budget

Con's
This is admittedly nitpicky, but we'd prefer you didn't have to ride with the key in
Not so much a con as just acknowledging the tradeoff, but the single-speed drivetrain will limit some riders on sharp inclines
ELECTRICAL SPECS & FEATURES
Battery: 48v 7.8ah lithium ion
Display: Backlit LCD
Motor: 300W (720W+ peak) rear hub, Class 2
Headlight: LED
Taillights: LED
Peal Assist: 20 mph
Range: 16-35 mi. real-world test results
Throttle: Half-twist
Weight & Dimensions
Claimed weight: 46 lbs.
Maximum rider weight: 275 lbs (payload)
Maximum load on rear rack: 55 lbs
Components & Accessories
Brakes: Mechanical disc brakes, 160mm rotor
Fenders: N/A
Fork: Chromoly
Frame: 6061 aluminum
Drivetrain: Single speed belt drive
Grips: Rubber
Saddle: Comfort
Handlebar: Aluminum, riser
Kickstand: Included
Pedals: Nylon, folding
Tires: CST 2.4" x 20" OR Chaoyang 2.6″ x 20″
Lectric XP Lite Review: Bike Overview
Lectric is one of the leaders, if not the leader in affordable folding e-bikes in the U.S. Judging from the bikes we typically review, it would be understandable if a reader concluded that there aren't many e-bikes made that run less than $1000. That's not actually the case. There are plenty, but our mission is to steer readers toward e-bikes that we believe will give them an enjoyable and rewarding ride and will be supported beyond the initial sale. It's largely why we avoid reviewing the bargain bin offerings of Alibaba and Amazon.
A budget e-bike has a very particular bottom line. It's an e-bike that anyone gainfully employed can probably afford. There are a number of those on the market. What makes the XP Lite different is that it's built with enough quality from a company with a clear and established presence that buyers in the e-bike market should consider this competent, if minimalist, machine.
The reason we don't often recommend bikes in the sub-$1000 range is that so many cut corners on quality; the XP Lite manages to find excellent alternatives to many more expensive components.
It starts with the tried and true design of the Lectric XP's frame that comes before it, but this time with blue and sand colors to go along the black and white ones.
A more modest 300W motor and 374Wh battery are then spec'd to the ride while taming it down to class 2 speeds. The motor and battery combo is smaller than the XP 2.0, but don't think that means you won't have some speed and decent mileage.
The single-speed drivetrain cuts down price and maintenance, while it largely threads the needle between being something you can pedal nearly up to 20 mph while also being capable of riding it up hills without too much effort.
Most bikes strive to deliver all the trimmings on affordable commuters such as a rack, fenders and more as standard. Lectric leaves those as optional add-ons realizing that many people out there just want an e-bike for rides in ideal conditions.
In large part you'll find all the essentials required of a good time on an e-bike, while Lectric ditches the rest to save on money and weight.
Lectric XP Lite Review: Motor Performance, Speed and Acceleration
Because the Lectric XP Lite is built around a 300W motor, a 374Wh battery and a single-speed drivetrain, this bike is a bit lighter than many other folding e-bikes we've reviewed, coming in at just 46 lbs. While one speed can be limiting, the weight loss that comes with a simplified drivetrain pays real dividends.
On our circuit test, the XP Lite performed quite impressively. In our no-motor lap of our one-mile circuit, I maintained an average of 13 mph—a testament to the bike's sub-50-lb. weight and being easy to pedal sans motor assistance. That climbed rather modestly to 13.3 mph and while that may not seem especially useful, we've found that PAS 1 is really handy for helping to get a single-speed bike moving.
In PAS 2, 3 and 4 what we saw were modest gains in average speed, but they were enough to be noticeable. However, the jump from PAS 4 to PAS 5 was more than 3 mph, to an average of 19.2 mph. That PAS 5 lap we recorded during our review of the XP Lite speaks volumes. People shouldn't discredit the smaller motor as it accelerates and holds speed well up to the class 2 limit.
This is a Class 2 with a throttle and a maximum speed of 20 mph. Practically speaking, because it's a single-speed bike, 20 mph is about as fast as a rider might hope to go.
Lectric XP Lite Review: Range Test & Battery Performance
The Lectric XP Lite has one of the smaller batteries we've encountered, at 48V, 7.8ah, or 374 watt hours. However, we often see more budget-oriented bikes spec'd with a 36V battery; Lectric chose to stick with the better quality and included a 48V battery. You lose power and speed with less volts, so keeping a 48V battery helps maintain some of the fun acceleration.
The small-ish battery is well-matched to the 300W motor. This is, in fact, a better pairing of battery and motor than with its big brother, the XP 2.0. We always hope to see at least a 1:1 ratio of nominal motor wattage to battery watt hours (think 500W motor and 500 Wh battery). The 300W / 374 Wh combo is more efficient than the XP 2.0's 500W /461 Wh.
Worth noting is that a smaller battery weighs less, and while riders may only notice a bike's weight when accelerating or in turns, making a bike feel nimble can be a key part of making a rider's experience enjoyable. Also, a lighter battery makes an e-bike slightly more efficient by hauling less weight.
To get a sense of how the battery does in real-world scenarios we ran two different range tests. We did our low-assistance range test in PAS 3 (where we could really feel constant motor assistance), and our test rider covered 35 mi. in a leisurely 3:20. In PAS 5 our tester rolled 16 miles at an average of 14 mph. That's enough range to allow a rider some freedom.
We encourage riders to keep in mind that this e-bike is both lighter and substantially less expensive than many bikes it competes against, and you can double that range with a second battery and still be well under the cost of other affordable e-bikes which makes it a pretty good value..
The more efficient battery and motor combo I mentioned before likely lead to a longer distance traveled on the XP Lite than on the XP 2.0 (albeit at a slower pace). To be fair, there are likely a host of other factors that could have affected those two range tests so take the comparison with a grain of salt.
A smaller battery—this one weighs just 7 lbs.—pays off in a big way with a folding bike. Picking up a bike that weighs less than 50 lbs. is far easier than picking up one that weighs 60 or 65 lbs. And because the battery is easily removed, riders can carry the bike in one hand and the battery in the other, which makes storing this e-bike even easier.
Lectric XP Lite Review: Hill Test
With just one gear to take the e-bike everywhere it goes, the Lectric XP Lite's single-speed drivetrain faces the challenge of needing a gear that's low enough to make it over a hill and yet not so low that a rider can't pedal fast enough to reach 20 mph. The reality is there's no perfect gear, but a powerful motor can hide the shortcoming of just a single gear.
In its quest to be affordable, the XP Lite had to leave a few features on the table. Its 300W geared, brushless hub motor works well on the typical, modest hills most commuters encounter, but comes up a little short on steeper hills when just using throttle.
In PAS 5, the bike performs rather well on hills. On our hill test we recorded a time of 97 seconds for an average speed of 11.2 mph to reach the top of our beloved test hill Hell Hole. That a 300W hub motor succeeded is maybe one of this affordable e-bike's more impressive achievements.
Lectric XP Lite Review: Brakes and the Brake Test
One of the advantages of 20-in. wheels is that 160mm rotors offer terrific braking performance; so while 160s might be dinged on bikes with larger-diameter wheels, they perform well on the XP Lite.
If you've read some of our other e-bike reviews, you know we typically clamour for hydraulic brakes on e-bikes here at EBR. Often time it feels needed to offset the heavier weight of the e-bikes, but a stopping distance around 20 feet is respectable enough that it feels safe, and you get greater savings by embracing the 160mm / 20″ combo.
One area where the XP Lite outshines the XP 2.0 is in the braking department. The XP Lite stopped in 21 feet 8 inches. It's notable since that's a better result than the XP 2.0 by about a foot. Seeing as how the bike weighs nearly 20 lbs. less it's likely you can thank the lighter load for better stopping.
The bottom line: the braking distance of the XP Lite feels about right given the cruising speeds we see most users operating at while astride the XP Lite.
Lectric XP Lite Review: Ride Comfort, Handling and Cockpit
The Lectric XP Lite is arguably the best-handling model from Lectric I've tried to date; the XP Lite has a zippy feel and is plenty nimble in urban settings. The agile feeling stems from several component choices that both reduce the bike's cost and improve its handling, though these choices do reduce rider comfort just a bit.
The Lectric XP Lite opts for a steel fork, rather than the suspension fork found on the XP 2.0. This choice does reduce rider comfort some, but the steel fork lends a crisp quality to the bike's handling not found with the suspension fork.
Lectric says that some of the XP Lites will ship with 2.4-in.-wide tires while some will be equipped with 2.6-in.-wide ones. Wider tires are more comfortable, but narrower tires will handle better and roll more easily, extending the range and improving acceleration.
Because the Lectric XP Lite is a folding bike, its handlebar is pretty flat; it doesn't sweep back toward the rider much, but it does rise which aids comfort. The bar is also on the narrow side—again a need driven by the fact that it's a folder—and that makes the handling feel quicker.
The display on the XP Lite may be one of our favorite features of the e-bike. The screen is a black and white LED, nothing fancy. Lectric did an amazing job of using nearly every square millimeter of the display to make the information readable. Current speed, PAS level, total odometer and remaining charge can be read in a quick glance down. We don't mind that it's not a color display—again, affordability, right? Far more important is the fact that it's easy to read.
Folding down the XP Lite takes only a few seconds, and it's compact enough that sedan owners like me can fit it in a trunk with little worry. I can't stress enough how great it is to have a sub-50 lbs. folding e-bike. Many folders can feel cumbersome or clunky to lift up into a trunk, but the weight of this one feels far more manageable.
While the XP Lite doesn't come with many accessories, there are different packages for carrying or increased comfort that run a hundred dollars more to make it more versatile. You can get front and rear racks with a pannier bag on the carry package, or a more plush seat with suspension seat post on the comfort bundle.
Lectric XP Lite Review: Summary / Where to Buy
Our Lectric XP Lite review proved to be a remarkable achievement for affordable e-bikes. It's the answer to how to make an even more affordable bike than the XP 2.0 (something we weren't expecting to actually see). As design problems go, maintaining quality while reducing price is the province of MBA programs. Its hard to imagine asking for more out of this bike without increasing cost, and I for one like the concept of a ride-worthy bike that has a price in the hundreds instead of starting at $1000.
Lectric was able to keep its excellent folding frame and hidden battery. They kept the 48V design to make sure the bike performed well and paired it with a motor that uses that power efficiently. The decision to go with a single-speed design featuring a belt drive not only simplified the bike, the belt drive makes it maintenance-free and will serve to keep the bike cleaner when a rider goes to fold it up. No more dirty chain marks on hands and clothes.
The mechanical disc brakes with 160mm rotors do a great job of bringing this bike to a stop because of the 20-in. wheels. In that regard, the XP Lite gave up nothing on the XP 2.0.
Worth noting is how all of the accessories Lectric eBikes offers with their other models are available with the XP Lite. Racks, helmets, fenders, mirrors, tools and more can be purchased with the e-bike or at a later date. There's no reason this can't be a grocery-getter.
Lectric eBikes found a way with the XP Lite to build an e-bike that is safe, reliable and versatile, not to mention lighter in weight—which is always a selling point with folding bikes—while shaving nearly 20 percent off the price of its most popular model yet. It's an impressive achievement, one that's easy to put away after the ride is over.
'Happy Riding, make sure to let us know if you have any questions down in our comments section or if you think we left anything out in this review of the Lectric XP Lite.
Reader Interactions