Hub Motor Brands: The Complete Guide
Whilst many higher-priced e-bikes contain mid-drives (examined in full in our recent Guide to eBike MidDrives) the other main type of e-bike motor, hub motors, are often found on more budget models. That's not to say they aren't on quality bikes though – they adorn many of the best e-bikes out on the market today.
Hub motors (as you would guess, these are motors found within the wheel hubs) are also used where saving weight is important, for example on lightweight city bikes you might want to pick up and sling over your shoulder to get them up steps or on e-folders that you need to carry in one hand. A third, less common reason for using hub motors (especially of the gearless variety) is on ultra-low maintenance e-bikes where they can be used alongside belt drives and hub gears to give a virtually 'fit and forget' system.
As in our overview of mid-drives, we'll take a look at all the main hub motor players out there but first, there's just a couple of points to note.
This isn't a technical article on how hub motors work but it is helpful to be aware of the distinction between geared motors and hub motors. The former use a set of gears to drive onto the outside shell of the hub whilst with gearless motors the outside shell of the motor is actually part of the motor itself – the rotating part. Why does it matter? Geared hub motors are usually lighter, better hill climbers and more efficient than gearless hub motors, whilst gearless motors are longer lasting (less moving parts), have regenerative braking (using the motor to brake) and can be better for lengthy operation at high speeds (as on speed pedelecs).
You are also much more likely to come across hub motors not listed here, despite this article's attempt to cover all the main players (in contrast to the mid-drive market which is dominated by a few main players). At the budget end of the hub motor market, there are many, many (mainly) Asian producers of low-cost hub motors and it's simply not possible to cover all these brands.
This article does cover those motors of recognised quality that are widely available and used by many major e-bike manufacturers. Because the motors are relatively cheap and easier to fit onto a standard non-modified bike frame compared to mid-drives, you will find that manufacturers can chop and change which hub motors they use, so the examples quoted here may well change over time. Indeed many e-bike manufacturers seem somewhat coy about revealing exactly which hub motor they use.
Chinese company Bafang are probably the biggest manufacturer of e-bike hub motors in the world (although recently they made a move into mid-drives and have even opened a mid-drive factory in Poland to serve the EU market). Based in China, they have subsidiary offices in the Netherlands, US and Japan They make a huge variety of motors, as you can see here. They used to be known as Suzhou Bafang (as they originate from Suzhou near Shanghai) and their motors also used to carry the name 8Fun.
Popular e-bike manufacturers using Bafang hub motors include Rad Power and Juiced.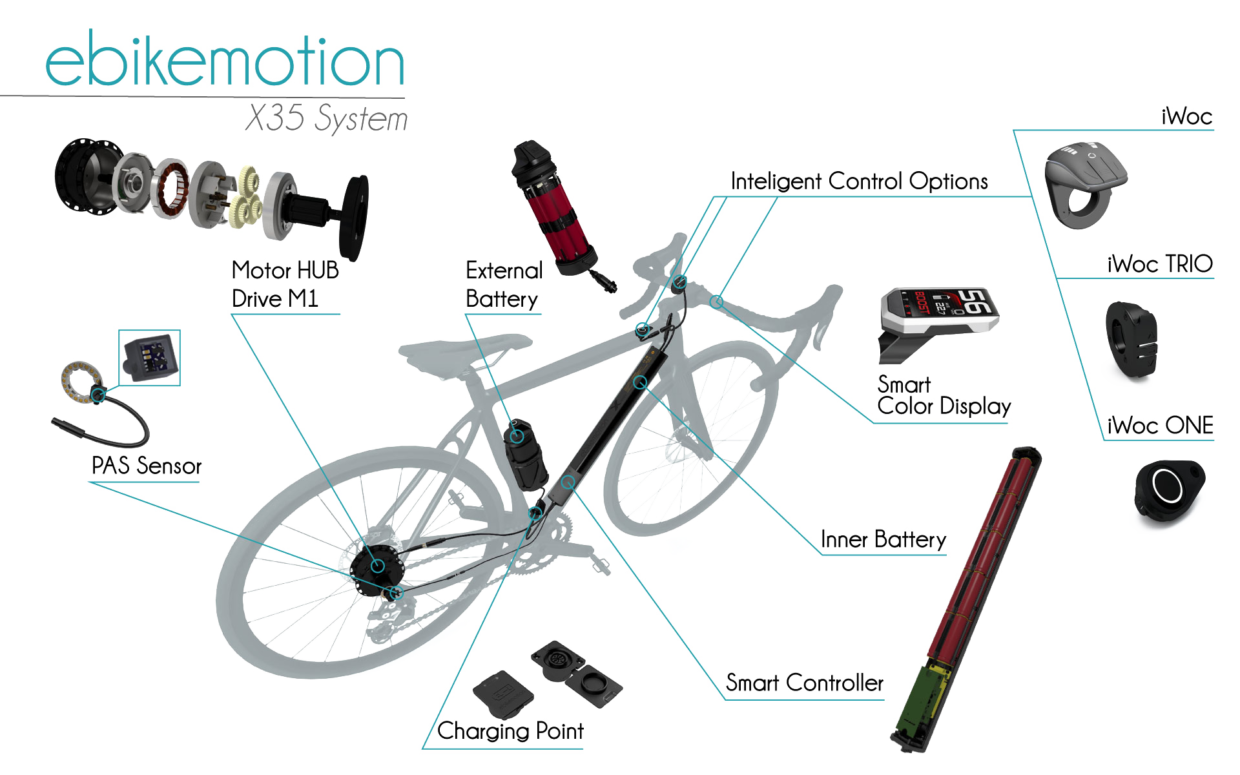 Mahle's eBikemotion X35 hub motor system uses a fairly conventional geared rear hub motor but its success lies in the way in blends this into a complete system delivering smooth and economic power.
Mahle is an automotive manufacturer and its eBikemotion system, based around a small 2.1kg rear hub motor has been taking the e-bike world by storm and is fitted on countless lightweight urban and road electric bikes.
Ebikemotion X35 made its debut in 2017 with the sporty, lightweight e-bikes from Orbea's Gain range and Desiknio; fitting as all are Spanish companies. In October 2018 Mahle — itself mainly known as a supplier to the automotive industry — took over the company Ebikemotion but kept the X35 name.
The system uses it's own motion sensing system to control the power meted out by the motor. Generally, motion-sensing systems are regarded as inferior at delivering smooth 'bikelike' electrical assistance when compared to torque-sensing systems (and hub motors with torque-sensing systems are relatively unusual).
The system will soon be known as the X35+ system and will come with enhanced wireless technology.
There are many e-bike manufacturers now using the system no doubt having opted for it because of its lightweight (adding around 3.5kg in total) and the sporty ride qualities it brings as well as its smooth subtle assistance, despite the fact it's not one of the most powerful motors out there.
Interesting lightweight e-bikes using this system include the Willier Cento 10 Hybrid (claimed weight 10.5kg / 23.1lbs) and Islabikes models Janis and Jimi (13.5kg / 29.7lbs and 13.8kg / 30.4 lbs)
Other Chinese and Taiwanese Motors
There are a number of other Far Eastern motors out there that you may come across although they are certainly less apparent on the US and European markets than Bafang. They do have similar offerings however and if you see these names mention they should mean a decent level of quality usually at a reasonable price.
This Taiwanese firm product a nice lightweight (1.9kg claimed weight) rear hub motor, the R16, and a front hub motor, the F15. The UK's Raleigh has chosen the R16 for their folding Stow-e-way folder.
Dapu, a Japanese firm with factories in China, make hub motors that have been widely used on Pedego e-bikes.
Other Far Eastern producers of e-bike hub motors include Aikema (AKM), Shengyi (making hub motors for Lime hire bikes and others) and Hengtai.
Gearless motors designed and made in Germany. They come in only two variants, 25kmh and 45kmh. They look high quality and torque and speed sensors are ready integrated into the motor itself. They are used by a number of e-bike manufacturers who have some very interesting designs, including Tout Terrain. 
GoCycle use their own proprietary geared front hub motor. It's lightweight and very zippy, the only disappointment being it will not kick in as soon as start pedalling  – there is a small delay. It features on all GoCycles – both their demountable and folding versions.
This entry groups these motors together as they both appear on bikes with a simple aim; to come up with lightweight urban e-bikes of minimalist design and high quality. Both these European brands use rear hub motors with torque sensing systems. It's not entirely clear who manufactures their hub motors though online reports suggest COBOC's system is based around a Bafang motor specially modified for the company.
Italian firm ZEHUS are probably the market leader in 'all in one' hub systems. They don't just make hub motors but they make a hub in which all the electrical system components are included (ie motor, battery and controller). The advantage here is the system fits easily into standard size dropouts with minimal clutter elsewhere and it's also a simple and cost effective way to electrify an existing design.
It is wonderfully simple and the whole thing only weighs around 3kg / 6.6lbs but there are a couple of disadvantages; it's only a single speed and it's inefficient, especially on hills and in stop-start traffic, being a gearless motor. The battery is small at 155Wh too.
There are four sensors within the ZEHUS hub that mean it can be turned on and ridden away and the regenerative braking feature used all simply by moving the pedals in the right way at the right time. For some reason there is a separate North American version that features a separate bottom bracket sensor, though quite why this might be is not clear.
Brands using ZEHUS include the remarkable Hummingbird folder and the UK's Cooper Bikes.
Suntour – best known as suspension fork manufacturers – also produce the longstanding HESC geared rear hub motor system. It's most notable for having torque-sensing found in a black disc that sits unobtrusively inside the front chainwheel and for being a budget system. The torque-sensing means power is delivered more smoothly and in direct response to your pedal effort, for a more natural ride. According to Suntour's literature, this unique torque-sensing features cams, magnets and hall sensors, but no more info is really available. In practice though, it gets good reviews.
The motor isn't the most powerful and there have been some reports of cut outs and unreliability from end users. Having said that it has been a stalwart feature of the UK's Halfords Carrera range of e-bikes and these generally get very positive reviews.
The highly electronic and digital newly designed Van Moof S3 and X3 models both feature the company's own-branded geared front hub motor. As with the Ampler and COBOC motors its not 100% clear who actually makes the motor. Unlike AMPLER and COBOC it is a front hub motor. It gets great reports for smoothness, quietness and its push button boost feature. Some reports say it isn't the most powerful up hills.
Many, many years in development (since 2008!), Superpedestrian's Copenhagen Wheel is finally available to the public. Like the ZEHUS it is an all in one drive system with all components in the hub itself.  Where the paper spec wins over the Zehus is in the size of the Copenhagen Wheel's battery at 279Wh and in the fact, due to its narrower width, it will accommodate 7 to 10 gear SRAM or Shimano derailleur systems.
This comes at the cost of weight – Superpedestrian says the hub and rim come in at 7.6kg / 16.9lbs; it is available as an aftermarket kit pre-laced into either 26″ or 700C sized rims.
That said the Copenhagen Wheel is only available on three of their own-brand models whereas Zehus has is out there on a comparatively wide range of third-party manufacturers' e-bikes. The Copenhagen Wheel is only available in the US too.
TDCM is based in Taiwan and has plenty of experience in making motors for the automotive and medical sectors as well as for e-bikes. They have a reputation for good quality, even if the technology they use – in common with some other established hub motor manufacturers – is getting on for a couple of decades old. One thing that does mark them out is that many of their motors combine torque sensing systems with the hub motor, making them a cut above many others in terms of quality.
They make hub motors for the likes of Stromer and Brompton. One of their latest launches is a motor custom made for the revamped Stromer ST2 speed pedelec. Remarkably amongst hub motors, it combines five Sturmey-Archer hub gears within the center of the hub motor itself, overcoming one of the traditional drawbacks of rear hub motors, the fact you cannot use super low maintenance hub gears with them (you are usually limited to derailleur gears).
TDCM make both gearless and geared motors. Their Stromer ST2 motor is gearless as gearless motors can suit the higher speeds of speed pedelecs, especially if you, keep up a high, steady cruising speed (they are less efficient when being asked to stop and start all the time). By contrast their Brompton model is geared as it needs to be lighter and more efficient for stop-start town riding.
Launched at Eurobike in 2017 ProMovec motors are based in Denmark and make a range of complete e-bikes and retrofit kits. Their systems are used by a number of budget e-bike manufacturers including Batribike, Calibre (Go Outdoors) and Dawes.
Gogoro's Eeyo is an e-bike from Taiwan (where the company has a history in electric scooter share schemes) with its own all-in-one Smartwheel rear hub drive system and claims an impressive total weight of 26lbs / 11.8kg. The hub weight itself is not specified.
Whilst it's extremely early days for the Eeyo it is worth quoting one early review in The Verge which praises its extreme efficiency:
'The Smartwheel is super efficient, using just 4.4Wh of energy per mile (2.7Wh per kilometer) based on that 28.3 mile (45.6 km) test result. My equally aggressive VanMoof riding, for comparison, yields about 37 miles (60 km) from a 504Wh battery, or 13.6Wh of battery consumed per mile (8.4Wh per kilometer). The 42 pound (19 kg) VanMoof bikes also weigh significantly more than the 26.4 pound (12 kg) Eeyo 1S, while costing less than half as much.
Until recently the Eeyo was only available in the US but it is now rolling out in continental Europe too.
Ezee
Ezee are one of the longest established manufacturers of geared hub motors with a reputation for making powerful hub drives. They also make their own brand e-bikes as well as selling Ezee hub drive systems as retrofit kits. They make some interesting own brand machines including the incredible tilting e-trike the Longabike:
Where are Hub Motors Going?
A few years ago it seemed almost as if the writing was on the wall for hub motors. There was intense competition and numerous launches in the mid-drive sector as bike manufacturers became enamored with ever more powerful and ever lighter mid-drives coupled, leading to hub motor manufacturers like BionX and Go Swissdrive entering liquidation. Now, as mid-drive technology seems to have plateaued somewhat, small light hub motors are springing up on light e-bikes everywhere and have given a new lease of life to hub motors. And systems like the Van Moof and the Eeyo perhaps point the way to a new generation of connected, ultra-smooth, and lightweight hub motors. Also on the immediate horizon is the new hub motor system from established bike industry player FSA.
With the hub motor resurgence, the future of e-bikes now looks even more interesting.
Stay tuned for more e-bike news and reviews and thanks for reading!
-Rich
Reader Interactions