Hub Motor Brands: The Complete Guide
Hub Motor Types, Brands, and the E-Bikes That Use Them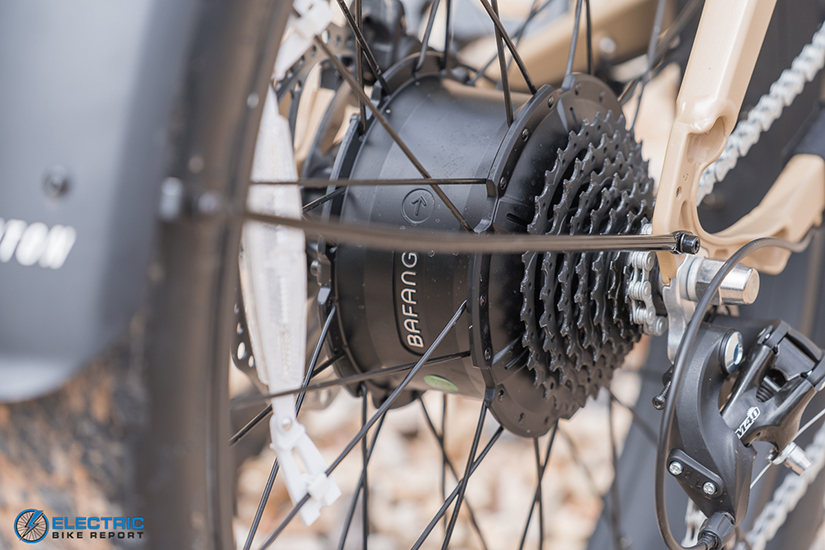 All consumer-ready e-bikes provide assistance to their riders through either a mid-drive motor or a hub motor. While mid-drive motors are placed centrally at the bottom bracket and tie into their e-bike's cranks, hub motors – as their name suggests – are mounted at the center of either the front or rear wheel. We'll focus on the latter type in this complete guide to e-bike hub motors; read on to learn the differences between types of motors, and keep scrolling to examine some of the best hub motors on the market!
At the present time, electric hub motors are much more affordable than mid-drives, and are subsequently much more prevalent. Additionally, hub motors are often much lighter than their cousins, and make practical additions to urban e-bikes or folding frames that need to be carried often. They also function well in conjunction with belt drives and internal gear systems that are nearly maintenance-free. In fact, you'll find hub motors on some of the best electric bikes we have had the pleasure of reviewing.
Mid-drive motors, on the other hand, have a reputation for being more efficient and responsive than hub motors – though hub motor technology is improving constantly and coming ever closer to bridging the gap. Mid-drives are also known for their ability to replicate or approach the feel of non-electric bikes. They are, however, much more expensive, and as such are most commonly found on higher-end models.
The topic of e-bike motors is complex enough that we have a separate guide to mid-drive motors. In this article, focused exclusively on e-bike hub motors, we will dive into the most common manufacturers, discuss some of the best e-bike brands who use their products, and also cover some unique one-offs.
Rev your engines and get ready to read!
Hub Motor Types
We discussed the two main types of motors already, but when looking closer at the category of hub motors, the subject can be divided even further.
Front Hub and Rear Hub Motors
The first sub-category of hub motors is divided by their placement – either in the front or rear wheel hub. There are a few e-bikes out there that use dual (both front and rear) hub motors, but these tend to be special cases. The vast majority of e-bikes with hub motors have them mounted on the rear wheel. These types are known to give their riders the feeling of being pushed from behind, though this characteristic is often subtle and easy to get used to.
Front-hub motors, however, offer the opposite experience; the feeling of being pulled along. These have an advantage over rear-hub motors in that they are often smaller and lighter, but they can suffer from a tendency to lack traction.
Geared and Direct Drive Motors
Regardless of their placement, hub motors can transfer power to drive their e-bikes in two different ways, and so have two further divisions or sub-categories; e-bike hub motors can be either direct drive or geared. We have a full article that goes into detail about direct drive and geared hub motors, but a brief mention of their distinctions is appropriate here.
In a nutshell, geared hub motors use a system of internal gears that drive (and turn) the shell of the motor. These are the most common type of hub motor, and are typically smaller, lighter, more efficient, and better at climbing hills than direct drive motors. They are also less expensive.
Direct drive motors are gearless, and use magnets to turn their shell, which is an essential part of the motor itself. Direct drives are larger and heavier, but are quiet and incredibly long lasting. Direct drive motors are also typically most efficient when operating at high speeds, and so are most often used only on Class 3 (speed pedelec) e-bikes.
Torque and Cadence Sensors
All e-bike motors require input from a sensor in order to provide assistance appropriately. There are two types of sensors used with e-bike motors: either torque or cadence. Usually, just one type is used at a time, but some e-bikes use a combination of both.
Cadence sensors are the most common variety used with hub motors. Again, they are also less expensive. These require only that the pedals be moving in order to activate their motor, and as such are less efficient than torque sensors that rely on rider input. Responsive cadence sensors can trigger motor assistance after only a quarter-turn of an e-bike's cranks, while slower versions take a half or even up to a full turn.
Torque sensors are less common and more expensive than cadence sensors, but generally regarded as better. They are also more efficient, because they sense how much effort the rider is choosing to give (or HAVING to give, depending on gearing, terrain, etc), and respond accordingly. We often say that they allow the motor to meet the rider halfway at whatever level of effort they choose.This allows torque sensors to provide a level of responsiveness similar to that of a non-electric bike – a feature that, when combined with a mid-drive motor, adds to its already natural feel. For this reason, they are most commonly paired with mid-drives, though the technology is becoming cheaper, and seen more often with hub motors. For example, we have appreciated seeing torque sensors on the updated lineup of Aventon e-bikes.
Popular Hub Motor Brands
While we will provide information on some of the largest hub motor manufacturers out there, the full list of them is far too long for this article already, and continues to grow rapidly. The companies on this list produce some of the best hub motors on the market.
Bafang
Previously known as Suzhou Bafang (due to their home office in the city of Suzhou near Shanghai) and 8Fun, Bafang is arguably the largest manufacturer of e-bike hub motors in the world. They are well-established at this point, having been established in 2003. The company's philosophy is a commitment to quality and innovation. While their main manufacturing center is located with their home office in China, the company has a dedicated mid-drive motor factory in Poland, as well as sales and service centers in the USA and across Europe.
In addition to producing motors, they also manufacture batteries, sensors, controllers, and HMIs (human machine interfaces – displays and button pads) for e-bikes, as well as a range of products for electric scooters. At the time of writing, Bafang offers roughly a dozen models of rear hub motor ranging from 250W to 1000W, nearly as many mid-drives, and a handful of front hub motors.
Due to their quality and affordability, Bafang products have been used on a massive range of e-bikes; from small startup companies to large name brands like Pedego, Juiced, Aventon, and Charge.
Shengyi
The Suzhou Shengyi Motor Company, usually shortened to just Shengyi, is another large and well-established company with a home office and development center in Suzhou, China. Founded in 2003, the company surpassed sales of over 800k units in 2020, and by now is likely to be approaching 1 million (if they have not passed that mark already). Shengyi has manufacturing facilities in Suzhou and Taiwan, and sales offices in Germany and Tianjin, China.
In addition to both mid-drive and hub motors for e-bikes, the company builds other motors for electric scooters and motorcycles. Currently, they have a lineup of over a dozen rear hub motors, around 10 front hub motors, a few mid-drive options, and a couple of brushless single-piece wheel units with integrated motors. These range in output from 180W up to 1000W.
Shengyi products have been found on e-bikes past and present from globally-recognized companies such as Giant, Rad Power Bikes, MFC, and Aventon.
Dapu
Dapu, also known as the Chuo Bussan Group, is a Japanese-owned company with over a decade of experience in producing e-bike components. They place a focus on making durable, powerful products with precision. Dapu has manufacturing plants in Japan, China, and Vietnam, which supply e-bike companies in the US and Europe.
Like Bafang, Dapu's portfolio is diverse. They focus exclusively on e-bike products, but currently produce an expansive selection of front and rear hub motors, torque sensors, HMIs, controllers, and a few mid-drive models. Dapu's catalog of nearly 20 motor models range from 250W-1000W of output.
Well-known e-bike brands such as Pedego and Evelo have used Dapu products.
MXUS
Founded originally as the Changzhou Huayuxinfeng Motor Company in 1996, this manufacturer began to focus on e-bike products in 2004. They later changed their name to the Changzhou MXUS Import and Export Company, and have since expanded throughout Asia, Europe, and both North and South America.
MXUS offers a wide range of products for both e-bikes and e-scooters. Their full catalog of e-bike components includes batteries, chargers, controllers, HMIs, throttles, and even cargo racks. When it comes to motors, the company focuses exclusively on producing front and rear hub systems. They have a total of over 25 models between the two types, in both geared and direct drive models. Interestingly, MXUS makes one of the most powerful hub motors available; their products range from 180W of output all the way up to a staggering 5000W system.
MXUS products have been seen on e-bikes from the Electric Bike Company and other brands.
Other Manufacturers
The Taiwan-based company TranzX makes a full range of e-bike components – nearly everything but frames. They offer a small selection of motors (two hub motor options and two mid-drives), some of which have been found on Raleigh folding e-bikes and models from Diamondback, Bergamont, and Lapiere.
The Aikema Electric Drive System Company, or just Aikema, is a Chinese company with a respectable selection of motors and other components. They are partnered with some recognizable names like Ampler, MAHLE (see below) and VanMoof.
A German-based manufacturer called Neodrives produces paired motor / battery / display systems that have been used with some Pegasus, Raleigh, and Rennstahl e-bikes.
Another Taiwanese manufacturer, TDCM produces e-bike hub motors as well as components for the automotive, EV, and medical industries. Their products have been used by Brompton, Stromer, Flyer, and in bike ride share programs from Lyft.
SR Suntour is originally a Japanese company known primarily for their magnesium suspension forks. Their three models of HESC (Human Electro Synergy Components) hub motors have been used with Carrera e-bikes and other brands.
Unique Hub Motor Brands
As opposed to the ubiquitous, previously mentioned large-scale manufacturers, the companies in this next section stand out due to their tendency to approach things differently.
Karbon Kinetics / GoCycle
In 2002, Karbon Kinetics was founded by Richard Thorpe, with the goal of creating the perfect e-bike. Thorpe combined cycling passion and design experience from his history as a designer of McLaren racing components to create the GoCycle. The first generation of this lightweight, folding e-bike was released in 2009, and was designed to be elegant, fun, and highly functional. Since then, the company has continuously released updated models that frequently set new standards due to their fast folding, inclusion of bluetooth technology, and their use of innovative materials and manufacturing methods.
One of the core elements of the GoCycle in its current iteration is its proprietary G4drive front hub motor. This 500W unit is tiny and unobtrusive, but packs a surprising amount of power for speed and uphill travel. We loved the motor's performance when we had the chance to review the GoCycle G4 – and due to its proprietary nature, it's only available on this specific e-bike.
MAHLE
As a division of the MAHLE Group, which focuses on the development of automotive technologies and components, MAHLE SmartBike Systems designs both hardware and software for use by e-bike owners, dealers, and manufacturers. MAHLE is based out of Palencia, Spain, and prioritizes innovation in their cutting-edge products, with the goal of making transportation comfortable, efficient, and environmentally-friendly.
While they manufacture components like batteries, chargers, shifters, and displays, all of these elements are designed to be used exclusively in conjunction with MAHLE's limited selection of two drive systems, the X20 and X35. Both of these rear hub motors are extremely small and lightweight, and all of their unobtrusive components are designed to fit seamlessly into an e-bike's frame. In fact, MAHLE advertises the X20 system as the lightest drive system on the market.
The X35 was originally manufactured by Ebikemotion prior to MAHLE's purchase of the company in 2018. It is still sometimes referred to as the Ebikemotion X35 for this reason.
Considering their high-performance nature and intended use with electric mountain, urban, gravel, and road bikes, MAHLE products can be found on more sophisticated models from BMC, Orbea, Cannondale, and SCOTT.
ZEHUS
Owned by an automotive technology company called Eldor Corporation since 2019, ZEHUS is able to leverage international development and manufacturing resources to produce innovative EV, e-scooter, and e-bike drivetrains.
Prior to 2023, the Italian-based ZEHUS were known solely for their cable-free BIKE all-in-one system that combines a motor, battery, sensors, and Bluetooth connectivity in a single package. This 250W system provides 40 Nm of torque, and can travel a minimum distance of 35 km / 22 miles in Turbo mode, or a maximum of 60 km / 37 miles in Eco mode. It is available in a single speed version, as well as a cassette version with either 4, 7, or 9 gears.
At the CES in 2023, the company unveiled an upgraded version called BIKE+ with a claimed unlimited range, thanks to the unit's Kinetic Energy Recovery System (KERS) that uses regenerative braking when backpedaling to recharge the battery.
ZEHUS systems are primarily found on European e-bikes such as those made by Cooper Bikes, Neomouv, and Hummingbird.
Globe / Electra / Volt / VanMoof / Velotric / Etc.
These names are listed together due to the fact that they likely all have a similar approach: partnering with one of the larger, previously mentioned companies for the production of their own proprietary systems. We say "likely," because in the case of Globe (which is a subsidiary of Specialized), VanMoof, and Electra (which is owned by Trek), details about their motor manufacture are not readily available through their respective websites. With Globe, this is more understandable, since (as of the time of writing) details about their first e-bike are still scarce. Electra, on the other hand, advertises their use of Bosch mid-drives, but their less expensive line of "Go!" e-bikes use proprietary rear hub motors.
Other brands are more open about their partnerships, such as Volt's pairing with Bafang for the production of their SpinTech rear hub drive system. Similarly, Velotric – while keeping the name of their specific manufacturer to themselves – have been up-front about a partnership in developing their proprietary Velopower motor.
E-Bike Motors with Custom Branding
Separate from the partnerships previously mentioned, it is worth noting that many motor manufacturers offer custom branding services with orders of significant quantities. For this reason, it can be difficult or impossible to discover the manufacturer of a motor that displays an e-bike brand name instead of a manufacturer's stamp, and also difficult to discern such a motor's quality. Some may be made by reputable companies like Bafang, while others could just as easily be made by a small startup offering low-quality parts.
Hub Motor Conversion Kits
While far less popular now than in the early days of e-bikes (due most likely to their increasing availability and falling prices), conversion kits used to turn a non-electric bicycle into an e-bike can be an affordable solution and can also allow a favorite bike to get more mileage. The aforementioned Bafang offers conversion kits, but there are still some smaller, more unique contenders in the game as well.
Swytch
Swytch was founded in 2017 with the goal of converting drivers into cyclists by expanding the accessibility of electric-powered transportation. They also place a focus on sustainability. The UK-based company began through a highly successful Indiegogo campaign for their Swytch Kit, then released a second-gen model in 2019 using the same approach. Swytch currently has over 60,000 customers worldwide.
At the time of writing, Swytch makes two conversion kits – one universal model, and another specifically designed for folding bikes. Each system uses a 250W geared front hub motor in conjunction with one of two battery pack options that are scarcely larger than a smartphone. One pack offers up to 15 km / 9 miles of range, while the MAX model can power the motor for up to 30 km / 18 miles. Swytch Kits are available in nearly every wheel wheel size, and are compatible with both disc and rim brake systems.
Bimotal
In 2019, Bimotal was founded after its CEO experienced a skiing accident that left him unable to climb steep hills when mountain biking. The San Francisco-based company set out to produce a lightweight and easily removable drive system to enable healthier lifestyles. Bimotal's founder, Toby Ricco, is an engineer with experience at Tesla, and the company employs a team of other engineers with Formula 1 and aerospace backgrounds.
Bimotal's single product, the Elevate, is technically not a hub motor, but we feel it's close enough to warrant discussion on this list. Instead of having a fixed placement at the center of the wheel hub, the Elevate is a removable system that mounts to a non-electric bike's externally-mounted disc brakes (though it is not compatible with all frame designs) with the addition of a special brake rotor/cog system. It is a 750W motor that produces between 50 and 100 Nm of torque, and can provide a range estimated between 15 and 30 miles. Additionally, it has been designed to attach or be removed in seconds. The unit's stealthy cylindrical battery has an appearance similar to a water bottle and mounts to the bike's frame with the use of a cage.
The company also has a mid-drive system in development with even greater torque for a better eMTB experience.
SmartBikeWheel
Like the ZEHUS system covered previously, the SmartBikeWheel is an all-in-one system, though its hub shell is significantly larger. The reason is simple; instead of a torque or cadence sensor, the front hub system uses an internal gyroscope and tachometer to sense changes in terrain and provide assistance appropriately. This SmartAssist technology, in combination with Bluetooth connectivity and an internal battery providing roughly a 35-mile range, makes the SmartBikeWheel functional, affordable, and user-friendly.
In our review of the SmartBikeWheel, we were seriously impressed by the system's power and performance; it rivaled and surpassed that of many entry-level e-bikes we have tested.
Hub Motor Brands and Quality
When purchasing an e-bike, the more you can learn about the motor the better, and like with most products, a recognizable brand name can help inspire confidence. While it is possible for smaller start-up companies to innovate and create good-quality products, the brands listed here are well-established and well-known, and their products have a demonstrated history of quality and performance. Custom labeling can make this difficult, and for this reason, we will always try to dig deeper than a model's marketing typically goes when we review an e-bike.
If you want to learn more about e-bikes and what separates the good from the bad, take a look at our Electric Bike Buyer's Guide.
Reader Interactions