Accessory Roundup: Showers Pass Waterproof Backpack, Arkel Rollpacker 25 Seatbag, Mio Cyclo GPS [VIDEO]
Time for a look at some new bike accessories that can make your eBike ride safer, more comfortable, convenient, and fun!
In this roundup we have the:
Showers Pass Utility Backpack
Arkel Rollpacker 25 Seatbag
Mio Cyclo 210 GPS
Waterproof cyclists' backpack
Price: $214 USD £165
The Showers Pass Utility backpack is unusual in that it is a fully waterproof bag with plenty of pockets.
Bags with this 'welded' type of construction tend to lack pockets as they are tricky and expensive to add, but Shower Pass's Utility backpack does a great job of pulling it off.
A layer of thermoplastic polyurethane (TPU) is bonded to an inner layer of nylon, meaning the resulting material feels tough but flexible.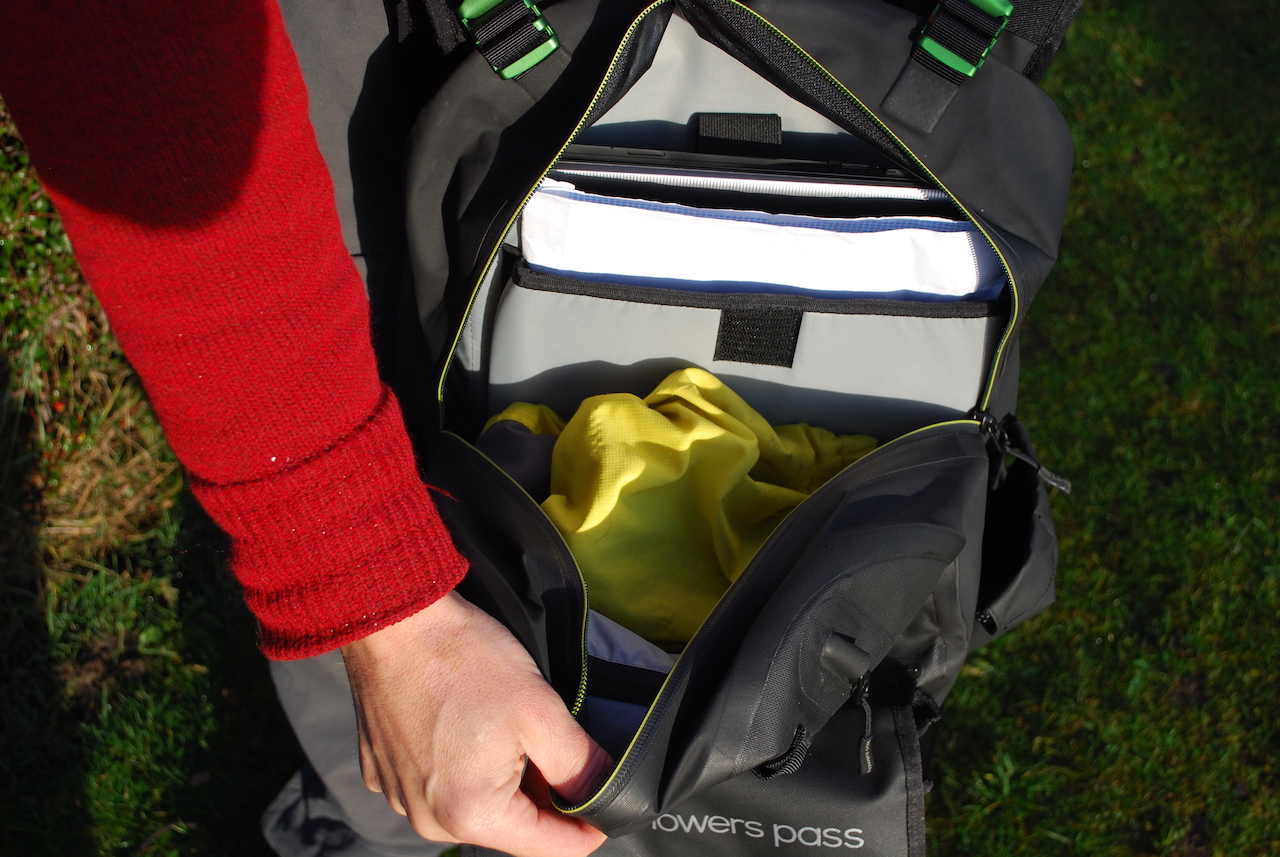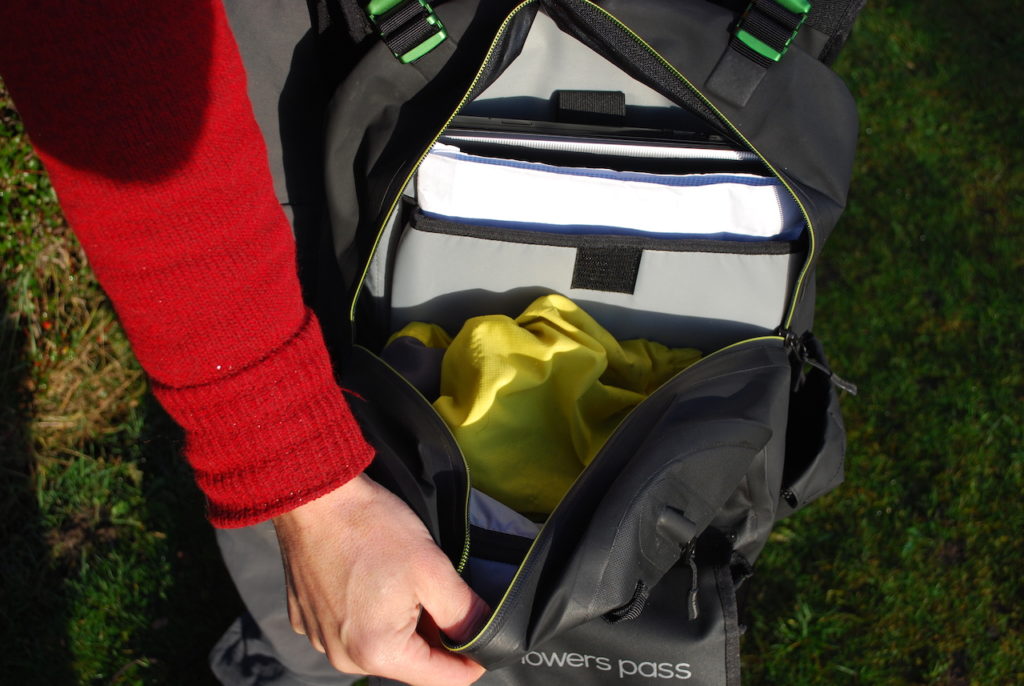 Inside the two main pockets have a soft, padded lining on one face, the larger of which just accommodated my 15" screen laptop and the smaller of which is designed to take a 10" tablet.
There's then a main storage area and two smaller pockets, making this a great bag for commuting to an office job in all weathers.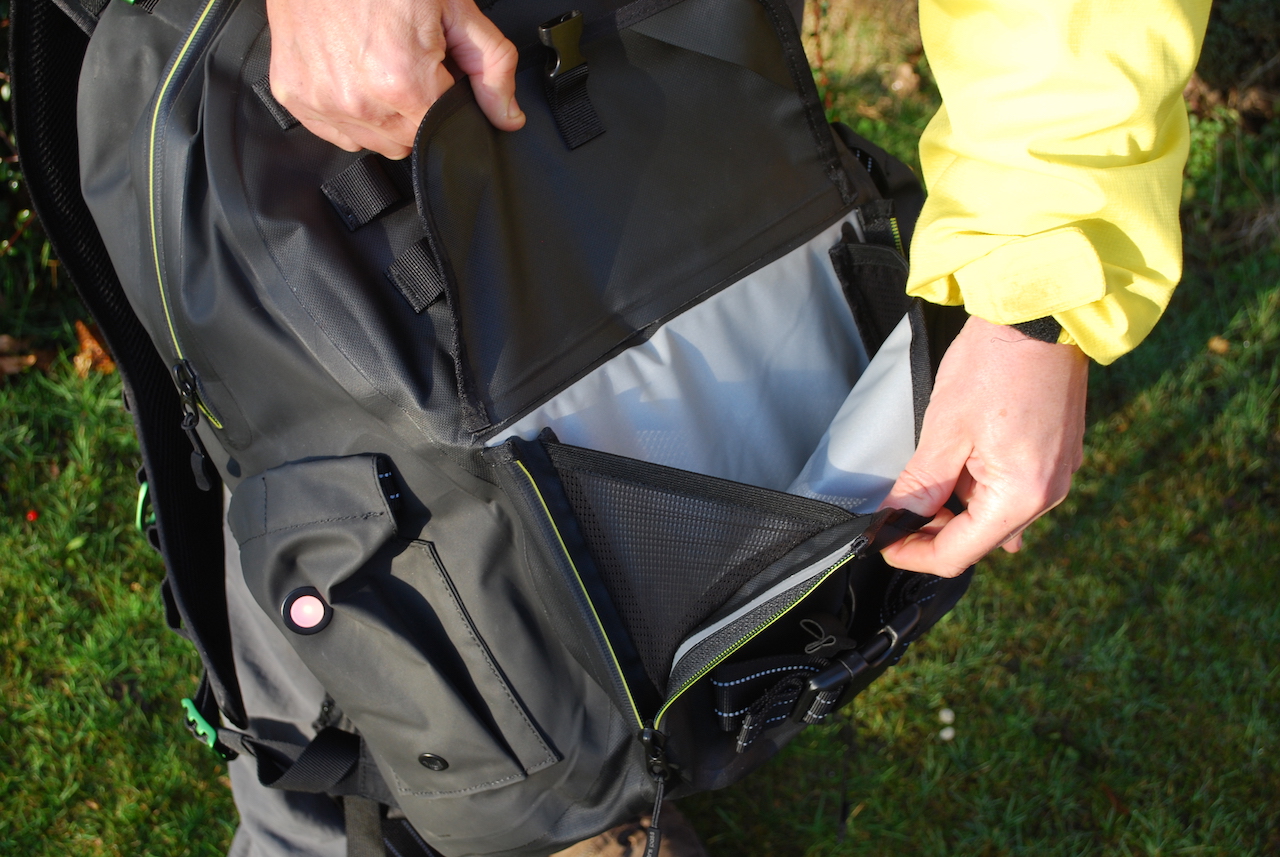 On the outside there is an expandable rear pocket and two side pockets that will take a couple of water bottles or similar shaped objects (neither are waterproof but they do have drainholes) plus a couple of smaller zipped nylon bags on the waiststrap itself.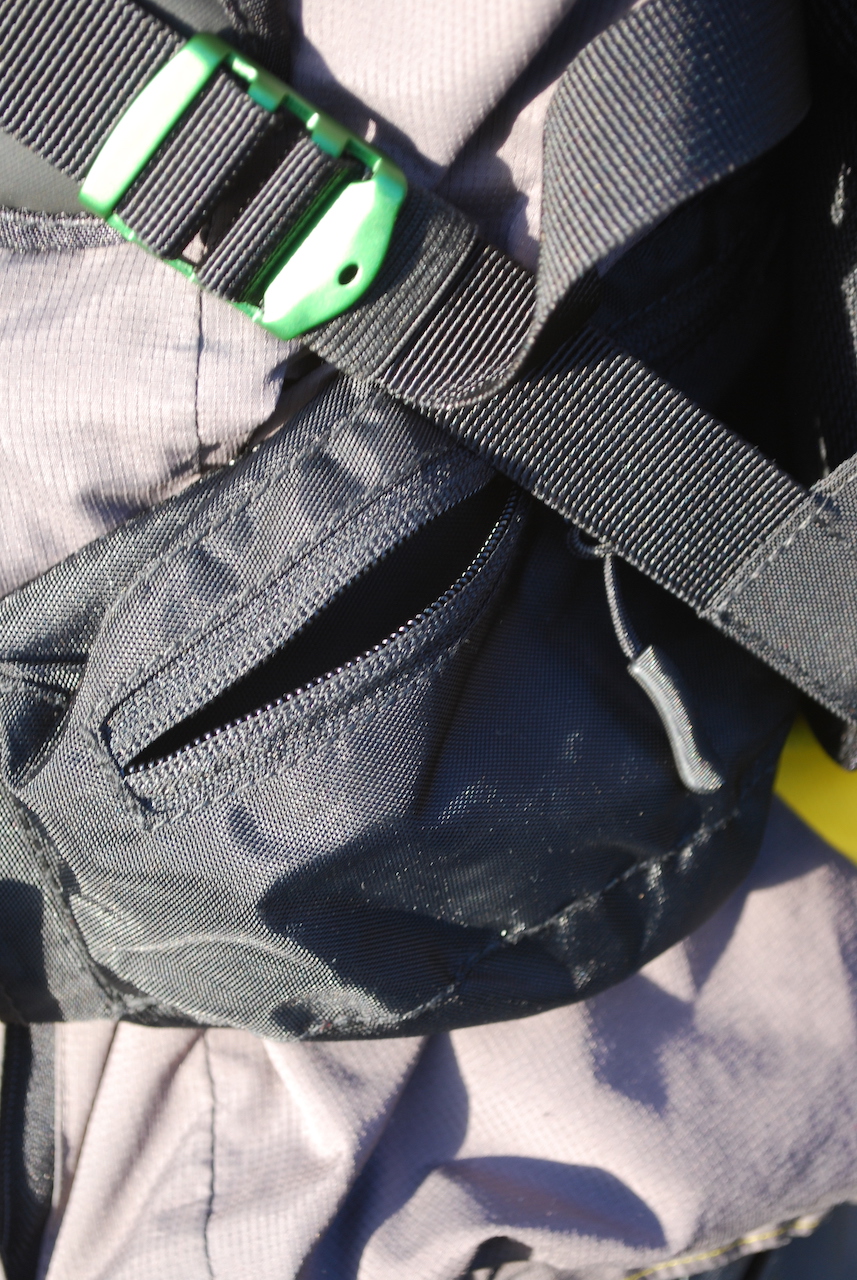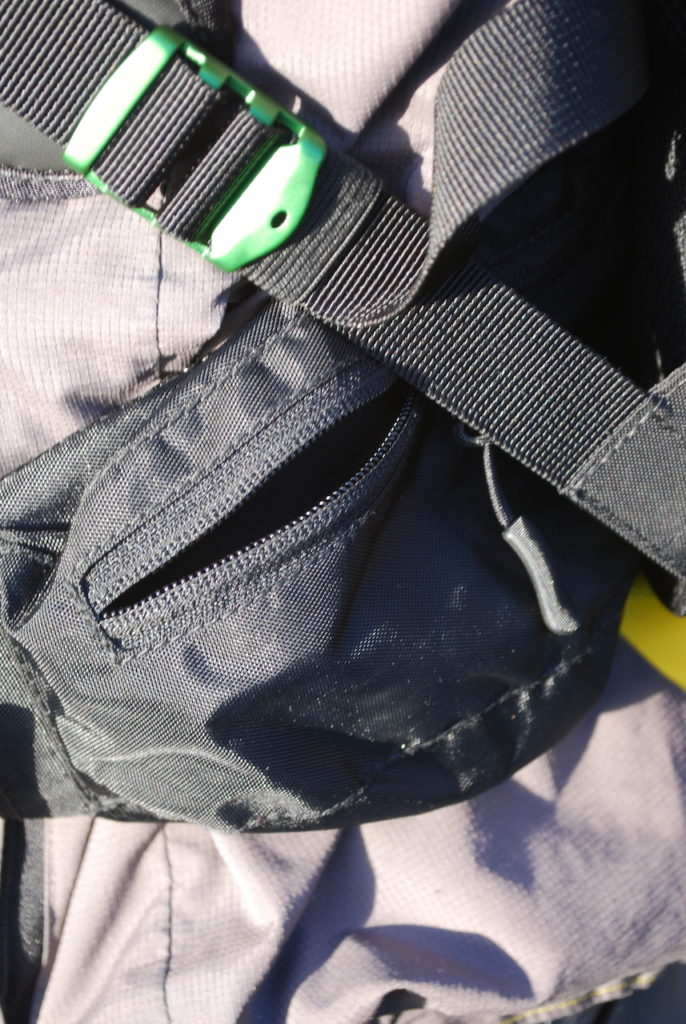 There is a smaller soft-lined compartment with waterproof zip above the expandable pocket and even a hydration bladder pocket.
There's a ton of webbing for attaching a myriad of lights, locks and other paraphernalia to and four grommet holes let you inset four red LEDs into them (LEDs supplied with the bag) and these are powered by replaceable and widely available CR2032 'button' batteries.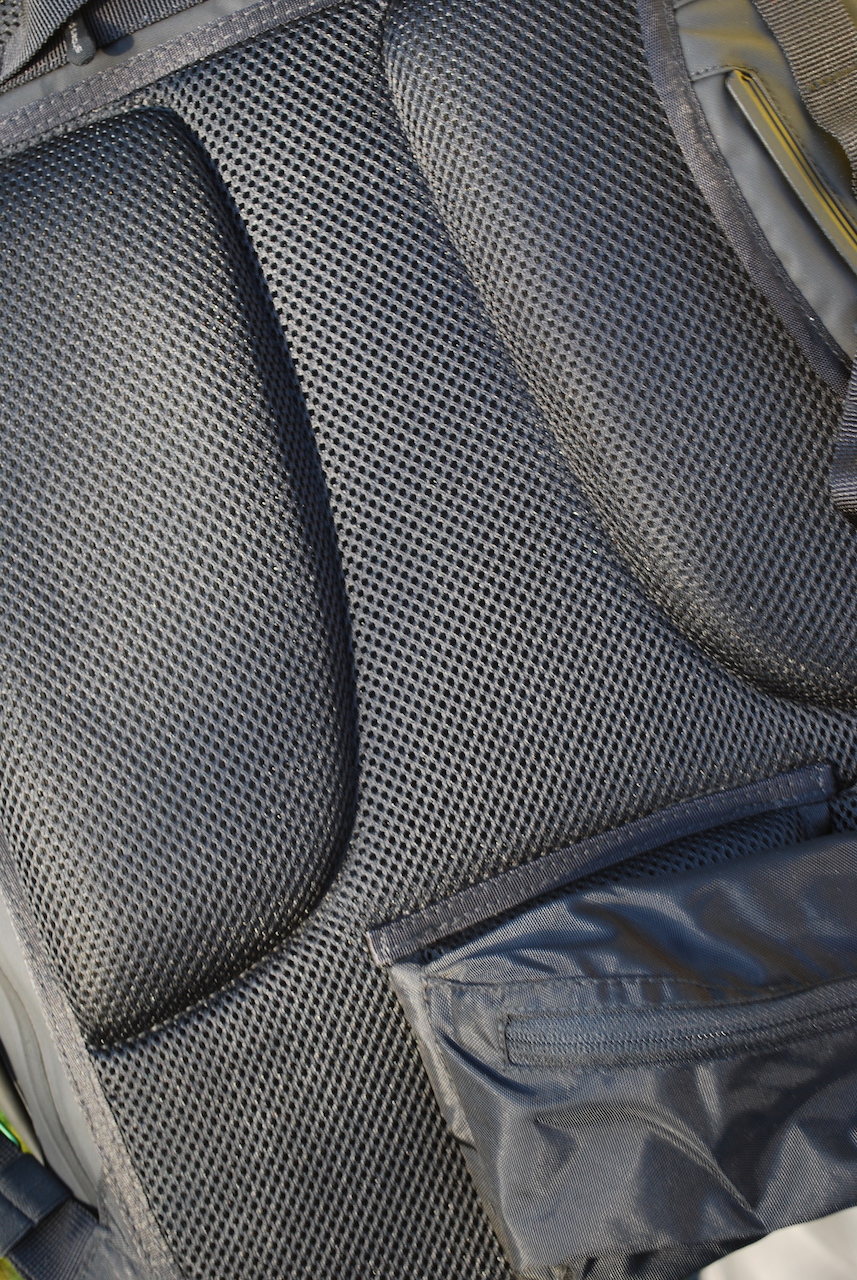 I found it really comfy to wear thanks to a combination of the padded mesh surface which rests against your back and the chest and waist straps which keep the bag snug to your body and stop it sliding about
It's already survived a couple of wintry showers without any sign of water ingress too.
It is sized at 37 wide x 48 cm high x 14 cm deep and weighs circa 1.5kg. Stated capacity is just short of 27 litres.
The only thing it really lacks is a ready made helmet attachment point. It's at the top end of the price bracket for such a bag but it looks like it will really stand the test of time.
Price: $214 USD £165 and more info.
Seatpost mounting 25 litre kit bag
Price: $279.99 USD £236.99
E-bikes (and especially e-mtbs) can be tricky things to fit rear panniers to as they can lack rack mounting points or even when they have racks these can feature oversize tubing that doesn't fit all panniers.
Or you may not want the extra weight of a pannier rack anyway but quite fancy some extra (and quickly addable and removable) carrying capacity.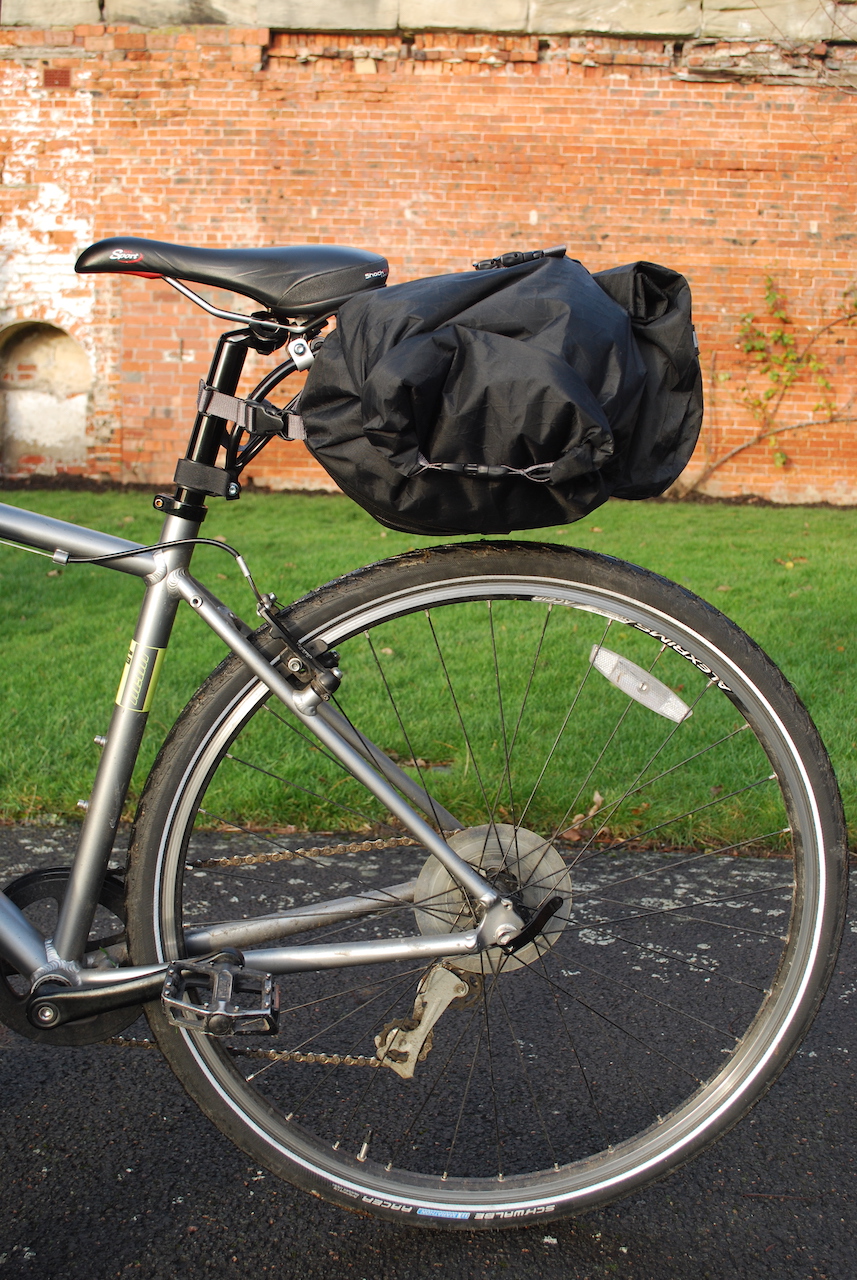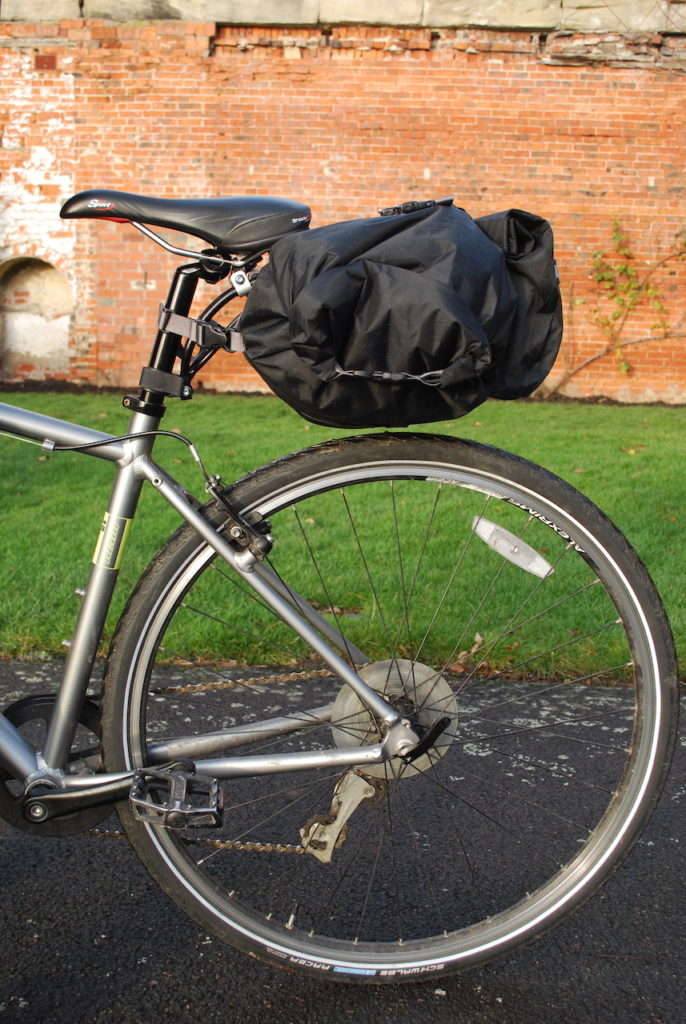 Enter the Arkel Rollpacker 25. If you're not too familiar with bikepacking it's backpacking for bikes!
In other words you can travel light by attaching a series of bags directly to your bike without the need to buy or attach extra racks which obviously have a weight penalty and which as mentioned may pose technical difficulties when being fitted to bikes especially of those not of a standard diamond frame design.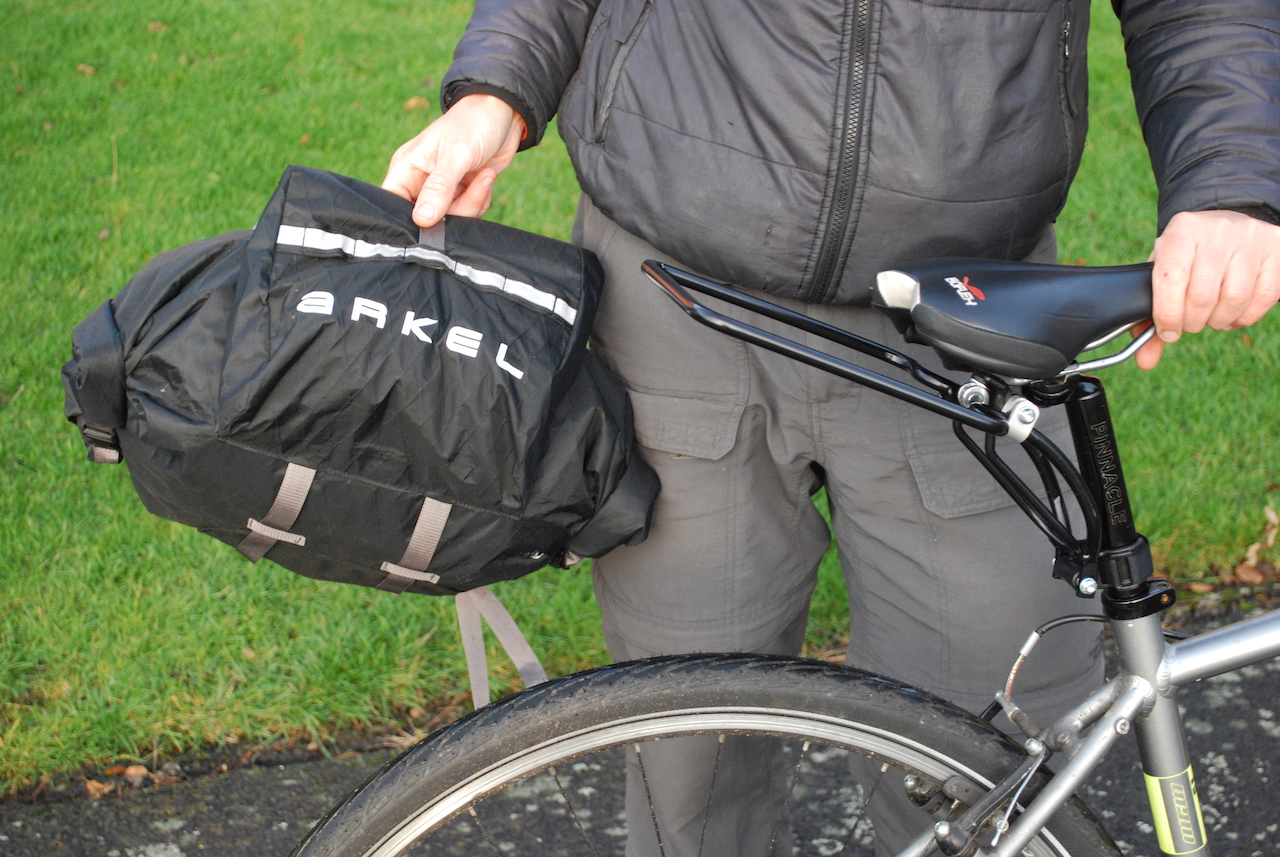 And when you don't want to carry extra gear the bags come off quickly with no weight penalty left behind as is the case with racks.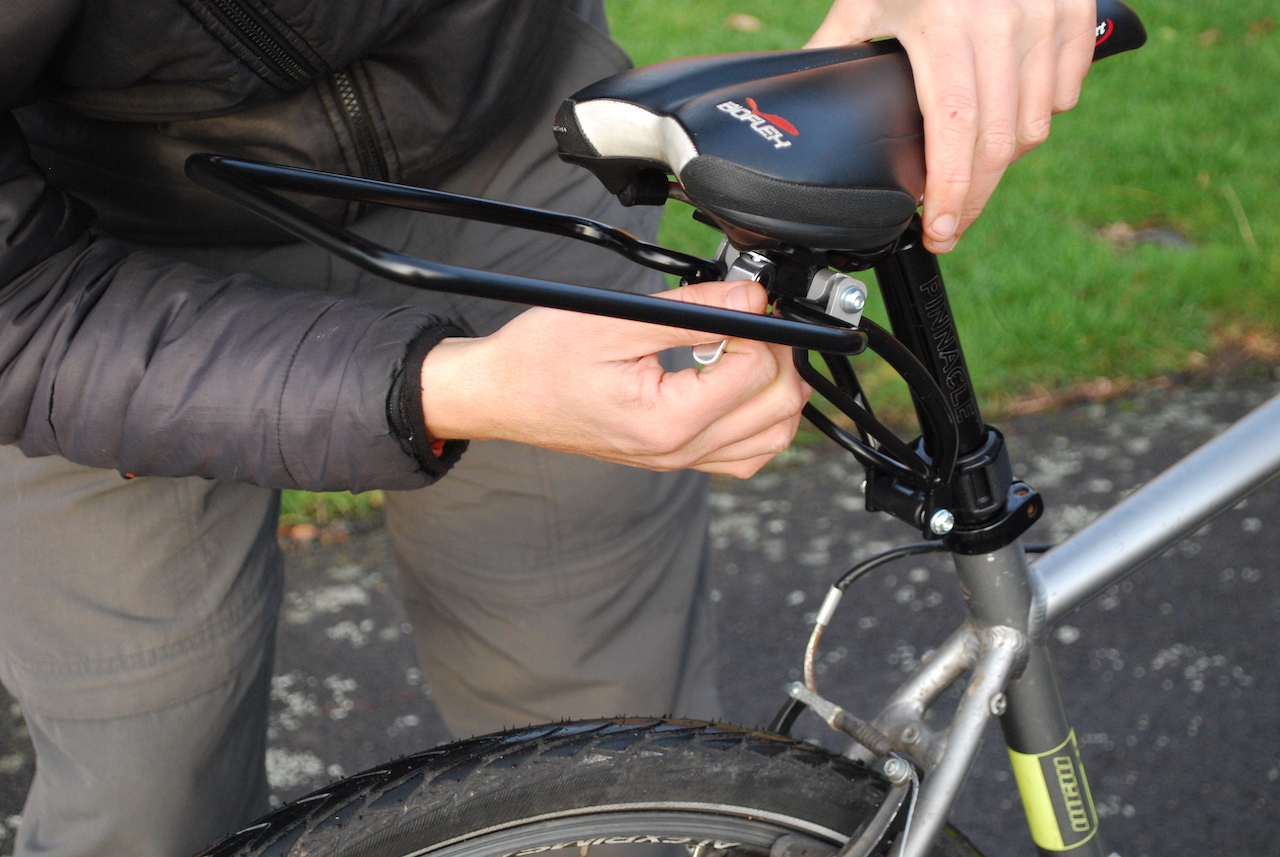 Fitting the Rollpacker 25 proved very simple – just slide on the mounting rack between the seat rails with the allen bolts slackened off somewhat then slide the rack into the appropriate position (ie where you think the bag will clear the rear wheel when hung below it).
Push fit and velcro the collar at the bottom of the rack onto your seatpost. If your seat rails are more than 89mm apart then you will need the extra width adapter.
You then use the quick release lever to 'clamp' the aluminium alloy rack to the rails and tighten up the allen bolts. When you don't need the rack it removes just as quickly.
The bag itself is a 25 litre capacity 'tube' of tough waterproof nylon with rolltop buckle style closings at either end and it slides on to the rack using one of two pockets that allow it to sit either beneath or above the rack (the latter may be necessary on smaller framed, big wheeled bikes where there is insufficient clearance for underneath mounting). Finally you secure three compression straps around the rack and seatpost.
I have always been a bit sceptical of seatbags as I've found they can move around and affect bike handling, especially on corners.
However the Rollpacker 25 was a revelation, as the bag fits snugly onto the mount and stays there with absolute minimal movement.
The mounting rack's three point contact system of two seat rails and seatpost also helps keep the rack itself very stable.
Do be aware it's not a direct replacement in terms of carrying capacity of weight for a pair of voluminous panniers but it is not meant to be; its 7kg rating is meant to appeal to those who want to travel fast and light and especially to those carrying lightweight camping gear, as tents and sleeping bags lend themselves to being stuffed into bikepacking bags.
If you wanted to double the carrying capacity of your bike Arkel also do a 25 litre front bikepacking bag. Like the rear bag this is also rated to carry 7kg.
The Rollpacker 25 may be light but comes with a weighty price tag.
However, Arkel's reputation as a manufacturer of very high quality panniers and bags precedes it and this is effectively a 'lifetime' purchase.
I look forward to testing out the bag further in the warmer months when e-bike bikepacking could well be in the cards!
Price: $279.99 USD £236.99 and more info.
Easy-to-Use GPS navigation unit for cyclists
Available from around £145 online
Few e-bikes come with a built in display with mapping and GPS capability that can 'track' and monitor you and your bike's performance.
Most assume that your smartphone or other third party unit will fulfill the same function – no point 'reinventing the wheel' as it were.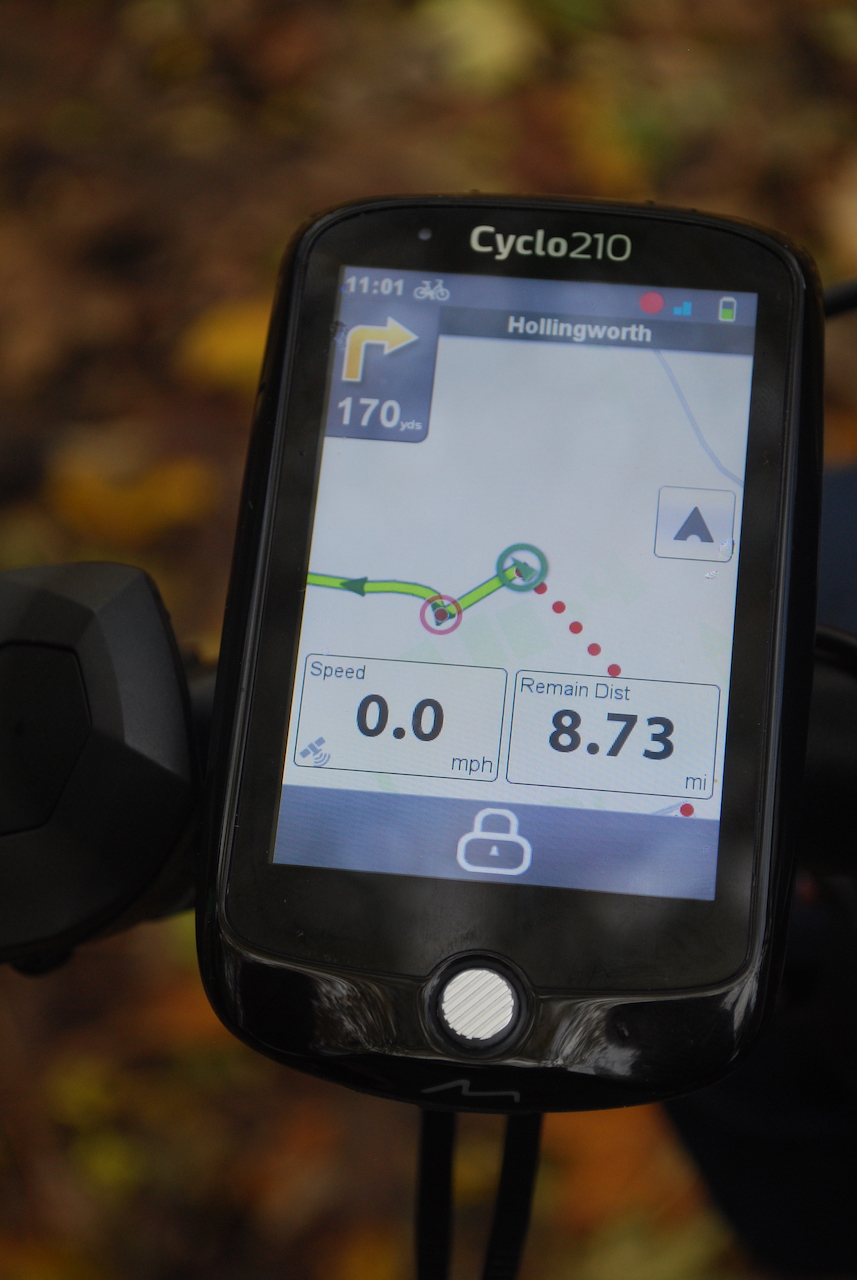 The Mio Cyclo 210 is one such third party GPS unit that is aimed at those who want an easy to use, intuitive GPS unit majoring in making route navigation easy, rather than the performance orientated GPS units that are aimed at fine honing physical performance for road racing types.
It's worth considering that there are several reasons why you might want to carry the extra weight of a cycling-specific GPS unit along with a smartphone, especially in the light of the Cyclo 210's features.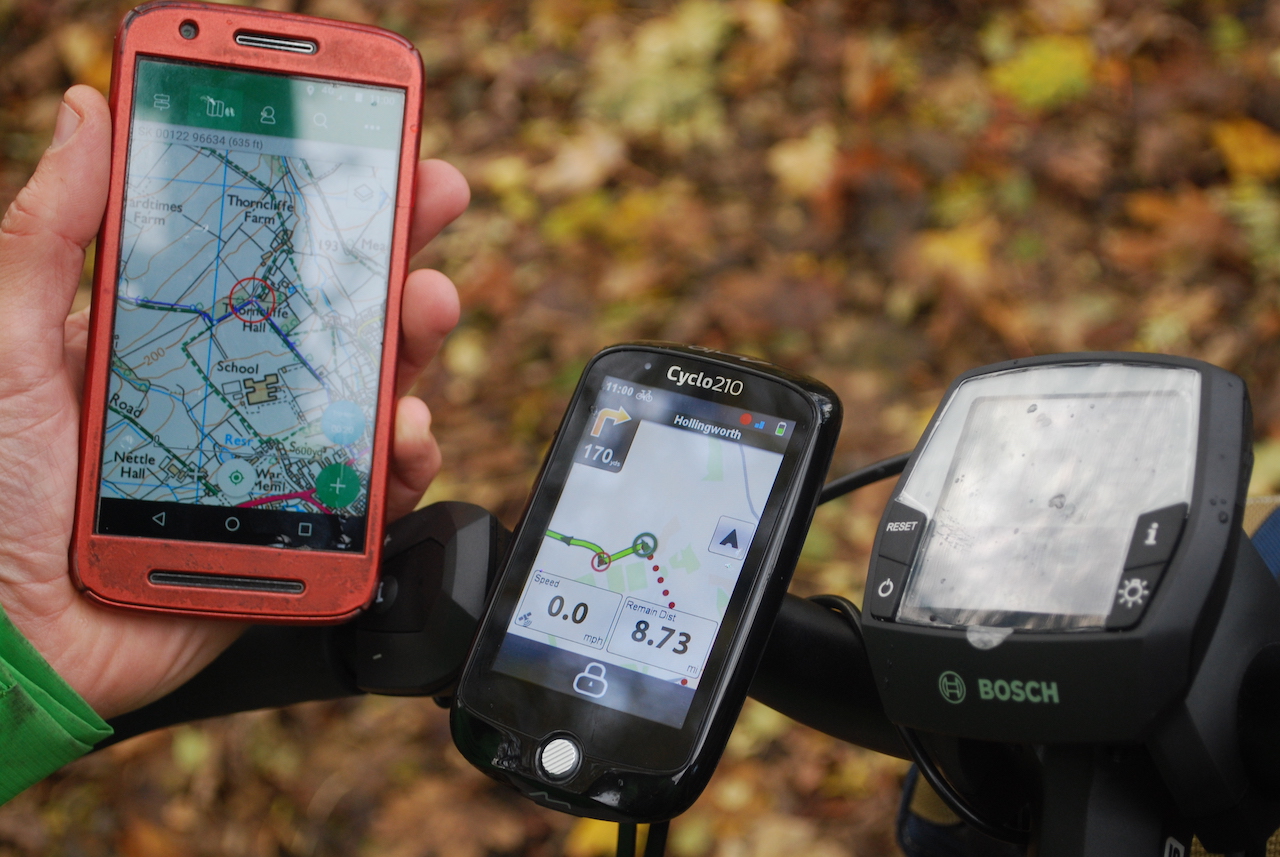 I think it makes sense, and here is why:
Ease of use. This is the big selling point of the Mio series in general and the Cyclo 210 in particular.
There are big icons on the touchscreen and I found it all pretty self-explanatory and easy to get cycling with, straight out of the box.
Smartphones tend to be jacks of all trades and masters of none.
In particular small icons on touch screens can be a problem that make them more difficult to operate on the fly.
Secure mounting. Cycling GPS units come with their own cycling specific mounting systems.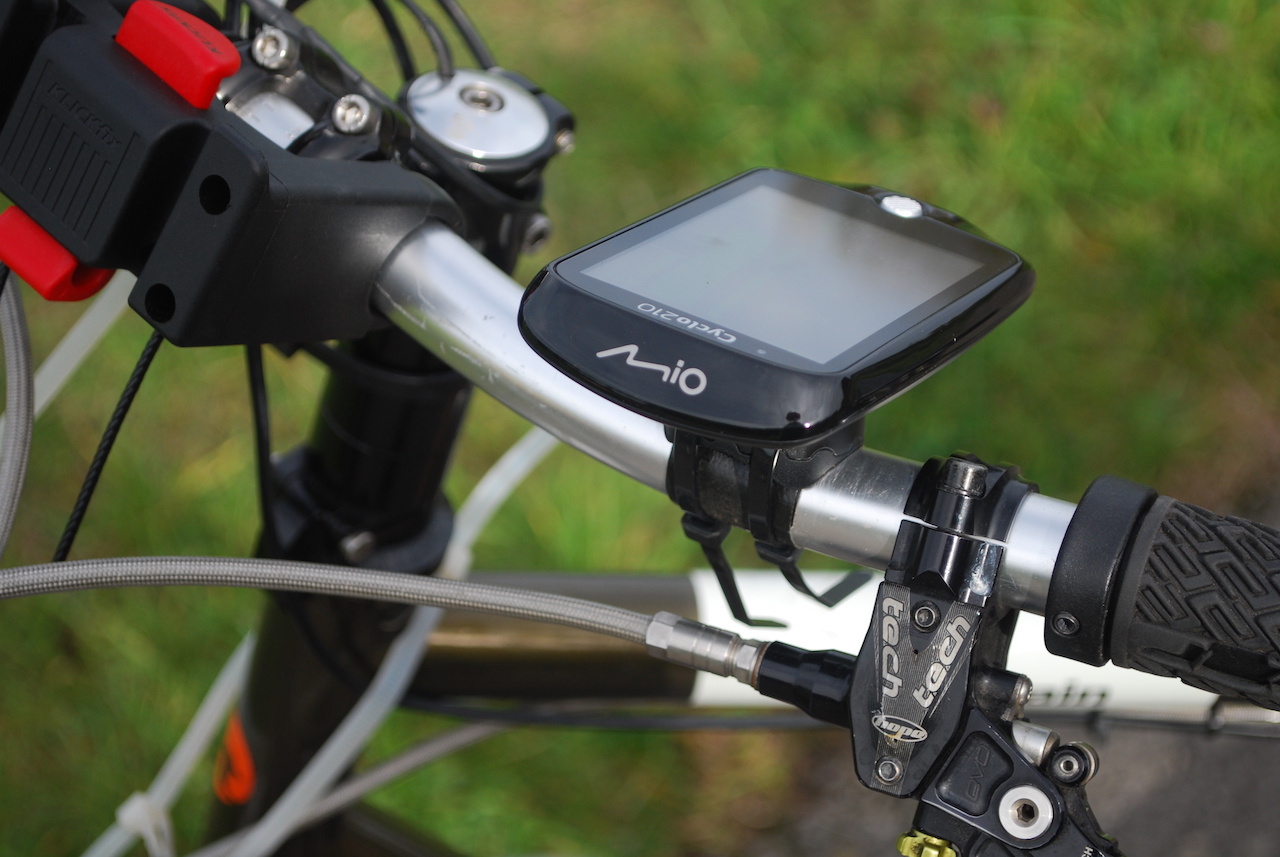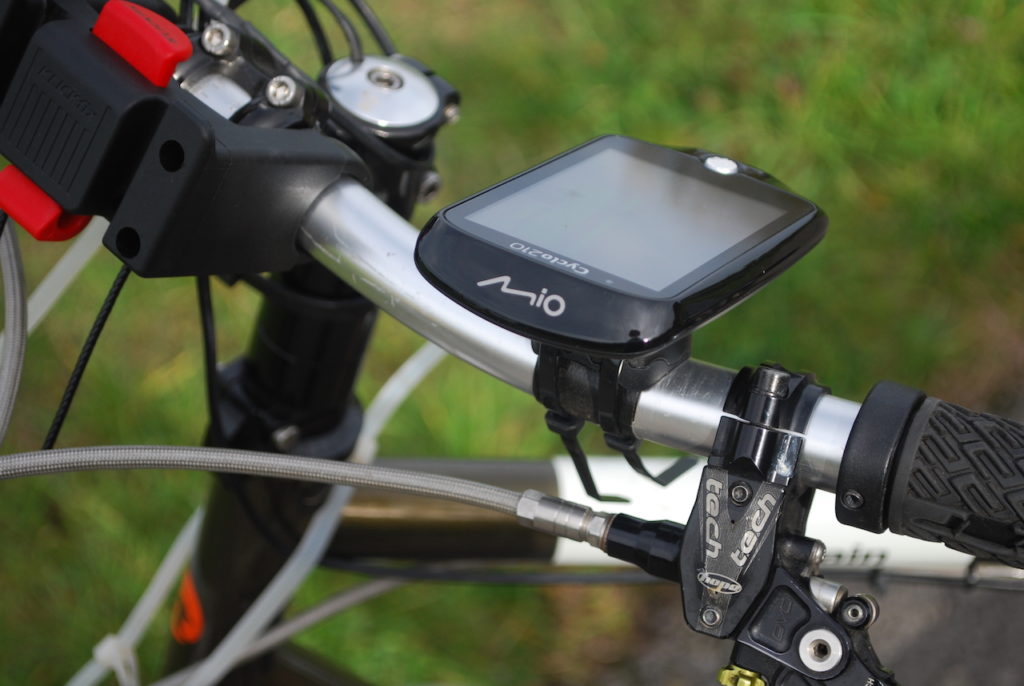 The Cyclo 210 uses a very secure looking quarter-turn mount that is insulated from knocks and bumps by a tight fitting rubber mount.
This system works better than many systems I have seen for smartphones.
Waterproofness. The Cyclo 210 is IPX5 rated, classed as 'protected from water projected from a nozzle' so it should be fine to use in all the heaviest deluge.
Very few smartphones have a good degree of water protection.
Huge map coverage. This unit comes with vector mapping for Western Europe up to and including the Baltic states, Poland, Ukraine and Turkey.
Why risk your smartphone? Today's more sophisticated smartphones can amount to a huge investment.
Why risk attaching it to your bars? I found the Cyclo 210 to be very sophisticated but not at the expense of, well, expense.
I found the Cyclo 210 starting at £145 on the web. A considerable investment but possibly not as pricey as your smartphone.
Stay safe. On a bike tour a life could literally depend on your smartphone. Why risk attaching it to your bars where it's vulnerable? Keep it safe in your pocket.
Battery life. It will prolong the amount of time you can use your smartphone for without recharging it, as not using its GPS function will enhance battery run time.
The Cyclo 210 has claimed battery life of 10 hours which I calculated to be about right.
Functions and Use
The homescreen has a very easy to understand presentation.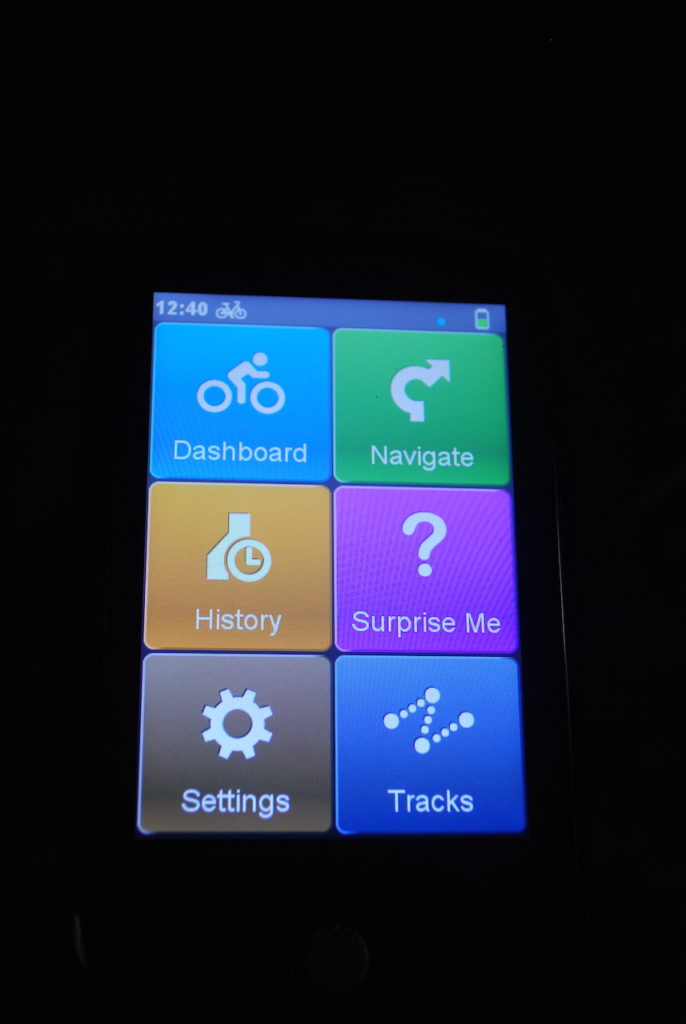 Here's what happens when you tap each of the icons on the homescreen:
Dashboard Screen is the heart of the system as the Cyclo 210 is meant primarily as a navigation rather than a fitness device.
The maps are based on Openstreet mapping and you can zoom in, right down to street level.
The map screen is used for navigating a route (called 'tracks' on the Cycle 210 units, though it's more normal to see them described as routes in GPS parlance). Cycle routes are marked in purple.
The other two screens in the Dashboard area are both grids of data fields and both show a plethora of customisable data fields showing everything from current speed to the grade of the slope you are on and an estimate of the number of calories you have burned on the ride.
Tracks
A list of routes that you have either uploaded or completed by riding and recording with a GPS unit.
The screen shows the route distance and the distance to the route start from your current location.
Once you have selected a track you are presented with a two screens that you can toggle through, one an altitude profile and the other summary data such as distance and total ascent and the other a zoomable map view of the route, handy for checking out the route details without actually starting to navigate along it.
The route itself appears as a green line whilst in the top left is a turn summary icon showing direction and distance to forthcoming turns, car sat-nav style (though there is no voice prompting, only visuals).
Your position is a large circle, so, all in all it's very easy to navigate along your intended route.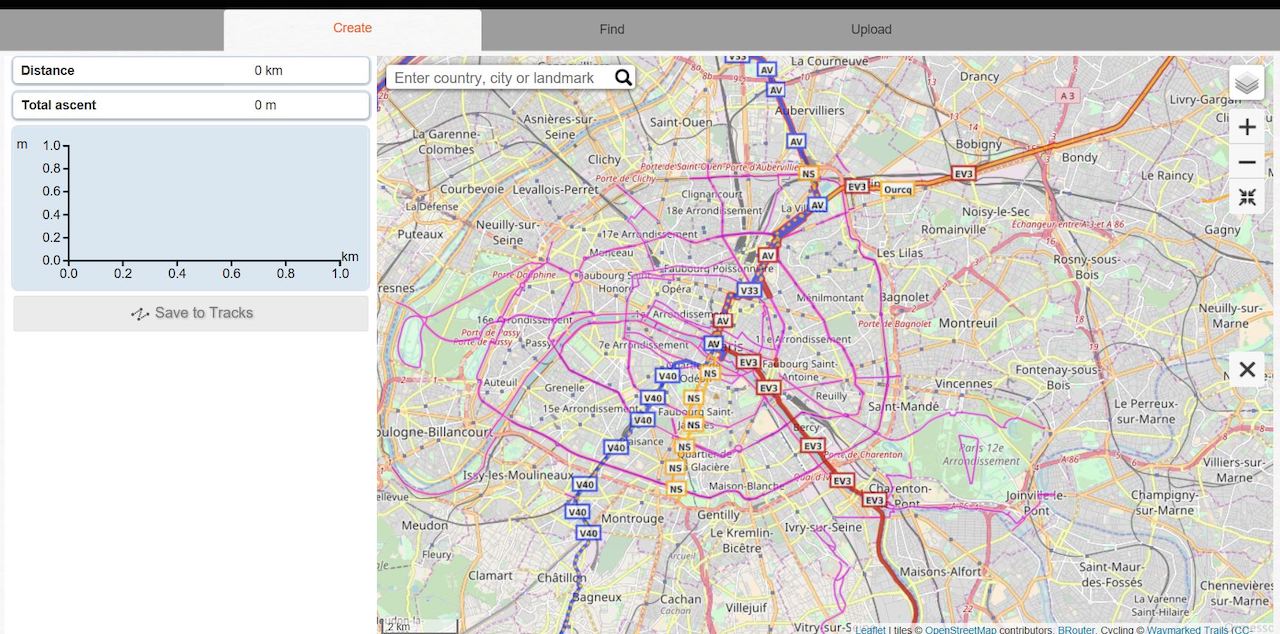 Tracks can either be plotted using Mioshare's own online mapping resource (which also allows for synchronising the unit with your computer and for firmware updates etc), or you can upload GPX files from elsewhere (third party websites or files you have plotted or ridden yourself).
Navigate, Surprise Me, Settings, History
I found myself using these screens much less than the above two, as I tend to have a planned route and follow it, though these extra functions may be useful for you.
Navigate lets you select an address to navigate to using ZIP code / postcode and house number whilst the Surprise Me settings will generate a choice of circular routes of varying difficulty and length from your current location. Setting and History are fairly self-explanatory.
In use on the bike
The mount is a very secure looking quarter turn system that is quick and easy to get on and off the bike and the unit itself feels solid and well-constructed.
The real boon compared to the multitude of navigation apps for smartphones are the turn by turn prompts, which the majority of phone apps I have tried lack.
A small box with an arrow counts down the distance to the next junction and you also get a running total of how much of the current route you have completed.
This is all really helpful on routes you are unfamiliar with, and especially when encountering traffic and you don't want to be paying too much attention to a map and wondering if you are lost.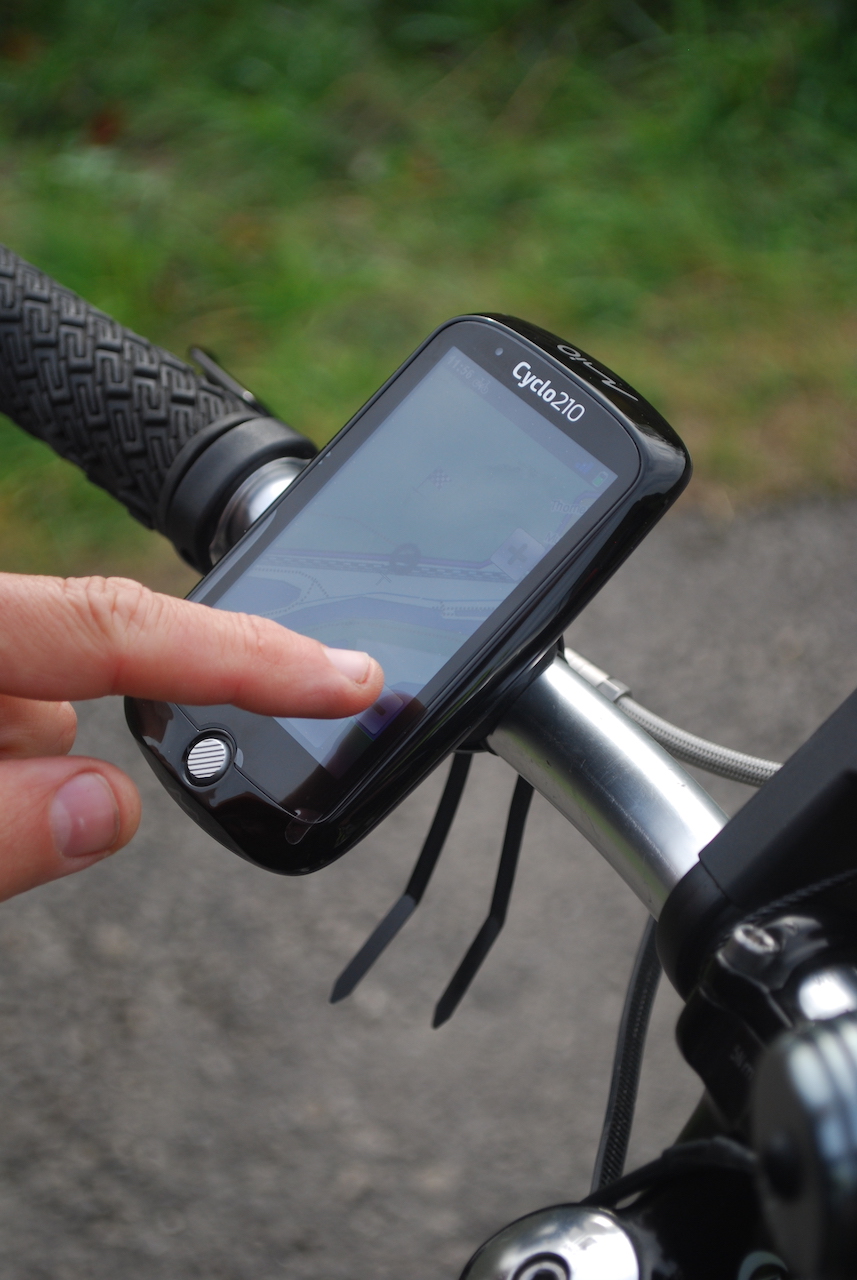 The touch-screen functioning works well, for example allowing you to zoom in or out of the map and to move to other data screens.
I had a couple of niggles. There is some glare from the rather reflective screen which can prove troublesome in strong sunlight (just like any device with a screen) but perhaps more frustrating was the lack of route numbers or names.
So, for example, whilst my local National Cycle Network route was marked on the map with a purple line, the relevant number was not indicated.
This would have been a nice touch just to confirm you are on the right route (official routes are shown on the Cyclo online portal however, some consolation).
Nor will the auto-route finding feature allow you to get to a destination more than 120 miles away, presumably because the unit's processor is not up to the job. If this could be fixed it would be a big improvement.
Summary
It's refreshing to see a well-priced GPS unit aimed at the leisure cycle market rather than the performance end of it; the lack of fitness orientated features like ANT+ (or Bluetooth Smart for that matter) allowing you to plug into heart rate monitors or cadence meters and the like are positives to me, keeping the unit relatively simple to operate and affordable.
I found the turn by turn navigation prompts to be most helpful feature for my kind of riding where I tend to be constantly exploring new routes I haven't ridden before.
Some might say the maps are not detailed enough, especially when compared to raster mapping from the likes of Memory Map or Viewranger, but this device concentrates on keeping it simple above all else.
What's more, the more detailed mapping apps and devices often charge you to download relatively small sections of mapping – the Cyclo 210 comes with a truly massive range of European mapping ready installed and included in the price (and updated for free too), making it a boon for long distance tourers.
If you are looking for a well-built, reliable, value-for-money GPS unit that takes the headache out of cycle navigation the Cyclo 210 is well worth a look.
More information: Mio Cyclo 210. Available from around £145 online.
Stay tuned for more e-bike news and reviews and keep on riding.
-Richard
P.S. Don't forget to join the Electric Bike Report community for updates from the electric bike world, plus ebike riding and maintenance tips!
Reader Interactions