Electric Bike Company Model S Review 2023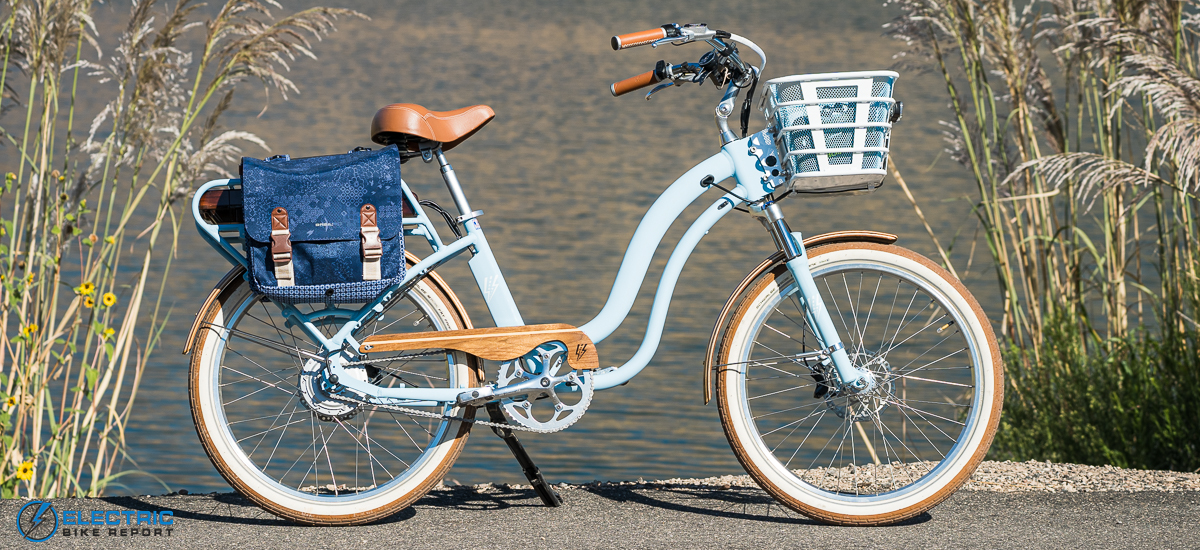 Electric Bike Company Model S Review: Overview
The Electric Bike Company Model S is a well made Class 3 electric beach cruiser powered by a 500W motor. With casual cruiser-oriented geometry and loads of customization, there are a lot of great features that make the Model S one of our favorite beach cruisers.
When we started the Electric Bike Company Model S review, we were impressed with how sturdy the frame was and how clean its welds are. It also came fully assembled, which was a nice touch. It didn't take long for us to tell that EBC put a lot of effort into their electric cruiser.
Electric Bike Company has one of the most complete online customization tools we've seen in the e-bike industry, and our review model of the Model S was decked out with a custom colorway (even on the battery pack!), wood fenders, an upgraded 48V, 18Ah battery and a single speed drivetrain, plus a couple of additional custom features and accessories.
If you're looking for a comfortable cruiser oriented e-bike that will withstand the tests of time, then we would highly recommend looking into the Model S. During our review its performance and extensive features backed up its looks.
Bike Category: Cruiser/ Step-Thru
Cruiser/ Step Through Style E-Bike
Bike Class:
Class 3: PAS to 28 mph/Throttle assist up to 20 mph
Electric Bike Company Model S Video Review

Pro's
The Model S is easy to get the hang of. Whether you're an experienced e-biker or not, chances are you're going to get the hang of riding this bike very quickly.
The large amount of customization, upgradable parts and additional accessories allowed us to set up the Model S exactly the way we wanted to.
The Model S should stand the test of time. It's clear a lot of thought and passion has gone into this e-bike.
The 500W motor provides very smooth engagement. Electric Bike Company says this motor should last at least 18 years.
The riding position of the Model S is very comfortable. Throughout many test miles not one of our riders ever felt uncomfortable.
The battery range of the 48V, 18Ah battery impressed us.
The colored LCD display provides a lot of information in a way that's easy to understand and interact with.

Con's
The Model S may be a little heavy for those needing to lift it onto a bike rack or up stairs, and the rack-top placement of the battery combined with (in our case) the weight of the optional basket shifts the center of gravity a bit higher. It feels fine in corners, but it is something to note as you add accessories.
ELECTRICAL SPECS & FEATURES
Battery: 48V, 18Ah (864Wh) | This is an upgrade over the standard 48V, 12Ah battery
Display: LCD color display, USB outlet included
Motor: 500W rear hub motor
Headlight: LED headlight – controllable via display
Taillights: LED tail light – controllable via display
Peal Assist: Levels 1-5
Range: Up to 100 miles (claimed, remember this is an upgraded battery)
Throttle: Lever throttle
Weight & Dimensions
Battery weight: 10-20 lbs *will vary depending on choice
Real weight: 57 lbs *will vary with customization
Maximum rider weight: 380 lbs
Components & Accessories
Brakes: Tektro Dorado hydraulic disc brakes, 180mm rotors
Fenderss: Optional, customizable
Fork: Suspension fork, optional upgrade from rigid steel fork
Frame: 6061 hydroformed alloy
Gearing: Single speed, 56T chainring, 18T freewheel
Grips: Lock-on hand stitched vegan leather
Saddle: Leather high density foam, elastomer bumpers
Handlebar: 27" steel handlebars
Kickstand: Reinforced non-slip kickstand
Pedals: Wellgo aluminium, non-slip rubber
Tires: Schwalbe Fat Frank, puncture resistant, ebike rated
Electric Bike Company Model S Performance Review
Acceleration / Speed
The Model S had no issue getting up to top speed quickly. The 500W motor only needed a couple of pedal strokes for the bike to hover above 20 mph. When I used the throttle it felt very similar in power and acceleration to when I was pedaling, it got me up to 20 mph within a matter of seconds.
The motor's engagement is definitely powerful but it still feels safe. I never felt like I was accelerating too quickly or that the bike's top speed was too much to handle. Despite our Model S only having one gear, the bike managed to fly up climbs which speaks numbers to the motors power.
With the 56T/18T gearing we had on the bike I was usually hovering around 25 mph as my top speed. The optional 7-speed drivetrain will give you the ability to pedal the bike up to 28 mph and the option to use an easier gear up hill. With that being said I enjoyed the simplicity of having one gear. The motor's power made it so I never felt like I needed more than one.
Range Test
Here at Electric Bike Report, we conduct a battery range test to get a good idea of how far the bikes we test can go on the lowest pedal assist level and the highest pedal assist level. Between the two tests you should have a good idea of the real-world range of the respective e-bike we are reviewing. The Model S has 4 different battery options. Our Model S was set up with a 48V, 18Ah battery pack that sits underneath the rear storage rack.
When I rode the Model S in the highest assistance level it took the bike 34.89 miles for the battery to finally die. My average speed was 18.8 mph. I was very impressed with how long the battery lasted and how high my average speed was for only having one gear. Because of the one gear set up I wasn't able to help the bike as much with my own power as I am able to with a multi-gear drivetrain.
This made the motor engage more often than I think it would have if I had more gears to choose from, thus draining the battery faster. This makes my average speed and distance that much more impressive.
When we conducted the minimum pedal assist range test it took our test rider 65.7 miles for the battery to die. He had an average speed of 11.12 mph. Our results show the 48V, 18Ah battery is going to last for a pretty long time. I would recommend having at least the 18Ah battery if you want a solid battery range.
While the battery did fall short of the claimed ranges on their website, I think 35-66 miles is a very good range – especially for how the bike's motor was doing nearly all the work on the 35-mile result.
Circuit test
Here at Electric Bike Report we conduct a circuit test to get a good idea of what each assistance level is like. Our circuit test is a one mile loop that we ride in each assistance level and with the bike turned completely off. After this test is completed we can see what each assistance level provides as far as power and speed goes. We can also see how big the jumps are from level to level and what the pedal assist power curve looks like as a whole.
The Model S has a somewhat linear power curve with the lowest pedal assist setting barely doing anything while the highest uses a lot of power. Our average speed was only 0.2 mph faster on the lowest pedal assist level than with the bike turned completely off.
The biggest jump we had was from pedal assist level 4 up to 5 where the bike went from an average speed of 17.7 mph up to 21.6 mph around the circuit.
Every other jump (2 to 3 and 3 to 4) was between 1.5 mph and 2 mph. All of our test riders felt the power curve was appropriate for the bike's intended use.
Hill Test
On our test hill, a one-third mile steep with an average grade of 12 percent, the Model S performed pretty athletically for an e-bike with one gear designed for leisure cruising. We took the bike up the hill twice, once with just the throttle and again in the highest pedal assist setting.
When I climbed our test hill using just the throttle it took me 1:25.00 for the bike to reach the top. I had an average speed of 12.8 mph — not bad for throttle only.
When I did the same hill climb in maximum assistance it took me 1:10.00 for the bike to reach the top. I had a solid average speed of 15.5 mph.
On this particular hill, of all the e-bikes we've tested there, an average time is in the ballpark of 1:32.7 seconds for the throttle-only hill test. So the Model S' throttle-only result is above average. The story is much the same for the max PAS hill test, where the Model S' 1:10 result is quicker than the average time of a little over 1:13.
Despite only having one gear, the Model S did really well up our test hill. Sure, we've had faster times on both maximum assist and throttle only, but when you take the style of the bike and its gearing into account it did really well.
Handling
The handling characteristics of the Model S are exactly what I'd look for in a beach cruiser.
In short, the way this bike handled allowed me to not have to focus on anything other than the view around me. It's well balanced, comfortable and easy to get the hang of.
It's an easy bike to get on and off of, and it doesn't take an experienced rider to handle and maneuver this bike. Regardless of your riding background you'll likely find the handling characteristics of the Model S to be pleasing.
Electric Bike Company is based out of California so, they're in the heartland of beach cruising. It only makes sense that they'd be perfectionists in this type of e-bike.
Ride Comfort/Geometry
The Model S is a very comfortable cruiser. Between the large cushioned seat, suspension seat post and upright positioning I don't think I found myself feeling uncomfortable once.
Usually I'm a fan of conventional saddles, as the robust large ones usually don't get along with my sit bones too well. But that wasn't the case at all with the leather high density foam saddle on the Model S. I was actually very impressed with how comfortable it was. The stock saddle comes with elastomers for additional comfort and I never had to reposition myself.
It almost feels like this saddle cradles you and keeps you in a comfortable position the whole time you ride. The mentioned suspension seat post adds even more comfort to that area of the bike.
The cruiser style handlebars are great for casual riding, they're easy to steer with and kept my upper body comfortable throughout my time on the Model S.
Electric Bike Company Model S Specs/Features Review: Electric Components
Motor
Don't let the beach cruiser style of this bike fool you; it has some serious power. The 500W motor provides more than enough power and torque for you to sit back and relax while the bike does its thing.
I was very impressed with the way this motor was able to accelerate quickly and the way it was able to flatten hills. Despite only having one gear I managed to make it up our test hill which has an average grade of over 12 percent. This motor should stand the test of time too, Electric Bike Company claims the motor should last at least 18 years.
The motor is one of many places on this bike where the quality and care is apparent.
Battery
The Model S comes with 4 options for the battery setup. Our review bike came with "Option B," which is the singular 48V, 18Ah battery mounted on the rear rack.
The other options include "Option A" – 48V, 12Ah, "Option C" – 48V, 30Ah (sits within basket), "Option D" – 48V, 36Ah (sits within basket) — All the batteries come with a 5 year warranty.
One of the main selling points of the Model S is the extensive amount of customization you can do. The battery selection is one of many things you can decide on.
The battery on our bike comes with an auto-retracting charging cord built in. All we had to do was pull the charging cable out of the battery and plug it into the wall. Once we were done charging all we had to pull the charging cable and it retracted back into the battery.
You'll notice that our battery pack has a custom finish that imitates wood grain. It's visually stunning, and those who opt for the wood chainguard and wooden fenders will appreciate the option to complete the look. There is an extra cost with it, but honestly this is uncommon love and attention being paid to the battery pack and we thought it was really cool.
Pedal Assist / Throttle
TThe Model S comes with 5 pedal assist settings and a lever throttle that comes on the right side of the handlebar. As we discovered in our circuit test, each pedal assist setting has its own characteristics.
Pedal assist level 1 will barely assist you at all while pedal assist level 5 will do everything it can to keep you as close to top speed as possible. Levels 2, 3 and 4 all fall between these two extremes. The lever throttle is similar to pedal assist level 4 and boosts you to 20 mph with solid acceleration.
Display
The LCD color display sits on the left side of the handlebars and comes with a USB port for charging devices. When you turn the display on you'll be greeted with the Electric Bike Company logo. One thing worth noting is that the bike turns on with pedal assist disabled for safety reasons. Hold the down arrow down for 2 seconds to turn on pedal assist.
This display gives the rider a lot more information than your typical display does. On top of the standard mileage, mph and battery life it shows current voltage, wattage, outside temperature and more. You can set the speed setting to show average speed, max speed or keep it at the standard current speed.
Between the vivid colors, brightness and data, we think the display fits the high quality/well thought out theme of the Model S.
Electric Bike Company Model S Review: Components and Accessories
One of the main selling points of the Model S is the wide array of customization options. You have the ability to customize the battery, battery case, front basket, seat, grips, seatpost and more. The extensive amount of component customization should allow the Model S to suit anyone's preferences and needs.
Brakes
The Tektro Dorado hydraulic disc brakes are some of the best e-bike brakes I've tested. These e-bike specific brakes from Tektro not only provide sufficient stopping power, but also a lot of braking modulation. I could easily dictate how hard I was braking with the pull of the lever. These brakes come equipped with 180mm rotors front and rear.
In our brake test it took 19-feet 4-inches for the bike to stop from 20 mph. While this result is a little farther than average, it does make sense. Reason being is these brakes are powerful enough they lock up the wheels almost immediately, which makes for some skidding. Because the Fat Frank tires are relatively slick they also contributed to the sliding. But trust me when I say these brakes have a lot of stopping power.
These brakes also come with thicker-than-average rotors (2.3mm) and 4-piston calipers. In the simplest of terms, they are powerful.
Frame
The Model S is made of 6061 hydroformed alloy. This frame feels very durable and like it will stand the test of time. Between the well thought out geometry and the low profile welds, it was very apparent to me that the Electric Bike Company team puts a lot of effort and passion into their builds. These bikes don't feel like your typical mass production bikes, rather each is unique and individual.
Regardless of the color you choose the frame is coated in base primer, three coats of paint, and two coats of protective sealant. It is then heat treated for additional strength and durability.
Fork
The standard Model S comes stock with a fully-rigid steel fork, but our review model was upgraded with an optional suspension fork.
The suspension fork did a good job of softening the rougher surfaces and giving the front end of the bike additional control. It also comes with a lockout and preload adjustment dial, so you can home it to specific surface conditions.
I really appreciated having the suspension fork on high speed downhills and rough roads. The fork is one of many components that can be customized. Between the 39 colors and 2 fork options, you'll have plenty of options.
Drivetrain / Shifting
The Model S comes with either a 7-speed drivetrain or a single speed drivetrain, and our review bike came with the single speed drivetrain. The gear ratio is a 56T chainring connected to an 18T freewheel — a great gear for maintaining high average speeds on straightaways while still being easy enough to climb hills.
The single speed drivetrain made more sense with the beach cruiser style that this bike is; less gears equals less maintenance and less focus on the bike, allowing you to better enjoy the ride.
Contact Points / Comfortability
The Model S is no doubt a comfortable e-bike. The large seat, upright positioning, swept back handlebars and suspension seatpost and fork made for a very plush riding experience. You can tell this California-based company is steeped in beach cruising culture.
For comfort and performance, the Model S is one of our favorites in the beach cruiser class. It also fits a very wide range of rider heights, so if you're above 5 feet tall and shorter than 7 feet, chances are you're going to fit the Model S.
Tires
Our Model S came with Schwalbe Fat Frank tires, which are e-bike rated and puncture resistant. These tires are cruiser-oriented and provide great traction in on-road settings. These are pretty standard tires, and they should meet the needs of anybody cruising around on the Model S.
Extras / Accessories
The Model S comes with lots of upgradable features that I've mentioned throughout the review. On top of that, Electric Bike Company provides an extensive amount of additional accessories and replacement parts on their website. Our bike was additionally decked with the Smart Phone X-Grip Holder and the Portable Bluetooth Speaker. We also have been showing off the real wood fenders and chain guard, as well as the painted battery case that are just a few of many additional upgrades available when customizing the bike.
Electric Bike Company Model S Review: Summary / Where to Buy
The Electric Bike Company Model S met just about every need or want I'd look for in a beach cruiser style electric bike. It's a comfortable e-bike that's easy to ride and made of high quality components — a cruiser that will stand the test of time. It's very apparent that the Electric Bike Company team cares about their bikes.
The bikes from Electric Bike Company feel a lot more personal than your typical direct-to-consumer brand. For starters, the bike comes fully assembled. I've worked at a couple of bike shops and I can say from experience that it takes some time to build and package up bicycles, especially when you consider the extensive amount of customization available on these bikes.
The Model S felt very well put together. The welds are low profile and the way all of the alloy tubes come together screams quality. The upright geometry mixed with the swept back handlebars and large seat made for a lot of rides where I was more focused on the scenery around me than finagling with the bike. This feels like a bike that virtually anybody could hop on and have a good time with — I can't help but feel that's by design.
Our test results backed up our claims and comments about the Model S being a really solid electric cruiser bike. I reached nearly 35 miles when I conducted the maximum pedal assist range test which speaks numbers to the properly calibrated relationship between the motor and battery. While I was using a lot of power, I wasn't losing charge very quickly. We had the second smallest battery too, there is a 30Ah and 36Ah battery available for those of you who want to cruise the whole beach (and then some).
I've tested a lot of bikes that come with 500W motors but that doesn't mean they are all the same. Electric Bike Company says the Model S' 500W motor should last up to 18 years, which is a substantial lifespan. This means EBC believes in its products and thinks they will last.
We are big fans of the Model S; we see it being the beach cruiser to set the standard for the rest of them. If you can appreciate high end American-made products and are looking for an e-bike that's going to last for more than a couple of years, then I would highly recommend the Electric Bike Company Model S.
'Happy Riding, make sure to let us know if you have any questions down in our comments section or if you think we left anything out in this review of the Electric Bike Company Model S.
Reader Interactions