High Tech Accessories: Sena Smart Helmet, 360 Degree Camera, Smartphone Helmet Device [VIDEOS]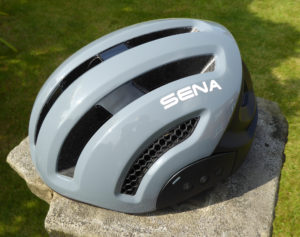 Time for a look at some high tech bike accessories that can make your eBike ride more comfortable, convenient, and fun!
In this roundup we have the:
Sena X-1 Smart Cycling Helmet
Dokicam – 360 Degree Sportscam
Ahead Helmet Hands Free Smartphone Device
Sena X1 Smart Cycling Helmet
Sena is a company that specialises in Bluetooth communications – previously applying hands free communication to the world of motorbike helmets and industrial applications such as bluetooth earphones.
Sena bills its X1 Smart cycling helmet as 'allowing for seamless smartphone connectivity via Bluetooth 4.1 to listen to music, GPS navigation, make and answer phone calls, and even receive data from fitness apps through the built in HD quality speakers.'
The Test
The helmet itself is a pretty comfortable and fairly standard polycarbonate shell but the really interesting bit is the integrated Bluetooth module which sits just above your left ear.
It consists of three buttons used in varying combinations to access all the helmet's functions.
On the bottom edge of the unit and pointing down at your ear is the speaker whilst a microphone also sits on the bottom edge of the helmet at the very front of the helmet.
I received a pair of helmets and first off tested out the intercom function with a friend wearing the other helmet.
Once you have paired the helmets switching the intercom on or off is done by a quick press of the central button (helpfully it has a raised surface whilst the buttons either side are flatter, making for easy 'tactile' use of the buttons you can't see).
Sound is very clear and the volume easily adjusted up or down using the side buttons. Passing traffic is barely picked up and it takes very strong gusts of wind to interfere with the conversation at all, even then they don't drown out voices.
Nor do you have to shout to be heard – the microphone actually worked in intercom function with us virtually whispering.
The only rather disappointing aspect was the range – we found, on a straight track with no buildings or vegetation in between the riders, range was around 400 meters before the voices crackled out. Where trees and walls are present though range could be down to around 150 meters.
As I didn't have a GPS device to connect I can't comment on the utility of this feature. The idea though is that the helmet will simply pick up the voice prompts from the GPS unit which sounds a handy feature to have if you use such units.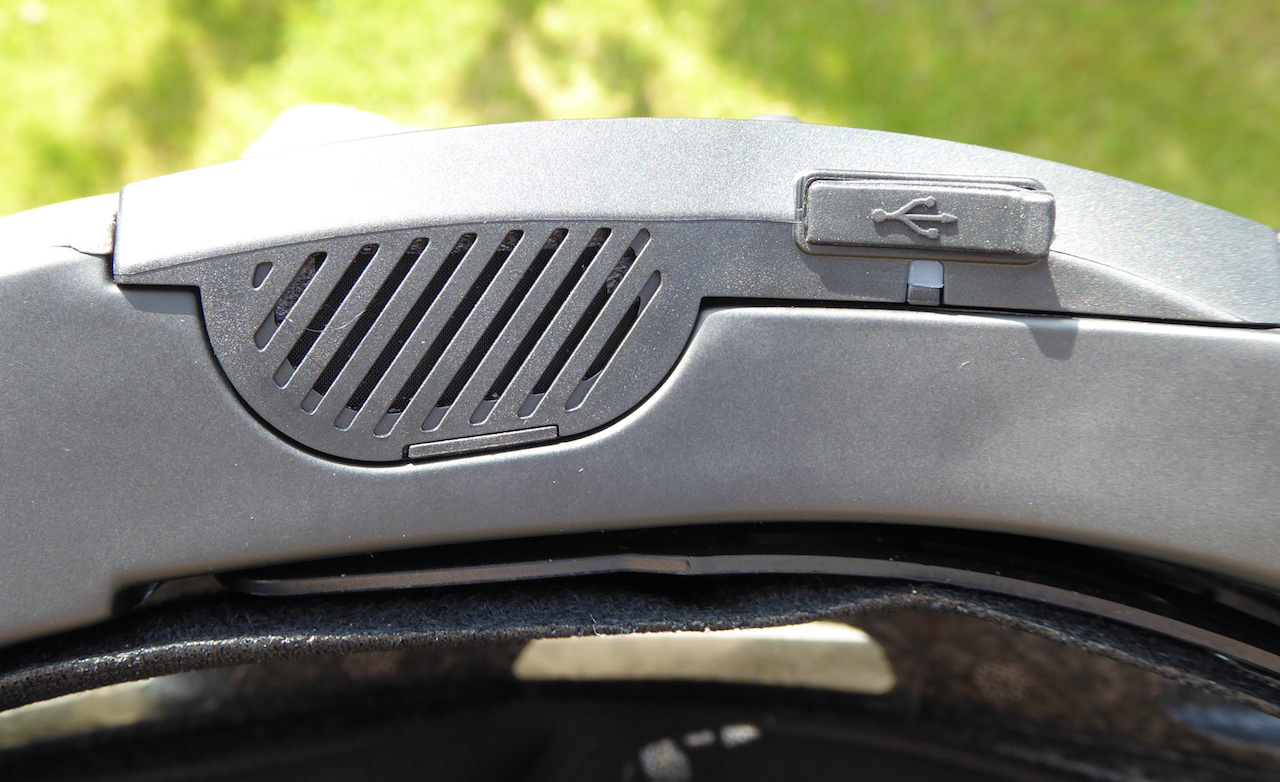 Battery charging and firmware updating looks straightforward and is done via a port in the underneath of the Bluetooth unit.
Why Use One (or Not)?
What are the advantages of this technology? I really liked the intercom feature, despite its rather disappointing range; this allows easy communication with up to three other riders without the fuss of using a smartphone; no dialing up, no using your monthly call allowance or racking up fees etc, just press the intercom button and speak.
So best of all it allows you to stay in constant touch with riding buddies as long as you don't stray too far afield. Even at relatively short distances its a help – you don't find yourself shouting above traffic or straining to hear above wind noise what the other rider is saying.
Speaker and microphone quality really are excellent and in effect acted like a superb hearing aid at shorter distances and a communication device at longer distances.
Once paired with your phone receiving a call simply means pressing the middle button whilst riding and there is also the option of listening to radio or linking to your own music from a digital music player.
All the functions are accessible by pressing various combinations of the three helmet buttons (though will probably want to refer to the online guide just for a little while to familiarise yourself with them).
Disadvantages? Well, you have to wear a helmet in the first place and of course not everyone likes doing that. Range is the big limiter when compared to using your smartphone.
But overall the X1 helmet looks like a really useful device for those who regularly wear helmets and want to stay in touch with others whilst on their e-bike.
In theory it should also be compatible with the latest generation of e-bikes as they are increasingly building Bluetooth connectivity into the bikes themselves.
Weight: 415g (medium size)
Price: US$199 / €229
Details: Sena.com
Dokicam – 360 Degree Sportscam
This sportscam lets you take 360 degree photos and video footage. It is water and dust resistant but there is also an optional waterproof housing.
There are plenty of helmet cams out there and now an increasing number of 360 degree ones and, although they are not cheap, the Dokicam is one of the more reasonably priced at US$ 230.
There are going to be two main uses for such tech on a bike – as a 'safety cam' to monitor other road users and secondly just for fun, to record your own biking travels.
Here is an example of a skiing video with the Dokicam. Not all internet browsers support the 360 degree function. Google Chrome does support 360 and you can see all around by clicking and dragging in the video view.
The Spec
Whilst the camera itself takes footage from two fixed 180 degree lenses at the front and rear, there are four view buttons:
VR mode (a split screen with two fields of vision)
Fisheye
Planet
Panorama
Whatever footage you take it will always be available in these four modes – I used the panorama setting most as it gave the most detail and let you scroll around a total 360 degree landscape as if turning your head.
Fisheye and planet are more 'special effect' views, albeit very entertaining.
Further app functions include the ability to use time lapse photography by specifying the intervals at which photos are taken and a manual setting if you wish to alter white balance, ISO and exposure compensation.
The Dokicam has three video resolution settings up to a maximum of a very respectable 2880 x 1440 pixels at 30 frames per second and four photo settings up to a maximum of 4896 x 2448 pixels.
The real time video streaming to your smartphone is in fact almost real time as there is a second or two lag which can be a bit disconcerting if you are using it to take handheld video but not an issue at all if mounted on your helmet as its not really practical to monitor exactly what you are filming whilst riding along, especially on roads with other traffic about.
Operation was simply a matter of downloading the app to my android smartphone then turning on the Dokicam the smartphone wireless so they could link up. From there the onscreen smartphone controls are pretty straightforward.
In Use
The actual final result – 360 degree video footage – is far, far better than I was expecting, especially in the panorama mode.
Inevitably, being the result of two separate lenses, the two images need to be 'stitched' together by the software but the result is virtually seemless. I found viewing on the PC much preferable (see Software and Card Storage below) – my smartphone doesn't seem to have the computing power to play MP4 video files smoothly at real speed.
PC Software and Card Storage
There is also a smaller, simpler piece of software available for PCs which I downloaded and allows full use of all the above views on a larger screen, allowing you to toggle between the views and to add or delete pictures and video clips.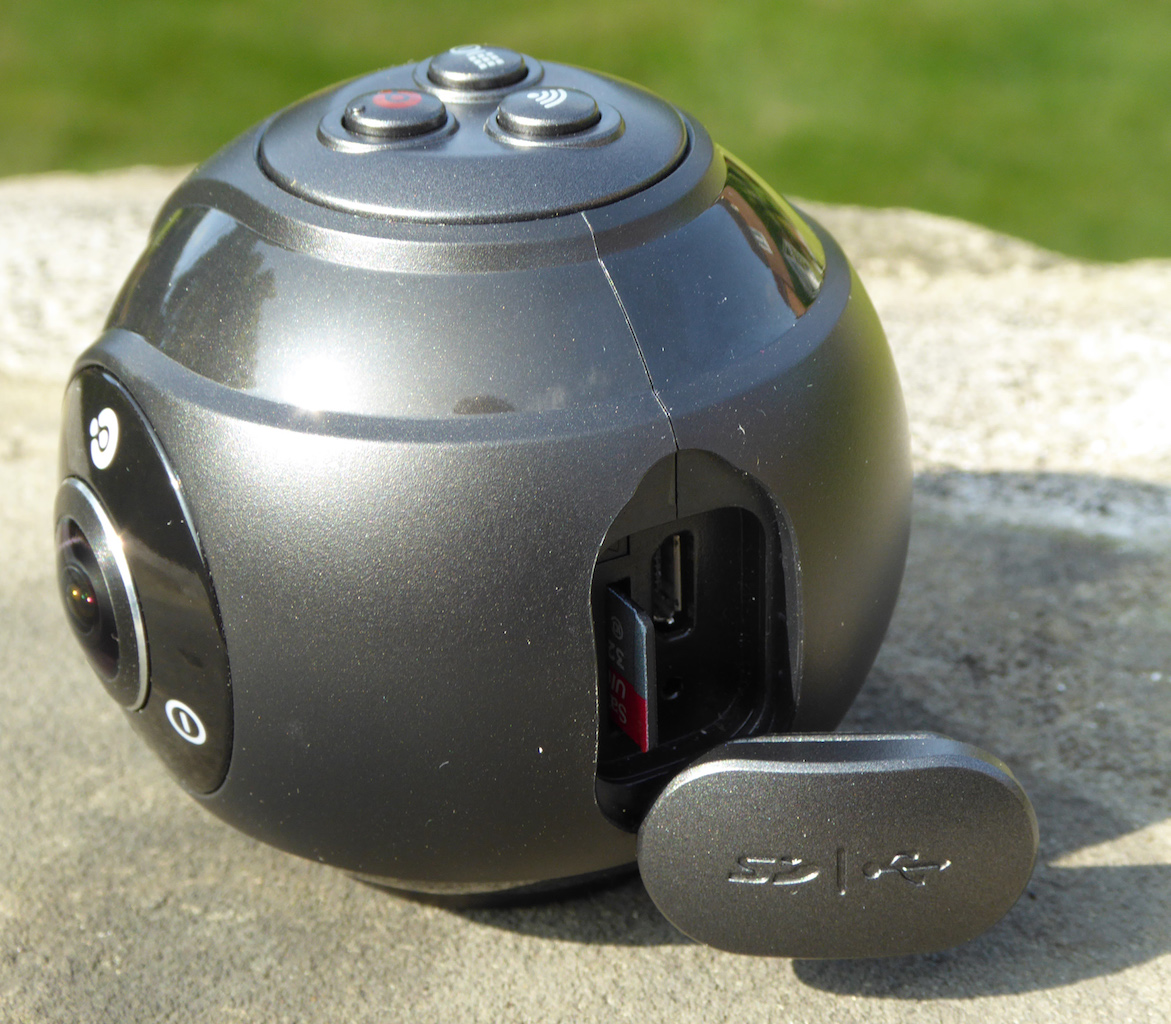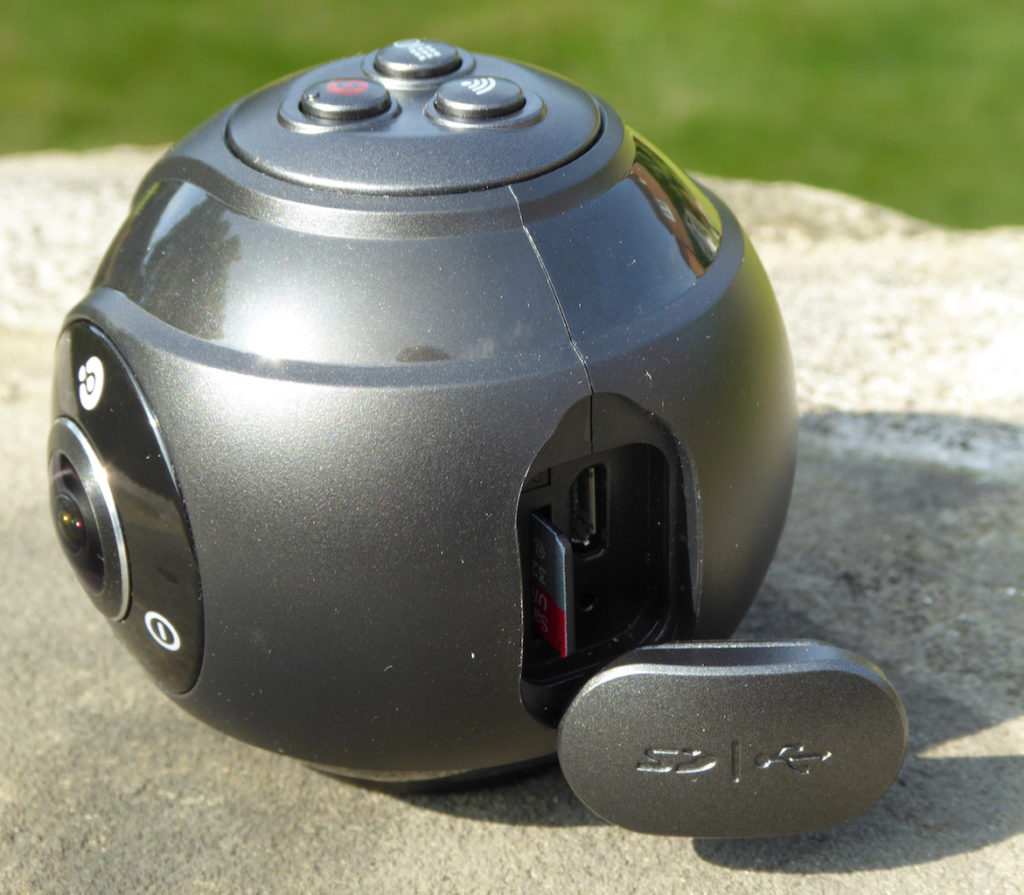 Footage is initially stored on a micro-SDHC card housed in the DokiCam. The unit was supplied with a 32GB card and based on the admittedly fairly brief footage I took that size of card should give over four hours of filming at the highest resolution.
The only cons I could find were the resolution not being great enough to clearly pick out the lettering on motor vehicle registration plates (potentially important if you are unlucky enough to the victim of a 'hit and run') and difficulty the camera had in coping with high contrast light situations – with a 360 degree view its bound look straight at the sun on a sunny day if it is mounted on top of your helmet.
Size: 66mm diameter
Weight: 150g (camera only)
Price: Camera price is US$230. Waterproof kit USD$89
Details: dokicam.com
Ahead Helmet Hands Free Smartphone Device
This clever little device lets you make and receive calls whilst cycling (or doing any activity that requires a helmet and both hands to be otherwise occupied).
Unlike other earphone type Bluetooth technologies there will be no chafing or intrusion into your ear, and they won't interfere with the helmet straps in any way.
They can be also be used with 'fuller' helmets such BMX or speed-pedelec style helmets that cover more of the rear of the head – indeed other intended uses include use with construction hard hats and skiing helmets.
The sound is transmitted from the built-in oscillator to your ear via the helmet itself so 'fuller' helmets are no barrier to its use.
It can also be used as a speaker simply by putting it on a hard surface:
https://youtu.be/qsIiSZt8Vpk
Ahead also claim that their 'beam-forming voice capture technology' which aims to filter out ambient noise and wind noise, can be heard clearly at up to 60Km/h (40 mph).
Other features include multi-party calls allowing group communication amongst a group of riders all equipped with AHEADs making it easier to ride as a coherent plus integration of the AHEAD with your Intelligent Assistant App on your smartphone to make voice-commands directly (e.g. Siri or Bixby).
Initial pairing with my smartphone was a simple matter of turning Bluetooth on and tapping on the detected device once it was switched on. Once paired the AHEAD stays connected to your phone assuming Bluetooth is switched on and connects and disconnects automatically when slide the unit in or out of the helmet mount which stays attached to the helmet.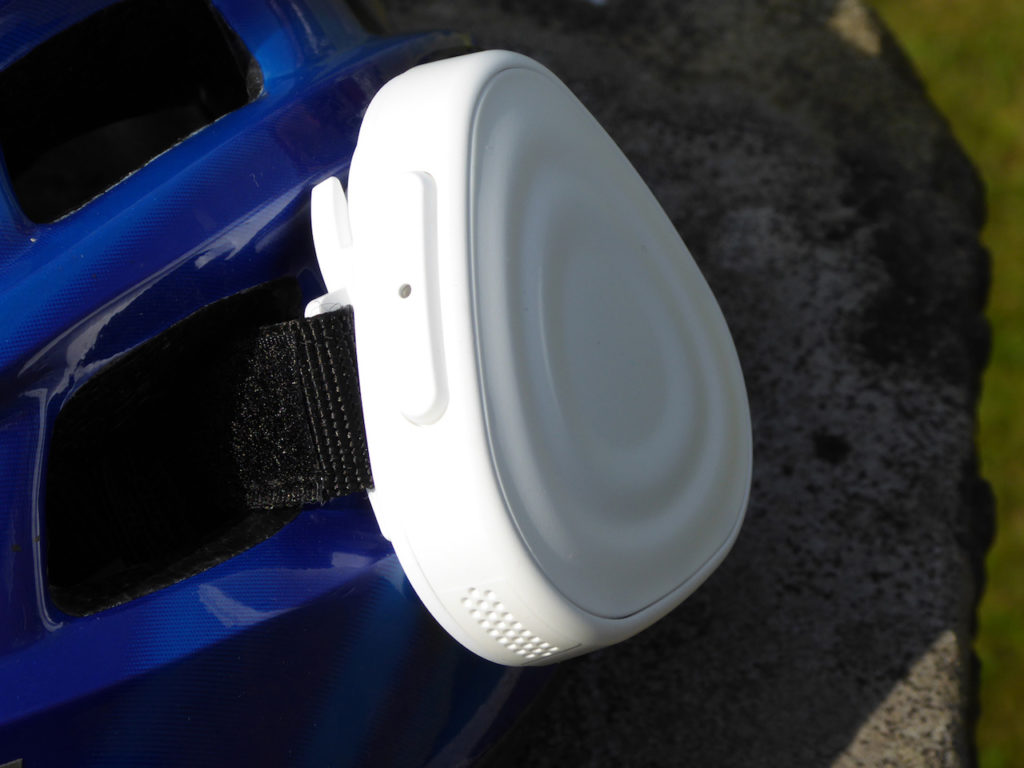 The smartphone can be controlled by the button on top of the AHEAD unit but the sound quality of both the received sound and the reception at the other end were very good. Traffic noise was barely picked up by the speaker (just a faint squeak was heard when a car went close by according to the person at the other end of the phone) and their voice was perfectly clear – even in traffic and at fast speeds with plenty of wind noise in your ears (though I only managed to get up to around 25mph, not the claimed 40mph limit of audibility).
The only con was that in order to hear the sound when there was a lot of wind you needed to turn up the volume to maximum but then if you slowed and the wind noise died back the AHEAD was actually audible to those nearby.
Whilst I only had a fairly brief test of a prototype, AHEAD certainly demonstrates how microphone and speaker technology is coming on leaps and bounds, so much so that hands-free smartphone use, even at speed and in heavy traffic and without any kind of headphone, is now perfectly practical.
Size: 68x68x20 mm without mount
Weight: 60g
Price: IndieGoGo earlybird offers from USD$95
Details: IndieGoGo and analogue-plus.com
Stay tuned for more e-bike news & reviews and thanks for reading!
-Richard
Review Note: All of these products were given to electricbikereport.com with no requirement for return.
P.S. Don't forget to join the Electric Bike Report community for updates from the electric bike world, plus ebike riding and maintenance tips.
Reader Interactions