Henty Enduro Backpack Review – A Refreshing Hydration Pack Design [VIDEO]
A majority of hydration packs have used the same configuration of placing the heavy water weight on your back.
The Henty Enduro Backpack ($110 USD) changes that by placing the heavy water weight (up to 100 oz.) & pack (tools/food/clothing) weight at your waist level.
This makes a big difference because you don't feel the heavy pack weight as much on your back and shoulders. It also makes a big difference if you are moving around a lot on the bike.
For instance if you are mountain biking on technical terrain, traditional back mounted hydration packs move around a bit.
The Henty Enduro Backpack really stays with you as you maneuver through technical riding because it is very close to your center of gravity.
In a lot of ways it really feels like you are carrying a much lighter pack when compared to typical hydration backpacks.
Also, the minimal material for the shoulder straps helps to keep your back significantly cooler by moving the main pack mass to your waist.
In many ways the Enduro pack blends in with your ride experience and you can forget that it is there at all!
Here is a video to give you a closer look at the Henty Enduro Backpack:
You can see in the video that this pack was developed with a focus on mountain biking and it is a great hydration pack for that.
The Enduro pack is also good for all around riding when you need a lot of water and a pack large enough to carry tools, food, and extra clothing.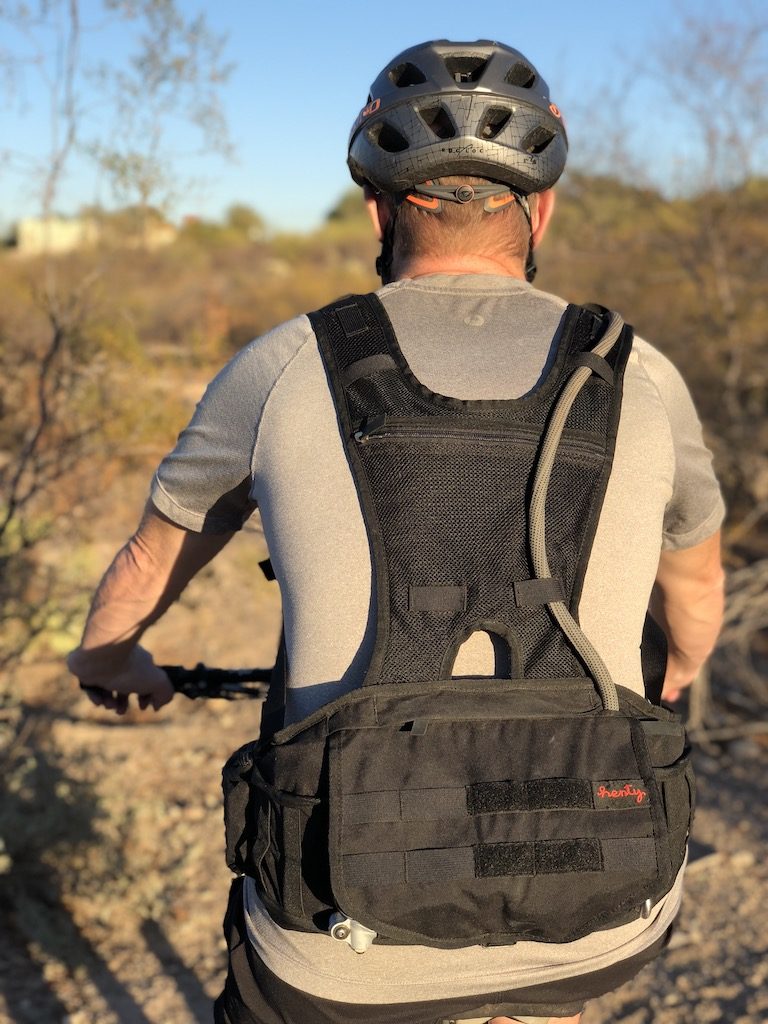 The attributes of a lighter feeling pack and keeping your back cooler translate well to longer eBike adventure rides on or off road.
The Enduro pack will work with most water bladders up to 3 liters (100 ounces) in size. It does not come with a water bladder so you will need to buy one. At $110 without a water bladder it is on the pricier side of hydration packs.
Henty has also tested the following bladders and recommends: Camelbak Crux 3L, Camelbak Antidote 3.0L, Camelbak Antidote Lumbar 2.0L, Ergon BH250, Aonijie 3.0L.
I used a typical 3L water bladder from a typical back mounted hydration pack and it worked well.
The pack has a nice assortment of compartments for tools, food, cell phone, and other items. In the picture above you can see that it also comes in a camouflage color option.
Compared to other hydration backpacks with a large capacity, there isn't a ton of space for bulky clothing in the Enduro pack. Some clothing can be wrapped up and stowed under the main pack cover.
Here is a look at the main pack cover open. You can see all of the zippered mesh pockets that can carry a variety of tools, food, cash, etc. for those longer rides.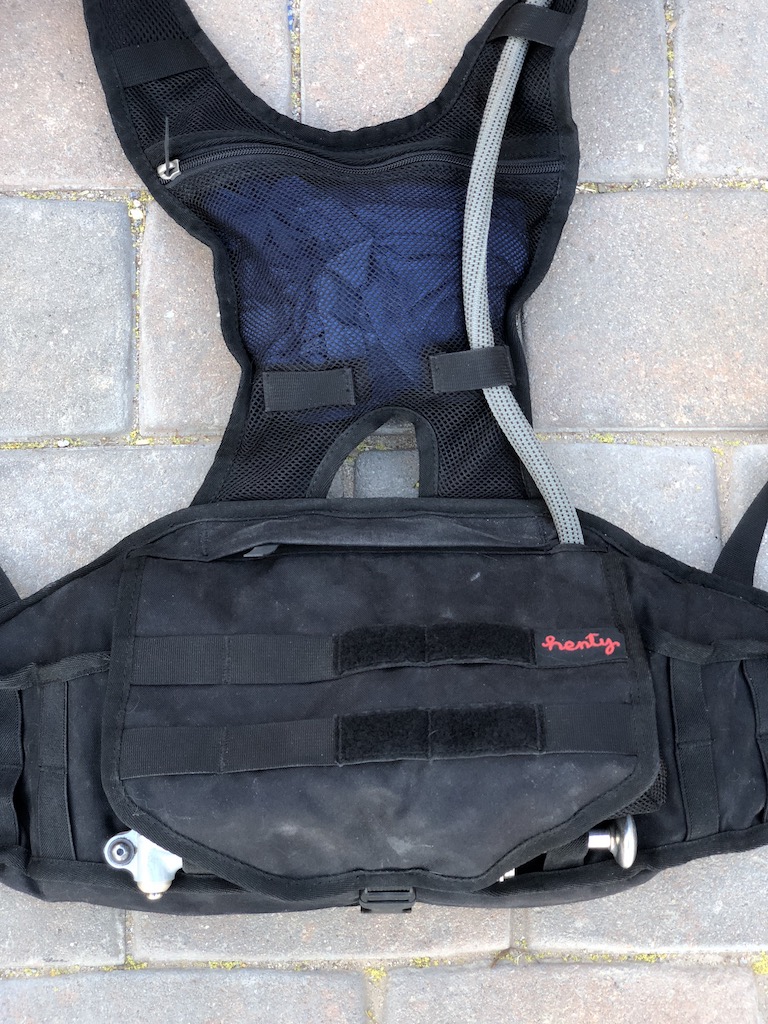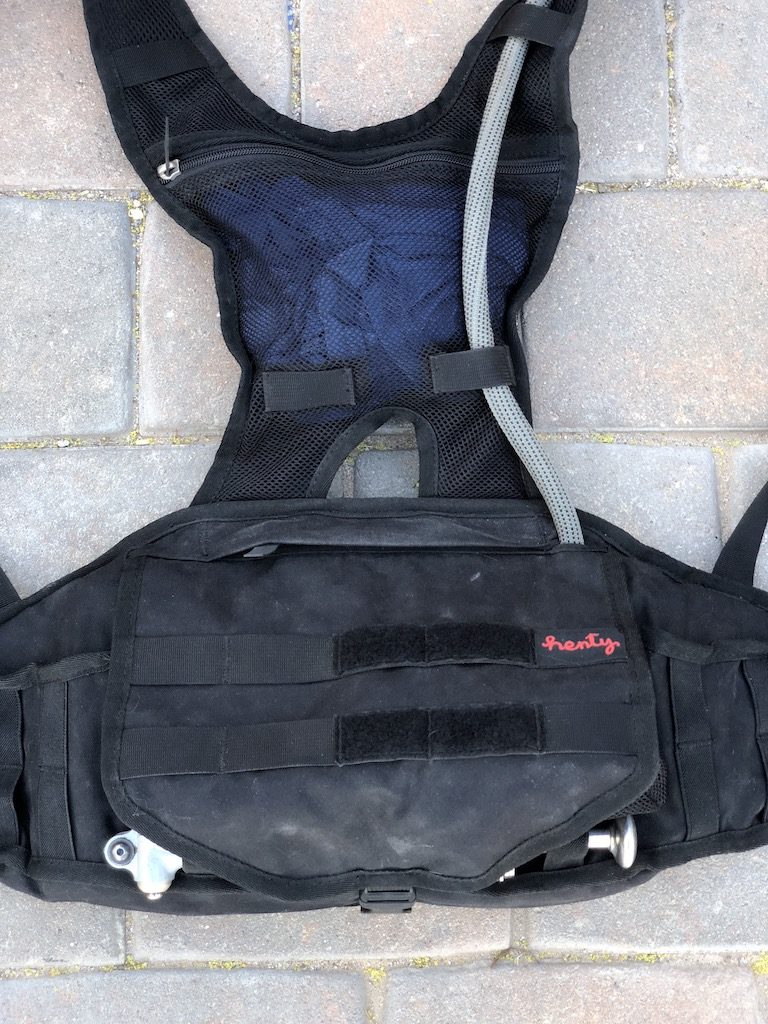 There is a mesh pocket about mid way on the shoulder strap area for clothing and other packable items. I use it for a light long sleeve shirt that helps when the sun starts to set. It could also be used for a light wind breaker/rain jacket.
The hydration tube can be routed on the right or left side of the pack to fit your riding style.
The inside of the waist pack area uses moulded foam for improved air ventilation and a comfortable fit.
It is also supposed to provide lumbar (including hips and kidney) impact protection; a feature that I did not test out but it feels like that would be true!
Tough Cordura 500D is the main pack material of choice and it looks like it will last for many years of use. In fact, Henty provides a 5 year warranty of the Enduro pack.
The Enduro pack is great for riding and it is also a good pack for hiking too. In hot weather it is very nice to have a cooler back and reduced weight on the shoulders is a welcome change from traditional hydration packs.
Overall the Henty Enduro Backpack is a refreshing change to the typical hydration pack design. I really like that it feels like a lighter hydration pack and the cooler back also is a big and noticeable improvement.
At $110 without a water bladder it is on the higher price side of hydration packs but it does look like it will last for many years of riding with its tough Cordura nylon construction.
Checkout Henty for more info on the Enduro Backpack.
-Pete
Review Note: These products were given to electricbikereport.com with no requirement for return.
P.S. Don't forget to join the Electric Bike Report community for updates from the electric bike world, plus ebike riding and maintenance tips.
Reader Interactions