Are Single Speed E-Bikes Any Good?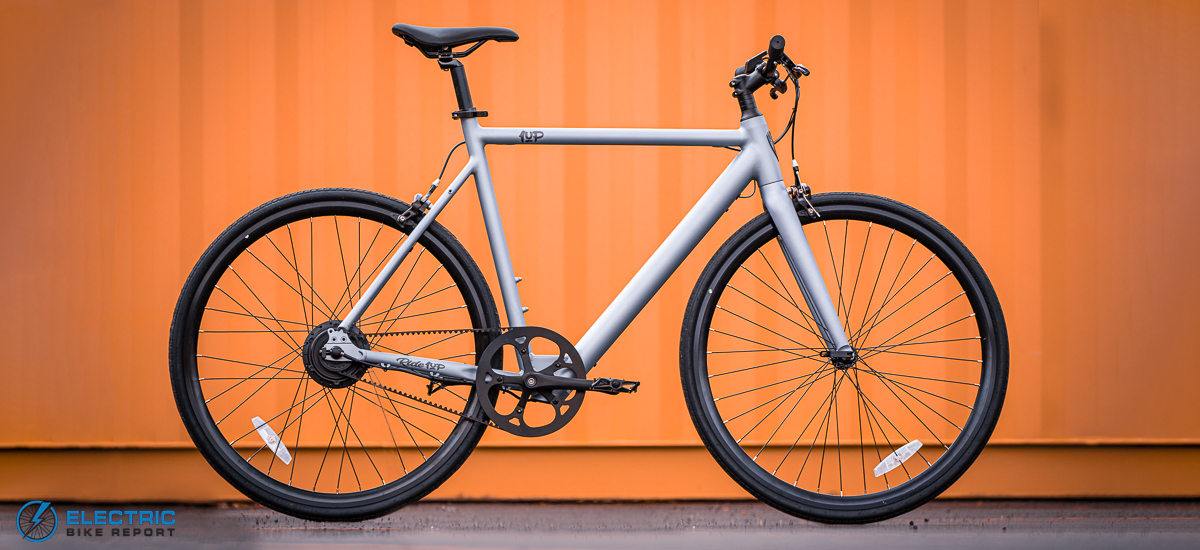 Single speed bikes (without a motor) have been around for a good long time – in fact Tour de France originator Henri Desgranges was a big fan and bikes with more than one gear were banned from the TdF until 1937! After that, they became somewhat more of a cult, mainly shared by fast, racy, city-style riders. In more recent times the advent of e-bikes and technology such as belt drives has undoubtedly given the single speed genre a new lease of life.
For many modern single speeds electric bikes you can enjoy multiple levels of pedal assistance which helps you dial in the assistance you need – it essentially provides you with a type of faux-gearing system. Thanks to this, it helps it to garner some more main stream appeal.
There is a lot to like in what today's electric single speed bikes offer. But before we get into the pros and cons of single-speeds, those who haven't come across them before might appreciate a bit more detail on the basics.
WHAT DOES SINGLE SPEED MEAN ON AN ELECTRIC BIKE?
As you might have guessed, a single-speed bike is a type of bicycle that has only one gear ratio. That means a single chainring at the pedaling end of the chain and a single sprocket at the rear wheel end of the chain. It also means no shifters, derailleur hangers or hub gears. You just get on the bike and pedal and never change gear – because there is only one gear.
Usually, single speeds are fast road style bikes with skinny tires and a racy riding position, with either drop or flat handlebars and lacking 'extras' such as a rack and kickstand. In fact, many different designs of single speed bikes (though not always e-bikes) have appeared over the years, from mountain bikes to BMX bikes.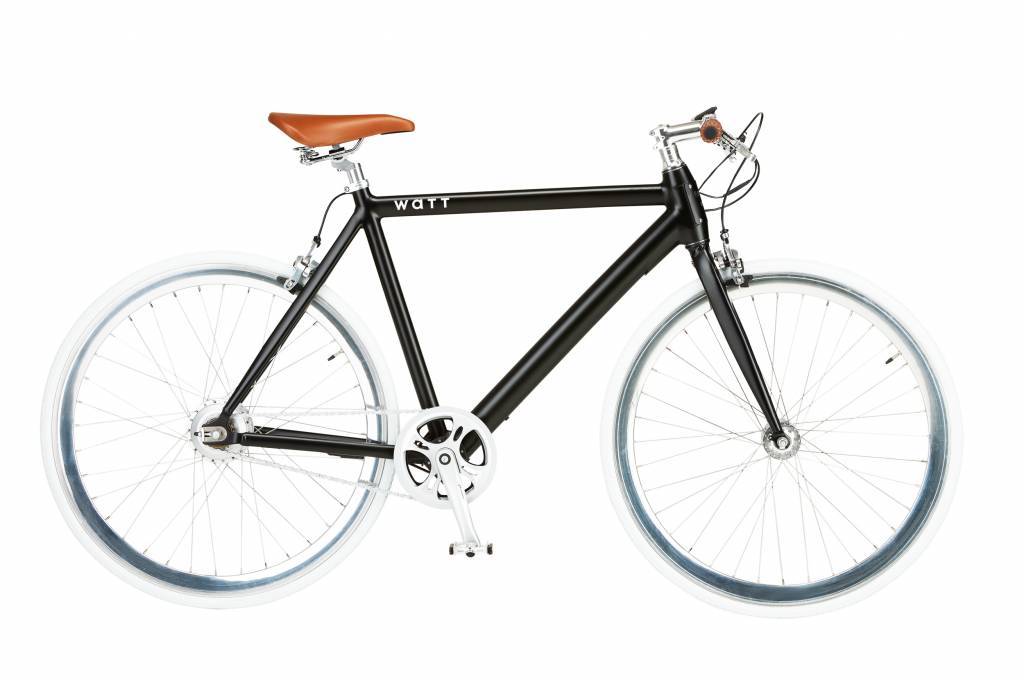 In discussions about single-speed bikes you might hear the term 'fixie'; these are very specific types of single-speed that lack a freewheel on the rear hub (a freewheel allows the rear wheel to turn and the pedal cranks to stay still, as happens when you are coasting along without pedalling). In other words as long as the bike is going forwards (or backward for that matter) your legs will be turning). Certainly, fixies take some getting used to riding, as you need to learn to slow your pedaling in time with how quickly you are decelerating.
Arguably fixies are just as much about showing off the rider's skill in being able to ride them smoothly as they are about any practical advantage, though some fixie proponents say they have the advantage of absolute minimal maintenance requirements. None of this has stopped at least one manufacturer, Watt, producing an electric version of a fixie.
WHAT IS A SINGLE SPEED E-BIKE GOOD FOR?
Single speed speed e-bikes have several advantages:
Low maintenance. With no gear mechanisms or shifters to go wrong and get out of indexing (ie they don't shift into the right gear when you want them to), single speeds mean less time spent fiddling with gears and more time just riding. No sticking gear cables to clean or replace and no replacing or cleaning that complex derailleur mech which is exposed to damage and dirt.
Easier riding. You don't have to think about shifting gears as there are none to shift – just get on and ride. No need at traffic lights to worry about being in the right gear for a quick take-off as happens on e-bikes with derailleur gears.
Lighter weight. With less gears you are likely to lose at least a few hundred grams off the weight of an e-bike of the same spec and design but equipped with gears.
Lower price. Some (though not all) single speeds could be classed as budget models. This makes sense as there are fewer components for the manufacturer to buy and fewer labor costs in assembling them, though, in reality, a budget derailleur system will make up a fairly low proportion of the cost of an e-bike.
Ideal for belt drives. Belt drive are low maintenance and ideal for use on low maintenance e-bikes as they don't need oil and their carbon fiber reinforced construction means they should last a long time. They can only be used on e-bikes that don't feature derailleurs which means hub geared models or single speeds.
CAN A SINGLE SPEED E-BIKE GO UP HILLS?
Yes! This is one reason that single speed bikes are ideal candidates for electrification. All but the strongest of riders would struggle physically to ride a typical non-electrified single speed up a steep hill. Add a motor and many more riders will be able to do that.
It should be noted that two factors are important in determining how easily a single speed e-bike will conquer a challenging gradient – the gear ratio the manufacturer has chosen (low being better for hills but lacking top speed) and the torque available to the motor – torque being the turning force available to the motor at the relatively low speeds you are likely to be climbing steep hills at.
Most single speeds have gear ratios that let you pedal along at 15-20mph with the pedals turning at a comfortable rate. Hit a hill on a non-electric single speed and your speed drops and with no lower gears available you are likely to run out of comfortable pedalling ability quite quickly, having to resort to standing up and working really hard to get sufficient force on the pedals to keep going.
A suitably high torque motor perfectly complements many single speeds as it takes the strain out of pedaling just at the point you need it; setting off from a standing start and climbing up steep hills. Once you are up to speed the gearing ratio of the bike means it is much easier to use good old pedal power yourself.
Having said all this you may find single speed e-bikes require a little more human input than geared e-bikes up the hills, as you lack the ability to spin the pedals at their most efficient and easiest rate for your body over the whole range of speeds. You may also find the single speed e-bikes give less range than geared models of similar spec as the motor is likely to be working harder outside it's usual most efficient RPM range. And if covering very hilly terrain very regularly they may not be as suitable for you as an e-bike with gears.
But still, electric power, when applied correctly, really is tailor-made to take single speeds to the next level of performance and riding enjoyability. If you had dismissed an e-bike with only one gear as being impractical at the very least you should try test riding one. You might be surprised at just how capable they are.
WHAT IS THE BEST SINGLE SPEED E-BIKE?
There are a growing number of electric single speeds and the best choice for you depends on how you prioritize such factors as low price, ride quality, low weight and the provision of 'extras' such as hardwired lights and fenders. Let's take a look at some of the leading contenders from
e-bikes that Electric Bike Report has reviewed
and knows well.
US Market
Affordable single speed with a low-maintenance belt drive and minimalist styling. Our reviewer liked the smooth yet punchy power delivery, light weight (33lbs / 15kg) and the modest price tag. The frame also has eyelets for fenders and rack if you want to go more fully equipped.
One of the fresher releases on this list, the Aventon Soltera is a sleek-looking e-bike that handles well and keeps the weight fairly low at 41 lbs / 18.6kg. Snappy motor performance makes for enjoyable riding at class 2 speeds and the Soltera can be had for entry level e-bike prices.
Many single-speed e-bikes that sport fixie looks don't use high-end Magura brakes, but you won't hear us complain! The FLX Babymaker 2 is stealthy, quick, and brakes with the best of them.

The NIU BQi-C3 Pro is a bike that's all about simplicity. It conceals two batteries that give incredible range, and it's single speed drivetrain is meant to simplify the pedal experience.
Typically we don't love any ghost pedal sensation on e-bikes, and the C3 Pro does get pretty spinny north of 15 mph. But for people who are content to let the bike do the heavy lifting with just a casual turn of the pedals, the BQi-C3 Pro is a great value for a great looking, functional e-bike.
A lightweight and functional model with 'stealth' this-is-not-an-ebike looks and a belt drive and lighting to boot. Weight is a very respectable 36lbs / 16kg.
UK Market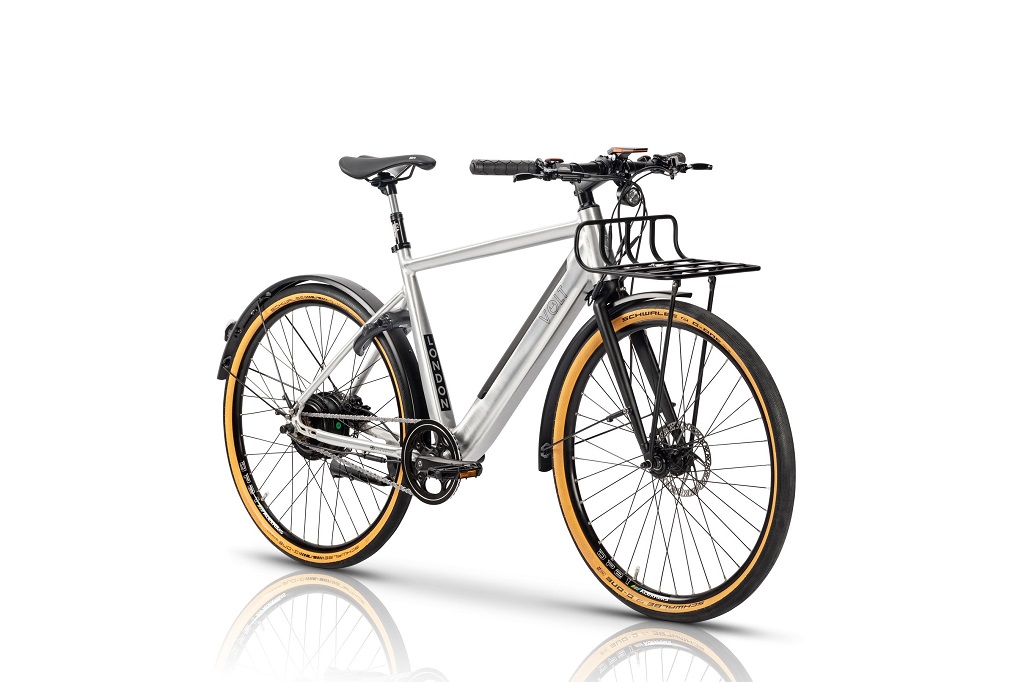 Volt are based in London, UK and this is a new model and definitely a superior quality e-bike with a rear hub motor and torque sensor setup that is not usually found on single speeds. It works well in terms of both range from the 504Wh battery, hill climbing ability and speed on the flat. Premium features include an electronic key system and the highly rated Schwalbe G-One gravel tyres. It's not particularly light for a single speed at 48lb / 21.8kg but that includes a good sized battery, decent sized motor, wheel lock, metal fenders, powerful hardwired lights and kickstand. RRP is £2199.
This UK company make just one model of e-bike but it stands out as it's an unusual magnesium-framed single speed folder. It's a dinky yet funky looking machine that really packs a surprising amount of climbing ability into a small but high torque rear Bafang motor. The throttle can be used whilst pedalling and gives instant full power – great for nipping in an out of traffic or for particularly steep climbs. Both weight and price are reasonable at 39lbs / 17.65kg and £1450 respectively.
Reader Interactions