Seatylock Comfort Classic Review 2020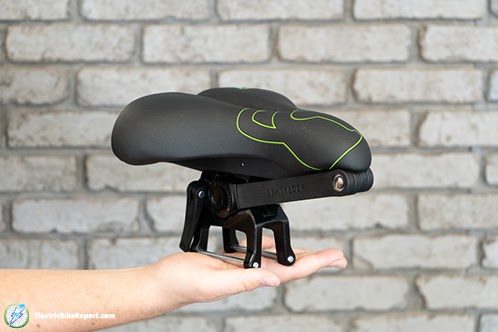 When it comes to eBikes, and bicycles in general, an important accessory to consider is your ebike lock. A simple, lightweight lock might be easy to throw in your backpack, but won't do much to deter thieves as they cut through the lock or find ways to undo it. At the same time, you don't want to lug around a heavy and bulky lock.
Finally, even if you do lock up your bike properly, you are still at risk of having someone come by and steal your saddle.
Click here to see current pricing for the Seatylock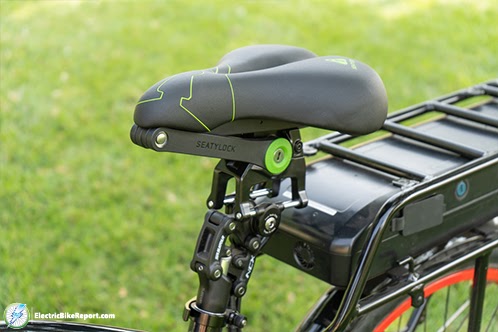 Seatylock aims to address all of these concerns and more. Seatylock is a saddle and adaptor combination that, once installed onto your eBike, will allow you to use your saddle as your bike lock – letting you lock up your bike and your saddle at the same time! The Seatylock is significantly stronger than common and simple cylinder locks and chains, making it more than capable of withstanding bolt cutters, saws, and other common tools used to cut through bike locks. At the same time, the ergonomic design minimizes the total weight added to the bike, and once the saddle adapter is installed to a seat post the Seatylock saddle can shift from being used as a saddle to secured as a lock in less than fifteen seconds.
Available in two sizes, the thinner Trekking variant and the larger Comfort saddles, bicyclists of all sizes can find the perfect seat to ride on without ever having to worry about forgetting their lock again with Seatylock!

Pros:
Really solid bike lock. Anti-drill technology and thick composite innards make it very difficult to cut through. Tested and proven to withstand bolt cutters, saws, and other common lock cutters.
You'll never forget your bike lock again since it's part of your bike! The Seatylock has an ergonomic saddle and ultra-resilient lock combination.
Quick and easy to use. Once the adaptor is installed, the saddle can be secured as a lock in less than 15 seconds. 3 feet long foldable arms allow you to adjust to small and large posts alike.
Comfortable to ride, while great to look at as well! There are two saddle variants which are available in six different colors.
Cons:
The Seatylock adaptor is only compatible with Seatylock saddles. You cannot use your personal saddle with Seatylock.
The Seatylock adaptor increases the overall height of your seatpost by 2.8''. Very short riders may feel uncomfortable with the Seatylock if they cannot adjust their seatpost length.
Durability:
Seatylock has a great stress test video that demonstrates the durability of their lock, and you just have to hold it affirm that bolt cutters, saws, and other common lock cutters won't do much against it. The Seatylock arms are built with thick anti-drilling steel, tested for up to 1.2 tons of pressure durability, that are protected by black plastic casings that guard the metal components against rust and UV degradation. For the exposed metal screws and casings, they are ice spray certified, making them both waterproof and highly resilient to those who try to resort to a spray and hammer combination to break through locks.
Ease of Use:
The Seatylock is just as easy, if not easier and quicker to lock up, than many combination cylinder locks and chains once you get the adapter setup. The adapter itself can be a bit tricky to install, but it is built to be nearly universal with all bikes, whether they be traditional ones or newer eBikes. For most bikes, you will need to just remove your current saddle, place the adapter onto the seatpost rails, and then use a wrench to tighten up the adaptor rails.
Once the adaptor is installed, putting the Seatylock saddle in is very simple. Lift the handle until it is pointing out to the right, or at a 90-degree angle. Insert the saddle, placing the key lock into the adaptor cradle first. Then, push down on the Seatylock adaptor lever until it is flush against the adaptor. You Seatylock saddle is now secured and ready for riding!
Using the Seatylock saddle as a lock has a couple of extra steps, but won't take more than 10 to 15 seconds once you have the process down. Lift the adaptor handle to remove the saddle. Pull the key lock away from the shorter main link until both are horizontal or flat with the saddle. Insert your key and twist it clockwise to eject one of the link arms from the key cradle. Adjust the now separated long link arms until they are wrapped around a post. Reinsert the separated link arm back into the key cradle. Twist the key counterclockwise, and remove the key. If you are able to remove the key, you have successfully turned your Seatylock saddle into a powerful bike lock!

Comfort:
The Seatylock is available in two seat variations: the Seatylock Comfort Classic, and the Seatylock Trekking. The dimensions of these two seats are as follows:
Seatylock Seats Dimensions:
Seatylock Trekking: The saddle is 6.3'' wide and 10.2'' long. The total weight is 2.9 lbs.
Seatylock Comfort Classic: The saddle is 8.25'' wide and 10.2'' long. The total weight is 3.1 lbs.
The Seatylock system is built to be lightweight, with Seatylock stating that their lock and saddle combination is lighter than 90% of the stock saddles that come with base bike setups. The ergonomic saddles are comfortable to sit on, with the two size variants helping large and small riders feel comfortable while riding. The Seatylock system is shock-resistant and has been tested for over 10,000 cycles, ensuring that you can enjoy using the Seatylock system for a long time no matter where you ride.
A downside to the Seatylock system is that the adaptor, in its current state, is only compatible with Seatylock saddles. While the two different sizes and six available colors help you find a saddle that suits you well, bikers with deluxe saddles that they love won't be able to use it with this system. Additionally, the Seatylock adaptor and arms raise the saddle itself by an additional 2.8''. While this isn't a huge increase in height, it is enough of an increase that some shorter riders, who are already struggling with the height of their bike, may find it uncomfortable to ride. For those who cannot shorten their bike post, trimming down the overall height of their seatpost is an option to consider with the Seatylock hybrid saddle and lock.
Conclusion: Never forget or lose a lock again!
Bike and saddle theft are common issues for riders, and given how valuable eBikes are it's even more likely that there will be those in the neighborhood looking to steal your bike. The Seatylock system is a great hybrid system that, once installed properly, demonstrates the best qualities of multiple locking systems with few of their drawbacks. The Seatylock system is just as quick to set up as simple cylindrical locks, while having the strength and durability of more complex and heavier locks. The adaptor limits the saddle system you can use with the Seatylock, but it also ensures that you never leave your lock at home because the saddle is the lock! With the Seatylock Comfort Classic and Trekking, you also have the ability to customize your style, color, and size to have a seat that feels good to ride on and is pleasant to look at as well. Available for $99 dollars, the Seatylock system is an innovative new locking system that will provide great protection for your eBike without wasting your time or excessively weighing down your bike.

Reader Interactions