Chrome BLCKCHRM Lako 3-Way Tote Review 2020

There is no shortage of bag options on the market, but the difference between a good or bad bike bag is the difference between wrecking your cargo or protecting it when you have a crash. Having a bag that is affordable and looks great as well is important to many bikers, besides having multiple carry options. When it comes to having a great bag, there's much more you have to consider than you might otherwise expect.
It's because of these factors that we can recommend looking at the BLCKCHRM 22X Lako 3-Way Tote bag. Manufactured by Chrome Industries, a popular urban clothing and equipment manufacturer that has been building great bags since 1995, the 22X Lake is the latest bag made with city riders in mind. The 3-way tote bag offers multiple carry options when it's not fitted to your eBike, with multiple compartments to fit your cell phone, laptop, and other important gear. The 22x shell offers great durability, while the cool BLCKCHRM look fits in well with the rest of the stylish bag lineup. Featuring a lifetime warranty against manufacturing defects and 0% financing options, there is a lot of value when it comes to the BLCKCHRM 22X Lako bag.

Pros:
Protects bag's contents extremely well. Very durable 22x nylon laminate weatherproof tarp lined build. Rated as a bombproof EDC bag great for daily commutes.
Internal organization with wet and dry compartments. Padded laptop sleeve offers great protection for up to 13'' laptops.
Versatile carrying styles. 3-Way Tote carrying options. Wear the bag like a backpack, carry it like a tote bag, or sling it over one of your shoulders.
BLCKCHRM look is stylish, fits in well with the rest of the BLCKCHRM bag and apparel lineup.
Cons:
The Lako 3-Way Tote only comes in black or BLCKCHRM.
Roomy tote bag, but larger laptops may not fit in the Lako 3-Way Tote Bag, even in the main central compartment.
Durability:
The BLCKCHRM Lako 3-Way Tote bag is built with durability in mind, and will last even rough commuters for years with just a little proper care. The outer shell is made up of 22x nylon with Cordura TPX durable laminate technology for a bombproof every-day carry bag. While we should hope that most riders won't need a EDC bombproof tote bag, it does mean that the bag is great at protecting cargo that you pack into it, with both dry and wet compartments. The difference between the two compartments is the 1000d tarp liner, ensuring that you can use the backpack even on wet and rainy days while keeping your cargo nice and dry. With great leather carry handles, which also convert into backpack straps, the BLCKCHRM Lako 3-Way Tote bag is definitely worth considering if you want a durable bag to protect your stuff as you commute around the city.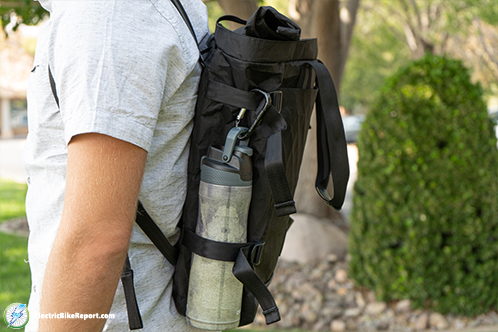 Comfort:
As the name suggests, the BLCKCHRM Lako 3-Way Tote bag has three carrying styles, allowing you to switch up how you wear the bag depending on your need or mood. Grab the leather handles together to carry the Lako like a tote bag, adjust the shoulder strap to sling it over your arm, or use the center straps to wear it like a backpack. The straps are also helpful in that you can slide them through bars on bike cargo racks, making it easier to strap it down once you are ready to ride. You can also use a carabiner to clip on water bottles and other small objects to the side, securing them in the two adjustable loops.
The BLCKCHRM Lako 3-Way Tote bag is comfortable to wear, and weighs just 1.88 lbs while having a carrying volume of 17 liters. The full dimensions are as follows:
BLCKCHRM Lako 3-Way Tote Bag Dimensions:
Height: 16.5''
Width: 11.5''
Depth: 5.5''
One of the compartments on the Lako 3-Way is specifically designed to protect laptops, but it is a bit small as it's limited to 13'' for maximum protection. While you can fit larger laptops in the central compartment, it's still meant to protect only small to midsize laptops. Be aware that if you do have a laptop with a larger screen, you may want to consider something like the BLCKCHRM 22X Bravo or one of Chrome Industries dedicated laptop bags.
Style:
The backpack looks great to wear, and the bags are marked with the logo of Chrome Industries to let others know that your Tote bag is the real deal. The BLCKCHRM lineup has made a name for itself with its sleek, simple, but powerful designs, even if they are limited in color. The Lako 3-Way Tote bag is available in pure black with a white Chrome Industries logo, and in the more common BLCKCHRM black/gray combination that gives the bag its name. While these both look great, you are effectively limited to a dark bag color if you want to go with the Lako 3-Way Tote bag. Black goes with everything, but it would be nice to see more color options like Chrome Industries other bags in the future.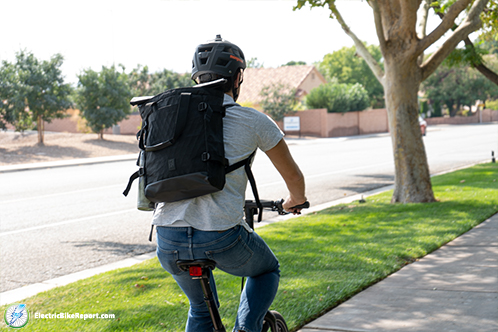 Conclusion: Protect Your Cargo, and Look Good Doing it.
The BLCKCHRM 22x Lako 3-Way Tote bag is a bombproof EDC hybrid bag, with fantastic durability and a great design that makes it a great option for all sorts of eBikers and city commuters. The 22x nylon laminated shell, built with a weatherproof tarp liner and leather handle carry grips, provide fantastic protection for the dry and wet compartments within the Lako bag. Those who commute to work will find the 13'' padded sleeve a great place to safely store their laptop, whether they wear the 3-way bag as a tote bag, over the shoulder, or as a backpack. While it only offers 2 black color options, it helps the BLCKCHRM bag stand out, especially with the iconic Chrome Industries branding. Featuring a lifetime warranty against manufacturing defects and 0% financing for up to 3 months, the $105 dollar BLCKCHRM Lako 3-Way Tote bag is a great value which makes it a durable cargo bag you'll want to consider using with your eBike.
Reader Interactions