Accessory Roundup: Thousand Helmet, Portable Solar Panel, LED Vest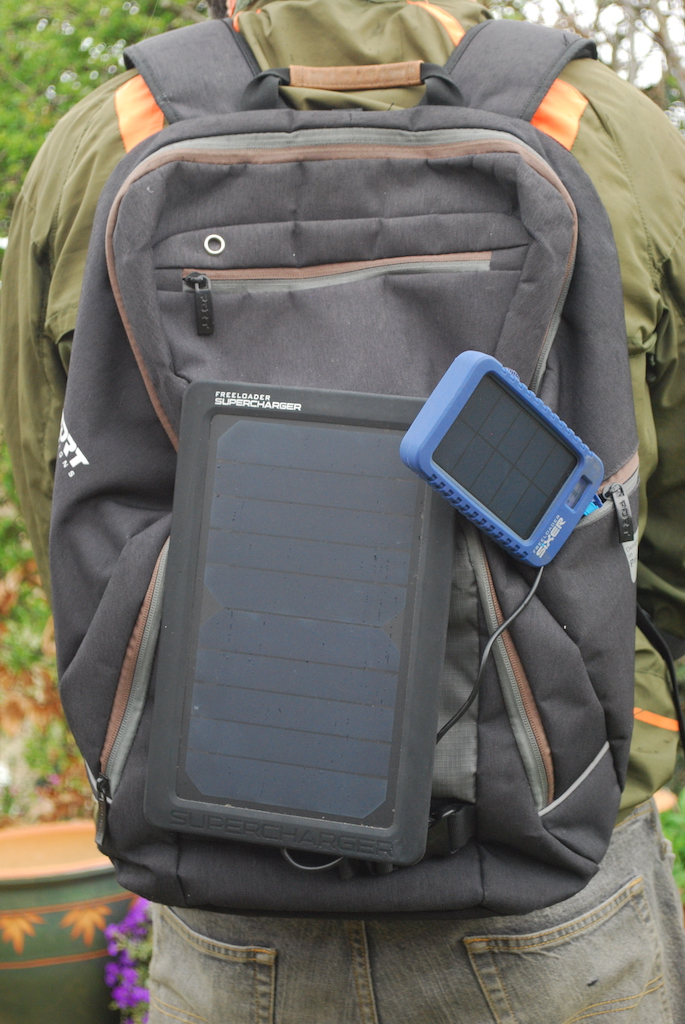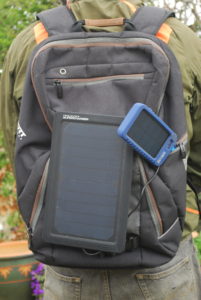 Time for a look at some new bike accessories that can make your eBike ride safer, more comfortable, convenient, and fun!
In this roundup we have the:
Thousand Cycle Helmet
Freeloader – Portable Solar Panel
Aura Reflective Vest with LEDs
Thousand Cycle Helmet
'Finally a helmet you would actually want to wear' say Thousand of their new lock-to-your-bike line.
It's quite possible people don't want the 'sci-fi' look of many modern racing style helmets with their multiple vents and aerodynamic styling – after all many e-bikers just want to use their bikes to get around town safely and in comfort and may want a certain sense of style whilst they are about it.
The Thousand helmet I tried on several rides is certainly a stylish alternative with a retro feel.
It's practical too; I found it easily adjustable to fit my head by altering both the chinstrap and the belt style buckle that goes around the back of the head.
The velcro-attached padding on the inside of the helmet is removable and replaceable (the helmet comes with spare padding) and there are top vents to keep your head cool.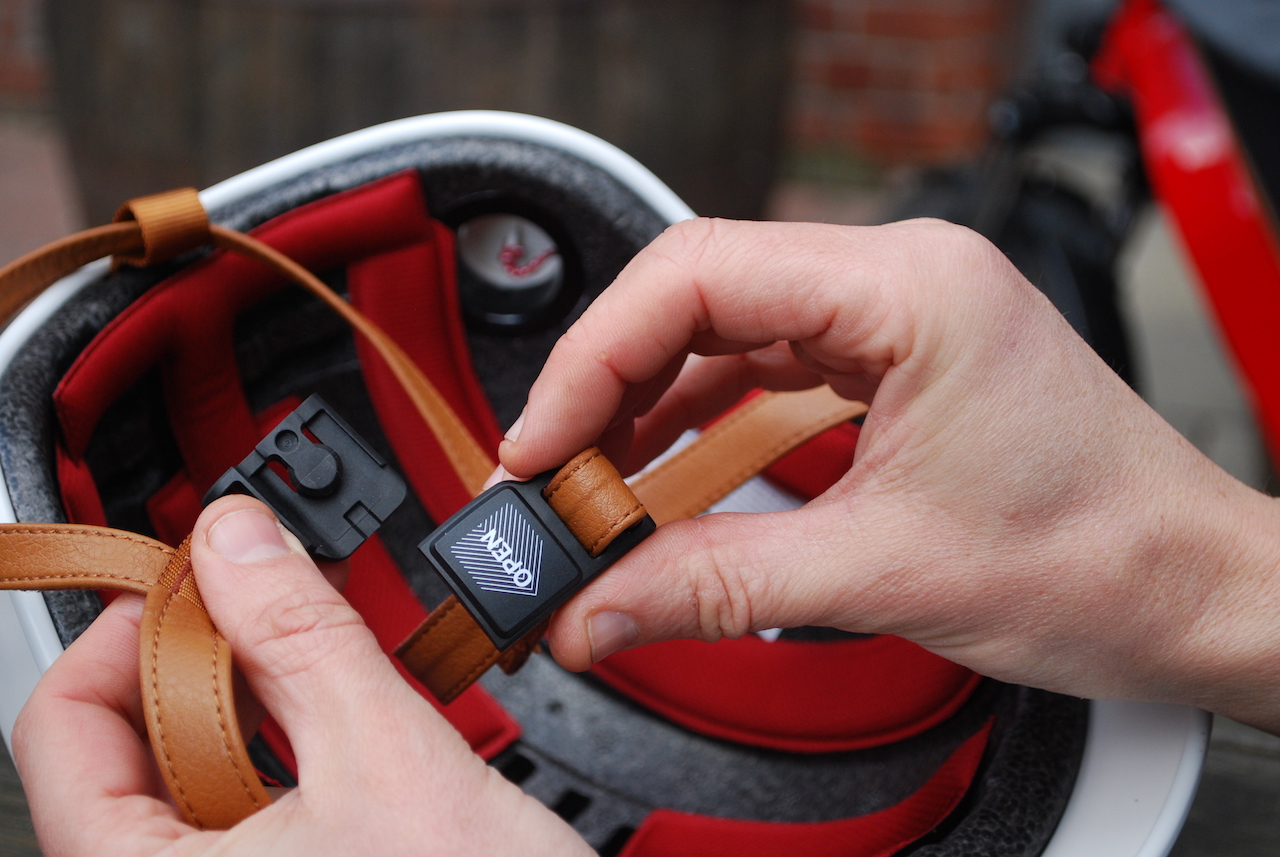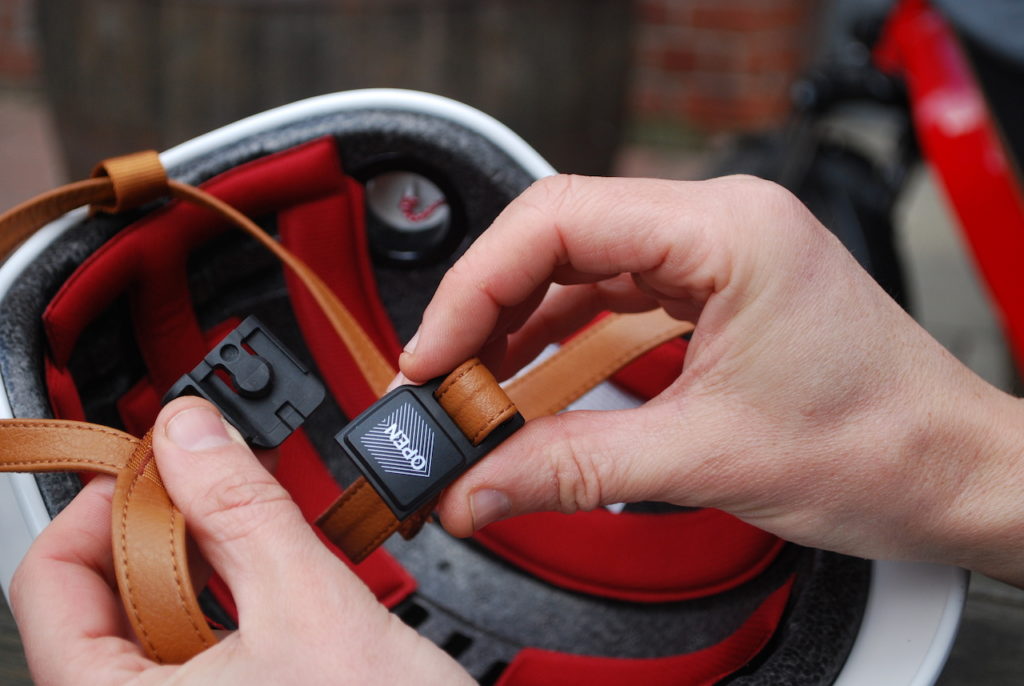 There is a magnetic clip to open and close the chinstrap intuitively and easily.
Another neat feature is the pop-out locking hole that also opens and closes magnetically and this will accommodate a lock up to about 20mm in diameter (maybe a little more) so you can leave the helmet locked to your bike.
At 470g it was nearly a couple of hundred grams heavier than our old 'sci-fi' style multi-vented racing helmet but your head doesn't really notice the extra weight and the Thousand will cover more of your head than many other designs – for example it extended further down the head at the rear than our racing style helmet.
If you are after a cool-looking put this one on your list to consider.
Weight: 470g
Price: US$85 – US$95 (also available in the UK and elsewhere)
Details: explorethousand.com
Freeloader – Off Grid Adventurer
This is essentially a 6,000mAh lithium-ion battery pack with integrated solar panel (129mm x 76mm x 23mm overall size inc protective case) and a larger 'stand alone' solar panel (overall size 76mm x 270mm x 10mm).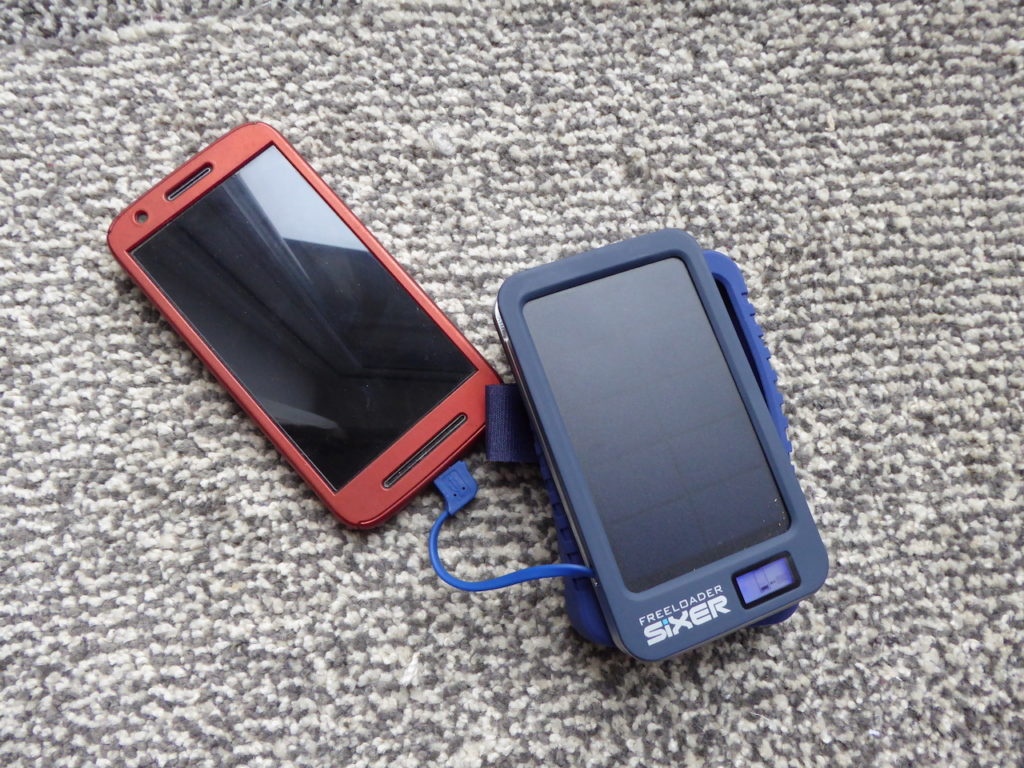 The 'Sixer' battery pack can be charged on its own with its own small panel (albeit extremely slowly) but can also be plugged in to the larger 'SuperCharger' panel to make for more practical solar charging.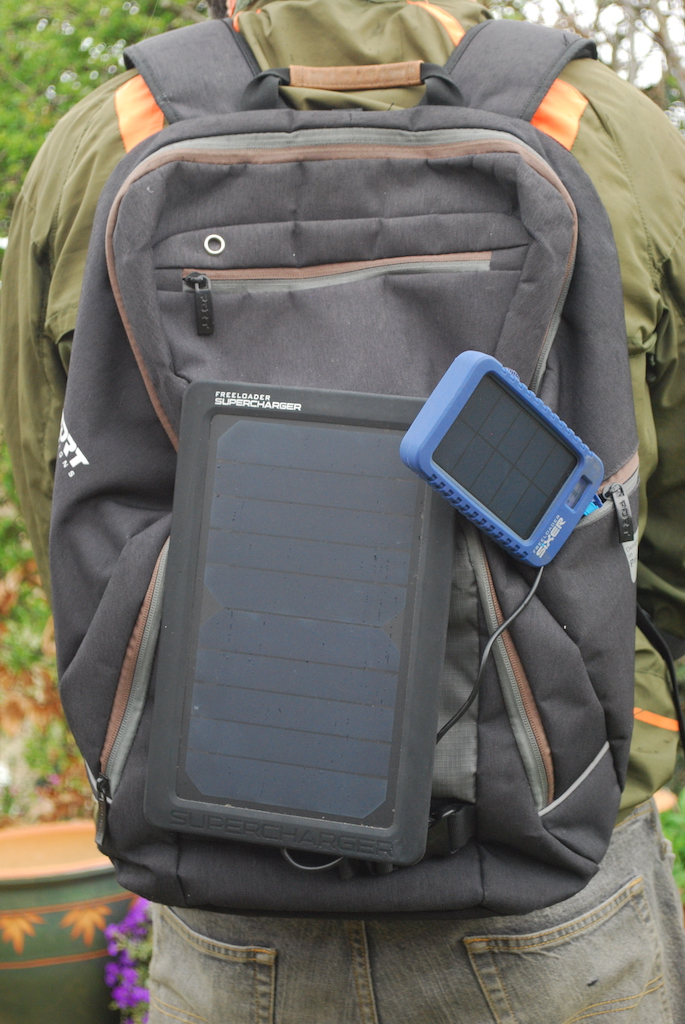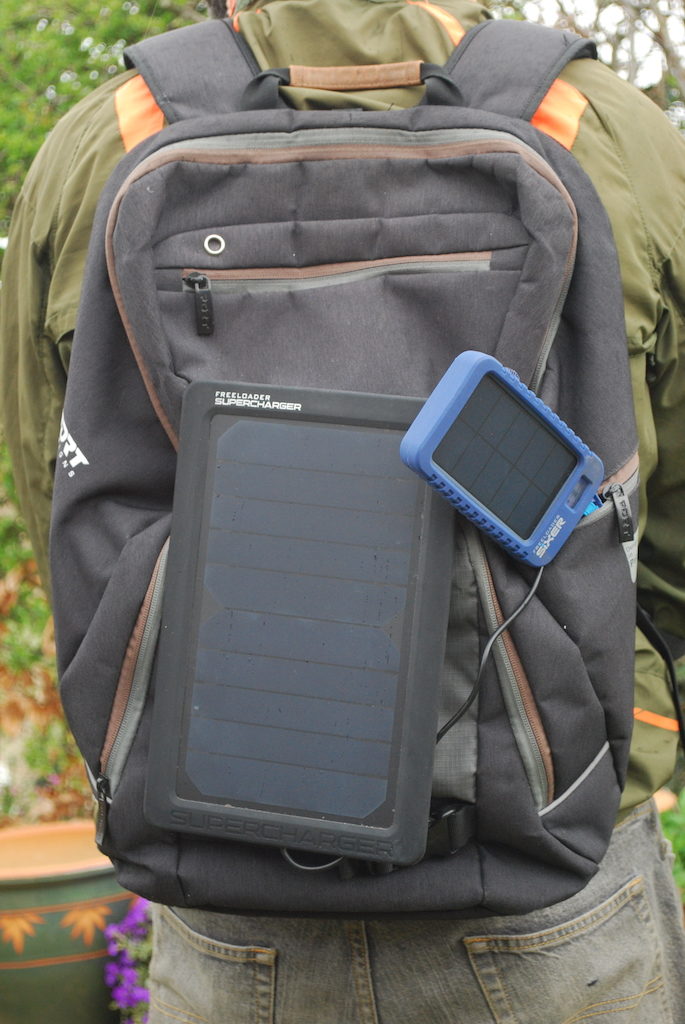 Both items come enclosed in rubberised cases which offer some protection around the edge.
They are both rated 'water resistant' though I wouldn't want to put that claim to the test in anything heavier than the light showers I tried these in.
There are mounting straps so the battery can be strapped to an upper arm and the panel to a backpack or the top of a pannier if you have straps.
The claimed capacity of the battery looks about right at 6000mAh – it charged my 2700mAh smartphone twice with a bit to spare.
It's nice idea to have off-grid phone or tablet charging self-suffiency as the product name suggests, but of course, all this depends on how much sun you get on your travels and whether you can manage to keep the panels pointing directly at the sun at something like an optimum angle.
As tested – during an often cloudy April in the north of the UK – this set up won't give anything like self-sufficiency away from the grid but in a Mediterranean mid-summer the picture could be entirely different.
Having said that I still found it useful to know that it will keep my phone going for longer than a single battery and I don't have to invest in a spare battery or take an extra phone charger on my travels if I have this with me. The Sixer can also be topped up from mains power or via a laptop.
The setup is made to charge multiple devices that operate off a 5V charge eg smartphones, digital cameras and GPS units.
With the relatively light weight and of the battery and panel it could prove a valuable addition to your next e-bike camping trip – especially if it's a sunny location and you are planning some wild camping.
Even if it's not truly a self-sufficient set up (I would want a bigger panel to start experimenting if that could be achieved) it could help keep your 'peripherals' charged if away from the grid for a night or two.
In practice it's all pretty simple and intuitive to use – a small LCD panel in the battery pack displays various symbols to let you know whether you have an incoming charge from either of the panels or from a USB source such as a laptop.
There are two inbuilt 'charging arms' that will charge devices via either an Apple Lightning connector or mirco USB. There is also a standard USB connector for devices that need their own charging lead to work with it (eg digital cameras with mini-USB connectors).
Note the maximum output of the battery is 2.1 amps so it's not suitable for devices needing more than this.
Solar Technology makes some accessories to go with the Freeloader, including what looks to be a useful 'Lumi' tent light that can be powered from it and the Cam Caddy specifically for camera batteries.
Weight: Sixer battery pack 260g SuperCharger solar panel 320g
Price: £139.99 Comes with 24 month warranty.
Aura Reflective Vest with LEDs
LED technology is one area where advances have lead to great improvements for cyclist safety. Modern LEDs are more efficient than previous versions and the science behind getting LEDs to emit a useable white light has been successfully developed too.
Aura has made good use of the advances in miniaturising LED technology in order to benefit those out and about at night but not in a motor vehicle. We tested their reflective vest, running armband and their LED slap band.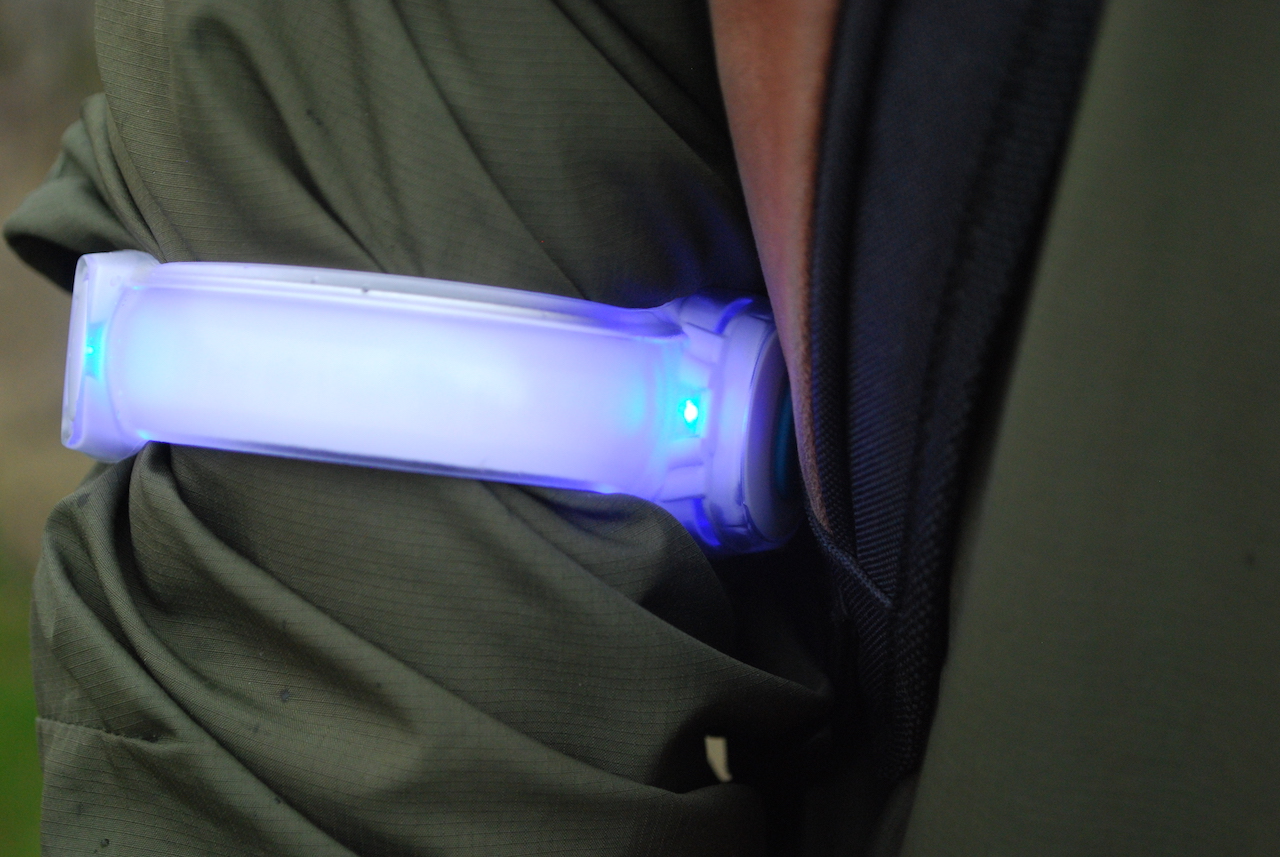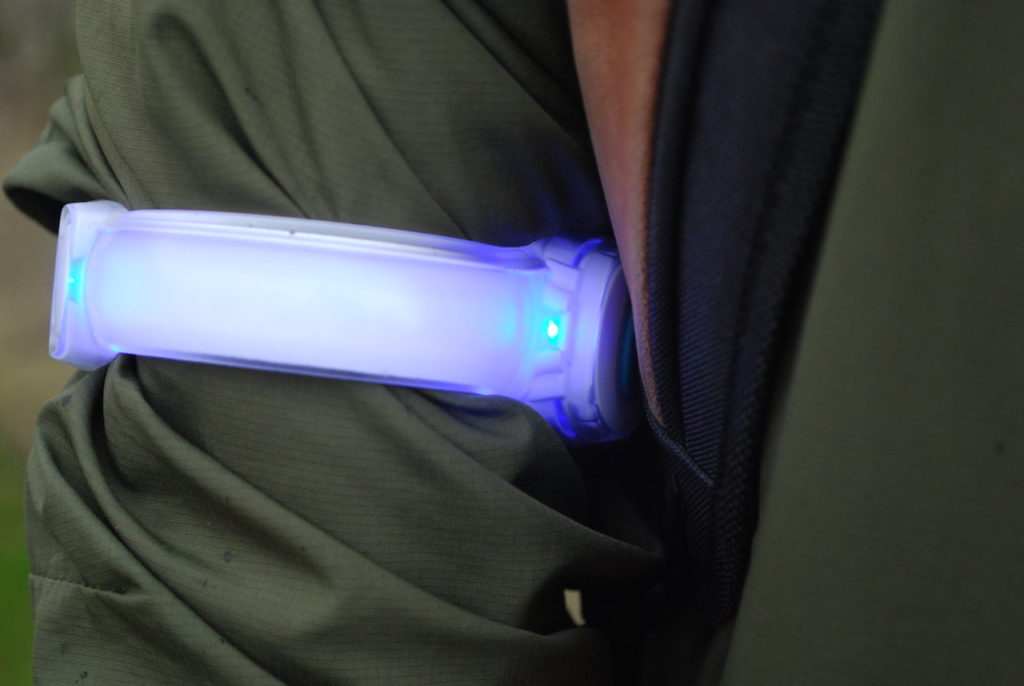 There's not a great deal we can say about these – in a good way that is, because they work well and look like they will fit a wide range of body sizes and look well-made. We have been using them over the winter as a back up to existing lights.
We wouldn't rely on them alone, not least because they are not, and are not meant to be, an alternative to front bike lights. But they are an excellent supplement.
If your bike lights are reliant on their own batteries these can of course run out and Aura are a good backup – the blue tinted armband we had would make you visible from the front if worn in the right place, though it wouldn't illuminate the road to any degree.
Even if your e-bike lights run off the main bike battery they can fail, perhaps due to a broken wire or faulty connection. Again Aura would be a very useful backup. They also do LED belts, armband phone cases and slap bands which would also be very handy.
All use replaceable button type lithium-ion batteries.
Prices:
Reflective Vest £19.99
Armband £4.99
Stay tuned for more e-bike news & reviews and thanks for reading!
-Richard
Review Note: All of these products were given to electricbikereport.com with no requirement for return.
P.S. Don't forget to join the Electric Bike Report community for updates from the electric bike world, plus ebike riding and maintenance tips.
Reader Interactions