Best Moped-Styled E-Bikes 2023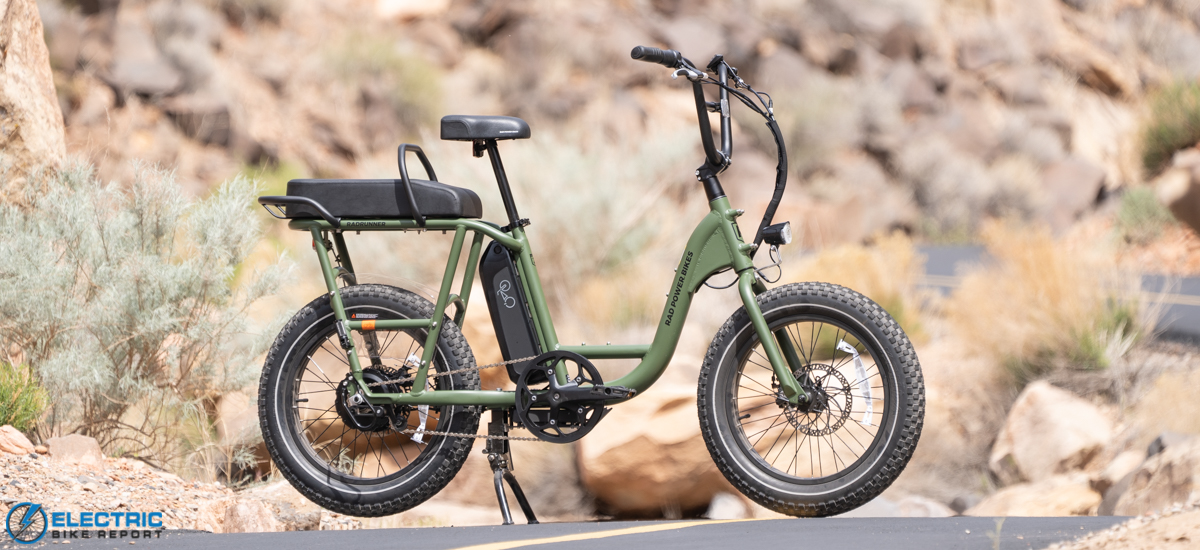 *Electric Bike Report aims to help consumers find the right electric bike for their needs. When you buy a product we recommend, we may earn a commission.
Just which moped-style e-bikes are the best? First, lest try to figure out what a moped-styled e-bike is. Whilst there is no precise definition – they are a category that has only really come to the fore recently, due to their increasing popularity – there are certain telltale design features on these e-bikes.
Moped style e-bikes look to combine the essential e-bike characteristics of having pedals and a relatively low-powered electric assist motor system with many of the comfort and convenience features of full-on mopeds. That often means a bench seat (that may also be able to accommodate a pillion passenger and so rear footpegs may also be present), motorcycle grade suspension and tires plus automotive lighting style features like a full on headlamp or even indicators.
That's what they are, but why would anyone want a moped style e-bike? It has to be said that that indefinable ingredient style plays a big part and as what constitutes style is a subjective thing, but there are clearly other attractions to moped e-bikes too. No doubt to some the motorbike look is a real hook, whilst others might be fans of some of the celebrity adherents of brands like Super 73.
More than all this though, moped-styled e-bikes have real, practical benefits. A long bench seat, suspension and large tires all offer greater comfort than many other designs of e-bike whilst features such as an upright riding position, well-specced lighting and a powerful motor with some degree of throttle control can help them feel very safe in busy town traffic. On the downside they tend to carry a weight penalty for all that extra heavy duty equipment.
Like other genres of e-bike, moped-styled e-bikes will each have their own strengths and weaknesses; some may be better for commuting, some for off-roading….and so on, but all share a fun and funky ride feel that's hard to define but easy to sense once you get motoring on a moped-style e-bike. So without further ado let's take a look at what we think are the best moped-styled e-bikes out there right now.
Our Picks For The Best Moped-Styled E-Bikes of 2023
How we picked the best moped-styled e-bikes
Our team of experts here at EBR have ridden a lot of e-bikes so these moped e-bike choices are the product of many collective thousands of hours of riding and comparing performance in detail.
Even in a relatively niche category like moped e-bikes there are many hundreds of e-bikes out there. We've used our knowledge to assess the paper specs of all the contenders and added in our real-world riding experience to whittle down the list to pick out which moped e-bikes are the best for specific functions.
Naturally, we favored bikes we've ridden and reviewed ourselves a bit, but we did include some based on reputation alone.
But in all cases, we evaluated the bikes based on a few key criteria, mainly:
Value: How much e-bike are you getting for your dollar? The e-bike market has grown flush with overpriced and under-spec'd electric bikes that don't offer much value. Every bike on this list we'd call fairly priced.
Components and extras: What else comes with the e-bike? Does it come with racks, bags, lights and fenders, and do those accessories make sense? Is there anything else that should be included but isn't?
Does it offer something unique?: In a market chock-full of options, what's unique about this bike that sets it apart from the competition? There are many categories of e-bike — particularly at the more affordable end of the spectrum — that are flush with copycat brands and e-bikes that just aren't that special. We're looking for the ones that are.
What does the manufacturer say it was built for?: What was this bike designed to do, and how well does it execute that purpose? Of course you can choose to use your bike however you'd like, but we want to make sure the e-bikes on this list function as advertised.
How does it actually ride?: Last but not least, the most important question: Does the e-bike ride well? Many of these e-bikes we know intimately through rigorous testing.
Rad Power Bikes RadRunner 2
Most Versatile Moped E-Bike: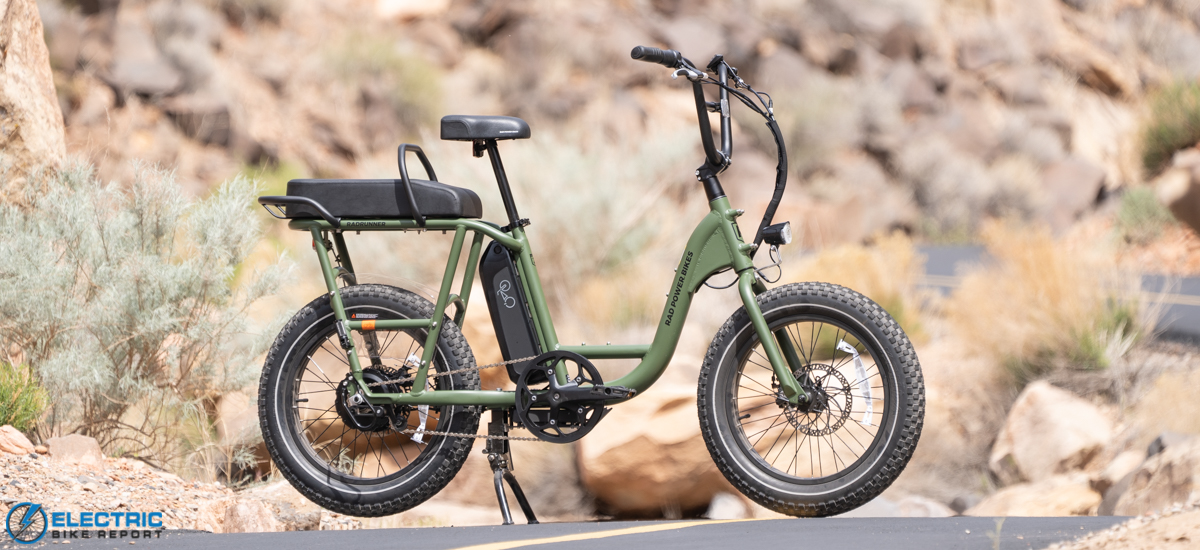 Rad Power RadRunner 2: | Read Full Review | Watch Our Video Review
It has a regular bike seat and no suspension but, especially with that padded extra passenger bench seat fitted, the RadRunner 2's upright riding position, chunky frame and oversize tires really give it a moped appearance. Throw in the fact that it's the most affordable of the bunch and you have yourself a worthy option for the best moped-styled e-bike.
It's not all about moped-style though; its main selling point has to be its enormous versatility packed into such a small package. There are 330 different accessory combinations that fit onto the rear, the front or even in the middle of the bike.
The rear rack is welded to the frame so it's super strong and rated to take up to 120lbs load. Carrying accessories here include a superstong large alloy welded 'basket', Ballard pannier style bags (two of which give 56 liters carrying capacity) and perhaps best of all the 'Passenger Package 2.0' that contains a passenger seat retractable footpegs, and a protective wheel skirt. A 'Center Console' accessory cleverly utilises the space within the open frame design to pack in another 22lbs of load capacity and there are also bolt-on carrying options that sit above the front wheel. If you want to complete the moped style effect there are optional moped style rear view mirrors.
There's plenty of electrical oomph to power you along too despite the fact the bike has only one gear, with a Class 2 750W rear hub motor powered by a large capacity (672Wh) battery. It gives very effective class 2 performance (up to 20mph assist) with the option of independent throttle power. Top notch stopping power is courtesy of the Tektro Aries mechanical brakes with 180mm rotors which came out near the top of the comparison chart in our test. It's an effective hillclimber too, whether you use throttle or pedelec power.

Pro's
Claims to 'do it all' and pretty much can
Brilliant stopping power from mechanical disc brakes
Moped looks and funky styling
Single speed for low maintenance
Literally hundreds of accessory options

Con's
Single speed may limit extreme hillclimbing
No display to see performance and other data
Himiway Escape
Best Value Moped E-bike with Full Suspension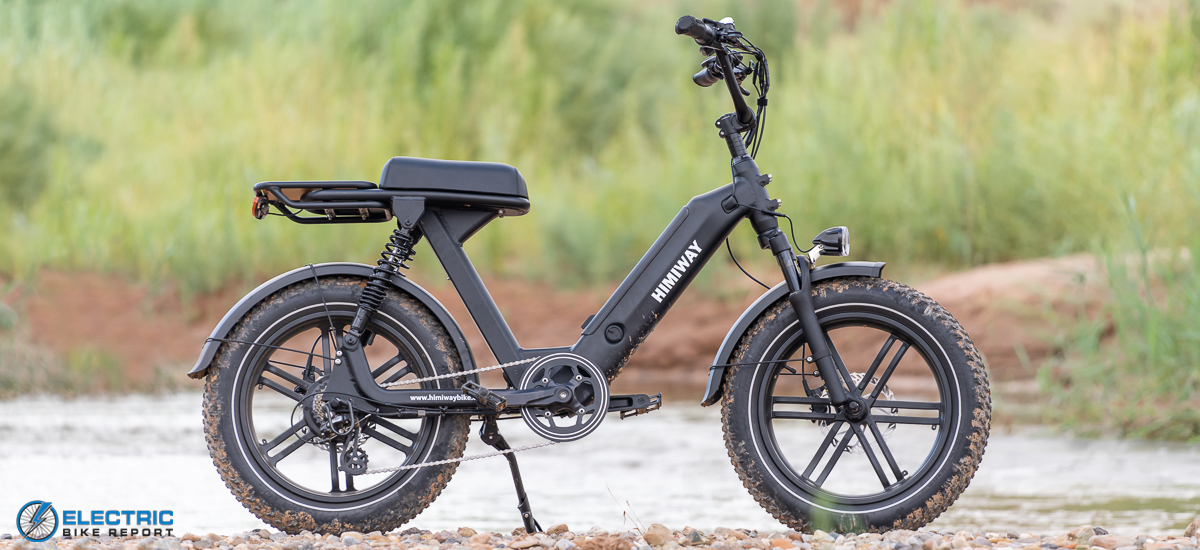 Himiway Escape: | Read Full Review | Watch Our Video Review
We loved the Himiway Escape because of the tremendous fun factor it brings to riding, and the full suspension of the Escape certainly contributes to that, allowing you to tackle most urban terrain and even some mild off-roading in great comfort.
The Escape's true moped style is reflected in the Escape's chunky open frame design and padded bench seat and the twist grip throttle which takes you up to 20mph on its own. Of course,this being an e-bike, you have the option of pedaling too which will add to the range you obtain, especially if you stick to the lower power levels. Do note though, our test rider loved the fun factor of riding a moped style e-bike using the throttle only and many riders may feel the same way. It makes this one the best moped-styled e-bike for those who don't want to pedal much.
The moped design also helps to give a stable and safe feeling ride, with all that weight low down and plenty of traction from the 20" x 4" fat tires combined with that full suspension. Our reviewer summed it up as 'enjoyable and predictable' then went even further in his praise of the bike's handling capabilities, calling it a 'traction and cornering specialist.'
The 750W rear hub motor also stood out for us in our testing, posting very respectable times on our steep 'hell hole' climb, both using pedal assist and on throttle only – the latter showing the true power of the motor.
Another bonus is a decent range (especially on such a heavy e-bike) – we estimated it at around 20-30 plus miles, depending on assist level and rider weight from the 672Wh battery. Note the Himiway has been upgraded to an 840Wh battery in the current 'Pro' version the Himiway Big Dog.

Pro's
Just great fun to ride
Great traction and comfort, especially from the rear suspension
Powerful motor
Good handling from the low center of gravity

Con's
At 92 lbs this is a heavy e-bike. Not a problem when riding thanks to the powerful motor, but you won't want to run out of battery or lift it up very much
Not much leg extension room for larger riders as the Escape has a fixed seat position
Juiced Scorpion X
Best Moped E-bike for Commuting
Juiced Scorpion X: | Full Review Coming Soon
There are some similarities between the Juiced Scorpion X and the Himiway Escape, visually at least. The Scorpion X is the beefed up version of the Juiced Scorpion, promising more motor power and an extra 15% battery capacity (780Wh). It actually uses the same motor as their top performing Hyper Scorpion model, though it's toned down slightly in peak power terms for the Scorpion X. Still, there's plenty of performance here, as the Scorpion X is a class 3 e-bike, capable of 28mph speeds and it has a twist grip throttle and pedal assist to give you the best of both worlds.
There are many quality aspects to the spec; plenty of stopping power with hydraulic disc brake, microshift 8-speed derailleur gearing, torque sensor on the pedal assist function for smooth pedalling and if you want to take a passenger on the rear rack there is an optional extra kit to convert it into a seating area. The optional Relay Rack travel adapter system means you have a modular cargo system with quick-swap carrying accessories. Riders with longer legs will appreciate the Tall Seat option which adds 3″ to seat height, extending the seat height to 35.6″.
Like the Himiway Escape it has a super-beefy frame and full suspension, with a padded seat and raised bars for a full on moped look. There's also very large volume 20" x 4.25" tires, a powerful auto style front headline and 100 decibel horn to reinforce those credentials.
Overall it gives that super comfy and super safe feeling ride that all the best moped e-bikes have, whilst at the same time getting you from A to B quickly and easily in 28mph style.

Pro's
Great value for the quality of components you get
Powerful 28mph motor with throttle control
Useful options for passenger carrying and for taller riders

Con's
Heavy, even for a moped style e-bike at over 100lbs
Super73 ZX
Best Moped-Styled E-bike for Light-Duty Off-roading
Super 73 ZX: | Full review coming soon
If you've been looking for the best moped-styled e-bike for a while, you've no doubt come across a bunch of Super73 options. Super73 could fairly claim to be in at the dawn of the moped e-bike craze and are particularly well-known for their high profile celebrity endorsements. That's not to say their moped e-bikes aren't very striking looking machines, with the open frame appearance being one of their trademarks. Although the company originated in southern California, it has rapidly gained teen adherents in strongholds of more staid Euro-style biking like Amsterdam.
In specification terms and in physical size terms too, it is a step up from their most entry level ZG model. The Super73 ZX retains a moped style appearance thanks to a long bench seat, long travel front suspension and huge volume tires. Compared to the ZG it has a lighter aluminum frame and a larger removable battery (615 Wh). It also has a more upright riding position.
The tires are super wide at 20" x 4.5" and so very large volume and combined with that long travel front suspension mean, even though the SX lacks rear suspension, it's suitable for moderately difficult dirt road terrain. And it has an unregulated speed mode for OHV areas too.
It's as fun as it is capable, with room for a small passenger on the existing seat.And if you want the full-on southern California look you can accessorize the ZX with Super 73's own aftermarket surfboard rack or a coloured chain.
The US-spec ZX ships as a Class-2 e-bike which allows full throttle up to 20mph, but other options are available if you use the Super 73 app. It can be programmed as a Class-1 (20mph pedelec) or Class-3 (28mph pedelec) as well as an unlimited off-road setting which assists beyond 28mph – only legal on off-pavement OHV areas or private land. Note there are separate options for Super 73 ZXs that ship to European countries.

Pro's
Super comfortable seat that will accommodate two people
Fat tires great for light off-roading
Off-road mode for faster riding

Con's
No torque sensor so pedal assist may not be as smooth as some other moped e-bikes
Cable actuated disc brakes rather than the more powerful hydraulic ones
Biktrix Moto
Best Long Range Moped-Styled E-bike
Biktrix Moto: | Full Review Coming Soon
Why is the best moped e-bike at long range rides for us? Simple – it comes with a 1032Wh battery as standard but optionally that can be doubled to 2064Wh. Biktrix claim 100 mile range which is enormous, especially for a moped style e-bike which aren't the most efficient style of e-bike. You might struggle if you are a heavier rider or covering hilly terrain to attain this, even with that separate battery, as the Moto has only a single fairly low gear, meaning you will likely be resorting to the throttle at higher speeds (it's a class 2 e-bike, with throttle assist up to 20mph).
Still you will get an impressively large range and will accomplish it in style and comfort. This is ensured by the Moto's handlebars – reminiscent of a classic Harley – whilst dual piston hydraulic disc brakes, a long comfy bench seat, a big front suspension fork and 20 fat tires mean a plush and safe ride.
There are useful accessories included as standard too, including a powerful 1500 lumen headlight, rear light with braking feature, fenders and a rack. It is also notable that the Moto comes in two frame sizes with the smaller having 20" wheels and the larger 24" wheels. Larger riders can struggle with some moped e-bikes that have fixed level seating like the Moto, so they will be grateful for this latter option.

Pro's
Huge range
Style points galore
Lighting, fenders and rack as standard

Con's
Single gear is rather low
Bottom line: The Best Moped-Styled E-Bikes of 2023
Moped-style e-bikes are an up and coming category so we would expect this relatively short list of favorites to expand fairly rapidly over the coming months and years. Designs may well get tweaked in line with new technology and new designs may emerge that look to avoid some of the criticisms of moped style e-bikes, such as their heavier than average weight and the fixed seating position (in fact the latter point is already addressed by the Scorpion and Biktrix picks above).
So, this is not a comprehensive list, nor were we able to consider each and every e-bike use case, but we do think all the bikes on this list are a good representation of the moped e-bikes that are out there right now. And it's a category we expect to see a lot more activity in in future.
Have a bike that you think would be a good contender for our best electric-styled moped bikes of 2023 page? Let us know in the comment section below. At the very least, we always want to know what our readers are riding!
Reader Interactions