Lectric XP Trike Review, 2023
An accessible, affordable addition to the Lectric lineup that raises the bar for e-trikes!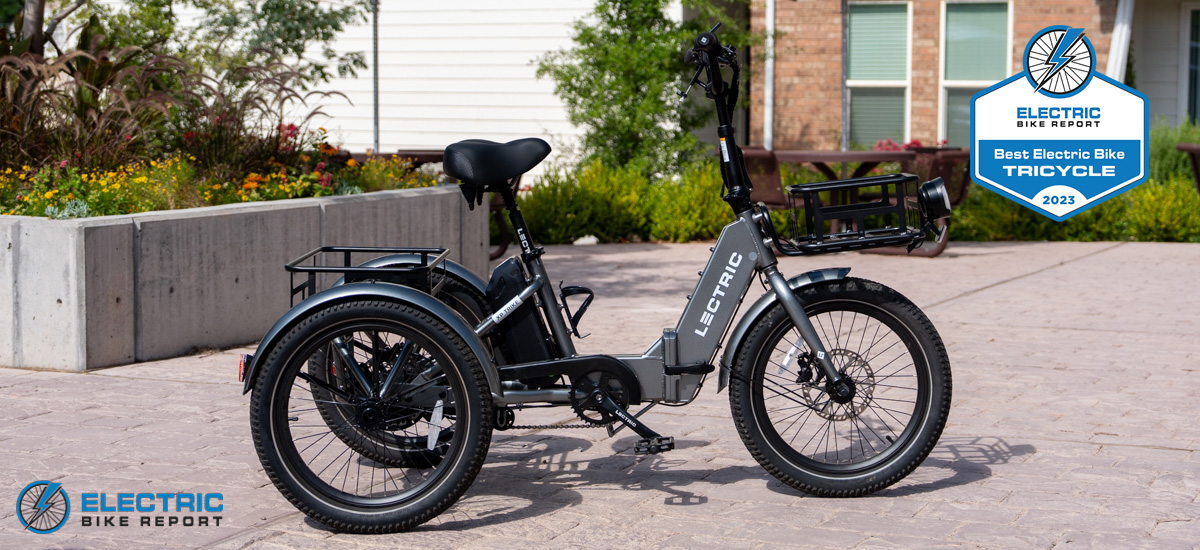 Riders looking for the stability, accessibility, and carrying capacity of an electric tricycle will be thrilled with Lectric's latest offering – the Lectric XP Trike! As we expected from Lectric, the XP Trike comes packed with features but won't break the bank. In this Lectric XP Trike review, we take a close look at this affordable e-mobility solution!
With a price tag of around $1,500, we were shocked by everything that's included with the Trike. A 500W rear-hub (well, sort of) motor, a throttle with different speeds tied to the pedal-assist system, a 672 watt-hour (Wh) battery, hydraulic disc brakes with parking brakes, lights, plenty of cargo space, and tons more – you simply won't find another similarly affordable trike from a brand with Lectric's level of name recognition and quality.
The XP Trike takes a different approach with its motor; Lectric adapted a hub motor for use as a pseudo-mid-drive. This design keeps the rider's weight over the motor, which grants the trike better traction than the myriad of other electric tricycles with front-hub motors.
Weighing just 62.5 lbs with its battery removed, The XP Trike is decidedly more portable than many other e-trikes on the market – some others can weigh 90 lbs or more! And as with a majority of Lectric's other models, the Trike's frame and stem fold down to reduce its overall size as well, allowing it to fit in the back of an SUV or even a hatchback; we tested that too!
These are just a few of the highlights, though; we discuss all of the trike's major features as well as its real-world performance results in this Lectric XP Trike review!
Right now you can get $305 in free accessories on the XP Trike during Black Friday savings! Click the button above, or head to our Black Friday E-Bike Deals page for more info.
*Editor's Note: Updated Nov. 20th, 2023 to include award badge, and links to latest info and pricing.
Bike Category:
Electric Tricycle
Class 2 E-Bike:
Throttle and pedal assist up to 14 mph
Lectric XP Trike Video Review

Pros
Incredible value and affordability! At around $1,500, the XP Trike is one of the lowest-priced options on the market, while still (somehow) including features you won't often see on more expensive models.
Portable and can fold down for easier transport (and weighs just 62.5 lbs without the battery).
A centrally mounted rear-hub motor gives a mid-drive-esque feel with classic rear-hub affordability.
Great range! Our testing didn't quite line up with Lectric's claim of 60 miles, but we still measured an impressive 40-53 miles depending on assist level.
With a super-low standover height of just 13.8" and a right-hand twist throttle, the XP trike is easy to hop on and ride!
Tons of safety features including lights, a slower "beginner mode," and a throttle with multiple speed settings!
415 lb weight capacity and can haul over 100 lbs of cargo with optional racks and baskets.
We like the hydraulic disc brakes with 180mm rotors!
Ships (almost) fully assembled.

Cons
Not an actual downside, but instead, something to be aware of: taller riders may get a little less leg extension than expected.
One other thing to keep in mind: As a tricycle, it's important to ride slower and learn how to turn with your weight balanced properly.
ELECTRICAL SPECS & FEATURES
Battery : 48V, 14 Ah (672 Wh) removable lithium-ion
Display: B&W backlit LCD
Motor: 48V, 500W (1092W peak) rear hub motor on open differential axle
Controller: 20-amp with heat sensors
Headlight: Integrated Elite headlight
Taillights: (3) Integrated taillights
Pedal Assist: PAS 1-5 with cadence sensor
Range: Up to 60 miles (claimed)
Throttle: Right-hand twist throttle, on demand
UL Certification: None
Weight & Dimensions
Claimed weight: 69.5 lbs w/ battery, 62.5 lbs without battery
Rider height range: 4'-10" to 6'-4"
Maximum rider weight: 330 lbs
Maximum load on the rear rack: 75 lbs
Maximum load on the front rack: 35 lbs
Total payload capacity: 415 lbs
Components & Accessories
Brakes: Star Union hydraulic disc brakes w/ 180mm rotors
Fenders: Steel fenders, front and rear
Fork: Rigid steel fork w/ threadless headset
Frame: Fully foldable 6061 aluminum
Drivetrain: 36Tx16T single speed
Grips: Ergonomic rubber, press-fit
Saddle: Cushioned saddle w/ backrest
Handlebar: Low rise w/ telescoping stem
Kickstand: Dual parking brakes
Tires: 20"x2.6" w/ reflective sidewalls
Lectric XP Trike Review: Speed Test
There's an unusual amount to discuss with our Speed Test(s) for the Lectrix XP Trike. The trike uses a 48V, 500W hub motor for its pedal assist and throttle propulsion, and ships in a limited "Beginner Mode," which Lectric advises is best for getting a hang of the unique feel of a tricycle; this mode has essentially two speed settings with a maximum of 12 mph.
In Beginner Mode, the XP Trike essentially has two speed settings. As shown in the graphic above, we measured a maximum of around 5 mph in the trike's two lowest pedal assist system (PAS) settings and a maximum of roughly 11.5 mph in PAS 3-5. Our data correspond closely with Lectric's advertisements; PAS 1-2 are limited to 5 mph and PAS 3-5 are limited to 12.
Riders who are comfortable going faster can unlock the trike through its settings menu to its 14 mph maximum. Considering that trikes are safest when going slow, we recommend keeping it in this setting – but we tested it when unlocked to its full potential as well. When unlocked, we measured approximately 7.5 mph when pedaling with no motor assistance, which required some effort to achieve. Our pedaling experience lightened up in PAS 1, where the motor's assistance brought us to around 8.5 mph. PAS 2 gave a significant boost up to roughly 11 mph, and then our speeds in PAS 3-5 all maxed out somewhere between 13 and 13.5 mph.
We also measured its throttle-only speeds when unlocked for those riders who are likely to rely solely on motor power to zip around; as with pedaling, the XP Trike's throttle speeds have different limitations in motor power for each PAS setting. This allows riders relying solely on the throttle to modulate their speed more easily than trying to hold the twist grip in a specific location while riding! We measured a maximum of around 8 mph in PAS 1 and 10 mph in PAS 2. Our speeds in PAS 3-5 mirrored the data we gathered when pedaling – the throttle reached between 13 and 13.5 mph across all three settings.
Lectric has used an alternate method of pedal assist programming with the XP Trike. Instead of limiting its speeds within each pedal-assist setting, the PAS limits the amount of current flowing from the battery to the motor – so technically, all settings are capable of reaching the 14 mph max speed.
This is why our results show similar speeds in PAS 3-5 across the board; the motor had enough power to reach its top speed at PAS 3, but with more power in PAS 4 and 5, it reached that speed faster. When riding with a heavier payload or traveling uphill, the differences between settings are more pronounced, but there is less of a noticeable difference when riding where the additional power isn't needed.
It's worth mentioning that the XP Trike uses just a single-speed drivetrain. In my experience, this can be somewhat difficult to get moving; it requires a quarter-turn of the cranks followed by a short delay. This also results in ghost pedaling at speeds above roughly 10 mph, where pedaling fast is necessary to contribute to what the motor is doing. Usually, this is a point of critique for us, however, considering that the trike is made to provide an easy, casual experience, we have no qualms about its operation or performance in this test.
Lectric XP Trike Review: Range Test
By performing our Range Test and pedaling the XP Trike in both its highest and lowest pedal assist settings until its 48V, 692 Wh battery expired, we determined a reasonable bracket of distances riders could expect to travel on a single charge. Based on our real-world tests, we measured between roughly 40 and 54 miles.
Lectric advertises a range of up to 60 miles on the trike, which was determined by their own tests on flat ground with a payload of approximately 180 lbs. Our tests were performed on a network of local multi-use paths, with a multitude of hills; this is a likely contributor to the difference of a few miles in our PAS 1 test. We gained over 1,000 feet of elevation in our test, which required more energy from the battery than a test on flat ground would have.
Our results in PAS 5 were significantly better than the 20 miles that Lectric advertises, but there is a significant factor that extended the distance we were able to travel. The trike ships in "Beginner Mode," which limits its speeds in PAS 1 and 2 to 5 mph, and those in PAS 3-5 to 12 mph.
These limitations can be removed through the settings menu to increase its maximum speed to 14 mph in all PAS settings, but due to the trike's unique handling, we would advise users to stick with the safer limitations of Beginner mode. I'll discuss this in greater detail in the Ride Quality section below, but the XP Trike (and all tricycles in general) requires slower cornering to avoid tipping up on two wheels.
We tested the XP Trike as it shipped, which limited the power output of the motor and required less energy overall, thereby extending its range. While this effectively reduced the breadth of its pedal assist system to just two settings, greater range in lower PAS settings is an added benefit to leaving the trike in Beginner Mode!
This limitation also extended the amount of time we were able to ride the XP Trike in our testing. Based on the specs of its motor and battery, we would expect about an hour and 20 minutes from the trike in PAS 5, but our test ran for nearly three and a half hours! We dive more into this topic in our article explaining how to calculate range on e-bikes.
Lectric XP Trike Review: Hill Test
We approached our Hill Test with the Lectric XP Trike in the same way as we would with a standard e-bike; see the graphic above for more information on our testing methods. However, due to the different modes, we performed tests in Beginner Mode and with the trike unlocked.
In Beginner Mode, we measured a time of 3 minutes and 41 seconds to the top of Hell Hole Trail with only throttle power, and maintained an average speed of 4.9 miles per hour. Pedaling in PAS 5, our travel time dropped to 2 minutes and 34 seconds, with an average speed of 7 miles per hour.
When unlocked, the XP Trike's capabilities increased dramatically. Using the throttle, we measured 1 minute and 51 seconds up the hill, at 9.8 miles per hour – nearly double the average speed and almost two minutes faster. When pedaling, we measured 1 minute and 40 seconds, with an average of 10.8 miles per hour.
The differences between throttle results line up closely with the XP Trike's differences in controller amperage between Beginner Mode and unlocked settings. When set to PAS 5 (the throttle power is tied to the PAS system) the controller allows 10 amps from the battery to the motor in Beginner Mode, and 20 amps when unlocked. This equates to a motor output of 480 watts vs 960 watts, respectively; with more watts, the trike was able to climb the hill faster.
We pushed the XP Trike's capabilities to the max outside of our official Hill Test. We loaded up both its front and rear cargo racks up to around their maximum weight capacity (75 lbs on the rear cargo rack and 35 lbs on the front) and attempted the climb at Hell Hole again with throttle and pedal power in PAS 5. The motor overheated near the top of the path when we used only the throttle, but with our added leg power to ease its burden, the trike was successful. And to be clear, the fact that the bike shut down when the motor overheated is good – this prevents it from burning out completely and becoming unusable.
We repeated this test on another steep local hill using the same approach; this hill is intimidating, but not nearly as extreme as Hell Hole. When pedaling in PAS 5, the climb required some additional legwork, but was still a breeze overall. Using just the throttle, the trike slowed significantly, but never seemed to struggle – and most importantly, it did not overheat.
For just a 500-watt motor, we were highly impressed with the XP Trike's capability and determination! It proved itself able to handle intimidating hills even when fully loaded, and also able to conquer extreme challenges in both of its riding modes with lighter loads.
Lectric XP Trike Review: Brake Test

By using the method explained above, we evaluated the safety and performance of the XP Trike's Star Union hydraulic disc brake system, which includes 180mm rotors. The trike has one rotor standardly placed on the front wheel, with the second located centrally on the rear axle.
After three trials, the average stopping distance we calculated for the XP Trike was 13'-2". Again, we do not have a large pool of similar models to compare to – in fact, there is not an abundance of electric trikes from reputable brands on the market. The single other electric tricycle we have data for had a large number of differences affecting brake performance, so a comparison would not be fair to either model.
In terms of feel, the XP Trike performed well in our test. I found the trike to be stable when braking, and its brake system effectively slowed and stopped it in the time/distance I expected. Even when fully loaded with cargo weight, the system functioned well when traveling downhill as well.
Lectric XP Trike Review: Ride Quality
As an electric tricycle, the XP Trike's ride quality is significantly different from a two-wheeled e-bike. The primary factor is its handling when making turns; as I mentioned previously, with the XP Trike and any tricycle, it is important to slow down!
The trike requires a different way of carrying oneself when turning which involves working some core muscles not usually involved on a bicycle. To avoid coming up on two wheels and potentially tipping, it's important to lean into the turn with your upper body, which keeps weight on the inside wheel. This is the primary reason for our recommendation to leave the XP Trike in Beginner Mode; the vehicle is simply safer to operate when traveling slower. And at slow speeds, the trike can turn on a dime thanks to its two rear wheels!
Lectric advertises that the Trike can accommodate riders from 4'-10" to 6'-4". We found that taller riders may get less leg extension than those of short or average height, both to maintain a comfortable position in relation to the handlebars and to keep the center of gravity relatively low. This is another factor affecting the bike's stability and turning ability, with stability decreasing as the center of gravity is raised higher. Following the practices described above, our riders around 6' tall encountered no problems, but it is something to be aware of.
In terms of comfort, the trike was solid – though our test machine was equipped with some extras like a suspension seatpost that we'd absolutely recommend adding for a well-cushioned and smooth ride. We also liked the standard riser bar as well as the ergonomic grips; these offered good control and comfort for longer rides.
At the time of writing, Lectric is offering both a Cargo Package with cargo racks and baskets for free, as well as an upgraded Support Seat. The XP Trike's standard saddle appears to be similar in shape to what we'd expect from a cruiser e-bike, with a wide back end and thick support foam, while the Support Seat features an even larger seat with an adjustable backrest. Our test Trike came with these upgrades, and we found the Support Seat to be very accommodating, though its larger shape interfered slightly with pedaling. We'd have liked more adjustability in the saddle to correct this – and perhaps a more "slack" or leaned-back angle to the seatpost in general – but there is the standard saddle option as well if you find yourself in our camp.
Lectric also offers some accessory packages to outfit the XP Trike further; we think the Ready Package that includes handlebar-mounted side mirrors would be a great choice, though we wish it also included a bell (one can still be purchased separately through the online store).
The brand also took a different approach with the trike's 500W hub motor; instead of being mounted in the front wheel hub or one of the rear wheels, Lectric devised a strategy for mounting it centrally between the rear wheels. Instead of the pushed-from-behind or pulled-from-the-front feel of traditional hub motors, this provides a more natural, mid-drive (-ish) motor feel in terms of where the propulsion originates. It also creates better traction than front-hub motors, which can frequently spin out. Time will tell if this design can hold up in terms of performance, but for now, it's an interesting take that we haven't seen elsewhere.
For all that the XP Trike offers at its price point, we're highly impressed with the individual features that affect its ride experience, as well as the combination of its overall ride quality.
Lectric XP Trike Review: Summary / Where to Buy
In our testing, the Lectric XP Trike proved to be a great option for budget-conscious seekers of a quality e-mobility solution. It provides a functional and comfortable method of getting around – and offers the ability to transport a surprising amount of cargo weight – while remaining firmly in an affordable price range. One might even argue that Lectric (once again) redefined the scale of affordability by offering an electric trike at an unimaginably low price.
Considering that this is Lectric's first stab at a trike, we expected to see a greater number of areas needing improvement, but we were thoroughly impressed by the overall package. Instead of points of critique, we feel only that it's important to mention a couple of considerations to keep in mind; both involve comparisons to two-wheeled bikes. First, as a tricycle, there are significant differences in terms of handling, and learning/adapting to those is essential. Second, taller riders may need to sit lower than expected, which will likely result in less leg extension when pedaling.
With the XP Trike, Lectric has reinforced its position as a powerhouse in the e-bike industry. Many of the brand's e-bikes have placed consistently on our list of the best electric bikes; their products offer some of the best dollar-for-dollar value available, and we don't see that changing anytime soon. Lectric has truly raised the bar when it comes to offering a practical, safe, and feature-rich trike at an affordable price!
Happy Riding! Make sure to let us know if you have any questions down in our comments section or if you think we left anything out in this review of the Lectric XP Trike.
Reader Interactions