Blix Sol Eclipse Electric Bike Review 2023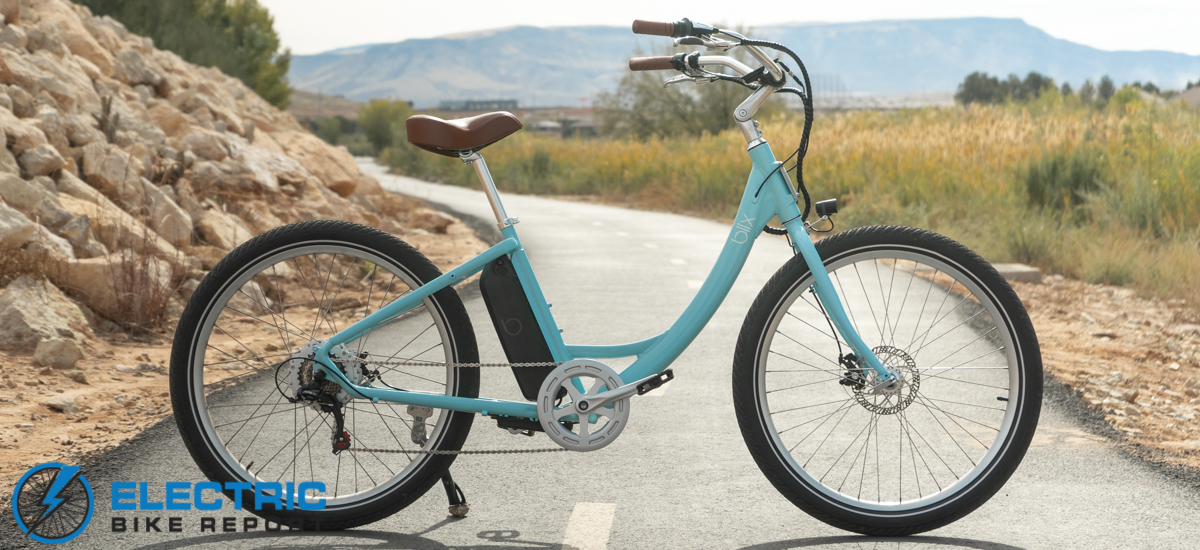 Blix Sol Eclipse Review: Overview
The Blix Sol Eclipse is a Class 2 electric beach cruiser that comes with a 48V, 12.8 Ah battery and 750W rear hub motor. With a comfortable and upright riding position and plenty of power, the Sol Eclipse excels at keeping the rider satisfied by keeping things easy.
Throughout the Blix Sol Eclipse review process I found myself liking the bike more and more with time. It's a great bike to cruise around paved trails and boardwalks on. Blix has designed the Sol Eclipse in a way that makes it great for just about anybody who wants to go on a stress free casual cruise.
The budget-friendly price point mixed with the bike's smooth sailing riding experience makes it a hard one to ignore. We conducted numerous tests and put in over 100 miles on the Sol Eclipse so that you can get a better understanding of if it's the right bike for you.
Looking to cruise? Stay comfortable? Own a good looking bike? If you answered yes to any of these questions then I'd highly recommend you read on. Let's get into it.
Bike Category: Cruiser/ Step-Through
Comfortable yet sporty performance
Bike Class: Class 2
Class 2: PAS/Throttle assist up to 20 mph
Blix Sol Eclipse Video Review

Pro's
The Sol Eclipse is great at keeping the ride leisure-oriented and easy. Between its 7-gear range and powerful 750W motor it was hard to find a hill where we had to work hard.
The Sol Eclipse is a very comfortable bike, none of our test riders experienced any discomfort throughout the 100-plus miles of testing.
Blix did a great job maintaining the quality of the bike while still offering it at a competitive price point. Those who don't want to damage their bank account will likely appreciate the price point this bike is listed at.
The Blix Sol Eclipse is a great hill climber. We were able to climb our test hill surprisingly quick given this bike's casual cruiser-oriented vibe.
The Sol Eclipse is definitely a good looking beach cruiser. Blix also offers the Sol Eclipse in 4 colors.

Con's
The throttle still is live when the bike is on PAS 0, we would like to have the throttle turned off when using this setting for additional safety.
PAS 1 and PAS 2 don't assist the bike very much, we didn't ride much faster in these settings than we did with the bike turned completely off.
ELECTRICAL SPECS & FEATURES
Battery: 48V, 12.8 Ah (614Wh)
Display: LCD, comes with USB charging port
Motor: 750W rear hub motor
Headlight: LED headlight
Peal Assist: Levels 1-5
Range: 20-60 miles
Throttle: Lever throttle
Weight & Dimensions
Battery weight: 7.5 lbs
Bike weight: 56 lbs
Maximum rider weight: 270 lbs
Maximum load on rear rack: 50 lbs
Components & Accessories
Brakes: Tektro mechanical disc brakes, 160mm rotors
Fork: Rigid steel
Frame: 6061 alloy
Gearing: Shimano Tourney 7-speed, RevoShift shifter, 48T chainring, 14-28T cassette
Grips: Ergonomic
Saddle: Padded cruiser
Handlebar: 660mm cruiser bar, 25.4mm clamp
Kickstand: Yes
Pedals: Standard, alloy
Tires: 27.5" x 2.4"
Blix Sol Eclipse Performance Review
Acceleration / Speed
The Blix Sol Eclipse is a Class 2 electric cruiser bike that can reach speeds of 20 mph in both pedal assist and with the throttle. The throttle got me up to 20 mph fairly quickly and accelerates at a rate that feels appropriate for the bike's intended use. It's quick, but not so quick that lesser-experienced riders would feel unsafe engaging the throttle.
The higher pedal assist settings yielded faster acceleration than the throttle did. Those looking to reach higher speeds faster will definitely want to use PAS 4 or 5 when accelerating. While you definitely accelerate faster than you do with just the throttle, it's still not at a level where it feels unsafe or unpredictable. For the beach cruiser that this bike is, I think that Blix did a wonderful job with the 750W motor's acceleration properties.
Range Test
To get a better understanding of the range of the e-bikes we review, our team at Electric Bike Report conducts what we call a range test. Our range test consists of two separate rides — one in a low pedal assist setting and one in the highest pedal assist setting.
Because PAS 1 on the Sol Eclipse didn't do a whole lot, we decided to conduct the minimum PAS range test in PAS 2, as it still provides consistent assist. Our other test was done in the highest pedal assist setting (PAS 5).
When I conducted the PAS 5 range test I reached 24.84 miles with an average speed of 17.8 mph before the bike finally died. That average speed and nearly 25-mile result is pretty respectable for a bike equipped with a relatively modest 12.8Ah battery. My results showed me that if you want to cruise quickly you should be able to do so for 20 miles at least.
When our test rider conducted the PAS 2 range test she reached 59.59 miles with an average speed of 10.9 mph. Riding for nearly 60 miles above 10 mph confirmed that the Blix Sol Eclipse does a good job of moderating battery usage and maximizing range out of the 48V, 12.8Ah battery.
Between our results you should have a good idea as to how long the bike should last on a ride, you can assume you'll get somewhere between our two results if you use PAS 3, or 4.
Circuit test
While our range test tells us a lot about the lower and highest assistance levels on the bikes we test, it doesn't give us all of the pedal assist information we are looking for. This is why we conduct a circuit test, a 1-mile loop that we ride in each assistance level and with the bike turned completely off. This not only shows us the average speed and power you can expect in each assistance level but also the relationship between each level.
Our findings showed us that PAS 1 and 2 are very conservative. We only rode 0.7 mph faster in PAS 2 than we did with the bike turned completely off. PAS 3 and above provided us with larger jumps and more assistance.
While the Blix Sol Eclipse is a solid electric cruiser we wouldn't mind seeing a more consistent power curve from level to level. The jump from level 2 up to 3 is more apparent than the rest because assist level 3 feels like the first setting where the Sol Eclipse is really boosting you forward and helping you hold speed.
When we rode the 1-mile circuit in PAS 5 our average speed was 19.3 miles per hour, just 0.7 mph off the bike's top speed. This tells us that PAS 5 is doing everything it can to keep you as close to 20 mph as possible. For the cruiser-loving speed demons out there, PAS 5 is probably your setting.
Hill Test
A large selling point of electric bikes is how they can make even the steepest hills seem not so steep. To get a better understanding of how the bikes we test perform on hills we take them to one of the steepest hills in town. The hill is known as Hell Hole, it's a quarter-mile long and has a grade ranging from 12% to 15%. In short, this hill puts the Blix bikes we've tested, and even the most powerful e-bikes to the test.
We do two separate hill climbs, one using the throttle only and the other one in the highest pedal assist setting. Between the two tests we can see how the bike performs on its own power and with rider assistance.
When I conducted the hill test using the throttle only I reached the top of our test hill in 1:06.00, with an average speed of of 16.8 mph. Considering I wasn't helping the bike at all, I was pretty impressed with the result. The motor never sounded like it was struggling and I never dropped below 14 mph. Those who don't want to deal with pedaling up hills will very much value the power this 750W rear hub motor has.
When I rode up the hill in the highest pedal assist level I reached the top of the test hill in 0:59.00 with an impressive average speed of 18.8 mph. I shifted down twice (to 5th gear) to assure that all I was doing was spinning the pedals for the motor to engage. Realistically I could have stayed in the hardest gear with how the motor made easy work of the test hill, but to make sure that the motor was the thing we were testing I shifted down to ensure all the speed I obtained up the hill was from the bike and not my legs.
Our findings on the hill test confirm that this bike can climb. To anybody who has a steep hill that they typically avoid, you should be able to tackle it pretty easily on this bike. Just sit back and let it do its thing.
Handling
The Blix Sol Eclipse has very beach cruiser-esc handling characteristics, which is pretty much what we were expecting considering that's the style of this bike. It's easy to lean the Sol Eclipse into corners and lesser experienced riders should feel at home on this bike.
It isn't a bike that requires a large learning curve to master, once you have a few miles on this bike you should feel its smooth riding handling characteristics come into play. The only thing that I see as a con in the handling category is that the pedals get really low to the ground on corners. With that being said, that's sort of a "con" with all bikes of this style — i a side effect of their low-slung and comfortable design.
Ride Comfort/Geometry
Our team accumulated over 100 miles on the Blix Sol Eclipse and despite the large number of miles not one of our testers complained about the bike being uncomfortable, even on the longer rides.
This is largely due to the upright positioning and swept back handlebars. Being more upright takes a lot of stress off of your back and neck which are two areas that are common for discomfort when riding. The ergonomic rubber grips and plush comfort-oriented saddle also played a big factor in the ride comfort. This is definitely a bike that you can cruise on for a while without feeling pain or discomfort from the componentry or positioning. Blix definitely had comfort in mind when designing the Sol Eclipse.
Blix Sol Eclipse Specs/Features Review: Electric Components
Motor
The Blix Sol Eclipses 750W rear hub motor is one of the components on this bike that ensure things stay easy. It has enough torque to keep you from straining up hills and enough power to get you up to high speeds quickly. This motor engaged very smoothly with my pedal stroke. I noticed that this motor feels a little bit smoother than what I'm used to with rear hub motors.
This is more than likely due to Blix spending a lot of time fine tuning the motor, and also using a 12-magnet cadence sensor. Essentially the motor responds relative to my pedal stroke, which makes for smooth engagement overall. The motor really shined on our hill test where it put down some of the faster times we have seen from a Class 2 beach cruiser.
Battery
While the 48V, 12.8 Ah battery may not be the largest we have tested, it did a great job holding onto a charge for a long period of time. We exceeded Blix's claimed maximum range of 45 miles by nearly 15 miles in our PAS 2 range test. Considering we weren't even in the lowest pedal assist setting that's pretty impressive.
If you are one who is worried about the battery life on this bike, don't be. Between our range test results and testing in general we were all very pleased with how long the battery lasted. The battery sits nicely behind the seat tube, and is really the only visual part of the bike that screams "e-bike". It would be interesting to see what this battery would look like integrated into the frame, but the current external placement is just fine.
Pedal Assist / Throttle
The Blix Sol Eclipse comes with five settings of pedal assist and a lever throttle that is located on the left side of the handlebars. Each of the five settings have their benefits, however we would like to see a little more of a difference between pedal assist level 1 and 2.
Reason being, these settings only provided us with a 0.2 mph difference on our circuit test. We could feel the motor engaging more on PAS 2, but not as much as we would like to in contrast to PAS 1. Aside from that, the pedal assist settings are great. Each time you increase your pedal assist setting the Sol Eclipse provides a consistent and predictable level of additional power and speed.
The throttle's characteristics fall somewhere between pedal assist level 4, and 5 when it comes to speed. It also accelerates around the same rate that we experienced in level 3. Basically this is a very smooth engaging throttle that gets you up to top speed fairly quickly, but not so quickly that it feels like you're going to be blown off of the back of the bike. The throttle also has a lot of power modulation meaning you don't just have full throttle, you can engage the throttle a little, or a lot depending on how fast you would like the bike to accelerate.
Display
The Sol Eclipse comes with a fairly standard LCD display situated in the center of the handlebars, which I'm a fan of. Having it in the middle of the handlebars makes it easy to glance down at, and it also makes the cockpit a little bit more symmetrical than a display on the left or right side would.
While this display does not have any crazy features or color ranges it does its job well. The beach cruiser design of this bike encourages looking around and taking in your surroundings, the low profile display helps with that because it isn't screaming "look at me" as you ride. This display shows battery life, speed, milage, pedal assist setting and more.
Blix Sol Eclipse Review: Components and Accessories
The Blix Sol Eclipse comes with some solid componentry especially when you take the pricepoint into account. It was great to see components from reputable manufacturers that we have worked with before, such as Shimano and Tektro. There weren't any components on this bike that seemed out of place as far as quality and performance goes, they all aligned well especially with the price point taken into consideration.
Brakes
The Tektro mechanical disc brakes come with 160mm rotors front and rear and do their job well. For what this bike is, these brakes are plenty powerful. Most of the time the Sol Eclipse will be ridden casually and on somewhat flat ground, even if you do find yourself going down a steep hill quickly the Tektro mechanical disc brakes should provide enough power and modulation for you to feel comfortable.
We conducted a brake test to get a better idea of how long the Blix Sol Eclipse would take to stop from top speed. It took an average of 16-feet-8-inches, a very solid result when you consider the bike's semi slick tread pattern and the rotors only being 160mm. Post test, we don't have any concerns about the brakes — if you struggle to set them up yourself take the bike to your local bike shop, they shouldn't have any issue setting up the brakes to be powerful and safe.
Frame
The Blix Sol Eclipse is made out of 6061 alloy and comes in four different colors. Our review model is the "Sky Blue" flavor of the Eclipse, which happens to be the color that caught our eye the most. We've been able to tell there was some thought put into this frame in the smaller details such as the low profile welds and a water bottle cage mount.
This frame also comes in Blix's Slate Grey, Sorbet, and Seafoam colors. This frame will comfortably fit anybody between 5'1" and 6'2", so if you're somewhat average sized chances are this frame will feel natural below you. The low step design was also very eye-catching, Blix did a great job with the curvy visuals of this frame.
Fork
The Sol Eclipse comes with a steel rigid fork that is somewhat swept out, putting the front wheel fairly far in front of the handlebars. This gives the bike a ride experience of feeling more behind the action and increases the wheelbase, making for more stability on straight aways. This is an easy bike to balance on and I think the fork definitely plays a part in that being the case.
Drivetrain / Shifting
The Blix Sol Eclipse comes with a 7-speed Shimano Tourney drivetrain that's connected to a 48t chainring. The Eclipse also uses a Shimano RevoShift grip twist shifter that suits the comfortable ergonomics of this bike quite well. I think that the gear range this bike has is perfect for keeping things easy, even in areas where things typically aren't like steep hills.
As I mentioned in our hill climb test section I was able to spin up the hill and let the bike do its thing; I didn't have to put down any sort of large effort to keep the bike moving forward. This is great to see considering the comfort/casual orientation of this bike. Experienced rider or not, you'll probably never have to strain to keep this bike moving due to its 7-gear range and its 750W motor.
Contact Points / Comfortability
The contact points on the Blix Sol Eclipse feel like they're built with comfort in mind. Take the padded cruiser saddle for example — this saddle is large enough that it distributes the rider's weight over a wider surface area which makes for less pressure when sitting.
The ergonomic grips are also great when it comes to comfort, the shape of them felt natural in my hands and they were easy to hold onto for a long period of time.
The Blix Sol Eclipse is no doubt a comfortable cruiser style bike and its components like the mentioned saddle and grips add additional comfort that's definitely noticeable on longer rides. The pedals are very standard and I have no complaints about them.
Tires
The Sol Eclipse comes with 2.4-inch tires that have a very fast rolling, on-road oriented tread pattern. They have a reflective sidewall that improves visibility to others especially in low light conditions and are puncture resistant. While we don't want to jinx anything, we have reached over 100 miles without a single flat. The tread pattern on these tires feels great for what the bike is — I was able to roll fast and smoothly on all paved surfaces because of them.
Extras / Accessories
The Blix Sol Eclipse doesn't come stock with any accessories aside from a reusable grocery bag. There is a plethora of accessories available on their website. You'll find fenders, racks, bags and more on their accessory page and at the time of writing this review Blix is offering 50% off accessories with the purchase of a bike. They also offer a gift card — the holidays are coming up, after all.
Blix Sol Eclipse Review: Summary / Where to Buy
We were impressed with the feeling of quality and overall performance throughout our review process. The Blix Sol Eclipse Review was one that reassured us that not all bikes are created equal, and while some bikes may be listed for a similar price their performance could vary quite a bit.
The Blix Sol Eclipse far exceeded our expectations on the hill climb test, and with its overall ride comfort. Our hill climb results would be impressive for any bike, let alone a budget-friendly Class 2 beach cruiser. The bike performed well in our range test too where it exceeded Blix's claimed maximum range of 45 miles by nearly 15 miles. We appreciate their conservative claimed range however we think it's safe to say that this bike can easily get above 50 miles in the lower pedal assist settings.
Those who are searching for a cruiser style bike that is easy to hop on and get the hang of will likely find a lot of value in the Blix Sol Eclipse. Speaking of value, this price point is very fair considering the performance of the bike. Not only is it comfortable, it's a quick bike too. In our circuit test we were only 0.7 mph below the bike's top Class 2 speed of 20 mph.
You can check Blix's website for current pricing on the Sol Eclipse at the button below.
The little details on the Sol Eclipse added up to one solid electric beach cruiser. The welds are clean, the grip twist shifter is easy to use and the motor is powerful and quiet. These are only a few examples of the things that make this bike so great. We would recommend taking a test ride on one of these if you have the opportunity so you can see for yourself.
'Happy Riding, make sure to let us know if you have any questions down in our comments section or if you think we left anything out in this review of the Blix Sol Eclipse.
Reader Interactions