REI Co-op Cycles Generation e1.1 E-Bike Review 2023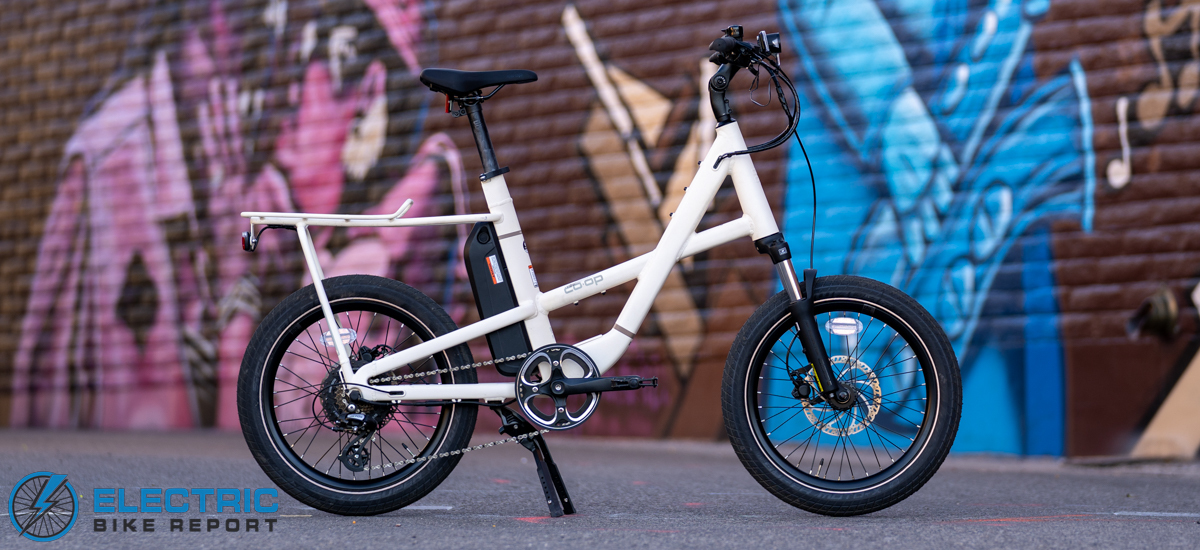 We geek out for a lot of e-bikes we get in, but we
really
looked forward to receiving REI's Co-op Cycles Generation e1.1 to review.
REI, the store we go to for everything from puffy coats to camp chairs, sleeping bags to binoculars, has been selling its own branded products for a fair number of years. They even make their own bikes, produced overseas, alongside some of the biggest brands in cycling. More recently, REI has begun offering e-bikes. The Co-op Cycles Generation e1.1 is REI's first cargo/utility bike.
In broad strokes, the REI Co-op Cycles Generation e1.1 is meant for lighter cargo needs. It's ideal for carrying a kid in a child seat, in part because it positions the child farther behind the rider. That means the child can see more easily and therefore better enjoy the ride, plus it reduces the distraction that can come from grabby hands or a foot that escapes restraint.
Because the rear rack is integrated into the frame design, both the rack and the frame enjoy improved stiffness than if the rack were bolted on. That means no matter what the load, the rider will feel less input from the back of the e-bike when riding through turns.
Bike Category:
cargo/utility e-bike
Bike Class:
Class 1; maximum assist speed of 20 mph
REI Co-op Cycles Generation e1.1 Video Review

Pro's
Bafang 350W brushless hub motor producing 80Nm of torque for smooth acceleration and impressive hill performance
Stout rear rack is integrated into the frame; the e-bike's 300 lb. total weight limit including rider means the rack can potentially carry 100 lbs. or more
20 x 2.4 Schwalbe Super-Moto-X tires roll well and offer terrific puncture protection for urban riding
Enjoys a very stable ride at speed without losing its low-speed maneuverability
Tektro hydraulic disc brakes paired with 180mm rotors gives the e-bike the power necessary to stop quickly, even when loaded

Con's
The front chainring is too small to be allow most riders to pedal to 20 mph; a bigger front chainring would be welcome
Web site doesn't assist riders by recommending compatible accessories; guidance isn't just welcome, it's necessary
ELECTRICAL SPECS & FEATURES
Battery: Bafang (36V / 1.6AH, 418Wh)
Display: Velofox DM-03: 5 Assist Modes, Speed, Battery Life (5 Bars), Average Speed, Max Speed
Motor: 350W Bafang Geared Rear Hub, 80Nm torque
Headlight: Included
Taillights: Included
Peal Assist: 5 levels
Range: 30-40 mi., estimated
Throttle: N/A
Weight & Dimensions
Claimed weight: 54 lbs.
Maximum rider weight: 300 lbs.
Maximum load on rear rack: < 300 lbs. - rider weight
Components & Accessories
Brakes: Tektro Hydraulic Disc, 180mm rotors
Fenders: N/A
Fork: Suntour SF20 Mobie A32 Cargo, 70mm travel
Frame: 6061 Aircraft Grade Aluminum Alloy
Drivetrain: Shimano Altus, 7-speed
Grips: Ergonomic rubber
Saddle: Co-op Cycles with memory foam
Handlebar: 6061 alloy riser
Kickstand: included, motorcycle style
Pedals: FPD alloy
Tires: Schwalbe Super-Moto-X, 20 x 2.4 in.
REI Co-op Cycles Generation e1.1 Review: Bike Overview
The first thing a rider notices about the REI Co-op Cycles Generation e1.1 is that the frame design is unusual. The big X in the middle of the frame at the intersection of the top tube and down tube definitely draws the eye. Also helping the visually striking look is the way the rear rack is integrated into the frame design, rather than bolted-on. Both of these features help to make the REI Co-op Cycles Generation e1.1 a cargo bike of a different feather.
The long rear rack offers an especially sturdy place to mount a child seat, while also giving the child a better view of the world around them. For anyone who needs to carry a significant load in panniers, the long rear rack means that large panniers can be mounted and the rider won't have to worry about their shoes rubbing up against the bags. With most commuters, there is a limit to how big the panniers can be without having the rider's heels bump into them.
The REI Co-op Cycles Generation e1.1 features a 350W Bafang brushless, geared hub motor paired with a 418Wh battery, a Shimano Altus 7-speed drivetrain and Tektro hydraulic disc brakes. With a retail of less than $2000, it's a terrific e-bike for anyone looking for a commuter that can handle extra duties.
REI Co-op Cycles Generation e1.1 Review: Motor Performance, Speed and Acceleration
The REI Co-op Cycles Generation e1.1 is built with a 350W Bafang brushless, geared hub motor, paired with a Bafang 418Wh battery. That may seem a modest amount of power, but it produces a very capable 80Nm of torque, which gives it the kind of power necessary to get going with a load and accelerate up to cruising speed. While we will get into this later in the review, one of our favorite features of this bike is that it isn't super heavy, weighing just 54 lbs., which is one benefit of going with a lower-wattage hub motor.
In our motor performance testing, we found slight steps between the five different assist levels. On our opening lap of our circuit, with no assistance, the REI Co-op Cycles Generation e1.1 rolled at an average speed of 12.8 mph, again another benefit of this e-bike not being especially heavy.
In PAS 1 our tester averaged 15.2 mph, which was nice, as we've noticed with some e-bikes PAS 1 doesn't always seem to assist the rider in an appreciable way. From there, the steps were modest with PAS 2 averaging 15.5 mph, PAS 3 averaging 16.6, PAS 4 17.3 and finally, PAS 5 giving the rider an average speed of 17.5 mph.
At first glance, it may appear that the motor wasn't powerful enough to help a rider reach a top assist speed of 20 mph. That's not the case. We were very pleased with the performance of the 350W Bafang hub motor. The limitation stems from the chainring spec'd on the Generation e1.1. The 42t chainring is simply too small. A larger chainring, like a 45t or 48t would solve this in a jiffy.
Experienced riders with a smooth, quick pedal stroke may be able to get more out of its high gear, but we suspect most riders would prefer not to need to pedal so quickly to reach top speed.
REI Co-op Cycles Generation e1.1 Review: Range Test & Battery Performance
Any time we review an e-bike, one of our biggest questions is just how it will perform on our range test. It is the one test we conduct where an e-bike's performance may differ greatly from its advertised specs. We are always impressed any time an e-bike performs better than is advertised; it tells us that the manufacturer wants its range numbers to be applicable to any rider who might buy their e-bike.
With the REI Co-op Cycles Generation e1.1, we were pleased to see that it exceeded REI's own estimates for range in both PAS 1 and PAS 5. In PAS 1, our rider covered 45 miles, more than 10 percent over REI's own estimate. In PAS 5, it still lasted for 35.8 mi., nearly 20 percent more than advertised.
It's easy to get caught up in range anxiety (it's not just for owners of electric cars), but in our experience, most commutes are less than 10 miles, which means most riders would only need to charge the REI Co-op Cycles Generation e1.1 twice a week.
REI Co-op Cycles Generation e1.1 Review: Hill Test
On our hill test up Hell Hole, we performed only one pass because the REI Co-op Cycles Generation e1.1 is a Class 1 e-bike with a maximum speed of 20 mph and no throttle, making it legal most anywhere bikes are allowed.
With our tester pedaling in PAS 5, the REI Co-op Cycles Generation e1.1 climbed Hell Hole in 1:31, at an average speed of 11.9 mph. We've encountered e-bikes with 350W hub motors that couldn't ascend Hell Hole at all, so while the REI Co-op Cycles Generation e1.1 was a bit slower than our average performance on Hell Hole, the fact that it has a 350W hub motor isn't a liability because that motor produces 80Nm of torque. That, combined with the e-bike's weight of only 54 lbs. serves it well.
The performance was better than we expected and considering this is a utility/cargo bike whose purpose is to haul loads, not zoom, it exceeded the performance we anticipated. This would be one circumstance where the small-ish front chainring actually served the Generation e1.1, and helped it ascend Hell Hole.
REI Co-op Cycles Generation e1.1 Review: Brakes and the Brake Test
We recently made the decision to conduct our brake test a bit differently than we performed it in the past. Previously, we wanted to find out just how short a distance an e-bike could be brought to a stop. While our results accurately showed how each e-bike we reviewed stacked up, those distances did not reflect the real-world experience that most riders would encounter.
The issue was that we were conducting a panic stop—rear behind the saddle to get the rider's weight as far behind the bike as possible, and then braking to the point of skidding and keeping the bike upright and controlled through the skid. That's not very real-world; it's certainly not how we ordinarily ride.
Our test is now performed seated, with no skidding, much the way we come to a stop at a stoplight, but just a bit more aggressively.
We subjected the REI Co-op Cycles Generation e1.1 to three passes of our stop test and it averaged a respectable 18 feet 5 inches; that's 2 feet more than our average, but still within the realm of what we consider to be a safe performer. Bearing in mind that most people slow some before they brake to a stop, our belief is that most people will see shorter distances than that.
REI Co-op Cycles Generation e1.1 Review: Ride Comfort, Handling and Cockpit
An e-bike's wheel size matters in a few different ways. First, wheel size affects how a bike handles. Smaller wheels generate less gyroscopic force, which allows a bike to be more nimble, to turn more easily. Smaller wheels are also stronger because the spokes are shorter, and that's an advantage for cargo bikes that may need to carry 100 lbs. or more beyond what the rider weighs. Smaller wheels flex less and have a smaller tire footprint on the ground, so wider tires improve both traction and braking performance while also increasing the rider's comfort. Further aiding comfort is the 70mm-travel suspension fork, which will smooth bumps and rough roads for the rider.
The nimble handling that an e-bike with 20-in. wheels offers the rider at low speed can make the e-bike feel more nervous at speeds closer to 20 mph. REI was able to prevent that from happening with the Co-op Generation e1.1 by tweaking the geometry a bit. It's not often that a bike with 20 in. wheels handles with such assurance at 20 mph.
Compared to some e-bikes we've reviewed with 20 in. wheels and wide, but knobby, tires, the 2.4-in.-wide Schwalbe Super-Moto-X tires offered a smoother ride; narrower tires need to be pumped up to higher pressures than wider tires, but the absence of knobs for riding on dirt eliminates the buzz that riders feel at the handlebar and often at the saddle.
We mentioned the unusual frame design at the beginning of this review; it's a funky look, to be sure, but what this design does is make for a very strong frame with a low standover height, which is handy for cargo bikes. Also contributing to the e-bike's convenience is the motorcycle-style kickstand that holds the e-bike upright to make loading it up easier.
We would love to see this e-bike offered in more than one size, the way REI does with all of their other e-bikes save the Generation e1.1's stablemate, the Generation e1.2. Even so, we appreciate that the Generation e1.1 comes with an adjustable stem to adjust the reach to the handlebar. We were disappointed that REI offers so sizing guidance on the Generation e1.1. Based on our experience, this is a bike best suited to riders of fairly average height; it is likely to best fit riders from around 5 feet 5 inches up to 6 feet 2 inches.
We like that REI chose to spec ergonomic grips that better support the heel of the hand and that they are lock-on grips so that they don't twist while the rider is holding them.
The Bafang display is a simple black and white LCD and while it's small, it doesn't try to display too much info at once. In a single glance down, a rider can see their current speed, battery charge level, PAS level and miles ridden.
REI Co-op Cycles Generation e1.1 Review: Summary / Where to Buy
We like the REI Co-op Cycles Generation e1.1 we reviewed a great deal. As with any e-bike, there is a bottom line to our review—would we recommend it? In the case of the REI Co-op Cycles Generation e1.1 the answer is yes, but we do have one reservation. Unless someone doesn't plan to ever ride faster than 16 or 17 mph, a bigger chainring is needed. The exception to this would be for riders who need to make hill climbing as manageable as possible.
Commuter, cargo and utility e-bikes share in common the ability—and often need—to carry more than just the rider. With many of the brands we review, they do a terrific job on their site of transitioning the shopper from the e-bike model's page to another page showing the many accessories that can be added to the e-bike. In this regard, REI really fails the shopper. Not only is there no selection of recommended accessories at the bottom or some ensuing page after adding the Generation e1.1 to the shopping cart, even when visiting pages for other products like panniers and child seats, REI gives no indication of which products are compatible and some of the child seats REI sells are definitely not compatible with this e-bike.
What this points to is a need to visit an REI store to speak with one of their associates to learn which products are compatible.
REI is known for a generous warranty and return policy. Members can return a product up to one year from the date of purchase. Non-members have 90 days for a return and all products are covered by a comprehensive one-year warranty. REI's membership program (which can be enrolled with a one-time, rather than annual, fee) confers a number of benefits for bike buyers. Members receive two years of free adjustments as well as free flat repairs (just buy the new tube) and for service that isn't covered, members receive a 20 percent discount on labor.
Buying an REI Co-op Cycles Generation e1.1 is easy enough; shoppers can order them through rei.com from the button above.
While some frustrations are present, such as the under-geared drivetrain and a lack of information about suitable accessories, that is a relatively minor complaint. More important is how well-designed the REI Co-op Cycles Generation e1.1 is. This is a terrific-riding e-bike and for anyone looking for an e-bike that is versatile enough to switch between cargo functions and kid-carrying functions, this e-bike has the versatility to do that. And any time someone is riding with a load, we prefer bikes with calm handling, and in that regard, the Generation e1.1 is exceptional.
'Happy Riding, make sure to let us know if you have any questions down in our comments section or if you think we left anything out in this review of the REI Co-op Cycles Generation e1.1.
Reader Interactions