Hollywood Racks Destination E Bike Rack Review 2022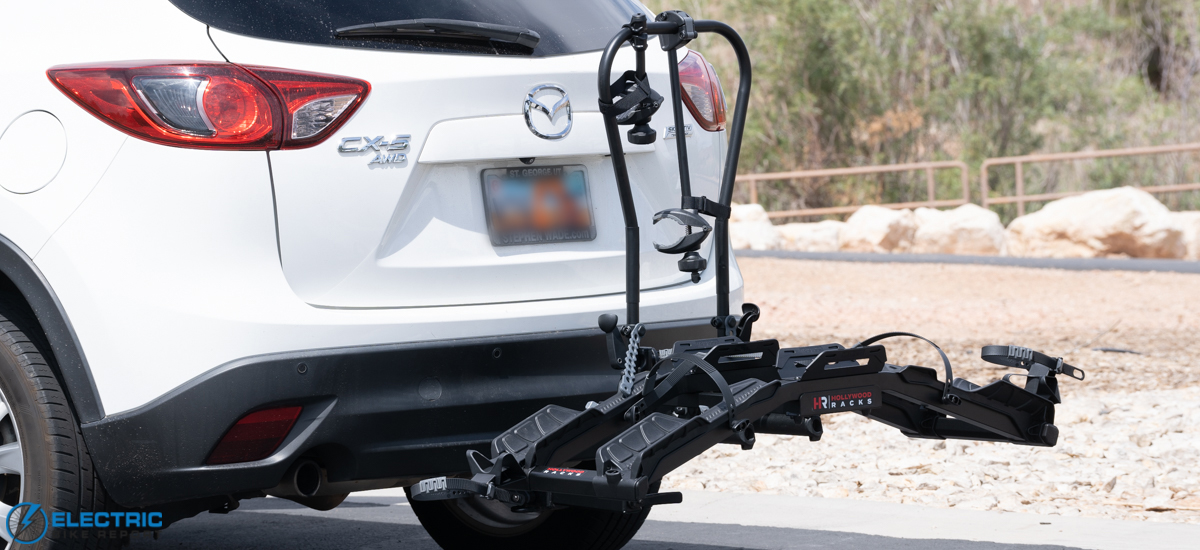 There's a truism about bike racks like the Hollywood Destination E bike rack we're reviewing that they need to be able to carry more different bikes than what the purchaser owns. There's no telling when there will be a need to pick up a friend on the way to the ride location or to rescue someone who has run into a bigger mechanical than they can fix on the ride. The Hollywood Racks Destination E hitch rack is a rack with more range than most. In a world full of one-size-doesn't-actually-fit-all, this is a hitch rack that can accommodate everything from a 70-lb. cargo e-bike down to a BMX bike, not to mention any e-bike with tires up to 4.5-in. wide.
While the versatility of this bike rack is what was the star of the show for us, it scores well in the affordable and reliable boxes as well – making it worthy of a look for any e-biker in the market.
In our review of the Hollywood Racks Destination E, we will take a look at what makes this hitch rack such a great value.

Pro's
70-lb. max bike weight covers the majority of e-bikes on the market
Fits bikes with wheels from 20-in. to 29 in. without adapters, making it quick to set up
Max bike wheelbase length of 50 in. is long enough to accommodate even some cargo bikes
Locking threaded hitch pin and frame clamps are include to secure bikes to rack and rack to vehicle to prevent theft
Clamps to any diameter seatpost; no adapter needed to secure step-thru frame designs
Includes 46-in.-long loading ramp

Con's
Requires a 2-in. hitch mount, and not all vehicles can accept a 2-in. hitch
One of the issues that comes up with hitch racks that feature a frame holder—as opposed to a rack that clamps the wheels and not the frame—is that some of them need adapters for BMX bikes or step-thru frames. We appreciate how the Hollywood Racks Destination E needs no adapters, no matter how large or small the frame is and whether it uses a step-thru design or not.
The two bike trays are positioned 11 in. apart, which is a bit more than even some of the best e-bike car racks we see. The extra space helps reduce the amount of repositioning necessary to fit two e-bikes on the rack. Also, the pivot point for the rack sits between the two trays so when two bikes are loaded tilting them out to open the trunk or rear hatch requires less muscle than when the pivot is positioned behind both trays. This extra spacing is especially helpful when rolling bikes up the 46-in.-long integrated ramp.
Security is always an issue with any bike rack and one benefit of the frame clamps on the Destination E is that the clamps lock; there's no need to pass a cable through the frames.
When not in use, the rack folds flat against the back of your vehicle to occupy less space behind you.
The only real downside that we could think up with this rack was that it requires a 2″ hitch which not everybody will have. While that narrows the field a bit in terms of who should consider this rack, those who do have a large enough hitch will appreciate the cost, effectiveness, and versatility on the Destination E.
When driving around with your e-bikes in tow there isn't any alarming amount of sway that catches your eyes from the rearview mirror. The anti-wobble tech isn't top-tier, but it doesn't take more than a couple of drives to develop confidence that your bikes will stay secured. We tested it out with two e-bikes right up to the 70 lbs. per tray limit and we were satisfied with how it held up. You can keep your eyes glued to the road ahead instead of the bikes behind.
Anyone seeking a versatile and affordable hitch rack need look no further than the Hollywood Racks Destination E.
Reader Interactions