Accessory Roundup: Hovding 3 Air Bag Helmet, Shimano ET5 Cycling Shoes, Spurcycle Compact Bell [VIDEO]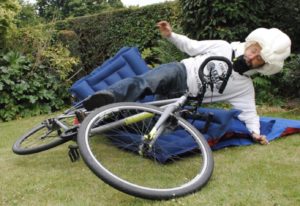 Time for a look at some new bike accessories that can make your eBike ride safer, more comfortable, convenient, and fun!
In this roundup we have:
Hovding 3 Air Bag Helmet with Videos!
Shimano ET5 eBike Shoes
Spurcycle Compact Bell Updated
Hovding 3
The Hovding 3 is effectively an airbag for cyclists that is worn, collar style, around the neck and activates in the event of an accident to protect the head.
The promotional blurb for Hovding certainly looks impressive. It claims:
Advanced airbag technology with 0.1 second deployment in event of an accident
Improved built-in algorithm that reads your cycling movements 200 times per second
A mobile app with improved Bluetooth technology that works with Hövding 3: the app can track battery life and the distance you travel and compare this to other ways to move around the city (how much money saved, favourite routes etc.)
A built-in In Case of Emergency (ICE) function: When Hövding is deployed, a message is sent directly to your ICE notifying of an accident and latest location
How does the Hovding operate in practice? It's quite easy to wear and fit.
I adjusted the 'collar size' by using the dial on the inside of the Hovding then fitted the cover.
It felt slightly weighty on first wearing but I soon got used to it after a brief cycle around with it on.
Testing is a one-shot affair as once activated the Hovding is not reusable.
The Hovding should only be activated whilst riding around which is a quick matter of pushing in a large stud on the front of the collar.
The light on the studs go to flashing green and there is also an audible sound telling you when it is just activated or deactivated.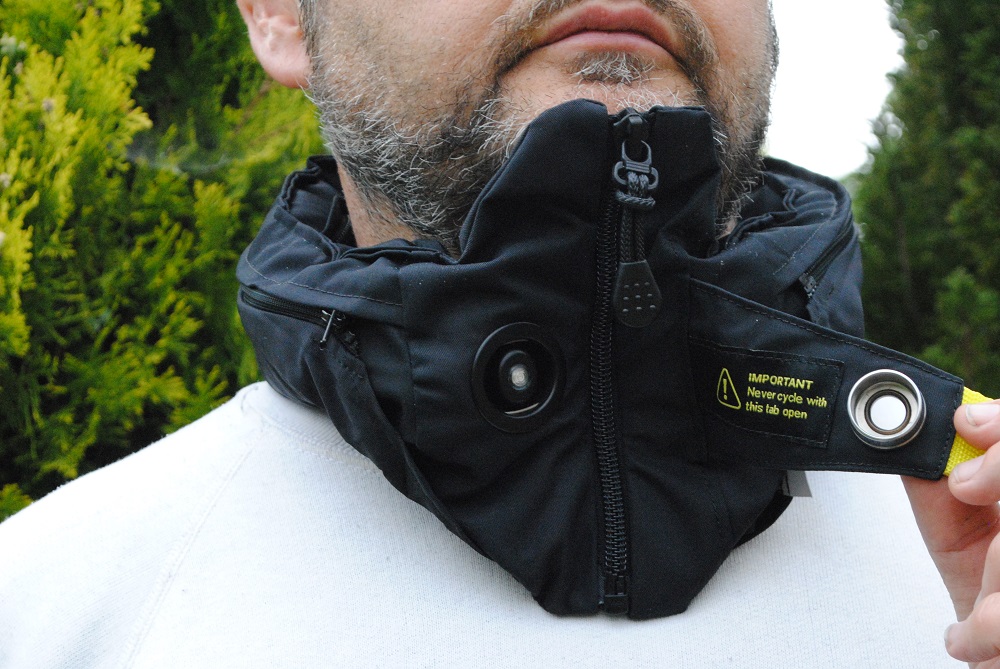 After executing a bit of a slow motion crash (after several practice runs with the hood deactivated) the Hovding airbag activates so quickly on my journey from bike to floor I am left slightly bewildered and amazed at the speed of it all.
It feels to have done a very impressive job of surrounding my head and upper neck with a cushion of compressed and very protective air – so much so that my first reaction is to try and remove it as I can feel the air pressure surrounding my head and neck.
I soon realise it's not doing any harm and in any event the pressure subsides after a minute or so.
During activation I was most aware of a bang (presumably the compressed air blowing the bag out at very high speed) and a warm patch at the back of my neck (again presumably heat generated from the ejection mechanism) but this causes surprise more than any real discomfort as I wasn't sure what to expect.
Helmets and head protection and whether they should be worn (or even made compulsory) is a subject of heated debate in the cycling world but this article isn't the place to explore that.
Suffice to say, if you are looking for an effective form of head protection the Hovding is certainly worth considering.
My own admittedly totally unscientific test certainly left me with the impression the Hovding could well provide a good level of head protection in a typical 'over the bars' crash (though note Hovding stress it won't activate before some atypical situations like an object suddenly impacting your head whilst you are riding and of course it is not totally puncture proof, although once used I can see it is made of pretty tough, thick material ).
It protects more of your head than a traditional cycling helmet design and parts of your neck too and I can certainly imagine it would have much more of a cushioning effect on impact with a hard object.
Check out this Insider video that demonstrates several other varieties of accident where the Hovding activates:
If you are worried that the Hovding may go off accidentally – for example if you forget to deacticate it by unclipping the collar stud after dismounting and then make a very sudden movement – Hovding say the product comes with a 2-year extended warranty.
They say 'The warranty applies if your Hovding inflated without having been involved in a bicycle accident, as long as you have used the product correctly.'
Also note version 3 (unlike earlier versions) is Bluetooth enabled with features like remote battery check level, accident reporting and trip stat logging.
Naturally you need a smartphone and app to make use of these features.
Apparently Hovding is currently used by around 185,000 cyclists and over 4,000 cyclists have recorded having been protected in accidents by a Hovding airbag.
The main objects are price – £249.99 – and the fact that the Hovding is not reuseable after activation, though it is possible accident insurance may of course mitigate the cost if you are unlucky enough to be involved in an accident. Note Hovding 3 cannot be sold or shipped outside of Europe.
Shimano ET5 eBiking Shoes
Shimano describes these as 'e-bike flat pedal touring shoes' with 'tech-driven performance and comfort – both on and off the bike.'
They are pretty light at 350g per shoe against 380g for my existing Vaude 'flat' cycle shoes.
They look very well made and feel tight yet comfortable when worn and when pedaling they do a good job of transferring power from your legs to the pedal.
The chunky tread provides great traction so your feet won't slip on the pedals.
This is probably in part thanks to what Shimano describe as a 'semi-rigid midsole plate for efficient pedalling power transfer.'
I would also echo their words – you'll feel that your full effort is converted into watts.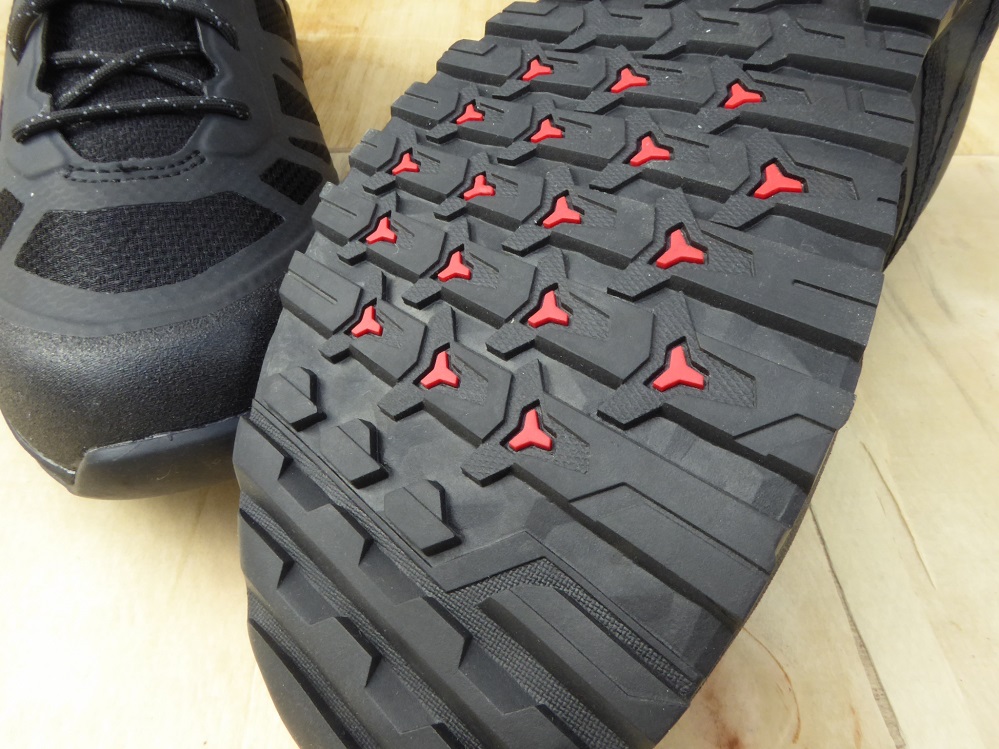 The 'Mini Power Strap lacing system' with ribbons of material attached to the body of the show being linked to the laces so you can tighten or slacken the fit as required – for example tightening them on the bike for pedalling and slackening off the fit for a café stop.
These features for power transfer and traction, say Shimano, make the shoes particularly suitable for e-biking, though they would be ideal for regular cycling too and I would happily use them for country walks as well.
Off the bike the soles are definitely stiffer than regular shoes but comfortable nonetheless and certainly much more flexible than the average racing bike shoe with an SPD clip system.
The shoes also feature toe box protection and reinforced sidewalls meaning they should stand up to off road e-biking as well.
Online prices vary but are around £85-90 / circa US$110 which seems the right ball park for a high quality cycling shoe. All in all highly recommended.
Spurcycle
Spurcycle's new Compact Bell is a new slimmer version of the famous original and at a lower price (US$39 vs US$ 49).
The original bell was loved the world over for its cheery, resonant but very audible 'ching' and the Compact version aims to keep the sound but be easier to fit onto increasingly cluttered handlebars, with its slim profile allowing it to fit alongside dropper levers, shifters and brakes and other controls.
We reviewed the original Spurcycle bell, now known as the 'Original Bell' here.
The new Compact Bell is, as you would expect, physically smaller though it still fixes to standard diameter 22.2mm bars.
Unlike the Original it uses a plastic clamp rather than the original metal one and again unlike the Original it has a plastic rather than metal clapper.
It is light at 28g and does as it promises, fitting easily into the space between the grip and gear shifters on my test bike so it is easily 'dingable' without removing a hand from the bars.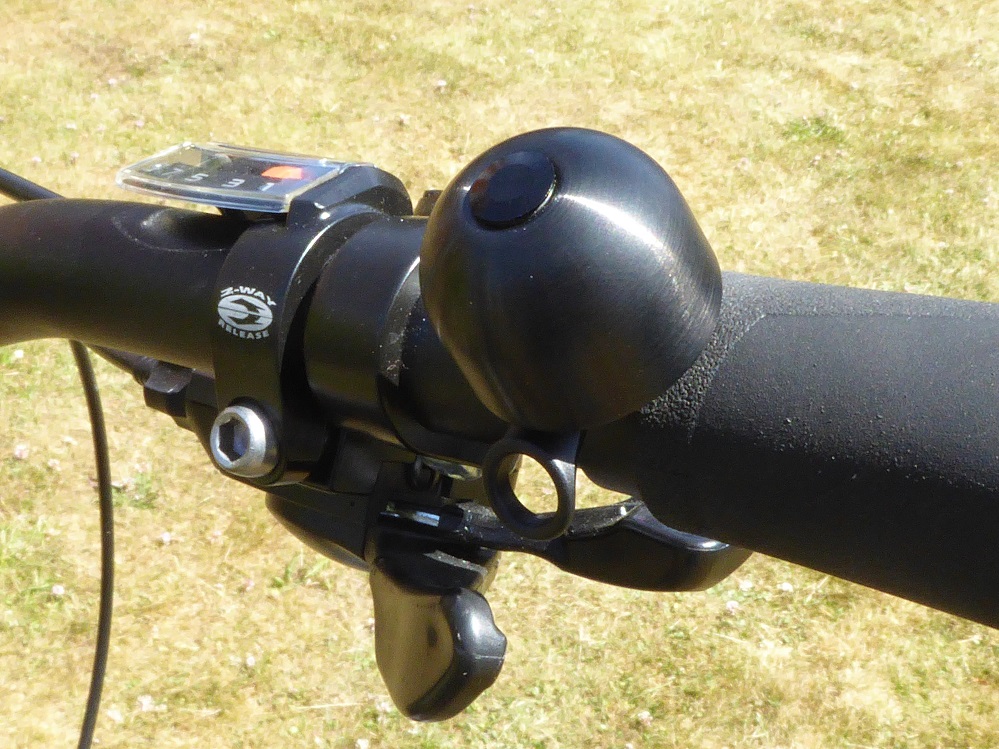 And, most importantly, just like the Original, the sound is highly effective and highly pleasing, so much so you found yourself using it even when you don't need to, just for the sheer joy of it!
Stay tuned for more e-bike news and reviews and thanks for reading!
-Rich
Review Note: All of these products were given to electricbikereport.com with no requirement for return.
P.S. Don't forget to join the Electric Bike Report community for updates from the electric bike world, plus ebike riding and maintenance tips!
Reader Interactions