InterLock Seatpost & "Hidden" Lock Review [VIDEO & PICS]
Sometimes remembering to bring your bike lock is a pain, and that is where the InterLock comes in.
The Interlock is a very convenient lock because it is "hiding" in your seatpost and it is always on your bike.
I am a fan of making the bike convenient and easy to use for everyday riding to work, errands, and cruising downtown. The more convenient it is to simply grab your bike and go, the better.
I look forward to the day when are bikes are "turn key" like a car.  They will be easy to ride (electric assist) and they will have all the convenient accessories to make riding your bike to work an easy choice.
The InterLock is one of those accessories that gets us closer to that fully equipped "turn key" bike.
The Interlock sells for $59.99 which is not bad considering that a seat post and a lock separately would be about that much total.
Here is a video of how the InterLock works from the inventor and CEO of Interlock, Adrian Solgaard:
And here are some pictures to give you more info:
You can see that the InterLock fits well behind the seatpost.
This is the InterLock removed from the bike.  You can see that the cable of the lock fits in the seat tube of the frame of the bike.  If you have a smaller frame, the cable may not fit all the way down.  The seatpost comes in two sizes: 25.4 and 27.2 and you can get shims to fit your specific frame seat tube size.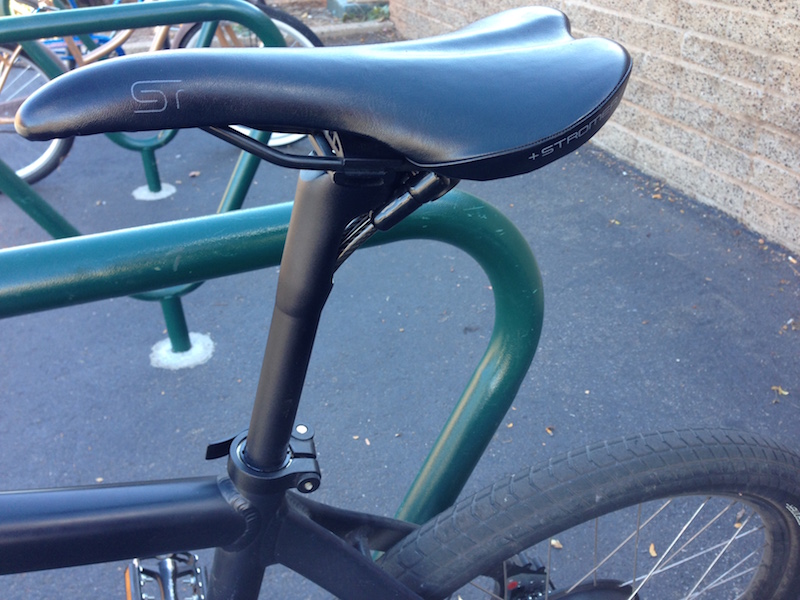 In this picture I have extended the lock a little bit in preparation for locking the bike.
Here the cables have been fully extended from the seatpost.
In this picture I have locked just the frame (and seatpost) to the bike parking structure.  In most cases the InterLock cable is long enough to lock the frame and rear wheel to the parking structure, but with most e-bikes the rear wheel is bolted on so it is not as much of concern to lock it.  If you need to maximize the cable reach you could remove the seatpost or lower it in the frame.
Here is a close up of where cable comes out of the seatpost.
And here is a close up of the locking mechanism unlocked.
Pros
You will always have a lock with you and it is hidden well so your bike still looks good.

It is very easy to use compared to spiraled cables that you have to unravel.

It can secure the frame and rear wheel (and possibly a front wheel if you remove it).

$59.99 is a reasonable price for a lock and seatpost.
Cons
The length of the cable is pretty good but it would be nice to have it a little longer to be able to lock to large parking structures (trees, etc.).  That may be difficult to achieve because there is limited seat tube space for varying sizes of frames.

It is not the most robust lock for leaving your e-bike for long periods of time in high theft areas.  It's good for quick errand running or locking in low theft risk areas.
Overall I think the InterLock is a good lock solution.  It is nice to always have a lock on my bike.  It is easy to use and it further makes my bike more convenient for commuting and errand running.
Here is more information on the InterLock and this is where you can buy it.  And here is where you can get shims to fit your frame if needed.
P.S. Don't forget to join the Electric Bike Report community for updates from the electric bike world, plus ebike riding and maintenance tips!
Reader Interactions