eBikes For Older Riders
Having a comfortable e-bike that is easy to control and that you feel safe on can make all the difference to how much you use it. This is doubly so as you begin to age – when it's especially advisable for people to keep cycling to stave off the effects of age on muscles, motor coordination, and the immune system.
With this in mid EBR looks at some of the best e-bikes for older riders.
Get the Basics Right 
Comfort and controllability are of extra importance to older riders and a fairly upright riding position is usually the best way to attain this. If the e-bike has a traditional diamond frame (though see below for the advantages of step-thru frames), a short top tube means the seat and handlebars will be quite near each other, making it easy to sit upright. Sportier designs and e-road bikes in particular will have longer top tubes and are inherently hard if not impossible to ride in an upright posture. As with everything, it's a case of pros and cons though.
With an upright riding position you will sacrifice aerodynamic efficiency and some leg power as it will be harder to utilize the larger gluteus muscles. But you will gain more comfort for riding longer, a better position for taking in what is around you both in terms of scenery and competing traffic and less likelihood of discomfort in the wrists and neck. The above image demonstrates this perfectly; if you want to read more on the subject check out Lloyd Alter's article on the subject which also links through to the full Mark Sanders 2010 article from which the above image is taken.
Examples of e-bikes with nice, upright riding positions include the Ampler range, Gazelle Dutch style e-bikes whilst Pedego and Sixthreezero do great looking ranges of cruiser style bikes with large comfy seats and very high, swept-back handlebars.
Easy On, Easy Of, or Lay Back and Relax
It's not just a feeling of control whilst riding that's helpful for older riders but the ease of getting on and off. For those a little less flexible than they once where, step-thru frames are a great option. These come in all manner of designs these days. Here are a few examples to show the variety of step-thru framed e-bikes to choose from.
This is more a so-called 'trapeze' frame (or it can be called mixte) – in effect a very low top tube – so if you don't need an ultra-low step-thru frame but want a lightweight, sleek design that is still pretty easy to get on and off but is also fully equipped with rack, lights, and kickstand it's definitely worth a look.
Benno Ejoy – the Cargo Carrier
The Benno Ejoy has plenty of capacity to carry whatever you want, front and rear and a high-quality mid-drive Bosch motor.
A powerful but smooth Bosch mid-drive combines with very comfortable looking frame geometry, lots of carrying capacity and lighting, mudguards, and chainguard.
Riese & Muller Nevo GX – Easy Off Road Riding
This is a super high quality design capable of going off-road but with plenty of carrying capacity and an easy riding position. Check out out video review below and the full ride report here:
Islabikes Elcons – Light and Low-Geared
Islabikes gained a great reputation for producing bikes for young riders. Their first e-bikes are specifically designed to be easy to use by older riders and they have an on-road and and off road option, the eJanis and the eJimi respectively. Islabikes says the design combines 'our step-through Icons platform with cutting edge technology and a modern aesthetic to create a truly lightweight, stylish and ergonomic ebike weighing just 14Kg.'
Their main features are:
Super-lightweight ebike at 14Kg for safe lifting and the ability to ride with no power.
• Low-stepover – easy to get on and off.
• Discrete integration of the Mahle ebikemotion X35 rear hub system tuned by Islabikes to deliver smooth, controllable and non-intimidating pedal assistance.
• Low gearing allows you to ride the bikes without any power assist when you choose.
• Light action Gripshift gears, short-reach brake levers, and ergo grips for comfortable operation.
• Easy-Tire-Change – making puncture repair much easier.
Tern has three families of e-bikes, GSD, HSD and Vektron. The former two are compact e-bikes with great carrying capacity whilst the Vektron is an e-folder (not the lightest but handily can be rolled when folded). All Tern's e-bikes use the high-quality Bosch mid-drive and have a good range of adjustment in seatpost height and also feature the ingenious Andros stem for fore and aft adjustment.
This model from Pedego has an ultra-low step-thru of just 9 inches. Lots more detail in the following video:
This unusual design from Dutch company Van Raam puts the rider further back behind the pedals meaning, whilst you keep a comfortable distance from the pedals for pedaling you are nearer the ground so when in a stationary position you can very easily put your feet on the ground. If you find the hardest part of cycling getting on and off the bike and close control on setting off the Van Raam could be worth a test ride.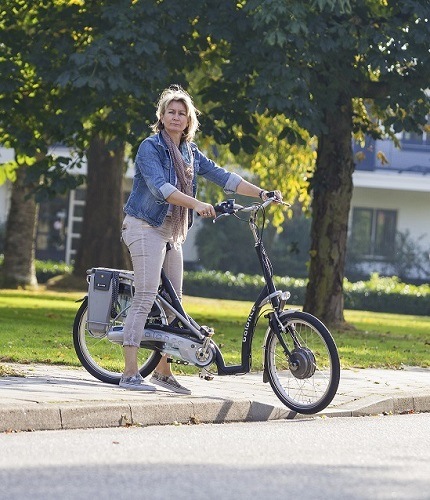 If you want to check out fully laid back recumbent riding check out our article on electric recumbents here.
Get the Right Motor
If you want an easy to control, relaxing e-bike to ride there's a few points to bear in mind when looking at the motor on a potential new e-bike:
You don't necessarily need the most powerful motor. In the US the legal limit in most states for all three classes of motor is 750W (watts). However you might find 500W motors and even European spec ones (250W) and it's well worth trying out lower power options to see if you prefer them. If you regularly ride big hills 750W will no doubt come in handy but over gentler terrain 250W or 500W will extend you battery life and you might find you prefer the smoother, more controlled ride.
Also think about how much assisted speed you can comfortably handle – Euro spec is 15.5mph max whilst US spec is generally 20mph or 28mph for class 3 e-bikes.
A thumb throttle may well come in handy if you get pedal fatigue even from gentle pedalling – these are only present on class 2 e-bikes.
Adjusting Your Own E-bike For Comfort and Control
You can often make small adjustments to your e-bike to get a more comfortable riding position. E-bikes with traditional quill stems in threaded forks are quite rare but do exist and it's often an easy matter to loosen the main bolt on them and pull the stem up for a more upright position (but NOT so you are able to see the minimum insertion mark – pulling it up too much can be very unsafe) – or push it down if you feel you are too upright..
You are much more likely to have a threadless headset and these can't be raised in the same way as a threaded headset. There are options with these to change riding position but they involve the complication of replacing handlebars or stem. This may or may not work depending on the design of your e-bike as a few designs actually have cables running through the bars or even the stem. Ask your local e-bike shop about possible options if you want a more upright ride on a bike with a threadless headset. Handlebars that are more 'swept-back' or with a greater rise may help as may a longer stem with a greater rise. You can even get adjustable stems to set the stem position where you find it most comfortable.  Do note changing the stem and bar setup (and especially moving the bars back and up towards the rider as you can do with an adjustable stem) can affect the bike's handling characteristics.
To get more of an idea of the types of bar that might be available as swap outs take a look at this excellent article from Cass Gilbert at Bikepacking website. It references the useful What Bars website that shows different bar profiles overlaid on each other.
For added comfort the 'contact' points of saddle, grips and pedals can usually be changed very easily if you feel the need for more comfort in these areas. For lots more tips on how to make your make e-bike comfier check out this Propel video:
Stay tuned for more e-bike news and reviews and thanks for reading!
-Rich
Reader Interactions