Electric Bike Modes: Throttle vs Pedal Assist (Pedelec)
A throttle or pedal-assist electric bike: which one will you choose?
There's a plethora of vocabulary surrounding pedal assist and throttles as it is one of the main ways of classifying e-bikes – you may hear the terms PAS, EAPC, EPV, twist and go, and more in connection with just how the power is activated on an e-bike.
However, it all boils down to the same thing; in order to get the e-bike to deliver power through the motor you either have to use some kind of handlebar device (we'll use the catch-all term of throttle here) or you have to pedal (hence pedal assist). That's all pretty standard from the most meager of e-bikes to the very best e-bikes.
Oftentimes e-bikes will have both these features and it's up to you, the rider, as to when and how to use them. Electric Bike Report will break all of this down in a little greater detail.
Electric Bike Throttle: Overview
The throttle mode is similar to how a motorcycle or scooter operates. When the throttle is engaged the motor provides power and propels you and the bike forward. Whilst most motorbikes have a 'grip shift' type throttle, as pictured above on a
Rad Power e-bike
, there are other types of throttle, the main alternative type being the 'trigger' option as shown below.
There are also 'boost' buttons that have a similar function of delivering full power, like that on the Gocycle 4, shown below – it's a slightly different mechanism to a 'pure' throttle you twist or a lever or trigger you depress, as it often delivers full 'all or nothing' power and overrides any power from the pedal-assist system the bike also features.
The main point to note though is that a US-spec throttle allows you the option to pedal or just kick back and enjoy a "free" ride! Most throttles can be fine-tuned like a volume dial between low and full power – you may hear the term modulation applied to throttles, which simply refers to how gradually and smoothly you can apply throttle power; good modulation refers to the power that you can increase a little at a time and poor modulation means it comes on quickly in something of a burst.
In other words, not all throttles are equal.
Electric Bike Throttle: Legalities
In the US throttles that can operate entirely independently of the pedal system are legal and are found on class 2 and class 3 e-bikes.
Class 2 e-bikes are described as low-speed throttle-assisted e-bikes with the electrical assist set to trail off to zero at around 20mph, beyond which it can only be pedaled as a regular bike. It may or may not have pedal assist too, but the presence of a throttle automatically puts it into the class 2 designation.
In mainland Europe and the UK throttles that operate on their own (i.e. independently of the pedals) are generally illegal on e-bikes, or if they are present then the machines are technically classed as some kind of moped if used on public roads. This means a whole new set of requirements including the wearing of motorcycle compliant helmets, number plates and vehicle tax paperwork.
Not to mention insurance and type approval paperwork from the relevant government department, the latter two of which may be extremely difficult to get.
In mainland Europe and the UK throttles that operate only whilst the pedals are turning are allowed but are not particularly common.
However, if set up correctly you can get many of the benefits of throttle only machines as it may well be that the pedals only need to be turning very lightly to activate the throttle, without any real physical effort required and the throttle power doing most of the work and not you!
Pros of E-bike Throttles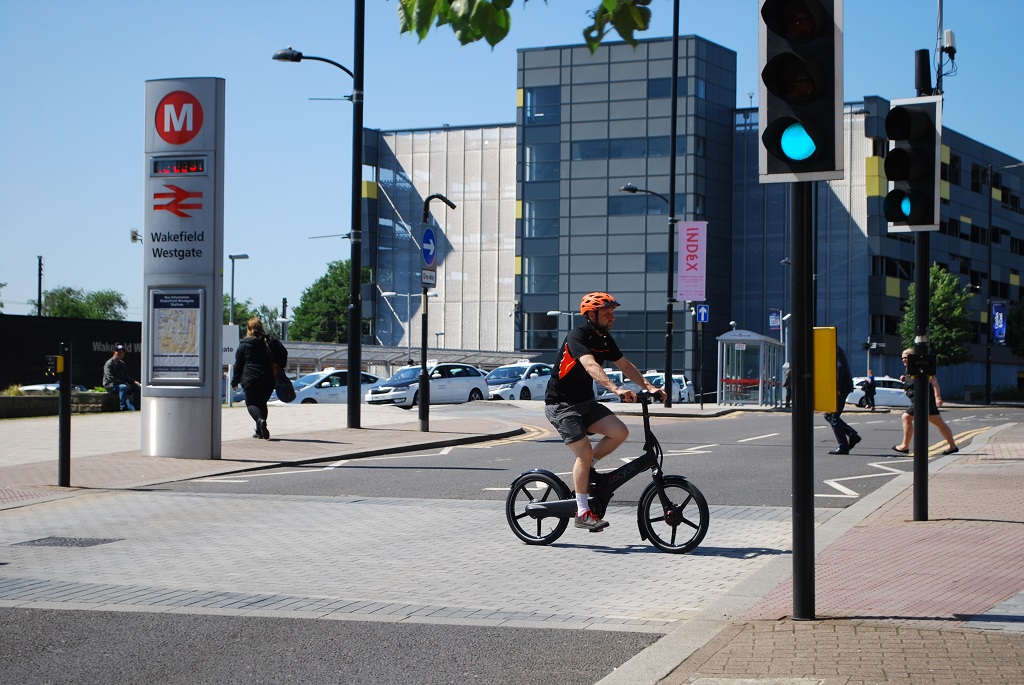 The greater speed and instant response of the throttle system make it the best choice for faster riding on switchback country roads or negotiating busy traffic as you can pull clear of traffic quickly and easily at junctions and lights and feel much safer. As mentioned elsewhere, the UK's Gocycle, as pictured above, has a Boost button that acts as full throttle and is useful for a turn of speed around town.
The option to ride without pedaling makes it the best system for those with medical conditions who find pedal exercise difficult, or for those who aren't quite as fit shape.
Cons of E-bike Throttles
Throttles look simple to use, but ones with poor modulation can be difficult to master in traffic.
Unless ridden pretty carefully they can be quite inefficient compared to mid-drives which usually have torque sensors and are pedal-assist, limiting the battery range of the throttle option by comparison.
As they are predominantly used with hub motors (though not exclusively), gearing is effectively fixed, and cannot be adjusted to suit local conditions. Hence because of the general properties of the motor systems that throttle machines use they tend to be either good for cruising along at speed or hill climbing but rarely really excel at both.
Electric Bike Pedal Assist (Pedelec): Overview
Pedal-assist also referred to as pedelec, is a mode that provides power only when you are pedaling.
These machines have found favor in mainland Europe, particularly in countries where there is a strong existing cycling tradition.
'Top-up' electrical assistance is available when the rider pushes on the pedals. In other words, you must pedal to activate the 'top-up' power, although on most pedelecs you can still switch the power off and ride as you would on a 'normal' bike. This may be a little harder than normal, because the electric bike will be a little heavier, and the motor usually adds a little extra pedal resistance in one way or another.
There are also usually several power levels of assistance available and on the best torque-sensing machines (a term we look at below) 'top-up' assistance can be as little as 20% extra on top of your pedal effort of a whopping 300% of it, making it rather beyond the definition of top-up. At low support levels you generally get a pleasant, just noticeable helping push along the way and the highest levels on the most powerful mid-drives you get a superhuman push up the steepest hills, ideal for if you are in a rush and don't want to arrive somewhere sweaty or are simply worn out near the end of a long ride or perhaps carrying an injury.
Torque Sensing Pedal Assist
Various systems are used to sense when the pedals are turning, or, in more sophisticated designs, how hard the rider is pressing on the pedals – so-called torque sensing.
This information is translated into electrical energy to power the motor and assist the rider. The best designs, such as the mid-drive systems from Bosch, Brose, Shimano, and Yamaha, produce an instant electrical surge that exactly matches your push on the pedals, giving the strange and rather magical feeling of having bionic legs.
Having said that newer, more budget-priced mid-drives with torque-sensing are coming onto the market and we're impressed with the Shengyi torque-sensing motor on the MOD Berlin.
Torque sensing is primarily associated with mid-drives but hub motor systems can also benefit from it too, a good example being the Tenways CGO600 single speed, as pictured above.
The torque sensor itself may be located in the bottom bracket pedal axle area or more rarely somewhere around the rear axle as in the picture above.
Cadence Sensing Pedal Assist
More budget designs of pedal-assist systems generally measure pedal crank speed with an optical or magnetic system utilizing a little plastic disc revolving with the chainwheel.
The worst offenders introduce a lag of several seconds before giving a crude full power surge that can continue for a second or so after the rider stops pedaling, which can be very disconcerting.
However, the best systems have been refined over the years and can deliver very smooth power, especially if used with good control electronics. The only sure-fire way to know just how good a cadence sensing system is on any given bike is to have a test ride, though EBR reviews give a pretty good indication of the merit of the system on any particular test model too.
E-bike PAS: Legalities
In the US and Canada if an e-bike is pedal assist only (ie with no throttle at all) then it will either be a class 1 or class 3 e-bike (like the MOD Berlin class 3, mentioned above and pictured here), depending on whether the electric assist ceases at around 20 mph or 28 mph (the latter being called speed pedelecs – in many jurisdictions limited to public roads rather than being allowed on slower moving bike paths and the like).
But note that an e-bike may be described as both class 2 and class 3, whereby the throttle powers the machine up to 20mph and from 20-28mph you can only use pedal assist.
In other words, a class 2 e-bike may or may not have pedal assist but will definitely have some form of throttle that can be used to power the bike on its own, without the need for any pedal movement. In the UK and Europe all legal e-bikes will feature some form of pedal assist and if they also feature a throttle it will only be able to power the bike when the pedals are turning.
Pros of E-bike PAS
If you are used to riding a traditional bike, a good quality pedal assist system has a more intuitive feel compared to the throttle mode.This could be whether you go on gentle leisure rides, mtbing or sporty roads rides (as the rider above is doing on a torque-sensing Giant model).
The pedal assist mode is nice because you can focus purely on your pedaling and you don't have to hold the throttle in a certain position.
Good quality pedelecs (with torque sensors) often have the weight of the motor unit concentrated in an ideal position low down and centrally (as most are mid-drives).
A mid-drive pedal-assist with torque sensor is also often the best machine for climbing really big hills, because both the human and electrical power is fed through the rear gear hub or derailleur, multiplying the effort available more effectively over a wider range of speeds than throttle only machines.
Pedal assist machines can be more efficient than throttle machines and so give more mileage (especially if you are heavy on the throttle!).
There are rules still in development about use of certain types of e-bike in National Parks and on Federal Land etc. These vary on a case-by-case basis and you may be allowed to use one type or another type or neither, based on exactly where you want to ride and on which trail. To ensure access to the most trails a class 1 (20mph limited pedal assist only) e-bike is the best option.
Cons of E-bike PAS
You lack the immediate acceleration of a throttle machine, so PAS machines may be less good for town riding in traffic and for weak pedallers
A poor quality PAS system with an underperforming cadence sensing type system can be the worst of both worlds; you lack the advantages of both a good throttle system and a high-quality pedal sensing system.You get an unpredictable stop-start ride with power not coordinated with your pedal movements.
A high-quality torque sensing system will be pricier than a budget throttle system, but Chinese mid-drive torque sensing systems from the likes of Shengyi and Bafang are starting to make inroads into the market and generally are cheaper than European brands like Bosch or the Japanese Shimano.
Throttle vs. Pedal Assist: Which Is Best For Me?
It depends – as we've already detailed in the pros and cons section above there are distinct differences between throttle control and pedal assist. Those with difficulty pedaling for whatever reason will find throttle-only machines invaluable whilst those who want a very 'bike-like-ride' and one that gets the best range out of their battery would likely opt for a good quality pedal assist. If possible visit a good quality e-bike shop that has a range of options that you can test ride side by side.
And just to reiterate the slightly complex 'class' system in the US, those who want all the benefits of pedal assist and throttle could look at models that fit into both class 2 and class 3 categories, with the option of throttle power only up to 20mph and pedal assist up to 28mph, but with some possible restrictions on where the bike can be used compared to machines that are class 1 or class 2 only.
Those in the EU and the UK will have to use pedal assist but may be able to find a small number of models that also have a throttle, but even then you will need to be turning the pedals for the throttle to activate.