Specialized's Globe Haul ST Review: First Look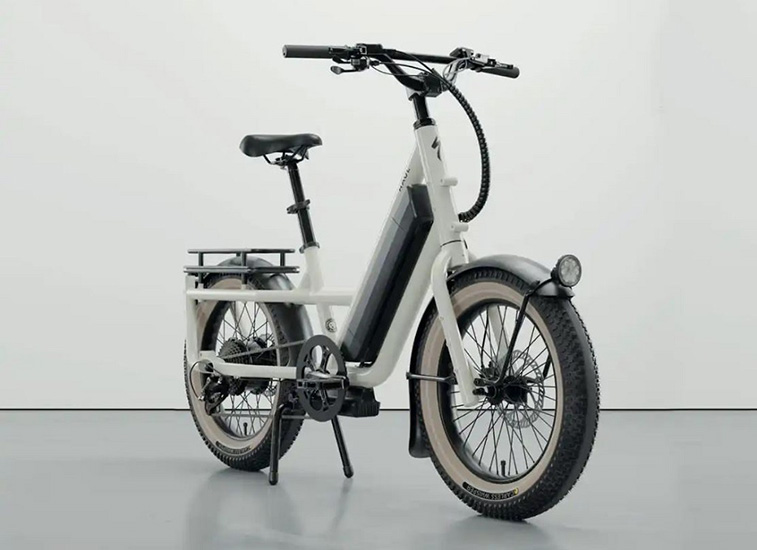 Specialized is one of the biggest bike brands in the world. They are responsible for more innovation that most other brands combined. They were the first of the big legacy brands to even introduce an e-bike. They've watched the (welcome) rise of the direct-to-consumer e-bike brands like Lectric, Aventon and, perhaps most of all, Rad Power Bikes. And Specialized is nothing if not competitive and they figured they could beat the D2C brands at their own game.
In May they announced that they were introducing a new line of e-bikes that are destined to be more affordable than their existing models (which currently start at $3250). The first model announced is called the Globe Haul ST. Specialized, the teases that they are, have released a handful of photos so far and not a single spec. But that's not to say we don't already know a lot about this e-bike.
Specialized Globe Haul ST Spec Review: Bike Overview
We know very little about the Globe Haul ST; Specialized is being deliberately cagey about details and building curiosity by not telling us too much just yet. So naturally, we have to infer a lot from what we can see and what we know about the e-bike industry at large.
So let's start with the philosophy behind Globe outlined in the "Manifesto" (their word, not ours). Their opening sentence tells us lots:
We believe richer, more connected lives are possible simply by shifting the way we move ourselves and our things.
Specialized believes that a societal shift is coming, one in which we will live less of our lives in cars. Obvs, they see e-bikes as being a big solution to climate change, rising fuel costs and road congestion in our cities.
Here's the closing sentence, which also reveals some more of their thinking:
Practical and pragmatic, healthy and fun, fast enough to get you there and slow enough to take it all in; we believe bicycles offer a simple solution for complicated problems.
It's fair to guess that the Globe bikes will all fall under a broad umbrella of commuter and cargo e-bikes. We've often taken to calling them utility e-bikes. They will handle well and they will be designed in a way to make it easy to get to work, do some shopping or pick kids up from school. And they will be more affordable than their Turbo line, we suspect maybe even affordable enough to compete with the Rad Powers of the e-bike world.
Here are the broad strokes of what we can tell about the Globe Haul ST. First, this is a short-tail cargo bike. We will talk more about just what that means in a bit. We also know that this departs from Specialized's Turbo line of e-bikes in that the Haul ST is built around a hub motor, not a mid-drive motor like their existing models.
Specialized Globe Haul ST Review: Specs & Features
Frame and Fork
The Globe Haul ST frame is built from large-diameter, round aluminum tubing. Let's ask why. Here are some dots we can connect. Giant hydroformed aluminum tubes that allow a battery to be hidden within are more expensive to produce than simple round tubes. Also, supply chain issues are still a thing. When a company specs a hydroformed tube to house their battery, there is exactly one mill with the tooling necessary to make that tube. If they run short on aluminum, production could be delayed. Simple, round aluminum tubes can be sourced from literally dozens of mills, reducing the chance that there could be an interruption in production.
As a short-tail cargo e-bike, the Globe Haul ST is not an especially long e-bike. It is long enough to carry a kid, but not two kids. So why is this a cargo bike and not just a commuter? Weight capacity. Specialized has yet to indicate how heavy a payload this can carry, but judging from the parts choices, we won't be surprised if it is substantial.
This is a step-thru frame, which will make getting on and off easier, and also help to accommodate a broad range of rider heights. Interesting to note is that the seatpost telescopes; there are two sections to it, with the upper section of the seatpost being tightened with a quick-release lever.
The head tube features two braze-ons welded to the front to mount a rack or basket. It also includes two more, smaller, braze-ons on each side onto which bottle cages can be mounted.
The rear of the bike is built to accept the rack attached; however, that's no off-the-shelf rack and we can't help but wonder if Specialized made a special rack to fit those braze-ons, what else have they created to bold on there? They definitely intend for those rack mounts to accept other accessories because there is a very large braze-on integrated into the design of the rear dropout; that wouldn't be there if they didn't mean for things to be attached to it. One photo shows bottle cages mounted to the very rear of the bike, on the seatstays.
The straight-blade steel fork includes three braze-ons on each fork blade, adding to the locations someone can mount a rack. The tabs for the dropouts also include mounting points, front and rear, onto which the front fender is mounted.
Motor and Battery
We know neither the motor's wattage nor the battery's capacity, but we take note that the battery runs almost the entire length of the down tube, making it a physically larger battery than many we see. We wonder if it has an unusually high energy capacity or perhaps makes more efficient use than most.
Componentry
The Globe Haul ST includes a kickstand, but not just any kickstand. It features a motorcycle-style kickstand with two legs that will hold the bike upright, making it a snap to load bigger packages, like groceries, kids and more.
Moving to the cockpit, Specialized integrated the display and controller into a single unit, making one component, not two. It is mounted on the left side of the bar, while at the right, we can see what appears to be a button; might this be a throttle? There's a wire running from it, so we think it is. Also, the Globe ST features a flat handlebar, not a more backswept commuter bar. That change in position puts a little more weight on the front end of the bike and makes the handling more active. It'll give riders a greater sense of zoom.
The ends of the handlebar grips are shaped like a smiling electrical outlet. They're cuter than a kid covered with puppies.
They also made an unusual choice with their stem, spec'ing an older style that is easy to adjust up or down to accommodate a rider's comfort.
Below the frame, right at the crankset there's another component bolted on. Our guess is that it is either a second battery or a torque sensor (our guess), and torque sensors fundamentally change a rider's relationship to the motor, giving the rider a much more hand-in-glove experience. If it is a torque sensor, that will be one of this bike's distinguishing features, making the ride more enjoyable than competitors' e-bikes equipped with cadence sensors.
Drivetrain, Brakes and Wheels
Based on our count of the cogs in the back, this appears to be equipped with a 10-speed drivetrain, and one that will offer a very wide gear range. Specialized was careful to take the photos from an angle that won't allow us to see the manufacturer of the rear derailleur. One wonders why.
The brakes are hydraulic discs paired with 180mm rotors, which is a very powerful setup for a bike with 20-in. wheels.
And, moving on to the wheels, because they are 20-in. wheels featuring 36 spokes, these will be suitable to carrying heavy loads. The tires are, based on their profile, on the order of 2.5-in. Wide—big enough to offer the rider some comfort if they aren't pumped up to 100 psi. The tires feature a center section that's slick for quick rolling, but also checkerboard knobs on the sides for solid traction in a tight turn, should that prove necessary. The tires have been dubbed "Carless Whisper," which is a statement about Specialized's desire to see more e-bikes on our roads, along with a fun nod to Wham!
The fenders feature LED lights both front and rear for rider visibility.
EBR's Take of the Globe Haul ST
For now, this is all we know or have inferred from what little they've shared. Specialized says they will reveal more on October 18, 2022.
There are few bike companies on the planet that can compete with Specialized when it comes to sourcing. Specialized buys in such vast quantities that they can negotiate for pricing that smaller companies can only dream of.
Were the Globe Haul ST being produced by one of the D2C e-bike brands, our gut suggests that this bike would probably retail in the $2500-$3000 price range. Given Specialized's buying power and how aggressively competitive they are in the market, we are willing to bet that this full-featured cargo bike will retail for closer to $2000.
Check back in on October 18, when we will follow up with more info.