Specialized's Globe Haul ST Review: Diving Into The Newly Released Specs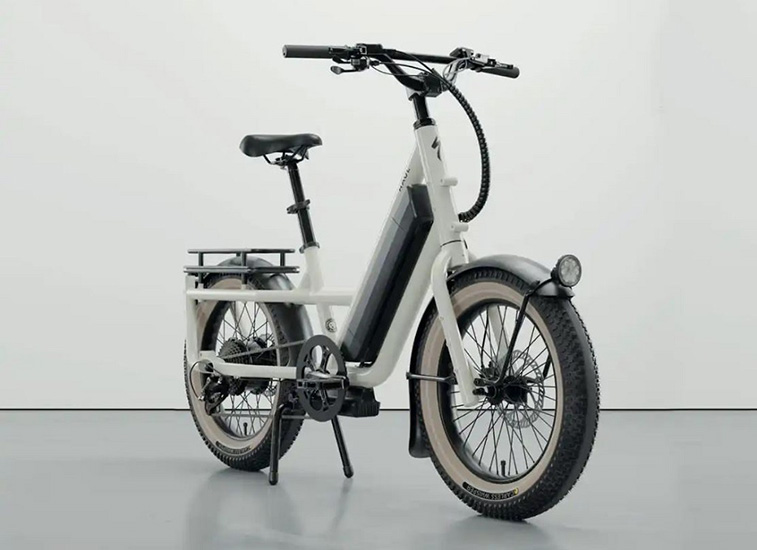 Following a very long wait, Specialized has finally released its new utility e-bike, the Globe Haul. This new utility e-bike features a hub motor, a sub-$3000 price and a frame that may well set a new standard in purposeful adaptability. Last fall, when they announced the bike, they said they'd follow up with more details about the bike, but then waited until the day before its release to reveal anything else.
It may be that we figured so much out in our previous look that they didn't see the point. (Pats self on back.) Now that we have the complete parts spec and frame geometry the Electric Bike Report team can dig deeper and examine what a shot across the bow this is from Specialized to the glut of direct-to-consumer e-bike brands.
Specialized is one of the biggest bike brands in the world. They are responsible for more innovation than most other brands combined. They were the first of the big legacy brands to even introduce an e-bike. They've watched the (welcome) rise of the direct-to-consumer e-bike brands like Lectric, Aventon and, perhaps most of all, Rad Power Bikes. And Specialized is nothing if not competitive and the Globe Haul ST seems to be their effort to beat the D2C brands at their own game.
Specialized's mid-drive e-bike models start at $3250. That's a more than 50 percent jump over the upper-end D2C e-bikes, and it's triple what some of the budget e-bikes go for. By comparison, the Globe Haul ST carries a retail price of $2700. That's still substantially more expensive than what the D2C companies are selling most of their bikes for. We're going to break down what we've learned now that we have the full specs and why that $2700 price isn't just reasonable, it's nearly a steal.
Specialized Globe Haul ST Spec Review: Bike Overview
Let's return to the basics of the Specialized Globe Haul ST. This is a hub-driven utility e-bike with a step-thru frame. The frame features a rack that will be helpful for toting kids and is built for 20-in. wheels. It has more accessory mounting points than an 18-wheeler has tires. We now know that the hub motor produces 700W of raw power, though we don't know how much torque it issues. The motor and battery operate at 48V, which means there will be plenty of current running when this thing arrives at the bottom of a hill. The battery carries a 772Wh charge, which Specialized estimates will give most riders up to 60 mi. of range.
We managed to correctly infer a number of details based on the photos. We were right about hydraulic disc brakes, but they went with 203mm rotors, instead of the 180mm ones that are more common. We were able to tell that the drivetrain had more than the usually 7-speed cluster we usually see. We thought this might have a 10-speed drivetrain, but they went with a 9-speed one. We were also right about the quill stem, which seems like a minor detail until we consider that this, like most D2C e-bikes, comes in only one size, which is what makes the telescoping seatpost another exciting detail. One detail we got wrong: Based on the photos, we thought this featured a long-tail design with a longer-than-usual rear rack; as it turns out, the Globe Haul ST features a shorter wheelbase than many e-bikes we see.
Let's dig into the specs and take a hard look at just what a value the Globe Haul ST might present.
Specialized's Globe Haul ST Review: Specs & Features
Frame and Fork
The Globe Haul ST frame is built from large-diameter, round aluminum tubing. Let's ask why. Giant hydroformed aluminum tubes that allow a battery to be hidden within are more expensive to produce than simple round tubes. Also, supply chain issues are still a thing. When a company specs a hydroformed tube to house their battery, there is exactly one mill with the tooling necessary to make that tube. If they run short on aluminum, production could be delayed. Simple, round aluminum tubes can be sourced from many different mills, reducing the chance that there could be an interruption in production. Also, it's easier to shop production, which will keep pricing as low as possible. Again, if only one mill has the tooling for those cool, swoopy tubes, the manufacturer runs short on options.
This is a step-thru frame, which will make getting on and off easier—especially when loaded—and also help to accommodate a broad range of rider height. Interesting to note is that the seatpost telescopes; there are two sections to it, with the upper section of the seatpost being tightened with a quick-release lever.
The Globe Haul ST is not only no longer than most other e-bikes, it features a wheelbase shorter than many popular e-bikes, just 42.9 in. What that means is that this e-bike will be more maneuverable as well as easy to park and store. And it will fit on any hitch rack. Standover is 20 in. and while that may seem high for a step-thru frame, because this e-bike is meant to be a utility e-bike that can carry loads, the tube that runs from the top tube to the seat tube adds important frame strength and stiffness.
Reach on this frame is 13.5 in., short by my e-bike standards. That will make this an especially comfortable e-bike for smaller riders. What about big riders, though, right? Specialized has done a great job of making the Globe Haul ST adaptable to different riders. The telescoping seatpost offers one of the broadest ranges of seat height we've seen. It will allow the saddle height to be as low as 20.3 in. and as high as 33.5 in. Someone as short as 4 feet 8 inches can ride this e-bike, and at the other end, it's possible someone as tall as 6 feet 2 inches could ride this e-bike.
Specialized includes two important design features to help tall riders. First, with a seat tube angle of 68 degrees, as the saddle is raised, the reach increases in a helpful way. Also, the handlebar stem features a quill design like old 10-speeds that is inserted into the fork. The bolt at the top can be loosened so that the bar can be raised or lowered over a 5.5-in. range.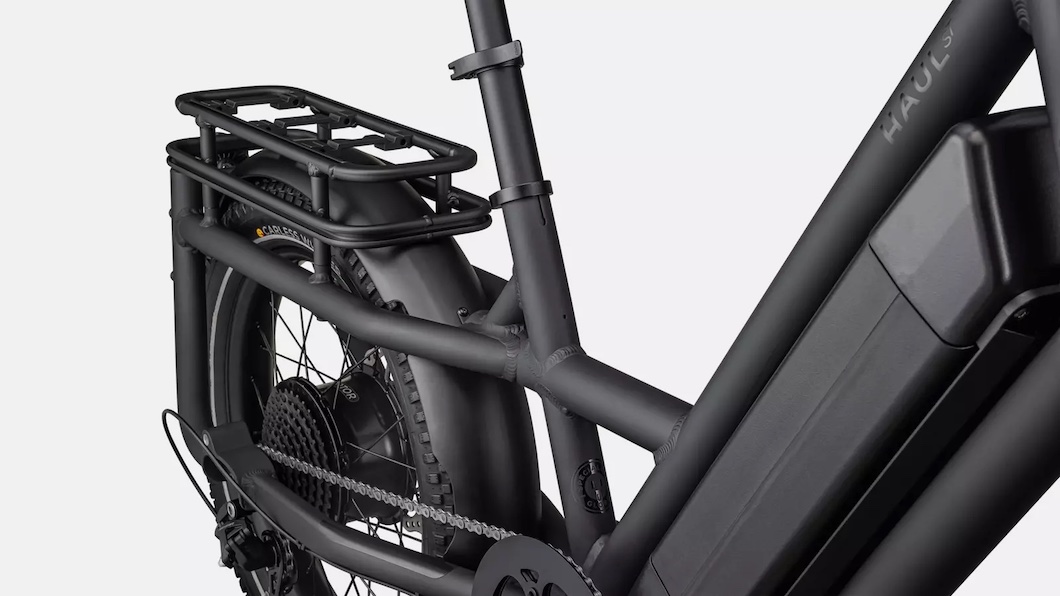 Utility indeed
So if the Globe Haul ST is no longer than a typical e-bike, why do we keep referring to it as a utility e-bike? Easy. As we mentioned, the frame and fork feature a number of different mounting points for accessories.
The head tube features two braze-ons welded to the front to mount a rack or basket. It also includes two more, smaller, braze-ons on each side onto which bottle cages can be mounted. One photo shows bottle cages mounted to the very rear of the bike, on the seatstays.
The straight-blade steel fork includes three braze-ons on each fork blade, adding to the locations someone can mount a rack. The tabs for the dropouts also include mounting points, front and rear, onto which the front fender is mounted.
The rear rack is built to the new MIK rack standard. MIK stands for Mounting Is Key and it provides accessory and rack makers a standard that they can build to so that there can be broad compatibility between accessories and racks between a variety of brands. Why would Specialized adopt this standard? Well it gives their new e-bike access to more than a dozen different saddle bags, at least nine baskets plus several different crates. It is also a standard that will work with several different child seats.
While we're not yet sure how someone will order them, one of the photos on the web page shows a bench seat, U-shaped grab bar, wheel skirts and foot pegs for carrying a passenger.
In keeping with their competitors, Specialized included front and rear LED lights and full fenders.
Motor and Battery
The 700W brushless, geared hub motor is touted for its climbing ability, so we will have to trust that the motor produces plenty of torque.
With its 772Wh battery, which occupies a case shoehorned into what little space exists between the top tube and the down tube, is said to give riders up to 60 mi. of range.
Below the frame, right at the crankset, there's another component bolted on. That's the torque sensor. What the presence of a torque sensor means is that the motor will deliver power the moment a rider starts pedaling. There will be no lag between when someone starts pedaling and when the motor kicks into action. What makes a torque sensor so important to ride quality is that the more effort the rider puts out, the more wattage the motor puts out. It responds proportionally to the rider, allowing the rider finer control of speed by simply varying their effort.

Componentry
The Globe Haul ST includes a kickstand, but not just any kickstand. It features a motorcycle-style kickstand with two legs that will hold the bike upright, making it a snap to load groceries, kids and more.
Moving to the cockpit, Specialized integrated the display and controller into a single unit, making one component, not two. It is mounted on the left side of the bar, while at the right, we can see a button; this is the on-off switch for the lights. Also, the Globe ST features a flat handlebar, not a more backswept commuter bar. That change in position puts a little more weight on the front end of the bike and makes the handling more active. It'll give riders a greater sense of zoom.
The ends of the lock-on handlebar grips are shaped like a smiling electrical outlet. They're cuter than a kid covered with puppies.
Drivetrain, Brakes and Wheels
Specialized chose a microSHIFT 9-speed drivetrain for the Globe Haul ST; microSHIFT is a brand that isn't widely known in the States. They are a scrappy brand operating in Shimano's shadow and doing a creative job of making good components that don't infringe on Shimano's mountain of patents. The 9-speed SunRace cassette uses cog profiles licensed from Shimano to offer smooth shifting even under hard pedaling. And the 11-36 cassette gives riders a broader range of gearing than we see on the majority of e-bikes in the sub-$3000 range.
The brakes are hydraulic discs paired with 203mm rotors, and while Specialized doesn't call out the brand of the brake, the simple fact that they are hydraulic disc brakes using 203mm rotors mounted on 20-in. wheels (smaller wheels are easier to stop) means this e-bike will be easier to stop than a diet. The brake levers include a reach adjustment, which will be a welcome detail for anyone with small hands; the levers can be adjusted closer to the grips to accommodate shorter fingers.
And, moving on to the wheels, because they are 20-in. wheels featuring 36 spokes, these will be suitable to carrying heavy loads. The are 3.5-in. wide—big enough to offer the rider plenty of comfort if they aren't pumped up to 100 psi. The tires feature a center section that's slick for quick rolling, but also checkerboard knobs on the sides for solid traction in a tight turn, should that prove necessary. The tires have been dubbed "Carless Whisper," which is a statement about Specialized's desire to see more e-bikes on our roads, along with a fun nod to Wham! (And whoever came up with that name deserves a raise.)
The fenders feature LED lights both front and rear for rider visibility.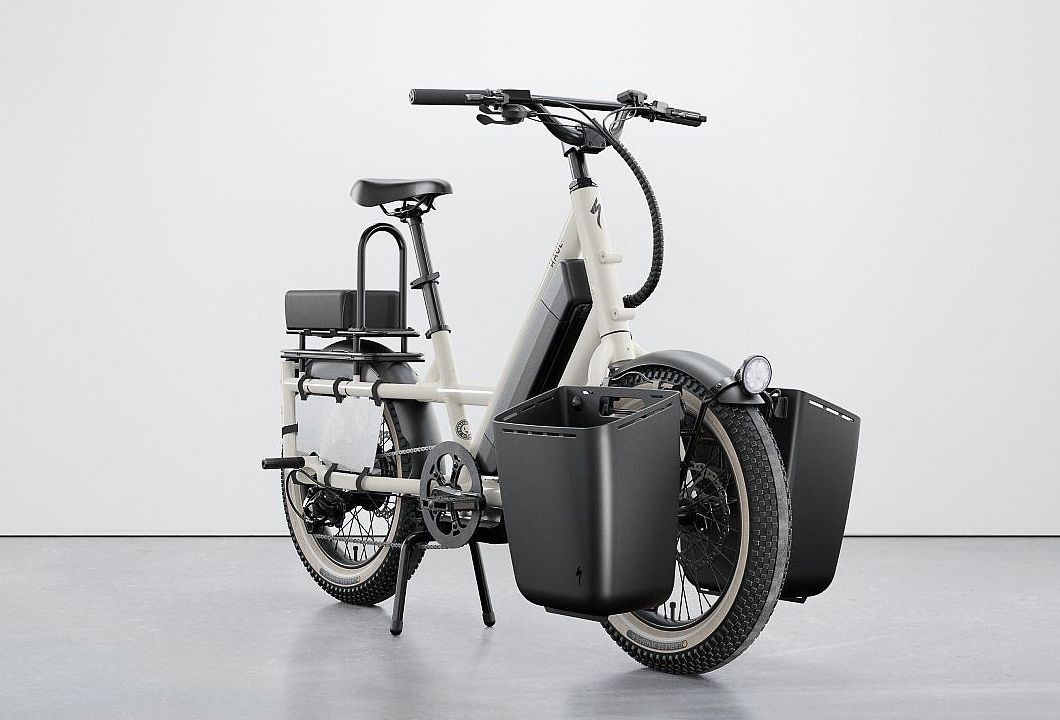 EBR's Globe Haul ST First Look Review:
Our initial guess was that any of the existing D2C e-bike brands would price the Specialized Globe Haul ST between $2500 and $3000. Specialized has introduced it at $2700.
The Specialized Globe Haul ST is meant to compete with the D2C e-bikes that dominate the market and generally go for $700 to $1500 less. It's fair to ask what that premium nets a buyer.
Let's start with the basics: The Globe Haul ST offers greater flexibility in choosing accessories and mounting them than with most more affordable competitors. By spec'ing a torque sensor, the rider's pedaling experience vaults it into the best of the best in the sub-$3000 price tier. The 9-speed drivetrain will help on hills and in hitting top speed. It's possible that no more powerful brake setup exists in on an e-bike going for less than $3000. The combination of 20-in. wheels, 3.5-in.-wide tires, hydraulic disc brakes and massive 203mm rotors is an antidote to speed.
When it comes to one-size-fits-all frame designs, the Globe Haul ST does more to accommodate smaller riders (who usually suffer the most with poor fit) than any other e-bike we've seen.
This is an e-bike with a no-nonsense, industrial vibe. It comes in two colors, a creamy gloss white and a matte black.
Moving beyond the bike itself, Specialized is one of the world's largest manufacturers. They have dealerships in every sizable city in the U.S., so even if a buyer orders online, they can work with their local shop on assembly, adjustment, fit and should they ever have a warranty issue, they don't have to worry with online chats, emails or phone calls. Simply visit the shop.
Speaking of warranties, Specialized offers one of the best in the industry. Buyers are granted a lifetime warranty on the frame and fork and two years on all parts, including the battery and motor. Anyone concerned about what becomes of that battery following 1000 or so charges can rest easy; Specialized has contracted with Redwood Materials to recycle the lithium-ion batteries.
We respect that most of us have a budget we need to respect when purchasing an e-bike. Spending $2000 instead of $1500 may not be an option. For anyone who has the ability to save a bit more or finance a bit more but wonders why they would spend $2700 instead of $2000, the Specialized Globe Haul ST answers that question. From battery to motor to drivetrain to brakes to frame and fork and extending into rider comfort, this e-bike represents a net upgrade. This is an exceptional design that balances affordability against the sort of quality that the folks at Specialized believe make for a better, more reliable riding experience.
Time will tell though as EBR looks forward to getting the Globe Haul ST in for review here pretty soon – stay tuned!