Specialized Globe Haul ST Review – 2023
Specialized's first hub motor e-bike is a homerun on performance, with enough ways to use it that anybody can enjoy it.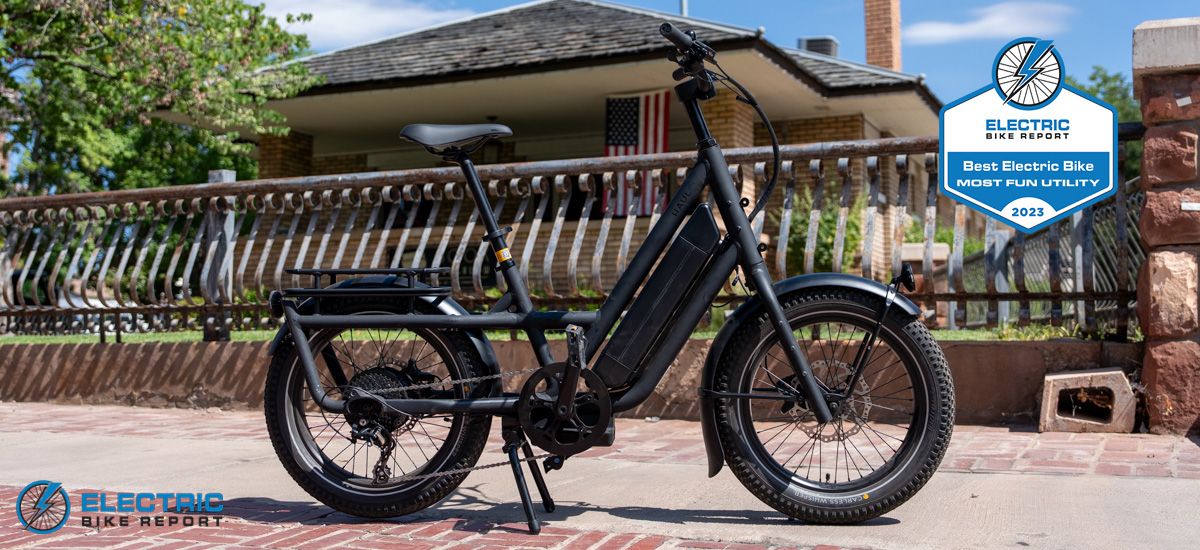 Specialized is one of the biggest bike brands in the world. They are responsible for more innovation than most other brands combined. They were the first of the big legacy brands to even introduce an e-bike. They've watched the (welcome) rise of the direct-to-consumer e-bike brands, and Specialized is nothing if not competitive. So how did they decide to compete? By making one of the best performing e-bikes we've ever tested. To say our time spent reviewing Specialized's Globe Haul ST left us impressed would be an understatement.
In our standardized gauntlet of e-bike tests the Globe Haul ST seriously wowed; hill climbing, range, speed and safety all earned high marks on this e-bike. Even in the harder to quantify areas, the Globe Haul ST left a lasting impression with just a more polished feel than we'd expect from a first generation model. Of course, few gen one products can leverage the type of R&D background that this bike had.
As a Class 3 utility e-bike equipped with a seriously fun 700W hub motor (a lot more on that to come), the Globe Haul ST is a capable e-bike that adapts to its rider. Take it to work, take it to Costco, take it out just for fun. It will be a great ride whatever the use.
Specialized used its knowledge of geometry and frame design to make a one-size-fits all e-bike that darn-near will fit everybody. It's unique in that it accommodates riders from 4'5″ to 6'4″ and ACTUALLY fits them well. And the 20X3.5" Carless Whisper tires provide a low center of gravity and easy balance ensuring it's easy to ride even for those who haven't ridden a bike in a while.
I'm only scratching the surface of how much this e-bike impressed the whole Electric Bike Report team, so continue on through the Globe Haul ST review down below for the full breakdown.
*Right now Specialized has a lot of discounts for accessories you can pair with a Globe Haul ST as part of their Black Friday savings! Click the button above, or head to our Black Friday Electric Bike Deals page for more info.
*Editor's Note: Updated Nov. 20th, 2023 to include award badge, and links to latest info and pricing.
Class 3 E-Bike:
PAS to 28 mph (optional throttle for class 2, 20 mph)
Specialized Globe Haul ST Video Review

Pros
Extremely fun and capable motor. It's ultra-responsive to how you pedal with it, and it can go fast IF you want it to.
Motor point number two: it's one of the best hill-climbing e-bikes we've EVER tested.
It's a highly adaptable ride. Rider's 4'5" – 6'4" can ride it thanks to adjustable comfort features and thoughtful design.
Fun handling that's easy to ride. The 20"x3.5" tires keep a low center of gravity for nice balance.
Extremely good value. You pay a little more than on other utility bikes, but you get your penny's worth with enhanced componentry (motor, brakes, drivetrain, etc.)
419 lbs payload capacity + pack mounts and MIK rack = a bike with a lot of customization for you to use how you need it too.
Pairs with the Globe app for enhanced ride customization.

Cons
The rear rack holds more weight than most (132lbs) but feels shorter than most due to how the angle of the saddle. It may limit it's use (like with a second rider). Fortunately, there is a long tail Haul option you can look at instead.
ELECTRICAL SPECS & FEATURES
Battery : Globe external battery, 772Wh, IPX7
Display: Globe handlebar remote HMI
Motor: Globe custom-tuned motor, alloy, 6-bolt disc, 9 speed freehub, bolt on, 36h
Headlight: Globe Cargo Drive, 1500 Lumen, remote switch, multiple modes.
Taillights: Globe Cargo Drive, 50 Lumen
Pedal Assist: Torque Sensor, 1-5
Range: Claimed 60, (EBR testing 38 – 54)
Throttle:(Not included) Thumb Lever
App:Specialized Globe App
Weight & Dimensions
Claimed weight: N/A
Maximum weight: 419 lbs (with rider included)
Maximum load on the rear rack: 132 lbs
Components & Accessories
Brakes: Tektro HD-T535, 4 piston caliper, hydraulic disc, 203mm rotor
Fenders: Globe Cargo fenders, w/headlight mount, included
Fork: Globe Steel, Post mount disc brake, fender/rack mounts
Frame: Haul ST Premium Aluminum, Post mount disc brake, fender/rack mounts
Drivetrain: microSHIFT 9-speed 11-36t cassette, 50t chainring
Grips: Globe closed end slip on type, 155mm
Saddle: Specialized Body Geometry Comfort Gel
Handlebar: Globe, cargo, alloy, 12-degree backsweep, 80mm rise, 31.8mm. 700mm width
Kickstand: Globe, Short Tail, center mount
Pedals: Specialized Flat pedal
Tires: Carless Whisper Reflect, 20X3.5"
Specialized Globe Haul ST Review: E-Bike Overview
The Globe Haul ST represents quite a few firsts for Specialized. It's the first bike under the Globe name, first use of a rear-hub motor, and first utility e-bike for the brand. And yet despite a whole slew of firsts, they all gave the impression of a refined product as it avoided pitfalls other utility e-bikes have made on the initial attempt.
First off, let's talk about the motor. There is a wave of hub motors with torque sensors this year (and I'm here for it, people!) but the Specialized-tuned 700W hub motor here is amongst the most responsive and powerful I've ridden.
Initially, I thought the motor was too dialed in. It seemed to adjust speed before I could get a full revolution of the pedals in making it feel inconsistent in terms of output. But after about 10 miles or so, with enough time to understand the way the drivetrain and PAS levels interact, it was easy to find the a good pedal cadence that gave me the amount of motor power and speed I was hoping for. This was especially useful on hills, it's a rare bike that can help on steeper climbs from PAS 1-5, but holy cow does it make light work of things in PAS 4 and 5.
Many utility e-bikes have impressive motors, but they use cadence sensors. They check if the pedals are spinning, not how hard. This one just felt like you had more control at your feet than having to rely on your hands since most have you cycling through gears and PAS levels more depending on your terrain.
Second, let's talk fit. While prepping for this particular Specialized e-bike review, we had a phone call with some of the Specialized team who explained the emphasis placed on making a bike that really could be "one-size-fits-all." Careful consideration was made in the overall design using the Retül database to ensure the most amount of people possible could ride this bike comfortably. Our tallest (6'5″) and smallest (5'0″) testers alike all confirmed they felt right at home on the Globe Haul ST once adjusting the stem, saddle, and reach a little.
Most utility e-bikes aren't what I'd call limited in size, but none that I know of go as far as to cover two feet of rider height differences. That's pretty impressive.
Third, let's talk function. In general, I love how easy it is to recommend a utility e-bike. They are wicked useful, and just pleasant to ride for fun, commuting and more. Utility e-bikes are essentially short cargo bikes, so many of them can be decked out with gear for hauling a lot of items. But the pack mounts on the fork combined with a payload of 419 lbs makes the Globe Haul ST more equipped than most, while handling like a dream.
And finally, the Globe Haul ST just has a more premium feel to it thanks to spec that is on a different level. A lot of the other utility e-bikes we've tested share a lot of the same componentry. They work well, but here on the Globe Haul ST you get spec that is typically two or three models up on the manufacturer's tier of quality. Think 4-piston hydraulic brakes instead of 2-piston, 203mm rotors instead of 180mm, 9-speed drivetrain instead of seven or eight – you get the point.
That spec isn't just for show either. On the performance side of things they add up as it yielded some of the best test results we've seen to date as you'll see below.
Specialized Globe Haul ST Review: Speed Test
The speed test is simply designed to answer the question of how fast the bike can go at different PAS levels with a similar effort level in each setting. Think of your heart rate at a light jog – that's the level I brought to this bike's different PAS settings and got the results you see above.
So a few thoughts on that graph: I love speed distribution that makes consistent jumps. The torque sensor of the bike's motor is meant to detect the effort level of your legs and then respond with a multiple of power. That multiple becomes greater on each PAS level, while requiring slightly less effort on your part. This means that you can move your legs faster, not harder though, and really make this bike zoom down the road at high speeds. Or you can simply find a nice boost to your own ride effort, or find an effortless cruising level. It's up to you really as the bike will adapt well to the rider.
I found myself riding mostly in PAS 2 or 3 and only took advantage of the faster speeds when on city streets, Some of the materials I saw from Specialized online even suggest PAS 4 and 5 are better used for when the bike is weighed down with cargo and you are wanting even extra help on hills- which makes sense to me.
The more I rode this bike and adapted to the motor's nuances, it became one of the best motors in my book in terms of acceleration and speed.
Specialized Globe Haul ST Review: Range Test & Battery Performance
In our range test we try to find out how far the bike can go, and if it could match up to the Haul ST's stated range of 60 miles from the 772 Wh battery. Our test results came very close to that number as we got 54.34 miles while traveling 13.5 mph and climbing nearly 1500 feet in elevation in the bike's PAS 1 setting.
With the amount of variables that can affect range test claims, I'm overall plenty happy to have gotten that close to their estimate. The bike helps out meaningfully even in the lowest assistance and it doesn't feel like it's a slog. The fact that it held a similar MPH average to what we got in our speed test across 54 miles and 1500 feet of climbing is proof that it'll help you move on flats and hills alike.
We also did a second range test where we kept the bike in PAS 5 the whole time. We got nearly 38 miles on a 19.5 MPH average and 1100 feet in elevation. We could have gone a bit faster, but we eased up on pedaling just a bit to be good citizens on our local bike paths. Make no mistake though, this bike can move in a hurry if you want it to and cover many, many miles quickly when needed.
That kind of floor in terms of mileage means many days at a time between charging, and the bike's display helps out by offering a setting that estimates your remaining mileage. It's nice for managing expectations for how far you have left till charging is necessary.
Specialized Globe Haul ST Review: Hill Test
I had decently high hopes for how the Haul ST would perform on our test hill. I didn't think it would post record-breaking times though. The results put it in the top five for hill climbs since Justin from our team became the dedicated hill tester for consistency. This bike simply has the torque and power needed to climb any hill. The "Big Motor" printed on the outside of the motor's is sure fitting.
One of the things I was happiest about here was the throttle time. For a bike that I think can appeal to the masses, I had hopes it would nail every aspect of the motor, and some we test reveal large gaps in throttle and PAS hill results. Luckily, no such issue here, so I think the "let the e-bike do the work" crowd will be happy. Oh, and it's a modular throttle too, so a slight press on the lever means you won't go full boar if your nervous at all of it having more zip than you like.
Justin even loaded the bike up with 60 lbs worth of dumbbells that he loaded into the panniers we were testing. After such a good throttle time he wondered what it could do for a cargo-laden trip too. It still posted a time of 1:45 up the hill which is mighty impressive!
The one drawback here? The throttle was an extra we were sent for testing and doesn't come standard. We typically advocate for throttle's on most e-bikes (better to have and not need, than need and not have) so I hope it comes included down the line, but for now I do recommend it at checkout.
While our test hill Hell Hole represents the extreme hills of the world, I do think this bike will serve people remarkably well for hills of all sizes even on lower pedal assistance. There's enough range on the 11-36t cassette to cycle through the gears and pedal this bike up hills with just an appreciable amount of motor assistance in PAS 1.
It's nice knowing that you can move up through a lot of elevation without having to rely on battery-draining PAS 5 output all the time.
Specialized Globe Haul ST Review: Safety and Brake Test

Ladies and gentlemen, we have a new king of the brake test.
Thanks to the awesome setup of the Tektro HD-T535 4-piston hydraulic disc brakes and the 203mm rotors, the Globe Haul ST stopped in an average of 15'9″ on our brake test. It's the best result we've had on a qualified e-bike since I became the full-time break tester over a year ago.
This is also a solid four feet better than the average utility bike which as of this review sits at 19'10".
Along with the great brakes, the general construction of the bike makes for easy braking. The low center of gravity and wide tires mean when you grab the brakes you maintain control all the way through. Not much fishtailing to be had on this bike.
Specialized Globe Haul ST Review: Ride Quality
"Fun," and "comfortable," are the two words that best sum up the ride quality of the Globe Haul ST.
The gearing and motor have a relationship to be figured out, but once you get the hang of it this ride is an absolute blast.
The bike just has an overall smoothness to it. The Carless Whisper tires hold great straightline speed, but they have chunky tread for letting you grip loose gravel. They have enough volume in the tires that you can let air out to soften the ride which helps make up for the lack of suspension.
Speaking of, there isn't a suspension fork here, but with how upright you ride it didn't seem to matter to me much personally. Just avoid rougher stuff and stand on the pedals as needed.
While I mentioned before you get better-than-typical spec, I failed to mention that even the included accessories are a bit nicer. The fenders are full coverage. The headlight is 1500 lumens with numerous brightness levels and modes to cycle through, and the included rear rack holds up to 132 lbs while being compatible with MIK accessories. It gives off a premium feeling compared to other utility e-bikes without costing a ton more.
One of the few knocks I have on this bike would be the rear rack. It doesn't do anything wrong per se, but the seatpost angle goes so far back that it is going to be hard to imagine getting a second rider on back there, even with Specialized's passenger package – it'll likely fit younger children only.
If they ever offer this same bike in some sort of larger XL variant with another 3 4 inches in the back, I'd be 100% satisfied knowing I could get a child on here or larger items to pack on.
Specialized Globe Haul ST Review: Summary / Where to Buy
I won't beat around the bush: after spending a few weeks reviewing Specialized's Globe Haul ST this is one of my favorite e-bikes I've tested all year.
On the performance side of things, it gets top marks across the board. The data speaks for itself in that regard: brake, speed, hill, and range tests all did well, earning it straight A's.
In terms of sheer usability, it's a ride that fits a ton of people with an adjusting height range and high payload capacity. It's extremely well-balanced, and everything from shifting, handling, cargo carrying and whatever else is in between performed as good or better than what I'd hoped for.
It took me a few rides to understand the nuances of the motor – it responded a bit differently than other hub motor and torque sensors combos I've ridden in the past, but with enough miles under my belt to understand how to best get out of it what I wanted, it was an absolute blast to ride.
My wishlist for things to change is pretty small. I wish the throttle was standard, and I think if they had a slightly longer tailed variant than parents wanting to get their kid in a bike seat with some breathing room behind them would be all that much happier.
Overall, the Haul ST is one heck of a debut for the Globe name. I think it's going to impress a lot of people who get to ride it. If you buy one – and to be clear, yes, it has my full stamp of approval to buy – then I think you'll be very happy with it.
Happy Riding! Make sure to let us know if you have any questions down in our comments section or if you think we left anything out in this review of the Specialized Globe Haul ST
Reader Interactions