Best City and Urban Electric Bikes 2023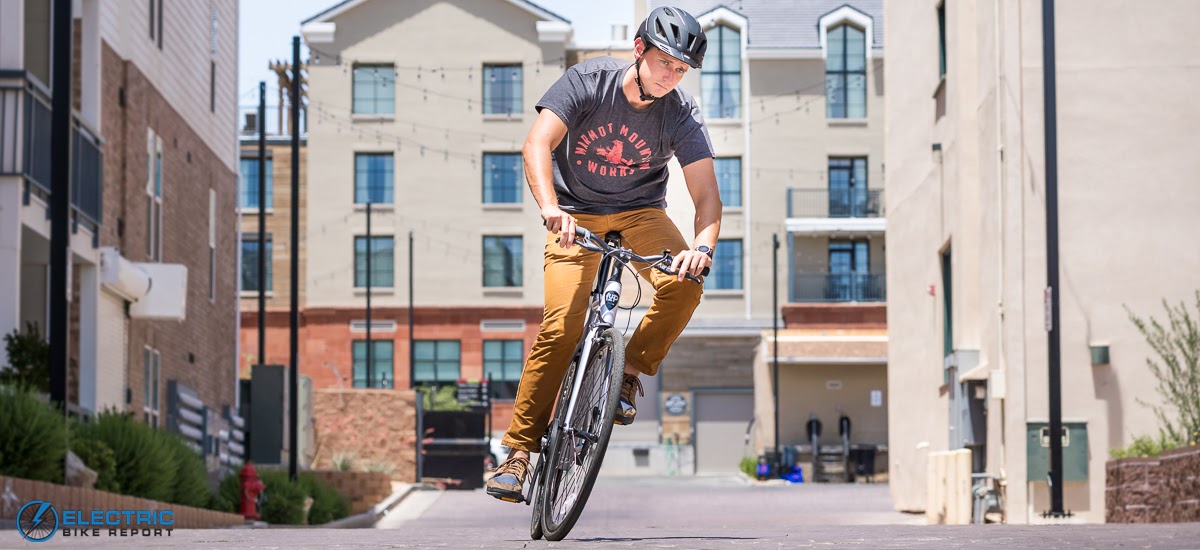 Intro to Best City & Urban E-Bikes of 2023
*Electric Bike Report aims to help consumers find the right electric bike for their needs. When you buy a product we recommend, we may earn a commission.
From cruising traffic-clogged city streets to scooting a few blocks to the office and back, the Electric Bike Report staff reviewed some of the best city and urban electric bikes on the market in 2023.
This is a broad category of e-bike, with dozens and dozens of bikes sold today that would work great as city and urban e-bikes. But there are some that are better than the rest, and we've listed our top picks below.
City and urban e-bikes are a part of the larger commuter bike category, but they have certain characteristics that make them, in our opinion, best suited for short-range commutes in densely populated urban environments. They're usually a little lighter, a little more nimble and sometimes have a little less power and range than pure commuter bikes, though they may look extremely similar at first glance. Many of the bikes on this list have been put through the wringer by our team of qualified bike testers on EBR's home roads and paths in southwest Utah, but some of them made the list on their specs alone — they were just too good to ignore.
Obviously, any bike can be a city and urban bike. You could happily ride a full suspension eMTB around the streets of New York City, but is that really the best use of that bike? Our goal is to help consumers suss out the best use for each e-bike we review. In the case of the bikes listed below, we feel that they're most at home in a dense urban environment.
Our Best City Electric Bikes 2023
How we picked these bikes
There is an absurd number of e-bikes on the market today, and they come in all shapes, sizes, variations and intended uses.
Because of that, we're not going to kid you or ourselves by claiming this best list is perfect. What this list is, is a hard-debated and long-considered inventory of, in EBR's opinion, some of the best city and urban e-bikes on the market today.
Many of these bikes we know intimately: We've pedaled them hundreds of miles up hills, through traffic and we've even put them through a gamut of tests to fully understand how well they perform. But there are other bikes on this list that are here purely because of their reputation, and because our expert reviewers look at the spec list and think "I want that bike."
We evaluated city and urban bikes based on a few key criteria, mainly:
Range: How long will the battery last? And how long could you actually ride the bike before it becomes uncomfortable? City and Urban bikes typically need to cover shorter distances but they should be able to last for a solid day of riding.
Weight: Could you carry the bike up a flight of stairs or lift it onto a bus? This is a tough bar to clear for most e-bikes, but we feel the cutoff for city and urban bikes is around 50 lbs.
Maneuverability: Can the bike fit into tight spaces between cars and is it quick enough to dodge pedestrians? Also, does it fold up?
Other: We also weigh a host of other variables, ranging from the type of rack(s) it's outfitted with to the bike's styling and body positioning.

Remember that many of these criteria are subjective. The EBR brain trust has a lot of experience on bicycles, but by no means are we trying to impress an elitist position on what bikes should and shouldn't be used for. That's the cool thing about bikes — especially e-bikes — you can do anything on any bike if you try hard enough.
Rad Power Bikes RadMission 1
Check Best Price | Read Full Review | Watch Our Video Review
You're going to be hard pressed to find a value priced e-bike we tested this year that our staff universally loves more than this one. The Rad Power Bikes RadMission 1 is not the prettiest e-bike nor is it the quickest, but by golly there's few things we love more than a no-nonsense city bike that rides well and doesn't break the bank.
The RadMission 1 is a single speed e-bike with a 500w geared hub motor powered by a 504Wh battery. It's a Class 2 e-bike, so there's a twist throttle and the motor will cut off at 20 mph. This, we found in our in-depth review of the bike, was plenty of oomph to speed around town and get up most any hill we threw at it. The bike has a steel frame, mechanical disc brakes, nice-rolling Kenda Kontact tires and a sturdy pannier rack on the back. It's a very, very solid build for the low price point.
The bike looks urban and utilitarian, like it would be right at home locked to a bike rack on a New York City street corner. It also pedals nicely and sports a slightly less aggressive body positioning than Ride1UP's Roadster V2, which also made it on this best list. We were really impressed by this bike's battery life, which took us 37.22 miles during our real-world test before it gave out. It's also surprisingly comfortable and handles very predictably.
This bike is perfect for anyone looking for a budget city and urban bike but doesn't want to compromise function or ride quality. It's a capable bike that won't let you down.

Pro's
Very quick motor engagement thanks to a quick-acting bottom bracket cadence sensor. It takes about a half pedal stroke for the motor to kick on.
The power delivery is smooth and feels like a nice compliment to your pedaling. Not jerky or overpowering.
Really awesome styling. More than a few of our testers say this is their favorite looking e-bike.
You can hardly tell it's an e-bike. The motor is discreet and the battery is extremely well hidden.
Very lightweight for an e-bike at only 33 lbs.
This e-bike is equipped with a belt drive, which keeps pant legs grease free and requires very little maintenance.
The modest 350W hub motor packed a solid punch. It got the bike up to cruising speed easily and it carried us up hills with surprising gusto, which was nice considering there's only one gear.
The frame has eyelets to add a fender or rack.

Con's
We'd like to see some slightly wider handlebars on future iterations of this bike. The narrow bars that come with the bike are certainly in line with the fixie/messenger styling, but they can make the bike feel twitchy and are a bit uncomfortable while standing and pedaling.
The 64×20 single speed gear ratio is pretty large, and might prove tough on some steeper hills or at low speeds.
Check Best Price | Read Full Review
Wisconsin-based Trek has made a name for itself as a builder of high-quality bicycles since the founders started welding together steel touring frames in a barn during the spring of 1976, so it's no surprise the company makes an impressive offering of city and urban e-bikes.
The Verve+ 3, which the company bills as an "electric hybrid bike" is one of our top picks as a capable and well-outfitted city and urban bike. This is a Class 1 e-bike with no throttle and the motor will cut off at 20 mph, but the lightweight aluminum frame and solid 9-speed Shimano drivetrain means you can easily pedal it faster. The bike is powered by a 250w Bosch mid-drive system and 500Wh battery, which equates to an impressive range that can be extended even further with a piggyback battery. There are two spec options available in the Verve+ lineup and both are available in low-step frame designs, for those who'd prefer an easier way to swing a leg over the bike. At the highest spec level (the Verve+3), the battery is integrated inside the frame for a sleek and discreet finish.
Trek's bikes typically start at a slightly higher price point than some of the newer e-bike only brands that have cropped up in recent years, but you truly get what you pay for. Not only is the quality top-notch, but the customer service is backed by decades of experience in the bicycle world and a humongous network of local bike shops.
The Verve+ 3 is a great e-bike for a person already sold on city and urban bike commuting who might be looking to upgrade. It's a solid build from a company you know will stand by their product.

Pro's
Bosch mid-drive motor system
Sleek design with an integrated battery
The 500Wh battery powering a 250w motor will equate to a pretty long range. The availability of a piggyback battery makes this bike a real long-hauler
A great warranty and an expansive network of shops means you'll have support if something goes wrong
A suspension seatpost will keep your tuchus happy

Con's
The price point is on the higher side, but you get what you pay for
At just shy of 55 lbs, it's a little on the heavy side compared to other city and urban bikes
Check Best Price | Full Review Coming Soon
GoCycle's newest iteration of their iconic fast-folding electric city bike has the same funky styling and ride quality we've come to love, only better.
The e-bike now has more carbon — its unique single-sided fork is now made of the stuff and its midbody, the part that connects the front half of the bike with the rear, is now also carbon fiber. This makes the bike lighter and more vertically compliant, making for a more comfortable ride. GoCycle has also retooled their proprietary front hub motor to make it more torquey and better at uphill starts, and a new battery gives the bike better range. Other than those upgrades, the newest iteration of the GoCycle looks and — most importantly — folds up the same way it always has.
We tested the previous GX model of the GoCycle late last year and really enjoyed its pep and rideability for such a compact bike. Even some of our larger test riders felt comfortable. We've yet to get our hands on the latest G4 model (which stands for generation 4), but we'd be remiss to leave it off this list. GoCycle's bikes have long been the standard bearer of functionality, rideability and unique design in the folding e-bike category. They flatly just work, and the latest upgrades to the G4 model look like they'll only further compliment an already great bike.
This e-bike is for the seasoned urban and city commuter who is short on space; either at home, at the office or on public transport.

Pro's
An impressive design from a company that's clearly invested in R&D
Lives up the the "fast-folding" name. The GX will fit just about anywhere
It's easy to carry and very light weight. A perfect e-bike for someone who needs to carry it up stairs or stash it behind a desk
The PitStop wheels make tire changes a breeze
Pedals easy even with the motor off
An Allen key is conveniently stored underneath the saddle, making adjustments convenient
It's a clean, lightweight design that makes the GoCycle fun to ride with the motor on and off

Con's
Integrated lights and fenders not included standard; Gocycle sells them as an accessory
The styling isn't for everyone, but even the naysayers on the EBR staff have grown to like the GoCycle's quirky shape
Check Best Price
|
Read Full Review
|
Watch Our Video Review
Ride1UP's Roadster V2 has the looks, it's got the reliability and it's got the cheap price point. But does it have the ride quality we want from a city and urban e-bike featured on our best list?
The answer is an emphatic yes.
The Ride1UP Roadster is the most modestly powered and priced city and urban e-bike on this list, but it packs a surprising punch. This bike is a single speed outfitted with a carbon belt drive, which is an unusual feature on a bike priced this low. The motor is a 350w geared rear hub powered by a 252Wh battery entirely hidden in the downtube of the frame. On paper, that's not a big motor or battery. But in real life, it equated to an extremely lightweight e-bike (33 lbs) with a motor just large enough to give heaps of power when you need it, but can ride like a normal bike when you don't. The handling is snappy, and the slightly more aggressive geometry puts your body in a really efficient pedaling position.
The motor and battery are so small and carefully hidden that you hardly notice it's an e-bike at first glance. With a top motor-assisted speed of 24 mph, the Roadster is a Class 3 e-bike but it rides like a souped-up Class 1 bike. We found it likes to cruise at around 20 mph to 21 mph, but unlike the Class 1 bikes, the motor stays on the whole time — which makes for an extremely smooth and effortless ride.
Overall, the Roadster is perfect for people who like to pedal their bikes but want a little motor-assisted help on hills and while cruising. It's a fun and stealthy e-bike that's a really great value for the price.

Pro's
The motor engages in about half a pedal stroke, which is very quick
The motor delivers power smoothly and in a way that compliments your natural pedaling.
The bike looks great. It's a staff favorite based on styling alone
The hidden battery and very small motor make this a stealthy e-bike
The 33lbs weight is featherweight for an e-bike
The belt drive keeps things low maintenance and protects your pant leg from grease
The bike's 350W motor was surprisingly powerful and carried us up most hills with ease
There are eyelets on the frame so you can add fenders and racks

Con's
The Roadster doesn't have the best range due to its small 252Wh battery. This isn't a huge issue for what we view as this e-bike's best use — short range urban commutes — but longer trips might require some careful battery management.
Several of our testers agreed the handlebars could be slightly wider.
The 64×20 single speed gear ratio is pretty large, and might prove tough on some steeper hills or at low speeds.
Check Best Price | Read Full Review | Watch Our Video Review
Aventon's Pace 500 is a very comfortable urban and city e-bike with a wild side. Don't be fooled by the swept handlebars and slim-looking frame, this e-bike packs a 750W motor that will handily propel you to 28 mph and hold that speed with ease.
We at EBR have been really impressed with every Aventon we've tested, and their Pace 500 is no different. The bike has five power assist levels that really keep the big motor tame until the maximum assist level, which unleashes the full brunt of the power. Those settings help keep the Pace 500 predictable and easy to handle when you're in a congested area, or allow you to let it rip on open roads. The Pace 500 weighs in at a claimed 49 lbs — pretty light for a bike with a 750W motor — and a 557Wh partially-integrated battery keeps the power on.
We really like the Pace 500's sleek and understated styling, which is really a calling card for all of Aventon's bikes. The brand also boasts some of the best customer service we've seen from a direct-to-consumer brand, which is nice should something go wrong.
This is a nice choice for a rider looking for a bike that mixes laid-back cruiser-style geometry with a speedy Class 3 power plant. For the price, the Pace 500 is a value buy with some surprisingly premium features.

Pro's
At only 49lbs, the Pace 500 felt light and maneuverable compared to some other Class 3 e-bikes
The hydraulic brakes are a great value at this price point
It's got a sleek and stealthy design that looks great
An adjustable stem makes this bike versatile for more aggressive riders as well as those looking for a relaxed fit
It's a quick bike and was very easy to assemble out of the box

Con's
The handlebars may be a little too swept back for some riders, especially those with longer arms
Bulls Lacuba Evo Lite Diamond
Check Best Price | Full Review Coming Soon
Bulls built their Lacuba Evo Lite Diamond around one of the most award-winning eMTB drive systems in existence, the Brose S Mag. The result is a torquey, lightweight and extremely good looking city bike complete with racks, fenders and lights.
This is a Class 1 e-bike with a 250W mid-drive motor capable of producing 90Nm of torque. In short, you can expect it to be very fast. It'll also go a long ways, too. Powering that motor is a Brose Supercore battery with a whopping 750Wh capacity. The Lacuba Evo weighs in at just under 50 lbs and it comes with a Shimano Nexus 5-speed internally geared hub driven by a Gates carbon belt drive, which means it'll be low maintenance.
The Lacuba Evo comes in a high step, mid step and low step frame option, and we really like the bike's stealthy looks. The Brose motor and battery are nicely hidden inside the frame and the bike comes with fenders, a rear pannier-style rack and front and rear lights.
Overall, we're very impressed with the Bulls Lacuba Evo Lite Diamond and think it would be a great choice for a commuter with lots of hills on their route (looking at you, anyone in the San Francisco area). It's a solid city and urban bike from a company known for quality products.

Pro's
The Brose Mag S drive system is torquey and extremely capable
The large 750Wh battery paired with the 250W motor gives this bike an exceptional range
Bulls has been around since 1995 and is an early adopter of e-bikes, so you can be confident they're making a great product
The Gates belt drive and internally geared hub make this bike extremely low maintenance

Con's
This is not a budget bike. At close to $5,000, it's one of the pricier bikes on our best list
Check Best Price | Full Review Coming Soon
Built around a road bike geometry, iGo's Aspire-Vendome electric city and urban bike is a versatile option for commuters who want an e-bike that can get them to the office on weekdays and handle some fitness riding on the weekends.
The Aspire-Vendome shares the same geometry as iGo's Aspire-Camillien electric gravel bike, but sports more comfort-oriented flat bars instead of drop bars and a few other add-ons that make it more favorable for the commuting crowd. It also comes stock with fenders and front and rear LED lights. It's a Class 1 e-bike with the option of being unlocked to a Class 3 where local laws allow, and it's powered by a 250W Bafang rear hub motor. A 375Wh battery tucked into the downtube of the frame gives the bike a nice range and a discreet look. At right around $2,000, the Aspire-Vendome is a budget-friendly option for urban commuters looking to bookend weekday rides to the office with weekend excursions on bike paths and the open road.
The bike is notably light — with a claimed weight of just 35.4 lbs — which places it among some of the lightest commuter-style e-bikes you can find. It comes with a Shimano Sora 9-speed groupset and Tektro hydraulic disc brakes. We're also big fans of the styling; it just looks quick.
The Aspire-Vendome is a great choice for urban and city commuters who want an e-bike they can get a little physical with. It's road-inspired geometry, efficient body positioning and decently powered motor means you can choose between working up a sweat on off days and keeping the sweat at bay on work days.

Pro's
The road-inspired geometry means this bike will handle quick and pedal efficiently
The 375Wh battery will do a nice job of powering the 250W motor, giving it a better range than many bikes on this list
There are nine PAS levels to choose from, making the motor assistance ultra-tunable
Hydraulic disk brakes are a nice addition for a bike at this price point

Con's
The 250W geared hub motor may feel small for some. This is a bike that wants to be pedaled
There is only one front chainring (48t), which limits your gearing options at high and low speeds
Specialized Turbo Vado SL 4.0
Check Best Price | Full Review Coming Soon
At their core, e-bikes are just bicycles with a little extra boost. No company has done more to preserve the "bike" in e-bike than California-based Specialized, which in 2019 rattled the e-bike world with its proprietary Super Light drive system.
In 2020, Specialized mounted that SL drive system on a redesigned Turbo Vado that looks more like a flat-bar Tarmac road bike than an electric commuter. Not only does the SL drive system live up to its name by shedding pounds off the Turbo Vado's weight, it does a fantastic job of not overpowering input from the rider. This bike still feels like a bicycle, with the motor providing a little boost when it's needed.
The Turbo Vado SL 4.0 is the more economical option of the two spec levels, with a 10-speed Shimano Deore drivetrain and Tektro hydraulic brakes. We like its price point (about $3,700 and some change) and the fact that it shares the same motor, battery and frame with its more expensive sibling. The SL motor peaks at 240W and is powered by a 320Wh battery, which makes for a sizable range. It's also a Class 3 e-bike capable of motor-assisted speeds up to 28 mph.
This is a great urban and city e-bike for commuters who want a motor that compliments their own pedaling abilities. It's got enough oomph to get you to your destination without working up much of a sweat, but don't expect an effort-free ride.

Pro's
Its ~33lbs weight is extremely light
Available is an "equipped" model that comes outfitted with racks and fenders for a small upcharge
Outright good looking and outfitted with some of the coolest e-bike tech you can get

Con's
The SL motor, while awesome for seasoned bike riders, might feel underpowered for those looking for lots of motor aid
Check Best Price | Full Review Coming Soon
A timeless styling with e-bike guts, the Orbea Vibe urban and city bike is — at least in our opinion — one of the best looking city and urban commuter bicycles on the market. Period.
Its 250W rear hub motor and 250Wh battery are extremely well hidden, making for a covert e-bike that blends in well with its non-motorized counterparts. That motor is relatively small for a hub motor, but Orbea built the Vibe with a "enough energy" ethos that takes a minimalist approach to the bike's drive system. They wanted it to have just enough power to amplify your pedaling, giving you a discreet boost and nothing more. You can add a range extender that boosts the battery capacity to a whopping 450Wh and the bike comes with a finely-tuned cadence sensor that engages the motor smoothly and predictably.
The Vibe is also extremely customizable, with buyers being able to choose from a variety of color combinations, cargo racks and fenders. Adding to its good looks, the Vibe's cable routing is entirely hidden through Orbea's proprietary ICR Plus routing system. It comes with a Brooks saddle and grips, a Shimano Deore 1×10 drivetrain, Magura hydraulic brakes and Kenda tires. It's a Class 1 e-bike so the maximum assisted speed is limited to 20 mph, though you can pedal it faster.
This bike oozes cool, and it's perfect for anyone looking to tackle city streets with few hills over short distances.

Pro's
It looks really, really good
The Deore 10-speed drivetrain has a broad gear range, which will help when climbing steep hills
The internal cable routing is really slick and keeps the bike organized

Con's
While the smallish motor size is comparable to many other bikes in this category, the Vibe's battery is equally small. The piggyback battery might be mandatory for longer trips
Check Best Price | Full Review Coming Soon
Compact and capable, the Riese & Müller Tinker is a top-of-the-line example of the small but mighty e-bikes popular in Europe but not quite as common in North America.
The Tinker looks like a folding bike, but doesn't fold. Instead, it employs that compact and quirky frame design to save space on bike racks, crowded city streets and on public transit. You can choose from two versions of the Bosch drive system for the Tinker, the 540W Performance Line or the 365W active line, and both are powered by the Bosch PowerPack 500Wh battery. Shifting is handled by an Enviolo internally geared hub and it comes with Tektro Auriga Comp hydraulic disc brakes.
Riese & Müller is one of the most premium e-bike brands on the planet, and the Tinker is exactly what you'd expect from a company of that stature. It's thoughtfully outfitted with great components and the frame has clean lines and an elegant paint job.
If you're tight on space and want a premium e-bike right at home on bustling city streets, the Riese & Müller Tinker is the best choice for you.

Pro's
The entire drive system is spot on for a city and urban bike, from Enviolo hub to the belt drive and Bosch power plant
An adjustable stem means the bike can quickly adapt to different rider sizes
Riese & Müller paid special attention to the balance of this bike, making it feel like a big bike despite its compact frame

Con's
The more than $5,000 starting price is a high bar to clear for some, but Riese & Müller's bikes are among the most sought-after e-bikes available. That high price tag gets you one awesome city bike.
Check Best Price | Full Review Coming Soon
Another example of a compact and urban commuting e-bike, the Tern HSD S+ has the looks of a folding e-bike with the spirit of a cargo bike.
The frame is small and low-slung, similar to the Riese & Müller and GoCycle above, but the wheelbase is stretched to accommodate a small(ish) cargo rack in the back. That rack is big enough to fit a child seat, so you can haul around a mini passenger if needed. The HSD S+ is powered by a Bosch Performance Line motor and 500Wh PowerPack battery. It's also outfitted with the ultra-cool Enviolo AUTOMATIQ drivetrain that shifts for you; no user input required.
The handlebars fold down to make storage of this e-bike even easier, and a suspension fork at the front combined with a Cane Creek Thudbuster seatpost means you and your cargo will get there in comfort. Like the Riese & Müller above, this style of city bike hasn't gained much popularity in the U.S. yet, especially when compared to Europe. But with the rise of e-bikes and with more and more people choosing to ride over drive, we're betting this style of low-slung compact commuter becomes a common sight on city streets.
For those who place a premium on space but still want a bike that can carry things, the Tern HSD S+ is a solid and uncompromising choice.

Pro's
The Enviolo AUTOMATIQ drivetrain is a really cool piece of tech. It's like a automatic transmission for your car
The brushed aluminum finish of the Tern looks great and won't get marred up by bike racks
This bike is small but it has the spirit of a cargo bike. It's not the biggest rack in the world, but it's carrying capacity creates a new level of function for such a compact bike

Con's
There's no denying the more than $5,000 price tag is a little lofty, but it's a worthwhile cost for the dedicated city commuter. Like the Riese & Müller, there's a reason the only con we list is the cost.
Check Best Price | Read Full Review | Watch Our Video Review
With one foot in the cruiser category and the other in city and urban, the Blix Aveny Skyline places a premium on comfort and functionality.
The Aveny Skyline comes in a mid-step frame design, which makes it easier to get on and off of, and the cruiser-like geometry puts riders in a comfortable upright position. It has a 500W rear hub motor powered by a 672Wh battery, which gives it a really solid range. The Aveny Skyline is a Class 2 e-bike, which means it has a throttle and the motor can propel you up to 20 mph before it cuts out. It's an e-bike built not only for city and urban commuting but also for just fun recreational riding.
There's no denying the Aveny Skyline looks like many e-bikes in our cruiser category, and in many ways it fits in nicely with them. But what earns the Aveny Skyline a spot on this city and urban best list is Blix's very cool and very functional modular rack system, which allows users to bolt a number of different racks onto smart mounting points on the frame. This makes it a solid choice for city commuters needing a comfortable bike that can carry a little cargo.

Pro's
The Aveny Skyline's mid-step and upright frame design makes it an accessible bike for any commuter
We really like Blix's modular racking system, which allows the Aveny Skyline to carry a small amount of cargo
Despite it's cruiser design, the Aveny Skyline's feature-rich stock setup including lights and fenders makes it a formidable e-bike in urban environments

Con's
The Aveny Skyline only comes in one size. Blix says it fits people ranging from 5'1" to 6'2", but we typically like to see a more tailored fit from different frame sizes
Bottom line: Evaluate your needs before opening your wallet
We did our best to walk a mile in the average city and urban e-bike commuter's shoes when making this list, but everyone's needs are different.
More than reading online best lists, the most important thing you can do when buying a new e-bike is to have a solid idea of what you want to do with it. For the purposes of compiling the above list, the EBR team envisioned a person who needed a bike capable of covering a modest distance while sharing the road (or path) with lots of other users. Maybe they also wanted the bike to be comfy; maybe they wanted it to be stylish; and maybe they wanted to be able to carry a little cargo or a little human. Most importantly, they needed a bike that was nimble and reliable. If that sounds like you (even a little) this is probably the right place for you. If not, we've got lots of other lists covering the best bikes in categories from commuters to cruisers and more.
Think long and hard about what you want to do with your bike. Be real with the distance you need to cover each trip and what type of hills and obstacles you need to navigate — get a bike that matches those needs. If you're new to e-bikes and need help figuring out watts from motor controllers, we've got a guide for that. We'd also especially recommend checking out our commuter e-bike best list, as many of those bikes are very similar to the ones featured here.
Reader Interactions