Best City and Urban Electric Bikes 2023
*Electric Bike Report aims to help consumers find the right electric bike for their needs. When you buy a product we recommend, we may earn a commission.
From cruising traffic-clogged city streets to scooting a few blocks to the office and back, the
Electric Bike Report
staff reviewed some of the best city and urban electric bikes on the market in 2023.
This is a broad category of e-bike, with dozens and dozens of bikes sold today that would work great as city and urban e-bikes. But there are some that are better than the rest, and we've listed our top picks below.
City and urban e-bikes are a part of the larger commuter bike category, but they have certain characteristics that make them, in our opinion, best suited for short-range commutes in densely populated urban environments. They're usually a little lighter, a little more nimble and sometimes have a little less power and range than pure commuter bikes, though they may look extremely similar at first glance. Many of the bikes on this list have been put through the wringer by our team of qualified bike testers on EBR's home roads and paths in southwest Utah, but some of them made the list on their specs alone — they were just too good to ignore.
Obviously, any bike can be a city and urban bike. You could happily ride a full suspension eMTB around the streets of New York City, but is that really the best use of that bike? Our goal is to help consumers suss out the best use for each e-bike we review. In the case of the bikes listed below, we feel that they're most at home in a dense urban environment.
Our picks for the Best City and Urban Electric Bikes of 2023
How we picked these bikes
There are an absurd number of e-bikes on the market today, and they come in all shapes, sizes, and variations, and intended uses.
Because of that, we're not going to kid you (or ourselves) by claiming this best list is perfect. What this list is, is a hard-debated and long-considered inventory of – in EBR's opinion – some of the best city and urban e-bikes available.
We know all of these bikes intimately; we've pedaled them hundreds of miles up hills, through traffic and we've even put them through a gamut of tests to fully understand how well they perform. Those on this list stood out the most from the dozens of similar bikes we've tested.
We evaluated city and urban bikes based on a few key criteria, mainly:
Range: How long will the battery last? And how long could you actually ride the bike before it becomes uncomfortable? City and Urban bikes typically need to cover shorter distances but they should be able to last for a solid day of riding.
Weight: Could you carry the bike up a flight of stairs or lift it onto a bus? This is a tough bar to clear for most e-bikes, but we feel the cutoff for city and urban bikes is around 50 lbs.
Maneuverability: Can the bike fit into tight spaces between cars and is it quick enough to dodge pedestrians? Also, does it fold up?
Other: We also weigh a host of other variables, ranging from the type of rack(s) it's outfitted with to the bike's styling and body positioning.
Remember that many of these criteria are subjective. The EBR brain trust has a lot of experience on bicycles, but by no means are we trying to impress an elitist position on what bikes should and shouldn't be used for. That's the cool thing about bikes — especially e-bikes! — you can do just about anything on any bike if you try hard enough.
Aventon Soltera
The Best Overall City and Urban Electric Bike, 2023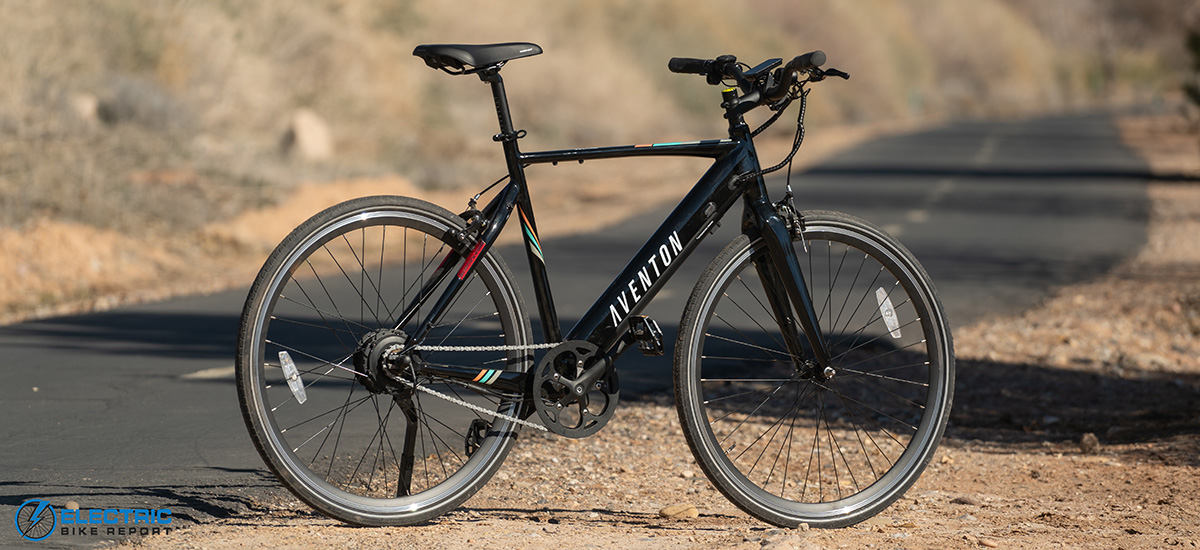 While Aventon is probably best known these days for its fat tire Aventure model, their Soltera e-bike brings the same level of quality, performance-for-cost value, and reliability to a city model that hearkens back to the company's roots.
As a 41-lb, feature-light e-bike, the Soltera's design is heavily influenced by the fixed-gear (or "fixie") bicycles that initially put Aventon on the map. As such, it doesn't have too many bells and whistles, but it does feel remarkably solid and well-built. The bike is available with either a single-speed drivetrain that calls back to its fixie heritage, as well as a 7-speed option for more flexibility. It's also a Class 2 e-bike,
The Soltera's stealthy appearance will appeal to those who don't want an obvious e-bike, and its small but effective 350W rear hub motor is subtle enough to appease anyone looking for a feel resembling that of a non-electric bicycle. Considering that it IS an e-bike, however, the Soltera's 36V, 10 Ah battery gave the single-speed version we tested an impressive range.
To top it off, the Soltera is firmly planted on the affordable end of the spectrum of e-bike prices; the single-speed version can be picked up for around $1,000. For those wanting more flexibility with gearing, the 7-speed option is just a couple hundred bucks more.
Check Best Price | Read Full Review | Watch Our Video Review

Pro's
Stealthy design; the recessed battery and rear hub motor are the only things that identify this as an e-bike.
A low weight of just 41 lbs makes the bike responsive, easy to carry, and faster to accelerate or climb hills.
Considering price, the range provided by its 36V, 10 Ah battery is solid.
The option of either a single- or 7-speed drivetrain.
We appreciated the rear taillights being inset into the seat stays, as well as the full-color display.

Con's
The bike's small-ish 350W rear hub motor requires a bit of work from the rider, but adds to the Soltera's non-electric spirit.
The absence of included accessories (like a rear rack) may be a turn-off to some but can be added separately.
Lectric XP Lite
The Best Affordable City and Urban Electric Bike, 2023
We don't often recommend e-bikes below the $1,000 mark due to performance and quality concerns, but every model we've tested from Lectric has met – and often exceeded – our expectations. The Lectric XP Lite lands on this list for its budget-friendliness, but also for its portability; the bike folds to a compact size for transport and/or storage and is easy to lift and carry.
Weight is a big factor for city bikes; the lighter they are, the easier it is to carry them up to a 2nd- or 3rd-story apartment. The XP Lite's 46 lbs falls below our threshold for urban e-bike weight, and its battery can be removed to shave off another 7 lbs when carrying. Such a low weight also allows the bike to be more nimble and maneuverable, and grants it faster acceleration.
The XP Lite is basic, but still highly functional; its single-speed drivetrain keeps things simple and cost-effective but requires less maintenance, and riders can rely on the pedal-assist system to adjust speed and hill-climbing ability. Furthermore, commuters looking for utilitarian accessories like fenders, a cargo rack, and pannier bags can add Lectric's "Carry Package" for an extra hundred bucks.
It's capable and versatile, too! The bike's 300W motor is modest, but as a Class 2 e-bike, it can travel up to 20 mph through throttle or pedal assist. It lacks a front suspension, but knobby tires can allow riders to cut across short dirt lots or take similar shortcuts.
The Lectric XP Lite has a lot to love for budget-conscious riders, which is why we chose it for the Best Affordable City and Urban Electric Bike.
Check Best Price | Read Full Review | Watch Our Video Review

Pro's
A great bike at a great price! It's fun and practical, which is a rare combination for under $1,000.
Nimble maneuvering thanks to a low weight of just 46 lbs.
Lifting can be made easier by removing the 7-lb internally-hidden battery.
Fewer flats thanks to tubes that come pre-filled with slime.
Can handle limited travel on dirt with its knobby tires.
The bike has a surprising 275-lb total payload capacity!

Con's
Not a HUGE deal, but we'd prefer the ability to ride without the key in the battery.
The single-speed drivetrain is cost-friendly and simple, but may be limiting to some riders.
Tenways CGO600 Pro
The Best Single-Speed City and Urban Electric Bike, 2023
While it may not be the lightest model on this list of the best city and urban electric bikes, the Tenways CGO600 Pro makes up for it with great design, simplicity, and ride feel.
As a Class 1 e-bike, the CGO600 Pro does not include a throttle, but its 350W rear-hub motor can assist you when pedaling up to 20 mph. Like some of the others on this list, it's a single-speed e-bike, but its use of a torque sensor instead of a cadence sensor allows it to give you more power as you pedal harder. We were happy to experience the resulting traditional bicycle feel, and pleasantly surprised by how zippy it felt!
The absence of a full cassette may be limiting to some riders – especially on hills – but with no need to shift, it makes the bike extremely simple to operate. The drivetrain uses a Gates Carbon belt drive instead of a chain, which is much more durable, requires no maintenance, and does not require lubrication. We love not having to worry about getting our legs or pants greasy!
Instead of the usual five pedal-assist settings, the CGO600 Pro uses just three, so finding the power level that works best for you is straightforward and easy.
We also really like the bike's overall visual appearance; it's streamlined and contemporary, and also comes in unique color options like the "Avocado Green" on our test bike!

Pro's
A torque sensor gives the bike a natural and responsive feel!
The single-speed drivetrain requires no shifting, so riders can rely on the simple 3-stage pedal assist system.
A Gates Carbon belt requires no maintenance or lube, so commuters can keep their work clothes clean.
The CGO600 Pro's integrated headlight, clean design, and color options stand out from the crowd.
A relatively low weight makes the bike maneuverable and able to be carried easily.
We liked the speed delivered by the 350W motor; it's more powerful than we typically see on city bikes.
A removable battery means you don't have to bring the whole bike inside for charging!

Con's
The single-speed drivetrain gives a fun and unique feel, but some riders may prefer more flexibility on hills.
It's a minor thing, but we wish the CGO600 Pro had a catchier name!
Aventon Pace 500.3 ST
The Best Class 2/3 City and Urban Electric Bike, 2023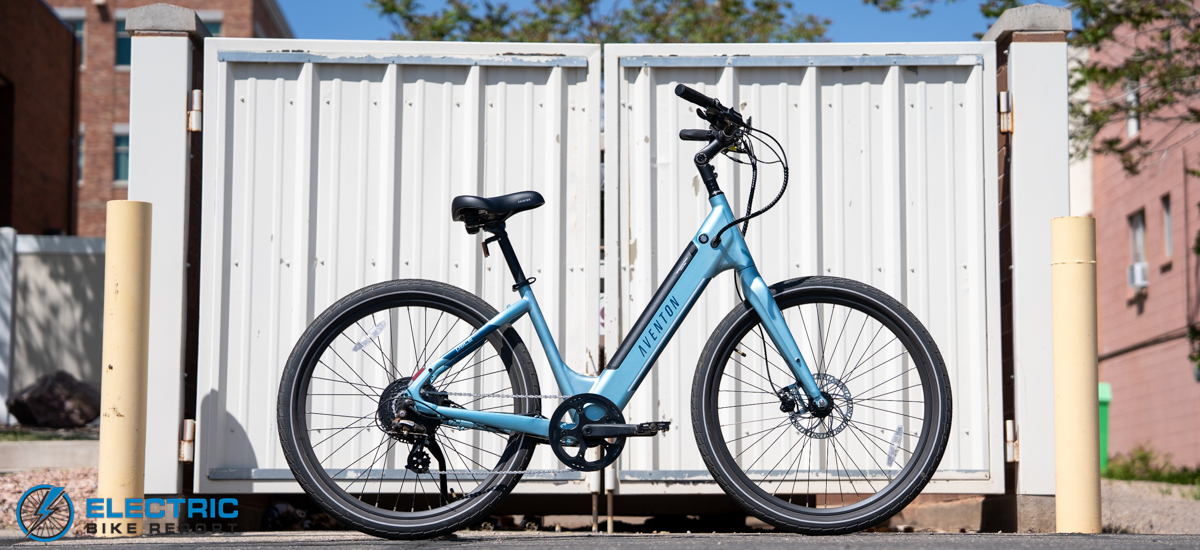 The Aventon Pace 500 has been on our list of the best city and urban electric bikes for some time, but the newest version of the bike – the Pace 500.3 – has gone above and beyond to reaffirm its place. As with the brand's other models, Aventon has updated and upgraded the Pace with turn signals for added safety and a torque sensor for a greatly improved ride feel.
Also similar to most of the other Aventon models, the Pace 500.3 ST ships as a Class 2 e-bike with throttle and pedal assist up to 20 mph, but it can be unlocked through the Aventon app to a Class 3. This allows it to keep pace (sorry, we couldn't resist) with the previous version of the bike that shipped as a Class 3 with pedal assist up to 28 mph.
Regardless of Class and speed limit, the Pace 500.3 is a zippy and highly maneuverable e-bike that combines the upright positioning and comfort level of a cruiser with the low(ish) weight and contemporary styling of a city bike. The Step-Thru version of the bike is easier for riders to mount and dismount, and better accommodates commuters wearing business attire.
The Pace 500.3's torque sensor allows the bike to respond much more naturally to the rider and provides a more responsive feel than the previous version's cadence sensor. It also creates a more efficient interaction between the motor and battery; since the sensor requires some effort, it draws less power and extends the bike's range. We saw up to 67 miles in our testing in the 500.3's lowest setting, Eco mode!
The Pace 500.3 ST is a capable little city cruiser that adds a bit more flair to its style than many of the other city e-bikes on this list, so we think it's a great addition.
Check Best Price | Read Full Review | Watch Our Video Review

Pro's
The new torque sensor makes the bike extra responsive and fun to ride!
A simplified and improved pedal-assist system for better low-end power.
Great range due to increased energy efficiency!
Improved gearing for a better pedaling experience.
Excellent handling and grip on paved surfaces thanks to the 27.5" x 2.1" tires.
Turn signals for added safety and visibility.
A low standover height for easy mounting and dismounting.
Not the lightest on this list, but still easier to load onto a rack than many other e-bikes.

Con's
The bike doesn't include fenders or a cargo rack for commuters, but these items can be purchased separately.
Specialized Globe Haul ST
The Best Cargo-Hauling City and Urban Electric Bike, 2023
Common characteristics of the best city e-bikes include being easy to handle, being highly responsive and provide something you can tune to your needs and preferences for how to navigate your city. So a fat tire utility bike might not sound like the most natural fit, but don't count out how capable a city e-bike the Globe Haul ST can be – especially if you need to take a little or a lot with you.
City-dwellers often have cargo-carrying needs, but if you don't have ample garage space then a long-tail cargo bike may present a challenge, so a short-tailed utility bike could better fit the bill for you. And few are more adaptive to city life than the Globe Haul ST. That's due in large part thanks to its massive 419 lbs carrying capacity and accessories that can fit your needs.
Also, it's motor can move fast, or move heavy things, or move heavy things surprisingly fast. All of this on a bike with a low center of gravity that makes handling easy and tires that provide the stability of a fat tire, while somehow feeling more maneuverable than they should.
And even if you're trying to climb the hills of San Francisco, this bike will reach the top with ease. It had one of our best hill climb tests of any e-bike to date.
The Globe Haul ST has some serious appeal for managing most city needs.
Check Best Price | Read Full Review | Watch Our Video Review

Pro's
An easy-to-control ride. The highly responsive motor and great brakes make it easy to go and stop around the city..
Easily fits riders of different sizes. The 4'5" – 6'4" listed height range proved true amongst our team of riders (5'0" – 6'5") who all felt comfortable on the bike.
The bike feels balanced and easy to ride. The low center of gravity and wide tires make this a bike that's easy to get around on.
Large variety of accessories to adapt to your needs.

Con's
We wish the throttle came standard. Can be added at checkout which we highly recommend.
Trex FX+ 2
The Best Class 1 City and Urban Electric Bike, 2023
One part lightweight city bike, one part commuter; the Trek FX+ 2 is a functional, practical hybrid. It's speedy, maneuverable, and easy to carry, plus it comes equipped with lights, a rack, and fenders!
Like a few other models on this list of the best city electric bikes, the FX+ 2 is also super stealthy. The bike's quiet, unobtrusive rear hub motor is about the only thing that makes it clear from a visual standpoint. From the perspective of its ride, you'd almost never know either; the use of a torque sensor means you'll be putting in some work , and the 250W motor adds just enough input to make you feel superhuman. As a Class 1 e-bike, there's also no throttle to fall back on, so be prepared to pedal!
Speaking of the motor, while it's a rear-hub, it's tuned to feel about as close to a mid-drive as you can get. And the bike's pedal assist system is about as intuitive as it gets, delivering noticeable and steady increases in power between levels.
The internal battery on the FX+2 adds a lot to its stealth factor, but does limit its range significantly, and can make replacement difficult when the battery eventually stops functioning. Similarly, the super-minimal LED indicator panel fits the theme of the bike, but doesn't offer ride data beyond PAS level and a 5-bar battery readout.
That said, the lightweight frame and natural ride feel are huge reasons to love this FX+ 2, and allow us to regard it as a highly capable city electric bike.
Check Best Price | Read Full Review | Watch Our Video Review

Pro's
The FX+2 maintains the spirit of a non-electric bike in its ride feel, interface, and appearance.
The bike's lightweight, 40-lb frame gives it good handling and isn't difficult to lift.
We appreciated how the 3 PAS settings were tuned so each to gives a measurable, intuitive boost in power.
Lights, fenders, and a cargo rack are included right out of the box.
Visually, the bike would be tough to pick out amongst a lineup of non-electric bikes.
As a Trek product, the FX+ 2 is undoubtedly a reliable product from a trusted, well-established brand.
With two frame styles in multiple sizes and colors, there is definitely a combination of options to fit you.

Con's
The bike has fairly small range, but it can be extended with an optional second battery..
A fully internal battery can be much more difficult and costly to replace.
The LED indicator panel fits the bike, but we'd love to see even a small LCD.
Ride1UP Roadster V2
The Best Lightweight City and Urban Electric Bike, 2023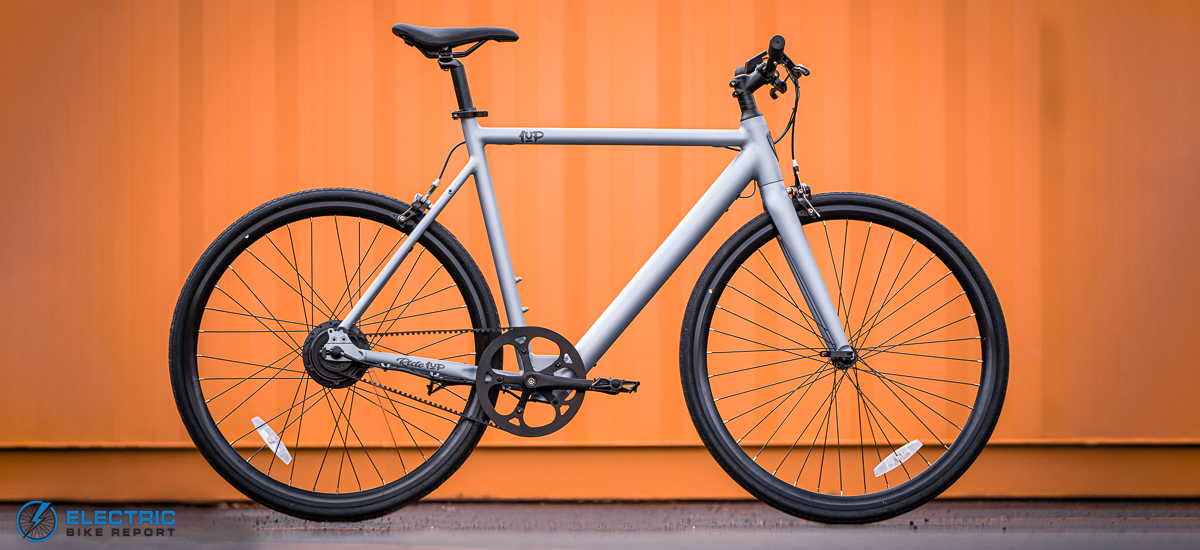 Ride1UP's Roadster V2 has the looks, it's got the reliability and it's got the cheap price point. But does it have the ride quality we want from a city and urban e-bike featured on our best list?
The answer is an emphatic yes.
The Ride1UP Roadster is among the most modestly powered and priced city and urban e-bikes on this list, but it packs a surprising punch. This bike is a single speed outfitted with a carbon belt drive, which is an unusual feature on a bike priced this low. The motor is a 350w geared rear hub powered by a 252Wh battery entirely hidden in the downtube of the frame. On paper, that's not a big motor or battery. But in real life, it equated to an extremely lightweight e-bike (33 lbs) with a motor just large enough to give heaps of power when you need it, but can ride like a normal bike when you don't. The handling is snappy, and the slightly more aggressive geometry puts your body in a really efficient pedaling position.
The motor and battery are so small and carefully hidden that you hardly notice it's an e-bike at first glance. With a top motor-assisted speed of 24 mph, the Roadster is a Class 3 e-bike but it rides like a souped-up Class 1 bike. We found it likes to cruise at around 20 mph to 21 mph, but unlike the Class 1 bikes, the motor stays on the whole time — which makes for an extremely smooth and effortless ride.
Overall, the Roadster is perfect for people who like to pedal their bikes but want a little motor-assisted help on hills and while cruising. It's a fun and stealthy e-bike that's a really great value for the price.
Check Best Price | Read Full Review | Watch Our Video Review

Pro's
The motor engages in about half a pedal stroke, which is very quick
The motor delivers power smoothly and in a way that compliments your natural pedaling.
The bike looks great. It's a staff favorite based on styling alone
The hidden battery and very small motor make this a stealthy e-bike
The 33lbs weight is featherweight for an e-bike
The belt drive keeps things low maintenance and protects your pant leg from grease
The bike's 350W motor was surprisingly powerful and carried us up most hills with ease
There are eyelets on the frame so you can add fenders and racks

Con's
The Roadster doesn't have the best range due to its small 252Wh battery. This isn't a huge issue for what we view as this e-bike's best use — short range urban commutes — but longer trips might require some careful battery management.
Several of our testers agreed the handlebars could be slightly wider. upgrade to the suspension seatpost
The 64×20 single speed gear ratio is pretty large, and might prove tough on some steeper hills or at low speeds.
GoCycle G4
The Best Folding City and Urban Electric Bike, 2023
GoCycle's newest iteration of their iconic fast-folding electric city bike has the same funky styling and ride quality we've come to love, only better.
The e-bike now has more carbon — its unique single-sided fork is now made of the stuff and its midbody, the part that connects the front half of the bike with the rear, is now also carbon fiber. This makes the bike lighter and more vertically compliant, making for a more comfortable ride. GoCycle has also retooled their proprietary front hub motor to make it more torquey and better at uphill starts, and a new battery gives the bike better range. Other than those upgrades, the newest iteration of the GoCycle looks and — most importantly — folds up the same way it always has.
We tested the previous GX model of the GoCycle late last year and really enjoyed its pep and rideability for such a compact bike. Even some of our larger test riders felt comfortable. We've yet to get our hands on the latest G4 model (which stands for generation 4), but we'd be remiss to leave it off this list. GoCycle's bikes have long been the standard bearer of functionality, rideability and unique design in the folding e-bike category. They flatly just work, and the latest upgrades to the G4 model look like they'll only further compliment an already great bike.
This e-bike is for the seasoned urban and city commuter who is short on space; either at home, at the office, or on public transport.
Check Best Price | Read Full Review | Watch Our Video Review

Pro's
An impressive design from a company that's clearly invested in R&D.
Lives up the the "fast-folding" name. The GX will fit just about anywhere
It's lightweight, easy to carry, and compact.
The PitStop wheels make tire changes a breeze
Pedals easy even with the motor off
For quick adjustments, an Allen key is conveniently stored under the saddle.
It's a clean, lightweight design that makes the GoCycle fun to ride with the motor on and off.

Con's
Integrated lights and fenders are not included as standard, but Gocycle sells them as an accessory.
Despite its functionality, the quirky styling may not be for everyone.
Specialized Turbo Vado
The Best High-End City and Urban Electric Bike, 2023
Even when considering only the basic specs of the Specialized Turbo Vado, this top-tier city and urban e-bike stands out from the crowd. It features a 250W mid-drive motor with 70 Nm of torque and a torque sensor, a 710 Wh removable battery, a SRAM 11-speed drivetrain, and SRAM hydraulic disc brakes. It also comes standard with a few commuter essentials, like a cargo rack with integrated taillight, fenders, and a headlight. The Turbo Vado brings a couple of uncommon features as well; a suspension seatpost and front suspension fork to make the ride that much more comfortable.
When you also consider the fact that this is a Specialized product that benefits from the company's decades of experience and commitment to innovation, the Turbo Vado looks even better. The bike pairs with Specialized's MissionControl app for at-home, over-the-air updates and the ability to tweak its PAS settings. It also features proprietary – and therefore highly tuned – components like the motor and battery.
As a Class 3 e-bike, the Turbo Vado can reach motor-assisted speeds of 28 mph, making it easy to keep up with traffic. We adored the advanced motor that provides fast acceleration, steady speed, and solid uphill capability. Specialized's marketing claims the bike provides 4x your own input!
The Specialized Turbo Vado is also hugely customizable, with both high-step and step-thru frames available in a variety of different sizes. There are also a bevy of trim packages including one with an IGH, or internally-geared hub that replaces the standard cassette. Finally, the Turbo Vado also comes in an "SL" or super-light model that's super easy to carry.
With a price tag of around $4,000, it's definitely one of the more expensive options on this list, but the bike's cost is definitely justified by its features and specs. Customers of Specialized also have the benefit of excellent customer service from a global brand.
Check Best Price | Read Full Review | Watch Our Video Review

Pro's
The proprietary Specialized 2.0 250W mid-drive motor is fast and can power uphill with ease.
While it's subjective, we think the Turbo Vado's visual design is great.
The bike's list of specs and top quality components backs up its price tag of around $4,000.
Specialized's MissionControl app can be paired with the bike to deliver software updates and also tune the PAS system.
The MasterMind display has some uncommon features including rider wattage and battery efficiency.
You just can't beat the customer support from such a large company and its massive network of dealers.

Con's
We found the magnetic battery charger to be tough to put in place correctly, but removing the battery from the frame made charging easier.
Rad Power Bikes RadTrike
The Best Accessible City and Urban Electric Trike, 2023
Let's be honest: whether due to balance or mobility concerns, not everyone can ride a bike. The folks at Rad Power Bikes saw this gap in the market and designed the RadTrike to meet the needs of those who need (or want) the larger degree of safety and stability offered by a vehicle with three wheels instead of two. They also focused on making the product affordable – and therefore more available for a wider range of potential users.
We found the RadTrike to be fun to ride, but that is just a bonus to the fulfillment of its design intent. As with all of their products, Rad thoughtfully and intentionally designed the trike to be functional, comfortable, practical, and useful.
Evidence of that thorough approach can be found across the board. First, in the RadTrike's width; it easily fits through doors of standard size. Next, by keeping the trike's center of gravity low and limiting its speed to 14 mph; this greatly reduces the tendency of similar three-wheeled vehicles to tip up on two wheels. Third, in weight capacity; the RadTrike can handle a 325-lb rider, 60 lbs of cargo on the optional rear rack, and an additional 30 lbs on the optional front rack. These are just a few examples – the RadTrike is chock full of similar details.
The RadTrike is no slouch when it comes to ride comfort and power, either. A low standover height of just 13.4" makes it easy to hop on and off, and a large, padded seat with a backrest makes for a supportive and comfortable experience. The trike's 750W front-hub motor gives it the ability to haul up to a total of 415 lbs, and allows it to handle hills with ease. And the 780 Wh battery proved capable of matching Rad Power's claimed 55+ mile range in our testing.
With a price tag of around $2,500, the RadTrike is an affordable and highly accessible alternative to a car or an e-bike, and one that is extremely practical for city and urban use.
Check Best Price | Read Full Review | Watch Our Video Review

Pro's
At around $2,500, the RadTrike was purpose-built to provide quality and affordability.
The low center of gravity and 14-mph speed limit make safety a top priority. Plenty of other features back this up.
For comfort, the seat adjusts forward, backward and vertically, with a separately-adjustable backrest.
The trike's 750W front-hub motor gives it plenty of power for climbing hills.
We were pleasantly surprised by the trike's demonstrated 25-59 mile range.
It feels stable on slower turns and faster straights.
It can fold and split in sections for portablilty. It also fits through standard door widths.
A reverse throttle feature gives the trike ample maneuverability.
Rad Power offers a variety of accessories to outfit the trike with.
It has clear and concise assembly instructions, but for those who don't want to do it themselves, Rad does provide some options.

Con's
We liked the overall cockpit layout and display, but we would prefer to see a speedometer included too.
The twist throttle worked well for us, but we'd like to see throttle speed limited by the PAS system.
LeMond Prolog
The Best Carbon Fiber City and Urban Electric Bike, 2023
The LeMond Prolog is one of the more unique e-bikes on this list of the best city and urban electric bikes. First, in its stunningly good looks; as a carbon fiber e-bike, it has the luxury of scrapping the usual preformed and welded aluminum frame members. Instead, it uses a clean and sculpted single-piece carbon fiber shell with internally-routed components and integrated lights.
Second, in shockingly low weight and great handling; the composition of its composite components results in an e-bike that weighs just 26 lbs! The frame can feel like it's not even there when pedaling around, it's amazingly easy to lift and carry, and its handling and maneuverability are made highly responsive with such a featherlight frame.
Third is its technology; the Prolog uses a high-end Mahle x35 drive system with a fully-internal battery, a minimal 250W rear hub motor, and a single-button user interface instead of a display. As a Class 1 e-bike with such a slight motor, the Prolog will help you pedal up to 20 mph, but it's made for riders who want to feel like they're doing most of the heavy lifting. The bike's interface is unique and effective despite its simplicity; it communicates pedal assist setting, battery charge, and light system activation through a full-color light ring around its button.
Fourth, in its history; the bike's manufacturer is a company owned by three-time Tour de France winner Greg LeMond. LeMond was the first non-European to win the race, and he rode the first carbon fiber bike to cross the finish line in first place. This experience gives the brand a unique perspective on function and design.
Check Best Price | Read Full Review | Watch Our Video Review

Pro's
The Prolog focuses on a traditional cycling experience; it extends your capabilities but wants you to pedal.
The subtle motor power provides a "superhuman" feeling when pedaling!
Its 26-lb frame is incredibly light, easy to lift, and quick to maneuver.
High-end materials and technology like the Mahle X35 drive system are unique – and just cool looking!
It has a huge stealth factor with no obvious display or battery.
The Prolog's clean design is gorgeous and reminiscent of an Apple product.
The bike ships almost fully assembled in one of the best packaging setups we've seen.

Con's
We like the visual aspect of the monocoque stem/handlebar design but we'd prefer to see more adjustability
The bike's single-button interface is unique and functional but we'd like to see the option for a display.
Bottom line: Evaluate your needs before opening your wallet
We did our best to walk a mile in the average city and urban e-bike commuter's shoes when making this list, but everyone's needs are different.
More than reading online best lists, the most important thing you can do when buying a new e-bike is to have a solid idea of what you want to do with it. For the purposes of compiling the above list, the EBR team envisioned a person who needed a bike capable of covering a modest distance while sharing the road (or path) with lots of other users. Maybe they also wanted the bike to be comfy; maybe they wanted it to be stylish; and maybe they wanted to be able to carry a little cargo or a little human. Most importantly, they needed a bike that was nimble and reliable. If that sounds like you (even a little) this is probably the right place for you. If not, we've got lots of other lists covering the best bikes in categories from commuters to cruisers and more.
Think long and hard about what you want to do with your bike. Be real with the distance you need to cover each trip and what type of hills and obstacles you need to navigate — get a bike that matches those needs. If you're new to e-bikes and need help figuring out watts from motor controllers, we've got a guide for that. We'd also especially recommend checking out our commuter e-bike best list, as many of those bikes are very similar to the ones featured here.
Have a bike that you think would be a good contender for our best page? Let us know in the comment section below. At the very least, we always want to know what our readers are riding.
Reader Interactions