Accessory Roundup – Osprey Commuting Bag, Henty Suit Bag, & Solar Lighting Kit [VIDEOS]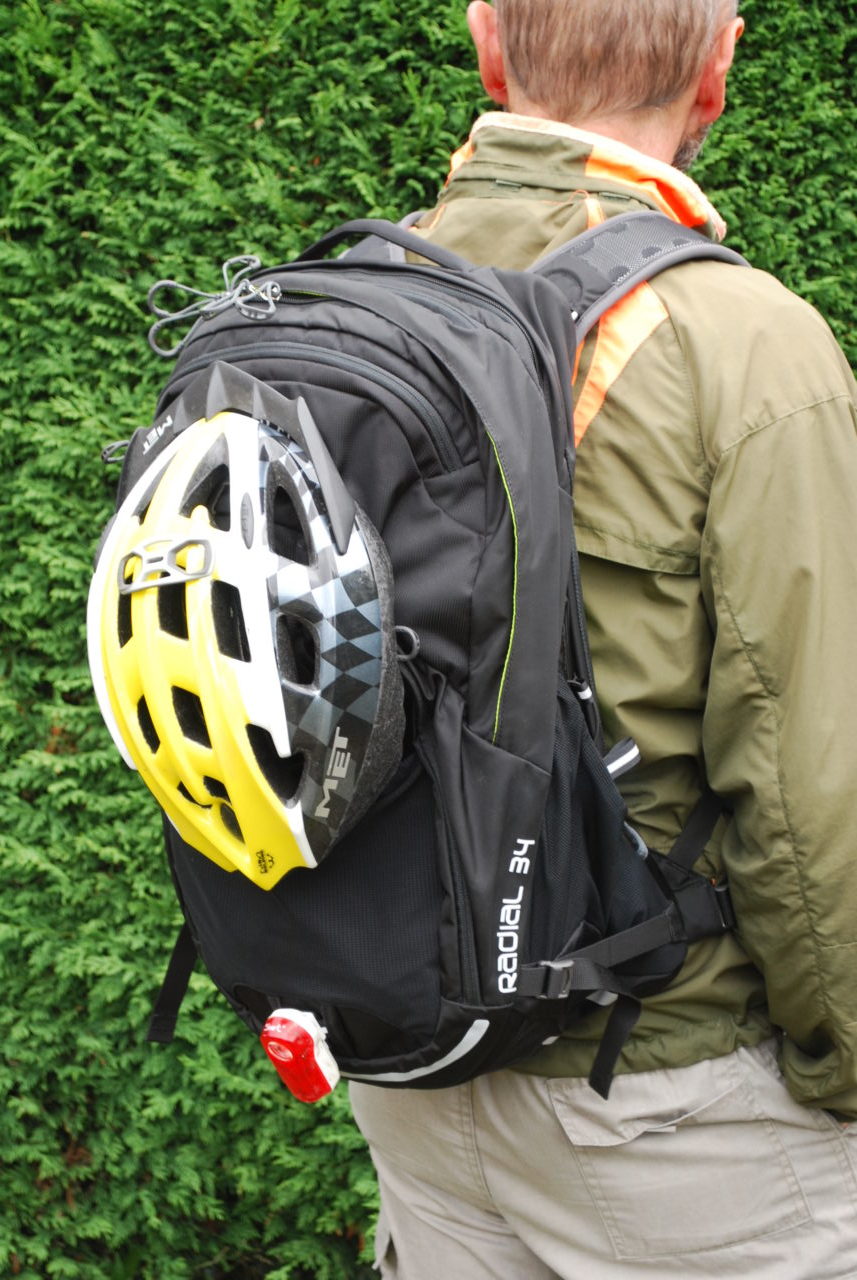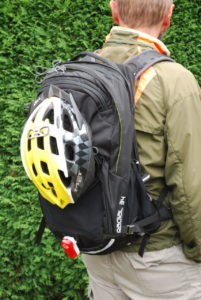 Time for a look at some new bike accessories that can make your eBike ride safer, more comfortable, convenient, and fun!
In this roundup we have the:
Osprey Radial 34 Backpack
Henty Wingman Clothes Backpack
HUBi 2k Solar Lighting & Power System
Osprey Radial 34 Backpack
This bag is a quatum leap away from the backpack in its basic form of a zipped material bag with shoulder straps.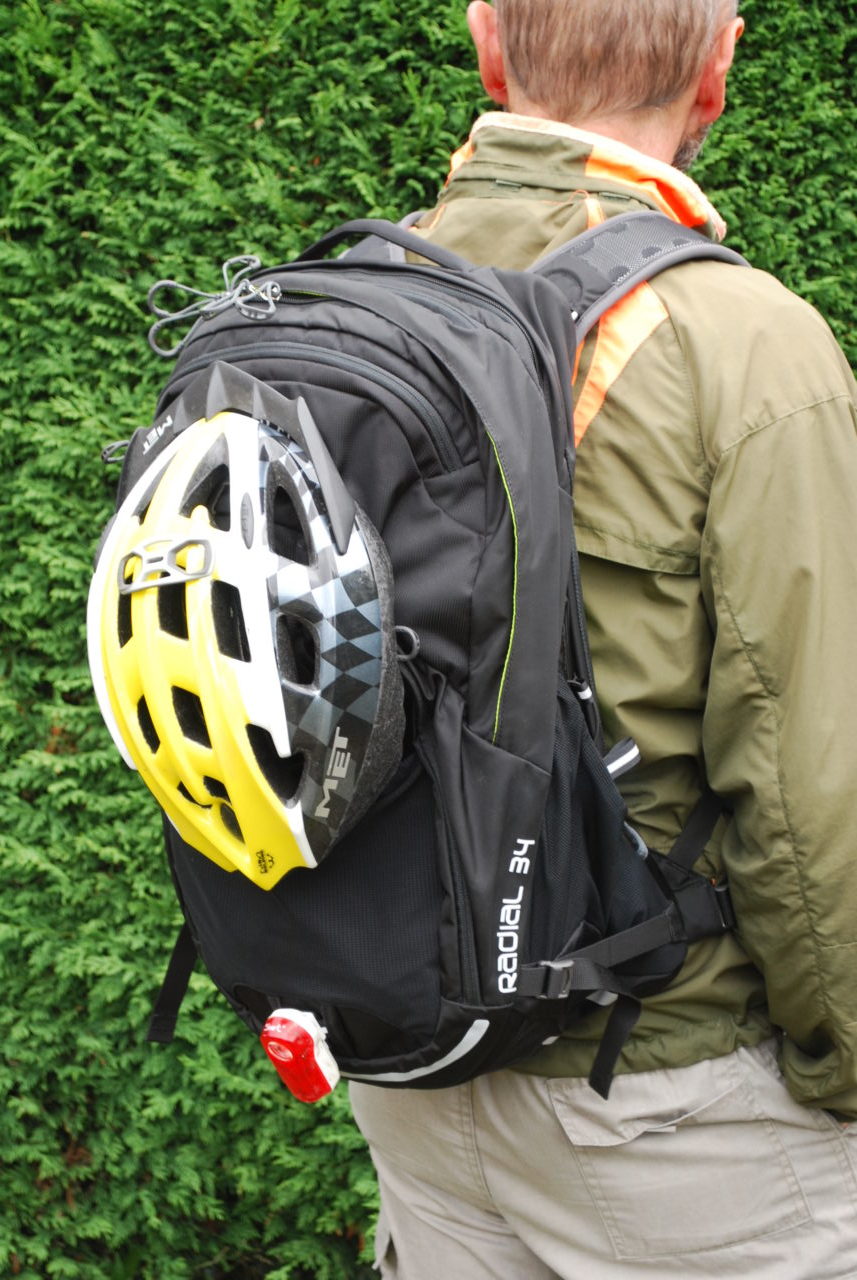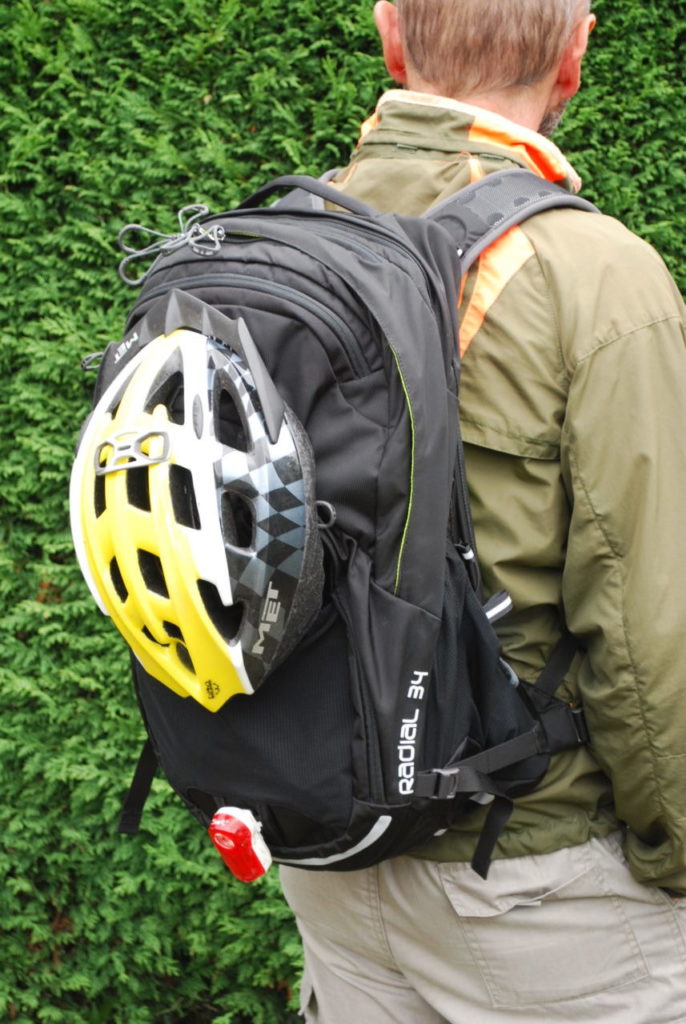 It boasts a ton of features aimed at the utility and comfort to the cyclist. It's specifically aimed at commuters but I found a great pack for everyday use too.
The bag itself is actually suspended on a frame to prevent the loaded bag sagging on your back and the shoulder straps from digging uncomfortably into your shoulders as well as steadying the pack on your back and stopping it swaying about.
There's also an integrated 'kickstand' which is a feature I've not seen before – it means the rigid front, bottom edge of the bag can be moved outwards to create a stable platform so the bag stands vertically.
Personally I found this a great feature; I'm forever putting bags down only to have them fall over and get inadvertently kicked or tripped over.
The rear of the back features a trampoline style taught mesh which keeps the pack itself off your back and sweat-free whilst riding.
Inside there's stacks of space – it's rated at 34 litres, hence the name – including a large central compartment, a slightly smaller one with a laptop or tablet enclosure plus plentiful other zipped pockets and mesh compartments for any items you want to let breathe a little more.
There's also a 'Lidlock' helmet catch to attach a helmet to the rear of the pack and a showerproof cover that folds into the bottom of it.
In use it's simply the best backpack I have tried out – comfortable and capacious and easy to ride with on your bag even when full to the brim. There is a pull out waterproof cover and webbing loops to attach LEDs to.
My only quibble, as with most backpacks, is that it could do with extra strong protection on the bottom where it stands as this will eventually wear out over several years use.
Here is a video from Osprey:
https://vimeo.com/173801281
Dimensions:
Weight: 1.51 kg
Maximum Dimensions (cm): 54 (l) x 33 (w) x 34 (d)
Maximum Laptop Sleeve Dimensions (cm): 43 (l) x 25 (w) x 5 (d)
Retail price: $180 USD. Amazon has it available for $134.95.
Henty Wingman Backpack
Henty makes a range of clothes-carrying bags that mean travellers can take their best clothes with them on their travels and keep them in pristine condition – and that includes cyclists who need or want to get their best suit, dress, shirts and / or blouses (and much more) around on two wheels.
The Wingman Backpack is aimed at cyclists and others who want to take smart attire with them on their back, outside and in all weathers.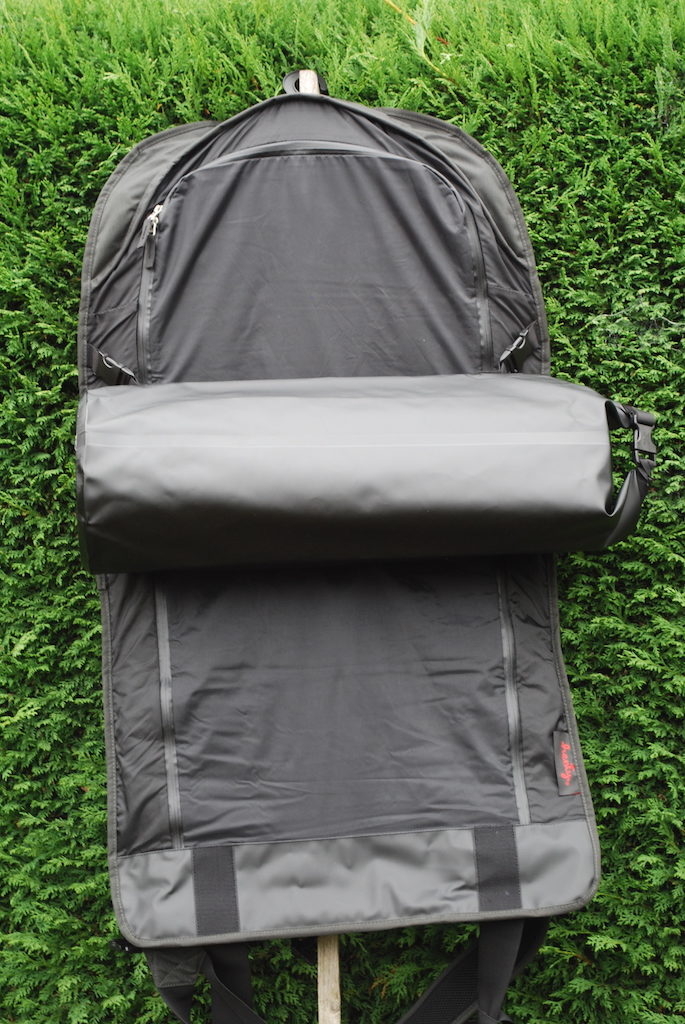 Critically and cleverly it means the garments are rolled during transport, not folded, reducing the risk of creasing and an inner dry bag around which the garments are rolled also acts as a container for other clothes and travel items.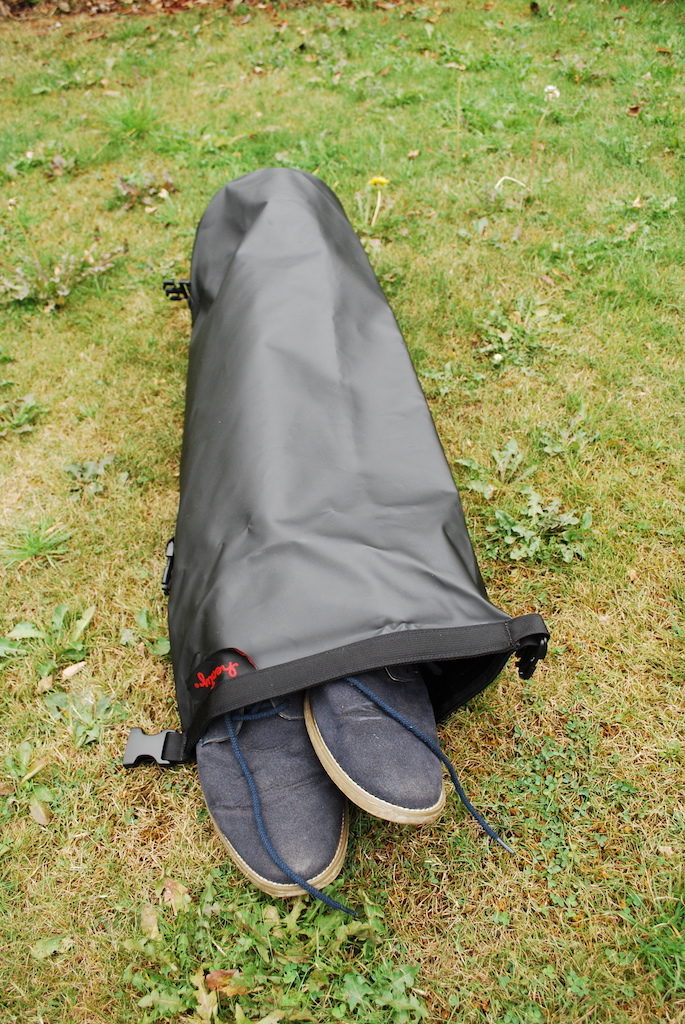 Its 18 litre capacity mean it will easily accommodate a pair of shoes and washing kit for example.
The main clothes bag itself is reinforced with plastic strips to further reduce any creasing in transit.
Once at your destination you can simply unclip and unroll the main bag, unclip the inner tube and hang up the clothes using the supplied hanger.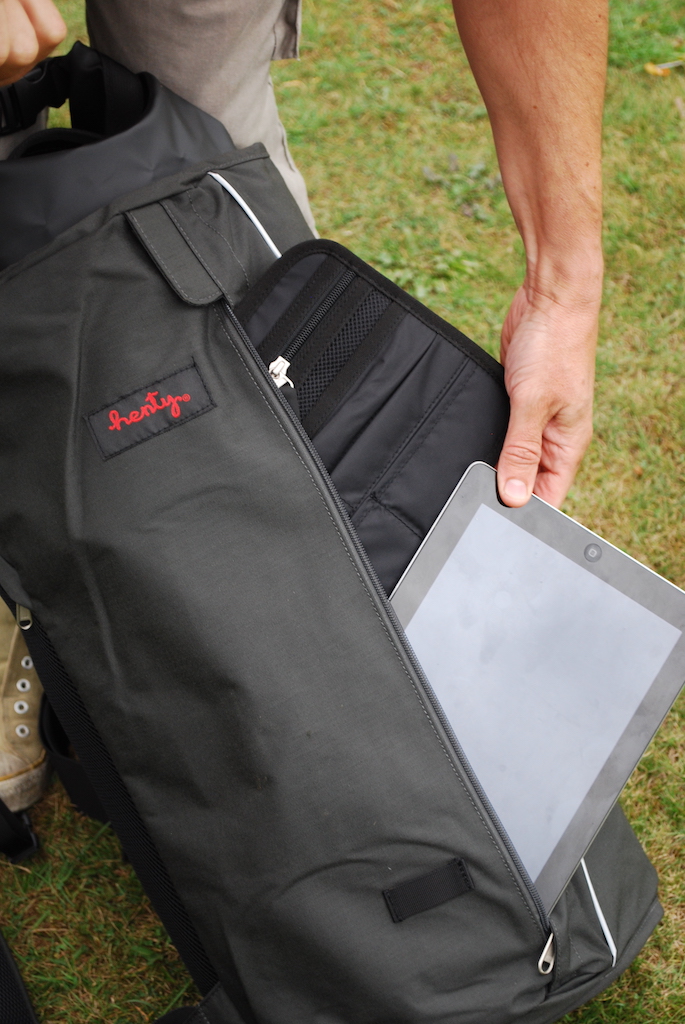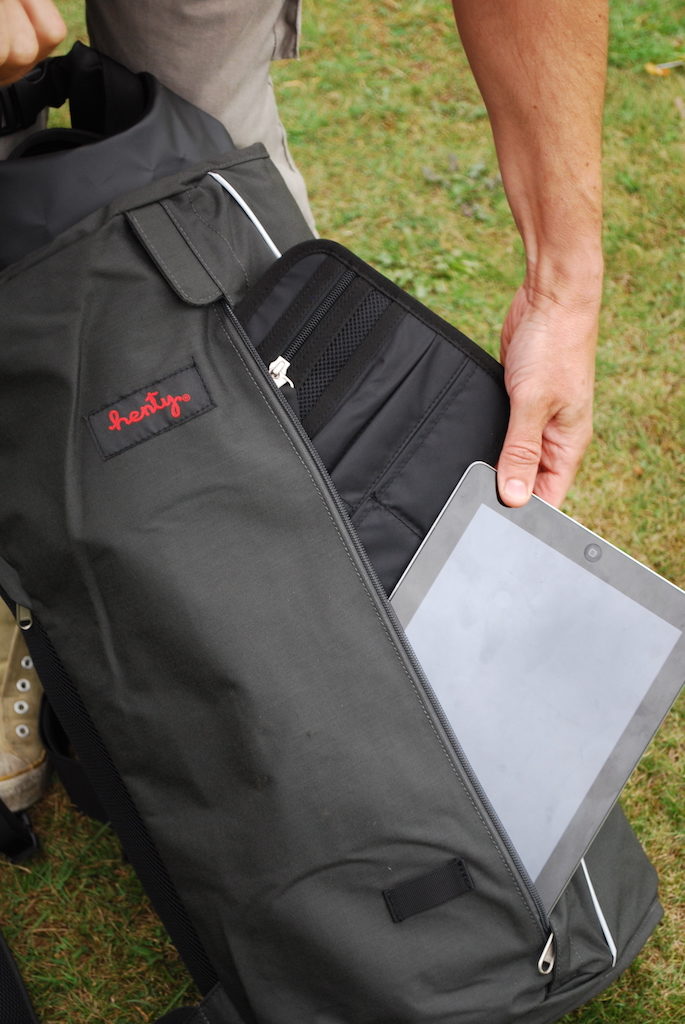 Extra features include a pocket that will take a 15" laptop and a cloth webbing loop for attaching a rear LED light to and there is an optional rain cover for added visibility whilst on the bike. The Wingman is also made within airline carry-on dimensions.
It's quick and easy to use, practical and looks extremely well-made. Whilst not quite as comfortable on the back as a regular backpack because of its rolled up shape, I still happily did 8 miles hilly e-biking without any discomfort.
I easily fitted in my best suit, shirt and tie and it would probably have taken another couple of shirts. If you really need to be smart at work after cycle commuting there or just want a smart change of clothes for a social event Henty's products are ideal (they do several other bags based around the same idea of a 'suit roll'.
Here is a video of the Wingman from Henty:
Dimensions:
1.7kgs (3.7lbs)
Rolled – 56 x 23 x 26cm
Unrolled – 56 x 101cm
Inner Tube 0.4Kgs, with 52 x 20cm cylinder @ 18 litres
More info at henty.cc
Price: $229 USD
Four year warranty
HUBi 2k Solar Lighting & Power System
We have already reviewed the excellent Freeloader Offgrid Adventurer solar charging package from Solar Technology used on e-bike camping trips to keep a mobile phone topped up for a few day's riding off-grid.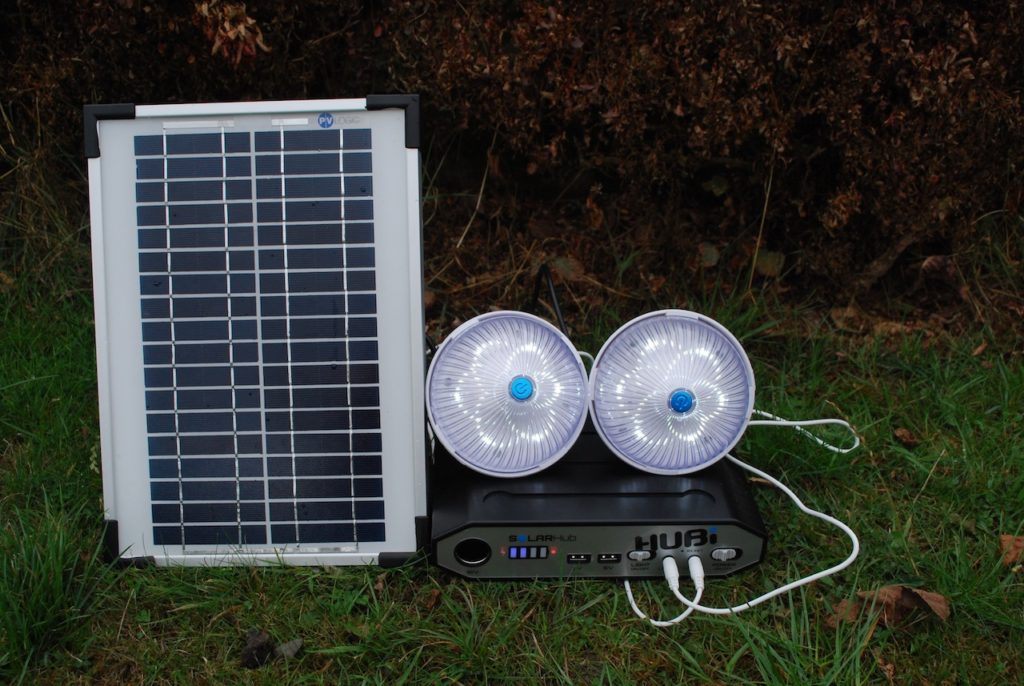 Solar Technology's HUBi 2k lighting and power system is a step up in terms of capability and aimed either at campers and others who need portable, storable solar power on the move, or for a home application such as a bike storage shed or garden office where no mains power is available.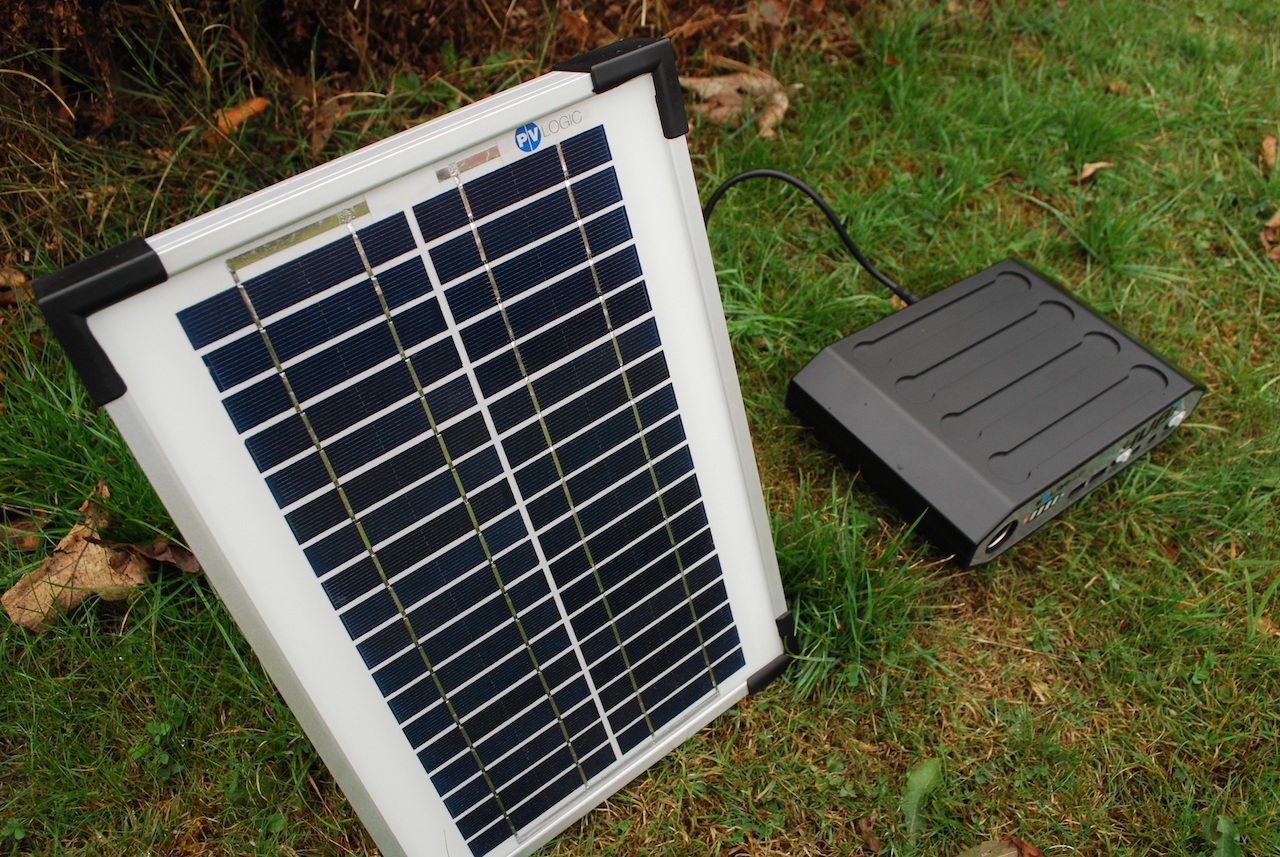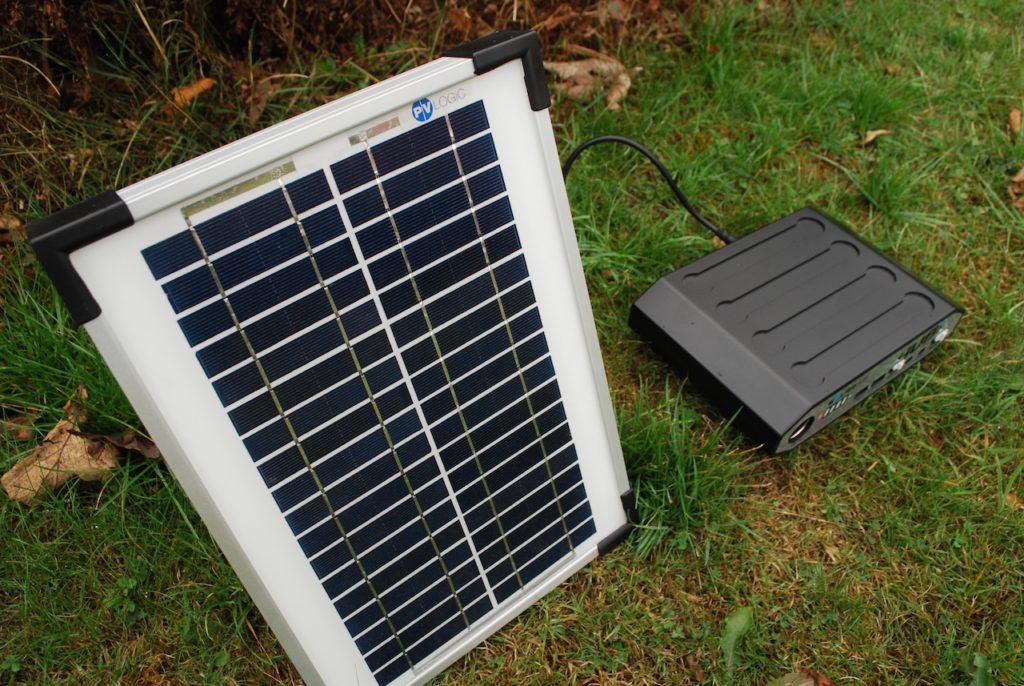 It combines a 5 watt solar panel with two power efficient LED lights ideal for a tent or off-grid outbuilding. Storage of the solar power for night time use is achieved by a 'solar hub' – a lithium ion battery and charge controller that can be safely left plugged into the solar panel without the risk of overcharging.
The hub not only powers the lights but can be connected to a 5v USB device such as an iPad or a small 12v device (with limited current) of which there are many for camping – eg a fan.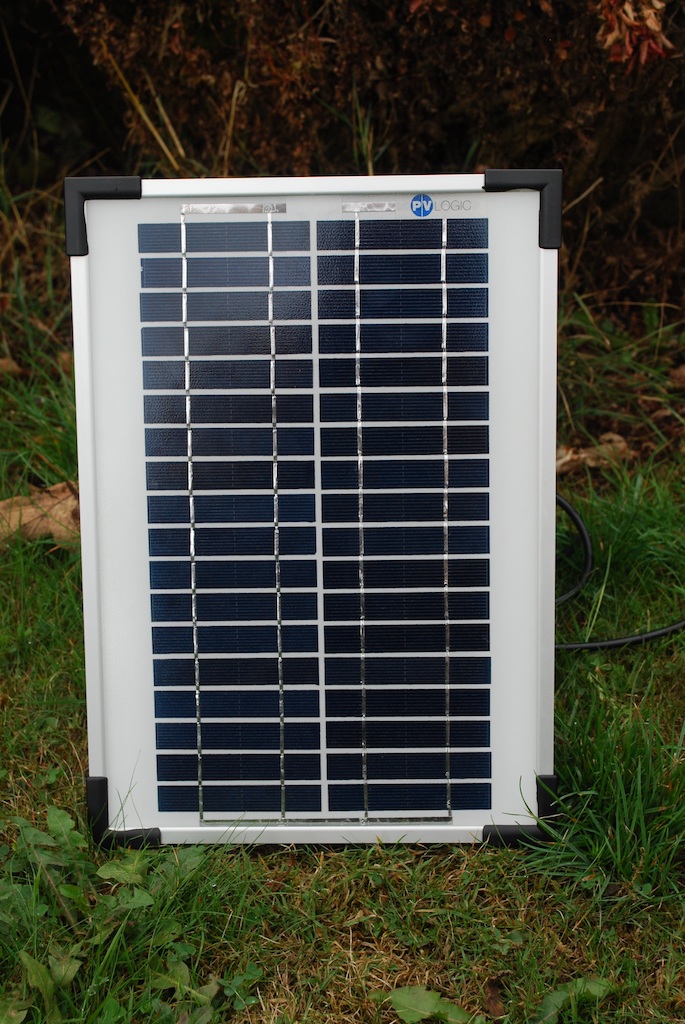 The solar panel looks to be a sturdy, well-made affair, with an alloy frame surrounding the chunky crystalline solar panel and is showerproof – during bike trips it would easily mount on top of a pannier rack or bike trailer with the non-showerproof hub inside the trailer quietly charging away.
Setup in a tent is nice and easy and user-friendly; each light can be switched via a button so they can be used independently of each other and there is also a 4m cable and hanging hook with each giving total flexibility of where they are positioned in the tent. At 40 lumens per light there is more than enough lighting power for the very biggest of tents.
Recent test conditions in a rather cloudy late summer in the UK showed that the panel could take as long as a day to fully charge the 2Ah battery and that a full charge of the hub would probably achieve around 1.5 charges of my iPad and 3.5 charges of my smartphone (these are guesstimates based on initial brief testing – I'll be following up with more info on a forthcoming e-bike camping trip).
In the UK'S current cloudy conditions this means that it would be a push to take lights, iPad and phone on a camping trip and expect to be self-sufficient, unless you are being pretty sparing in your use of the items, but for sunny high summer conditions it should provide enough power to keep all three things going.
With that in mind I think the panel would be ideal for my bike storage shed where it would get plenty of exposure and lighting is only needed occasionally. It would also act as an outside USB charging point for when I'm working in the garden.
For longer camping trips I would perhaps look at the faster charging 10K kit that comes with a bigger solar panel and four times the output of the 2k (at 20W) and a battery storage capacity of five times its size – especially if the trips were in spring or autumn with lower sun levels.
Overall though it's a practical looking device and the solar panel in particular seems very well made. My only real quibble is that the two year guarantee should be extended to three to cover battery degradation which is probably more likely after the two year mark.
Here is a video of the system:
Dimensions:
Solar panel 22 x 31 x 2.5 cm
HUBi 22 x 15 x 5 cm
Overall weight inc cables and LEDs = 1.85kg
More info at Solartechnology.co.uk
Price: £120
Two year guarantee
Stay tuned for more e-bike news and reviews and keep on riding.
-Richard
P.S. Don't forget to join the Electric Bike Report community for updates from the electric bike world, plus ebike riding and maintenance tips!
Reader Interactions