Mokwheel Basalt E-Bike Review, 2023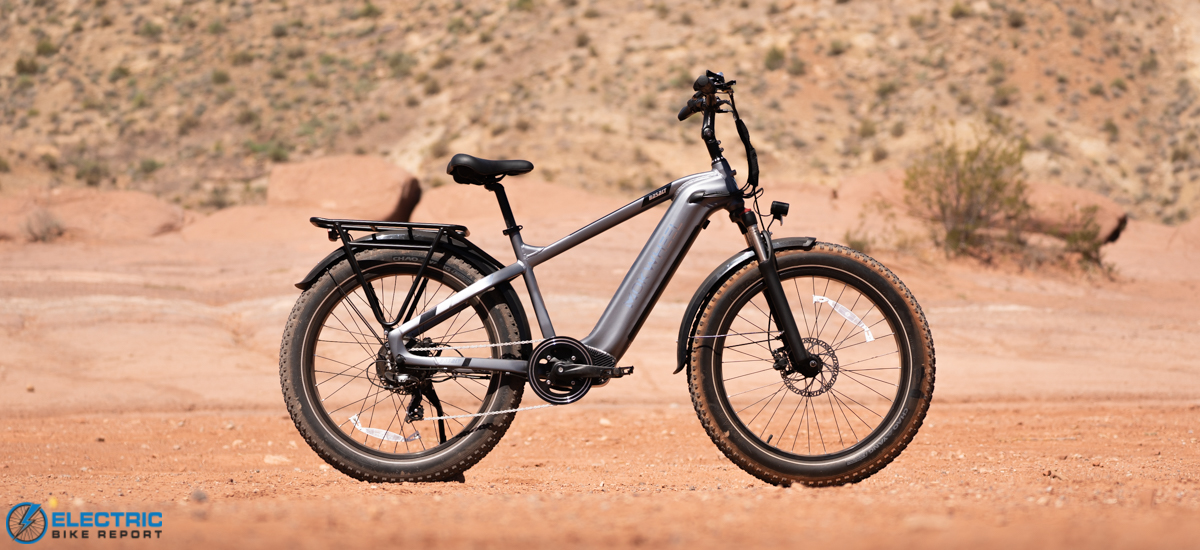 Of the many different types of e-bikes made, fat bikes offer riders one of the most comfortable rides possible. Fat tires can be run at very low pressure—often single digits—and when a suspension fork is added, not only will rough pavement cease to shake a rider, bumps, potholes and driveway lips can hardly be noticed.
Not only are fat tires comfortable, they provide traction that can't be beat; between the grabby knobs and the big footprint, fat tires are often the only solution for anyone wanting to ride in snow or on sand.
The Mokwheel Basalt is a different sort of fat bike. It is spec'd to go places that other e-bikes might have trouble reaching. In our Mokwheel Basalt review, we will take a look at how its powerful 750W hub motor and big 960Wh battery give the Mokwheel Basalt both the range and the power to explore the backcountry.
Riders interested in loaded touring or car camping with their e-bike will find the Mokwheel Basalt's selection of accessories intriguing. The company offers both a power inverter that can run everything from an electric grill to a laptop, and portable, fold-up solar panels that can charge the e-bike in as little as five hours.
Let's dive into this fascinating e-bike.
Bike Class:
Class 3: PAS/Throttle assist, up to 20 mph
Mokwheel Basalt Video Review

Pro's
960Wh battery is unusually powerful and provides exceptional range
750W brushless, geared hub motor produces 90Nm of torque to give it power no matter where someone rides
Tektro hydraulic disc brakes with 180mm rotors made the e-bike easy to control
26 x 4-in. tires make for a very comfortable ride
A 100mm-travel suspension fork both improves a rider's control and comfort
Among the accessories offered are a power inverter that will allow someone to run other electronics off the 960Wh battery
That power inverted can be paired with a solar panel for charging making this a viable bike to grab and head out camping with.

Con's
Both the traditional frame and the step-thru frames are rather large, which will make it hard for smaller riders to fit
Knobby tires aren't necessary for riders who plan to stick to the road
ELECTRICAL SPECS & FEATURES
Battery: 960Wh Lithium-ion
Display:
Motor: 750W brushless, geared hub motor
Headlight: Included
Taillights: Integrated into saddle
Peal Assist: 1-5
Range: 60-80 mi.
Throttle: Half-twist
Weight & Dimensions
Claimed weight: 79 lbs.
Maximum rider weight: 400 lbs.
Maximum load on rear rack: 400 lbs. – rider weight
Components & Accessories
Brakes: Tektro hydraulic disc brakes paired with 180mm rotors
Fenders: N/A
Fork: 110mm-travel suspension fork
Frame: 6061 aircraft aluminum
Drivetrain: Shimano 7-speed
Grips: Lock-on, faux leather
Saddle: Customized comfort leather
Handlebar: Alloy, 720mm width
Kickstand: Included
Pedals: Alloy platform, with reflectors
Tires: Chaoyang 26 x 4.0 in.
Mokwheel Basalt Review: Bike Overview
Few e-bike styles have seen a greater boon in popularity recently than fat bikes. It feels like the vast majority of DTC brands have clamored to add a fat bike to their lineup of offerings. And that's not as if they create them for fun, it's 100% fueled by consumer demand. Nearly every day on my way to the EBR office I pass at least one person on a fat tire e-bike.
Fat tire bikes aren't a new concept, it's just that until e-bike adoption caught on they weren't too practical. They are heavy, and harder to pedal due to the tire width and weight, and pedaling one without a motor feels like the juice isn't worth the squeeze if you're using it for transportation – may as well get a commuter or cruiser.
But thanks to e-bike motors making things easier to pedal, fat tires' true potential is unlocked. The wider tire adds greater comfort and does wonders for stability. When width is paired with the right tread pattern you get more versatility in where you ride as it does better on dirt, sand, and even snow. And while that versatility is nice to have, fat tires are still predominantly used on paved areas. It's just nice knowing you can go off-road now and again if you want to.
This is an area where I think Mokwheel has set the Basalt up for some success – it's an e-bike that I think of as an off-roader first, whereas others I think of as for paved trails that I could do light offroading with.
This switch in my thinking largely comes down to three things:
Not all 750W motors are created equal. The basalt is one that rides in the upper PAS levels like one that wants to charge hard to go over anything in its path, and thanks to the massive battery, you'll have plenty in the tank to really go deep off-road.
The Chaoyang tires have this Hipposkin designation, which I thought was a fun name to drive home the idea of being puncture-proof, but I feel like they've held up much better than some other fat tires. I'm yet to experience a flat despite quite a bit of time riding around in the desert.
And finally, Mokwheel offers a power inverter and solar panel along with the ability to take them with you on the Basalt. If that's not an invitation to grab a hammock and whatever camping supplies you can fit in a backpack and go exploring then I don't know what is.
We often get accessories when we review e-bikes that are great companions to make your overall experience better, but the inverter and solar panel go down as perhaps the most unique accessories that I've seen come in yet. It's really cool that I feel like I could just hit the backwoods on my e-bike and not worry about getting stranded with a massive 80 lbs. bike on a dead battery. I can either use the bike as a roving power station thanks to the inverter, or I can deploy the solar panels and utilize the inverter to keep my bike, phone, lights, or whatever else I want with me.
The Mokwheel inverter lets you power all kinds of devices through type c1, c2, usb a, 12V DC and 48AC ports and more. There isn't much you can't plug into it for power. It can also produce 1000W of output.
Mokwheel claims that the inverter and solar panel can charge the Basalts battery in five hours time, and that's actually true in our experience. We threw it on the inverter after our range test took it from zero to full in sure enough just over five hours' time.
It makes this whole Basalt package 100% something to consider for avid campers and guarantees you'll get plenty of use out of your bike since you won't have to worry about conserving battery.
Now I've gone on longer here than typical on an accessory, but I want to make it clear that the Basalt e-bike itself is a serious contender amongst fat tire bikes in the hotly contested $2000 price range. It's not without its flaws, but it does have a lot that makes it a serious competitor stepping into the ring. We'll break this all down in our testing and spec overview.
Mokwheel Basalt Review: Motor Performance, Speed and Acceleration
Our 1-mile circuit test features four right turns and one small hill that rises 30 feet. The Class 3 Mokwheel Basalt performed admirably, both providing discernible jumps in assistance as we did laps in each successive PAS level, but also providing the sort of top-end speed that we expect to see from a Class 3 e-bike.
The Mokwheel Basalt isn't a light bike; at 79 lbs. It is one of the heavier e-bikes we've encountered this year, and that owes to its powerful 750W hub motor as well as its ginormous 960Wh battery. In our opening lap, with no assistance, our test rider made the lap at an average speed of 11.5 mph, which isn't bad, all things considered.
At PAS 1 we felt enough assistance to achieve a 12.1 mph average. From there, its average speed climbed to 14.5 mph, then 18.6 mph, 22.3 mph and, finally, at PAS 5, it topped out at 23.8 mph.
Mokwheel Basalt Review: Range Test & Battery Performance
In our range test, the Mokwheel Basalt performed so well our intrepid tester was out for almost nine hours. Yes, nine; that's because we needed to let him do things like, you know, eat and drink. Thanks to its 960Wh battery, the Mokwheel Basalt set one of the highest distances ever covered on a single battery, a whopping 85.4 mi. It may not be the highest we've ever seen, but it's the highest we've recorded in our testing this year.
With its controller set to PAS 5, our tester then took the Mokwheel Basalt for a much shorter ride. Shorter, relative to 85 mi., that is. We wouldn't call 32 mi. a short ride, though. Our tester was still on the road for just more than 90 minutes.
Someone with a 6-mi. commute could ride in PAS 5 each day and still only charge the Mokwheel Basalt once a week. Our testers found a sweet spot in PAS 3, which still delivered terrific speed while giving terrific range. Riders looking for an e-bike that gets around well but can cover 50-ish miles on a single charge will want to look at the Mokwheel Basalt closely.
Mokwheel Basalt Review: Hill Test
If we say that the Mokwheel Basalt was an above-average performer on our trial of its climbing ability on Hell Hole—our ⅓ mi., 12 percent test hill—that would be accurate, but doesn't paint the whole picture. In both our test of the e-bike in PAS 5 and with throttle alone, the Mokwheel Basalt beat our average times up Hell Hole by 10 seconds or more. Bearing in mind that e-bikes that don't finish the climb can't be factored into our average speed and we have an e-bike that performs decidedly above average.
In PAS 5, the Mokwheel Basalt climbed Hell Hole in just 69 seconds, for an average speed up the hill of 15.7 mph. This owes in large part to the fact that the 750W motor produces a very aggressive 90Nm of torque.
On our second pass, propelled by throttle alone, the Mokwheel Basalt made the ascent in just 89 seconds—10 seconds faster than the average set by those bikes with enough power to complete the climb with just throttle assist—for an average speed of 12.2 mph.
There's a sort of irony to riding an e-bike that weighs nearly 80 lbs. uphill at speeds that most riders can't reach on lightweight racing bikes, kinda like a flying T-Rex.
Mokwheel Basalt Review: Brakes and the Brake Test
Any time we review an e-bike that weighs more than 70 lbs., we give the brakes a little extra scrutiny. The Mokwheel Basalt is built with Tektro hydraulic disc brakes, which are paired with 180mm rotors. In broad strokes, this is a fairly standard setup, though differences in the various makes of brakes can see notable differences in stopping distance.
As we've mentioned in our recent reviews, we've changed our brake test protocol. Previously, we performed a panic stop; that is, we applied the brakes as hard as we could, with the rider pushing their rear behind the saddle and steering carefully to keep the bike upright as it skidded to a stop.
It was a good measure of absolute stopping power, but it didn't accurately reflect how most of us bring an e-bike to a stop, which is to say, even under urgent circumstances, we stop pedaling and brake firmly while remaining seated, but don't brake so hard to skid or risk going over the handlebar.
With that in mind, the Mokwheel Basalt's average stopping distance following three complete stops from 20 mph was 23 feet 3 inches. That's noticeably longer than our previous average stopping distance, but when considered against other e-bikes tested in the same fashion, it's not a bad result. To put that distance in context, it's just a bit shorter than the biggest sprinter vans.
Mokwheel Basalt Review: Ride Comfort, Handling and Cockpit
The Mokwheel Basalt is a fat bike, so it's good on dirt, sand and snow. With its 4-in.-wide tires—which can be run as low as 5 psi—it gives riders a degree of comfort that few e-bikes can match. It comes in two different frame designs—a traditional frame and a step-thru design—to give a broad range of riders the opportunity to ride it comfortably.
Front suspension provides riders two benefits on an e-bike. First, there's the simple fact that a suspension fork will make the ride more comfortable. It can smooth roads, hide potholes and bumps and make driveway seams disappear. Second, a suspension fork improves a rider's control because it helps to keep the front wheel from bouncing if it hits a rutted dirt road or a bunch of tree roots. The more the front wheel stays in contact with the ground, the better a rider's control.
The traditional frame has a standover height of 28 in., making it better suited to riders at least 5 feet 8 inches tall. The step-thru has a standover height of just 18 in., making it easier to get on and off, but both bikes have the same long reach. The e-bike is equipped with an adjustable stem, but that may not help smaller riders much.
Like other fat bikes, the handling on the Mokwheel Basalt is relatively calm. It's certainly maneuverable on trails and paths, but compared to commuters and other e-bikes with 20-in. wheels, this e-bike feels lively but never nervous, even cruising at Class 3 speeds.
The Mokwheel Basalt's handlebar has some rise, but not much sweep, in keeping with most other handlebars we see on other all-terrain and fat bikes. This will contribute to a somewhat more forward position in order to keep sufficient weight on the front wheel when riding on softer surfaces. The grips have an ergonomic shape to help support the heel of the hand and are covered in a faux leather wrap.
Mokwheel Basalt Review: Summary / Where to Buy
The $2000 price point in e-bikes is super-competitive. It is arguably the price tier in which the consumer's dollar goes farthest. As a result, it's hard for a company to introduce a bike that presents a significantly greater value than its competitors are. We see bikes that are different from their competitors, but we rarely see one that can easily be called "better."
The Mokwheel Basalt takes a fair run at the notion of better. With its 960Wh battery, it can lay claim to one of the biggest batteries available in this price range. A bigger battery can mean different things to different riders. For the absent-minded among us (who, me?), it can mean not having to worry about a dead battery after forgetting to charge it … three days in a row. A bigger battery can mean long adventures, or it can mean riding everywhere at PAS 5. Or it can mean putting some camping gear in panniers and taking off for the weekend.
Thanks to the optional power inverter, the Mokwheel Basalt can serve as a weekend camper's power supply, charging a phone or electric grill. For anyone who wants to drive to their camp location, the inverter's wall outlets mean that weekend getaway can include a coffee maker, portable fridge or DJ table. Add the optional portable solar panels and a rider might not feel a need to return home.
Typically, when we see one noticeably superior feature on an e-bike, we will either see a jump in price, or the quality of some other components shaved in order to bring the price down. Rather than make sacrifices to try to bring the price of the Mokwheel Basalt closer to $1500 in price, the manufacturer stuck with a 7-speed Shimano drivetrain, Tektro hydraulic disc brakes and two frame designs, features we consider pretty standard in this price range. Mokwheel equips the Basalt with front and rear lights as well as a rear rack; fenders can be difficult to make work well on fat bikes, but they do offer them as an accessory.
As much as we were impressed by the Mokwheel Basalt's performance in our battery of tests, particularly the range test and circuit test, the presence of 4-in.-wide knobby tires pumped to a cushy pressure undercut these performances. This isn't a knock against those tires. For anyone wanting to ride both on and off road, these Chaoyang tires are quite nice. However, a narrower tire with no knobs would boost the e-bike's performance even further.
Mokwheel's warranty covers the motor, battery, frame and components for two years, a full year longer than most of its competitors. Reviews of the bike on Mokwheel's site are very positive, though one user did note that a 5 feet 9 inches, they wish the traditional frame was a bit smaller; they also expressed a desire for more low gears when riding steep hills offroad.
Mokwheel offers a number of accessories for their bikes. In addition to the power inverter and the foldable solar panels, Mokwheel's site includes front and rear baskets, helmets, a pet carrier, panniers, and a number of replacement parts, taking the guesswork out of replacing worn parts.
Our reviews look at the bike we rode, as equipped. Our job is to report on that experience to our readers and viewers to give them the clearest explanation possible of what their experience will be should they buy the bike. With the Mokwheel Basalt our crew here positively drooled at the possibility of riding off into the sunset, equipped with the inverter, some food, a stove and a hammock. For riders interested in camping or touring, this e-bike presents possibilities we hadn't really considered until now, and one of the best things an e-bike can do for someone is to let them imagine new ways to get out and see the world.
'Happy Riding, make sure let Electric Bike Report team know if you have any questions down in our comments section or if you think we left anything out in this review of the Mokwheel Basalt.
Reader Interactions