Best Electric Bikes For Heavier Riders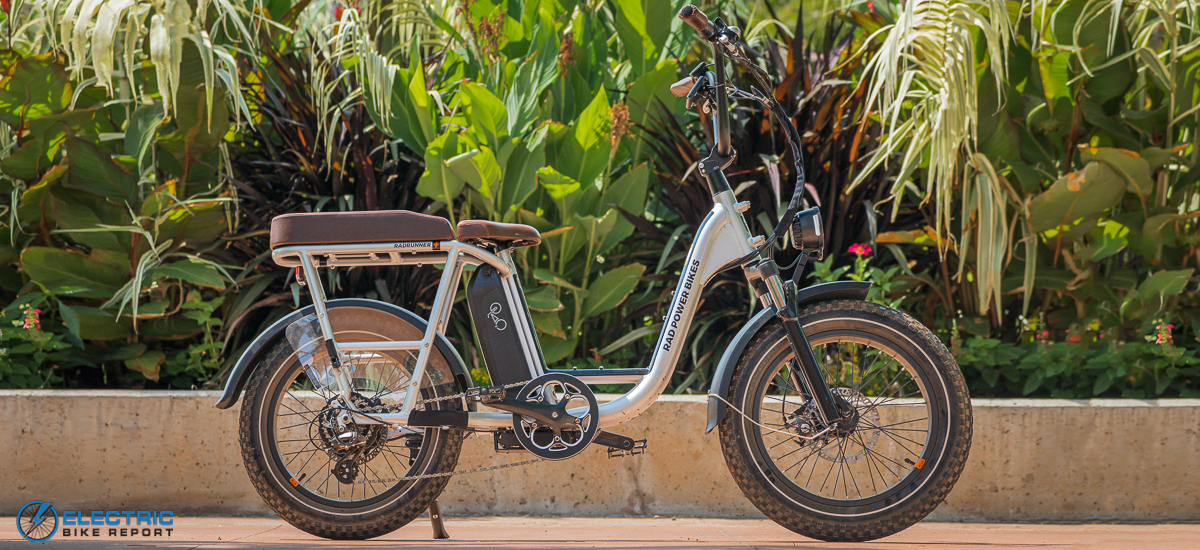 One aspect of e-bikes not discussed that often but which is a very common point of advice for e-bike shop staff is the question of the 'best' e-bike for heavier riders.
As you would expect, defining a single 'best' e-bike is tough, but most e-bike manufacturers give a recommended maximum rider weight rating for each particular model of e-bike. These can be a useful guide, but certainly no more than a guide. They may have been conservatively rated to ensure that e-bikes are not loaded to anywhere near their safe maximum limit, or a manufacturer may have been overenthusiastic with the rating in an effort to boost the performance credentials of their e-bikes.
In any event, it is up to the manufacturer to make clear what is the maximum suitable weight and many manufacturers go above and beyond the minimum legal limit that might be specified in national law, or that specified in international standards.
On some e-bike spec descriptions you won't find any recommended maximum weight at all whilst others, like Rad Power Bikes, advertise weight ratings and payload capacities prominently.
What is a 'Heavy Rider' and What Rating Should You be Looking For
The average US male weighs around 200lbs / 90kg and the average female around 170lbs / 77kg so you can figure out if you class yourself as a heavy rider based on these benchmarks!

An obvious first step in looking for an e-bike suitable for your weight is to look at the e-bike spec to see what the weight rating is.
It's essential you are clear whether the figure includes the weight of the e-bike or just refers to the rider and any extra cargo or passengers they load onto the e-bike.
So, for example, Riese and Muller's 2022 e-bike catalogue gives 'Gross Vehicle Weight Capacity' in their detailed spec reports. So you would need to subtract the e-bike weight off of this to get the max rating for rider and luggage.
You might also see a 'total weight limit' given by other manufacturers, and often this includes the weight of the bike.
By contrast, phrases like 'maximum rider weight' or 'maximum load' will clearly exclude the weight of the e-bike itself. If there is any doubt make sure you clarify with the dealer (preferably in writing) exactly what it refers to if the description is at all unclear.
Yes – it can be confusing, but it's best not to get too hung up on what an e-bike's stated weight limit is – as we say, they are only a guide and manufacturers' weight ratings can vary from the overly cautious to the rather optimistic!
Just as important is using your own judgement on what is a suitable e-bike for your weight and whether a test ride reveals it to perform as you would want. So let's dive into what particular features are needed on the best e-bikes for heavier riders.
What to Look for in an E-Bike for a Heavier Rider
There are a few key components you'll want to have at the forefront of your mind when scouring the e-bike landscape. In order to make sure you end up with a bike that feels sturdy and powerful enough for your needs as opposed to flimsy and underwhelming.
Frame build
This can certainly be a clue as to potential strength of an e-bike. Chunky frames with large section joints and plenty of weld between the elements of a bike frame are generally a good sign. That said, bike frame construction and strength have been revolutionised over recent decades and most e-bike frames from reputable manufacturers will be of very high quality and very strong.
One specific point to consider is on full-suspension frames where a lot of rider weight will be over the rear suspension – you need to check that there is enough travel and enough resistance in the rear suspension unit to stop bottoming out of the suspension, causing damage to it.
A good dealer should be able to ascertain if a rear suspension unit is suitable for your weight.
Motor Power and Battery Size
The more weight your e-bike needs to move about the more important becomes a more powerful motor and a good sized battery.
Mid-drives are typically the best at moving heavier loads as they leverage the gears over a range of speeds to move the load easily.
That said, larger hub motors geared correctly can do a good job too (look for one with a high Nm torque rating).
Smaller, lightweight hub motors on e-bikes are not the ideal choice for very heavy riders.
500Wh is a good battery capacity benchmark for a daily commuting machine for a heavier rider covering moderate distances. There are plenty of options above 500Wh too to well beyond 1000Wh – advisable for much heavier riders covering longer distances and of course spare batteries are usually an option as most e-bikes let the rider swap the batteries out.
Strong Rims and Wide Tires
Double-wall rims are pretty standard and offer plenty of strength and load-bearing. Wider is better too as that will help spread the forces throughout the rim.
More and thicker spokes are better – 36 spokes per wheel (36H) being a good standard. Smaller wheels are stronger than larger ones, all other factors being equal, but do have a test ride as smaller wheels generally offer a livelier ride than larger ones. Wide tires are good too for load-bearing, grip and stability – above 2″ can be considered wide. Thru-axles are bigger thicker axles and another good feature to look out for (more common on e-mtbs).
Seat and Seatpost
A wide platform to sit on with plenty of comfort on sturdily constructed seat rails are ideal on the best e-bike for heavier riders; not just for comfort but to isolate stresses from your bodyweight travelling into the seatpost and frame.
A suspension seatpost can serve the same purpose though as they are rare as a standard feature on e-bikes but may be a worthwhile upgrade. Some models even allow the end-user to change the spring or elastomer to a harder one to take extra rider weight.
Brakes
Hydraulic disk brakes now offer far more stopping power than older systems like cable-operated v-brakes and are very commonly specced on the top e-bikes for heavier riders – larger rotors give more stopping power too and anything beyond 160mm is a large rotor on an e-bike.
Gears and Drivechain
Heavier riders may pedal harder and put more force through the pedals, cranks, chain and bike gears.
Pedal axles can snap off so a heavy-duty spec pedal is a good idea and is easily upgraded to without too much additional cost if not on the original bike. If you will be regularly cycling up steep hills the powerful motor mentioned above together with lower gearing on the bike is particularly important. Hub gears are low maintenance options that tend to be more robust than derailleur gearing systems.
Five of the Best Electric Bikes For Heavier Riders
Here's our selection of heavy duty e-bikes that are the best for heavier riders. Note that e-cargobikes and emtbs are included as they are often a good choice for heavier riders because they are built to take plenty of weight / trail punishment respectively and so are often 'overbuilt' for many of the purposes they actually end up being used for.
We also focus on reputable makes as they often have exhaustive and stringent testing standards that make sure their e-bikes really are suitable for the weights they specify.
Aventon Aventure
Rated Payload Capacity: 400lbs / 136kg
The Aventon Aventure comes with plenty that should appeal to heavier riders: a large 750W motor, 720Wh battery, 80mm travel suspension fork, and 180mm hydraulic disc brakes, and you have the option of a step-thru frame. Another added bonus is the larger 4″ tires. You can let some air out of for added cushion while riding.
One drawback is that it's a fairly heavy e-bike at 73 lbs, but the larger feel to the bike beneath you helps you feel sturdy while riding.
Rad Power Bikes RadRunner Plus
Rated Payload Capacity: 300lbs / 136kg
A mini-cargo bike with superstrong small wheels and a frame made to take loads of weight. This bike is no speed demon. But the motor does provide you with a generous 80Nm of torque so it will reliably get you around town by taking care of most hills for you. "Controlled" is the word we often come back to with any of Rad Power's bikes and that's true for the Runner Plus as well. It's reliable and you can expect predictable power delivery from the motor.
Himiway Cobra
Rated Payload Capacity: 400lbs / 181kg
The Himiway Cobra is an all-terrain beast of a machine that blurs the line between e-bikes and dirt bikes.
It's a heavy bike itself at 88lbs, but it's absolutely sturdy and comes with full-suspension comfort. The 4.8″ tires are cushy, come with plenty of traction, and make you feel capable of handling most anything you'll discover on roads or cross country.
Riders quickly discover that the 750W rear hub motor is the personification of unbridaled acceleration and speed. Tons of fun for those that can handle it, though it might not be the cup of tea for the faint of heart at higher PAS levels.
Blix Packa Genie
Rated Payload Capacity: 450lbs / 204kg
The Blix Packa Genie is a great option if you need to carry roomy cargo or even small children on the bench seat. It's comfortable and stable-handling. Robust enough to handle most things you throw at it.
One of the beauties here is in the modular accessories that Blix offers. You can change up the Packa Genie to the tune of 200+ different configurations to better accommodate your needs.
Riese & Muller Supercharger GT vario HS
Rated: Max cyclist weight 308lbs / 140kg
Riese and Muller build e-bikes to extremely high standards and their HS option on suitable models mean saddle, seatpost and pedals are all upgraded for heavier riders. The Supercharger GT Vario HS looks ideal for heavier, heavy riding e-bikers as it features huge 1000Wh battery capacity, mega-strong Enviolo continuously variable hub gearing, suspension seatpost and the HS upgrade.
BULLS Copperhead HD Wave
Rated: Max carrying capacity 330lbs / 150kg payload including rider
HD stands for heavy duty with the added benefit of an easy step-thru frame and frame size suitable for shorter heavier riders.
This BULLS Copperhead HD Wave packs true off-road capability in the form of a Performance Line CX motor, 625Wh battery, 120mm front suspension, 2.6″ wide knobbly tires and a large 203mm front brake rotor, all on a super strong frame. A 42 tooth bottom gear means tons of hill climbing ability too.
Stay tuned for more e-bike news and reviews and thanks for reading!
-Rich
Reader Interactions