Best Value E-Bikes – 2023 | The Bang-For-Your-Buck E-Bike Options
*Electric Bike Report aims to help consumers find the right electric bike for their needs. When you buy a product we recommend, we may earn a commission.
Affordability and value are terms that are often used interchangeably, but when purchasing a product like an e-bike, the distinction between the two is crucial. An affordable product may have a low price, but as indicated by the phrase "you get what you pay for," it may not provide good value. In this list of the Best Value Electric Bikes, we explain the importance of shopping smart before sharing our picks for the e-bikes we feel provide the most bang for your buck.
That's the key here; the e-bikes that provide the best value are those that include the highest quality components, the most features, and/or the best performance for the dollar. As somewhat of a departure from our lists of the Best Cheap (Budget) Electric Bikes, or those on the Best E-Bikes Under (or Around) $1,000, this list may not have the lowest prices. They DO, on the other hand, equate to a good buy that you'd have a tough time beating elsewhere.
In many cases, we expected the best value e-bikes shown below to have been priced significantly higher. The market is saturated with both similar but higher-priced models from different brands – and options that may be cheaper but are of dubious quality.
The following best value e-bikes are those that we'd consider buying for ourselves, as they offer the highest ratio of quality and performance for every dollar.
*Editor's Note: Updated Nov. 20th, 2023 to include links to latest info and pricing.
Our Picks for the Best Value E-Bikes of 2023
As the third iteration of the renowned Lectric XP, the 3.0 (which is now more like the 3.5, but we'll get to that) offers an impressive package of features for its price point of around $1,000. The bike includes a 500W rear hub motor, a suspension fork and knobby fat tires suitable for light off-roading, an integrated light system, and a cargo rack with a carrying capacity of up to 150 lbs – enough to carry a child passenger!
Until recently, the bike included mechanical disc brakes, but that has since changed. In an industry first, Lectric upgraded the XP 3.0 (as well as their entire lineup of affordable e-bikes) to include hydraulic disc brakes, providing improved stopping power without increasing prices.
We measured very solid range for the bike's specs in our testing, but for those who don't mind spending an extra $200, there's also a Long-Range version of the bike with 35% greater capacity that can travel more miles on a single charge.
In our experience, Lectric just keeps raising the bar! We can't wait to see what they do next, but we're sure that the XP 3.0 will continue to provide some of the best value on the e-bike market.
…Oh yeah, and did we mention it folds?
Check Best Price | Read Full Review | Watch Our Video Review

Pro's
It's incredibly affordable at around $1,000.
The 500W motor has a peak of 1000W and 55Nm of torque for accelerating and climbing hills.
Lectric recently upgraded from mechanical brakes to hydraulic disc brakes.
The 50mm suspension fork smooths out bumps when riding off-road on the 20"x3" fat tires.
The 150-lb capacity rack can accommodate a child seat.

Con's
The battery must have its key inserted for the bike to operate.
Offering perhaps some of the best value in the brand's already reputable lineup is the Prodigy V2 LX – a trekking and commuting e-bike with some seriously fancy gadgets that we don't often see at this price point.
Starting things off is the remarkably dialed-in 250W mid-drive motor from Brose. With a torque sensor, the motor can respond and adapt to the rider and the road, providing a remarkably natural-feeling ride. The motor is paired with a gearless Enviolo continuously variable transmission (CVT) with infinite flexibility to provide the right amount of resistance on the pedals. The Prodigy V2 LX uses a Gates carbon belt to drive the rear wheel and provide a clean, quiet, and long-lasting alternative to a chain.
We measured an impressive amount of range from the bike's 36V, 504 Wh battery; between 31 and 65 miles! While we tested it above its lowest power setting, we previously achieved over 90 miles with the same battery/motor combo in Eco Mode on previous versions of the bike. This distance can cover the morning and evening commute for days, or allow for extended weekend adventures through the countryside.
Speaking of commuting, the Prodigy V2 LX comes ready for duty with lights, fenders, and a cargo rack. It also includes a suspension fork with 100 mm of travel and 27.5"x 2.25"tires for added comfort – but they allow the bike to go beyond paved surfaces and into more difficult terrain. We were highly impressed by the quality of the ride and the potential for adventure – especially at this price.
Check Best Price | Read Full Review | Watch Our Video Review

Pro's
Ride fast (or not, your choice) and climb hills easily with the Brose 250W mid-drive motor.
We liked the range of adaptability from the Enviolo CVT; it responds smoothly to give more or less resistance on the pedals.
Ride for hours on end with great range from the 504 Wh battery!
Ready for daily use as a commuter with integrated lights, fenders, and a cargo rack.
The 27.5" x 2.25" tires and suspension fork provide a smooth and comfortable ride.

Con's
Only one frame size means that smaller riders may need to consider the LS model.
Rad Power Bikes RadRover 6 Plus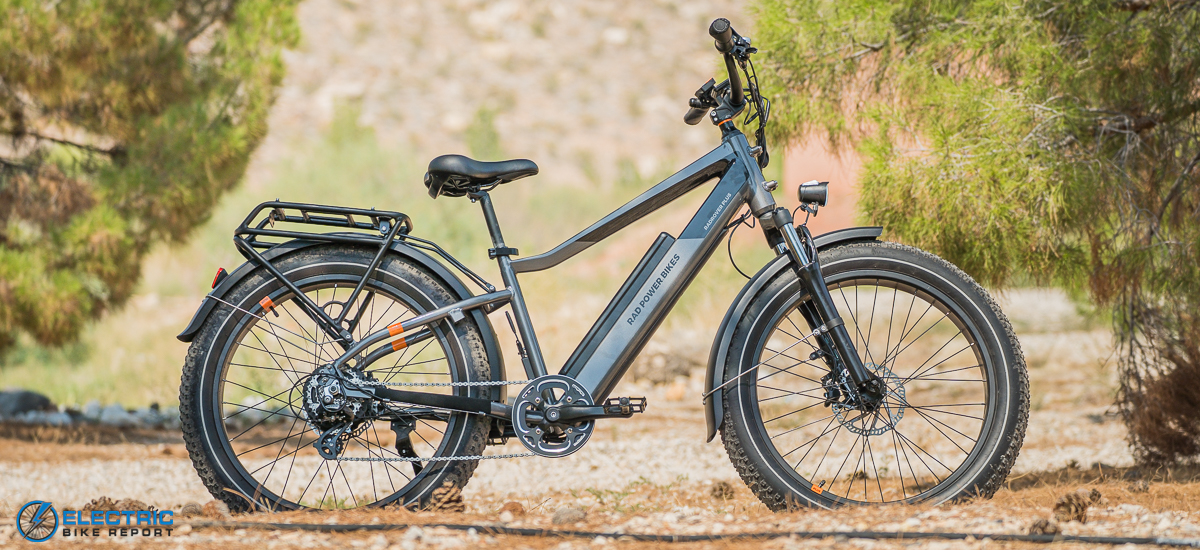 Upon its release, the RadRover 6 Plus set a high bar for what defined fat-tire e-bikes. Despite a couple of years passing by, the bike has aged incredibly well for this reason; it was ahead of the curve and it just did everything right!
The RadRover 6 Plus features an expectedly robust 750W rear-hub motor for powering over hills, through dirt, or across town. We liked the motor's smooth engagement, as well as its predictable distribution of speed; both are exactly what we have come to expect from Rad Power Bikes.
As a fat tire e-bike, the Rover is extremely flexible, offering the ability to adventure in off-road environments or stick to the pavement. The bike's suspension fork and 26"x4" fat tires helped with the stability and comfort of the ride regardless of the environment. With lights, fenders, and a rear cargo rack, the RadRover 6 Plus is also a functional commuter.
We liked the dual displays for easier access to more ride data and a bit more of a techy feel. We also think Rad nailed the Rover's design and branding.
Reliability and performance are hallmarks of Rad's e-bikes, and with a reduced price of under $1,500 we think the RadRover 6 Plus' inclusion on this list is a no-brainer.
Check Best Price | Read Full Review | Watch Our Video Review

Pro's
A powerful 750W motor with predictable PAS settings and smooth engagement.
Dual displays for a unique and futuristic feel and quick access to more data
With fat tires and a suspension fork, the Rover can ride in many environments comfortably
A more dialed-in contemporary visual style over Rad's previous models
The semi-integrated battery back is easy to remove

Con's
We think an under-the-bar shifter would fit the feel of the RadRover better that the over-the-bar model.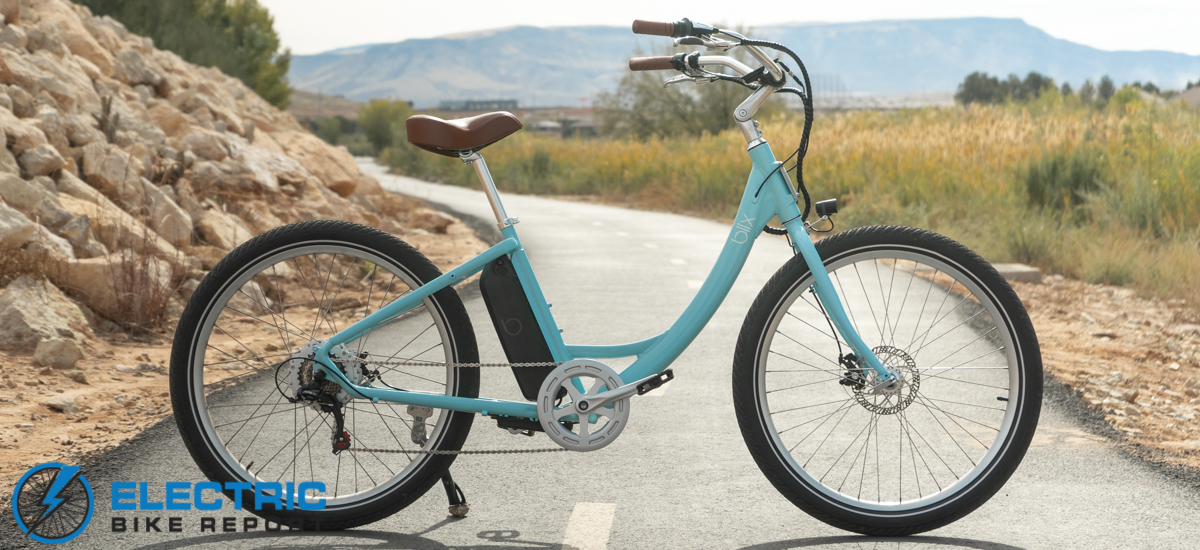 Who says a beach-cruiser e-bike has to be mellow? Why not have the option to enjoy the sunsets at a leisurely pace AND zoom down streets at faster speeds? The ability to give you both is one point that helps the Blix Sol Eclipse standout. It excels at simple rides or fast ones.
The Sol Eclipse delivers a classic-looking beach cruiser in a beautiful glossy paint job. It's styling has nice curves for eye-appeal from the swooping frame that also allows for great function as it's easily mounted by any rider. Make no mistake though, this is one of the better performing hill climbers we've ever tested. Where many cruisers casually make their way up our test hill, the Blix Sol Eclipse uses it's 750W motor to fly.
The overall solid handling, great range, hill performance, and comfort help the Sol Eclipse standout as one of the best value electric bikes if you're wanting a beach cruiser.
Check Best Price | Read Full Review | Watch Our Video Review

Pro's
Makes riding easy. Simple operation, and tons of motor power on tap when needed for enjoying rides with little effort.
Impressive performance. Great range, braking, hill climbing and speed.
The Sol Eclipse comes in 4 different colors
Extremely comfortable. The riding position, saddle, and sweeping handles make for a relax ride every time.

Con's
Not uncommon on a lot of e-bikes, but PAS 1 and 2 don't get a lot of use. The speed profiles work best 3-5.
When shopping through cargo e-bikes there's an important thing to remember: your shopping likely isn't done with just the bike. To truly unlock the full potential of their design you'll need to look at getting some accessories to help keep this kids on board, or some storage for hauling your gear.
That's one of the things we really appreciated about the Aventon Abound. It did throw in some accessories many people end up adding to their carts anyway with other cargo carriers, but here, they come standard. We liked that running boards, wheel guards, and a storage compartment all come with purchase. Is that everything you'll need to get by? Probably not. But it's more than most give you to start out.
The Abound's value is further driven by the fact that it rides as well as any cargo e-bike we've ridden. The torque-sensor of the 750W motor provides a natural-feeling ride, but it's got the muscle to haul the 440 lbs payload capacity up any hill. Then when you add up the niceties such as the suspension fork, dropper post, color display and more, it just feels like one of the best values to be had amongst cargo e-bikes.
Check Best Price | Read Full Review | Watch Our Video Review

Pro's
Powerful 750W motor will get you up any hill with little effort.
The Abound features more things standard than most cargo bikes. Runner boards, wheel guard, and the storage compartment are nice to have out of the box.
Has a little more eye-appeal than a lot of cargo electric bikes.
Collapsable stem for easier transport or storage.

Con's
Riders with larger shoes (mens 12) will occasionally clip their heels on the running boards.
Velotric's T1 ST is a lightweight city e-bike for zipping around town quickly and comfortably. But there's more than meets the eye; the T1 ST includes unique and, in some cases, proprietary technology that isn't often seen on an e-bike with entry-level prices.
The bike does not include a display, but with a Garmin Edge-compatible phone mount on the stem and third-party apps like Strava, your phone can sit in and do the job. The T1 ST uses a single-button interface on the top tube surrounded by a colored light ring to change/indicate PAS level and a series of LEDs to show battery charge. It's streamlined, clean, and effective – and reminded us of high-end tech on vastly more expensive bikes. The bike is also compatible with Apple Find My™!
The T1 ST weighs in at just 39 lbs, placing it firmly on the low end for an e-bike. This means it weighs about the same as an analog bike, making it easy to lift, carry, or transport using a bike rack. With such a low weight, it also has a spirited and nimble feel with quick acceleration and great handling.
We liked that it feels a lot like a "regular" bike, but it also looks like one too; the stealth factor here is high! With no display, internally-routed wiring, a fully integrated and UL certified battery, and an astoundingly quiet motor, the T1 ST would likely blend in amongst a lineup of non-electric bikes.
With a price between $1,000 and $1,500 we don't think you can go wrong – the T1 ST has a ton of bang for the buck!
Check Best Price | Full Review Coming Soon | Video Review Coming Soon

Pro's
Tons of cool tech at an entry-level price means you're getting great value.
Impressive handling & acceleration, and increased portability resulting from the 39-lb frame.
It's tough to tell if it's even an e-bike thanks to stealthy looks and a super-quiet motor.
Rides super comfortably for a city bike with a cushioned saddle and squishy ergonomic rubber grips.
Feels and responds like a regular bike with its moderate 350W motor that uses a torque sensor.

Con's
Velotric's app doesn't pair with the T1 ST so a 3rd-party app is necessary to see ride data. We'd like to see app compatibility in the future.
With a price of around $2,000, the Euphree City Robin X+ features a hybrid commuter/cruiser design and a lot of tiny details that add up to an elevated experience. Comfort is the bike's primary focus, with luxurious trim, ergonomically-shaped handlebars, a full suspension, and a wide, well-cushioned saddle. We think it rides like a dream!
The City Robin is available in two models (technically three with the 2022 model), with the X+ featuring a torque sensor for a more responsive feel. This sensor allows the bike's motor to dispense power when more pressure is applied to the pedals – resulting in a feel that's similar to an analog bike, but way more fun! There are 5 PAS settings to choose from, and also an Auto-Assist feature that increases the power output naturally as you move faster.
With the bike's 48V, 500W rear-hub motor, the ride is plenty fast and thoroughly enjoyable. It has great range, too! The 672 watt-hour battery allows the bike to travel great distances before needing to be plugged in; we exceeded Euphree's claimed 60 miles.
The real value comes in with small but impactful extras like the suspension seatpost, the cafe wheel lock, the high-capacity cargo rack, and even the pleasant brass bell on the handlebars. The City Robin X+ is a joy to ride, and it comes well-outfitted for casual rides or use as a daily commuter. As a staff favorite with a great price, we think the City Robin X+ is an excellent buy.
Check Best Price | Read Full Review | Watch Our Video Review

Pro's
An incredibly comfortable ride due to the relaxed Dutch styling, the suspension fork and suspension seatpost
The ride feels smooth and natural with the use of a torque sensor to deliver more power when it's needed
Added security with passcode requirements and a cafe wheel lock.
Ride on or off pavement with hybrid 27.5"x2.125" tires

Con's
The initial motor engagement felt great, but we'd like to see faster re-engagement after coasting/braking.
How We Picked the Best Value Electric Bikes
After testing hundreds of e-bikes, we have developed a thorough understanding of the features, components, etc. typically included at various price points within the market. Plenty of great e-bikes can be had on the more affordable end of the spectrum, but we expect the quality of a bike's components, its number of features, and its overall performance to improve as its price increases.
The e-bikes on this list bucked that trend by exceeding our expectations based on price, though other factors contributed to their selection:
Feature/Price Balance: In order to be a candidate for this list, each e-bike had to deliver an impressive experience for its price – whether by including uncommon features, demonstrating remarkable performance, or generally providing more than its competition within a similar price range.
Variety: This list would mean little if it were packed full of folding e-bikes; we already have a list of the best folders! Every consumer has their own unique preferences and needs, so it was important to find the best value e-bikes within each category to establish diversity and present an option for everyone.
Test Performance: Satisfactory performance was the bare minimum of our requirements for this list, but many of the bikes on this list excelled in at least one area of our testing.
Lasting Impressions: We do our best to separate our own personal judgment when choosing the best electric bikes, but we can't deny that we also enjoy a good deal! The members of our team said "I'd buy that!" at multiple points during our review process of each of these memorable e-bikes.
Bottom Line: Shop Smart and Focus on Value!
In these uncertain times where inflation is running rampant, it's important to establish your e-bike budget range and maximize your purchasing power. It's important to compare models and learn what features should be expected within your price range so you can understand when an e-bike goes above and beyond.
Our catalog of e-bike reviews
can help you with that!
Whether you're interested in a fat tire e-bike to get you to work every M-F and go exploring with on the weekends – or a comfortable cruiser for relaxed evening rides – we hope that this list helps you find the best e-bike for your wallet AND for your overall enjoyment!
If this is your first dive into the world of e-bikes and you want to learn more about them, head on over to our buyer's guide for the basics. If you're interested in more of the best electric bikes, please check out some of our other categories below!
Have a bike that you think would be a good contender for our best page? Let us know in the comment section below. At the very least, we always want to know what our readers are riding.
Reader Interactions