Accessory Roundup: OTTOLOCK Cinch Lock, Ergon Ergonomic Saddle & Grips [VIDEO]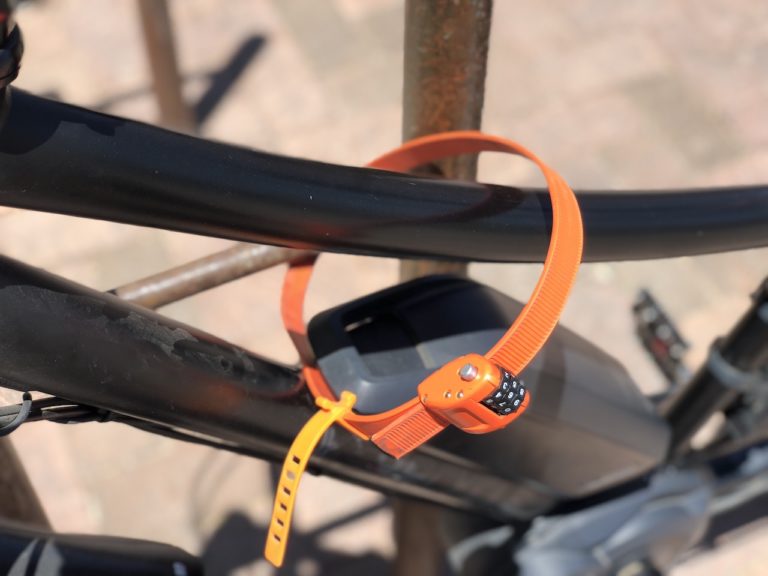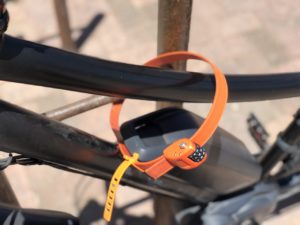 Time for a look at some new bike accessories that can make your eBike ride safer, more comfortable, convenient, and fun!
In this roundup we have the:
OTTOLOCK Cinch Lock
Ergon ST Core Prime Saddle
Ergon GA3 Ergonomic Grips
OTTOLOCK Cinch Lock
The OTTOLOCK is a versatile lightweight and compact cinch lock that works well for a bike but it also comes in handy for many other items as well (skis, water sports, camping gear, stroller, luggage, etc.). The price range is $55 to $80 depending on the length.
Here is an intro video to give you an idea of how it works:
As you can see in the video it is a highly versatile lock that is lightweight and portable.
I really appreciate how lightweight and compact the OTTOLOCK is because I almost always have it stored in my backpack for use on my bike or for any other gear I need to lock up.
Here are the different lengths and weights:
18" = 120g (~0.25 pound)
30" = 155g (~0.33 pound) This is the size tested.
60" = 235g (~0.5 pound)
The 30″ length is a good size for a lot of different locking situations. It is good for 1 or 2 bike frames to a bike parking structures. The 60″ length would give you more versatility if you need it.
You can create a longer cinch lock with a daisy chain of multiple Ottolocks. That way you could have a few OTTOLOCKS for everyday use and combine them when needed.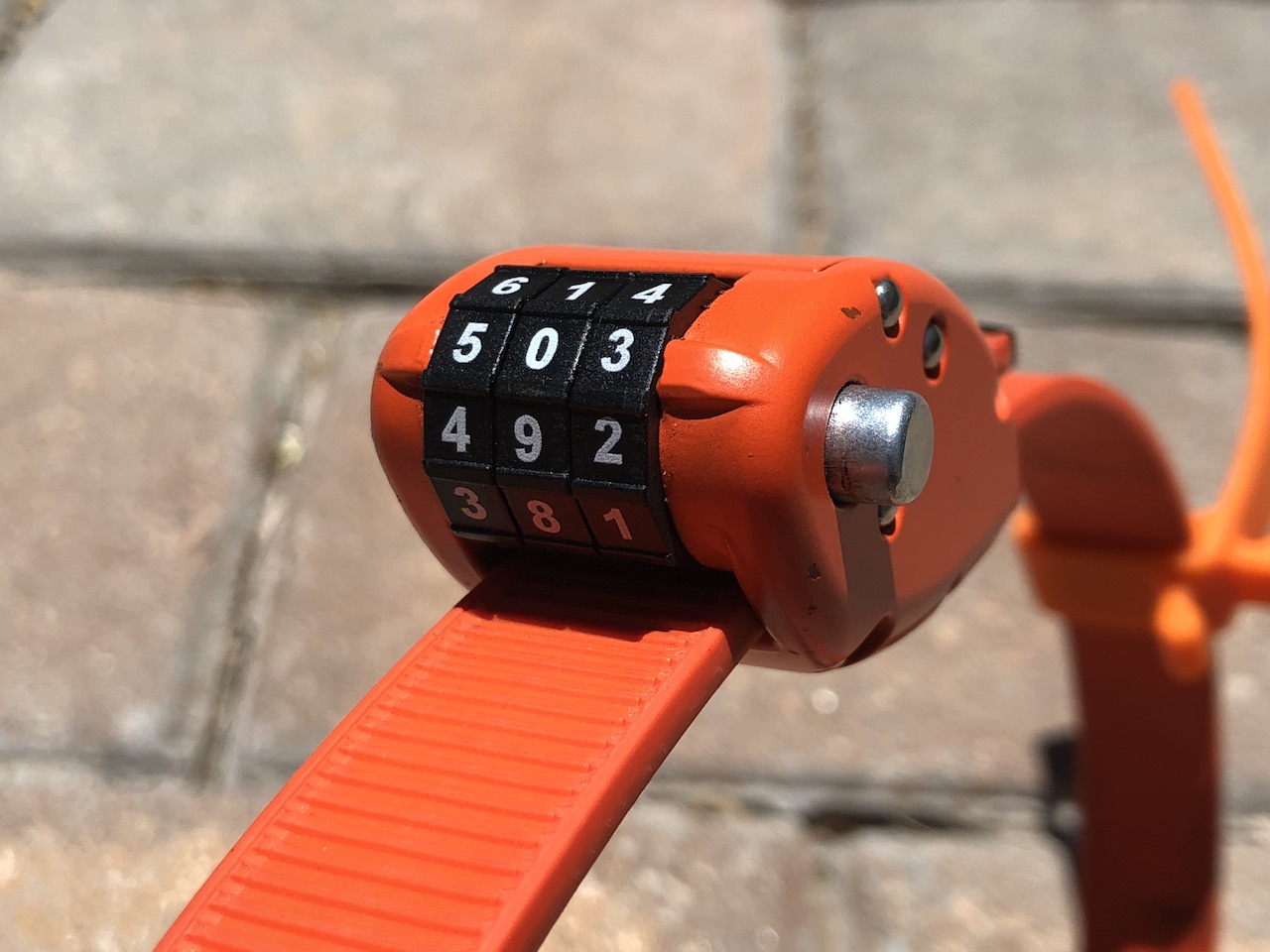 The 3 dial combination lock works well and it is nice not to have another key to manage. You can program the lock with your own combination.
There is a rubber strap that holds the rolled OTTOLOCK in place for that compact 3″ diameter storage/transport size.
The OTTOLOCK is a light to medium security lock that is enough of a deterrent for relatively low risk areas. OTTOLOCK makes it clear that it does not have the strength of a U lock.
"OTTOLOCK is designed for short-stop security and protecting against theft opportunists."
The strap is constructed of a multi-layer steel and Kevlar® bands with a soft plastic cover that is easy on the items being locked up.
OTTOLOCK states that "conventional theft tools like wire or bolt cutters will have a hard time against OTTOLOCK".
Here is a good comparison of the OTTOLOCK to other lock types: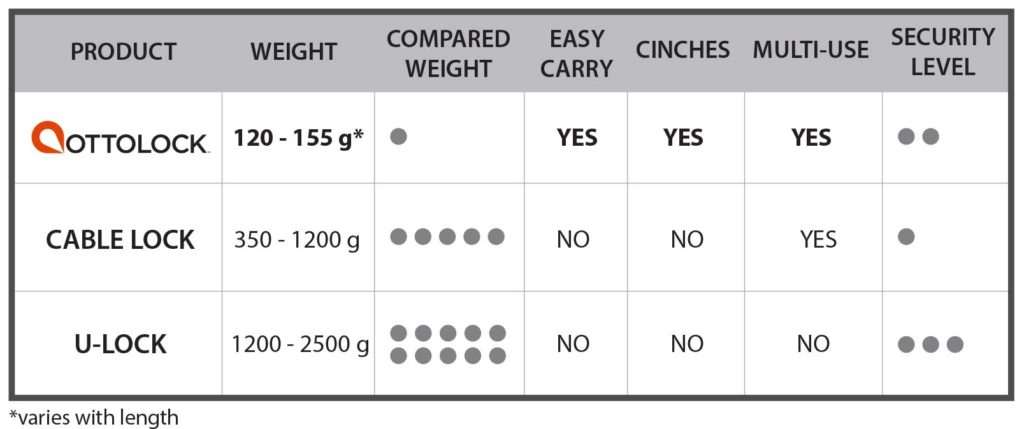 As a cinch strap the OTTOLOCK works well for strapping and locking certain parts of your bike to a car rack for instance. I use it to secure the front wheel of my bike to the car rack so that has a solid attachment and the wheel won't spin while on the car rack.
The longer 60″ version could be good for strapping and locking multiple bikes together on a car rack.
The OTTOLOCK comes in orange, yellow, or black. It is designed and manufactured in the USA.
Price range:
18″ = $55
30″ = $65
60″ = $80
Overall the OTTOLOCK is easy to use and almost always carry with you. It's a nice lock to have with you even if you don't intend to stop anywhere but a quick stop comes up. It is also very useful as a strap & lock for bike & wheels on car rack. In addition, it is good to have around for locking up other gear or luggage.
It is not the most economical lock system but it packs in a lot of features into a compact and light lock. Its probably better to have the ability to lock your bike and/or gear than have to pay for its replacement or hassle with an insurance claim.
The OTTOLOCK has many reviews on Amazon as well.
Ergon ST Core Prime Saddle
Ergon offers bike components and accessories that focus on ergonomic design for a comfortable and supportive ride. Their product range includes grips, gloves, saddles, seat posts, backpacks, shoe insoles, and bike fitting gear.
One of their latest products is the new ST Core Prime saddle that has an ergonomic core and a microfiber cover.

On the bottom of the saddle you can see the Infinergy® E-TPU material that makes up some of the ergonomic core. Ergon states that "the floating TwinShell concept with the Ergonomic Core supports the natural pelvic movements while pedaling, actively relieves the sit bones, and reliably dampens bumps caused by the riding surface."
"Two shells work independently in the sandwich design of the ST Core Prime. Between each shell is a floating high-performance foam material developed by BASF that acts as a damper. Due to the decoupling of the seat shell from the support shell, the saddle follows the cyclists natural pedalling movements in all directions. The advantages: Relief for the sit bones and perineal area, excellent vibration shock absorption, efficient pedalling ergonomics and protection of the back and spine."
The ST Core Prime saddles are offered in 2 sizes with gender specific designs:
S/M fit sit-bone width of 9-12 cm
M/L fits sit-bone width of 12-16 cm
You can see that the back of the saddle has a significant amount of the Infinergy® E-TPU material.
Here is a video with Jeff from Ergon explaining the ST Core Prime saddle and the Ergon GP1 grips:
After riding the Ergon ST Core Primes saddle for many months it does live up to the comfort that they claim.
It definitely absorbs more of the bumps and cracks in the road compared to most saddles that come stock on bikes. For some riding situations it could be a good way to get similar absorption qualities of a suspension seatpost without buying a suspension seatpost.
The profile of the saddle is fairly narrow at the front for efficient pedaling while the back of the saddle is wider for sit bone support.
At $149.95 it is a higher price point saddle but it does offer a comfortable ride and the material quality gives the feeling that the ST Core Prime will last a long time.
Ergon GA3 Ergonomic Grips
Ergon made a name for themselves with the original GP1 ergonomic grip and today they have a wide assortment of grips to fit many riding styles.
The Ergon GA3 ergonomic grips have moderate wings at the end for some wrist support and these grips are intended for mountain bikes.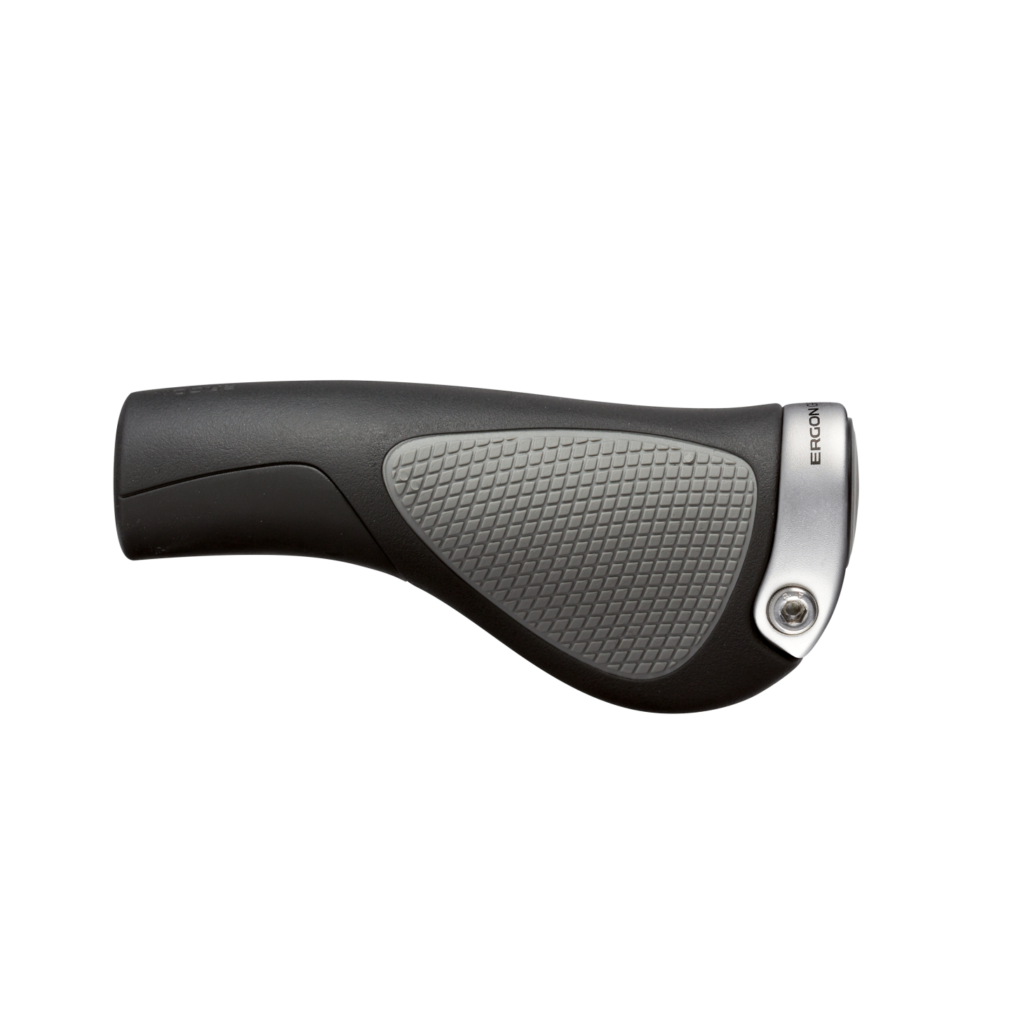 Compared to the GP1 grips (pictured above) that have a wide wing at the end, the GA3 has a more traditional round profile with smaller wings.
The image above shows how the grip (GP1) wing provides a platform for wrist support.
The GA3 grips have a lock on collar so that the grips are secured to the handlebar.
After some miles with the GA3 grips they have picked up some dirt. Ergon offers the GA3 in berry, black, blue, red, or orange.
The GA3 grips are a good fit for more performance style mountain bike riding where a larger wing could get in the way of maneuverability on the bike. The smaller wings still do provide some wrist support.
If you are generally riding in the city and/or doing touring rides then the GP1 with the wider wings are a good way to go for additional wrist support.
The GA3 grips are priced at $29.95 and the GP1 grips start at $23.
Stay tuned for more e-bike news & reviews and thanks for reading!
-Pete
Review Note: All of these products were given to electricbikereport.com with no requirement for return.
P.S. Don't forget to join the Electric Bike Report community for updates from the electric bike world, plus ebike riding and maintenance tips.
SaveSave
SaveSave
SaveSave
SaveSave
SaveSave
SaveSave
SaveSave
SaveSave
SaveSave
SaveSave
SaveSave
SaveSave
SaveSave
SaveSave
SaveSave
SaveSave
SaveSave
SaveSave
SaveSave
SaveSave
SaveSave
SaveSave
SaveSave
SaveSave
SaveSave
SaveSave
SaveSave
SaveSave
SaveSave
SaveSave
SaveSave
SaveSave
SaveSave
SaveSave
SaveSave
SaveSave
SaveSave
Reader Interactions