First Look – Gecko's New Puncture Proof Bike Tires. No More Flat Tires!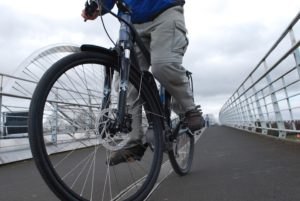 UK company Gecko have just been released their new 'Regular' branded tyres on 700 x 40 and 26 x 1.75 sizes.
We've tried these tyres before in their Comfort range (a little softer than the regular range and made specifically for e-bikes).
I have just headed over to York's Electric Transport Shop to try some of the free-rolling 700 x 40 sized new Regular Geckos.
Although Gecko say they are suitable for non electric bikes I thought it would be great to try them out on an e-bike and to compare them to the softer Comfort versions we have on long term test on our Heinzmann e-bike.
We tested out York's excellent cycle network for a couple of hours and found the following:
The new Regular Geckos are certainly freer rolling than the comfort versions. We did repeated roll down tests and the Regular tyres came out ahead each time.
Just squeezing both sets of tyres tells you at least part of the reason why; the Regular Geckos were much harder to compress that the comfort model.
They also felt faster and maintained the momentum of the bike more.
They didn't quite have the level of vibration damping and the same ability to soak up humps and bumps as the Comfort tyres, although we didn't feel the difference was huge.
The Regular Geckos did feel a little slower than high pressure, slick pneumatic tyres, but not massively so (on an e-bike anyway – we didn't try them out on a regular bike).
So the full range on offer from Gecko now is:
Comfort Geckos: (Perfect for e-bikes)
26" x 1.75″ (to fit wheel rim size: ETRTO 559 x 18 & ETRTO 559 x 19)
700 x 40 (to fit wheel rim size: ETRTO 622 x 18 & ETRTO 622 x 19)
Regular Geckos: (Perfect for any bike)
26" x 1.5″ (to fit wheel rim size: ETRTO 559 x 19 & ETRTO 559 x 20)
26" x 1.75" (to fit wheel rim size: ETRTO 559 x 18 & ETRTO 559 x19)
700 x 40 (to fit wheel rim size: ETRTO 622 x 18 & ETRTO 622 x 19)
With more sizes to come later in the year.
The tyre weight is around 1.5kg (3.3 pounds) including the retaining clips and locating tubes.
They are currently available in the UK and they have plans to make them available in the US soon.
Here is a link to more information on Gecko tires.
Each tire is £49.20 plus fitting (usually between £5 and £15 dependent on the dealer).
If you want to know more about the background to puncture proof tyres see our article on the launch of Geckos here.
Thanks to Electric Transport Shop in York for making the new Regular Geckos available for test on a very nice and brand new Raleigh Captus. Their shop is literally bulging with e-bikes from the likes of Freego, Gazelle, Haibike, Raleigh, Riese & Muller & Scott. A great place to browse for the latest e-bikes.
Stay tuned for more e-bike news and reviews and keep on riding.
-Richard
P.S. Don't forget to join the Electric Bike Report community for updates from the electric bike world, plus ebike riding and maintenance tips.
Reader Interactions