Best Cheap Electric Bikes, 2023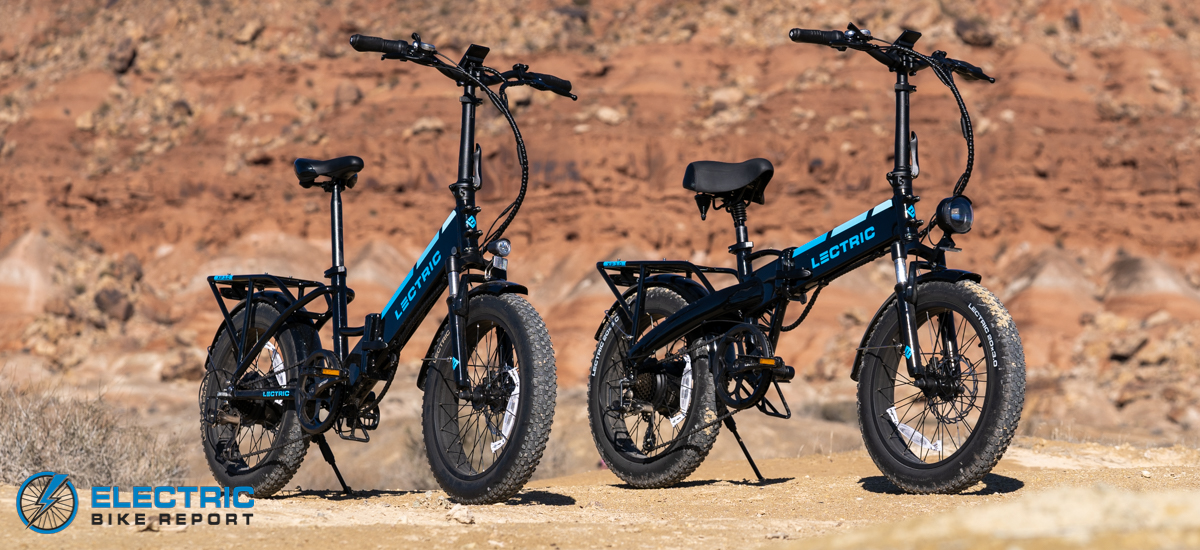 *Electric Bike Report aims to help consumers find the right electric bike for their needs. When you buy a product we recommend, we may earn a commission.
Calling an e-bike "cheap" is a risky proposition. That you're looking at this right now means you're probably looking for an e-bike, but have a budget that is at least snug, if not tight. But as members of the media, we have to be careful when we call something cheap because readers might think we are saying the product suffers from poor quality. Hopefully, using the words "best" and "cheap" together in the title clued you in to our purpose, which is to round up a number of e-bikes that won't break the bank, or out on the road.
When we look at the great many e-bikes that go for less than $1500, or even less than $1000, we see some terrific e-bikes that do a terrific job of balancing quality while not forcing someone to empty their wallet.
Shoppers of Alibaba, Amazon and Ebay can find e-bikes that go for less than even the least expensive that we've included here. And they aren't included here for a reason, several, in fact. We've reviewed every one of these e-bikes and found them to meet our standards for performance and safety while keeping their price as low as it can responsibly be.
As with most things in life, the e-bikes that look to be too good to be true invariably are. If a company is advertising an e-bike with a 1000W motor for $600, run, don't walk. We've vetted these e-bikes with rides to test their range, their power and their braking.
Put another way, these are the e-bikes we would refer our friends and family to if they said they needed to squeeze all the pennies.
Here are our picks for the best cheap electric bikes:
Lectric XP Lite
The Cheapest-Priced Electric Bike EBR Recommends (In Cost, Not Quality)
Leading off our list of the best cheap electric bikes is the category-killer of the bunch: The Lectric XP Lite. No other e-bike on this list is as inexpensive, and nothing else at this price point instills us with enough confidence to get our thumbs up.
Compared to its big brother, the Lectric XP 3.0, the XP Lite is a study in how to shave cost without shaving quality. Where the XP 3.0 sports a 500W hub motor, the XP Lite goes with a more modest 300W motor. The XP 3.0 was equipped with a 499Wh battery, while the XP Lite received a 374Wh battery. The XP 3.0 helps riders on hills with a 7-speed Shimano drivetrain, while the XP Lite runs on a single speed. The XP 3.0 features hydraulic disc brakes, while the XP Lite includes mechanical disc brakes.
By reducing the features (wattage, battery range, multiple gears, etc.), Lectric is able to shave cost from the XP 3.0 without resorting to products that cut corners on materials or construction. This e-bike is a case-study in understanding where low-cost and quality intersect.
While Lectric didn't leave off front and rear lights, because safety, they did choose to eliminate fenders and a rear rack. Those are items that can be added later. What a buyer can't do very easily is upgrade the motor or battery, so they made the two most important components their two biggest priorities.
Check Best Price | Read Full Review | Watch Our Video Review

Pro's
A 374Wh battery offers limited range, but Lectric's batteries have a great reputation for reliability, and a safe battery is imperative
The folding frame is easy to operate and even easier to store
The 2.4 or 2.6-in.-wide tires reduce rolling resistance and help to extend the battery's range
Like Lectric's other e-bikes, the XP Lite can be upgraded with accessories like fenders, racks and baskets

Con's
It seems a minor point, but having to leave the key in the lock to ride is annoying.
The single-speed drivetrain was important to hitting this price point, but it does mean that this e-bike will struggle on hills and riders may not reach 20 mph unless they can pedal quickly
Lectric XP 3.0
Best Cheap Mult-Purpose Electric Bike
We wondered what would knock the Lectric XP 2.0 from its place as one of our favorite e-bikes on a dollar-for-dollar basis. We could have saved ourselves a lot of guessing if we had realized that the XP 3.0 was on its way. There may not be an e-bike on the market that stretches the buyer's dollar further. Of course, no one makes an e-bike as good as the XP 3.0 right out of the gate. It's the result of listening to feedback from journalists like us as well as buyers like you, as well as the buying power that comes with growing sales.
As Lectric places ever larger orders with their suppliers, their costs drop and while many manufacturers send those savings to shareholders in the form of profits, Lectric placed their customers ahead of their bank accounts and passed those savings on to buyers in the form of upgraded components without an upgrade to the price.
So what makes the Lectric XP 3.0 so great? For starters, Lectric's 500W brushless, geared hub motor and their 499Wh battery are well matched; in our testing, a rider in PAS 2 covered 33 mi. Previous versions of the XP saw mechanical disc brakes spec'd, but with the XP 3.0 they were upgraded to hydraulic discs.
We'd criticized the XP 2.0 for having a high gear that left us wanting. It wasn't a big enough gear to reach 20 mph, even in PAS 5. Lectric swapped out the cassette for one with a noticeably higher gear, making it easier to reach top speed. And we can't leave out the very complete accessory package, including lights, fenders and a rear rack.
Check Best Price | Read Full Review | Watch Our Video Review

Pro's
500W brushless, geared hub motor offers zippy acceleration and the power necessary to climb hills
The 499Wh battery gave our tester 33 mi. of range in PAS 2
We love the switch to hydraulic disc brakes which both stop better and offer a better feel at the lever
50mm-travel suspension fork and 3-in.-wide tires give a very comfortable ride
Folds in seconds, making it easy to store

Con's
Again, leaving the key in to ride is not our favorite
Ride1UP Turris
The Best Cheap E-Bike For Exploring
With the Turris, Ride1UP sent a shot across the bow of all of their competitors. Very few e-bikes can retail for less than $1500 and offer worthwhile Class 3 performance. The reason why is that aiding a rider to 28 mph demands more of a motor than propelling a rider to 20 mph. If the motor isn't well-made, the e-bike won't last long.
So, yes, Class 3 speed is impressive in this price range. But if being speedy was the only reason to recommend the Turris, it wouldn't be on this list. The Ride1UP Turris made our roundup of the best cheap e-bikes because at no point did Ride1UP cut corners on quality.
The 750W brushless, geared hub motor is powered by a 614Wh battery that in our testing allowed a rider to cover 51 mi.—more than 10 percent greater than Ride1UP's own projections. The Shimano 7-speed drivetrain includes a wider-than usual 12-32 cassette, which will make hitting top speed easier as well as getting up hills. Hydraulic disc brakes paired with 180mm rotors handle bringing the Turris to a stop.
What surprised us is that those features are more than enough to justify this e-bike's price, but Ride1UP didn't stop there. They included a 100mm-travel suspension fork, fenders and a front light, making this nearly as full-featured as e-bikes going for hundreds of dollars more. This is an e-bike with a surprising depth of value, which is why this roundup would be incomplete without including the Ride1UP Turris.
Check Best Price | Read Full Review | Watch Our Video Review

Pro's
One of the most affordable Class 3 e-bikes on the market, thanks to a 750W brushless, geared hub motor
Ride1UP claims a range of 45 mi., but in our testing we got 51 mi. in PAS 1
7-speed Shimano drivetrain boasts a wider range of gears (12-32 cassette) than we usually see at this price point
100mm-travel suspension fork smoothes the ride on rough pavement
Comes in both a traditional frame and a step-thru design

Con's
We would prefer a display mounted at the stem where it would be easier to read, and just an easier one to see overall would be nice
Aventon Soltera
The Best Cheap Lightweight Electric Bike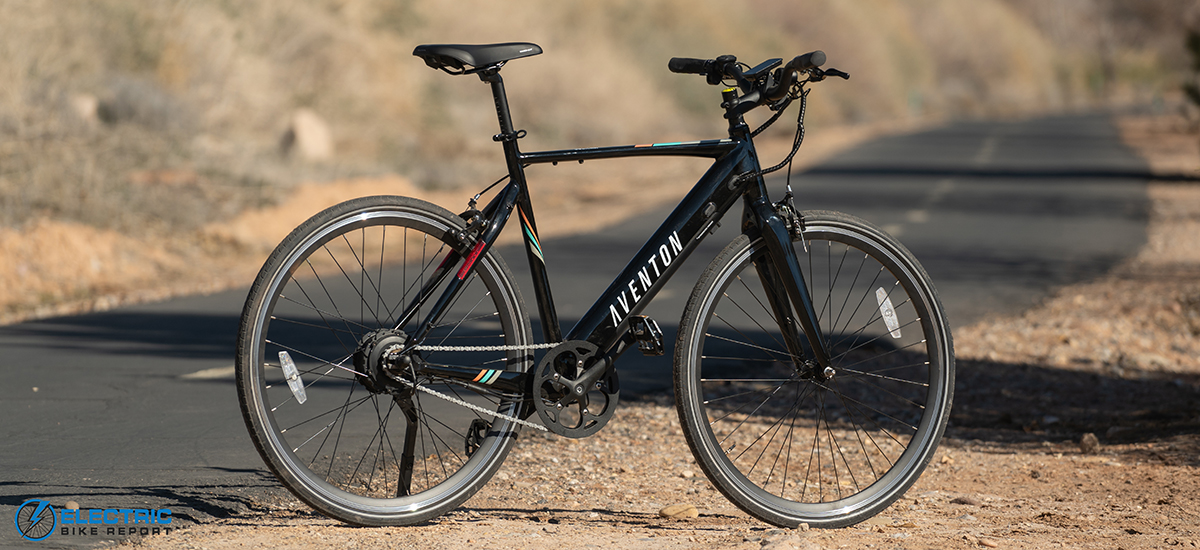 If there is a point on which most affordable e-bikes all suffer, it's that they tend to be on the heavy side. They feature much more steel than aluminum; lightweight materials cost more. It's really that simple. The Aventon Soltera provides a happy alternative to that, which is why it made the grade in our roundup of the best cheap electric bikes.
We won't keep you in suspense. The Aventon Soltera weighs just 43 lbs. To put that in perspective, the great majority of e-bikes we review that sell for less than $2000 weigh upwards of 60 lbs. Generally, the weight of an e-bike isn't much of an issue. However, we recognize that there are people out there who would benefit from a lighter e-bike due to strength, range of motion or other factors, like height.
The Aventon Soltera is built around a 350W brushless, geared hub motor and a 349Wh battery. The smaller motor and battery are why the Soltera is so much lighter than most other e-bikes in this price range.
The parts pick packs in plenty of value. It features a 7-speed drivetrain, mechanical disc brakes with 160mm rotors, 35mm-wide tires and an aluminum fork. We tend to prefer seeing 180mm rotors for the extra stopping power, but the lighter weight of the Soltera helps to offset this.
The combination of a large wheel (700C), narrow-ish tire and aluminum fork (not to mention aluminum frame) means the Soltera will have a very responsive ride; think two-seater, not family sedan.
This is a Class 2 e-bike with a maximum assist speed of 20 mph, reachable either by pedals or throttle. Aventon includes front and rear lights (the rear lights are pretty cool because they are integrated into the seatstays), but leaves off fenders and a rear rack. That choice serves the Soltera in two ways: both less weight and less cost. It all adds up, whether we are talking gravity or wallet.
Check Best Price | Read Full Review | Watch Our Video Review

Pro's
At 43 lbs. This is amongst the lightest e-bikes in this collection
Thanks to the integrated battery and smaller-than-usual 350W hub motor, the Soltera doesn't scream e-bike in its looks
Comes in two frame styles, both a traditional design and a step-thru
A 349Wh battery may seem small, but it's well-matched to the 350W motor and helps keep the weight down

Con's
Riders looking for a comfortable ride may find the skinny tires and rigid fork to be rougher than they'd like
Electric Bike Co. Model A
The Most Stylish Cheap Electric Bike
Electric Bike Co. is perhaps best known for a buyer's ability to customize the e-bike they buy. From the color of the frame and fork to the size battery and whether the e-bike is a single-speed or has a 7-speed drivetrain, the buyer enjoys terrific options. We included the Electric Bike Co. Model A in our roundup of the best cheap electric bikes because it's the most affordable of their e-bikes.
The Model A summons a chopper-ish, motorcycle-inspired look. Among the choices buyers of the Model A are given is what sort of handlebar is used (they offer four choices). Someone wanting to further the motorcycle look can choose a riser bar that looks a bit like ape-hangers, while riders who want to sit more upright and look around can choose a bar with lots of backsweep.
Part of how Electric Bike Co. achieves greater affordability with the Model A is by spec'ing a 500W motor, rather than the 750W hub motor found in their more expensive models. The Model A's 500W brushless, geared hub motor packs enough muscle to assist the rider up to Class 3 speed (it ships as a Class 2 e-bike).
And while most of the options include an upcharge, many of the color and finish choices come at no additional charge so even the rider who goes for the least expensive choices can still order a very custom e-bike.
Check Best Price | Read Full Review | Watch Our Video Review

Pro's
Though the Model A comes in one size (and only one frame design), the choice of four different handlebars will allow riders to order an e-bike that is comfortable to them
500W brushless, geared hub motor helps keep the cost down, but still has the power necessary to assist riders to Class 3 speeds (once unlocked)
Offers three different choices of battery for those with range anxiety
In offering a torque sensor as an option, the Model A may be the cheapest e-bike on the market that allows riders such a performance upgrade

Con's
Comes standard as a single speed which will make it difficult to get up hills as well as to reach the max assist speed of 20 mph
The options add up in a hurry and remove it from 'cheap' consideration
Rad Power Bikes RadRover 6 Plus
The Best Cheap Fat Tire Electric Bike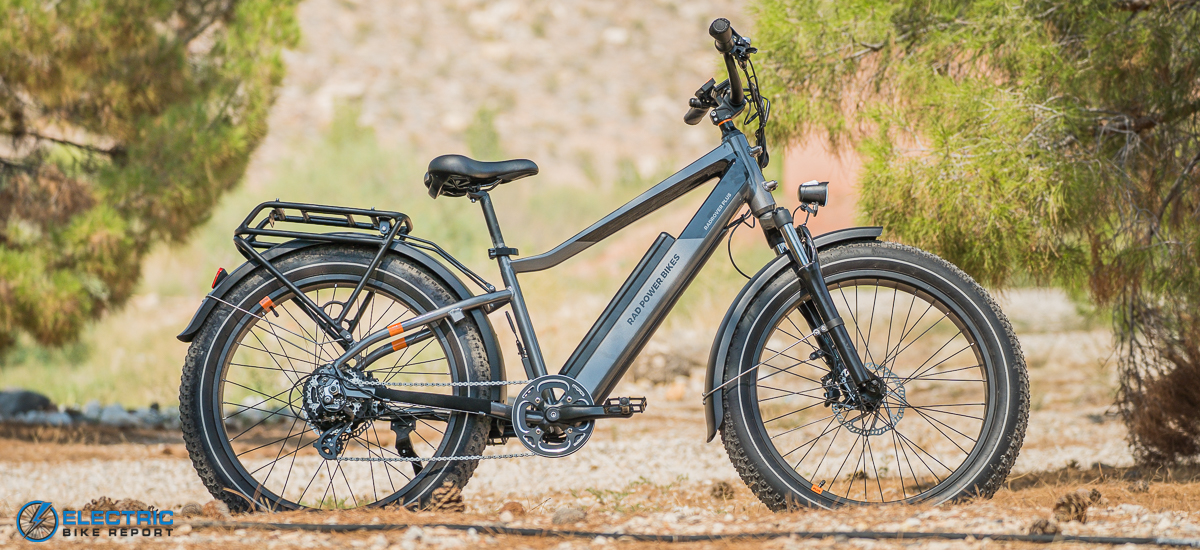 There are plenty of people who live in places surrounded by dirt roads. The Rad Power Bikes RadRover 6 Plus is an all-terrain/fat tire e-bike that is suited to dirt roads and trails thanks to big tires and a suspension fork. It's a terrific choice for anyone looking to explore the unpaved world.
Riding of natural surfaces or roads that have been graded, but not paved, requires a bit more power than riding on pavement and Rad Power does a nice job of giving the RadRover 6 Plus the necessary power by building it around a 750W brushless, geared hub motor. Powering this is a 672Wh battery, good for 50 mi. of range in our testing.
4-in.-wide tires and a 60mm-travel suspension fork will smooth the bumps and ruts in the road, keeping the rider both comfortable and confident of their control. A 7-speed drivetrain and hydraulic disc brakes paired with 180mm rotors make ascending and descending hills an easy affair.
The Rad Power Bikes RadRover 6 Plus comes in two different frame designs, both a traditional design and a step-thru version. We've included this e-bike because the traditional frame edition is on sale and discounted by $700. There's no better way to make something cheaper than to put it on sale, huh? We had to include the Rad Power Bikes RadRover 6 Plus in our collection of the best cheap e-bikes.
Check Best Price | Read Full Review | Watch Our Video Review

Pro's
750W brushless, geared hub motor provides plenty of power for off-road riding
60mm-travel suspension fork will help eat up bumps and ruts
4-in-wide tires offer terrific traction and a very comfortable ride if not overinflated
Rad Power offers a wide array of accessories to kit out your e-bike with necessary racks, baskets and more
The RadRover 6 Plus includes lights and fenders, giving it even greater value

Con's
Having two displays with info instead of one isn't for everybody
Most kickstands rattle when ridden off-road
JackRabbit
The Best Cheap Micro Electric Bike
Sometimes you just need to get from point A to point B in the most efficient way available. And sometimes getting from A to B is too far to walk and parking is too much of a hassle to make the car practical. What to do? Well the JackRabbit is one possible answer, which is why we've included it in our best cheap e-bikes.
Micro e-bikes are simplified e-bikes. That is, they leave out the pedal portion of the drivetrain and use a hub motor as their sole propulsion. By leaving out the crank, pedals, chain and other parts, micro e-bike makers can shrink an e-bike down to clown-car proportions.
The JackRabbit uses a 300W brushless, geared hub motor and a 151Wh battery to zoom riders up to a 20 mph maximum speed and while a 300W motor might seem shy on the power necessary to go 20 mph, the JackRabbit weighs only 24 lbs. In eliminating the drivetrain, one brake and some of the tubing, the JackRabbit weighs less than half what most e-bikes do.
So who is JackRabbit's target buyer? Well city dwellers would be one. Imagine your workplace is 3 mi. from home. That's too far for most people to walk and in a crowded city parking can be difficult and expensive. The JackRabbit is an easy solution. It can cover the distance in minutes and once there can be folded into a compact enough package to make it easy to store.
Range on the JackRabbit is a modest 10 mi., but it recharges in just three hours. These could be really handy at a big college campus or sprawling work site.
Check Best Price | Read Full Review | Watch Our Video Review

Pro's
The JackRabbit has what may be the shortest wheelbase we've ever encountered, making it as maneuverable as a razor scooter
At just 24 lbs. the JackRabbit is light enough to be able to take up a multi-story walkup
Because the JackRabbit is so light, the 300W motor provides plenty of zippy acceleration
The only real limitation on rider size is a taller rider's comfort level; it's compact even when it's not folded
Thanks to peppy acceleration and nimble handling, the JackRabbit comes loaded with smiles

Con's
Having just one brake is okay for someone going 12 mph, but at 20 mph, expect longer stopping distances
Just where the rider places their feet on the pegs is important; toe overlap with the front wheel is possible
Himiway Cruiser
The Best Cheap Electric Bike For Long Range Riding
Making the move to commuting to work by e-bike doesn't have to be hard, the buyer just needs the right e-bike. The Himiway Cruiser makes our collection as our favorite cheap commuter e-bike thanks to its well-equipped design.
No matter where someone's commute takes them, the Himiway Cruiser can cover the distance. Thanks to a 750W brushless, geared hub motor that produces 80Nm of torque, it's got peppy acceleration and the brawn necessary to climb steep hills (looking at you, Seattle).
Should some of the roads be dirt or just bad pavement, the 4-in.-wide tires and 80mm-travel suspension fork will keep the commute comfortable enough to not fear the ride home. Riders worried about range will be reassured by the 840Wh battery which allowed our tester to cover 44 mi.—in PAS 5.
When buying an e-bike with the intent of commuting, there are a few accessories that we think are necessities. A capable commuter will include fenders because puddles, lights front and rear because low light in winter, and a rear rack because lunch, laptop, change of clothes. We like being able to recommend reliable e-bikes that come equipped to make the commute. And if you should want to go exploring on the weekends, the Himiway Cruiser is good for that, too, which is why it made our collection of the best cheap e-bikes.
Check Best Price | Read Full Review | Watch Our Video Review

Pro's
Comes equipped with fenders, lights and a rear rack—the accessories that are necessities for most commuters
840Wh battery will provide plenty of range, a handy thing if ever you forget to charge it
4-in.-wide tires and an 80mm-travel suspension fork provide a very comfortable ride
750W brushless, geared hub motor produces 80Nm of torque, giving it all the muscle it needs to zoom up to speed and climb even steep hills
The black-and-white LCD display is large and easy to read

Con's
Hydraulic disc brakes would be better-suited to this 72-lb. e-bike
Lectric Bikes XPedition
The Best Cheap Electric Cargo Bike
It's a surprise that we can say "cheap" and "cargo e-bike" in the same sentence. That's a new thing, and it's possible thanks to the Lectric Bikes XPedition, which is why it closes out our roundup of the best cheap e-bikes.
The Lectric XPedition fits in the category of what we call compact cargo e-bikes. It's longer than a traditional e-bike, but not by much. Where that extra length comes in handy is for families who would like to be able to pick up a kiddo from school as well as commute to work and make a stop by a grocery store.
Thanks to the integrated rear rack, the Lectric XPedition serves as a versatile car substitute. It can be outfitted with a seat for a passenger as well as foot pegs, or several different baskets for the rider who is carrying less animated passengers.
The 750W brushless, geared hub motor can produce 85Nm of torque, which means it won't have any trouble accelerating up to speed with a passenger aboard. And thanks to a 672Wh battery, it enjoys plenty of range; in our testing, we covered 60 mi. in PAS 1.
For the rider on a tight budget but looking for maximum versatility, the Lectric XPedition is tough to beat.
Check Best Price | Read Full Review | Watch Our Video Review

Pro's
Thanks to an integrated rear rack the XPedition is a remarkably versatile hauler of people and stuff; Lectric offers a number of different accessories so that riders can customize it to their needs
750W brushless, geared hub motor offers 85Nm of torque, making it tough enough to carry a passenger and still make it uphill
Features an easy-to-manage step-thru design and dual-leg, motorcycle-style kickstand to ease loading
Can be ordered with two batteries for maximum range
Has a payload capacity of 450 lbs. making it ideal for both getting a kid and groceries on the same run

Con's
Outfitting it with the necessary accessories adds up, but the overall dual-battery setup with a few add ons is STILL cheaper than most cargo bikes
What we look for in a cheap e-bike
When we look for e-bikes we can recommend to people on a budget, we look for models that right-size their performance to their retail price. It's certainly possible to spend less than $1000 and find a quality e-bike, but it will forego some, if not most, of the more premium features.
Let's take an example from the automotive world: The Hyundai Elantra is no Ferrari. Its acceleration is modest, but it has the pep to make it onto the freeway and past that 18-wheeler. It won't stop in 6 ft., but it can stop in 20 ft. It won't have the sound system of a Lexus, but you won't have any trouble singing along to Taylor Swift. It's got seatbelts and airbags and can turn tighter than any SUV. It's not amazing, but it's good. These e-bikes run along similar lines.
Compared to an e-bike in the $1500-$2000 range, these e-bikes are likely to be spec'd with a motor with a bit less wattage as well as a battery that won't offer as much range. The brakes may feature mechanical disc calipers, rather than hydraulic ones. And it may leave off some of those accessories that we love to see included, like fenders and a rack. An e-bike that tries to include all of the bells, whistles and lights is a sure sign that it has cut corners where it matters—the motor, the battery, or both.
How we picked the best cheap electric bikes:
We have tested every one of these e-bikes, and they all meet our standards for a thumbs up. In deciding just which e-bikes to include we considered the following qualifications:
What is its intended use? We didn't want to include a bunch of commuters, not with such a rich array of options out there. We selected a broad array of e-bikes to meet the needs of nearly anyone who is in the market for a cheap e-bike.
It's cheap relative to what? Some of these e-bikes go for less than $1000 and some run more than that, sometimes by several hundred dollars. We considered not just whether the e-bike was cheap overall, but if it was cheap within its category.
Is it safe and reliable? This was an easy question to resolve because we only picked from e-bikes that we already had positive experiences with.
What did you think about our picks for the best cheap electric bikes? Are there ones we missed that you'd like us to review? Let us know in the comments below!