Best Commuter Electric Bikes 2023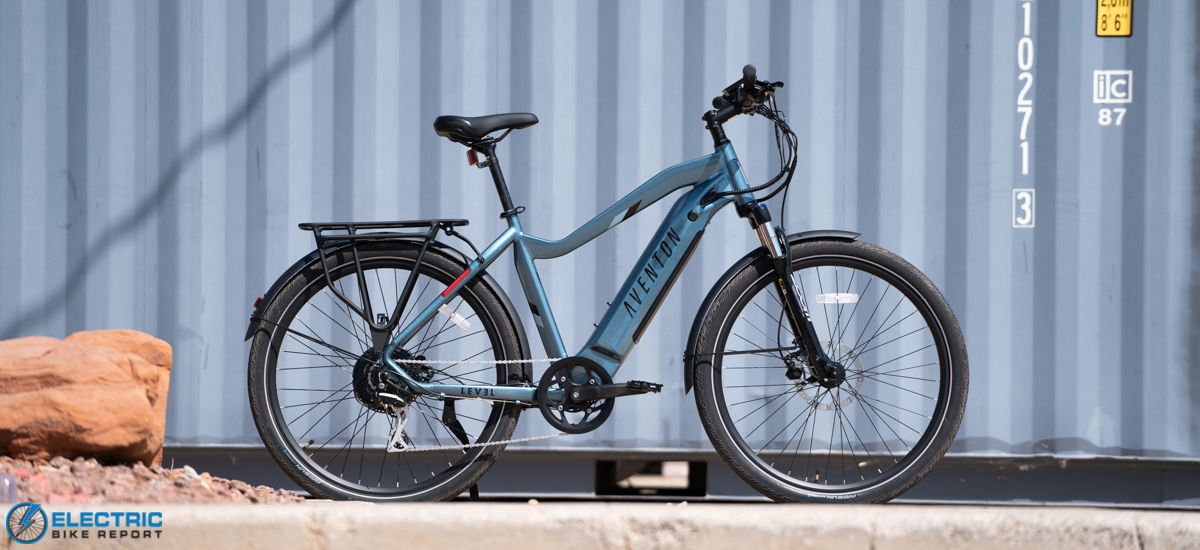 *Electric Bike Report aims to help consumers find the right electric bike for their needs. When you buy a product we recommend, we may earn a commission.
The daily commute for an average person can be a lot of different things. It can be dozens of miles spent in a car each morning and evening; an hour or two on public transit a day; or a myriad of other things. So why can't daily trip from A to B be spent on one of the best commuter electric bikes?
From powerful speedsters and long-haul pedalers to nimble and comfortable cruisers, the team at Electric Bike Report reviewed some of the best commuter e-bikes money can buy in 2023. We've compiled our favorites into a list to help you pick the best commuter e-bike for your needs.
E-bikes are changing the world's relationship with bicycles for the better. They're making the sport — and, more importantly, the mode of transportation — more accessible for more people, making bicycle commuting an increasingly popular choice among those who never considered it before. The commuter e-bikes included on this list will not just get you to your destination without sweating through your clothes, they'll get you there quickly and have the battery capacity to cover far distances with ease. EBR's team of experienced testers have put many of these commuter e-bikes on this list through their paces on our home roads and paths in southwest Utah, but some of these bikes were included on merit alone — their reputations and spec sheets were just too good to ignore.
Because commuting can mean so many different things depending on where you live and work (especially here in the U.S.), we've tried our best to stick to bikes designed with commuting as their best intended use. These bikes are primarily built for pavement, and their motor and battery systems were chosen with speed, efficiency and longevity in mind. If you're looking for a lighter-duty commuter more at home in a bustling urban environment, check out our list of the best city and urban e-bikes — a category closely related to this one. Or, since equipping motors on bikes mean just about any e-bike could be what you commute on anyway, you can check out our best overall e-bikes page for some of the top options regardless of frame style.
Our picks for the Best Commuter Electric Bikes of 2023
Ride1UP 700 Series
The Best Value Commuter Electric Bike, 2023
Built to replace your car on your daily commute, the Ride1UP 700 series is the brand's flagship commuter that offers a lot of bang for your buck.
It's fitted with a Shimano 8-speed Acera drivetrain, Tektro dual-piston hydraulic brakes and the really well performing Schwalbe Super Moto X e-bike tires. At close to the $1,500 mark, that's a lot of e-bike for the money. Powering the 700 Series is a 750W rear hub motor and 672Wh integrated battery. We've spent a lot of time on Ride1UP's bikes and overall we've been incredibly impressed by their power and ride quality — they're super comfortable bikes.
The 700 Series comes with lights front and rear, a rear rack with a 50lbs carrying capacity and a really useful color display. The 700 Series also sports nine different motor assistance levels (five is more typical), which allows you to really fine tune how much the motor is aiding your pedaling. Ride1UP also has a pretty stellar customer service department, which can prove an important factor considering it's a direct-to-consumer company.
This bike will serve the commuter on a budget very well. It's comfortable, well spec'd and backed by a company that stands by its products — not to mention it's just a flat-out fast and fun bike.
Check Best Price | Read Full Review | Watch Our Video Review

Pro's
Ride1UP's 700 Series includes a wide array of quality components when considering its price point
For enhanced visual appeal, the 700 Series' battery is fully recessed in its frame.
The bike features a whopping 9 levels of pedal assistance for a high degree of control and customization over the ride.
With a potent 750W motor, the 700 Series can easily climb hills or handle extra weight on the rear rack.

Con's
The single size frame can leave out some riders. We prefer to see a few size options that span a wider range of rider heights and weights.
Aventon Level 2
Best Class 3 Commuter Electric Bike, 2023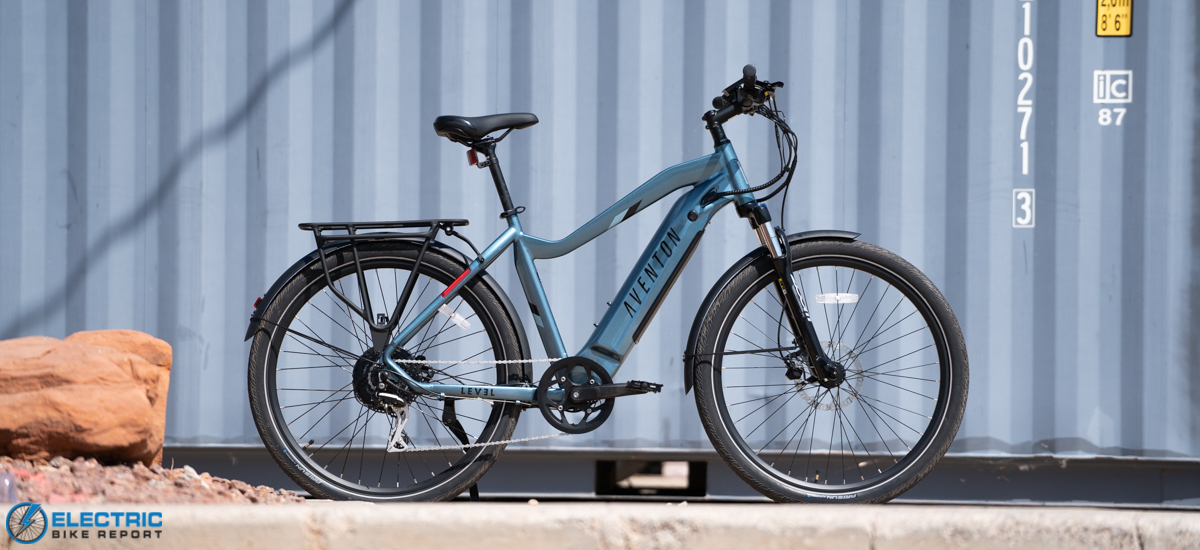 The first iteration of the Level was already a solid choice for dependable, daily rush-hour transport. It offered solid specs and impressive performance and helped solidify Aventon's position as an e-bike industry leader. Aventon surprised us by adding to and improving the solid framework they already had, making the Level 2 a definitive upgrade over its predecessor.
The Level 2 retained the core elements of the original – namely, its overall shape, 500W motor, and 672 Wh battery – but it also made some significant changes. Most notable is the switch to a torque sensor for the rear-hub motor, which resulted in a complete overhaul of the bike's riding experience. This not only offers a more traditional bicycle-like feel, but also helps to conserve battery power – meaning more miles per charge by applying power more efficiently. The Level 2 also received an upgrade from a black-and-white display with a bar-based readout for the battery to one that offers full-color and a more reliable percentage-based battery indicator.
To round out the Level 2's upgrades, some visual design elements were improved as well. The curved frame profiles have now become more sharp and angular, and the bike now comes in four snappy colors instead of just grey.
We did see less punch from the throttle and smaller increments of power increases between the higher PAS levels as a result of the torque sensor and prioritization of battery life, but we feel that the tradeoffs ultimately resulted in a better e-bike. All of the Level 2's standard features make it a fantastic dedicated commuter that we highly recommend for a closer look on the list of best commuter e-bikes.
Check Best Price | Read Full Review | Watch Our Video Review

Pro's
Aventon's decision to swap cadence sensors for torque sensors makes for a more natural, traditional bike riding experience.
The Level 2's battery efficiency also benefits from the torque sensor, and offers increased range.
The new Tektro hydraulic disc brakes offer easier maintenance than the previously included Zoom brakes.
In a sea of boring black, white, and grey paint jobs, it was refreshing to see the four unique colors now offered with the Level 2
We really appreciated seeing the Shimano Acera drivetrain. It's reliable, responsive, and it provides a functional range of gearing.
The Level 2's full-color display is a great upgrade. Not only is it easy to read, but it uses a more accurate percentage-based battery readout and also pairs with the Aventon app.
The contact points are comfortable, but also highly functional – an important combination on a commuter.

Con's
The Level 2's torque sensor helps tremendously at lower PAS settings, but we noticed less-noticeable bumps in assistance from the motor at higher settings.
We appreciated the increase in range granted by Aventon's prioritization of battery life and efficiency, but did notice that the Level 2's throttle felt less impactful as a result.
Rad Power Bikes RadCity 5 Plus
The Best Class 2 Commuter Electric Bike, 2023
We're really big fans of step-thru commuter e-bikes, so we always appreciate seeing the option on an otherwise-excellent high-step model. The Rad Power Bikes RadCity 5 Plus is the latest iteration of their dedicated commuter, which offers both high-step and step-thru frames in addition to being well-specced and comfortable to ride.
The RadCity is a powerful commuter that's economically priced at under $2,000. It comes as a Class 2 e-bike with a throttle and a max motor-assisted speed of 20 mph.The bike is equipped with a 750W geared rear hub motor powered by a 672Wh battery, making for a decent range. We like that the rear rack is sturdier than most. That rack, according to Rad, is strong and big enough to carry a child's seat, so you can take more of the family along for the ride.
We also like that Rad placed a premium on comfort with both models of the RadCity 5 Plus. As a dutch-styled e-bike, it features an upright riding position for high visibility. Its handlebars are ergonomically curved, and thanks to the bike's adjustable stem, the distance between the saddle and the grips can be tailored to the rider.
A hallmark of bikes from Rad Power is their reliability, controlled handling, and user-friendliness. They often are not the speediest or most powerful, but they're not meant to be; Rad Power's models are more like a Volvo instead of a Ferrari. For that reason, we really appreciate the RadCity 5 Plus' performance as a trusty commuter, and are happy to include it on this list.
Check Best Price | Read Full Review | Watch Our Video Review

Pro's
We really appreciate seeing a rear rack that can handle significant weight. The rack's compatibility with the Thule Yepp Maxi child seat is a huge plus.
As expected from a Rad Power bike, the RadCity 5 Plus has great handling and feels super stable.
The bike's 750W motor provides tame but expected levels of assistance through the PAS settings, and can also handle hills with ease.
Rad Power's reputation for reliability and customer satisfaction provides solid peace of mind.
The visual redesign of the RadCity 5 Plus gives it a much more mature and professional look that suits its function.
We were seriously impressed by the NUTT hydraulic disc brakes included on the RadCity. They set a new record in our measured Brake Test!

Con's
While it doesn't detract from the function of the RadCity 5 Plus, the cable management is a bit untidy and conflicts with the otherwise professional aesthetic.
We really liked the new dual displays, but the information on the left screen can be difficult to see in direct sunlight.
Blix Aveny Skyline
The Best Commuter Electric Bike for Style, 2023
For those looking for a more classically-styled commuter, look no further than the Blix Aveny Skyline. We remarked in our testing that the bike's color schemes and overall paint job quality reminded us of classic cars. It's not uncommon to see dutch-style e-bikes with old-school styling, but the Aveny Skyline really brings a refined level of quality to the category.
Its looks may be deceiving; the Aveny Skyline is actually pretty speedy, too. The bike's 500W motor and 27.5" wheels provide quick acceleration, and despite lacking a suspension, it handles bumps well. We noticed that the bike did struggle somewhat on steep inclines, though it still had the torque to get to the top. Overall, the Aveny Skyline's ride is smooth, responsive, and generally what we expected from the bike's design and purpose.
We appreciate seeing features like the Aveny Skyline's integrated rear rack, fenders, and taillights on commuter e-bikes, as these additions really dial them into their function. Blix offers quite a few accessories to expand the functionality of the rack, which is rated for a respectable 55lbs despite its lightweight construction. We do wish the Aveny Skyline had a slightly larger battery; the included 614Wh power source isn't huge in the world of e-bikes, but it does provide decent range regardless.
All in all, the Blix Aveny Skyline holds its own when compared to other commuters on this list, but it stands out thanks to its visual styling and classic treatment.
Check Best Price | Read Full Review | Watch Our Video Review

Pro's
The Dutch-inspired design provides a refreshing option from some of the standard commuter options and the bike's pain job is extra glossy
Thrilling rides each time thanks to a motor that packs a lot of pep
It has an easily rideable step-thru design without sacrificing the extra stability of a top tube

Con's
One-size-fits all means not everybody will enjoy an ideal fit
Ride1UP LMT'D
The Best Commuter Electric Commuter Bike for Speed, 2023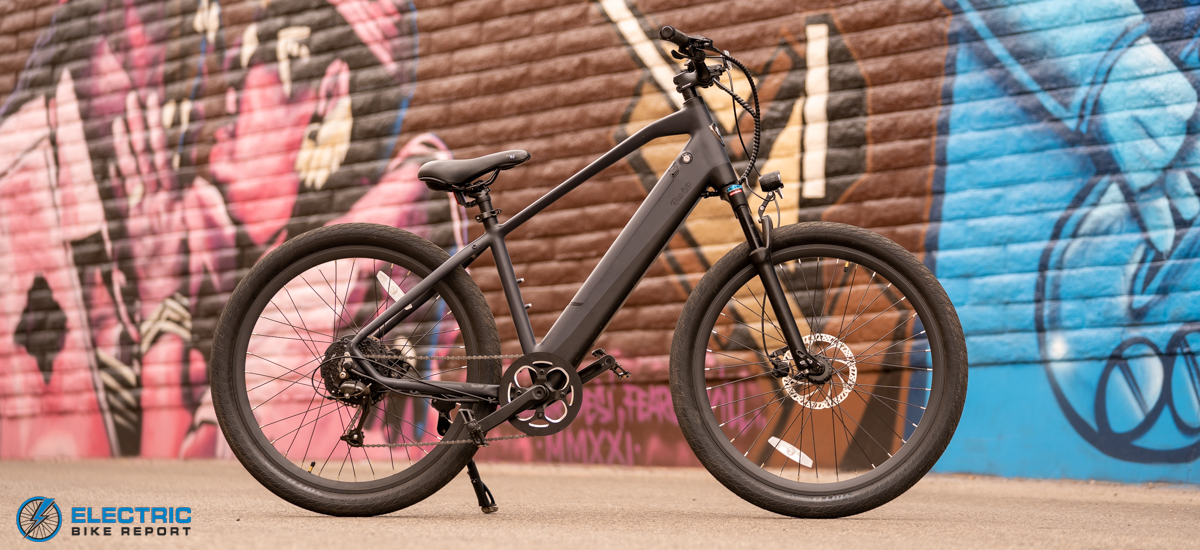 The Ride1UP LMT'D is a bit of an outlier on this list of the best commuter e-bikes. Most offer a full scope of lights, a rear rack, and enough power to handle average hills and moderate distances. Where others might focus a bit more on function, the LMT'D is geared more toward the higher end of performance.
Specs like the LMT'D's 750W motor with a full 100 Nm of torque, a 48V, 672 Wh battery rated for 30-50 miles per charge, an 8-speed drivetrain, and a front suspension fork might easily lead you to believe you were looking at a multi-purpose fat tire e-bike. But as a Class 3 powerhouse, the LMT'D is built for speed, and both its low-profile tires and mindful geometry help to define it as a cosmopolitan-friendly commuter.
See, Ride1UP applied the cost reduction from trimming out typical inclusions like the rear cargo rack and taillights to beefing up the components that drive acceleration, speed, hill climbing ability, ride comfort, and range. They still offer those commonly-seen commuter trademarks, but they're just offered separately. The LMT'D also benefits from a torque sensor on its hub motor, giving it responsiveness similar to a traditional bicycle and increasing the e-bike's range.
We saw solid performance across the board from the Ride1UP LMT'D in our Circuit Test, Brake Test, Hill Test, and Range Test, with our only minor critiques focused on the saddle and left-handlebar-mounted display/interface. Overall, both its specs and performance proved the LMT'D to be a confident and capable e-bike with a lean toward city travel.
Check Best Price | Read Full Review | Watch Our Video Review

Pro's
We always appreciate seeing torque sensors, and the inclusion of one with the LMT'D's 750W hub motor resulted in a natural yet powerful feel.
Our testing supported Ride1UP's claims of a substantial 50-mile range from the 672 Wh battery.
7-speed drivetrains with limited gearing are relatively common, so it was nice to see a Shimano 8-speed system with a wider range.
If an e-bike is going to make use of a suspension fork, something like the LMT'D's air/oil fork with 80mm of travel is the way to go.
27.5" wheels with 2.4" WTB Groov-e tires offer stability and speed with low-resistance and low-profile tread.
A 50-mile range that matches Ride1UP's claim means more/longer trips between charges.

Con's
As a commuter, the lack of a rear rack or fenders removes some functionality, but Ride1UP made some worthwhile trades in power and quality with their absence.
While the full-color display is bright and readable, we'd prefer it to be separate from the controller and centrally mounted above the stem.
Rad Power Bikes RadRover 6 Plus
The Best Off-Road Commuter Electric Bike, 2023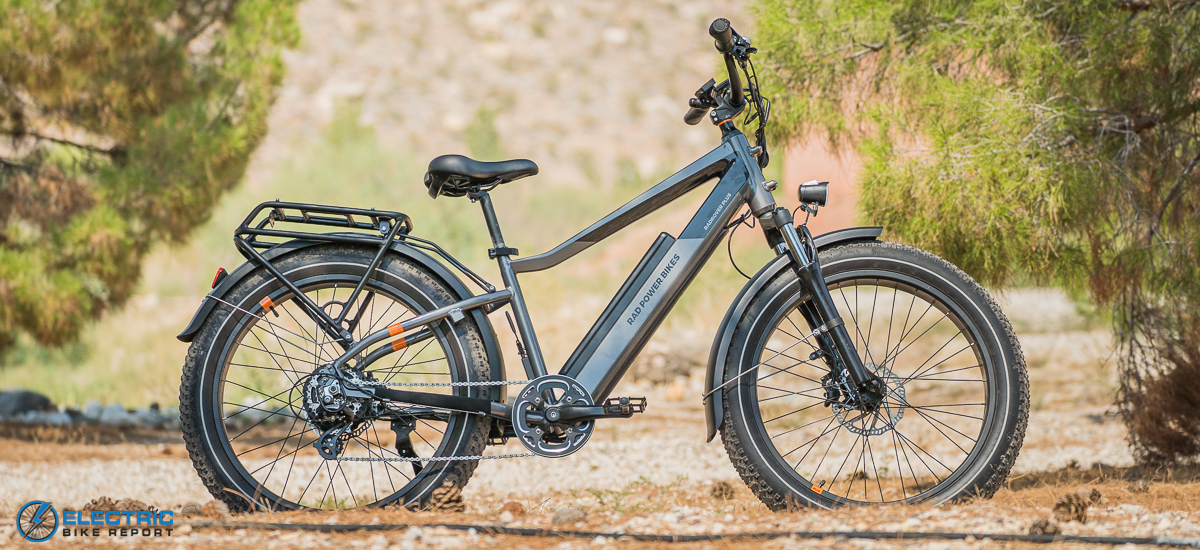 Not all commutes are limited to smooth, paved roads. Additionally, some riders may want greater flexibility from their daily ride when planning to make such a significant purchase as an e-bike. Fat tire e-bikes are a good solution in such an instance, as they generally aim to be more all-purpose machines, capable of handling dirt roads just as easily as paved paths. Of the long list of such models with the potential to cross over into the commuter territory, the Rad Power Bikes RadRover 6 Plus earned its place on our list of the best.
With its Kenda Juggernaut 26×4" tires and RST front suspension fork, the RadRover 6 Plus can handle rougher terrain and bumps, all while offering a smooth and stable ride. The bike's 750W rear hub motor gives it plenty of power for tackling hills and loose dirt, and the 48V, 672
Wh battery provides solid range that can meet and possibly exceed Rad Power's claimed 45 miles.
While the RadRover does not come equipped with a rear cargo rack, it does include stock fenders, a headlight, and a taillight/brake light combo. Rad Power also offers a frankly staggering number of accessories with which a rider can customize their bike to suit their needs.
There's a reason that this is the second Rad Power bike on this list. Each Rad model has a well-earned reputation for being consistently reliable, comfortable, and capable. The RadRover 6 Plus takes a different approach from the RadCity, but still embodies the brand's thoroughly thought-out and tested design approach. With the RadRover, you can cover just about any terrain comfortably, safely, and quickly.
Check Best Price | Read Full Review | Watch Our Video Review

Pro's
As is common with Rad Power e-bikes, the RadRover's 750W motor engages smoothly and predictably.
With two displays, the RadRover's rider has access to more immediately available ride data.
The bike's fat tires and front suspension do a solid job of absorbing impacts from bumps, resulting in a smooth and comfy ride.
We really appreciated the aesthetic upgrades to this latest iteration of the RadRover.
The bike's battery is easy to remove and replace thanks to its semi-integrated design.

Con's
While we love the dual display, the left screen can be tough to read in sunny weather.
The Shimano name lends a sense of quality to the shifter, but we feel that one mounted below the handlebar would be more comfortable and suitable to the RadRover's design.
GoCycle G4
The Best Folding Commuter Electric Bike, 2023
In dense urban areas where space comes at a premium, it may be difficult or impossible to find room for a bulky, full-size e-bike. As such, two-wheeled alternatives to cars or public transit may be completely disregarded as a viable option. To solve this problem, many e-bike manufacturers produce folding e-bikes, which collapse for portability and storage. Some of these are more effective and practical than others, with GoCycle at the front of the pack.
The GoCycle G4 was made to be extremely portable and highly functional. It makes use of a fantastic, quick, and solid folding mechanism, and at just 38 lbs, collapses to a size that is easily carried on a bus or stashed next to a desk. It's also a Class 2 e-bike, with both pedal assist and throttle limited to 20 mph.
While it's true that all folding e-bikes have some compromises, the GoCycle G4 keeps these pretty light. Part of that is due to the bike's abundance of proprietary technology, while the rest is just due to its straight-up excellent design. The G4's aluminum and composite frame, single-sided carbon fiber fork, rear shock, and single-piece magnesium wheels combine to create its highly practical but lightweight frame. It also features a custom 500W G4drive front-hub motor with a torque sensor, which is surprisingly zippy and capable on hills, and a 36V, 291.6 Wh battery which keeps the bike moving for a respectable range considering its size.
And size is definitely what matters here. For those looking for a compact, lightweight machine but who don't want to sacrifice when it comes to performance, we highly recommend the GoCycle G4 as one of the best commuter electric bikes.
Check Best Price | Read Full Review | Watch Our Video Review

Pro's
We couldn't be happier with the G4's folding mechanism. It allows the bike to expand or collapse incredibly fast, and also feels sturdy.
Especially considering its small size, the 500W motor delivers quite a bit of power for speed and hill climbing.
The GoCycle G4 makes great use of materials and overall design to bring the weight down to a manageable 38 lbs.
Its compact nature is deceptive; the bike easily adapts to taller riders.
The 3-speed Cleandrive drivetrain performed well despite being somewhat limiting
The tires are easily accessible thanks to the single-sided fork and folding frame.
As expected, the G4's small wheels and wheelbase make it highly maneuverable.

Con's
While the LED-based indicator is functional, the GoCycle G4 is really best paired with the app for better functionality and accessibility of information.
We appreciated the grip of the tread, but the tires seemed prone to flats (at least in our desert environment). A flat-resistant tube may be a good addition.
Specialized Turbo Vado
The Best High-End Commuter Electric Bike, 2023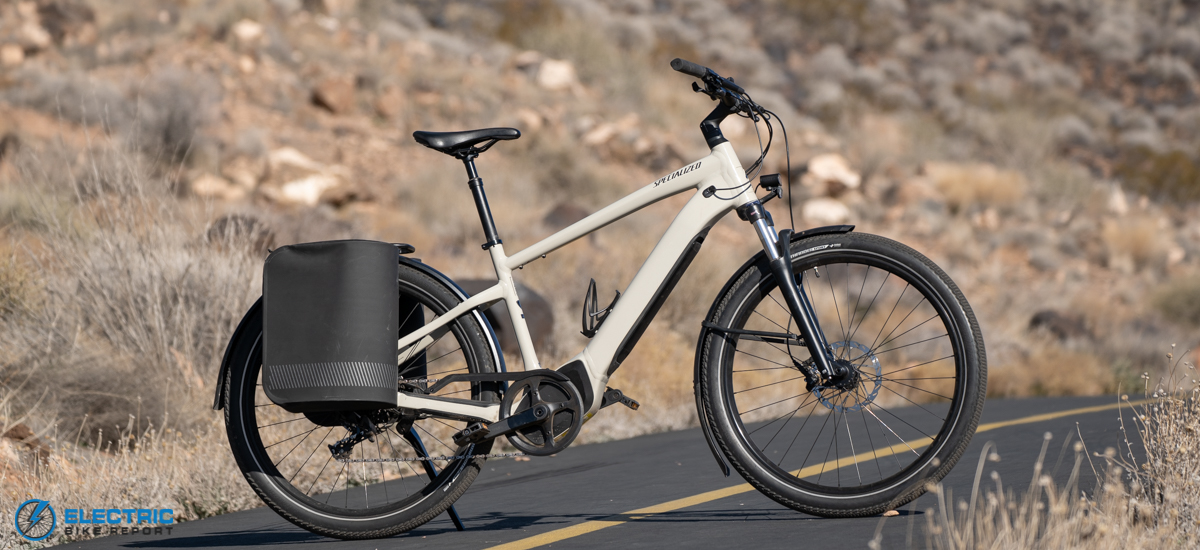 Specialized has a long history of building some of the best bikes money can buy, so it's no surprise that they built an e-bike that perfectly embodies what a commuter should be.
The Turbo Vado 5.0 is Specialized's purpose-built commuter, equipped with the company's specially-tuned 1.3 mid-drive motor that doles out 250W of power. It's a Brose motor that Specialized has given its "Rx Street Tune" treatment that the company says makes it more powerful and efficient than the competitors. Powering everything is a 600Wh battery that's integrated into the frame.
The bike comes with a mixed Shimano XT/SLX 11-speed drivetrain that keeps shifting crisp, even under load, and Shimano hydraulic disc brakes. Efficiency is the name of the game, so while the Turbo Vado comes with a fork, it's a notably short 50mm variation that takes the edge off bumps but doesn't add wasted weight. It's a Class 3 e-bike, so the motor will assist your pedaling until 28 mph but there is not a throttle.
The Turbo Vado 5.0 is the essence of a no-nonsense commuter bike. Specialized is an industry leader in the e-biker world, so their commuter won't disappoint.
Check Best Price | Read Full Review | Watch Our Video Review

Pro's
The full Shimano XT/SLX drivetrain is a workhorse that doesn't compromise on shifting performance or reliability
Specialized isn't kidding when they say their motor might lead the commuter class. They're really, really good at perfecting e-bike power plants
It's an understated e-bike, but still manages to look really nice

Con's
We hope you like black, because that's the only color option for the 5.0. Other spec levels of the Turbo Vado come in other colors
Vvolt Proxima
The Best Tech-Savvy Commuter Electric Bike, 2023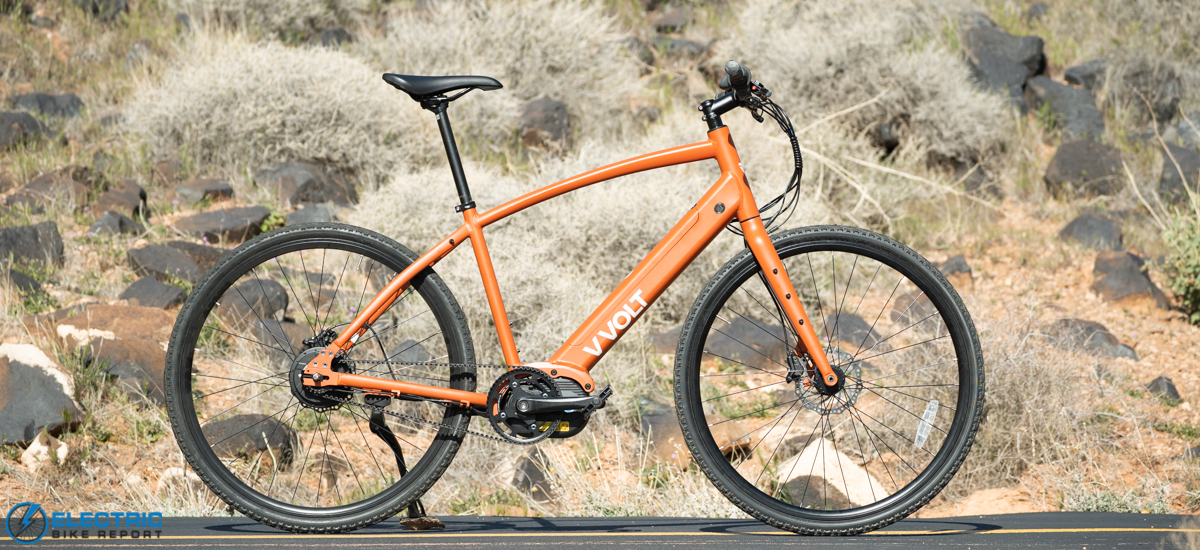 The Vvolt Proxima is an interesting case; like the Ride1UP LMT'D mentioned above, it is a bit of a hybrid in the commuter space. However, instead of focusing on massive power and performance, the Proxima aims for a more refined riding experience that can be expanded to light dirt paths.
This e-bike boasts some truly exemplary features and technology. First, it uses a Gates belt drive instead of a chain, almost completely eliminating the need for maintenance. The belt drives a gearless Enviolo CVT (continuously variable transmission), which allows for near-infinite flexibility in pedal resistance over various terrain. The torque-sensing 250W mid-drive motor results in a more responsive and natural feel than a hub motor, while also providing greater overall motor efficiency and better hill climbing.
The bike ships as a class 1, meaning a pedal-assist speed limited to 20mph and no throttle. For those needing a more dedicated speedster to keep up with morning traffic, Vvolt offers a "Warp Core" upgrade package that unlocks the Proxima to Class 3 pedal-assist speeds of 28 mph. We tested the bike with this upgrade, and found it to be appropriately zippy with motor assistance, and also lightweight enough to function well even without motor assistance.
While we felt a little disappointed by the range provided by the Proxima's standard 36V, 10 Ah battery, we appreciated the bike's aforementioned functionality without motor assistance even more. Also, Vvolt has plans to release a larger 14 Ah battery in the future, which can be purchased separately to extend the Proxima's range.
Overall, the Vvolt Proxima's inclusion of a mid-drive motor and cool, functional tech earned it a spot on this list of the best commuter electric bikes.
Check Best Price | Read Full Review | Watch Our Video Review

Pro's
Despite its 250W classification, the Proxima's MPF mid-drive motor performed well for us on both flat ground and on hills.
We appreciated the bike's low-maintenance, high-end belt drive that keeps pants free of grease.
The Enviolo CVT is high-tech, super functional, and just plain cool. The sealed system also requires very low maintenance.
Vvolt included some nice details in the frame design, such as triple pack mounts on the front fork and a pass-through for the belt in the rear triangle.
It's subjective, but we loved the bike's unique visual design and color.
The Proxima provides solid value with specs that would normally reflect a higher price tag.

Con's
While Vvolt has plans for a larger battery, the Proxima we tested had a relatively small 375 Wh power source with more limited range than some other commuter options.
We found the small handlebar-mounted display to be a little small and tough to read. A larger, central LCD display would bring this up to date.
The Proxima handles well, but its lack of suspension can make bumps stand out.
Denago City Model 1
The Best Entry-Level Commuter Electric Bike, 2023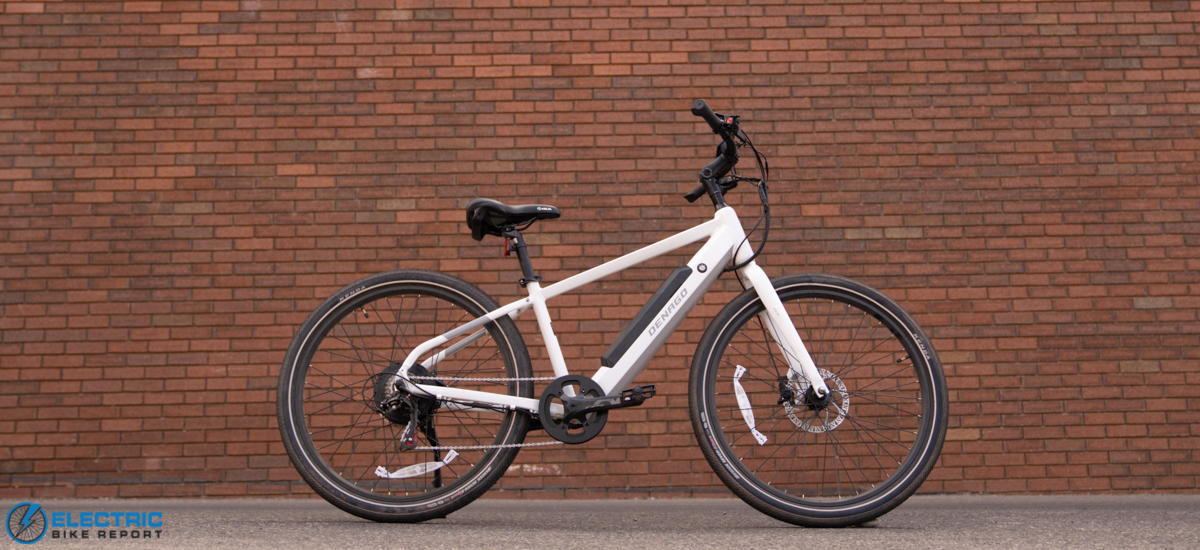 As the first e-bike in Denago's lineup, the City Model 1 needed to make a statement. From the specs and performance of this bike, we learned that its intention was to provide great value by boiling down the essentials of a good bike and starting with highly effective, quality components. This is why the City Model 1 doesn't come with lights, fenders or a rear rack; Denago offers these as optional accessories that can be purchased separately, but placed their focus squarely on building a solid bike first.
The City Model 1 is a Class 3 e-bike with a surprisingly powerful Shengyi 500W rear-hub motor, 180mm Zoom hydraulic disc brakes, and a 48V, 652 Wh battery. To be frank, the motor knocked our socks off, especially considering its relatively low wattage and torque ratings. It felt potent on flat ground but its capability really shined on an incline. We were also impressed by the City Model 1's range; it absolutely lived up to Denago's claim of 45 miles and has the potential to exceed that.
Comfort has also been clearly prioritized by the manufacturer, as the City Model 1 is offered in a whopping three frame sizes. Additionally, to maximize comfort, the bike features an adjustable stem.
For a commuter e-bike around the $1500 range, the Denago City Model 1 provides a solid, affordable starting point that can be added to and expanded to meet the needs of its rider. We highly recommend it even without accessories as one of the best commuters out there.
Check Best Price | Read Full Review | Watch Our Video Review

Pro's
For its size, the City Model 1 punches above its weight class, especially when conquering hills.
Zoom hydraulic disc brakes with 180mm rotors provide excellent stopping power and control.
It's awesome to see a full three frame sizes offered at this price point (two in the high-step frame, one as a step-thru). This makes the bike accessible to a wider range of riders than usual.
The City Model 1 provides a solid, affordable base that can be added to with Denago's range of optional accessories.
Where many commuters place the rider at a more aggressive forward-leaning position, the City Model 1 takes a more relaxed, semi-upright approach.
We appreciated the traction and comfort provided by the included Kenda Quick Seven.5 tires

Con's
It's always great to see a throttle included, but we'd love to see more governance over the throttle's speed with the PAS system.
We understand the tradeoffs between function and pricing, but we'd love to see an upgrade from the Shimano Tourney shifter as long as it didn't affect cost.
FLX BabyMaker II
The Best Single-Speed Commuter Electric Bike, 2023
The FLX BabyMaker 2 may have a silly name, but it takes its job seriously. This stripped-down, Class 3 commuter emulates the style of traditional fixed-gear (or "fixie") single-speed bicycles and is made to navigate the crowded streets of cities during rush hour.
Along with a few of the other commuter-focused electric bikes we selected for this list, the BabyMaker 2 is lacking some of the trappings that are commonly thought to define a bike in this category, such as a cargo rack and lights. That stripped-down characteristic is a core element of a fixie; they tend to be no-nonsense machines that are completely dialed in to their purpose of getting a rider from point A to point B. They also tend to be pretty fast, and the BabyMaker 2 lives up to that expectation.
The BabyMaker 2 is incredibly lightweight, at just 35 lbs. This, in combination with its 350W rear hub motor and Kenda 700x28c tires, gives it fast acceleration and great maneuverability on paved surfaces. The Gates belt drive keeps it quiet, mess-free, and super low-maintenance. While the 36V, 10 Ah internal battery doesn't provide extensive range, the 45 miles we saw in our testing is considerable in the grand scheme and still likely covers a majority of daily commutes. Plus, the bike is light enough to pedal without battery power if needed.
We would normally knock a bike for including brakes that don't feature a motor cut-off switch, but in this case, it's a bonus. The fact that the BabyMaker 2's rider can keep pedaling at low speeds while applying the brakes means it has better overall regulation and control for maneuvering in traffic. This is another way that the bike emulates the feel of a fixie, despite taking a completely different approach.
We think the FLX BabyMaker 2 has a ton of appeal for downtown dwellers who need a straightforward, lightweight, and speedy way to get around. But in case this barebones bike is too basic, FLX does offer a pretty substantial range of accessories to transform the BabyMaker 2 into something more expected from a commuter.
Check Best Price | Read Full Review | Watch Our Video Review

Pro's
At this price point, e-bikes don't get much lighter than the BabyMaker 2's 35 lbs. This makes it easy to carry and maneuver, and also quick to accelerate.
While not massive, the 45 mile range we saw from the bike's 360 Wh battery is more than ample enough for practical daily use.
The Babymaker 2's included Gates belt drive is clean, requires little maintenance, and is long-lasting.
With no motor cutoff on its brakes, the Babymaker 2 can be pedaled while slowing, offering better control and handling in traffic.
The bike's sensitive cadence sensor makes for highly responsive motor input.

Con's
The bike's minimalistic display coincides with its stripped-down fixie style, but some details like the battery readout can be tough to read.
While the bike comes in two frame sizes, the high step-over height on the small/medium version may be a bit too tall for shorter riders.
Best Nontraditional Commuter Electric Bikes
One thing that's true about e-bikes: they open up the capabilities of most any bike style to fit it to your personal needs. With that extra help from the motor and battery providing you higher speeds, and the ability to sail up hills, you can make an argument for most any e-bike being a capable commuter. With that in mind, you can check out our page where we listed all of our best e-bike of the year nominees.
However, If you're looking to break the mold and commute on a bike that's contrary to the definition of a commuter e-bike, we do have a few specific suggestions:
The Electric Bike Company Model Y. It's a souped-up beach cruiser that can handle Class 3 speeds, boasts an optional battery upgrade that gave us over 80 miles of range when we tested it earlier this year and tops our list for best cruiser e-bikes.
The Aventon Aventure 2 fat-tire e-bike. It's built mostly for backroad exploring, but it's stable build, comfortable ride and impressive carrying capacity make it great for urban commuting. It's also on the top of our list of best fat tire e-bikes.
How we picked these bikes
There's no such thing as the perfect commuter e-bike. There are just too many factors to consider; too many different things that each person needs for their daily commute. But there is such a thing as a really, really good commuter. We're here to help you find that bike.
Many of the bikes on this list we've ridden and know very well, but there are others that we've included purely based on their design characteristics and components. The bikes we test are put through a number of assessments including a hill climb, a timed circuit and braking tests to get a feel for how they actually perform in the real world. Our team of testers then puts their heads together to compare notes and opinions.
To make this list, we evaluated commuter e-bikes based on a few key criteria, mainly:
Range: The average commute in the U.S. is about 15 miles one way, so a good commuter should be able to go twice that distance (you've got to get to and from work, right?) on a single charge. So a minimum 30 mile range.
Speed and power: Commuters should be fast, so every bike you'll see on this list is a Class 3 (speed pedelec) e-bike with a top speed of 28 mph. They also need to have enough power to get you to and from your destination without breaking much of a sweat. Some of these bikes come as a Class 3 and others can be turned into a Class 3 by changing some settings.
Comfort and efficiency: A commuter bike, at least in our opinion, should feel something like sitting on a well-balanced eMTB. You should be comfortable enough to show up at your destination without lower back pain, but in an efficient enough body position that your pedaling actually gets you somewhere.
Components and extras: Does it have Bluetooth to connect your phone? Will the bike help you navigate, carry your groceries home and does it have good lights? If that sounds like we're describing extras that make a good car, it's because we kind of are. Commuter e-bikes are made to replace cars, so they should have some of the same features.
What does the manufacturer say it was built for? This may sound obvious, but it's actually not. E-bike categorization is nebulous at its best and downright nonsensical at its worst. But e-bike manufacturers do their best to describe the best intended use of their bikes, so we take that into account. We sometimes break from their definition in categorizing bikes for our best lists, but not always.
This is not an exhaustive list. Far from it, actually, especially considering one person's daily commute can be wildly different from the next. What this list is, is a catalogue of some of the best dedicated commuter e-bikes according to the EBR staff's collective expert opinion. Does that mean you can't commute on an eMTB or an electric cruiser? You absolutely can, it all depends on what you want from your commute.
Bottom line: Pick a bike that matches your commuting needs
There's an adage in the cycling world that there is no one bike that's perfect for everyone, but there is the perfect bike for each person. Remember that when you're shopping around, especially when it comes to commuters.
From coast to coast, what constitutes a daily commute varies wildly depending on where you live. A commuter in west Texas, for example, is going to need something much different from their commuter e-bike than a person in Portland, Maine. The most important thing to do before buying a commuter e-bike is to really think hard about what you want your bike to do. The former bike salesman in me wants to say that the only way to answer that question is to go ride as many e-bikes as you can — that's a partially useful answer, as many of the bikes on this list are sold in brick and mortar bike shops, but it's not entirely good advice considering many, many e-bikes are sold direct to consumer. It's entirely likely that the best bike for you can't be ridden until you buy it and it's shipped to your door. If that's the case, research is your best friend. Our bike reviews are useful resources, and if you're a newbie to e-bikes we've got a handy guide that'll help you get started.
If your commute is dirt heavy, or might even involve some light trail riding, it might be worth checking out some eMTBs or electric gravel bikes. The commuting category is so broad, we've even broken out a separate best list for lighter-duty commuters more at home in dense urban environments. Whatever your commute may be, an e-bike of some sort is likely your best alternative over a personal car or public transit. They'll get you where you need to go, no matter what's between you and your destination.
Have a bike that you think would be a good contender for our best commuter electric bike page? Let us know in the comment section below. At the very least, we always want to know what our readers are riding.
Reader Interactions