Electric Bike Company Model R Review 2020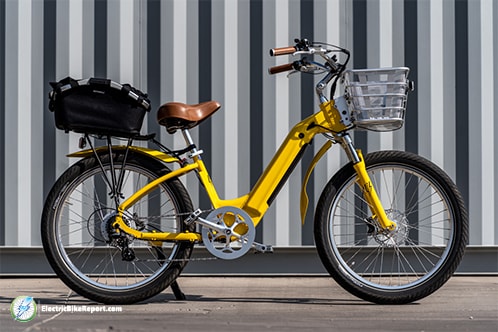 Summary Review: Electric Bike Company Model R
The Model R by The Electric Bike Company is their "Rugged Enduro" model built for those who are wanting a hybrid ebike that rides like a comfortable beach cruiser even when going off-road on gravel and bumpy roads/paths (we'd also recommend adding the optional seat suspension for added comfort). It also would be a good commuter bike given the great options for front basket and rear cargo rack options.
The team at Electric Bike Report put over 100 miles on various trails and paths during our review of the Electric Bike Company Model R, and have to admit that we really love this bike! The best way we can describe the bike is it feels like a classic upright beach cruiser that has had a front suspension and (optional) seat suspension added for off-road comfort.
The Model R isn't a small bike, and it feels a little larger than the Model C. However, given the step-through design and powerful, high quality motor that comes included, you don't really notice the size or weight of the bike while riding at all. In fact, we felt that the Model R handled really well in our tests and was a ton of fun to ride. One of our team members described it well when she said the bike is like a large, luxury car: it moves along smoothly and almost floats when at speed. It isn't super nimble on tight turns given that it's a cruiser style bike, but otherwise rides really well.

Bottom line, we loved the bike and how it's built with very high quality components and fully painted and assembled 100% here in the USA. From the motor/battery to the brakes, this is a very well-built ebike. And given that you can fully customize this bike with whatever color you want (literally), we think there are a lot of consumers who are going to love this model.
eBike Category: Hybrid City Cruiser (City + light off-road riding)
eBike Class : Class 3, Pedal Assist and Throttle to 28mph
Pros:
Very comfortable riding ebike. We really like the front suspension and highly recommend adding the seat post suspension as well. The combo of the two really makes this bike feel comfortable both on and off road (gravel roads, easy trails, etc.)
Powerful motor. We had no problem riding this up steep hills and love the high quality motor.
Made in the USA! Electric Bike Company builds as much of the bike as possible and paints everything here in the USA.
FUN! You can design your bike to be a 100% custom design. You can even send over any pantone paint color and they can match that color for the frame, fork, chain guard, rack, basket, or battery case!
Very high-quality, 4 piston brakes (Tektro Dorado), with thicker brake rotors than many others (2.3mm).
Color LCD display
Stainless steel, rust resistant bearings and wheels.
Durable. EBC really focuses on quality of parts and durability. For example, their frame is over 3mm thick in almost all areas and their motor is built to last over 18 years.
5 year warranty on the battery!
Large front chainring with optional 7-speed drivetrain upgrade makes pedaling easier and powerful.
Cons:
We'd love to see the seat post suspension standard like the front fork, as the suntour seatpost makes the ride much more comfortable off-road.
With its cruiser-style geometry, it can be a little hard to navigate sharp, tight turns. However, the cruiser geometry also makes it very comfortable for those looking for an upright style ebike.
Model R Electrical Specs & Features
Battery: 48V 11.6Ah (14Ah optional) lithium ion battery (5 year warranty)
Display: Color display, multi-level, compact with USB outlet
Motor: Rear Hub motor, 1250W max output (10 year warranty)
Lights: Front and rear lights, battery integrated, controlled via LCD screen
Pedal Assist: 5 levels
Range: 40 – 80 miles depending on battery option and assist level used
Throttle: Thumb throttle
Model R Components & Accessories
Brakes: Tektro Dorado E-530 180mm hydraulic disc brakes, motor disconnect
Fenders: Optional upgrade, various color options
Fork: Suspension fork, paint matched, with preload and lockout, 80mm travel
Frame: Aluminum alloy 6061 hydroformed, 3mm extra thick low-step frame; 3 stock colors: red, white, black; 24 custom color options
Freewheel: 18T cog for medium to hilly terrain
Gearing: Single Drivetrain standard; upgrade to a 7-speed.
Chainring: 56T chainring, 170mm forged alloy cranks
Grips: Locking hand stitched leather; aluminum secure ends for non-slip
Handlebar: Aluminum cruiser bars
Saddle: Custom leather 300x300x100mm thick high density foam with bumpers
Pedals: Aluminum, integrated bearing pedals, non slip rubber along perimeter
Tires: Custom Electric Bike Company Rhinoceros 26″ x 3″, premium puncture resistant technology, rated for 50km/h
Model R Weight & Dimensions
Rear height: 27.5"
Handlebar width: 27"
Seat tube to headset: 15.7"
Seat clamp to crank: 27.4"
Seat clamp to ground: 27.4"
Wheelbase: 48"
End to End: 76.4:
Rider Height: 4'6" to 6'8"
Max weight: 380 pounds
Bike weight with battery: 56 pounds
Performance Review
Acceleration/Speed
With up to 1250 watts of power being delivered through it's high quality motor, the Model R accelerates quickly and smoothly. During our test rides we averaged anywhere from 17.7 to 19.5 mph, and all of us agreed the Model R feels very comfortable at even higher speeds of 20-28 MPH. I got up to 35mph going downhill, and felt very comfortable even at those speeds. The 3" tires had more than enough traction and width to support the bike at all speeds tested – we didn't peel out or have any wheel-spin issues.
The bike itself only weighs 56 pounds, but if you add the rear rack, front basket and any gear, it will creep above that. We've loaded ours with a bit of extra weight, but it accelerated quickly with good response time even when loaded with cargo and a 220lb+ rider.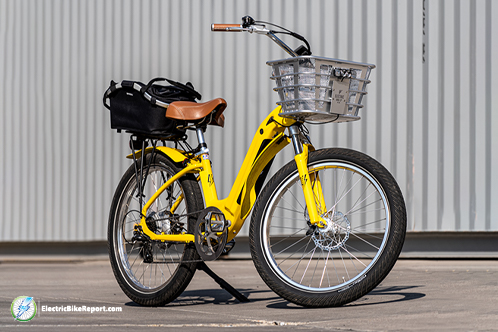 Shifting / Gear Range
We found that the Model R shifted well with the optional 7-speed drivetrain. We did have to adjust the derailleur a little bit out of the box, but after adjustments the bike shifts really well. We found when riding flat or downhill roads the gears had no problem shifting. When going uphill, you do have to focus a little bit more and shift when torque is low (i.e. you're not pushing too hard on the pedals or throttling too much) and speed is consistent. This is pretty standard for this level of gear set (Shimano Acera).
One really nice bonus that you get with the Model R is an oversized, 56T front chainring (56T means there are 56 individual 'teeth' on the chainring). This is larger than most other ebikes, and we really appreciated the extra size. Essentially, a larger front chainring gives you more power as you pedal. This makes pedaling harder, similar to pedaling in a higher gear. However, given that you have a motor with an ebike, we've found that an oversized chainring helps to make pedaling easier, especially at high speeds.
Although we opted for the 7-speed upgrade, the Model R is well powered enough that we didn't have to drop gears to get up hills. The motor really kicks in when you need it, so even just using the throttle alone we were able to tackle most riding. Uphill in the sand may be a bit tricky, but we had a hard time finding a scenario the Model R couldn't tackle. We suspect the single drive system without gears would work just fine — and you avoid the hassle of dropped chains or other issues with the drivetrain.
Handling (cornering, slow speeds, etc.)
The Model R handles really well at both low and high speeds. As we've mentioned, it really feels like a large, luxury vehicle that floats on the road and is a joy to ride. We found the bike to handle very well going up and down roads, and even turned corners better than expected given the beach cruiser geometry.
Of course, the more upright, cruiser-style geometry of the bike does limit the maneuverability a little bit and makes navigating tight corners and small spaces more difficult than wide sweeping turns. There was one point where I did have to get off the bike and do a 2 point turn to make a tight corner turn.
Comfortability
The Model R is supremely comfortable and this is where the bike shines! The more upright, cruiser geometry is very comfortable and doesn't put a lot of stress on your neck, arms, or shoulders. The stitched leather grips are soft, the seat is wide and padded with elastomer bumpers underneath. Even the pedals are large so your foot doesn't bend around the pedal. I rode the Model R for nearly 40 miles and comfort was never an issue.
Stopping
The Model R has excellent brakes – which is a big deal for us here at EBR. The Tektro hydraulic disc 4-piston brakes provide precise stopping power. There is motor disconnect, so the motor automatically shuts off whenever you hold the brake lever — this way you don't waste motor power while braking. The Tektro brakes on the Model R allow you the option of climbing higher and riding faster since they are responsive and strong enough to stop the bike as needed. You can read more details about the break below for those wanting a deeper dive into why the bike stops so well.
"Parking" / Moving Around the Garage
The Model R is a long, average weight ebike and you won't want to use Walk Assist or the throttle in your garage — so navigating tight spaces like this takes a bit of forethought. We had to get our Model R out of an office doorway, so I had someone hold the door for me while I rolled the bike out. When navigating a garage, or parking your bike, take the necessary precautions depending on your space.
Range Test
At Electric Bike Report we've conducted range tests on all the Electric Bike Company models we've reviewed. In reviewing the Model R, we have put just over 100 miles from 4 different riders ranging from just over 100 lbs to just under 240 lbs.
You see the data from Justin below (5'11 and 170 lbs), and his data was fairly representative of the teams. For the range test, we put the bike on the highest assist level (5) and basically tried to kill the battery as quickly as possible. In other words, how far we were able to ride with assist is the minimum range you can expect from the bike. Of course there are different factors that come into play here, such as wind, rider weight, the amount of grade in the road up and down hill, etc. – so just keep that in mind.
Overall, we got between 19.5 and 23.48 miles over an elevation gain of approximately 1000 feet, which is exactly what we would expect from a 11.6 Ah battery. If you do have the budget, and are worried about being able to go far distances, we highly recommend upgrading the battery. EBC even offers a dual battery system that can go UP TO 180 MILES! Yes, it costs more, but that is just amazing.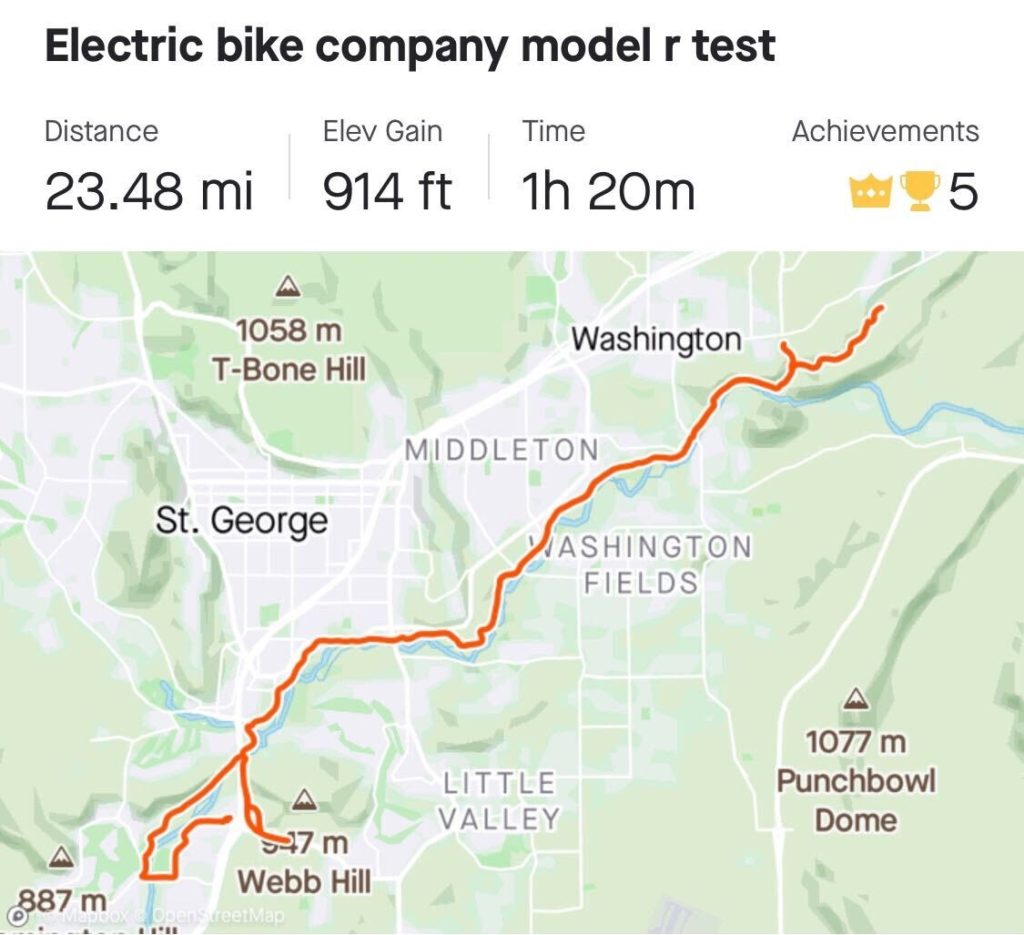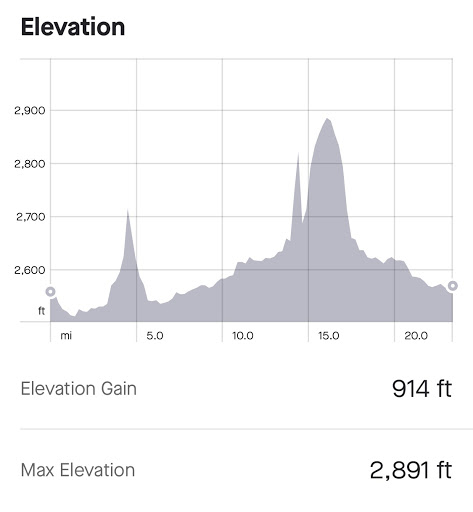 Spec Review
Electrical Features
Battery
The Electric Bike Company Model R has a 48volt integrated battery, but when fully charged ours reads 53 volts. We love the way the battery is tucked into the downtube and out of the way. This keeps the frame streamlined and simple and also makes it easier to get on and off the bike. The paint matched frame and accessories keep it chic so casual observers may not even notice it's an ebike. You can add an additional battery which is tucked under the front basket for extended range. EBC offers four different battery options. EBC also includes an impressive 3.5 amp charger with the Model R which is much more powerful than the standard 2 amp chargers we see with many electric bikes.
Display
The display is mounted in the center of the handlebars and not removable, which leaves it subject to outdoor conditions – but it won't get stolen. The display is a good size and easy to read (even in bright light). I love the large digital numbers. The control switch is on the left handlebar so you can reach it with your left thumb without having to take your hand off the handlebar. The main display shows: Speed, Battery level (4-bar graph), Battery voltage, Ride Time, Trip Distance, Outside Temperature, Assist Level, and Motor watts. The handlebar control has just three buttons: Up arrow, Down arrow and a Power button in the center. You turn the lights on and off via the handlebar control. The Display also shows the motor inhibitor symbol whenever you tap the brakes so you don't run the motor against the brakes. The display also includes a USB port for charging a phone or other device while riding. The display is placed just above the basket (if you add one), so any device can sit at the bottom of the basket while charging.
Motor
The Model R features a rear hub motor with 1250 watts of power. EBC covers this with a full 10-year warranty. The Model R is listed as a Class 3 bike with both pedal assist, thumb throttle and max speed of 28mph. We did find the throttle maxed out at 20mph, but we were able to get pedal assist to support speeds up to 25mph with ease. The motor creates a whirring sound that is louder when in higher assist levels — especially when going uphill. However, it isn't irritating, just noticeable.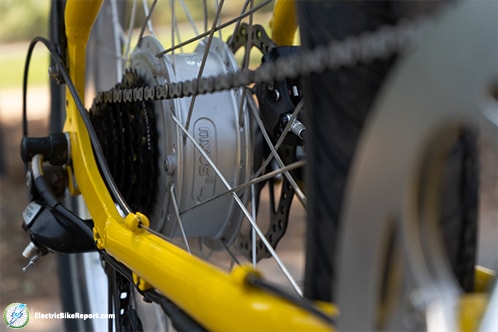 Lights
The lights are automatic, so they will turn on whenever you power up the bike. Both lights are battery powered and controllable via the handlebar control. The headlight is bright enough to make you more visible during the day and light things up at night. The headlight is attached to the front basket and not the handlebar stem, so the light doesn't turn with the handlebars. This takes a bit of getting used to, but it's better if your basket is loaded with cargo — you don't shift all the contents around when steering. Occasionally it feels weird to have the light facing a different direction than the handlebars, but you get used to it. The headlight can be turned off on the handlebar control. On our test Model R, we had three "rear" lights. One is attached to the rear rack that we added as an option. The other two were mounted on either side of the rear rack up under the seat post. These make you much more visible in traffic and on trails. Both the white front light and red tail lights are LED.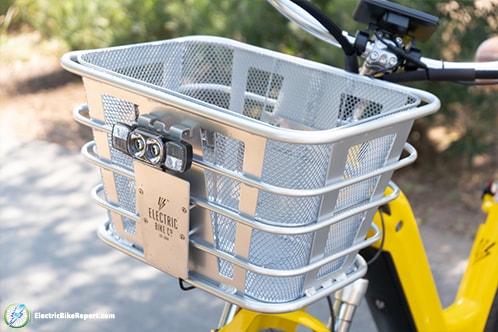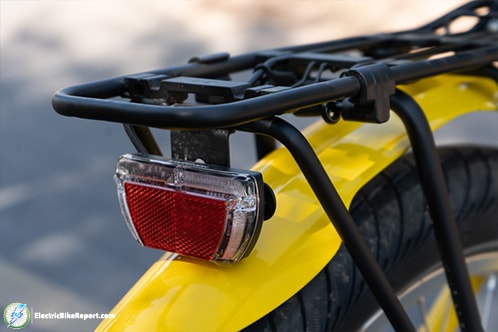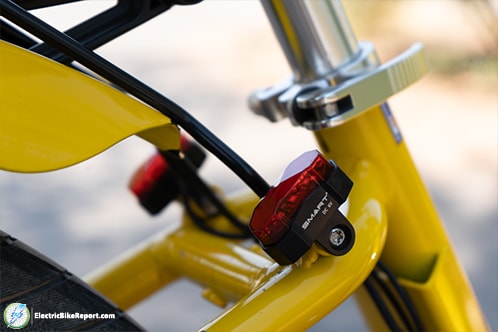 Pedal Assist: 5 Levels
The Model R uses a cadence but not torque sensor, so it provides good assist when pedalling, but there can be a short delay when you first begin to pedal before the power kicks in (it takes about a ⅓ of a pedal for the assist to kick in). We found this to be an issue only when starting from a full stop in a high gear. The throttle helps a ton here to get things going.
We used Assist levels 4 and 5 the most. When in level 1 or 2 I still had to do a bit of pedaling, so if you want a light, quick ride, anticipate using the higher assist levels more often. Level 3 provides enough assist to get you where you want with added pedal power. We'll go into more detail in our range test section about the assist levels and range breakdown.
Throttle
The Model R has a thumb throttle on the handlebar that is easy to press down and hold. My thumb didn't get tired even when using the throttle for long rides. The throttle roughly matches the assist speed (if you're set to assist level 3, it will take you to about 12mph), and it cuts out at 20mph when in assist level 5. Select assist level 0 to turn the throttle off — this is a very nice
safety feature. Bikes with a permanently hot throttle can be tricky when in walk mode or navigating in and out of the garage.
Model R Components & Accessories
*Note Electric Bike Company builds as much of the bike as possible at their facility in California. Almost no bike parts are currently manufactured in the USA, but EBC paints everything and assembles everything here. This means your bike is being assembled and checked for quality in the USA before being shipped directly to you.
Brakes
EBC has added Tektro Dorado Hydraulic Disc Brakes to the Model R. These have a 180mm rotor and 4-piston calipers. In fact, Electric Bike Company worked directly with Tektro to develop these breaks with a wider than normal rotor (2.3mm). This extra width gives you even more stopping power and makes you feel very comfortable and safe.
Even though this is a heavy bike and it can sail along at an easy 25mph, the brakes are impressive and instantly responsive in various conditions. The brake levers are four finger with a safety ball on the end to keep your hand from sliding off. The brakes on the Model R make it so you can actually ride how and where you want to without worrying that the bike is going to sail out of control.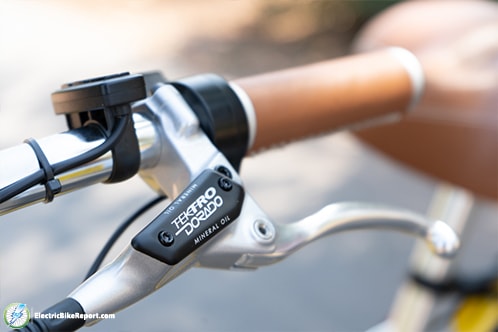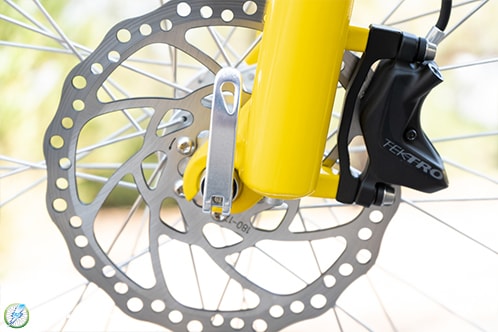 Fenders
Fenders are an optional upgrade, but you can see we added matching yellow fenders to our Model R to match the frame color. You can get white, red or black fenders as an add-on (for the stock bike), or custom match them to your frame like we did (for an added charge). The fenders are a must-have for protecting your clothes and gear while riding. The rear fender is attached to the seat post, so when you raise your seat the fender lifts gently as well. This keeps it from resting down and rubbing against the top of the tire. Fenders have reflective mud flaps at the ends.
The one challenge we have with the fender is that because it attaches to the seat tube, if you are making more than just a slight adjustment to the seat height, you have to also adjust where the fender attaches to the seat tube. Not a huge deal, but something we'd love to see improved on going forward.
Fork
The Model R includes a suspension fork with 80mm travel. The suspension fork on the Model R really makes it so you can tackle that off-road terrain without getting bumped off the bike. The suspension is both lockable and adjustable so it can be locked out if you plan to ride around town — or adjusted for different weighted riders. This makes the Model R much more comfortable to ride and is especially handy for larger riders or when your bike is loaded with cargo – you can adjust suspension as needed.
One other note – if you are looking for a smooth ride, then we can't recommend enough getting the suspension seat in addition to the front fork. It really does make riding over bumps a lot easier on your body.
Frame
One area where The Electric Bike Company bikes really stand out is frame design. Unlike other direct to consumer manufacturers, the EBC uses some parts from China, but all bikes are assembled and customized in Newport Beach, California. The frames are extra thick at 3mm instead of 1 ½ mm on other e-bikes. These are aluminum alloy 6061 hydroformed frames with smooth joints. The frame comes in white, black, and red as the standard color options, but you can upgrade to any of the 24 customizable colors or even send in whatever pantone color you want for about $400 more. The fenders, chainguard, front fork, and front basket can all be painted to match your frame color for no additional cost (beyond the initial $400 price jump).

Drivetrain
The Model R uses an 18T cog which supports riding in medium to hilly terrain. This comes standard as a single speed, but you can upgrade to a 7-speed Shimano Acera drivetrain (which we did). The chainring is 56T with 170mm alloy cranks. The single speed provides plenty of riding power; it may feel a bit heavy going uphill, but on assist level 5 the bike has plenty of power. The chainring is protected by a paint matched chain guard.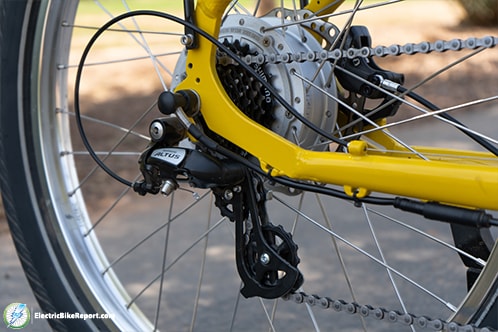 Grips and Saddle
The grips and saddle match. You can select either black or tan with hand stitching for an added touch of glamour. The grips are locking and feel comfortable in your hand. The saddle is extra wide, padded, and has two impact control bumpers underneath to absorb some of the shock from bumps or bounces in the road.
Handlebar
In keeping with the upright positioning that amplifies handling, the Model R has raised, 27" wide handlebars. But don't be deceived, this bike can do much more than cruise to the beach. The handlebars and saddle allow for an ergonomic riding position that is more comfortable and better on your spine and hips for longer rides. The handlebar span is wide and you have to turn the wheels slightly when moving through tight spaces, but it's not inhibitive. The adjustable handlebar stem also allows for adjustments in height and angle of the bars.
Pedals
These are flat, aluminum pedals with non slip rubber cleats along the perimeter of the pedal to hold your shoe from slipping. You can wear any athletic shoe or even a sandal with these pedals. They may not be the most comfortable for bare feet, but certainly there are Californians who ride this way.
Kickstand
The kickstand is sturdy and supports the weight of the bike well. It is placed close to the pedals, so if you pedal in reverse pedal lock can be an issue — just be aware and avoid it. I love having a kickstand on a commuter or cruiser so you don't have to lay your bike on its side or rest it against something when running into the cafe real quick.
Tires
Electric Bike Company has gone all out with these tires. Since this bike is designed to handle both city roads and off-road riding, finding the right tires could be challenging. 4" tires would be too wide for city streets but 2" tires wouldn't tackle the rougher terrain. Electric Bike Company produced a tire made using similar technologies found in Continental's E-55 tires. The 3mm Rhinoceros puncture resistant 3" tires on the Model R give it extra prowess so you won't have to avoid the fun stuff out of fear of flats.
Bike Size
There is only one frame size on the Model R, but you can lift or lower the seat post as needed and adjust the angle of the handlebars on the handlebar stem – so even smaller riders can make the Model R work great. The bike weighs 56 pounds and you can feel it when tackling steep hills or riding on a lower assist level. But the Model R will support an impressive 380 pounds of combined rider/cargo weight. The rear rack will support 55 pounds of cargo and the front basket is sturdy and reinforced as well. This is a great bike for riders of all sizes who love adventure and want to take lunch with them.
Summary Review / Where to Buy
The Model R by The Electric Bike Company has a base price of $2199. While this does break that $2000 threshold, you are getting a lot of bike for your money on the Model R. It is a good value for the build and spec – and it's made in the USA as much as possible. The suspension fork, rear rack, integrated lights and upgraded brakes all add a lot of value to the Model R. There is only one frame size, but you can adjust both the seat post and handlebar stem to find the right fit for various size riders. There are also 24 custom color options with mix/match options for fenders, chain guard, front fork and rear rack. You can also upgrade to a 7-speed if needed, but to be honest, we found the motor power on the Model R to be sufficient enough we didn't need to adjust gears very often. You can totally get away with a direct drive and not miss anything. The abundant customization options make the Model R a fun bike to design to suit your needs. There aren't many direct to consumer manufacturers that produce a bike of this quality with so many customization options.
We love how the battery is integrated so it tucks neatly down into the downtube. It can be charged on or off the bike and for riders with limited mobility, you don't have to worry that you'll hit the battery as you lift your foot over.
The fenders are another valuable add-on we highly recommend. These can be paint matched to the frame. They are steel and have reflective mud flaps to keep both you and your cargo clean. When using a commuter or beach cruiser, fenders are a must.
The Electric Bike Company prides themselves on the quality frame and battery combo on their bikes. All bikes are customized and pre-assembled in Newport Beach, California, so you just have to open the box, adjust the handlebars, and you are good to go. The 48v battery offers a nice 40-80 mile range depending on your assist level. The rear hub motor has good power; it does whine a bit up hills, but didn't give out even on a pretty steep climb. The Tektro brakes are responsive with comfortable four-finger levers. These are impressive brakes. The frame is sturdy but also heavy — so riding is smooth but starting can be a challenge. Use the throttle as needed.
We love the integrated lights and easy to read backlit display that is centered on the handlebars. The upright body position, wide saddle, locking grips and flat pedals all add to the overall relaxed vibe on the Model R. The tires are puncture resistant and have good traction so you can tackle most city riding with ease.
The Electric Bike Company has really dialed in what city cruisers want on an ebike. You can do a lot on this comfortable bike — from riding off the path a little bit to cruising along the beach! Electric Bike Company sells direct to consumer, so all purchases are online on the Electric Bike Co. website from the button above.
Reader Interactions